Have you been on the hunt for the perfect weighted blanket? You've come to the right place.
Weighted blankets are popular for their calming and relaxing effects, whether you use one to unwind while watching TV or reading on the couch after work or whether you sleep under one throughout the night. And as someone with her own fair share of anxiety, I have to say that cozying up under a weighted blanket can do the trick to induce calm.
I've personally tested all of these blankets, so I'll give you the lowdown on each one and go over why each made my list of top picks!
Best Weighted Blankets 2023
Video Review: Best Weighted Blankets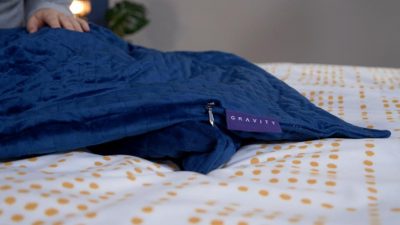 The Kickstarter-funded Gravity blanket is my pick for best weighted blanket because I think it's an all-around high-quality, comfortable, and cozy blanket. I loved the micro plush duvet cover, which has a velvety feel that immediately made me want to cuddle up under it. Plus, the duvet cover is removable and it can be machine washed.
I also love a lot of the small details that give the Gravity a premium feel, like the use of a button closure in addition to the standard ties that attach the duvet cover to the inner blanket. Or the use of glass microbeads to give the blanket its weight — beads that are so small that each individual one is barely detectable. There's also polyester batting fill mixed in with the beads to further mask their presence.
The Gravity is also available in a larger size — a 35-pound blanket in a queen/king size — that can be shared by two people, which is great for couples who want to snuggle up under a weighted blanket together. The Gravity also comes in 15-pound and 20-pound options, which are single sized.
Want to learn more? Read my full Gravity blanket review!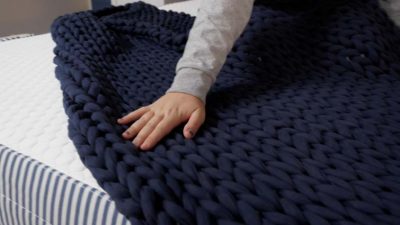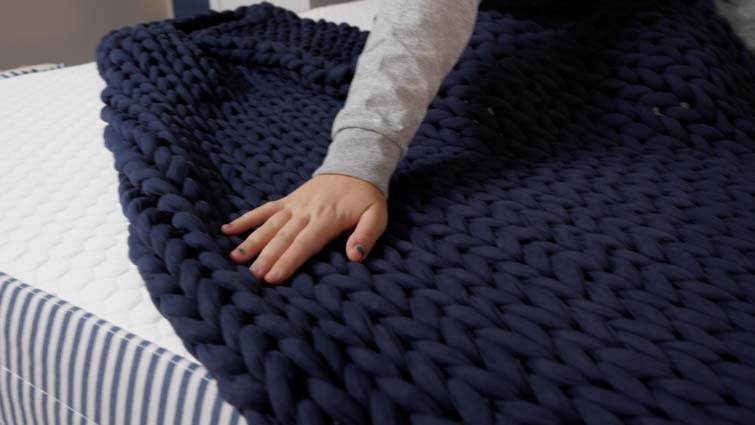 The Bearaby is one of the most unique weighted blankets I've reviewed and its distinctive design is what makes it such a breathable blanket. The Bearaby Cotton Napper is made from a blended cotton fabric — 95 percent organic cotton and 5 percent spandex. That fabric is hand-woven to create a wide-weave structure that allows for lots of airflow and breathability. Plus, cotton is a breathable fabric, so you really don't have to worry about overheating under the Bearaby.
The fabric used in the Cotton Napper is pre-washed to give it an "already worn-in feel," akin to a soft old T-shirt. The softness of cotton mixed with the woven texture of the blanket creates a very cozy vibe. I also really love the aesthetic of the chunky knit and honestly, the Cotton Napper comes in some of the best color options I've seen among weighted blankets — there's a nice variety that should complement almost any bedroom color scheme.
The Cotton Napper also doesn't have any weighted fill, as the weight of the fabric itself is what makes this blanket so heavy. If your blanket were ever torn — or chewed up by a furry friend — you wouldn't have to worry about plastic pellets or glass beads spilling out, which would not only ruin the blanket, but could create a choking hazard for kids or pets.
Additionally, the Bearaby Cotton Napper is available in four weight options: 10, 15, 20, and 25 pounds.
Curious about this breathable cotton blanket? Learn more in my full Bearaby Cotton Napper review! Or for some more Bearaby fun, check out the Tencel version of this blanket, the Tree Napper.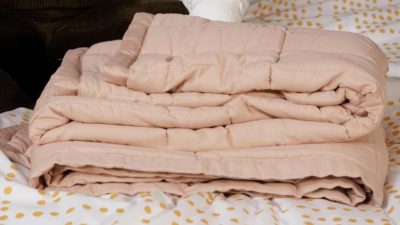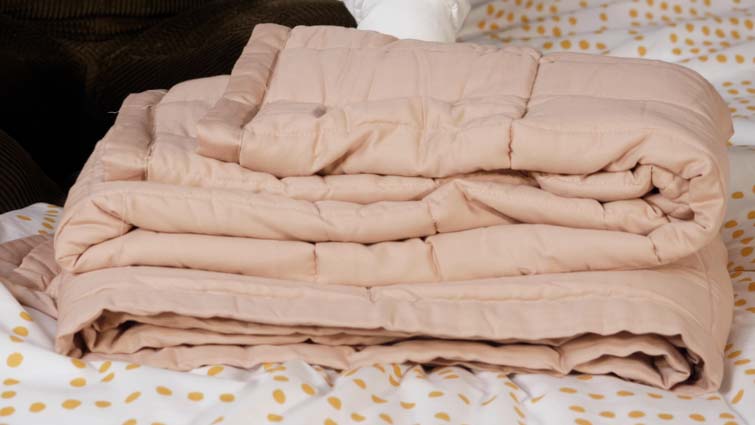 A lot of weighted blankets have a velvety or minky cover, but if you're not a fan of a fuzzy feel, I think you'll be interested in the Casper weighted blanket, which has a soft, smooth cotton exterior. That cotton cover also helps to regulate temperature, as cotton is a great fabric for breathability.
Another feature that I love about the Casper is that it uses barely detectable glass microbeads and polyester batting fill, so that you can't feel or hear the beads moving around in the blanket. The Casper is also a lot thinner than some other weighted blankets, which also helps keep things from getting too toasty under the blanket.
The Casper weighted blanket comes in three different weight options: 10, 15, and 20 pounds. All weights are the same size, 50 inches by 70 inches.
Interested in learning more? Check out my full Casper weighted blanket review.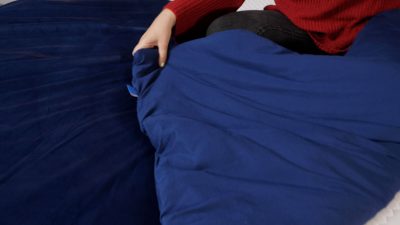 It can be tricky to find a weighted blanket if you're someone who runs hot at night. In my experience, most of them are more warming than cooling! That's why I'm excited to introduce the best cooling weighted blanket I've tested so far: the Nectar Serenity weighted blanket.
This blanket actually has a warming side and a cooling side, and to switch between the two, all you have to do is flip it over. The cover on the warming side has a more velvety feel, whereas the cooling side has a smoother, T-shirt material feel. But the inner blanket is where things get interesting.
The inner blanket on the cooling side uses Phase Change Material, which is a material that reacts in real time to your body temperature and adjusts to keep the blanket cool. I was genuinely surprised how well this worked when I first tested the Serenity Sleep. The Phase Change Material works well to counteract your body heat and keep you feeling as cool as a cucumber.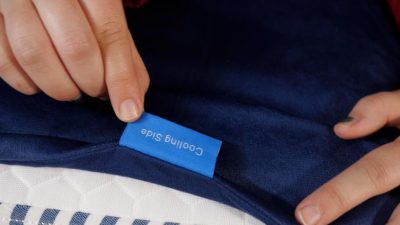 Additionally, the outer cover is treated with an antimicrobial finish and is machine washable, so this blanket should be easy to keep clean.
The Serenity Sleep blanket comes in three weight options: 15, 20 and 25 pounds. It's available in either a small or large size, as well — the small size is 48 inches by 72 inches and the large size is 80 inches by 87 inches.
If you want to learn more, read my full Nectar Serenity weighted blanket review.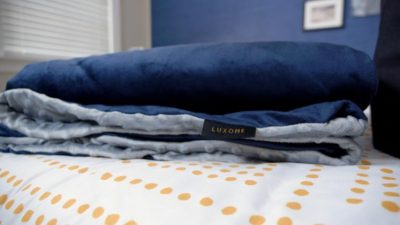 I love all things soft and fuzzy, so I totally understand the need for a wonderfully plush weighted blanket. My pick for the best plush weighted blanket is the Luxome Removable Cover weighted blanket.
The Luxome actually comes in three different versions; the first has a minky cover, which is the version I tested. But Luxome also makes a version of this blanket that is made from bamboo lyocell, a silky and cooling material, as well as a version with one side minky and one side bamboo. However, I'll strictly be going over the minky version here!
I absolutely loved the minky cover on this blanket — it has a delightfully fuzzy feel that's really similar to sheared microfiber. It's the type of material that makes me just want to run my hands over it as I'm lying under the blanket, because it's so darn soft!
Another favorite feature for the Luxome is that the entire blanket is machine washable — both the outer cover and inner blanket can go straight into the washing machine.
The Luxome blanket comes in four weight options: eight, 15, 18, or 30 pounds. Each weight option is a different size.
Think this could be the blanket for you? Check out my full Luxome weighted blanket review to learn more.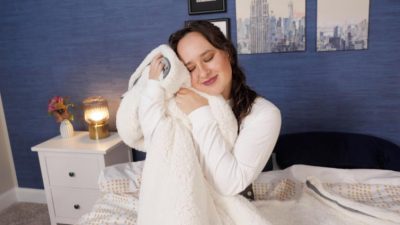 Now, we talk a lot about hot sleepers here at Sleepopolis, and rightfully so! A lot of folks out there struggle with sleeping at night because they're too hot. But I'd like to take a moment for my fellow cold sleepers out there and recommend a nice, warming weighted blanket: the Helix.
The Helix has a two-sided cover — one side is sheared microfiber and the other fleece. From the moment I saw this cover, I knew it was a blanket I wanted to cuddle up underneath, because it is so soft and fuzzy. The sheared microfiber has a velvety, minky feel and the fleece feels like super soft sherpa.
As you might guess, this cover is pretty thick, which is what makes the Helix such a warm blanket. More often than not, I'm way too cold, but I stayed nice and toasty while I was lying under the Helix. I found it to be an incredibly warm and cozy blanket that just made me want to curl up next to a fire with a cup of hot cocoa.
Another perk for the Helix is that its cover is machine washable. It's also among the more affordable blankets I've seen, with all three weight options priced under $150. Those weight options include 10-pound, 15-pound, and 20-pound blankets.
Curious about this heavy blanket? Read my full Helix weighted blanket review to learn more.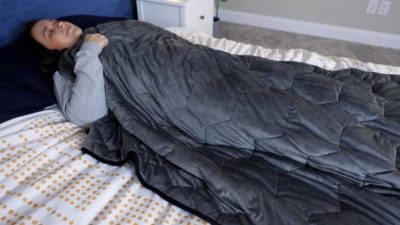 I've mentioned already for other blankets on this list that having washable components is a big plus and that's because a lot of weighted blankets are spot-clean only or only have one washable part, like a duvet cover. So when I come upon a blanket, like the Layla weighted blanket, that's completely machine washable, it's a bit like finding a unicorn.
The Layla is a two-sided weighted blanket, with one side made of smooth 300-thread count cotton and the other made of plush, minky fabric. For weight, the Layla uses super tiny glass beads and poly-fill, so the beads are barely noticeable — aside from the fact that the blanket is heavy!
Unlike a lot of other blankets, the Layla doesn't have a removable cover, but it is completely machine washable, so you don't even have to worry about washing a duvet cover and inner blanket separately. All you have to do is toss it in the washer! It doesn't get easier than that when it comes to cleaning. For detailed care instructions, visit laylasleep.com.
The Layla weighted blanket is available in three weight options: 15, 20, and 25 pounds. The 15-pound blanket is a personal size, the 20-pound is a queen size, and the 25-pound is a king size.
Want to know more about this blanket? Head over to my full Layla weighted blanket review!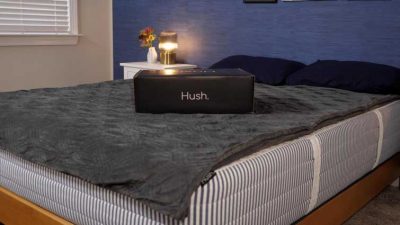 Looking for a weighted blanket that you can share with your bed buddy? The Hush Classic is my pick for the best weighted blanket for couples!
The Hush Classic comes in a good variety of size and weight options, including a queen size and king size, so you should be able to find something that'll work for two people. The general rule of thumb is to choose a blanket that's equal to 10 percent of your body weight, but for two people, you'll want one that's 10 percent of your combined weight.
The 30 or 35 pound blankets that Hush offers should work well for two light to average weight sleepers to share. The Hush also comes in 12-, 15-, 20-, and 25-pound weight options, which range in size from a throw blanket to a queen size.
The Hush has a velvety soft, minky outer cover that attaches to the inner blanket with a zipper, which keeps the two pieces well-secured. The inner blanket is made of soft microfiber. Additionally, the outer cover of the Hush is machine washable and the inner blanket is hand-wash only.
Want to know more? Read my full Hush Classic weighted blanket review!
How Do Weighted Blankets Work?
Before we get into how weighted blankets work, let's take a second to define what a weighted blanket is. Simply put, a weighted blanket is a blanket that features an internal liner with several sewn-in pockets that have been filled with a weighted material. Typically, the weighted material consists of plastic pellets or glass beads, but some companies fill their blankets with a proprietary material. The primary purpose of the weight is to offer sleepers something called Deep Pressure Touch.
Deep Pressure Touch has been employed by therapists for decades (particularly within the special-needs community) to alleviate anxiety, PTSD, ADHD and a host of other sensory-processing disorders. And while weighted blankets have recently peaked in popularity, they are still primarily used to aid in relaxation.
So, how does Deep Pressure Touch work? Well, in my conversation with occupational therapist Annie Schlecht of the Sleepopolis Expert Network, I learned that Deep Pressure Touch releases serotonin (our happy neurotransmitter). That serotonin promotes the release of melatonin (our sleepy hormone). (1) So, essentially, weighted blankets make you happy, sleepy, and calm by activating the parts of our brain that calm us down (no wonder they are so popular!).
How to Choose a Weighted Blanket
You'll want to consider a few different things when deciding on a blanket, including overall weight, which I'll describe in the next section of this guide. But first, let's talk about a few more basic considerations.
Materials: While the fill material of your blanket isn't going to impact the overall feel all that much, its cover material will. Weighted blankets are covered in all sorts of different materials, ranging from breathable cotton to microfiber blends that feel similar to mink.
Fill Distribution: Your blanket needs to have an even weight distribution to properly provide all the calming benefits you're looking for. When trying out a new blanket, check to make sure that the fill doesn't slide too far to one side or the other when you move it around.
Pricing: Most blankets will run you between $100 and $300 depending on their size, materials, and weight. Shopping during holiday sales and using our coupons by clicking the buttons in this roundup can help you reduce that cost.
Trial/Warranty: A lengthy sleep trial period will give you time to consider whether or not a blanket meets your needs and feels comfortable. A lengthy warranty ensures you'll be able to get a replacement if your blanket shows signs of premature wear and tear (and is a great sign that a brand is confident in the durability of its product).
Cooling: When it comes to a cooling weighted blanket, different cover materials will offer varying amounts of breathability. Blended or cotton covers can promote airflow, but if you sleep cold, minky cover fabrics might be a cozier option for you. Also, a heavier blanket will often be less cooling than a lighter blanket.
Wash Care: Most weighted blankets include removable covers, similar to duvet covers, that you can throw in the washing machine. Certain brands may offer entirely machine-washable or spot-clean-only options, so be sure to take a look at a blanket's wash-care instructions when choosing. Personally, I'd recommend something with a washable cover if you plan to use your weighted blanket daily.
How Heavy Should My Weighted Blanket Be?
As a rule of thumb, adults should try to find a blanket that's about 10 percent of their body weight. For most adults, this means their blanket should weigh between 10 and 20 pounds. If a brand offers a few different weight options and you're between sizes, the general recommendation is to size up.
If you're buying a weighted blanket for a child, you should opt for a size that's five percent of their body weight.
Sizing
Weighted blankets come in various size options. For instance, Gravity Blanket offers a king-size option. Many other brands offer throw blanket-sized models. As you might expect, the larger your blanket is, the heavier it will be. But keep in mind that a 15-pound blanket with a larger surface area will offer less Deep Pressure Touch than a 15-pound blanket with a smaller surface area.
Who Are Weighted Blankets Best For?
Most people looking to get a restful sleep or reduce stress can benefit from using a weighted blanket. But there are some sleepers who may need to exercise caution when choosing a weighted blanket.
Who should use a weighted blanket
Adults or children struggling with anxiety, ADHD, PTSD, and similar issues could benefit from using a weighted blanket during the day or at night as a way to calm down.
Adults or children struggling with insomnia or other sleep disorders may find weighted blankets helpful when trying to fall asleep. Using a weighted blanket to reduce stress during the day may also help improve your sleep wellness.
Almost anyone who enjoys the calming sensation of Deep Pressure Touch could benefit from using a weighted blanket.
Who should not use a weighted blanket
Weighted blankets are not safe for children under 2 years old, who could suffocate under too much weight.
If you have obstructive sleep apnea or asthma, you should consult a doctor before using a weighted blanket.
Many sleepers with claustrophobia dislike the feeling of weighted blankets.
FAQs
Do weighted blankets make you hot?
Not necessarily! In general, a heavy blanket can trap body heat, but many weighted blankets use breathable fabrics and sleep fairly cool.
How do you clean a weighted blanket?
Most weighted blankets have removable covers you can throw in the washer. Others may be entirely machine washable, and others may be spot-clean only. Take a look at a brand's care instructions before washing your blanket to ensure you don't damage it or void your warranty.
Do weighted blankets actually work?
Yes! Many people find weighted blankets helpful for reducing anxiety and improving their sleep. Of course, whether or not a weighted blanket will work for you depends on your unique needs and preferences. If you're unsure a weighted blanket will work for you, I'd recommend choosing one that comes with a sleep trial so that you can test it out for yourself before committing to it.
Are weighted blankets safe for kids?
Yes, weighted blankets are safe for kids over the age of two. However, you'll want to ensure the blanket they're using isn't more than a 1-2 lb heavier than 10% of their body weight. Don't let your child sleep under an adult-sized weighted blanket.
Recap: Best Weighted Blankets
References
Bestbier, Lana, and Tim I. Williams. "The Immediate Effects of Deep Pressure on Young People with Autism and Severe Intellectual Difficulties: Demonstrating Individual Differences." US National Library of Medicine National Institutes of Health, 2017, www.ncbi.nlm.nih.gov/pmc/articles/PMC5612681/.