If you spend a lot of time on the Internet, there's a good chance you've seen an advertisement for a weighted blanket. Though they've been used for therapeutic purposes since the late 90's, weighted blankets have recently skyrocketed in popularity, and are said to help folks of all ages get a good night's sleep. So, to find out what all the hype is about, I tested tons of weighted blankets from some of the most popular brands on the market and made a list of my favorites.
If you've been wondering what a weighted blanket is, how it works, and what specific models look like — this roundup is for you!
Best Weighted Blankets 2021
Find more info on my top picks below!
Helix Weighted Blanket
Helix Weighted Blanket
Helix has been in the bed in a box game for a while now and continues to make great products such as their wide range Helix mattresses, Helix Luxe mattresses and a recent foray into the organic market with the Birch brand.
The weighted blanket is an extension of their expertise in comfort and bedding. Something that I really like about this blanket is that it has a gridded internal structure, so you won't have to worry about bunching. Along with that it's fleece and sheared fabric cover creates a cozy environment and its removable and machine washable, so cleaning is a breeze.
This is all before you realize that the Helix weighted blanket ships for free, has a 100 day trial period and comes with a one year warranty, so you're getting quality and comfort.
Pricing: $99 – $115 depending on which weight you choose
Perfect For: Those that are already shopping for or are big fans of Helix products. Another bonus is that the Helix weighted blanket comes in at a bit of a lower cost than the others on this list.
If you're interested in learning more, check out my full Helix Weighted Blanket review.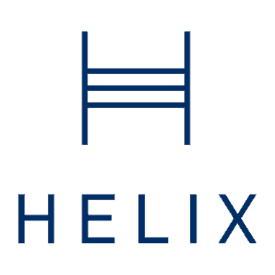 The Helix weighted blanket comes in 10 lbs, 15 lbs, and 20 lbs so you can find the right pressure to sooth yourself into a state of relaxation.
Best Value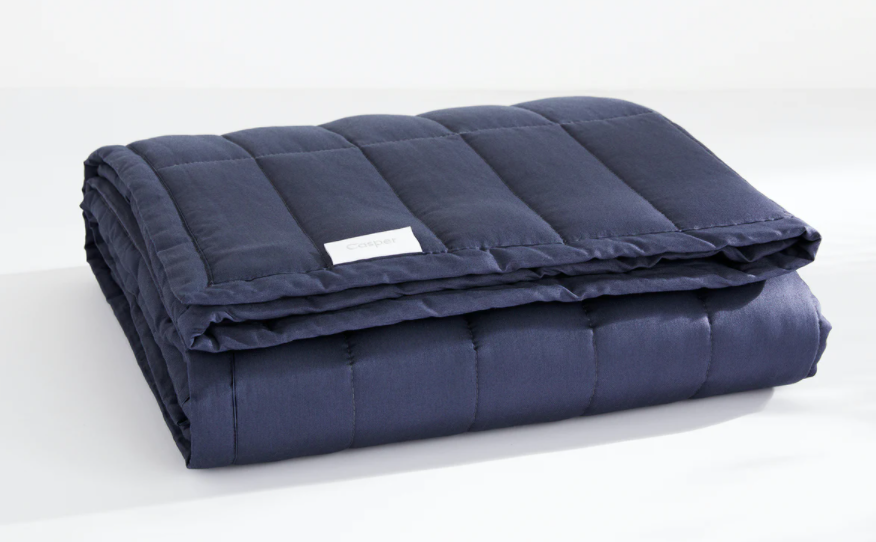 Casper Weighted Blanket
If you're looking to get a great weighted blanket at a low price point, check out Casper's weighted blanket. Available in 10, 15, and 20 lb options, the Casper weighted blanket should meet the needs of a broad range of sleepers. 
The Casper's breathable cotton fabric cover allows for plenty of airflow, which is a great perk for hot sleepers who still want to enjoy the feel of a weighted comforter. Plus, it comes in three different color options, which should make fitting it into your existing bedroom design a breeze.
Casper is so certain you'll love this blanket, they let you try it risk-free for 30 days. If you're looking for a great weighted blanket that offers some bang for your buck, the Casper could be a great fit for you!
Save 10% with code SLEEPOPOLIS10
Looking for a great value, customizable weighted blanket? Check out the Casper! 
Best Organic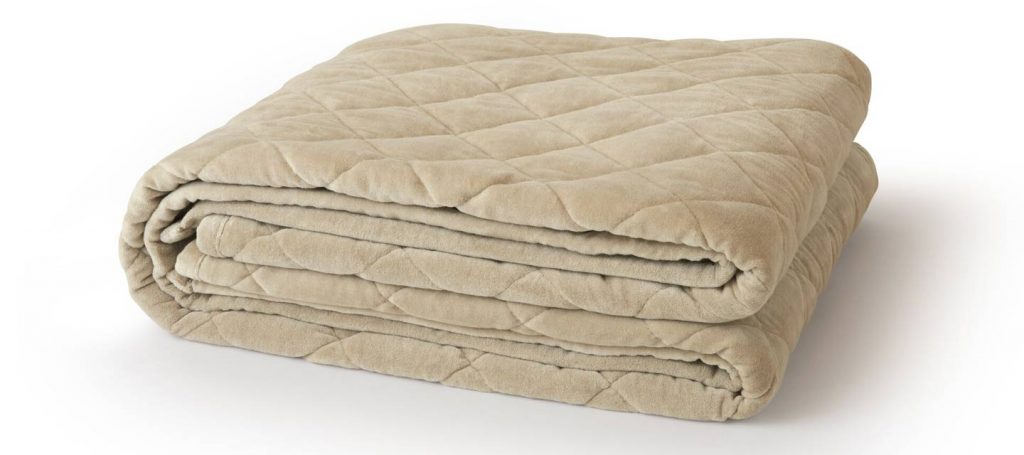 Saatva Weighted Blanket
The Saatva Weighted Blanket is made with 100% organic cotton velvet and all natural glass beads, making it a great option for organic shoppers. It has a soft, luxurious feel that's great for folks looking for a high-end option. This blanket is available in two different sizes, two different weights, and two neutral colors, giving shoppers a lot of customization options.
The entire blanket features diamond quilting that keeps the fill evenly distributed no matter how much you move it around. It's also surprisingly breathable, which is another nice perk. If you're on the hunt for a high-quality organic option, I'd highly recommend the Saatva.
If you're looking for even more luxury bedding, check out our Saatva Lofton sheets review!
An organic, comforting weighted blanket by one of the biggest brands on the market. 
Best for Cold Sleepers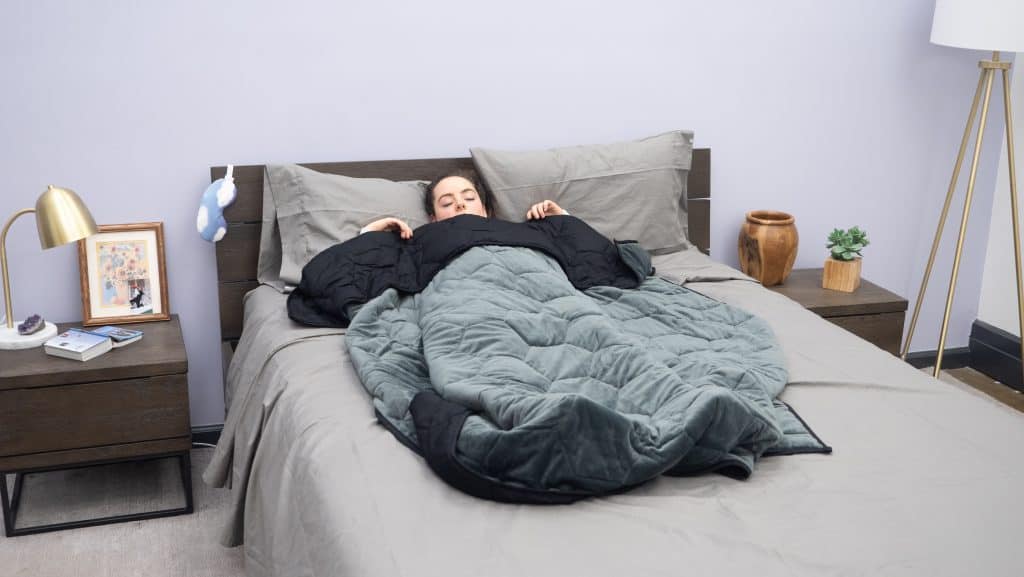 Layla Weighted Blanket
Some of you may already be familiar with the Layla mattress or the Layla pillow — but the popular bed-in-a-box brand also makes a great weighted blanket! 
Like their mattresses, Layla's weighted blanket is flippable. One side is covered in plush microfiber material designed to feel like cozy mink fur. The other side is covered in 300 thread count cotton for sleepers who prefer a more breathable feel. Plus, it's easily machine washable, which is an awesome perk!
Layla offers its weighted blanket in twin size, queen size, and king size options, so sleepers should find a blanket that works for them, no matter what size bed they have. Of all the blankets we're looking at here, this is the only one that comes in its own reusable carrying case, which I think is a nice touch.
Memorial Day Sale: Up to $200 off + free gifts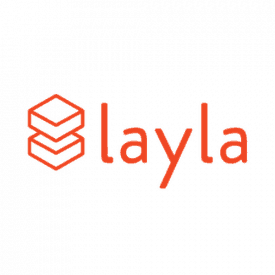 If you love Layla's mattress and pillow, this weighted blanket might be the perfect accessory to round out your collection of Layla bedding.
Best Breathable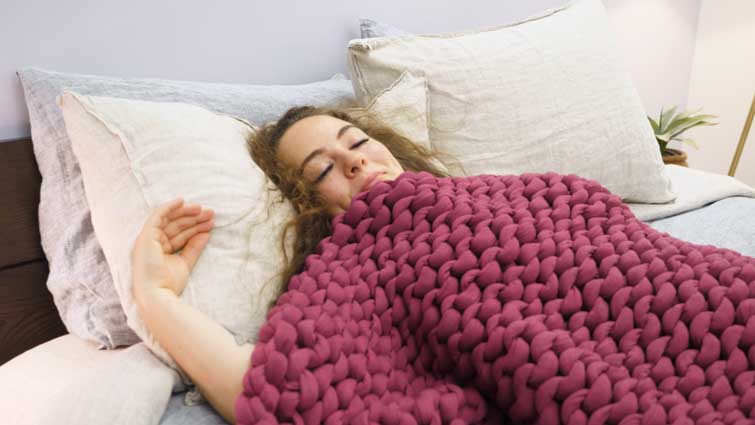 Bearaby Weighted Blanket
The Bearaby Cotton Napper looks different from other weighted blankets on the market – that's because it is different! This blanket is made of thick, organic cotton that is woven together to create a breathable, soft one of a kind feeling. This blanket is available in 15, 20, and 25 lb options so you can find the right weight for your body. 
Bearaby has put their cotton napper through tests that have proven it can actually increase the amount of time you spend in a deep sleep cycle, meaning you wake up feeling more refreshed and well rested. I especially like this blanket because its unique design means its weight is always evenly distributed across your body. Plus, the woven knit really does keep you cool while providing the comforting feel of a hug all over the body.
If you're interested in the Cotton Napper but are looking for an organic weighted blanket option, take a look at my Bearaby Tree Napper weighted blanket review.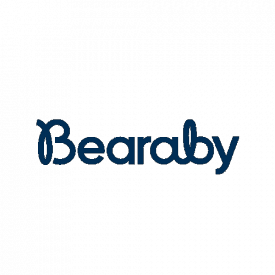 The Bearaby Cotton Napper is a great choice for those looking for an eco-friendly weighted blanket!
Best for Pain Management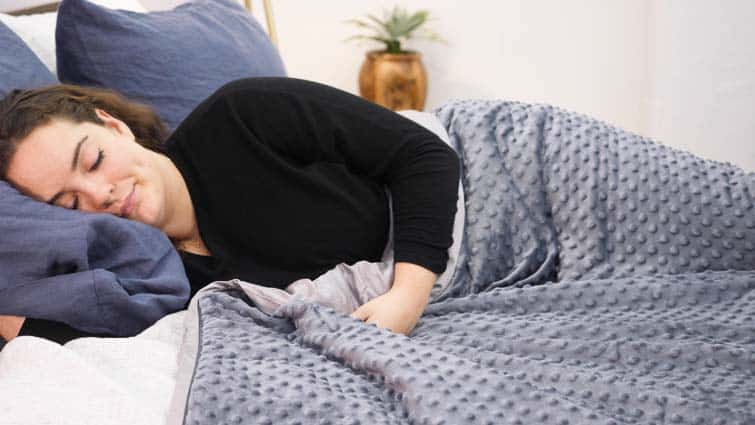 Brooklyn Bedding Weighted Blanket
If you have pain concerns, getting a weighted blanket can be a tough decision. Will it help? Will it place too much weight on your pressure points? If those sound like your concerns, I would suggest checking out Brooklyn Bedding's weighted blanket. 
This dual-sided blanket offers a hug-like feel that can help alleviate some aches and pains at night. It also features a cooling and warming side, which is great for sleepers looking to use the blanket through multiple seasons. 
This blanket is available in 15 and 20 lb options, so you can choose what works best for your body weight. Keep in mind that you should always consult your doctor before using any weighted blankets if you have serious pain concerns or health problems.
Save 20% with code SLEEPOPOLIS20
Brooklyn Bedding Weighted Blanket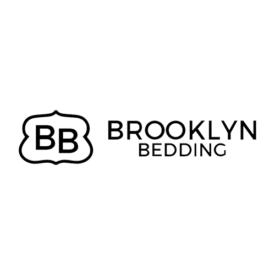 Brooklyn Bedding Weighted Blanket
The Brooklyn Bedding Weighted Blanket that not only has the calming and soothing benefits of weighted blankets but also has a warm and fuzzy feel to it for added comfort!
Best for Anxiety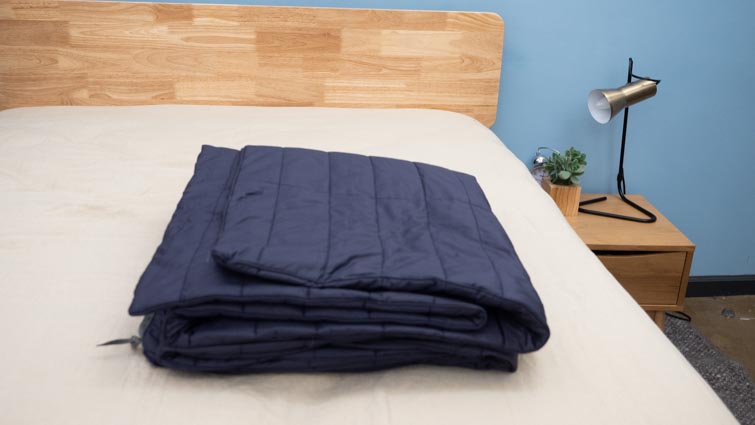 Sleep Number Weighted Blanket
The Sleep Number True Temp weighted blanket offers a pleasant hug-like feel that's great for relieving anxiety. Available in 12 or 20 lb models and three different colors, the True Temp blanket is a great option for anyone in the market for some weighted comfort. 
This blanket is also great for hot sleepers! It's removable cover is made with Sleep Number's moisture wicking 37.5 tech that adjusts to your body heat and keeps you cool. Meanwhile, its inner blanket does a great job keeping its fill evenly distributed throughout the night. I'd highly recommend it to hot sleepers in search of an anxiety-relieving blanket option.
Learn more in my full Sleep Number True Temp weighted blanket review.
Sleep Number Weighted Blanket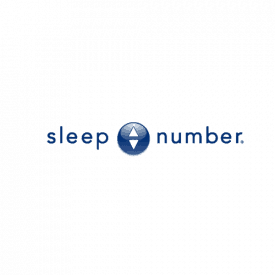 Sleep Number Weighted Blanket
If you suffer from anxiety and are searching for a weighted blanket to soothe you, look no further than the Sleep Number. 
Best Cooling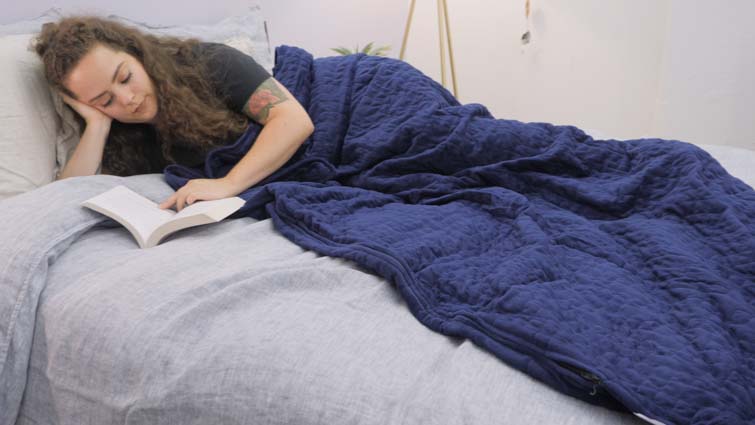 Gravity Weighted Blanket
Okay, up next is one of the most (if not the most) popular weighted blankets on the market — the Gravity Blanket. The Gravity Blanket's inner blanket is covered in 100% cotton and filled with fine-grade glass beads. Fine grade glass beads are incredibly small, almost like glass microbeads, and can feel more comfortable than larger beads to certain folks.
For a little extra comfort and style, the weighted portion of the blanket is secured inside a very soft microfiber duvet cover. This duvet cover is also very warming, but the inner blanket is removable, so you can use it without the cover in the summer months for a more cooling feel, which is why this is one of my favorite cooling weighted blankets on the market!
The Gravity Blanket comes in 15, 20, 25, and 35 lb models, so heavier people on the hunt for a weighted blanket might want to check it out, since a weighted blanket should be about 10% of your body weight to offer optimal comfort.
Interested in this blanket? Take a look at my full Gravity Blanket review.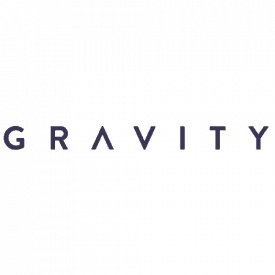 The Gravity Blanket comes in 15, 20, or 25 lbs and is great for trendy sleepers looking for a popular name brand. Gravity Blanket is arguably the most recognizable brand on the weighted blanket market. Use code SLEEPOPOLIS10 to save 10% on your purchase!
Best Plush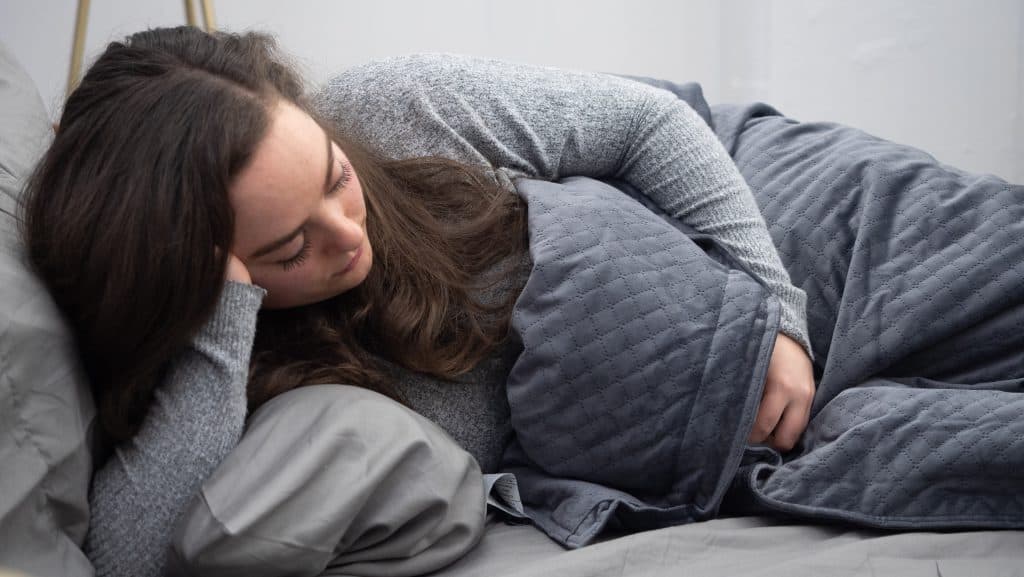 Blanquil Weighted Blanket
Next up is the weighted blanket from Blanquil. Similar to the Gravity Blanket, it features a super soft removable duvet cover. The duvet cover is made from plush feeling polyester fleece, and features the brand's signature quilted design. The weighted inner blanket is filled with glass beads. I tested the 20 lb blanket, but Blanquil offers this blanket in a 15 lb option as well.
I found this blanket's distribution of pressure to be pretty balanced. The inner blanket hooks to the outer blanket with internal clasps that keep it from bunching on one side or the other. If you're looking for a plush feel and evenly distributed fill, this could be the blanket for you!
Blanquil Weighted Blanket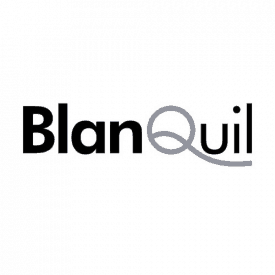 Blanquil Weighted Blanket
The Blanquil is the perfect weighted blanket for sleepers who want the option to choose between the soft, warm feel of the original Blanquil, or the cooling caress of the Blanquil Chill.
Best for Insomnia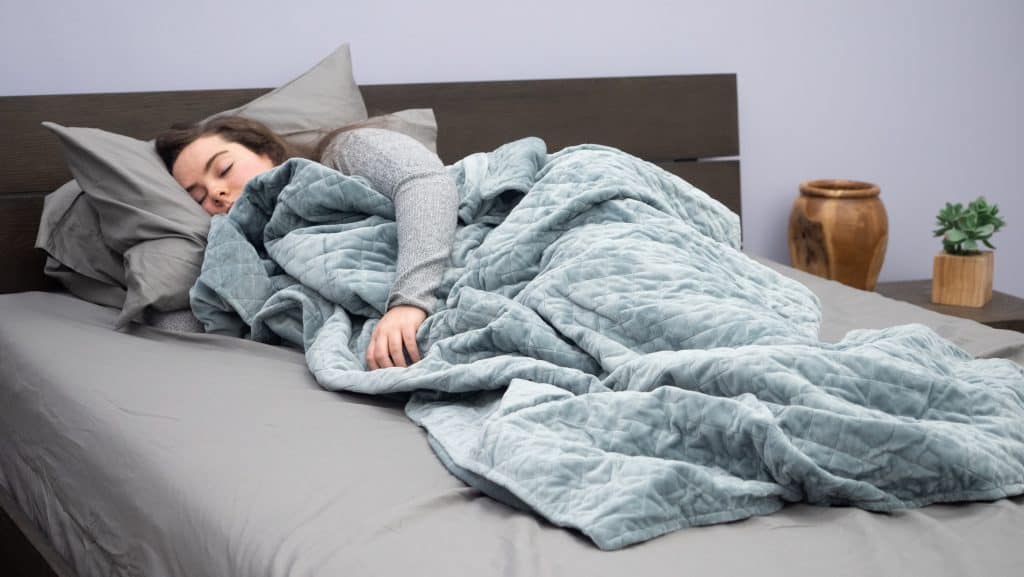 Hugh Weighted Blanket
The Hush blanket is covered in a very soft duvet cover made from microfiber. The inner blanket is covered in a layer of cotton, which provides some nice breathability. It also means you can use the inner blanket separately from the outer cover if you want!
The Hush is weighted with non-toxic, hypoallergenic plastic pellets, and is offered in 15, 20, and 25 lb models. I tested the 20 lb blanket, and it felt really comforting and hug-like to me. This feel is great for folks who struggle with insomnia, it should help reduce stress, which can lead to a quieter mind at bedtime.
The Hush is the perfect weighted blanket for the indecisive sleeper! Hush offers a generous trial period of 100 nights so that you can thoroughly test this blanket out before you commit.
How Do Weighted Blankets Work?
Before we get into how weighted blankets work, let's take a second to define what a weighted blanket is! Simply put, a weighted blanket is a blanket that features an internal liner with several sewn-in pockets that have been filled with a weighted material. Typically, the weighted material consists of plastic pellets or glass beads, but some companies fill their blankets with a proprietary material. The primary purpose of the weight is to offer sleepers something called Deep Pressure Touch.
Deep Pressure Touch has been employed by therapists for decades (particularly within the special-needs community) to alleviate anxiety, PTSD, ASD, and a host of other sensory processing disorders. And while weighted blankets have recently peaked in popularity, they are still primarily used to aid in relaxation.
So, how does Deep Pressure Touch work? Well, in my conversation with occupational therapist Annie Schlecht of the Sleepopolis Expert Network, I learned that Deep Pressure Touch releases serotonin (our happy neurotransmitter). That serotonin promotes the release of melatonin (our sleepy hormone). (1) So, essentially, weighted blankets make you happy, sleepy, and calm by activating the parts of our brain that calm us down (no wonder they are so popular!).
How to Choose a Weighted Blanket
So, how do you choose the right weighted blanket for your needs? You'll want to consider a few different things when deciding on a blanket, including overall weight, which I'll describe in the next section of this guide. But first, let's talk about a few more basic considerations.
Materials
You'll want to ensure you choose a blanket made from high-quality materials. While this might increase the price of your blanket a little, a low-quality weighted blanket could break down quickly, leading to an unwanted mess of filling all over your bed or couch.
While the fill material of your blanket isn't going to impact the overall feel all that much, its cover material will. Weighted blankets are covered in all sorts of different materials, ranging from breathable cotton to minky feeling microfiber blends. Depending on your feel preferences, one material may suit you better than another.
Fill Distribution
When choosing a weighted blanket, you'll want to make sure its fill is evenly distributed. A blanket that doesn't section off its fill neatly won't evenly distribute weight, which is a real drawback. Your blanket needs to have an even weight distribution to properly provide all the calming benefits you're looking for. When trying out a new blanket, check to make sure that the fill doesn't slide too far to one side or the other when you move it around.
Pricing
You'll also want to consider price when choosing a new weighted blanket. Most blankets will run you between $100-$300 depending on their size, materials, and weight. Shopping during holiday sales and using our coupons by clicking the buttons in this roundup can help you reduce that cost.
Trial/Warranty
Sleep trial and warranty are all important factors when choosing a blanket. A lengthy sleep trial period will give you time to consider whether or not a blanket meets your needs and feels comfortable to you. A lengthy warranty ensures you'll be able to get a replacement if your blanket shows signs of premature wear and tear (and is a great sign that a brand is confident in the durability of its product).
Cooling
Hot sleepers might want to consider a cooling weighted blanket as a way to avoid overheating at night. Different cover materials will offer varying amounts of breathability, and a heavier blanket will often be less cooling than a lighter weighted blanket. Blended or cotton covers will often promote some nice airflow throughout your blanket. If you sleep cold, minky cover fabrics might be a cozy option for you.
Wash Care
Most weighted blankets include removable covers, similar to duvet covers, that you can throw in the washing machine. Certain brands may offer entirely machine washable or spot-clean only blanket options, so be sure to take a look at a blanket's wash care instructions when choosing one. Personally, I'd recommend opting for something with a washable cover if you plan to use your weighted blanket daily.
How Heavy Should My Weighted Blanket Be?
So, how heavy should a weighted blanket be to provide optimal comfort? As a rule of thumb, adults should try to find a blanket that's about 10% of their body weight. For most adults, this means their blanket should weigh between 10 and 20 lb. If a brand offers a few different weight options and you're between sizes, the general recommendation is to size up.
If you're buying a weighted blanket for a child, you should opt for a size that's 10% of their body weight plus one or two additional pounds. This will allow them some room to grow and is still safe (more on weighted blanket safety below).
Sizing
Weighted blankets come in various size options. For instance, Gravity Blanket offers a king size option. Many other brands offer throw blanket sized models. As you might expect, the larger your blanket is, the heavier it will be! But keep in mind that a 15 lb blanket with a larger surface area will offer less Deep Pressure Touch than a 15 lb blanket with a smaller surface area.
Who Are Weighted Blankets Best For?
So, now you know how to choose a weighted blanket, but should you be using one? Most people looking to get a restful sleep or reduce stress can benefit from using a weighted blanket. But there are some sleepers who may need to exercise caution when choosing a weighted blanket. Take a look below to learn who a weighted blanket might be best for.
Who should use a weighted blanket
Adults or children struggling with anxiety, ADHD, PTSD, and similar issues could benefit from using a weighted blanket during the day or at night as a way to calm down.
Adults or children struggling with insomnia or other sleep disorders may find weighted blankets helpful when trying to fall asleep. Using a weighted blanket to reduce stress during the day may also help improve your sleep wellness.
Almost anyone who enjoys the calming sensation of Deep Pressure Touch could benefit from using a weighted blanket!
Who should not use a weighted blanket
Weighted blankets are not safe for children under 2 years old, they could suffocate under too much weight.
If you have obstructive sleep apnea or asthma you should consult a doctor before using a weighted blanket.
Many sleepers with claustrophobia dislike the feeling of weighted blankets.
FAQs
Do weighted blankets make you hot?
Not necessarily! In general, a heavy blanket can trap body heat, but many weighted blankets use breathable fabrics and sleep fairly cool.
How do you clean a weighted blanket?
Most weighted blankets have removable covers you can throw in the washer. Others may be entirely machine washable, and others may be spot-clean only. Take a look at a brand's care instructions before washing your blanket to ensure you don't damage it or void your warranty.
Do weighted blankets actually work?
Yes! Many people find weighted blankets helpful for reducing anxiety and improving their sleep. Of course, whether or not a weighted blanket will work for you depends on your unique needs and preferences. If you're unsure a weighted blanket will work for you, I'd recommend choosing one that comes with a sleep trial so that you can test it out for yourself before committing to it.
Are weighted blankets safe for kids?
Yes, weighted blankets are safe for kids over the age of two. However, you'll want to ensure the blanket they're using isn't more than a 1-2 lb heavier than 10% of their body weight. Don't let your child sleep under an adult-sized weighted blanket.
Final Thoughts
Well, there ya' have it, folks. Weighted blankets come in all different styles, but they are all meant to offer relaxing Deep Pressure Touch. Whether you're trying to alleviate anxiety or just enjoy the calming effects of DPT, weighted blankets can be a great bedroom accessory for people of all ages.
References
Bestbier, Lana, and Tim I. Williams. "The Immediate Effects of Deep Pressure on Young People with Autism and Severe Intellectual Difficulties: Demonstrating Individual Differences." US National Library of Medicine National Institutes of Health, 2017, www.ncbi.nlm.nih.gov/pmc/articles/PMC5612681/.
Sarah is the Senior Writer and bedding expert at Sleepopolis. Every week, she personally tests and reviews new pillows, sheet sets, and other sleep accessories. She accompanies every video review with a meticulously detailed article to ensure her audience has all the pertinent info they need for the best shopping experience possible. Perhaps that's why her fans have dubbed her "the most thorough pillow reviewer on the Internet." Having tested everything from sleep trackers to mattress toppers, Sarah's expertise runs deep and is always expanding. She received her degree in Creative Writing from Brooklyn College and spends her free time doing stand-up, making pasta, and hanging with her cats.