Weighted blankets are a bedding accessory that are popular for their ability to help us calm down as we go to sleep and to relieve our anxieties. But with so many on the market, which to choose? Luckily, I've reviewed lots of weighted blankets, including today's subject: the Luxome Removable Cover weighted blanket.
In this review, I'll go over what the Luxome is made of and how it feels. I'll also go over my honest recommendations for who should buy it and who should consider another weighted blanket.
Just want the quick hits? Skip to the end for my review summary! Otherwise, let's dive in.
What is the Luxome Weighted Blanket Made Of?
No two weighted blankets are the same, so let's kick this review off by taking a look at what the Luxome removable cover weighted blanket is made of.
Outer Cover: The outer cover of the version of the Luxome weighted blanket that I tested is made of a minky fabric, which is designed to be warming. The Luxome is also available with a bamboo lyocell cover, which has a thread count of 300 and a cooling, silky feel. Or you can get a Luxome weighted blanket with a two-sided cover — one side is minky and the other is bamboo. This outer cover is machine washable.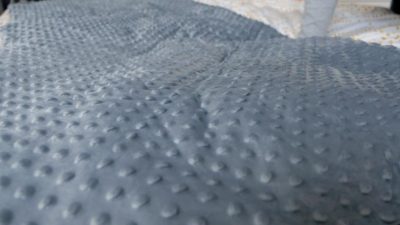 Inner Blanket: The inner blanket of the Luxome weighted blanket is made from 100 percent percale weave cotton. This blanket holds the weighted fill and utilizes gridded stitching to maintain even weight distribution. The inner blanket is machine washable.
Fill: The weighted fill used in this blanket is glass beads. The beads are certified lead-free and hypoallergenic. Mixed in with the beads is polyester fiber, which prevents the beads from rolling around or clinking together.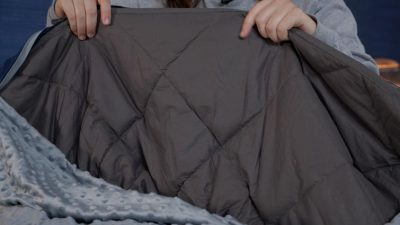 How Much Does the Luxome Weighted Blanket Weigh?
The Luxome weighted blanket is available in three different weight options: 15 pounds, 18 pounds, and 30 pounds. Each of these weight options comes in a different size. While the general rule of thumb for choosing a weighted blanket is to choose one that is close to 10 percent of your body weight, Luxome also has recommendations for who should use each weight.
The 15-pound blanket, which is what I tested for this review, is 54 inches by 72 inches, which Luxome calls full size, is a throw blanket size and Luxome recommends this blanket for "smaller adults." The 18-pound blanket is 60 inches by 80 inches, which is Luxome's queen size. Luxome recommends this size for "most adults." And the 30-pound blanket is 100 inches by 85 inches, which is a king size. Luxome recommends this size for sharing.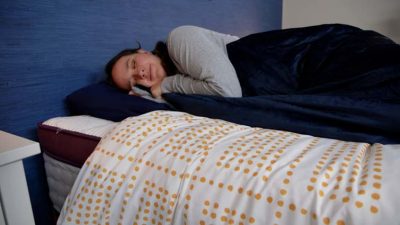 Choosing the right weight is important for experiencing Deep Pressure Touch, which is the sensation that we get from hugging or cuddling that produces calming hormones in our bodies. Weighted blankets have been shown to provide Deep Pressure Touch and its positive effects, which is part of the reason they have become so popular among people with anxiety, ADHD, autism, or those who need help calming down at night.
What Does the Luxome Weighted Blanket Feel Like?
Now that we know what this blanket is made of, let's talk about how it feels. I personally tested the Luxome weighted blanket by taking it home and sleeping with it for a few nights, so here are my takeaways.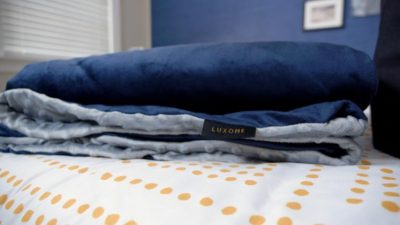 First, I really loved the feel of the Luxome's cover. I am a huge fan of all things soft and fuzzy, so I absolutely loved this minky cover. It has a super velvety feel — I'd say it feels really similar to microfiber. And while I only tested this minky version and not the bamboo cover or minky-bamboo combo cover, I really appreciate how Luxome offered multiple duvet cover options for this blanket. I've tested other lyocell bamboo products before and I know it's a great eco-friendly, moisture-wicking, silky material.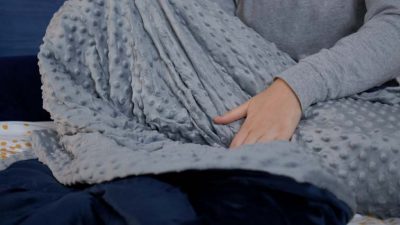 Next, I also thought that the Luxome had an excellent weight distribution. I felt a really nice, even, and comforting amount of pressure while lying under this blanket. I especially liked how you could barely feel or hear the glass beads, as they are so tiny and the polyester fiber prevents them from moving around. Plus, the gridded stitching keeps them from pooling or bunching up on one side.
Is the Luxome Weighted Blanket Good for Hot Sleepers?
When I was testing the Luxome blanket, I did find it to be quite warm. This is no surprise, as Luxome even says on their website that the minky fabric is meant to be warming! I'm personally a cold sleeper, so I found this to be really cozy.
But if you run hot, you might find yourself overheating in this blanket. I'd recommend checking out the bamboo version, as bamboo is a great material for thermal regulating, or try another more breathable or cooling weighted blanket, like the Bearaby Cotton Napper.
How Durable is the Luxome Weighted Blanket?
Generally, I thought that the Luxome blanket had a pretty high-quality feel. I thought that all of the materials seemed well-made and of course, the fact that you can machine wash the entire blanket is huge for maintaining it over time.
Additionally, the use of polyester fiber around the glass microbeads adds an extra level of quality, as that means you can't feel or hear beads rolling around inside the blanket. It's a small detail that really adds to the overall good quality feel of the blanket.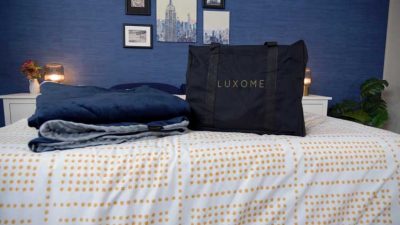 Is the Luxome Weighted Blanket Good for You?
We've covered quite a bit of information about the Luxome weighted blanket, so let's go over my recommendations for who should try the Luxome and who may want to consider another weighted blanket.
Who Should Try the Luxome Weighted Blanket
If easy cleaning is important to you

, I would definitely recommend the

Luxome

weighted blanket

. Most

weighted blankets

are either spot clean only or only have a washable

duvet cover

. But with the

Luxome

, you can wash both the outer cover and

inner blanket

in your washing machine.

If you want either a super soft, fuzzy blanket, a smooth and silky blanket, or a combo of both feels, the Luxome is a great choice!

The version I tested had soft

minky fabric

on both sides, but

Luxome

also offers a bamboo

lyocell

version and a bamboo-

minky

combo, so there are quite a few

blanket options

!

If you want a blanket that is made with quality materials

, the

Luxome

is a great choice. I really liked the use of tiny, barely noticeable

glass beads

and polyester fiber filling.

And if you want to share a blanket with your partner

, the

Luxome

is a good option, as the 30-pound blanket is a

king size

.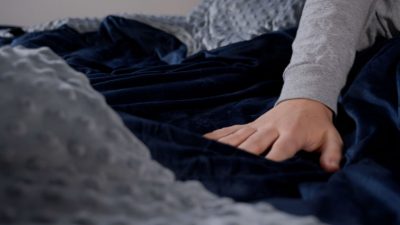 Luxome Weighted Blanket Complaints
Now if you are on the heavier side, the Luxome may not be the best choice for you.

Luxome

doesn't offer a heavy

size option

for a single person, so if you want a

blanket weight

that's heavy enough to provide the effects of Deep Pressure Touch to someone who weighs significantly more than 200 pounds, you may have to opt for a

king size

blanket.

And if you want a cooling weighted blanket

, I wouldn't recommend the

minky

version of the

Luxome

that I tested. While I didn't get to test the bamboo version, I can guess it will be much more cooling than the

minky

version.
Not sure the Luxome is right for you? Check out our Best Weighted Blankets roundup to find even more recommendations!
Luxome Weighted Blanket Prices, Sizes, and Colors
Think you might be ready to hit that "add to cart" button? I'm sure you're wondering how much this blanket costs! Here are the Luxome Removable Cover weighted blanket prices, listed by size. Prices are all listed before discount, but to get the best price, be sure to click one of the coupons throughout this article.
| Weight | Dimensions | Price |
| --- | --- | --- |
| 15 lb | 54" x 72" | $155 |
| 18 lb | 60" x 80" | $175 |
| 30 lb | 100" x 85" | $255 |
When purchasing bedding or accessories, color and style can be an important factor. The Luxome Removable Cover weighted blanket does come in a few different color options, depending on what material you choose.
For the minky cover, you have the option of navy and gray dot, which is the style I tested for this review, or gray. For the bamboo cover, you have the option of white or gray. And for the bamboo-minky combo, you can choose between beige, white, gray, and a white/gray lattice pattern.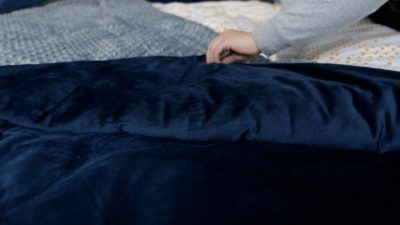 Luxome Weighted Blanket Policies and FAQs
How does the Luxome weighted blanket ship?
Luxome ships for free within the contiguous United States. They ship to Hawaii and Alaska, as well as internationally, for an additional shipping fee.
Does the Luxome weighted blanket come with a warranty?
No, Luxome does not offer a warranty on this blanket. However, their customer service team informed me that if you do find a defect or issue with the blanket, you can contact them and they'll review the issue.
How do I clean the Luxome weighted blanket?
To wash the minky outer cover, machine wash it separately from the inner blanket on a gentle cycle with liquid detergent. Tumble dry it on a gentle cycle with low heat, according to Luxome's care instructions.  For the inner blanket, machine wash in cold water on a gentle cycle. Luxome suggests that you may want to run an additional rinse cycle. Tumble dry the inner blanket on a gentle cycle with low heat and Luxome recommends throwing a couple of tennis balls in the dryer to prevent the blanket from bunching up. Visit luxome.com to find more detailed instructions.
Can I return the Luxome weighted blanket after opening it?
Yes, thanks to Luxome's 30-day return policy, you can return the blanket after opening it. It must be clean, not damaged, and in like-new condition.
Luxome Weighted Blanket Vs
Now I'll compare the Luxome Removable Cover weighted blanket to some of its competitors on the market: the Bearaby Cotton Napper and the Gravity weighted blanket.
Luxome Weighted Blanket vs Bearaby Cotton Napper Weighted Blanket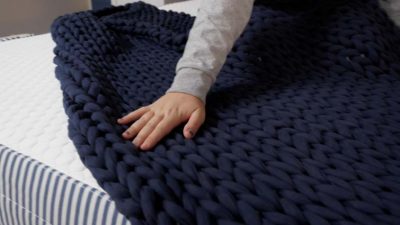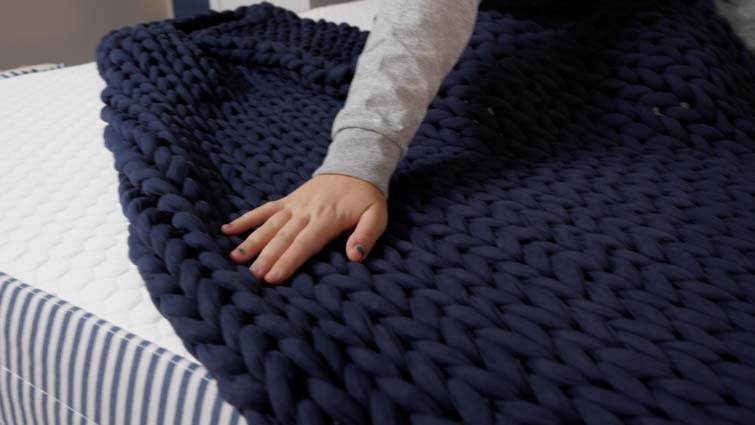 Now, if you are concerned about the

Luxome

being too warm, the

Bearaby

Cotton Napper is a great option to consider. This blanket

allows for lots of airflow

, which helps to keep you cool, as it has a very wide weave. The

holes in the weave prevent hot air from being trapped

under the blanket.

The fabric used to create this weave is primarily

organic cotton

, mixed with some spandex. It's

pre-washed

to make the blanket super soft, like an old T-shirt.

And the

Bearaby

doesn't use any glass or plastic beads to give it weight

— the fabric alone makes this a

heavy blanket

!

Want to learn more about the

Bearaby

Cotton Napper? Read my full

review

!
Luxome Weighted Blanket vs Gravity Weighted Blanket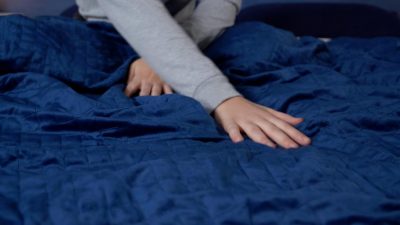 The Gravity is a little more similar to the

Luxome

weighted blanket

. This

weighted blanket features

a

micro plush cover

made from polyester that has a super soft, velvety feel. Unlike the

Luxome

, however,

only the outer cover of the Gravity is machine washable

.

When I tested the Gravity, I thought it had a

super high-quality feel

and I loved a lot of the small details, like an extra button closure that attaches the

inner blanket

to the outer cover and a really good quality zipper on the outer cover that doesn't catch on the fabric.

The Gravity also utilizes

tiny glass beads and polyester batting fill

as its weighted fill.

Interested in learning more? Read my full

Gravity weighted blanket review

.
Finally, here are my star ratings for the Luxome Removable Cover weighted blanket, with the minky cover.
Materials

Comfort

Value

Cooling

Durability

Trial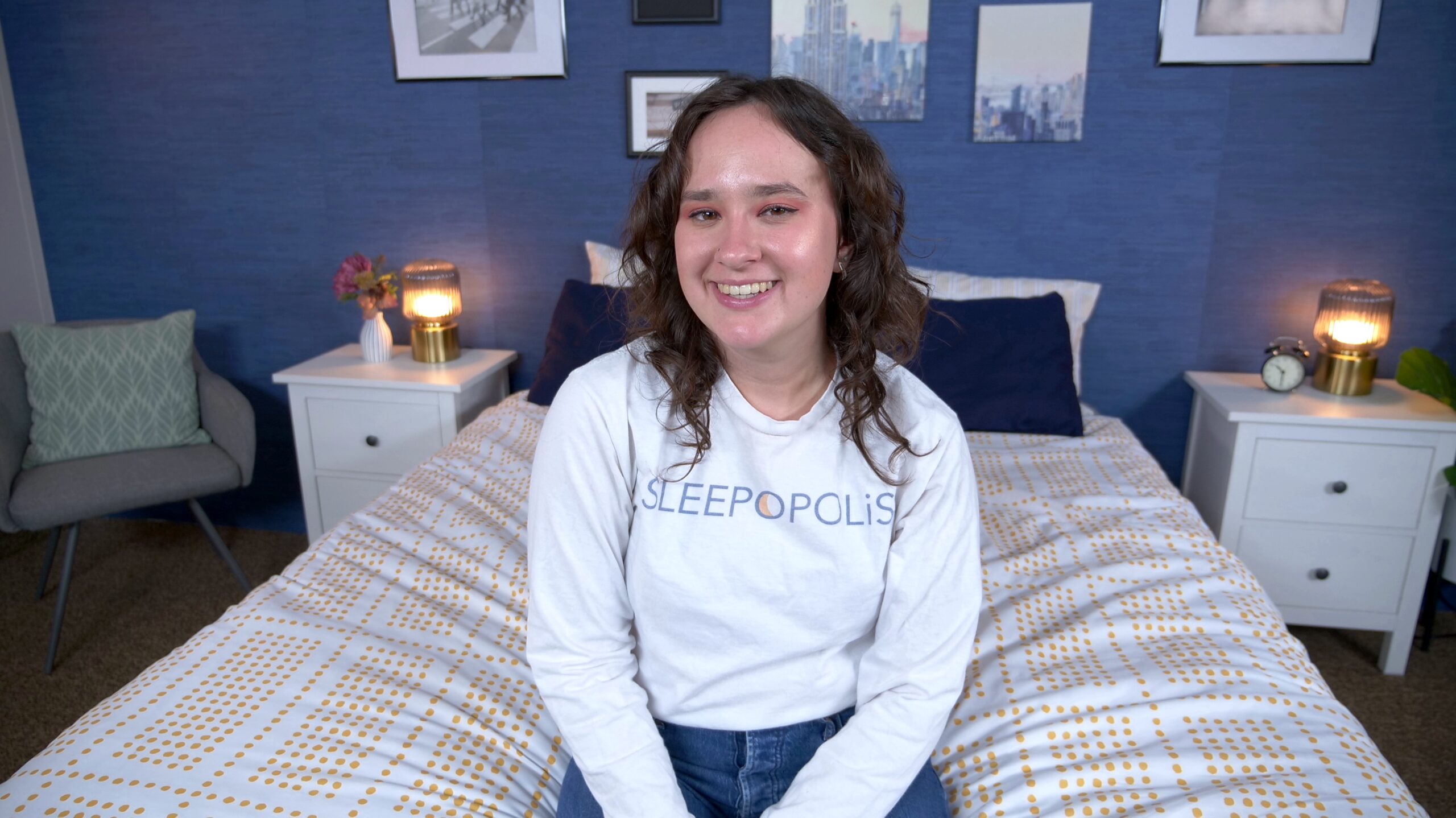 Amelia Jerden
Amelia is a Senior Staff Writer for Sleepopolis. She primarily covers bedding and sleep accessory products in reviews, how-to guides, and more. You can also find her over on the Sleepopolis YouTube channel. Amelia is a graduate of the University of North Carolina at Chapel Hill, with double majors in media and journalism and in dramatic art. Outside of work, Amelia can usually be found on a hike, traveling to a new city, or at her local thrift store.