I'm extra excited about this review because I'm taking a look at Gravity Blanket's first-ever Queen/King size weighted blanket. Designed in collaboration with bedding brand Purple, this Gravity Blanket is the biggest and heaviest model they offer. It's said to be perfect for couples and heavier sleepers, and I'm here to personally put that theory to the test!
So keep reading this Gravity Blanket review to learn exactly what it's made of, how it feels, and who's going to be most compatible with it. Plus, I'll explain the science behind weighted blankets, and let you know why so many sleepers use them to alleviate stress. Let's get started.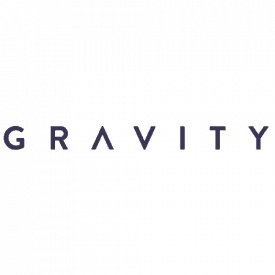 The Gravity Blanket comes in 15, 20, or 25 lbs and is great for trendy sleepers looking for a popular name brand. Gravity Blanket is arguably the most recognizable brand on the weighted blanket market. Use code SLEEPOPOLIS10 to save 10% on your purchase!
Brand Snapshot
Following a successful Kickstarter campaign in 2017, Gravity Blanket swiftly became one of the biggest brands in the weighted blanket industry. Within its first year, it gained all kinds of celebrity attention on social media, and was even featured in one of Time Magazine's "Best Inventions" round-ups.
Now, Gravity Blanket offers myriad weighted accessories, from eye masks to pillows. Here at Sleepopolis, I've had the pleasure of testing the Original Gravity Blanket, but today I'm focusing specifically on its King size model. And while I have tested over a dozen weighted blankets from many different brands, I've never seen one this heavy! So without further ado, let's get into this review.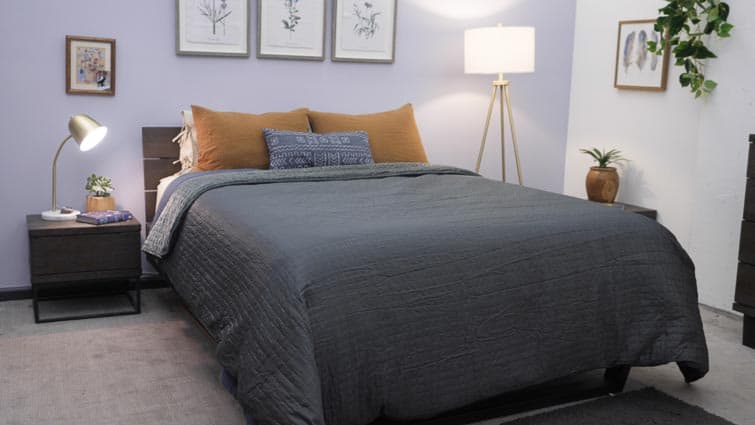 What Is The Gravity Blanket Made Of?
This Gravity Blanket is big enough to cover my entire Queen size mattress, and then some. It's 90-inches long, 90-inches wide, and weighs a whopping 35 lbs. (the heaviest weighted blanket I've ever tested). But before I tell you about my experience with it, let's talk materials.
Materials: Polyester, Cotton, & Glass Beads
This blanket's duvet cover is made entirely of polyester, though one side is a silky cool tech fabric, while the other is a velvety minky material (polyester can take many different forms!). The idea behind this dual-sided design is that sleepers can choose between two distinctly different feels. Hot sleepers might prefer the silky side, as it was made to be more moisture-wicking and breathable than the other side.
The duvet cover is removable and comes with over a dozen internal ties to keep the weighted insert locked in place. When it's time to throw the duvet cover in the wash (yes, it's machine washable), just untie all the loops and feel free to enjoy the weighted insert on its own.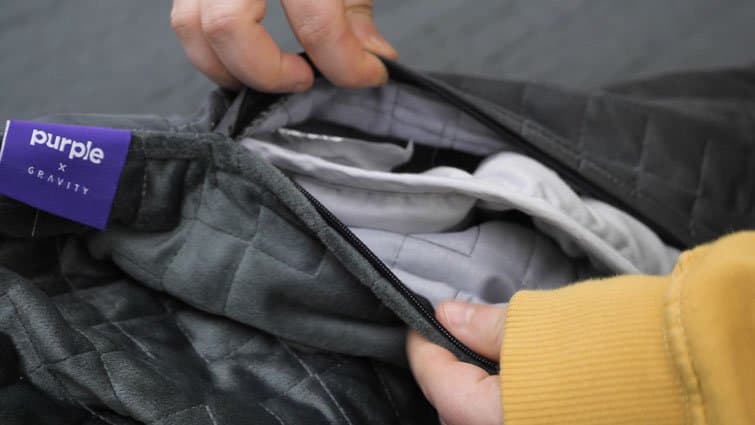 Speaking of which, the weighted portion of this blanket is covered in 100% cotton and filled with fine-grade glass beads. "Fine-grade" means the beads are super tiny, which makes them less likely to make noise or clink together when you roll around in bed. The weighted insert also features gridded stitching, which is something I always look for in these sleep accessories.
Essentially, gridded stitching keeps the weighted materials confined to individual squares for an even distribution of pressure. In this case, there's about a half-pound of glass beads in each square. Now, you might be thinking, "Why would anyone want to sleep with a weighted blanket, anyway?" Well, I'm so glad you asked!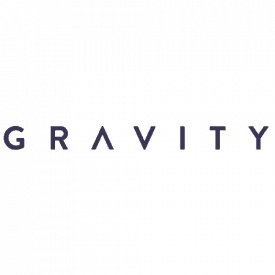 The Gravity Blanket comes in 15, 20, or 25 lbs and is great for trendy sleepers looking for a popular name brand. Gravity Blanket is arguably the most recognizable brand on the weighted blanket market. Use code SLEEPOPOLIS10 to save 10% on your purchase!
Deep Pressure Touch & Choosing the Right Weight
Weighted blankets are designed to apply deep pressure touch, a therapeutic technique that can make you feel happy, sleepy, and calm. The pressure of the blanket releases serotonin (our happy neurotransmitter) which triggers the release of our sleepy hormone, melatonin. (1) However, it's important to pick the weight that's right for your body in order to fully benefit from these effects.
When you're shopping for weighted blankets, go with one that's closest to 10% of your own body weight, give or take a few pounds. For example, if you weigh 190 lbs, you're probably best suited to a 20-lb blanket. That said, you may find that using a weighted blanket for hours at a time can cause muscle fatigue, or even desensitize you to the effects of deep pressure touch. That's why I always recommend that sleepers consult a healthcare provider before integrating a weighted blanket into their bedtime routine (especially one as heavy as this Gravity Blanket).
More: See how Gravity Blanket compares to the best weighted blankets on the market!
My Experience With The Gravity Blanket
Now that we know what we're working with, allow me to detail my personal experience with this Gravity Blanket. In this section, I'll tell you what I liked, what I didn't like, and give my overall verdict on its performance.
Firstly, I want to note that I'm 5-feet tall and weigh about 135 lbs., which means this blanket is way too heavy to use on my own. So, I enlisted the help of some co-workers to get a better sense of how it works for couples and different body types. None of us had ever tested a blanket this heavy, and we were surprised to find that it doesn't really feel like 35 lbs when the weight is shared between two people.
Don't get me wrong — this Gravity Blanket applies quite a bit of pressure, and kind of made me feel like I was getting a full-body bear hug. Personally, I still found it to be a bit too heavy (even when I shared it with a partner), but my taller, heavier co-workers said it felt "just right" when the weight was distributed between the two of them.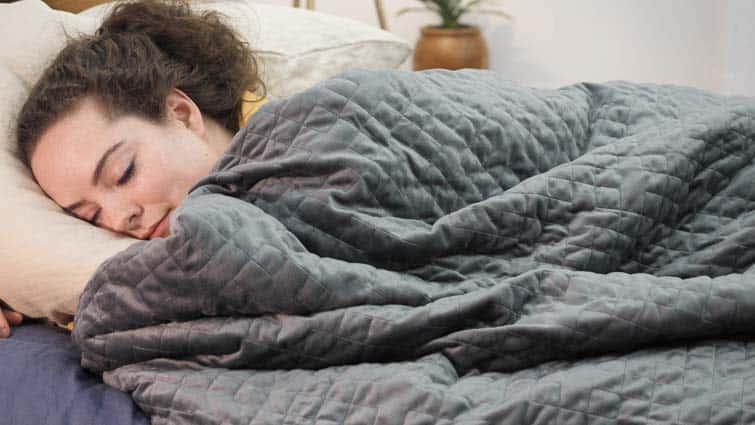 Despite being a tad too petite to really enjoy it on my own, I was impressed with this blanket's construction. The dual-sided duvet cover is a special feature, in my opinion, as one side feels silky and the other is plush and fuzzy. But as a hot sleeper, I didn't find either side to be particularly cooling, and this blanket definitely made me feel warm.
Meanwhile, the blanket's gridded stitching made for a balanced feel that seemed to boost the therapeutic properties of deep pressure touch. My co-workers said it made them feel calm and drowsy — and that's the effect we're going for! I also appreciated how the fine-grade glass beads didn't make any noise as I shifted positions beneath the blanket.
Overall, the Gravity Blanket was a big hit here at Sleepopolis. One last thing to consider, though, is that my co-workers thought it was kind of tough to maneuver the blanket once they were under it. For example, when one tried to roll onto his side and scoop some blanket under his arm, he had to use two hands and really give it a firm tug (more of a work out than he was expecting, I think!)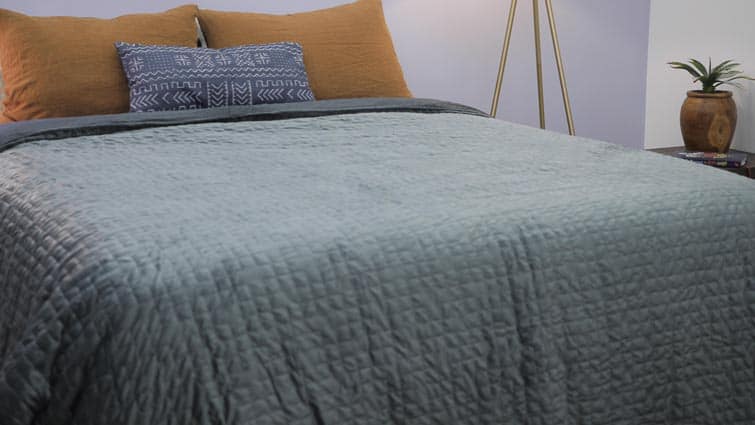 The Verdict
I think the Queen/King size Gravity Blanket is a great pick for couples and heavier folks, but it's a little too heavy for a petite sleeper like me. That said, I was very impressed by how cozy the duvet cover is and how relaxed the blanket made my co-workers feel! Good stuff, Gravity Blanket.
Should I Buy The Gravity Blanket?
Now that we've taken a close look at this big ol' Gravity Blanket, let's recap the highlights so you can better determine if it's the best fit for you:
Duvet Cover – Sleepers can enjoy the dual-sided softness of this blanket's duvet cover, as one side feels silky and the other feels fuzzy. Not to mention, it's removable, machine washable, and features over a dozen internal clasps that keep the weighted insert locked in place.
Balanced Pressure – Gridded stitching on the weighted insert keeps the glass beads confined to each individual square, which makes for an even distribution of pressure. In my experience, this boosted the therapeutic benefits of deep pressure touch by preventing the weight from concentrating in one area.
Couples and Heavier Sleepers – The main draw of this blanket is its size and weight. Most weighted blankets peak at 25 lbs., and are designed to cover a small portion of your bed (which isn't ideal for couples or folks who weigh more than 300 lbs). So if you're a heavier sleeper or looking to cuddle beneath a weighted blanket with your partner, this is a great way to go.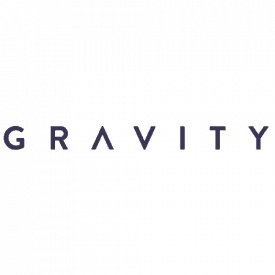 The Gravity Blanket comes in 15, 20, or 25 lbs and is great for trendy sleepers looking for a popular name brand. Gravity Blanket is arguably the most recognizable brand on the weighted blanket market. Use code SLEEPOPOLIS10 to save 10% on your purchase!
Gravity Blanket Complaints
Of course, there are a few things to consider before you make your purchase:
Petite Sleepers & Kids – This is a very large, very heavy blanket that was not made for kids or petite sleepers. And as a petite sleeper myself, I can tell you that I found it to be too heavy for my body whether I was sharing it with a partner or not. But keep in mind that Gravity Blanket offers smaller models as well, ranging from 15-25 lbs.
Weighted Insert – While the duvet cover is machine washable, the weighted insert is not. Instead, it must only be spot cleaned with a damp cloth and mild detergent, and then left to air dry.
Price – At about $250, this Gravity Blanket isn't going to be in everyone's budget. That said, you have 30 days to return it for a full refund (but it does need to be in its original packaging).
Anything Else I Should Know?
Pricing – $249.00
Sizing – 35 lbs, 90" x 90"
Wash Care – Wash the duvet cover with mild detergent, allow to air dry. Spot clean the weighted insert.
Colors – Gray, Blue, White
Free Shipping – within the U.S.
30-Day Returns
FAQs
How do you pick the Gravity Blanket weight that's right for you?
When you're shopping for a weighted blanket, choose the one that's closest to 10% of your own body weight. For example, a person who weighs about 150 lbs should choose a weighted blanket that's 15 lbs. 
Does the Gravity Blanket make you hot?
Weighted blankets are designed to be heavy and thick, and are often quite warming. That said, Gravity Blanket is one of many brands that offer a cooling weighted blanket for folks who run hot. 
Can you wash the Gravity Blanket?
The Gravity Blanket features a removable duvet cover that can be washed and dried by machine. However, the weighted insert itself must only be spot cleaned with a damp cloth and mild detergent. 
Sarah is the Senior Writer and bedding expert at Sleepopolis. Every week, she personally tests and reviews new pillows, sheet sets, and other sleep accessories. She accompanies every video review with a meticulously detailed article to ensure her audience has all the pertinent info they need for the best shopping experience possible. Perhaps that's why her fans have dubbed her "the most thorough pillow reviewer on the Internet." Having tested everything from sleep trackers to mattress toppers, Sarah's expertise runs deep and is always expanding. She received her degree in Creative Writing from Brooklyn College and spends her free time doing stand-up, making pasta, and hanging with her cats.