If you're under an immense amount of pressure, you might say that you "have the weight of the world on your shoulders" to convey how stressed you are. However, to Gravity — creators of the Gravity weighted blanket — having weight on your shoulders is about relaxation, not stress. They have turned the meaning of that phrase upside down with their weighted robe, which features a weighted collar to promote stress relief.
With weighted blankets' rise in popularity, more "weighted" products have been hitting the market lately that seek to use Deep Touch Pressure stimulation in different ways. Deep Touch Pressure has been shown to increase calming hormone production and reduce stress-inducing hormone production. It's the effect you get from hugging or cuddling, but it can also be induced with light weighted pressure.
Should this be the next wellness product on your wishlist? I personally tested this robe out, so keep on reading to find out if this robe truly can take the weight of the world off your shoulders… by putting some extra weight on your shoulders.
Or if you're short on time, skip to the end for my review summary.
Gravity Fleece Weighted Robe
This fleece robe has a 3-lb weighted collar, designed to provide a calming effect.
Sleepopolis Score
3.79 / 5
Read Full Review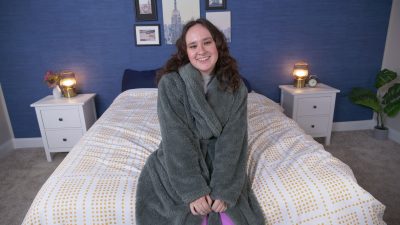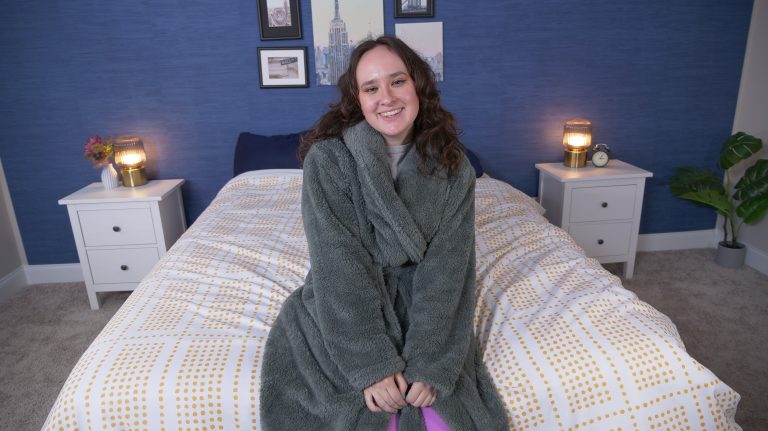 What is the Gravity Fleece Weighted Robe Made Of?
There are two main components to this weighted robe: the robe itself and the weighted inner insert. I'll go over the materials used in each of these pieces, as well as how they attach together. Additionally, I'll note here that Gravity collaborated with Ron Chereskin of Modernist Studios, an award winning artist and designer, to design this Modernist x Gravity Weighted Robe to be both stress-relieving and stylish.
Robe: The robe itself is made from 100 percent polyester fleece. It's a classic bathrobe design, with a two-lapel collar and a rope belt to tie the robe shut. There are two loops to hold the belt in place on either side of the robe and there is a pocket on each side of the robe.
The robe comes in four different sizes: small, medium, large, and extra large. Additionally, the robe is machine washable.
Weighted Wrap Insert: The weighted wrap insert used in this robe is a 100 percent cotton cover filled with 100 percent silicone beads. These beads are what give the insert its weight, which is a total of three pounds. The insert uses gridded stitching to divide the insert into sections that each contain some beads. This ensures that the beads don't pool on one side, keeping the weight distribution even.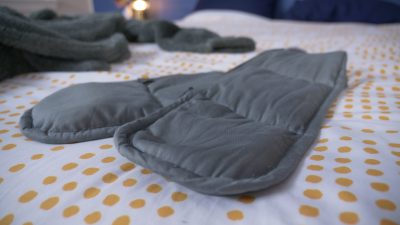 There is a small zipper on the underside of the robe's collar, which unzips to reveal the weighted insert.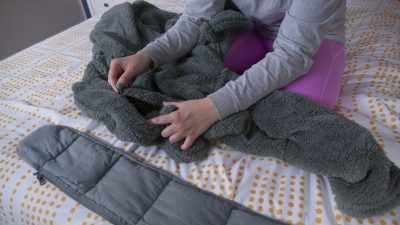 Then, there is a second zipper that attaches the weighted insert to the inside of the collar.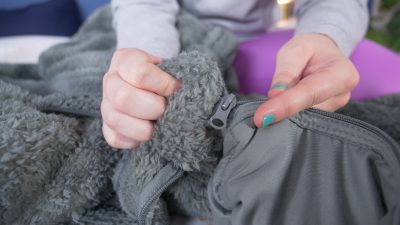 To remove the weighted insert, simply unzip. The three-pound weighted insert is not machine washable, so it's best to remove it before washing the robe. The insert can only be hand washed.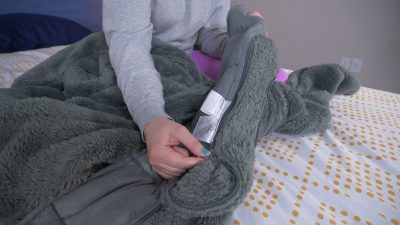 I also want to note that every size of the robe comes with the same three pound weight — there aren't multiple weight options for the weighted robe, as there often are with weighted blankets.
Gravity Fleece Weighted Robe
This fleece robe has a 3-lb weighted collar, designed to provide a calming effect.
Sleepopolis Score
3.79 / 5
Read Full Review
What Does the Gravity Fleece Weighted Robe Feel Like?
When I first took this robe out of the packaging, I was immediately excited by how soft and fuzzy the fleece robe itself was. When I tried it on, I felt super snug and cozy being swaddled up in this robe. The fabric is pretty light, but the robe still kept me quite warm. As someone who's usually cold, I really liked how it kept me a little toasty. But if you tend to run hot, it might be too warm for your taste.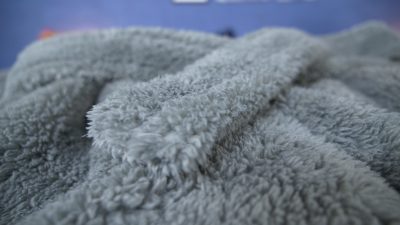 I also thought the fit of the robe was great. I got a medium size and I felt like it fit me well — not too loose or too tight. For reference, I'm about 5'5" and usually wear a women's medium.
Now, the feel of the weighted insert was interesting to me. It definitely felt like I had a mini weighted blanket on my neck and shoulders. But I have to say, I wasn't the biggest fan of the sensation. Maybe it was a bit too heavy for me, or maybe I just have sensitive shoulders, but I found the weight to be slightly uncomfortable.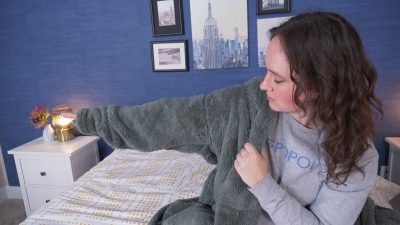 However, I had my boyfriend try it out after me for a second opinion and he loved it! He said he felt like the weight of the insert was forcing him to relax his shoulders down and was really comforting. And scanning through customer reviews, I found a lot of other people who really enjoyed the weighted feel too. One reviewer said it feels like a "gentle hug on your shoulders that instantly soothes and relieves tension."
I do really like the Deep Touch Pressure stimulation that weighted blankets provide, but personally, I wasn't as big of a fan of the robe form. It seems like lots of other people enjoy them though, so truly different strokes for different folks.
Gravity Fleece Weighted Robe
This fleece robe has a 3-lb weighted collar, designed to provide a calming effect.
Sleepopolis Score
3.79 / 5
Read Full Review
Is the Gravity Fleece Weighted Robe Good for You?
With all that in mind, here's who I think should consider trying the Gravity Fleece Weighted Robe, as well as some of my complaints.
Who Should Try the Gravity Fleece Weighted Robe
If

you love all things fuzzy and soft

, I think you'll vibe with the plush, fluffy,

faux fur

feel of this robe. Even though I wasn't personally a huge fan of the weighted insert, I've been wearing the robe without the insert at home because it's so cozy.

If you are looking for a product to

relieve tension around the neck and shoulders

, I'd definitely recommend trying this robe out. While I didn't end up loving it, it seems like a lot of other folks do. But if you have any existing neck or shoulder pain or sensitivities, I do recommend checking with your doctor before trying this

weighted robe

.

Finally, if

easy cleaning is a priority for you

, I think you'll really appreciate that the robe is

machine washable

, sans the weighted insert.
Gravity Fleece Weighted Robe Complaints
If

you tend to run hot

, you might not love how warming this

weighted bathrobe

is. However, Gravity does make another

weighted robe

that's made with

terry cloth

, which is a much lighter fabric, that you might prefer.

If

you wear a size larger than extra large

, this robe also isn't the best option, as that is the largest size Gravity currently offers.

Lastly, I do wish Gravity offered

different weight options

for the weight insert. I'm curious to know if I would have found the weight more relaxing if it had been one or two pounds, instead of three.
Gravity Fleece Weighted Robe Prices, Sizes, and Colors
Curious how much this robe costs? Here's the current price, as well as the sizes offered.
| Size | Price |
| --- | --- |
| Small | $130 |
| Medium | $130 |
| Large | $130 |
| Extra Large | $130 |
Gravity Fleece Weighted Robe
This fleece robe has a 3-lb weighted collar, designed to provide a calming effect.
Sleepopolis Score
3.79 / 5
Read Full Review
The Gravity Fleece Weighted Robe comes in three different color options: white, gray, and navy blue.
Gravity Fleece Weighted Robe Policies and FAQs
How does the Gravity Fleece Weighted Robe ship?
Gravity offers free shipping within the contiguous United States. Customers in Hawaii, Alaska, and Canada will have to pay an additional shipping fee.
Does the Gravity Fleece Weighted Robe come with a warranty?
No, Gravity does not offer a warranty on this robe. However, their customer service team told me they are happy to assess defective products within a year of purchase.
How do I clean the Gravity Fleece Weighted Robe?
First, remove the weighted insert from the robe. Then, you can machine wash the robe with like colors in warm water. The weighted insert should only be hand washed/spot cleaned.
Can I return the Gravity Fleece Weighted Robe after opening it?
Yes, according to Gravity's return policy, you can return the weighted robe within 30 days of delivery. It must be returned undamaged, in its original packaging. Visit gravityblankets.com for more information on their return policy.
Does Gravity make any other weighted products?
Yes, Gravity also sells weighted sleep masks. They also sell a variety of other non-weighted products, from duvet covers to sheets to slippers.
Other Products from Gravity
Finally, here are my star ratings for the Gravity Fleece weighted robe.
Materials

Comfort

Value

Durability