If you're a bit bigger than your average sleeper you know how important support can be when looking for a new mattress. Most beds are not built with the specific needs of heavier folks in min so I've listed my picks for the Best Mattress for Heavy People 2020! This list is not comprehensive though, so after the picks I've put some information about what you should be looking for in a great bed for heavy people.
Best Cooling Mattress

Helix Plus

Its cooling properties and deep pressure relief make the Helix Plus great for heavier side sleepers who need help keeping cool throughout the night! Enjoy $75 off a standard mattress or $125 off a LUXE mattress by using either SLEEPOPOLIS75 or SLEEPOPOLIS125!

Best Mattress for Back Sleepers

WinkBeds Plus

The WinkBed Plus was designed to be bouncy, cooling, and particularly supportive for heavier sleepers! This mattress is a take on the original Winkbeds mattress for folks that are 250 lbs or more.

Best Mattress for Hip Pain

Layla Hybrid

The Layla Hybrid uses foam and coil layers for two firmness options so you can choose the right support level for your sleep style. Get $210 off your purchase along with 2 premium pillows by using code SLEEPOPOLIS!

Best Mattress for Side Sleepers

Bear Hybrid

Specifically designed for athletes, the coils in the Bear Hybrid allow sleepers to change position easily, without any stuck feeling. Enjoy 20% off your purchase with code SLEEPOPOLIS.

Best Hybrid Mattress

Brooklyn Titan

The Titan mattress was specifically designed by Brooklyn Bedding to provide support and comfort to heavy folks who have trouble with standard mattresses. Use code SLEEPOPOLIS20 to save 20% on your purchase!

Best Innerspring Mattress

Saatva HD

The Saatva HD is a sturdy innerspring mattress that was built with the specific sleep needs of heavier folks in mind.

Best Foam Mattress

Casper Wave Mattress

Casper's most luxurious mattress, the Wave is built with pressure relief in mind. Though not designed specifically for heavy sleepers, Casper pulled out all the stops with the Wave, so it should prove comfortable for a sleeper of any weight. Plus with a balanced foam feel minimizing motion transfer, you won't feel your partner tossing and turning throughout the night!
Best Cooling Mattress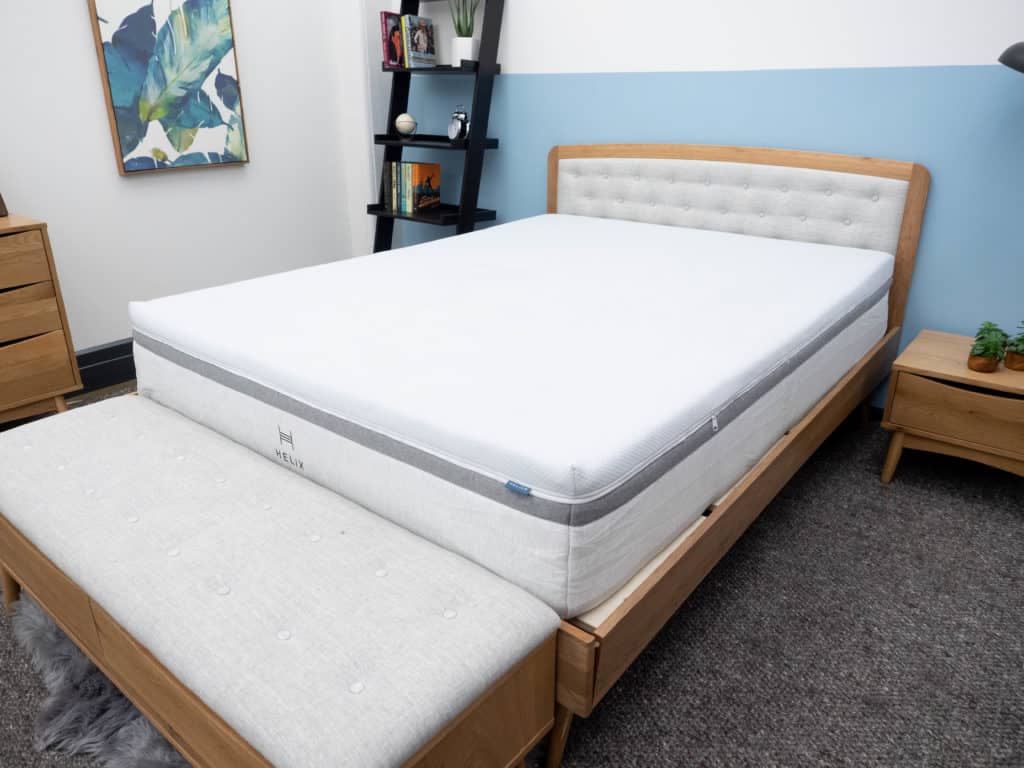 Helix Plus
Helix is known for offering a range of mattresses in different feels that can be personalized to your (and a partner's) sleep styles. Among Helix's diverse lineup, the hybrid Plus stands out as being designed specifically for heavy folks who weigh between 250 and 300 pounds. The company has created a sturdy, medium firm, and supportive mattress using a variety of foams and a pocketed coil support system. The combination of support and pressure relief is a good fit for combo sleepers, who will also appreciate that it's easy to adjust positions on this mattress. 
This mattress also does a great job of sleeping cool, so it's ideal for folks who tend to sleep hot. Several factors contribute to this cooling effect, including open-cell foam (which allows for more airflow than conventional foam), a breathable cover, a gel infusion in the memory foam comfort layer (which helps dissipate heat), and coils, which further promote airflow. And because the mattress is medium-firm, you're liable to sleep more on top of it than "in" it, so you're unlikely to experience that "swaddled" feeling that can crop up on beds with a lot of sinkage.
Are you possibly falling in love with the Plus? Find out in my comprehensive Helix Plus review.
Save $75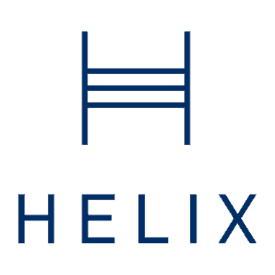 Its cooling properties and deep pressure relief make the Helix Plus great for heavier side sleepers who need help keeping cool throughout the night! Enjoy $75 off a standard mattress or $125 off a LUXE mattress by using either SLEEPOPOLIS75 or SLEEPOPOLIS125!
Best Mattress for Back Sleepers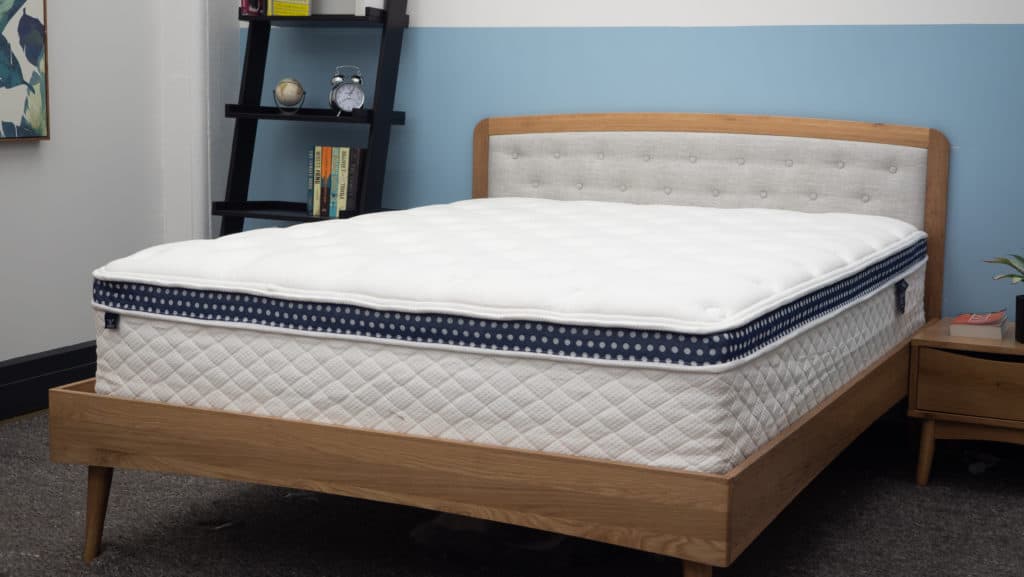 WinkBeds Plus
Back sleepers of all weights and sizes need a mattress with enough support to keep their spine in proper alignment. The WinkBed Plus is designed to deliver this kind of support. While WinkBed makes a few different models (including the natural latex EcoCloud and all-foam MemoryLux), the Plus is designed specifically with heavier folks in mind. Its super firm feel is ideal for providing the extra support required by heavy back sleepers, while its quilted cover helps cushion the lumbar area.  
The WinkBed Plus derives its support from a combination of foam and pocketed coil layers, which also have great bounce. The mattress's bounciness and quick-responding latex foam ensure that it's easy to move around on the bed, and you're likely to sleep on top of the mattress as opposed to "in" it. Sleeping on top of the mattress helps keep you cool, as do the Tencel cover and pocketed coils, which provide plenty of space for airflow. You can enjoy supportive comfort on the farthest reaches of the mattress thanks to its high-density polyfoam edge support.
Will this mattress be a plus for your bedroom? Decide by reading my full WinkBed Plus review.
Save $200!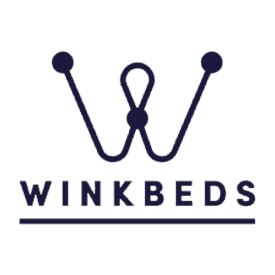 The WinkBeds Plus was designed to be bouncy, cooling, and particularly supportive for heavier sleepers! Save $200 on your order with our exclusive discount code SLEEPOPOLIS200!
Best Mattress for Hip Pain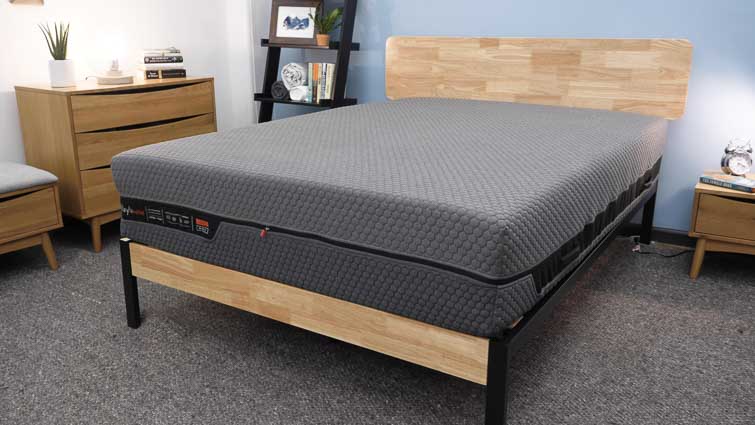 Layla Hybrid
If you struggle with hip pain, you'll want to find a mattress that's supportive enough to lift your hips up and out of the structure while still providing pressure relief at the lower back. A hybrid could be a great option for you, especially if it's built like the Layla Hybrid. 
This is my favorite mattress for hip pain sufferers for a few reasons. First and foremost, the bed utilizes gentle memory foam to soothe aches and pains at the shoulders, hips, and lower back. Secondly, the tall interior section of pocketed coils provides a ton of lift for healthy spinal alignment (a crucial factor for joint pain). And finally, the mattress strikes a pleasantly balanced vibe that's neither too gentle nor too firm. This last point is further accentuated by the fact that the bed is flippable, so you can tailor it to your specific comfort needs. 
For more on this hybrid bed, read my full Layla Hybrid mattress review.
Save $210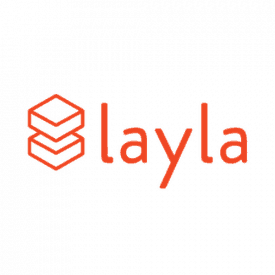 The Layla Hybrid uses foam and coil layers for two firmness options so you can choose the right support level for your sleep style. Get $210 off your purchase along with 2 premium pillows by using code SLEEPOPOLIS!
Best Mattress for Side Sleepers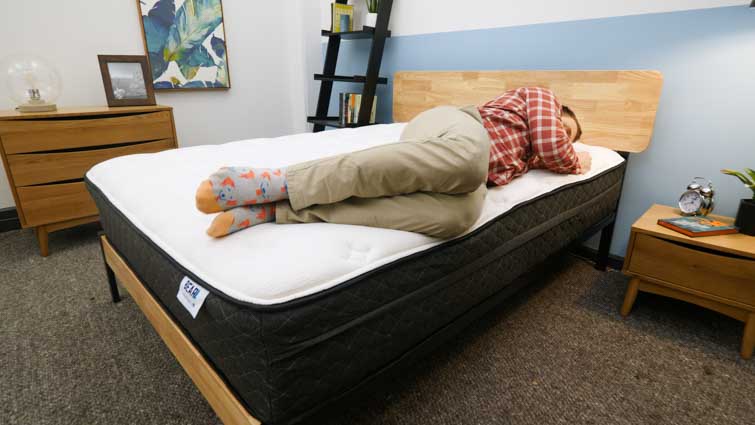 Bear Hybrid
While many mattresses for heavy people are on the firmer side, the Bear Hybrid stands out for having a plusher feel that's just a touch softer than medium firm (without sacrificing the support required by heavier folks). The Bear Hybrid features soft layers of foam that allow you to sink into the mattress. That softness is ideal for side sleepers, as it promotes body contouring, defends against pressure around sensitive areas such as the shoulders and hips, and helps to avoid the "jammed up" feeling that can sometimes happen on firmer mattresses.. 
While the Bear Hybrid offers a fairly soft feel, the mattress should still be supportive enough to maintain healthy spinal alignment when you're on your side. It includes pocketed coils, which contribute to the supportive nature of the bed while providing great bounce (so you're unlikely to feel stuck). And even though the mattress uses several layers of foam on top of its coils, it sleeps fairly cool thanks to gel infusions and a Celliant cover, which some studies suggest could support athletic recovery.
Can't bear to go another second without knowing more about this mattress? Check out my Bear Hybrid review. 
Save 20%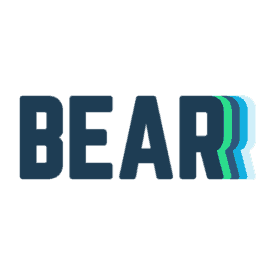 Specifically designed for athletes, the Bear Hybrid is a great supportive option for active sleepers. Enjoy 20% off your purchase with code SLEEPOPOLIS.
Best Hybrid Mattress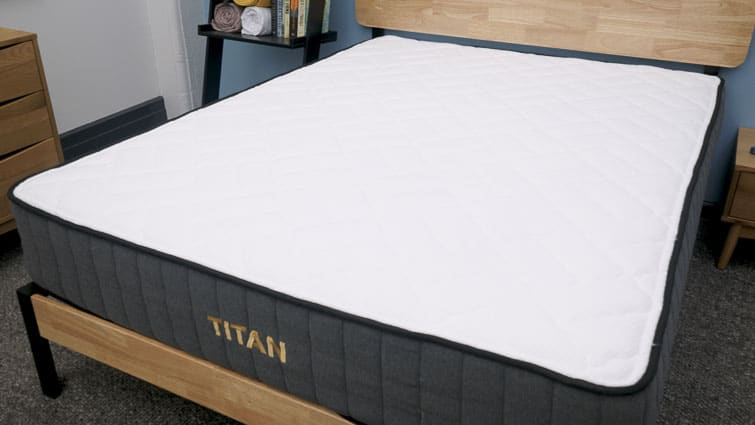 Brooklyn Titan
Hybrid beds are enjoying a lot of popularity these days. To qualify as a hybrid, a mattress must use a combination of foam and coil layers. The Titan does this with a design that's tailored to the needs of folks who weigh 250 pounds or more. That design boasts a mix of support (to help maintain proper spinal alignment) and pressure relief. This vibe should be ideal for back sleepers, stomach sleepers, or combo sleepers who don't spend a ton of time on their side. 
The mattress gets its feel from the brand's proprietary TitanFlex foam, pocketed coils, and high-density poly foam. Together, these resilient materials offer a number of perks. The bounce from the TitanFlex foam and pocketed coils means you won't feel stuck in the mattress, and it's fairly easy to move around on top of it. (Again, this could appeal to combo sleepers.) Meanwhile, the combination of foam and coils also does a great job at isolating motion, so this could be a good choice for couples. 
Is this the Titan-ic shift that your bedroom needs? Learn more about this mattress in my comprehensive review. 
Save 20%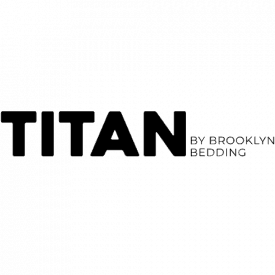 The Titan mattress was specifically designed by Brooklyn Bedding to provide support and comfort to heavy folks who have trouble with standard mattresses. Use code SLEEPOPOLIS20 to save 20% on your purchase!
Best Innerspring Mattress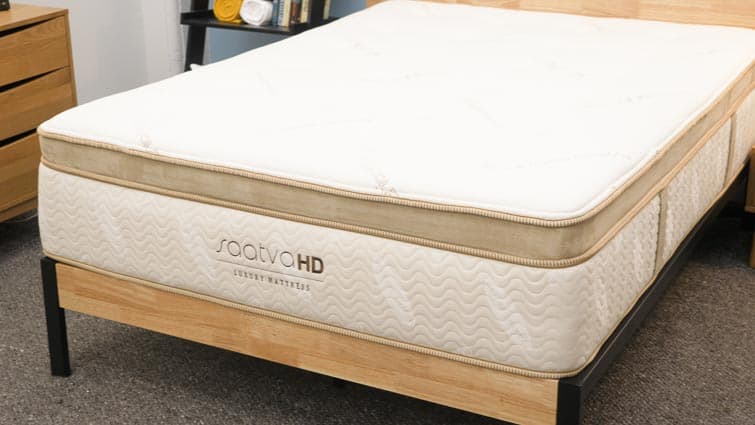 Saatva HD
Saatva is an online mattress retailer that specializes in luxury beds, and the Saatva HD is their model for heavier folks. Not only does the HD stand out among Saatva's other models, but it also stands out on this list: While most of these mattresses are bed-in-a-box options, the Saatva HD will appeal to people who prefer the sturdiness of a more traditional (uncompressed) bed. It offers a classic innerspring feel that's on the firmer side, and it's made with high-quality materials that boast great support and durability. In fact, the bed comes with a 20-year warranty.
Sturdiness isn't the only thing going for this mattress. The pillow-top features bouncy Talalay Latex that is naturally cooling and full of supportive lift. Beneath the latex, you'll find a contouring layer of memory foam followed by a transitional layer of poly foam, which helps defend against sinking so far into the mattress that you feel discomfort from the coils. Together, these layers balance comfort and support to create a feel that should appeal to combo sleepers, since the mattress promotes pressure relief in multiple positions.. Strict back and stomach sleepers will also find a lot to love about this mattress. 
Intrigued by this innerspring mattress? Read up on the Saatva HD in my full review.

The Saatva HD is a sturdy innerspring mattress that was built with the specific sleep needs of heavier folks in mind.
Best Foam Mattress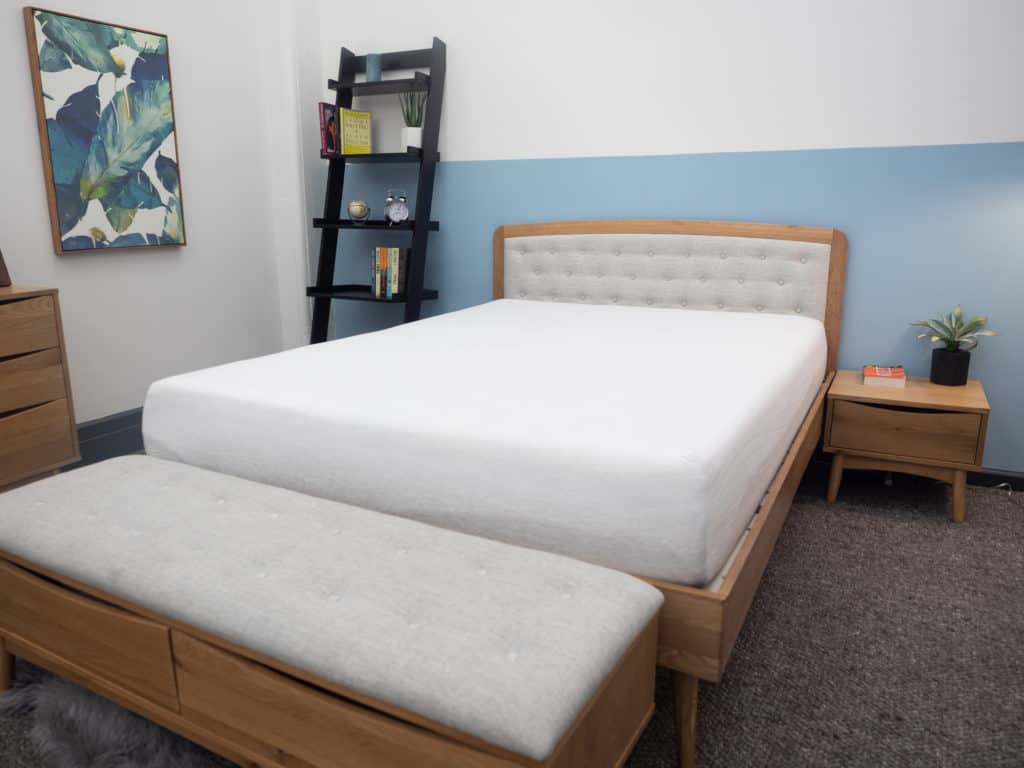 Casper Wave
The bed-in-a-box Casper Wave is distinct from other options on this list thanks to its all-foam construction. The Wave has five foam layers and a combination of poly, latex, and memory foam. Together, these foams provide nice pressure relief and a plusher feel. That plush feel should appeal to side sleepers, who might also like that the mattress is pretty tall, so there's plenty of room to sink into the foam and avoid feeling jammed up around the shoulder. At the same time, the latex foam offers enough responsiveness to safeguard against feeling trapped.
While some foam mattresses simply don't offer enough support to suit heavier folks, the Casper Wave's Zoned Support structure counteracts this issue by providing extra support around the hips. This means side sleepers can enjoy pressure relief at the shoulder without losing spinal support, and it also means the mattress should adequately align the spine if you spend some time on your back or stomach. (That said, it might be too soft for strict stomach sleepers who spend all night in that position.) If the Casper Wave sounds appealing but you really want the bounce of coils, the mattress also comes in a hybrid version. 
In the mood for a supportive all-foam mattress? Learn more about the Casper Wave in my full review.

Save $200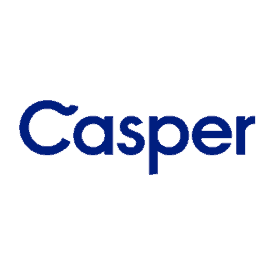 Casper's most luxurious mattress, the Wave is built with pressure relief in mind. Customers in the US can use code SLEEPOPOLIS to save $200!
Mattress Buying for Heavier People
Whether shopping for a mattress online or in-store, a few factors are critically important for heavy or overweight sleepers to consider. Body weight helps to determine the support, thickness, and material you choose when buying a new mattress. The following guide will help you narrow down the many available options and make an educated decision when you're ready to purchase.
An important note: Many sleepers who weigh more than 200 pounds are not overweight, but for the purposes of this guide the terms "heavy," "large," and "overweight" refer to sleepers above 200 pounds. All mattresses mentioned in this review can support a bodyweight up to at least 300 pounds, and several can support 350-450 pounds.
How Much You Weigh
Body weight is a key factor to consider when choosing a new mattress. The more you weigh, the more pressure you put on a mattress, and the more the structural support of your mattress matters. Too little support can cause discomfort, disrupted sleep, and flattening of the mattress surface or core.
Much of the mainstream bedding market is geared toward people who weigh 250 pounds or less. In general, a 200-pound person will have more options when purchasing a mattress than a 300 or 400-pound person, but there are some great options for larger sleepers. When purchasing a mattress, heavier people should be on the lookout for the following:
Support – Most beds are not built with the specific needs of heavier folks in min so I've listed my picks for the Best Mattress for Heavy People 2020 Can the mattress support your weight without sinking or sagging? Many bigger or obese people carry more weight in the hips and stomach area, making core and surface support of a mattress crucial to a comfortable night's sleep. An internal structure that includes steel coils is more likely to stand up to additional pressure from body weight.
Preference – Do you like a softer or firmer feel in a mattress? It may be a bit more challenging for heavy sleepers to find a softer mattress that offers a sturdy core structure, but a pillowtop mattress can provide a plush comfort layer without compromising support. Those who prefer a medium feel might opt for a firmer top layer that is thick enough to allow for some sinking of the body. Larger sleepers who like a firm feel can forego a plush comfort layer but should keep support and pressure relief in mind. A latex surface may work well for a sleeper of this type.
Sleeping Position – Your primary sleeping position helps determine the type of mattress that'll be best for you. If you weigh more than 200 pounds, your sleeping position has even more impact on your mattress choice. Heavy side sleepers often do best with a medium-firm mattress that provides enough support to the spine and joints while relieving pressure on the hips and shoulders. Back sleepers may prefer a firmer mattress that supports the spine and prevents the hips and shoulders from sinking out of alignment. Stomach sleepers usually need a firm mattress that keeps the hips level to prevent curvature of the lower back and excess pressure on the neck.
Mattress Materials
The materials in a mattress do a lot to inform the overall firmness, support, and temperature regulation of a structure. Mattress materials are particularly important for heavier people, who may need additional structural support and cooling features. Some of the most common materials include:
Memory Foam
Memory foam mattresses may be soft or very firm, depending on the manufacturer and material content. Mattresses made from memory foam can help relieve pressure points by providing even, consistent support that contours to the body in any sleeping position. The material responds to pressure slowly and transfers little to no motion. It is often a good choice for side sleepers and back sleepers looking for pain or pressure relief.
However, memory foam has a slight reputation for absorbing and trapping body heat. So, if you're someone who sleeps hot at night, you'll want to look for memory foam that's been modified with cooling properties, such as gel infusions or open-cell designs.
Latex
Latex foam is a natural product made from the sap of the rubber tree. A latex mattress can be a good option for heavier folks, from big guys to the morbidly obese. As opposed to memory foam, latex is able to offer gentle cushioning without pronounced sinkage. This can be a benefit for heavy sleepers who need pressure relief without sacrificing support.
Latex mattresses typically have a medium to medium firm feel, making them excellent choices for heavy folks who sleep on their backs or in multiple positions. The material is also naturally cooling, so it could work wonders for those who tend to overheat at night. Additionally, latex has a quick response to pressure, making it a much bouncier alternative to memory foam or other types of poly foams. However, it's worth noting that this increase in buoyancy may also result in more motion transfer across the structure.
Innerspring
In contrast to mattresses made exclusively from foam, innerspring mattresses utilize interior coils to provide support. This sturdy interior construction makes an innerspring mattress particularly appropriate for heavier people. Whereas foam tends to sink under body weight, an innerspring mattress has a firmer core structure that prevents deep sinkage.
The supportiveness of an innerspring mattress is determined by the number and density of its interior coils. A coil-on-coil construction, for example, uses two layers of springs to improve the feel, support, deep compression, and overall build quality of the mattress.
In addition to their exceptional internal support, innerspring mattresses typically offer better edge support than foam ones. This can be another big plus for larger people who sleep close to the edge of the mattress.
Hybrid
Hybrid mattresses utilize both coils and layers of foam. The benefits of hybrid mattresses are similar to those of innerspring mattresses. Steel coils create space inside a mattress, encouraging increased airflow and breathability. Coils offer both support and bounce due to their natural springiness. Comfort layers made of latex offer additional bounce, while memory foam layers provide pressure relief and conforming comfort without the bounciness of latex.
Hybrid mattresses tend to offer better edge support than other models, which can prevent sagging and increase the overall durability of a mattress. Another benefit of hybrids is deep compression support. Deep compression support allows the body to sink into the top layers of the mattress without "bottoming out," or diving too deeply into the foundation layer. Without this support, coils or parts of the mattress core might be detectable when sitting or lying down.
Mattress Thickness
The thickness of a mattress is an essential element of comfort and support. Most mattresses are between 6 and 14 inches thick, though there are some outliers. Mattresses made primarily of latex or memory foam are typically on the lower end of thickness, while hybrid and coil mattresses are usually on the higher end.
For sleepers who weigh less than 200 pounds, a 10" mattress is usually sufficient. However, because heavier people exert a larger amount of pressure on a mattress, they usually sleep best on a thicker mattress that offers deep compression support. Some 10″ mattresses utilize advanced foams or an extra thick comfort layer to improve this type of support, but as a rule, a mattress with a thicker profile will offer more consistent compression support for heavier and plus-size sleepers.
Mattress Firmness
The firmness level of your new mattress should be determined by what type of sleeper you are and your personal preferences. Mattress firmness is described by a numerical 1-10 scale, with 1 being the softest and 10 being the firmest. 6.5 is considered the industry standard for medium firmness. Most soft mattresses measure around 4-6/10 on the scale, while extra firm mattresses measure around 7-9/10. Heavier sleepers typically prefer a mattress on the medium to medium firm side, or around a 6.5 on the firmness scale.

When choosing the firmness of a mattress, remember that the heavier you are, the deeper and more pronounced the sinkage and hug. For example, a mattress that is rated at a 8/10 on the firmness scale might feel like a 7/10 for a sleeper who weighs 250 pounds or more. Depending on mattress and body type, a 250-pound person may experience about 1-2″ more sinkage than an average weight person.
Edge Support
To make sure you choose the best mattress for heavier, larger, and/or overweight people, you'll want to consider edge support, as well. Mattresses are used primarily for sleeping at night, but your bed can play a lot of roles during the day. If you frequently sit on the edge of your bed, edge support will be that much more important. A mattress with strong and stable sides can also help prevent significant sagging or collapse when you sleep near the edge of the mattress.
Edge support is also important for heavier couples. A more supportive edge allows each partner to sleep closer to the side and use the full surface area of the mattress. Edge support is a more common feature in mattresses with side support coils or additional side structure made of high-density poly foam.
In general, mattresses built from springs, coil-on-coil constructions, or hybrid designs that utilize springs and foam will offer the best edge support. Due to their design, many foam mattresses have minimal edge support, especially for heavier sleepers. This is less of an issue for thicker foam mattresses, but still important to keep in mind.
Sleeping Hot
A common complaint from heavy people is that they tend to "sleep hot." This can be an issue with mattresses that don't ventilate or breathe well throughout the night. Bedding, pets, and children can also make a mattress feel warmer. Studies show that heavier and/or more muscular sleepers have more body mass, which generates more heat.
Some mattresses sleep warmer than others. Here's how some of the most popular mattress materials stack up when it comes to temperature regulation:
Memory Foam – Mattresses made from memory foam typically sleep warmer than innerspring or hybrid mattresses. Many advanced memory foam mattresses have addressed the problem of heat retention by utilizing cooling gels, an open-cell structure, or cover materials that absorb heat. Heavy or obese sleepers who sleep hot may want to avoid inexpensive or basic memory foams that are more likely to absorb and retain heat.
Innerspring and Hybrids – Innerspring and hybrid mattresses don't absorb as much body heat and help to keep sleepers cool. The internal coil structure improves airflow through the mattress and helps prevent the accumulation of heat. Comfort layers made of a cooling material such as latex or advanced memory foam can also make innerspring or hybrid mattresses a good choice for hot sleepers.
Latex – The open cell structure of latex encourages airflow, which reduces the retention of body heat. Many latex mattresses and toppers contain small holes that permit even more airflow. In addition, changing positions and moving during sleep help to push air through the latex foam structure and disperse even more heat.
For more, check out my guide to the Best Cooling Mattresses!
Durability
Durability — or how long a mattress can be expected to last — is particularly important for heavier sleepers. A mattress that flattens out or becomes uneven after a few years can curtail comfort and make sleep difficult. Additionally, a structure that can withstand heavier weight will perform longer than one that is less structurally sound.
The lifespan of a mattress refers to the amount of time before it needs to be replaced. Heavier weight can impact the lifespan of a bed, making selection of the right mattress essential.
All mattresses gradually lose shape and support over the years. Common types of deterioration include:
Sagging – Sagging is caused by compression and breakdown of the mattress surface and/or interior materials. Sagging results from pressure by the body, particularly the torso and hips. This type of deterioration can cause misalignment of the spine, irritation of pressure points, and numbness and tingling from impaired circulation. Sagging may be a particular issue for heavy couples, who can't switch to another side of the bed.
Sinkage – Sinkage is common with memory foam mattresses but can become permanent over time. This type of sinkage can cause impressions of the body to form on the surface of the mattress and make changing positions more difficult.
Flattening – Flattening of the surface or upper layers of a mattress can occur relatively quickly if the layers are thin or of a lower quality. Typically, flattening takes place over years due to pressure from body weight. Flattening can be especially uncomfortable for heavy people who rely on a cushioning layer to provide pressure relief.
Softening – For those who prefer a medium firm to firm feel in a mattress, softening can be an unwelcome change. Some softening is to be expected in a mattress over time, but too much softening can lead to grooves in the mattress surface, increased pressure on joints, and disrupted sleep.
Most mattresses last approximately 6-7 years. The durability of a mattress varies by the types of materials used in its construction. These materials may include:
Memory Foam – Though more durable than poly foam, memory foam is susceptible to developing body indentations over time. The density of the foam makes a difference, however. Low density foam will form indentations more quickly, whereas medium and high-density foams will break down more slowly.
Innerspring – Innerspring mattresses are typically constructed from comfort layers made of foam or latex and an interior network of coils. Coils can lose their spring over time, making innerspring mattresses prone to sagging. Some lower-quality innerspring mattresses may deteriorate quickly, some in under three years. Higher-quality innerspring mattresses should last up to seven years.
Latex – Latex is frequently used as a primary mattress material or cushioning layer. Latex is less prone to indentations than memory foam but can gradually soften with use. Most latex mattresses can be expected to last about 7-8 years.
Hybrid – A hybrid mattress contains comfort layers made from memory foam and/or latex with pocketed coils in the support core. This combination of materials can be prone to indentations, softening, and sagging over time. Latex comfort layers will be a bit more durable than those made of memory foam. Most high-quality hybrid mattresses last about seven years.
Mattress Weight Limit
The typical mattress is designed to support a body weight of 250 pounds. Weight limits normally refer to one person sleeping on one side of the mattress and can be doubled to estimate the total weight the mattress will support. Though many of these mattresses can support more weight, going above the advertised limit may void the warranty.
If you weigh more than 250 pounds or if you and your partner together weigh more than 500 pounds, you may want to investigate a specialty or bariatric mattress. These types of mattresses are specifically designed to support more weight and are often wider than conventional mattresses.
Bariatric mattresses typically support up to 1,000 pounds. Like traditional mattresses, specialty and bariatric mattresses vary in price depending on features and manufacturer. They are widely available online but may be a bit more difficult to find in stores.
The thickness of a bariatric or specialty mattress is less important than its interior construction. Bariatric and specialty mattresses often utilize a supportive innerspring base coupled with memory foam or latex comfort layers for pressure relief. These types of mattresses typically fall into the hybrid category and are usually available in queen or king-size.
If in doubt about the weight limit of a mattress, call the manufacturer or check out the brand's website. Most manufacturers make weight limit information available online. Some mattress manufacturers such as Casper specifically state that their products do not have a weight limit.
Overweight Couples
The weight limit of a mattress is especially important when shopping for a mattress as a heavy couple. A collective weight of more than five hundred pounds may make a bariatric or specialty mattress a better choice than a conventional one. Be sure to check the manufacturer's weight specifications before buying.
Support becomes increasingly important as the weight of each sleeper increases. A foam mattress may be adequate for one 200-pound person but provides too little support when a partner of a similar size sleeps in the same bed. Innerspring mattresses offer pressure relief and durable support, making them an excellent choice for heavier couples. Interior coils made of lower-gauge steel are thicker and denser and provide more substantial support for heavier couples than thinner coils made of higher-gauge steel.
If you and your partner have different sleep needs, consider a bed with customizable or adjustable features. Some mattress brands allow firmness, head elevation, and temperature to be adjusted on each side of the bed, maximizing individual comfort and making sleep easier for both partners.
Best Mattress Toppers for Heavy People
Mattress toppers can extend the life of an older mattress or provide a plush, cushioning layer on top of a firm bed. The best mattress toppers for heavy people offer pressure relief and durability while still providing support. A mattress topper can also provide a cooling barrier over a mattress made of memory foam or other heat-retentive material.
Mattress toppers typically range from 2-4 inches thick. In general, a thicker topper will offer more support for heavier sleepers. Topper materials usually include:
Memory Foam – Memory foam can offer the firm-yet-plush support many heavy sleepers prefer but may sleep warmer than other materials. Memory foam toppers are less likely to cause overheating if infused with gel or covered with phase-change material, a type of material specifically designed to absorb and release heat.
Poly Foam – Poly foam, or polyurethane foam, is usually the least expensive of all topper materials. Due to its lower density, it is also the least durable. Poly foam is made from petrochemicals and tends to degrade and lose shape quickly. "Egg crate" toppers are usually made from polyurethane and may contain fire retardant additives.
Latex – Latex is both cooling and supportive, but may feel springier than memory foam, which is superior at absorbing motion. Latex has a faster response time than memory foam and may be helpful for sleepers who change positions frequently. Latex is also known for its natural cooling properties, which can be a boon for hot sleepers.
FAQ's
What type of bed frame is best for heavy people?
When shopping for a bed frame, larger people should look for one designed to support both a mattress, heavier than average body weight, and foundation or box spring (if you plan to use one). Bed frames made of hardwood or metal are appropriate for bigger people, while softwoods and weaker materials should be avoided. Metal bed frames are typically made of hollow tubes of steel and can be lighter in weight than wood frames.
Do I need a foundation or box spring to go with my mattress?
Whether to buy a foundation or box spring depends on personal preference and the type of mattress and bed frame you plan to purchase. A good foundation or box spring can extend the life of your mattress and raise it to a comfortable level. A foundation helps to protect your mattress by absorbing some of the pressure from body weight and the movement of getting in and out of bed. It can also help to prevent sagging or flattening of the mattress against slats or a platform base.
The warranty of some mattresses requires the use of a box spring or platform bed. Some innerspring mattresses perform best on a box spring, which helps to preserve their supportive core.
Do memory foam mattresses have a weight limit?
Many memory foam mattresses do not have a weight limit due to their minimal core construction. However, many bed frames, foundations, and box springs do have a weight limit. Make sure you're familiar with the weight limit of any product or item of furniture before purchasing.
Can a heavy sleeper sleep on a bed in a box?
It depends on your weight, mattress preference, and which mattress is best for your joints and spinal alignment. If you've chosen an innerspring mattress, you may be able to buy some brands in a box, though many innerspring mattresses with sturdier and more durable coils are not available in bed in a box form.
The following two tabs change content below.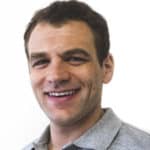 Logan is the content director of Sleepopolis, which means he not only reviews new mattresses every week, but also curates all the comparisons, best of pages, and video guides on the site. He takes a straightforward, honest approach to his reviews and endeavors to give viewers an objective look at each new product he tries out. Logan has perfected his method by personally testing over 200 different mattresses, so he's not only able to discern the overall vibe of a specific bed, but to contextualize its feel within the bed-in-a-box market as a whole. When he's not hopping on a new bed or working with our editorial team to whip up an engaging sleep education guide, you can find him reading books on world history, walking his dog Pepper, or searching for the best cheeseburger in New York City.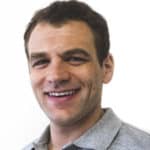 Latest posts by Logan Block (see all)