Is it good marketing to associate your mattress with the word "plank"? Some sleepers may not think so, but there is definitely a market for firmer mattresses out there. People with back problems, heavier sleepers, and folks who just like to sleep on supportive surfaces – rejoice! The Plank mattress from Brooklyn Bedding is here.
But I don't want to walk the plank; I want to sleep the plank. Is this bed the right move for people looking for more back or hip support? What's the deal?
I'll now embark upon a full review of the Plank, but I also have a summary for people who don't have the time right now. Click here for the summary. Other than that, away I go!
[N.B. In this review, I will be discussing the all-foam Plank mattress. There is also a hybrid Plank mattress]
Is the Plank a Good Mattress for You? 
The Plank mattress is an all-foam, flippable mattress with a firm side and an extra-firm side. The extra-firm side is one of the firmest mattresses I've ever tested! 
Before we get into all the details about this mattress, you're probably wondering if it's the right bed for you. Well, depending on your weight, preferred sleeping position, and whether or not you sleep with a partner or pet, the Plank may or may not work for you. Take a look at some of my recommendations below.
Who I recommend the Plank mattress for
Who I don't recommend the Plank mattress for
What Does the Plank Mattress Feel Like? 
Now that we've discussed some of the basics about the Plank, let's discuss how it actually feels. Again, this is a firm, flippable mattress with an extra firm side and a firm side. I'll discuss how those firmnesses feel below. 
I'd like to highlight that firmness is subjective and my opinion might be different from your own. For reference, I'm 5'3" and about 110 pounds. To get the best idea of firmness possible, I always poll a range of folks in the office and take an average of our scores. 

We found the extra firm side of the Plank to be about an 8 on the firmness scale, which begins at 1 for the softest and ends at 10 for the firmest. This means the Plank is definitely a firm mattress. I hardly felt any sinkage on this bed, and as the name suggests, it almost felt as if I was sleeping on a Plank. Though this isn't my particular preference, (I'm a side sleeper who prefers a soft hybrid mattress) I do think this firmness level can work wonders for those who suffer from back pain. An extra firm mattress can give these sleepers the support they need to keep their spine in a straight line, which should help alleviate some pain and keep it from worsening. However, I wouldn't recommend this firmness level to those who suffer from hip or shoulder pain. These folks typically need a softer mattress with more sinkage that will give them pressure relief at sensitive pressure points. Similarly, side sleepers who put pressure on their hips and shoulders while they sleep should opt for a softer mattress.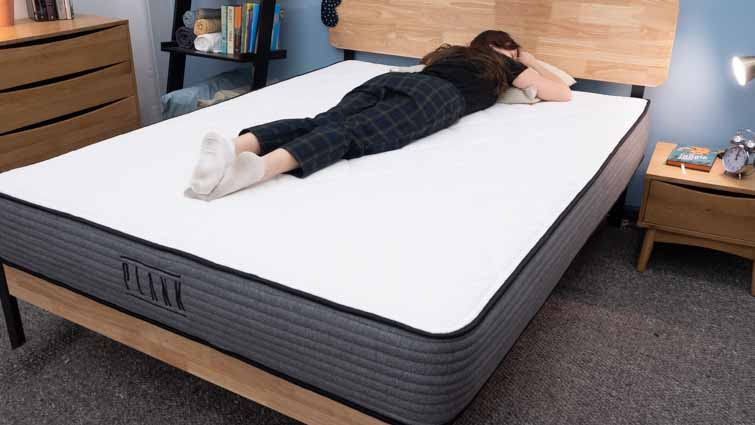 The firm side of the Plank is still quite firm, and got an average score of 7.5 on the firmness scale. This is also quite a firm rating — if you were thinking this mattress has a firm side and a soft side you're incorrect — it's firm and firmer. I think this slightly softer side is a better choice for back sleepers. Unlike the firmer side, this side has an added layer of Brooklyn Bedding's proprietary TitanFlex foam, which adds a bit of cushioning. This should give back sleepers a bit of pressure relief in the lumbar region. Though this side is softer, it's still much too firm for side sleepers, who need a mattress with more sinkage to prevent soreness at the hips and shoulders.
Testing the Plank Mattress 
Now that we've discussed my opinion of the Plank, I'd like to give a more objective view of this bed by sharing how it performed on some of our Sleepopolis tests: pressure relief, motion transfer, and edge support.
Pressure Relief 
Pressure relief refers to how well a mattress alleviates tension at sensitive pressure points like the hips, shoulders, and lower back. To test the Plank's pressure relieving abilities, I used a handy dandy pressure map. I lay down on the map and it measured how much pressure was exerted in real time. In areas of low pressure, the map turns blue to green, and in high pressure, yellow to red. 
These results are from laying on the extra firm side of the bed.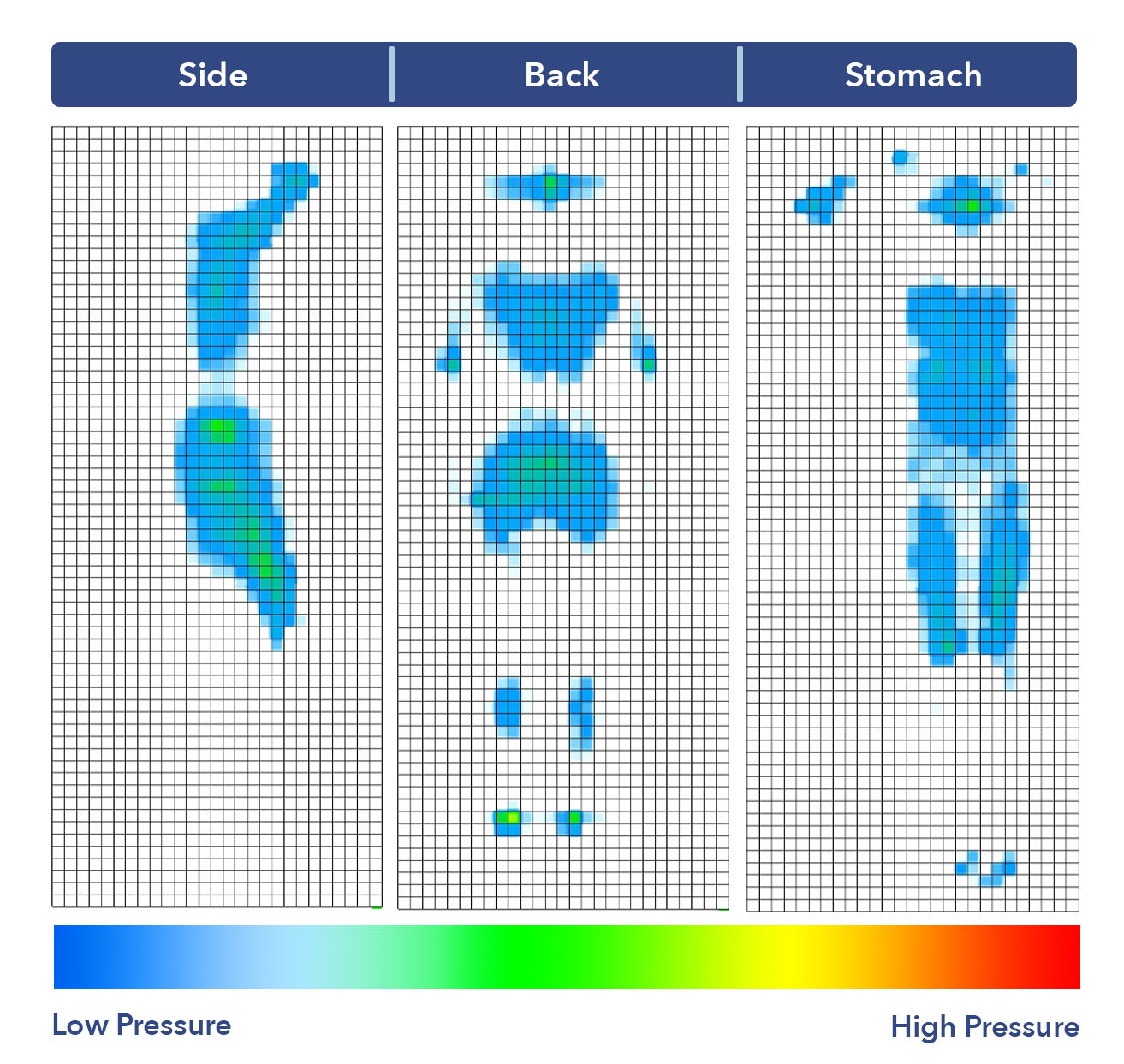 Back – Though there was a bit of green here, the map was mostly blue. This shows that my weight was pretty evenly distributed while laying on my back. However, I think that had I lay down on the firm side, it would have been more blue.
Side – There was the most green in this position, which didn't come as a surprise. The extra firm side of the Plank is much too firm for side sleepers, who will likely feel soreness at the hips and shoulders after laying on such a firm mattress for a long time.
Stomach – This position had the most blue of all. I felt that my hips were nice and supported, and that they wouldn't sink into the bed too far. The extra firm side of the Plank is great for stomach sleepers.
Motion Transfer 
Motion transfer is the movement detectable on one side of the bed on the other. It's important for couples or those who sleep with a pet — they'll want a bed with low motion transfer that will absorb their partner or pet's movement.
To demonstrate motion transfer, I dropped a 10 lb. steel ball from three different heights that are meant to mimic different movements you're likely to feel in bed. I then measured the movement on the other side of the bed using a seismometer.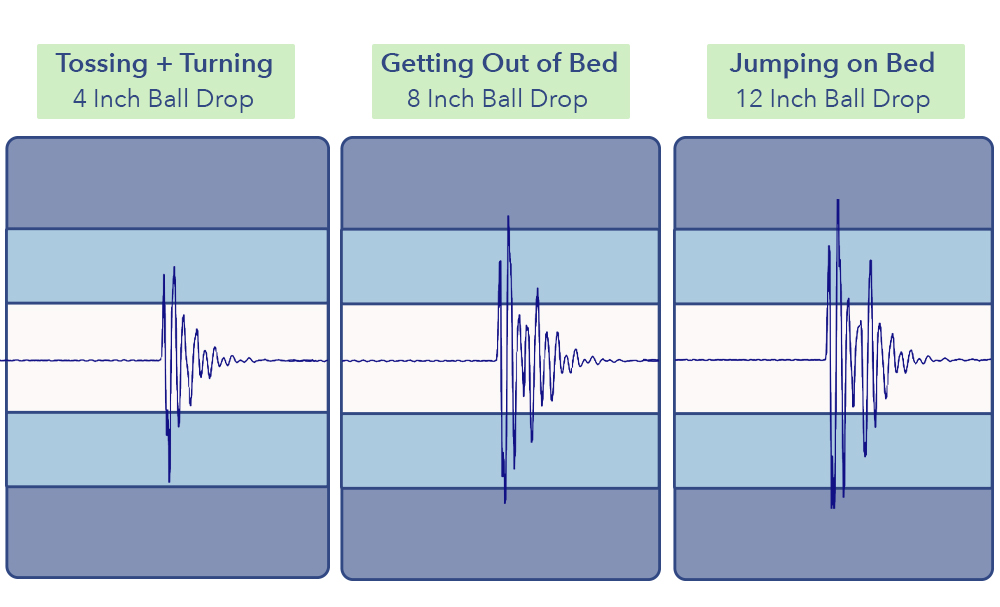 These results show me that the Plank has fairly high motion transfer. Though this is a foam mattress and they typically absorb movement better than those with springs, the extra firm side of the Plank gets its feel from the poly foam layer right beneath the cover. This layer is bouncier and more responsive than comfort foams like memory foam, and therefore doesn't have the same level of motion isolation.
Edge Support 
Edge support refers to how well a mattress holds up on the edges as compared to the middle. A mattress with good edge support won't sag while you lay on the sides. This can add some durability to the mattress since you can take advantage of its full surface area.
I don't think the Plank has the best edge support. I felt less supported on the side of the mattress than I did in the center. 
What is the Plank Mattress Made Of? 
The Plank is a flippable mattress, so the five layers in the Plank work double duty. The support layers on one side become the top layers when the mattress is flipped. When the logo is right side up, the firmer side is facing you.
I will take apart the Plank with the extra firm side up.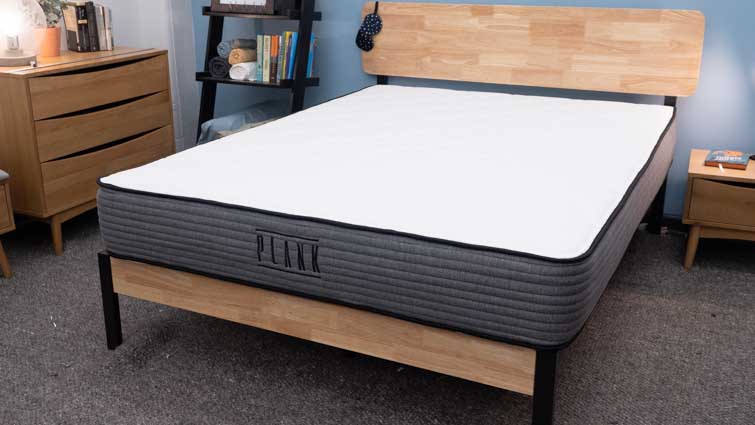 Extra Firm Cover – I tested the Plank with the optional cooling top panel that uses phase change material. This material is cool to the touch and helps dissipate body heat. It's a nice addition for those that sleep a bit hot but does add between $100 and $150 to the price of the Plank. PCM does have a slick feel that may cause your sheets to slide a bit, which some sleepers complain about. Additionally, the cover is quilted with 1.5 inches of foam, which provides a little bit of pressure relief before hitting the extra firm support layer.
Extra Firm Support Layer– Up next, you'll find 7 inches of high-density base foam, which has a quick response to pressure intended to provide instant, firm support. The Plank is unique in using HD poly foam in a top layer as it's usually found farther down in a bed, providing shape and support through a softer support layer. However, the Plank is meant to give ultra firm support, so this build actually gave us exactly what I expected. Strict back and stomach sleepers who need more support for spinal alignment should find a good night's sleep here.
Firm Comfort Layer – Below the beefy support layer, you'll land on 2 inches of TitanFlex foam (a latex alternative) known for sleeping cool and providing a quick response to pressure. It was not as firm as the HD poly foam, so you'll likely get a bit of sinkage when flipping the mattress on its firm side. (This was a non-factor on the extra firm side, because the 7 inches of HD poly foam was all I felt.) Regardless of which side the Plank was on, I didn't feel stuck in the mattress, nor did the Plank lose any of its mobility.
Firm Cover – The cover on the other side of the Plank is virtually identical to the top cover except for its quilting. There was only 0.75 inches of foam quilting on this side because when the bed is flipped, the Titanflex is less . The slickness of the cover was still there, so you won't get away from it by flipping the bed.
Thoughts: The Plank gives two distinct options for sleepers who want a firm mattress. However, the firm and the extra firm side mostly appeal to the same type of person. Strict back and stomach sleepers will probably love the support for the spine and hips. Strict side sleepers may need a bit more pressure relief in sensitive areas. Combo sleepers will likely enjoy the firm side more than the extra firm side.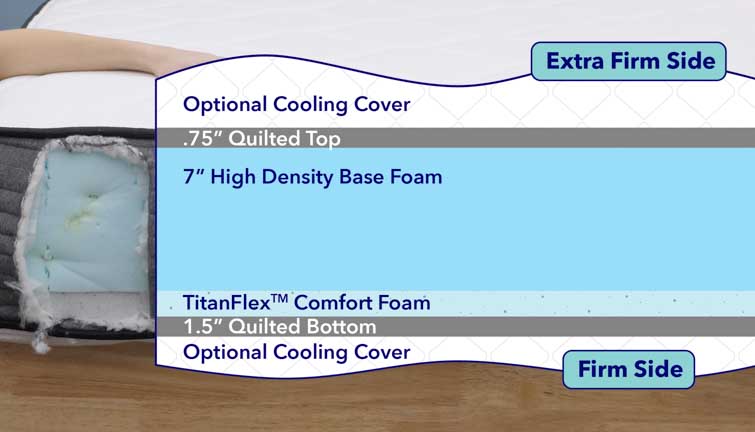 My Final Thoughts about Plank Mattress
Before we finish up this Plank mattress review, I'd like to leave you with some of my final thoughts about this firm bed. 
My favorite things about the Plank mattress
I really like that the Plank is a flippable mattress with two firmness options. This makes it feel like you're getting two beds for the price of one. I also think this is a great choice for anyone who loves a firm feel — if you're looking for the firmest mattress out there, the ultra-firm side of the Plank is the way to go.
My Plank mattress complaints 
Though the Plank is quite firm, I did find that it didn't have the best edge support. Edge support is especially important for couples and heavier sleepers, who need to take advantage of their mattress's full surface area. I also think that without the optional cooling panel, the Plank sleeps a bit hot. This topper also adds between $100 and $150 to the total mattress cost.
How Much Does the Plank Cost? 
Price is always an important factor when purchasing a new mattress. Take a look at our pricing chart below, and make sure to use one of our Plank coupons to get the best deal.
Prices listed will be before discount or offer for each size. 
Save 20% with code SLEEPOPOLIS20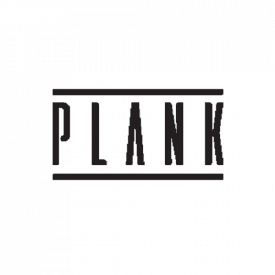 The Plank is a great choice for the back and side sleepers that want super firm support.
| Size | Dimensions | Price |
| --- | --- | --- |
| Twin | 38" x 74" x 11.5" | $799 |
| Twin XL | 38" x 80" x 11.5" | $899 |
| Full | 53" x 74" x 11.5" | $999 |
| Queen | 60" x 80" x 11.5" | $1,274 |
| King | 76" x 80" x 11.5" | $1,499 |
| California King | 72" x 84" x 11.5" | $1,499 |
Plank Mattress Policies and FAQs
How does the Plank ship?
The Plank is a bed-in-a-box mattress and will arrive at your door compressed in a box. Brooklyn Bedding offers free shipping and free returns of the Plank to the contiguous United States. Shipping to Alaska and Hawaii starts with an additional cost of $125.
Does the Plank have a trial period?
Yes, the Plank has a 120-night sleep trial.
Does the Plank have a mattress warranty?
Yes, the Plank has a 10-year warranty.
Do I need a box spring with the Plank?
No, Brooklyn Bedding states that any type of support system that provides minimal to no flex should do. That includes most box springs, slatted bed frames, and foundations.
Plank Mattress Vs  
Still wondering if the Plank is right for you? Take a look at how it compares to some other popular beds from online mattress brands.
Plank vs Saatva
Plank vs GhostBed
Other Models from Brooklyn Bedding
Wondering what else Brooklyn Bedding has to offer beyond the ultra-firm Plank? Take a look at some of their other popular models below.
Plank vs Brooklyn Bedding Aurora
Plank vs Brooklyn Signature
Take a look at our mattress performance ratings for the Plank mattress below
Save 20% with code SLEEPOPOLIS20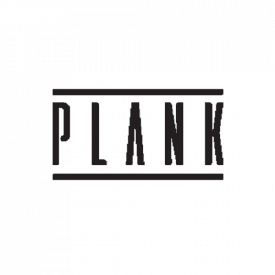 The Plank is a great choice for the back and side sleepers that want super firm support.
Plank Mattress
Materials

Comfort

Support

Value

Cooling

Edge Support

Trial

Warranty
Zoe Ettinger
I'm Zoë, the Editor here at Sleepopolis. I write and edit mattress reviews, and star in mattress review videos. I like to take an honest approach to my reviews to tell you whether or not a product will fit your specific needs. Personally, I'm a side sleeper. I prefer a softer hybrid mattress that lets me sink in. If you have any specific questions feel free to reach out to me at
[email protected]