Having the right pillow is critical for not only a good night's rest—but to also maintain healthy spine alignment, reduce head and neck aches, and relieve pressure throughout your body. However, many pillows can run your wallet dry. Is it possible to get a good quality pillow without a large price tag attached to it?
Top 6 Most Affordable Pillows
The answer is yes, absolutely. I've been sleeping on pillows for awhile, and they've ranged from 20 bucks to nearly $200 and everything in between. While more expensive often equates to a really nice product, there are budget-friendly pillow options that also get the job done when it comes to serving your body well.
Below are my six picks for the most affordable pillows that still provide solid support. Note: Not all of these pillows will be cheap. Rather, these are the best deals considering the quality of the pillow: the materials used and the design implemented to ensure it's doing the job.

Washer-Friendly

Bamboo Grand Memory Foam Pillow

Bamboo Grand Memory Foam Pillow

Shredded memory foam offers a more breathable pillow, great for sleepers who run hot!

Down-Like

Five Star Down Alternative

Five Star Down Alternative

For sleepers who love the feathery feel of down, but don't want to sleep on real feathers — this pillow is for you!

Side-Sleepers

Beyond Down Gel Fiber Side Sleeper Pillow

Beyond Down Gel Fiber Side Sleeper Pillow

Sleepers of all styles can enjoy this feathery, fluffable, down-alternative pillow!

Water Pillow

Chiroflow Premium Water Pillow

Chiroflow Premium Water Pillow

You can adjust this pillow's fill to customize the loft and feel to your liking, making this a great pick for sleepers of all styles!

Luxury Pillow

Luxe Down Alternative

Enjoy the luxurious, feathery feel of down (without the luxury price tag)!
Why These Top Picks?
I wanted to provide a variety of pillows that were good deals and could also be for all different types of sleepers. From memory foam to down alternative, water, and gel-fiber fillings, hopefully there's a pillow for any type of sleeper with a particular price range in mind. Read on to learn about these different, affordable options.
Most Affordable Washer-Friendly Shredded Memory Foam Pillow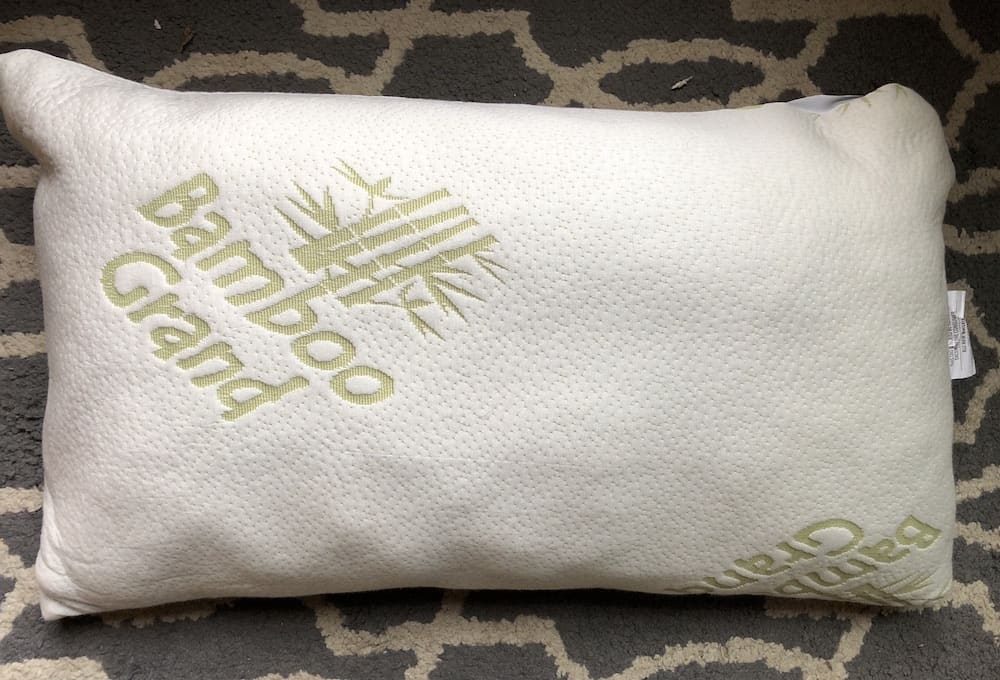 Bamboo Grand Memory Foam Pillow
The Bamboo Grand Memory Foam Pillow is a great option for someone who is curious about shredded memory foam, who might be picky when it comes to the exact level of firmness they need, and who hates to wash their pillows by hand! And with a starting price under $20, that number is hard to beat.
What makes shredded memory foam different from traditional foam is the foam is shredded into pieces that can be removed from the pillow, helping you create a custom level of firmness. The shredded aspect also allows for more air circulation and breathability, keeping you cool at night.
This pillow's secret sauce, however, comes from its cover. The cover is removable and machine-washable—a really nice perk when it comes to owning pillows. All you need to is remove the inside shredded foam, and then you can place the case in the washer and dryer. Just remember to use cold water and to tumble dry on low. Learn more in my full Bamboo Grand Memory Foam Pillow review.
Bamboo Grand Memory Foam Pillow

Bamboo Grand Memory Foam Pillow
Hypoallergenic and self-cooling, the Bamboo Grand pillow could be great for those sleepers that overheat at night.
Cheapest Pillow That Feels Like Down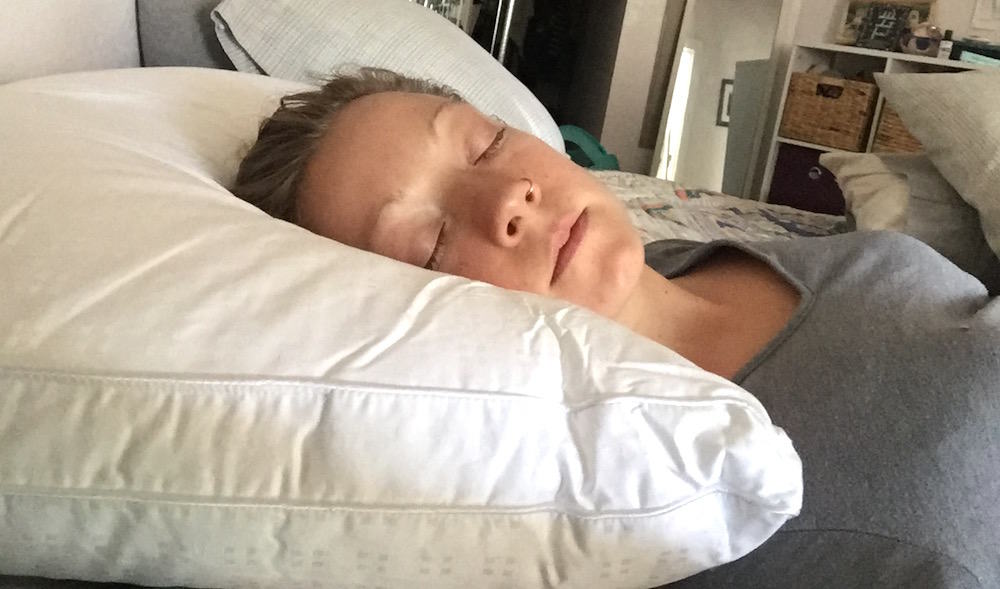 Five Star Down Alternative Pillow
Stomach sleepers typically need medium-soft pillows to give them subtle and soft support for their neck and head. Down is always a perfect option, but often comes with a hefty price tag. Cue the Five Star Down Alternative Pillow, a pretty darn good option for someone who wants a pillow that feels like down, but costs half as much.
The Five Star Down-Alt pillow is only $19.99, and does the job. It has a 100% cotton cover (using a 300 thread count) and is filled with hypoallergenic polyester fibers to give it its down-like feel. When I slept on it, my body was well supported; the stitching and the thickness, even though it was soft, was enough to keep my head and neck in the correct alignment. 
In comparison to other pillows, this is softer and less firm than other pillow options on the market, so is an especially great option for people who sleep on their stomachs. Learn more in my full Five Star Down Alternative Pillow review.
Five Star Down Alternative Pillow

Five Star Down Alternative Pillow
Sleepers who love the feel of down but prefer not to use real feathers will love this fluffy, down-alternative pillow!
Best Pillow for Side Sleepers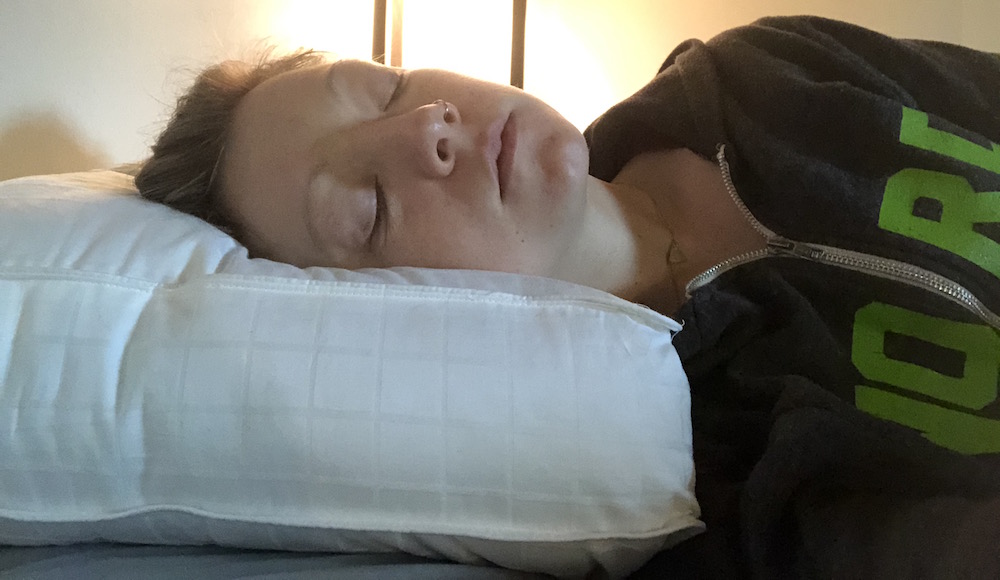 Beyond Down Gel pillow
The Beyond Down Gel pillow is a great balance of softness and support. It's advertised as a "luxurious synthetic down pillow" filled with micro-denier gel fiber that mimics the feeling of down. It gets extra loft and lift from a double needle corded edged gusset—an extra piece of material to give a pillow extra, boxy structure to help add structure—a good quality for side-sleepers.
I think this is a win-win, especially for side-sleepers who don't like extra firm pillows. While firm usually equals "good" for side-sleepers, extra hard pillows often take time getting used to, and some people just miss that option of sleeping on a pillow that feels like a cloud! The Beyond Down Gel pillow does a good job at mimicking down fill, and has a gusset for extra lift for most side-sleepers. Plus, it's $24.50. Skip buying lattes for a week and you have yourself enough money for this pillow! Learn more in my full Beyond Down Gel Pillow review.
Beyond Down Gel Fiber Side Sleeper Pillow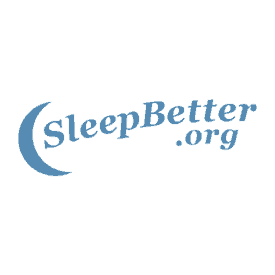 Beyond Down Gel Fiber Side Sleeper Pillow
Built with thick down alternative, the Beyond Down pillow is ideal for back and side sleepers.
Most Affordable Water Pillow for Custom Support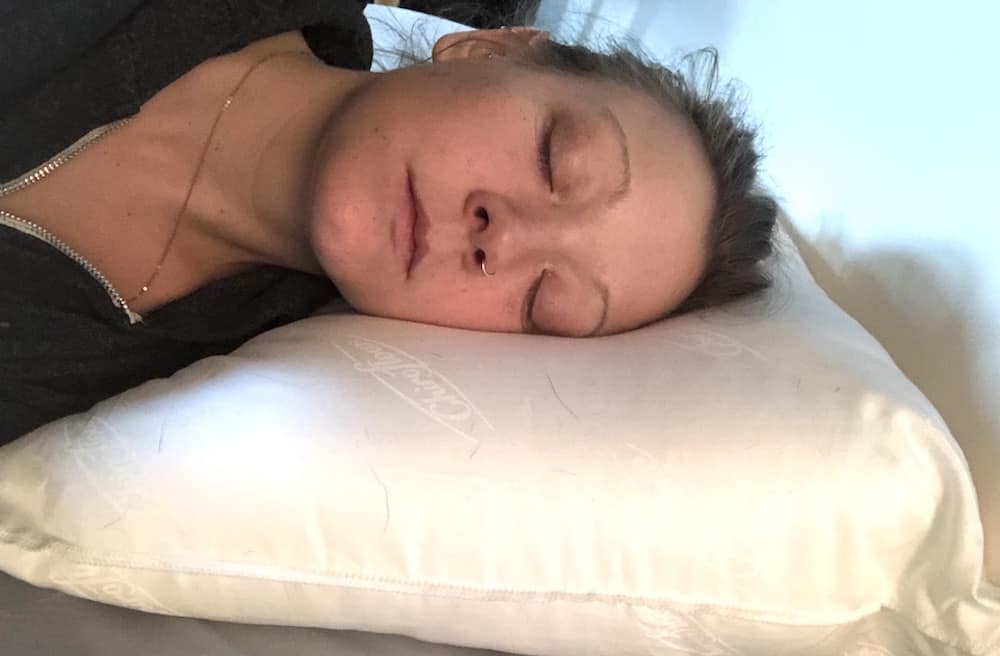 Chiroflow Premium Water Pillow
The Chiroflow Premium Water Pillow is an amazing, customizable option for all sleepers. Why? You simply (and easily) just add or remove water to the pillow to get the shape and sturdiness you desire. There are easy-to-follow instructions, too, so you know exactly how much water to add depending on your sleep style.
This pillow is less than $60, and I think that's an amazing deal for a pillow that's practically custom-made for any type of sleeper. What's more, it comes with a 30-day money back guarantee and three year warranty, so that purchase becomes less risky. Learn more in my full Chiroflow pillow review.
Chiroflow Premium Water Pillow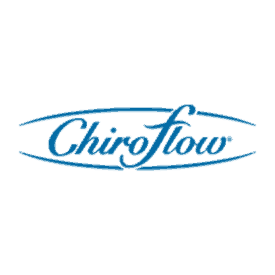 Chiroflow Premium Water Pillow
When memory foam, latex, and down don't quite do it for you, it might be time to try a water pillow!
Most Affordable Luxury Pillow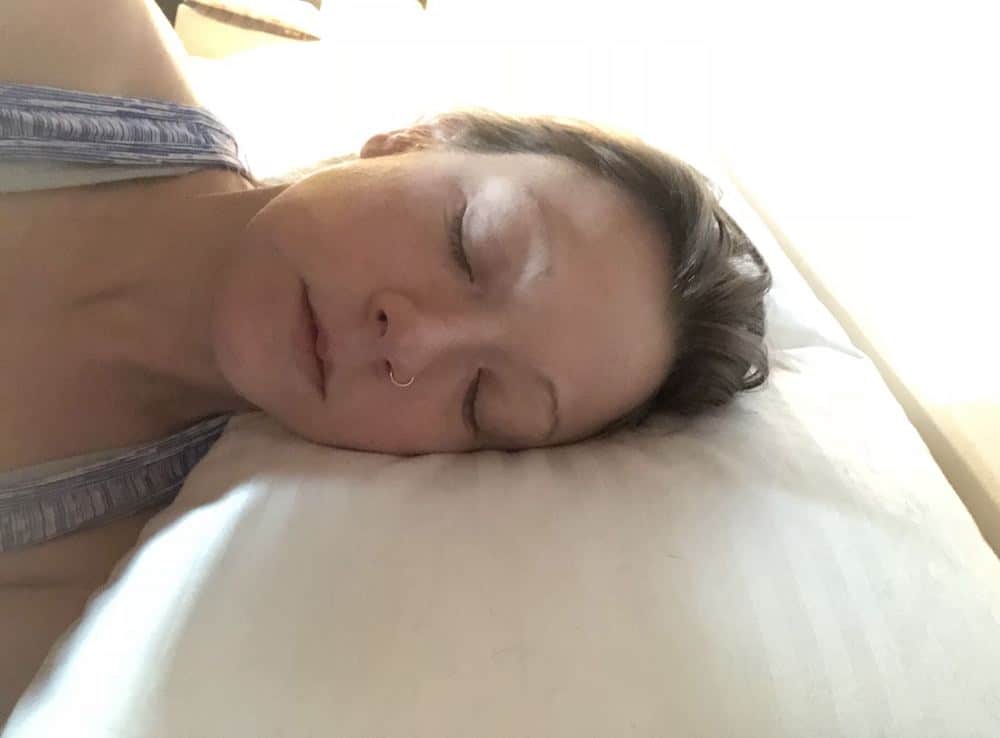 Luxe Down Alternative Pillow
If you want real quality and luxury for a fraction of the price, consider buying the Luxe Down Alternative Pillow. For $75, you invest in a pillow that will last a long time and do an amazing job at providing the spine support you need.
The Luxe Down-Alternative is made from a fiberfill of 100% Polyester gel that offers extra heft and support. The design is made with "3C Technology," meaning the pillow is made from three separate pieces: one core and two filled chambers on either side that surround it. A 300 thread count pillow protector covers the actual pillow. When I first put my head on it, it cradled my head and neck immediately, and I woke up the next morning well rested—no soreness or stiffness.
All in all, from the presentation to the high-quality filling and technology—the Luxe Pillow is definitely high-end. If you're not willing to pay over $100 but still want a luxurious pillow, choose this one.
Pillow-Fill, Explained
Since all of these pillows offer a variety of fill, I thought it would be helpful to break down the different types of pillows to choose from to give you a better idea of what would be best for you.
Shredded memory foam: Here is why shredded memory foam is different from, and maybe even advantageous to, normal memory foam. When the foam is shredded, this allows for more air flow in the pillow itself, keeping you cool at night. Also, shredded foam pillows usually come with zippered inner-cases so you can add or remove the foam and adjust the pillow to your exact level of firmness.
Down alternative/Gel fiber: Down alternative uses a synthetic filling made with polyester fibers that claim to mimic the feeling of down. (Gel fiber is often used.) They are typically easier to clean, are hypoallergenic, and a bit firmer, providing a pleasantly plush and fluffy feel, while still providing good support. However, they tend to wear down faster than down pillows. One main benefit is they are significantly more affordable!
Polyester: Polyester-filled pillows are the most common type of fill, and are generally the least inexpensive of the bunch. They're lightweight and easy to clean, though also susceptible to clumping up and holding in heat.
Water: Water pillows are a great and popular option, thanks to how they provide firm, yet adaptable support, while promising to not collapse under the weight of your head, regardless of how much pressure is applied.
Other types of pillow filling not on this list include down, latex, regular memory foam, and buckwheat.
Remember, A Great Pillow Is A Good Investment
While these are all great pillow options for someone on a budget, remember that a pillow should be considered an investment in your health. Since you spend nearly 1/3rd of your life sleeping, don't be afraid to find something that will give your body the correct support it needs so you wake up refreshed and without soreness every morning.
Still looking for a pillow? Check out my best pillows page for a great overview.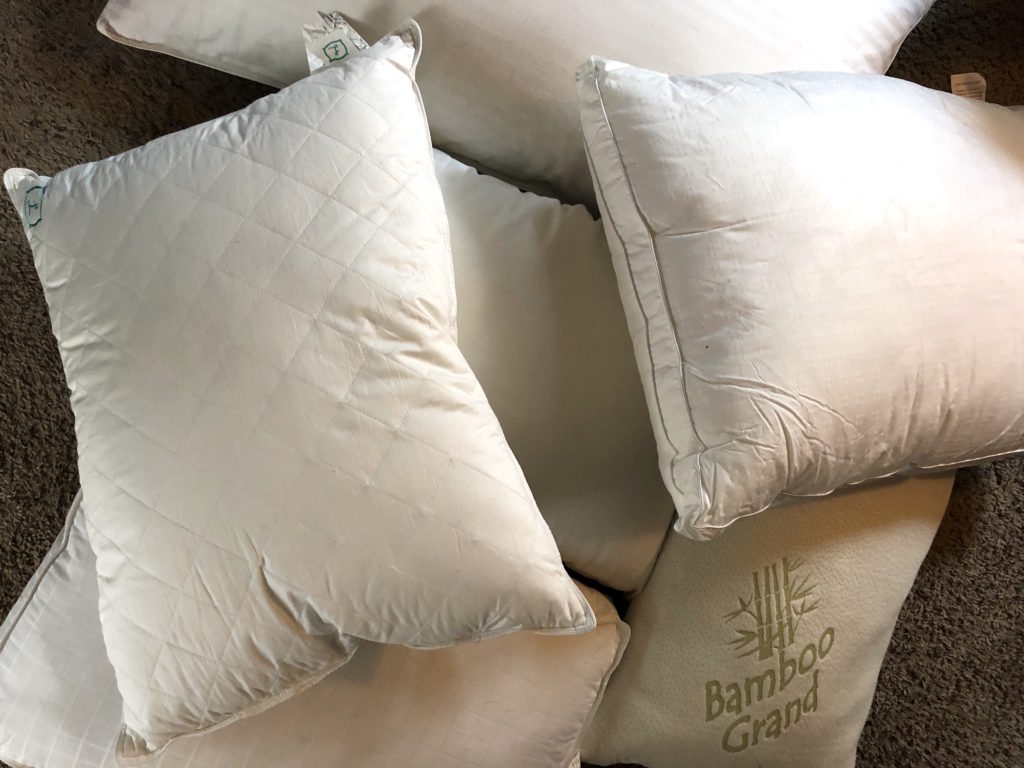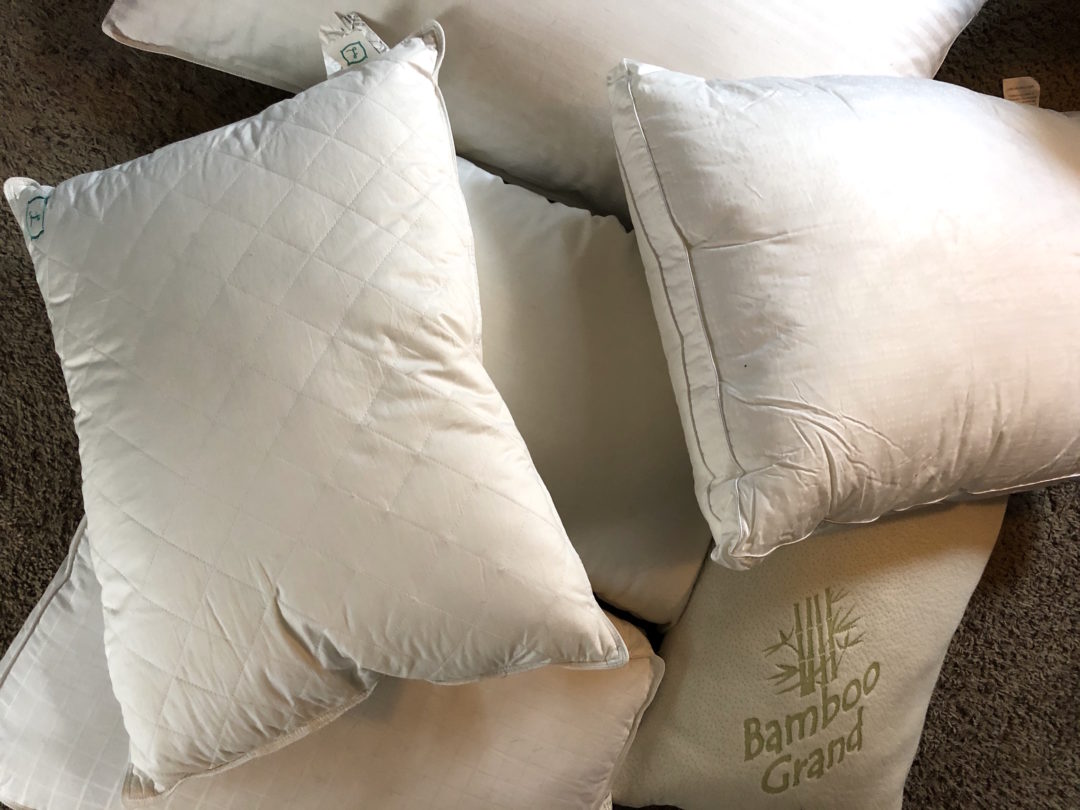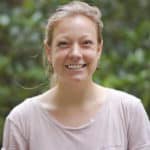 Laura Schwecherl
Laura is a journalist with nearly a decade of experience reporting and covering topics in the health, fitness, and wellness space. She is also a marketing consultant, where she works with impact-oriented startups to build marketing and editorial strategies. Since joining the team at Sleepopolis, she quickly learned how critical sleep is, and enjoys researching how certain sleep products and techniques can improve our lives. Outside of work, you can find her reading Murakami novels, writing amateur poetry, or trail running in her hometown, Boulder Colorado.