Looking for a new mattress and want that memory foam feel? Novosbed is a bed in a box company shipping a mattress with a memory foam comfort layer direct to consumers. They offer three different firmness levels as well as Comfort+ options to make adjustments for those with more specific firmness needs. I took a look at the medium version, read on to see what Novosbed has to offer!
In a time crunch and need the shorter version? Click here to scroll down to the review summary.
Construction
The first thing that sticks out when looking at the construction of the Novosbed is the thick comfort layer of memory foam. With the top two layers of the mattress totaling 4 inches of memory foam, this mattress should provide good pressure relief.
Cover – The cover is made of a polyester blend that includes, among other things, Tencel, which is known for being a breathable material. It is also thin so that the cover doesn't interfere with the feel of the memory foam below.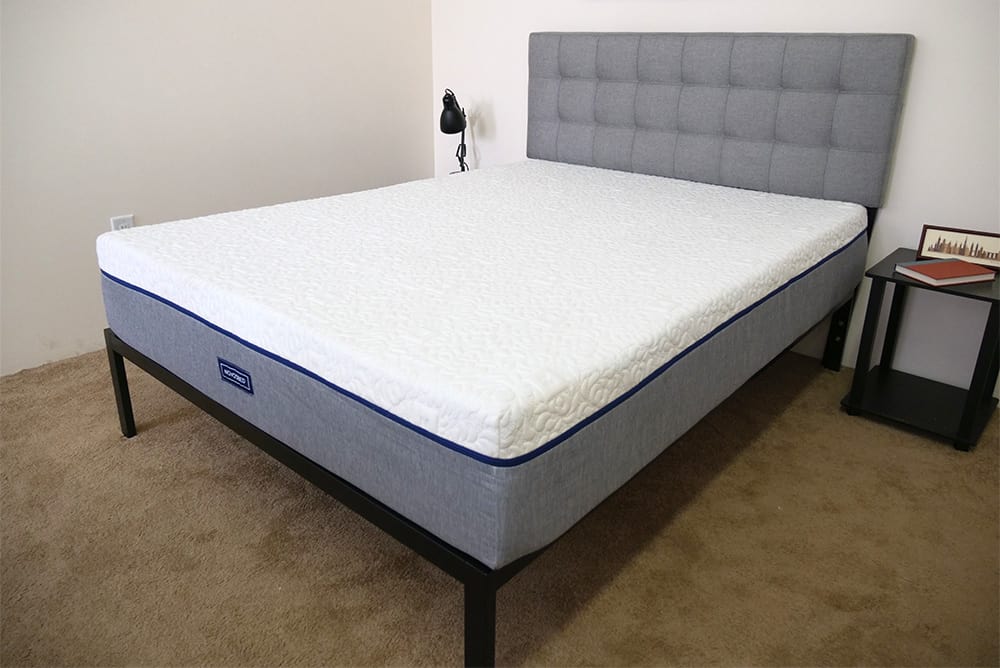 Top Layer – The top layer of memory foam is 2" thick and aerated to increase airflow through the mattress. Memory foam can sometimes retain a little too much heat, so the aeration of the mattress is included with temperature regulation in mind. This layer is also slow to respond to pressure and should provide some pressure relief, which we'll take a look at later in the review.
Middle Layer – This layer consists of another 2" of memory foam. It is still pretty slow to respond to pressure but regains its original shape a bit quicker than than the top layer. This layer acts as a sort of transition layer so that you move from the soft top layer and have a bit of gradual increase in firmness before the base layer below.
Base Layer – The base is 7" thick of high density poly foam. It's a pretty common layer among foam mattresses and supports not only the comfort layers above but also the sleeper to make sure they don't fall through the mattress.
Comfort+ Layer (Optional) – In case one of the three firmness models of the mattress just aren't exactly what you are looking for, Novosbed offers a Comfort+ layer for no extra charge. By zipping in this extra foam layer you can make your mattress either firmer or softer in order to find levels in between those available. If you would like to add a Comfort+ layer to your mattress, Novosbed will send you one for free.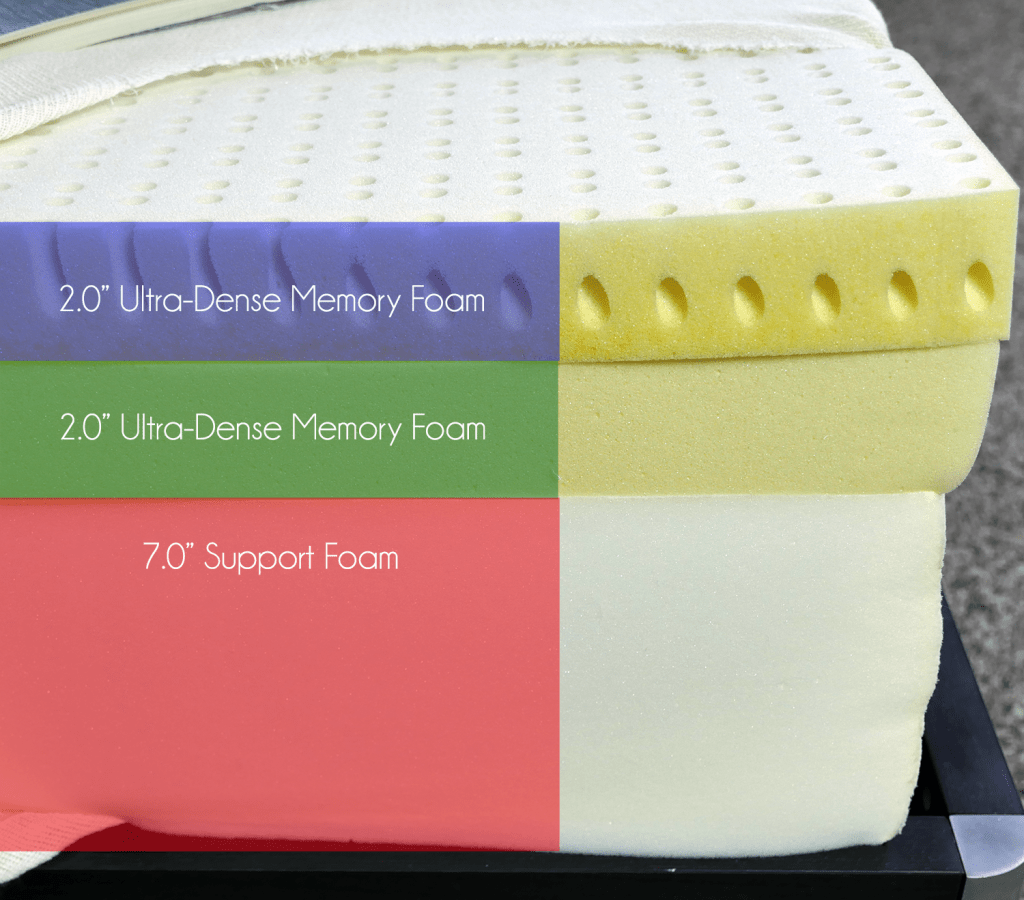 Firmness
Due to differences in size and weight distribution everyone will feel the firmness of a mattress slightly differently. Rather than just give you my opinion, I brought in three other testers to say how they felt while lying on the Novosbed medium. This should give you a better idea of the range you can expect from this mattress. For this part of the test we did not include the Comfort+ layer so these results are strictly for the medium-firm mattress.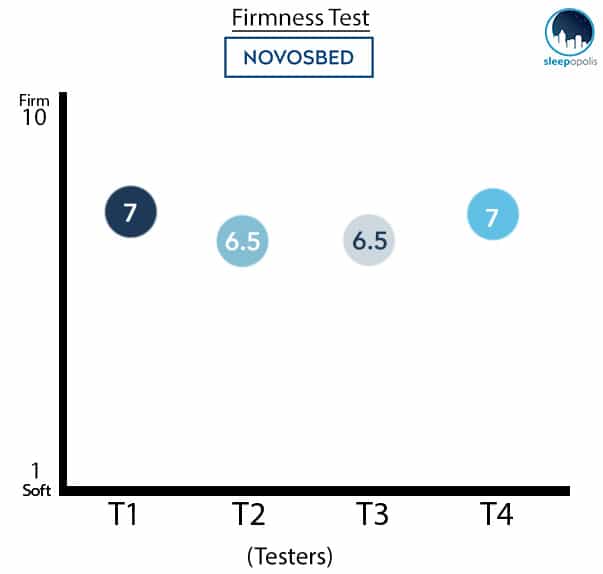 The chart above shows that all testers felt the Novosbed in the medium firmness range. This type of firmness level should be good for multiple sleeping positions, especially if your preferences are not that specific.
When pressing into the Novosbed you immediately feel the classic memory foam feel. The mattress really does a great job of contouring to your body and giving you the feeling that you're sinking into the mattress.
The other noticeable thing from pressing into the mattress is the airflow. The aerated top layer allows for temperature control which is really helpful in a memory foam layer, as the material can often trap heat.
Due to the memory foam layers I felt a little more sunken into the mattress and couldn't change positions as quickly. We'll take a deeper look into sinkage later in the review, but it's just something to keep in mind.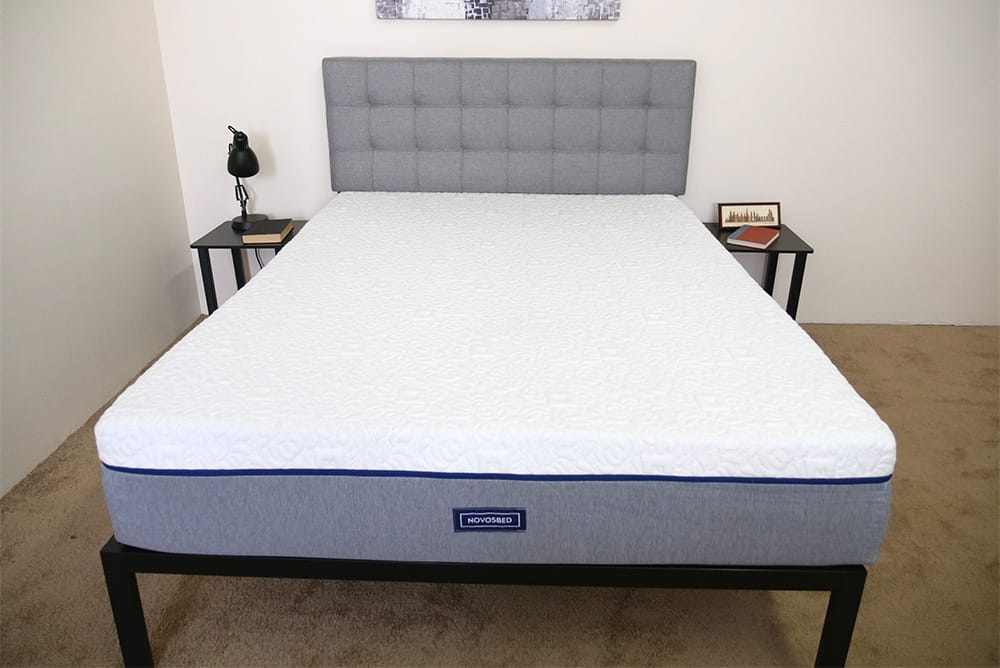 As I tested the Novosbed, I also received their Comfort+ kit. The Comfort+ kit comes in both softening and firming options. These kits include a foam insert that slides under the white top cover for a seamless look. The Comfort+ kit is a great option for those sleepers who find themselves wanting a mattress in between the soft, medium, or firm options.
The Comfort+ Kit can increase or decrease the firmness of the mattress by 1 point on the firmness scale in either direction. For example, if you order the medium Novosbed (which in my opinion is a 6.5 out of 10), but want it slightly firmer you could get a free Comfort+ Kit and bring the softness down to a 5.5 out of 10. Inversely, if you wanted a little more firmness you could get the firm Comfort+ Kit and bring the feel up to a 7.5 out of 10. Below is a list of how each of the Novosbed firmness options interacts with and without each of the Comfort+ Kits (these are my personal estimates, though I did not test each combination).
Soft + Soft Comfort+ Kit – 4 out of 10
Soft Novosbed – 5 out of 10
Soft Novosbed + Firm Comfort+ Kit – 6 out of 10
Medium Novosbed + Soft Comfort+ Kit – 5.5 out of 10
Medium Novosbed – 6.5 out of 10
Medium Novosbed + Firm Comfort+ Kit – 7.5 out of 10
Firm Novosbed – 8 out of 10
Firm Novosbed + Soft Comfort+ Kit – 7 out of 10
Firm Novosbed + Firm Comfort+ Kit – 9 out of 10 (a little extra firmness when you use the firm kit + firm mattress)
FAQ: What mattress firmness do I need?
Pressure Map
Rather than just describe the feel of the mattress we also want to give a visual representation of where pressure points may form while lying on the Novosbed. To do this I placed a pressure map on top of the mattress and layed on my back, side, and stomach. On the image below pressure will be represented from blue (low pressure) to red (high pressure).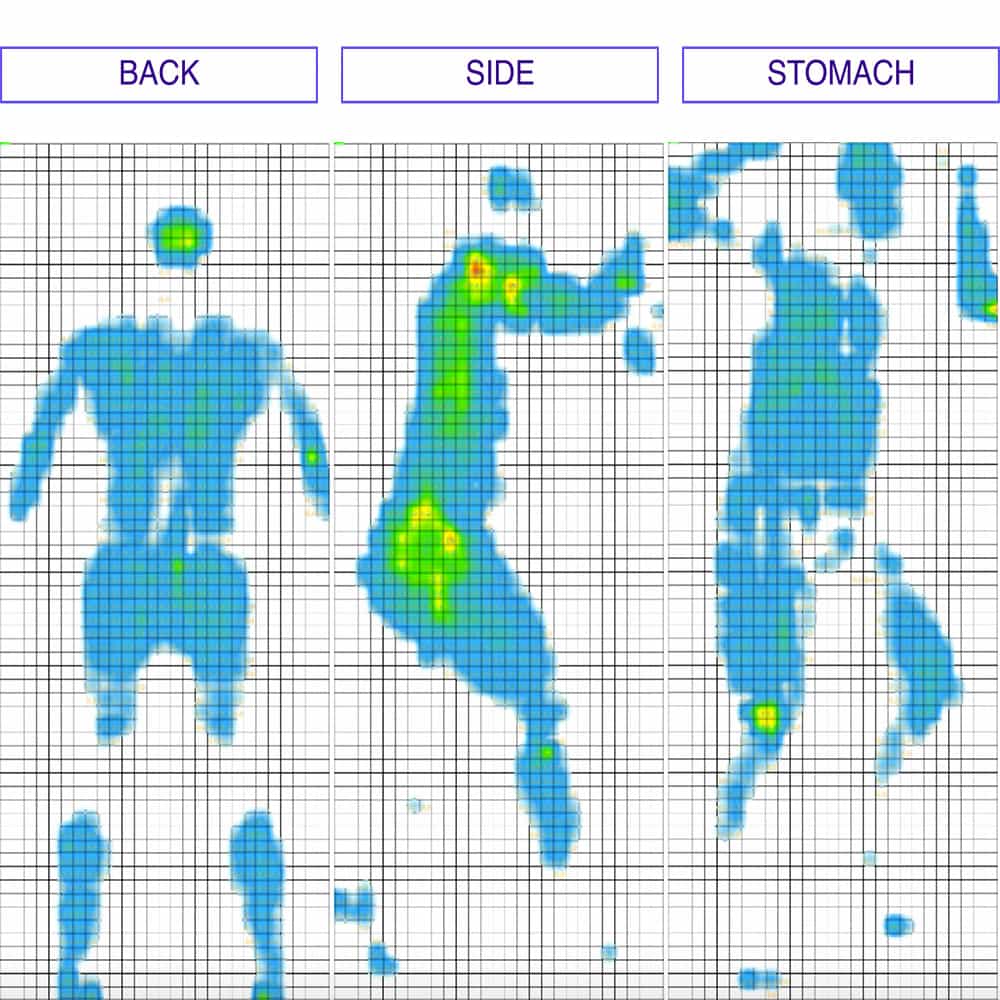 Because of the memory foam up top I expected to see good pressure relief, as that is an advantage of that material. When I first lie down on my back there is the classic memory foam feel of initial firmness quickly followed by sinking into the mattress. As you can see from the image above there is low pressure while on my back, and the mattress did a good job of filling in the space beneath my lower back
Once I roll onto my side there starts to be some increased pressure in the hips and shoulders, which is to be expected due to increased weight concentration. Side sleepers tend to prefer more plush mattresses (to get more pressure relief), so if this is true for you you may want to look into the softer versions of the Novosbed.
Side sleeper? Check out my best mattress for side sleeper options.
Finally, while on my stomach I felt my hips sink in a little, but the map shows pretty even distribution of pressure. If you are a strictly stomach sleeper you may want to look at the firmer option to keep your spine aligned.
Motion Transfer
When sharing the mattress with a partner it will be important to know how intensely you'll feel it when they get into and out of bed or toss and turn during the night. The motion transfer test is helpful in showing the intensity of the disturbance felt to one side of the mattress when there is motion on the other side of bed.
For this test I dropped a 10 lb steel ball from heights of 4 inches, 8 inches, and 12 inches and measured the disturbance on the other side of the mattress. This should be pretty intuitive: the bigger the lines, the bigger the disturbance.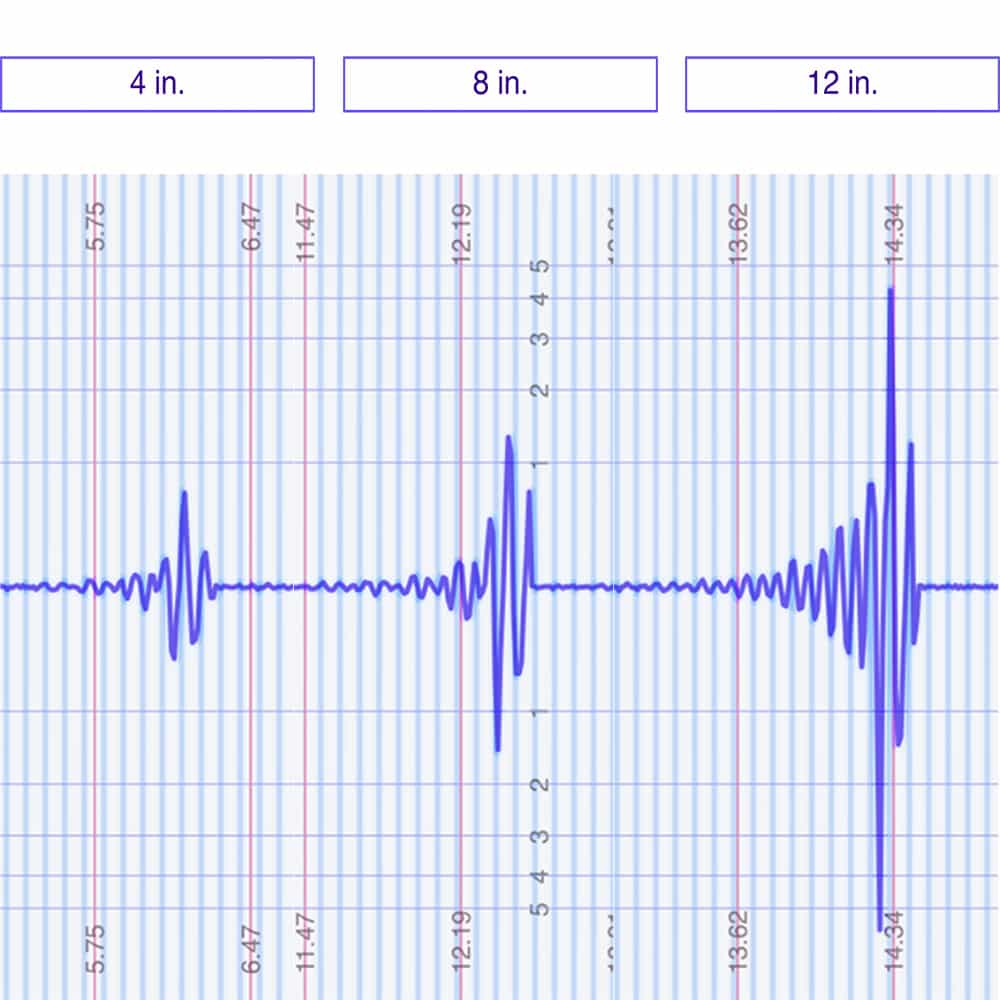 I was expecting the Novosbed to perform well on this test because of memory foam's ability to dampen disturbance caused by motion, and the my guess was proven true. The 4 inch drop shows very little motion transferred, meaning the sleeper would not be disturbed much. This drop is meant to simulate someone tossing and turning on the other side of the bed and shows that this wouldn't be much of a problem when sharing the bed.
Partner problems? Check out my favorite mattresses for couples.
The 8 inch drop again shows good motion isolation by the Novosbed and is one of the more impressive results I have seen among foam mattresses when performing this test. This shows the benefits of two layers of memory foam with regards to motion transfer.
The 12 inch drop does show a bigger spike as the memory foam can only do so much before getting into the firmer base foam, but this is common among foam mattresses. While there are multiple firmness levels and intermediate differences with the Comfort+ option, I expect them all to perform pretty similarly on this test due to the materials used in all models.
Sinkage Test
Many people buying a mattress will want to know whether they sink into or sit on top of the mattress. In order to simulate different body parts or different size people I use four balls of varying sizes and densities (a 6 lb medicine ball, an 8 lb medicine ball, a 10 lb steel ball, and a 50 lb medicine ball) and place them on the mattress to measure how much they compress the surface.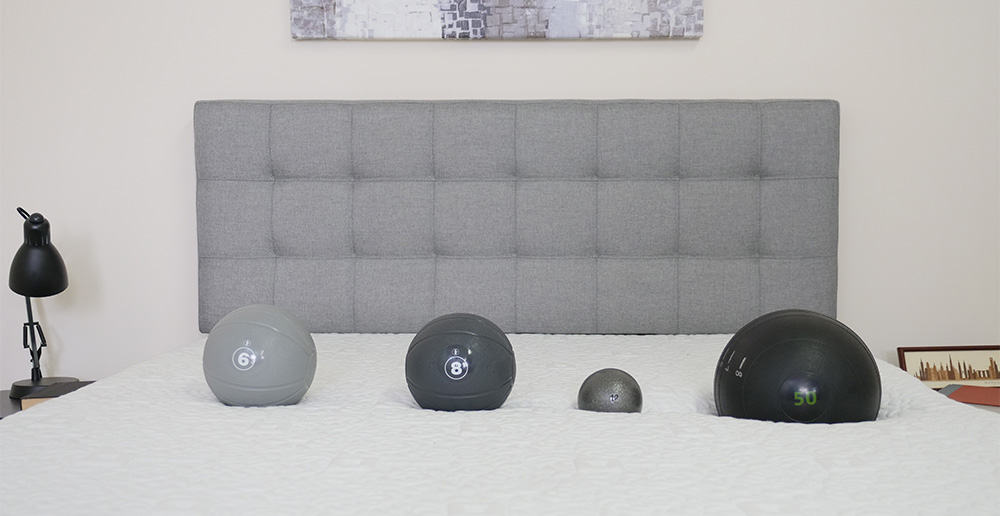 6 lb medicine ball: 1 inch of sinkage.
8 lb medicine ball: Almost 2 inches of sinkage.
10 lb steel ball: 2 inches of sinkage.
50 pound medicine ball: 4 inches of sinkage.
Edge Support
If you're going to share a mattress and need to use the entire surface, then edge support is something you are going to want to take a look at. Foam mattresses sometimes struggle to live up to the edge support of traditional innerspring mattresses, so I wanted to have a look at how I would feel near the side of the mattress.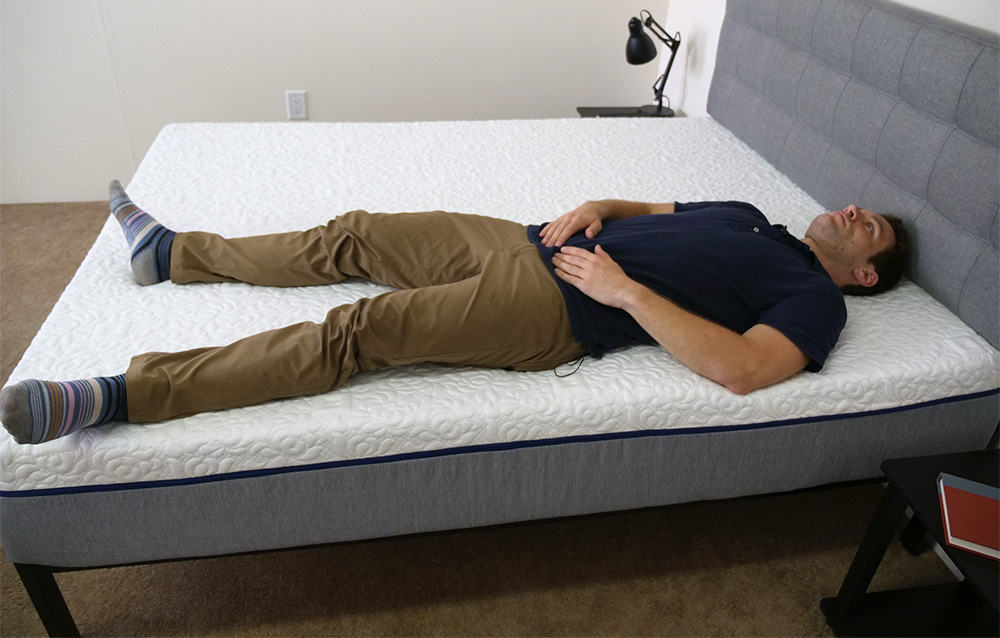 Lying near the side of the mattress I felt evenly support from the center of the mattress to the side. I didn't feel as though I was compressing the edge of the mattress much, even when I was hanging off the side a bit. I could also change positions without worrying I was going to roll out of the bed.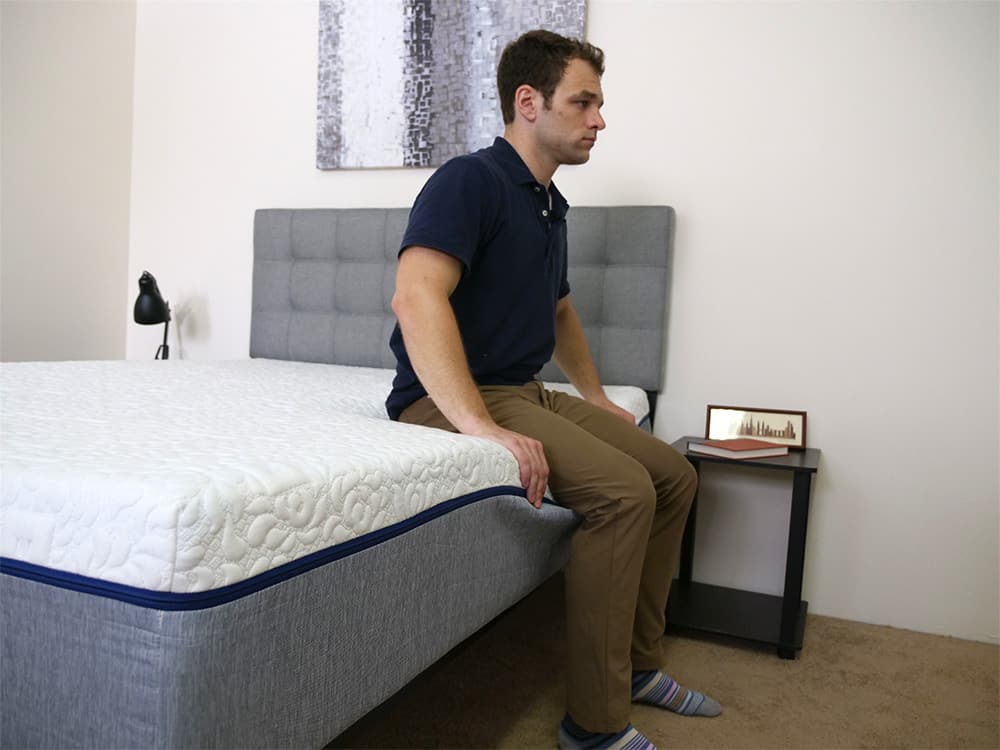 When I sit on the side (think getting your shoes on in the morning or getting into bed at night), I have all of my weight over one section of the mattress and can feel myself compress the memory foam layers on top. Compression like this is pretty common among memory foam mattresses due to the contouring properties of the foam.
Basic Information
Trial Period – There is a 120 night trial period for the Novosbed.
Warranty – This mattress has a 15 year warranty.
Shipping – Shipping is free to most places in Canada and the US and the mattress will arrive compressed in a box within a few business days, depending on where you live.
Multi-National – Novosbed is based in Edmonton, AB, Canada and has distribution centers in both the US and Canada.
Size and Pricing Information
Is Novosbed the mattress for you? Be sure to use the Sleepopolis promo link to save $100 off of your total purchase! The prices below do not reflect any available discounts.
| Size | Dimensions | Weight* | Price |
| --- | --- | --- | --- |
| Twin | 38" x 74.5 x 11 | 54-57 lbs | $899 |
| Twin XL | 38" x 79.5" x 11" | 57-61 lbs | $949 |
| Full | 52.5" x 74.5" x 11" | 75-80 lbs | $999 |
| Queen | 59.5" x 79.5" x 11" | 92-98 lbs | $1099 |
| King | 75.5" x 79.5" x 11" | 117-124 lbs | $1299 |
| California King | 71.5" x 83.5" x 11" | 116-124 lbs | $1299 |
Is the Novosbed right for you?
Now that we've seen what makes up a Novosbed and how it performed on the Sleepopolis review tests, it's time for who I think this mattress would be a good fit for.
Looking for classic memory foam feel – A total of 4 inches of memory foam on top of the mattress does a good job of contouring to your body and solid pressure relief.
Unsure of firmness level needs – Novosbed offers three different firmness levels, so there is a good choice for you regardless of your sleeping positions and preferences.
Have specific firmness needs – Maybe your firmness needs are a bit more specific than the standard models offered. If this is the case, Novosbed will send you a Comfort+ layer free of charge to adjust your mattresses firmness level to fit your needs. This also eliminates the concern some have of buying a mattress online without first testing the exact firmness.
Interested in durability – Novosbed uses high density memory foam in this mattress. Some of the hallmark traits of memory foams with a higher density include slower response to pressure, increased body contouring and high durability. Because Novosbed makes use of higher density foams in this mattress, I would expect it to last a bit longer than some other foam mattresses (though note I do not personally test for durability).
Overall I think Novosbed has a great mattress from a great company! If you're looking for more information on the Novosbed, visit Novosbed.com.