Guide to Tech Neck: Causes, Symptoms, and Prevention
Living in the digital age, we find ourselves increasingly utilizing technology in our daily routine. From cell phones to laptops, to sound and sleep apnea machines, we have become totally reliant on digital devices for survival. From e-signatures to e-IDs, where could it go wrong?
Between the crashes, outages, data breaches, and everything in between, our electronic devices can surely let us down. But are you aware these bugs are biting in reality as well? Allow me to introduce you to tech neck.
What is Tech/Text Neck?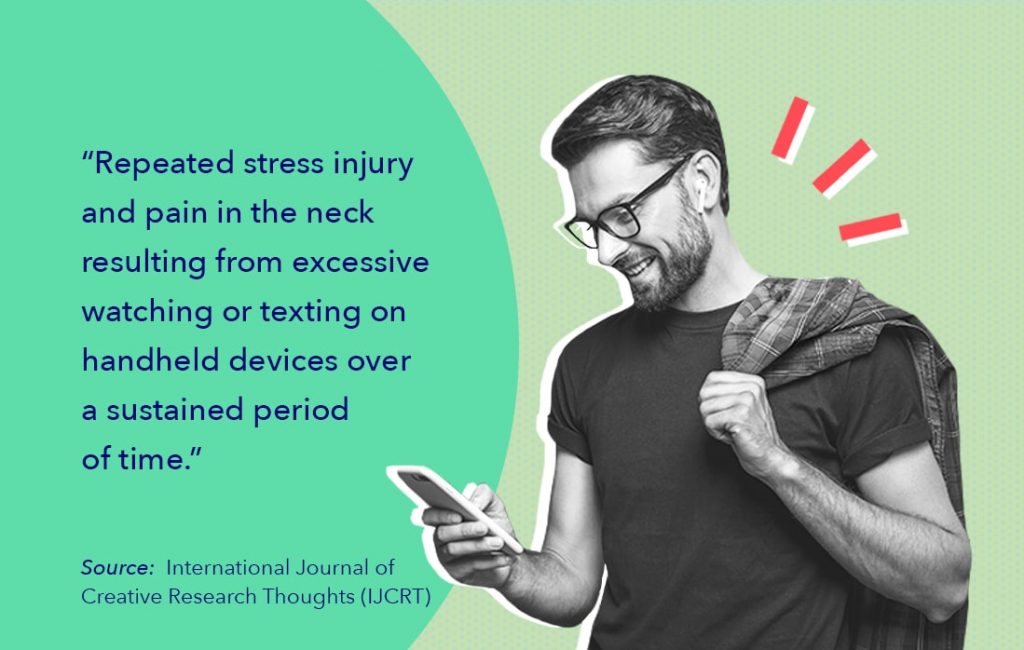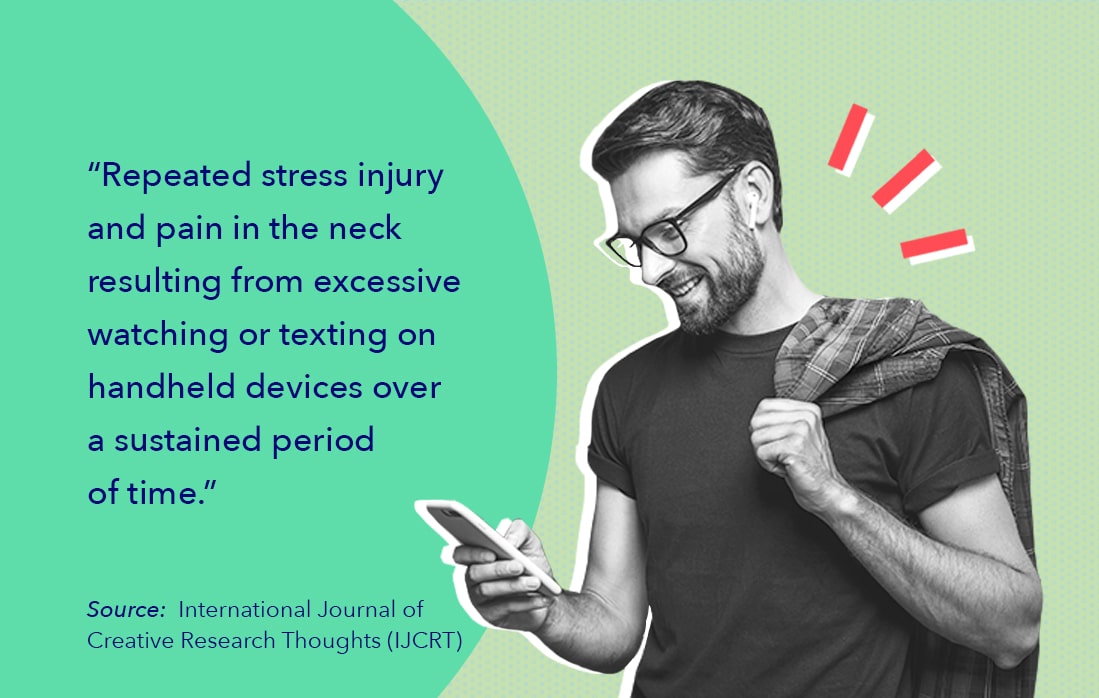 According to the International Journal of Creative Research Thoughts (IJCRT), tech or text neck is a term describing "repeated stress injury and pain in the neck resulting from excessive watching or texting on handheld devices over a sustained period of time." In other words, craning your neck to look at your phone for long periods of time is inflicting real pain on your body. (1)
According to Stephanie Niño, PT, DPT at Airrosti, a national health care group that provides high-quality, outcome-based musculoskeletal care, "The average human head weighs between 10 and 12 pounds, and when you drop your chin to your chest to look at your phone for a long period of time, your upper back and neck muscles start to strain from the weight of your head, thus resulting in what is called 'tech neck.' The longer we spend looking down at our phones, the more pressure we put on the spine and upper back muscles.
This stress can lead to weak, tight muscles in the back, shoulder, and neck. Over time, if posture doesn't improve and muscles are still struggling to maintain balance, it could develop into upper cross syndrome. This painful condition causes the shoulders to become rounded forward in a hunched position while causing pain in the upper back, shoulders, and neck."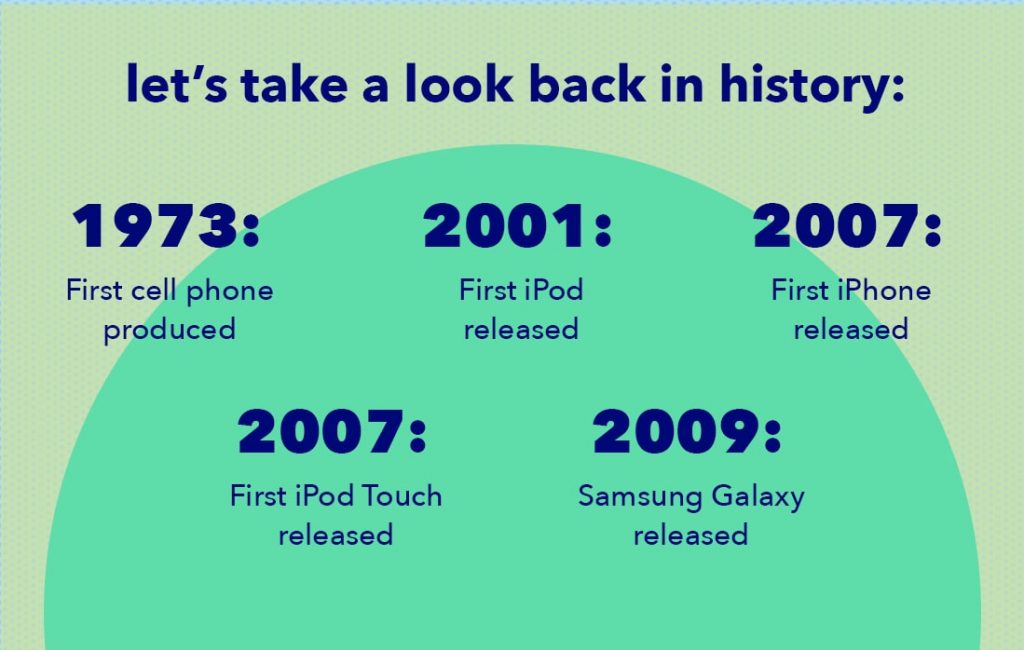 So, when did this problem start? Who does it affect most? To give some perspective, let's take a look back in history:
1973: First cell phone produced
2001: First iPod released
2007: First iPhone released
2007: First iPod Touch released
2009: Samsung Galaxy released
These are just a few of the now seemingly infinite types of digital devices we interact with daily. With the saturation of pocket-sized electronics that we have come to know today, the side effects of text neck syndrome seem to just be getting started.
As mobile phone ownership and tech-savviness have become the norm with teens and even young children in recent years, it's not so surprising data's showing they're tech neck's biggest target. According to one International Journal of Environmental Research and Public Health article, it's estimated that "children and adolescents spend a medium of 5 to 7 hours a day on their smartphones and handheld devices with their heads flexed forward to read and text." This exposure is reported to put "excessive stress on the cervical spine area." (2)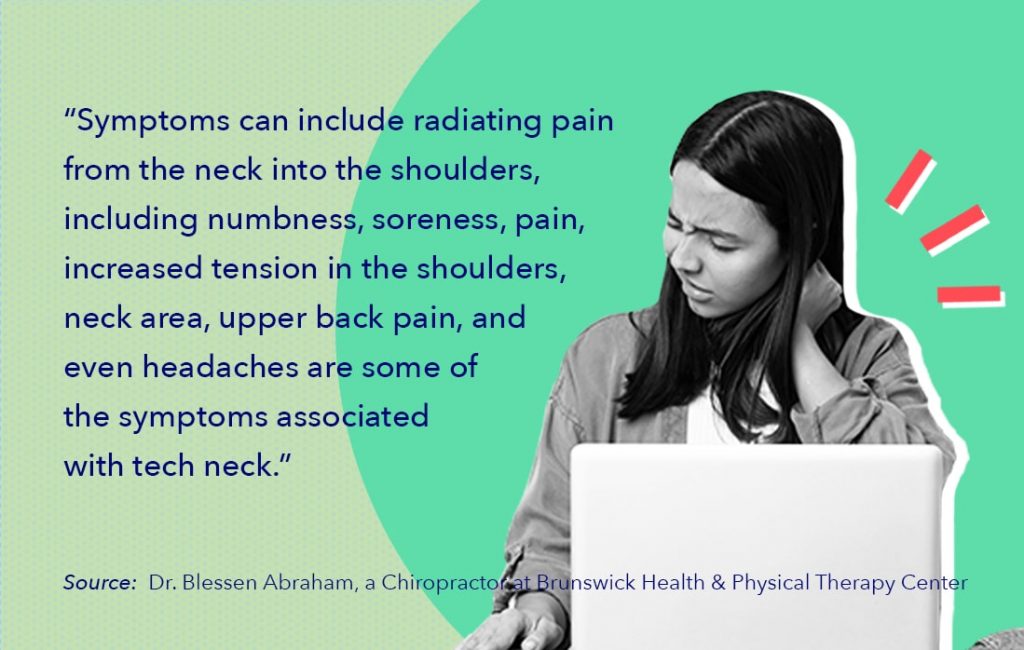 Dr. Blessen Abraham, a Chiropractor at Brunswick Health & Physical Therapy Center, says "Symptoms can include radiating pain from the neck into the shoulders, including numbness, soreness, pain, increased tension in the shoulders, neck area, upper back pain, and even headaches are some of the symptoms associated with tech neck."
If tech neck isn't dealt with, it can lead to early arthritis, spinal degeneration, spinal misalignment, nerve damage, and more. (4)
How to Prevent Tech Neck
The Journal of Orthopaedic & Sports Physical Therapy estimates that 22% to 70% of people will experience neck pain at some point in their lives. (6) And, another survey showed that only 21% of young adults have any knowledge of tech neck to begin with. (7) There are a number of ways to combat tech neck, and most of them are pretty simple! Here are some simple prevention tips you can try at home:
Physical Adjustments – The first step to improving your posture is being more aware of it. Stand in front of a mirror to assess your posture. Your ears and shoulders should line up vertically. You should keep mobile devices at eye level, even your laptop, to avoid stress on the neck by looking down. Getting into physical activity can help as well. Building back strength is a great way to improve your posture to decrease pain. Dr. Niño says "Rowing exercises are great for building back strength."
You can also fight against this pain through stretching. Dr. Kevin Lees, D.C of The Joint Chiropractic, recommends the following:
Chin Tucks — By drawing your head straight back like you're making a double-chin, you offset the effects of constantly thrusting your head forward. Make sure not to tilt your head back when doing this; keep your chin tucked in, but still parallel to the floor. Hold for five seconds, then repeat.
Hand to Ear — Place your right hand flat against the right side of your head. Try to tilt your head to your right shoulder while providing resistance with your hand. Hold for five seconds, release slowly, and repeat on the other side.
Hands to Forehead — Place both hands on the forehead, and while keeping the chin parallel to the floor, try to thrust your head forward while providing resistance with your hands. Hold for five seconds, repeat.
Chest stretches — With your elbow bent at 90 degrees, place your hand on a door frame about the same level as your head, then turn away so you feel a gentle stretch across your chest.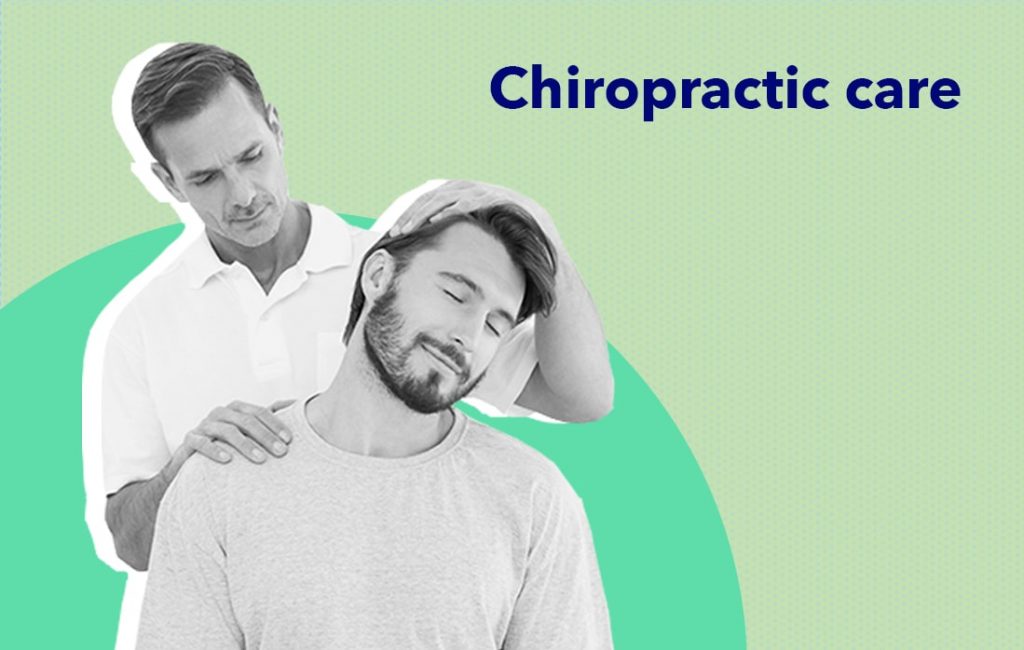 Chiropractic care – If you spend long amounts of time on your phone or a laptop, your neck may need extra care to get the joints moving freely and pain-free. Your chiropractor may help improve function as well as guide you on routine stretches and exercises to fight tech neck.
Taking Breaks – Phones are so ingrained in our society and daily function that it would probably be quite difficult to get rid of them completely. Instead, make a plan of when you can realistically take time each day to unplug
Dr. Abraham states,"Taking a break from your phone and other electronics is HUGE. If you're on the phone for 20 minutes, take a mini-break in between then go back to it. If you're lucky enough to have a computer with a monitor, go use that rather than your phone or tablet. Have a proper workstation computer set up with a desk, and with a chair in a manner that could be positioned at the right level for you."
Cold/hot compress – I've said it before and I'll say it again, people! A cold compress, like an ice pack, can do wonders for existing pain. You can also try a heat pack or an over-the-counter pain-reliever. (3)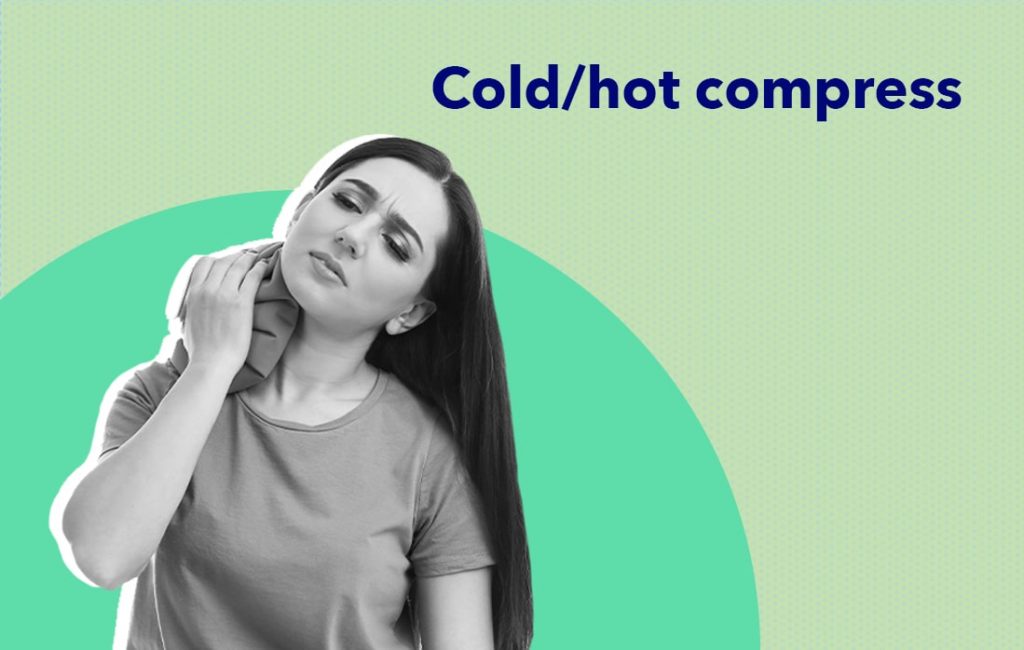 Physical therapy – If you have tried to correct this on your own and are still struggling, a consultation with a physical therapist can help. Physical therapists are trained experts in correcting imbalances in the musculoskeletal system, and this can be a great place to start when experiencing tech neck or neck pain in general.
Tech Neck and Sleep
According to the University of Rochester Medical Center, poor posture while awake isn't the only thing we should be concerned with. A proper sleep posture is important too!
Dr. Jordan Duncan, owner of Silverdale Sport & Spine, a clinic specializing in difficult-to-treat musculoskeletal pain conditions, says, "Tech neck can create neck pain, which can make sleep difficult. While sleeping with your neck in a horizontal position is optimal, whether it is on your back or side, this ideal position may be difficult if you have become habituated to forward head posture. Being aware of your posture when you work on the computer or spend time on your phone can go a long way in managing tech neck. Breaking up prolonged sustained postures with movement or stretching is great for relieving stress on vulnerable tissues."
Having a properly aligned spine while sleeping can both relieve and prevent pain. To maintain a healthy spine alignment, you'll want to start with a mattress that can achieve this based on your personal needs and preferences.
Another area of importance is your pillow situation. Dr. Duncan also notes, "Training yourself to sleep with your head and neck in a horizontal position is ideal. This will put less stress on the neck and can be achieved through the use of a soft and malleable pillow."
Your ears, hips, and shoulders should always be aligned and various sleepers will require different approaches. I would recommend stomach sleepers use a flat pillow under their head, as well as the stomach and pelvis area. This will keep the spine supported and in a proper alignment. I think back sleepers would benefit from a supportive pillow under their head and a small pillow beneath the knees, each to support the natural curve of your body. Finally, for side sleepers, a pillow between the knees should do the trick of helping keep the spine straight. (5) I practice that one myself! If you're in the market for a new one, feel free to take a look at our picks for the best pillows for neck pain and back pain.
For the most restful and restorative sleep, Dr. Abraham says, "The best sleep position I recommend to my patients is to sleep on their back with a pillow under their knees to reduce the stress on the lower back, and then have a pillow under their head or a small rolled towel under their neck so their neck is not being stretched."
The Effects of Technology
Tech neck isn't the only techno-impact we're experiencing in relation to our health and well-being. Texting in the neck-bent-forward position, like we touched on before, can be problematic to the eyes as well. In one related study, participants experienced dry eyes, eye strain, and a small percentage of nearsightedness. (2)
Up next we have texting thumb, which is yet another texting-induced type of pain. One example of this would be a strained tendon, which could be treated via topical medication or through occupational therapy. (3)
Last Word From Sleepopolis
I would like to remind all of you reading that I am not a medical expert. I have simply done an extensive amount of research, citing reports, studies, and data I've found along the way. Anyone experiencing neck pain or symptoms of tech neck should consult a medical professional.
The goal of this article is to spread awareness. Remember, there are simple things you can do to prevent and treat tech neck, like practicing awareness, especially surrounding your tech use, adjusting your posture, and spending time outside. Life is short, you can't take your smartphone or laptop with you when you're gone.
References
Kataria J. Tech Neck – Its Effects on Posture. International Journal of Creative Research Thoughts, Vol. 6, Iss. 1, February 2018.
David D, Giannini C, Chiarelli F, Mohn A. Text Neck Syndrome in Children and Adolescents. International Journal of Environmental Research and Public Health, February 2021.
Is Your Smartphone Causing Your Neck Pain? Improve text neck while improving your posture. Cleveland Clinic, Health Essentials. October 2020.
Neupane S, Ali UI, Mathew A. Text Neck Syndrome – Systematic Review. Imperial Journal of Interdisciplinary Research, Vol. 3, Iss. 7, 2017.
Good Sleeping Posture Helps Your Back. University of Rochester Medical Center, Health Encyclopedia.
Childs J, PT, Ph.D., Cleland J, PT, Ph.D., Elliott J, PT, Ph.D., Teyhen D, PT, Ph.D., Wainner R, PT, Ph.D., Whitman J, PT, DSc, Sopky B, MD, Godges J, DPT, Flynn T, PT, Ph.D., Delitto A, PT, Ph.D., Dyriw G, DPT, Ferland A, PT, Fearon H, PT, MacDermid J, PT, Ph.D., Matheson J, DPT, McClure P, PT, Ph.D., Shekelle P, MD, Ph.D., Smith A R, Jr, PT, EdD, Torburn L, DPT. Neck Pain, Clinical Practice Guidelines Linked to the International Classification of Functioning, Disability, and Health From the Orthopaedic Section of the American Physical Therapy Association. Journal of Orthopaedic & Sports Physical Therapy, Vol. 38, No. 9, September 2008.
Athavale N, Shyam A K, Sancheti P, Samani P, Awareness of text neck syndrome in young-adult population. International Journal of Community Medicine and Public Health, Vol. 5, No. 8, 2018.