Cotton sheets are a bedding essential and have kept people cozy for decades. However, they're not all created equal. With hundreds of options on the market, it's tough to find the best cotton sheet set that matches your needs. After testing the models featured on this page, I picked my favorites based on style, texture, and price. Allow me to point you in the right direction with my review of the best cotton sheets!
Best Cotton Sheets 2022 – Top 7 Picks!
Video Review: Best Cotton Sheets 2022
Best Percale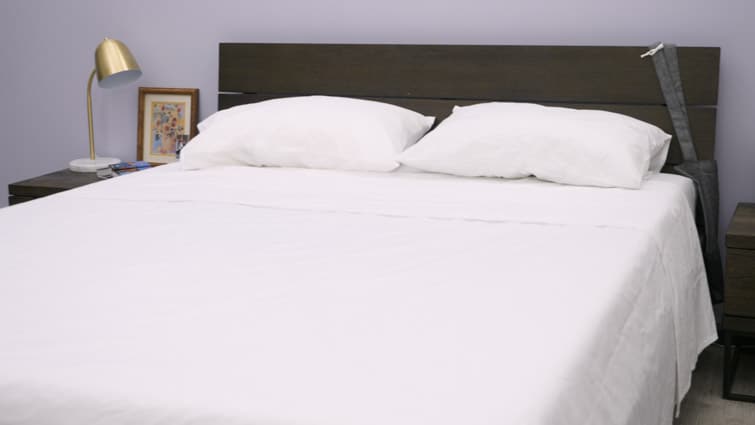 Brooklinen Classic Core Sheet Set
First up is the Brooklinen Classic Core Sheet Set, perfect for those in search of cool cotton percale. If you're looking to boost your collection of bedding essentials, this is a great place to start. They offer a muted, matte aesthetic that can easily blend with any bedroom decor, and can be washed and dried right at home (no high maintenance necessary!). For more, check out my Brooklinen sheets review! 
Who's It For?
Crisp cotton lovers and hot sleepers should love the breathability of the Brooklinen Classic Core Sheet Set. 
Materials Used
Spun from 100% long-staple cotton into a crisp percale weave, these sheets are lightweight, breathable, and oh-so-soft. 
Best Sateen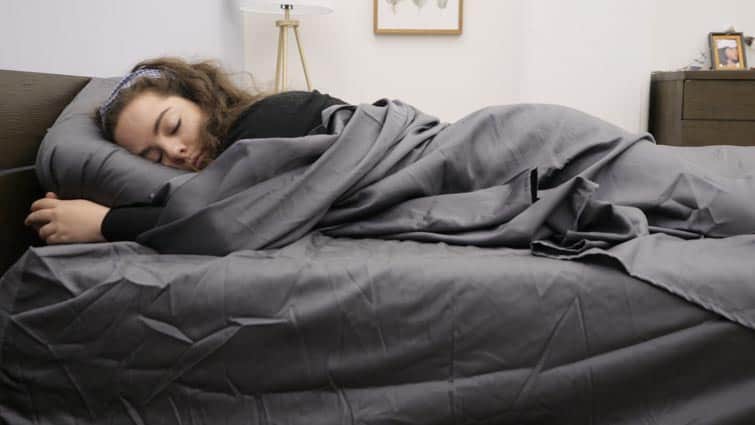 Parachute Sateen Sheet Set
We're moving on to a totally different look and feel with the Parachute Sateen Sheet Set. It's made with Egyptian cotton, famous for its long, supple fibers. With the sateen weave, this bedding is a literal example of why fiber length and weave style matter. The fibers are strong, smooth, and shiny. For the full scoop on this bedding, be sure to peruse my full Parachute sheets review.
Who's It For?
If you're looking for silky and lustrous sateen sheets, I recommend this set. Sleepers in search of deep-pocket sheets should love that these sheets fit mattresses up to 16-inches tall. 
Materials Used
Made from 100% Egyptian cotton, these sheets are super soft and durable. 
Best Egyptian Cotton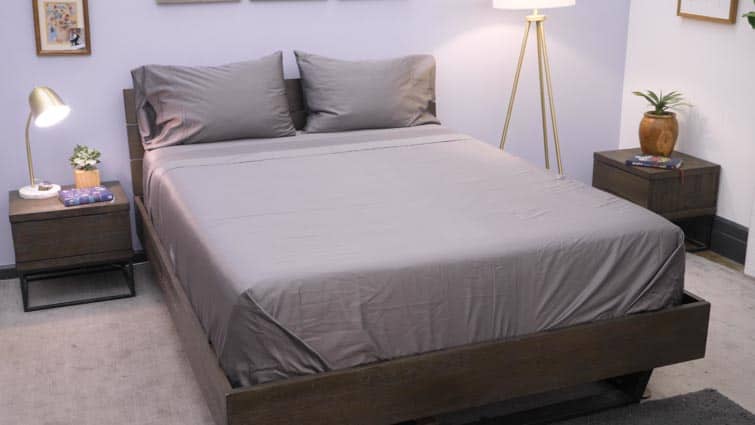 Pure Parima Yalda Sheet Set
The Pure Parima Yalda Sheet Set is ideal for Egyptian cotton enthusiasts. All Pure Parima bedding is certified by the Egyptian Cotton Association. This guarantees its sheet sets are woven from extra-long staple Egyptian cotton, handpicked from the Nile River Valley. The Yalda Sheet Set, in particular, features a luminous sateen weave and super silky handfeel. For more, be sure to read my full Pure Parima Yalda sheets review.
Who's It For?
Anyone searching for a luxury sheet set should like the Pure Parima Yalda Sheet Set. Not only is it stylish and silky, but it's also durable.
Materials Used
The Egyptian cotton in these sheets is exceptionally soft. It's worth noting that this bedding has a unique style. A double-open hemstitch borders the pillowcases and top sheet, adding an elegant aesthetic.
Best Cooling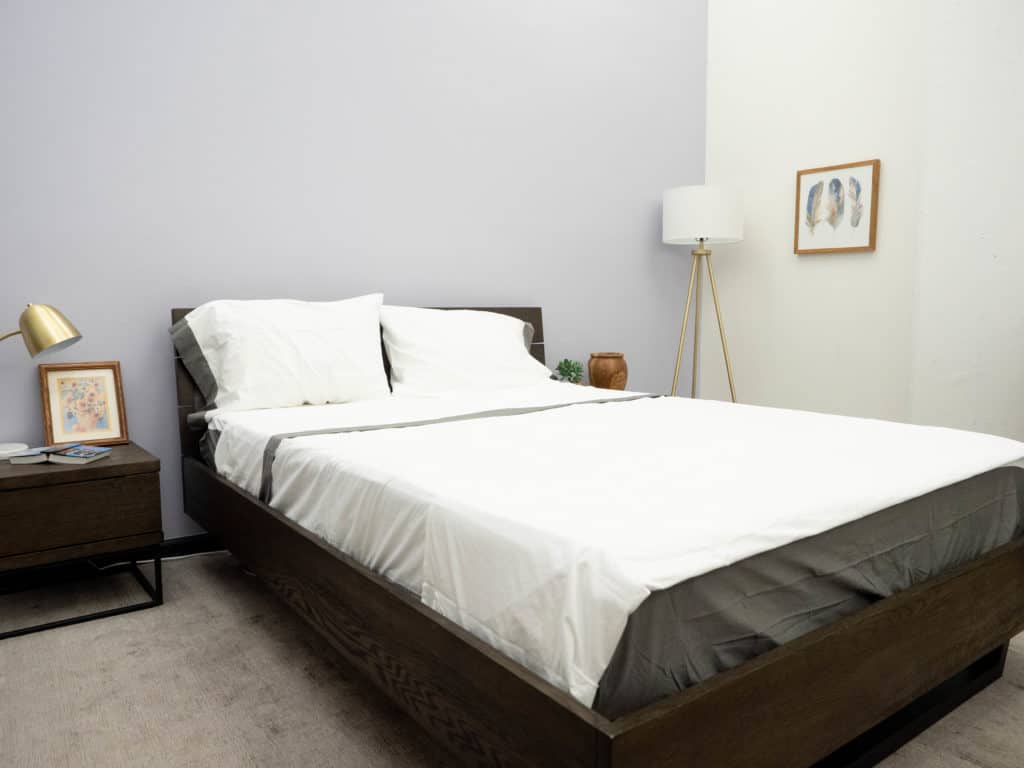 Casper Cool Supima Sheet Set
The Casper Cool Supima Sheet Set is designed for hot sleepers. Cotton percale is known for its breezy, cooling qualities, but these Supima cotton sheets are some of the lightest I've ever tested. If you're looking for a crisp and airy set of cotton sheets to keep you cool, these are going to be right up your alley. So be sure to explore all the details in my full Casper sheets review! 
Who's It For?
Of course, these sheets are great for hot sleepers, but they're also good for those who toss and turn a lot at night. This set features a thick, rubberized elastic band that puts a mega-grip on your mattress. So, you shouldn't worry about your sheets falling off.
Materials Used
Spun from 100% Supima cotton, these sheets are light, crisp, and American-made. Like Egyptian cotton, Supima cotton is praised for its superior softness and durability.
Best for Winter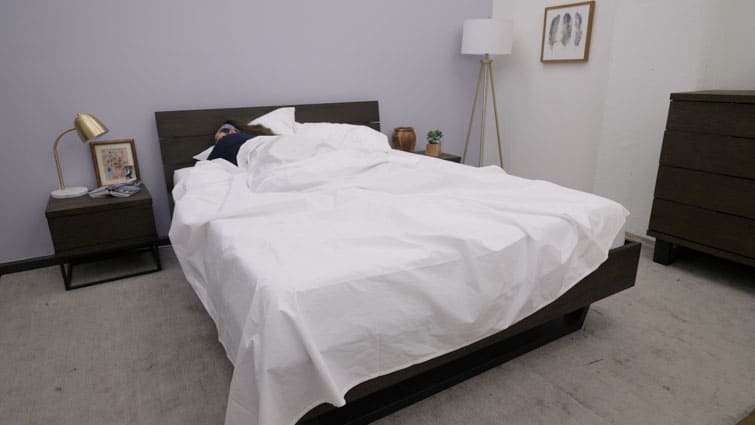 Snowe Sateen Sheet Set
Next up is the Snowe Sateen Sheet Set, a warm and cozy wintertime essential. A sateen weave often produces a thicker, heavier set of sheets. This helps insulate body heat and keep sleepers warm during cold months. The folks at Snowe describe this bedding as having "all the buttery softness of sateen, without the high sheen." If you love the silky-smooth feel of cotton sateen but don't like the shine, give this sheet set a try. Learn everything there is to know about this sheet set in my full Snowe sheets review.
Who's It For?
Those who want a luxurious look without the sheen should try the Snowe Sateen Sheet Set. It's also great for cold climates and anyone who finds themselves chilly at night.
Materials Used
These sheets are made from 100% long-staple cotton and spun into a smooth sateen weave.
Best Organic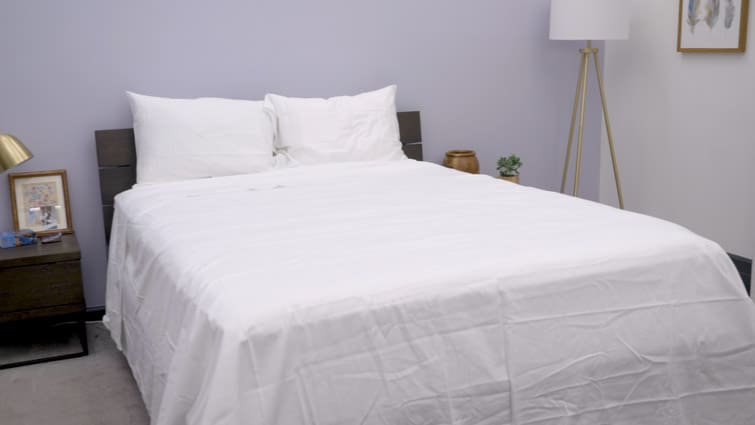 Boll & Branch Cotton Sheet Set
Eco-friendly folks on a mission to sleep green should consider the Boll & Branch Cotton Sheet Set. This bedding is GOTS-Certified, so it's free from any insecticides or chemical dyes. These sheets feature a smooth sateen weave and a high thread count of 300. This boosts durability and softness of the long-staple cotton. Get the full scoop by reading my Boll & Branch sheets review!  
Who's It For?
Besides eco-conscious shoppers, this breathable sheet set should appeal to hot sleepers. It's also a good option if you're looking for a variety of fun colors to choose from.
Materials Used
These all-natural sheets have cotton harvested from organic seeds. The sheets are soft and hypoallergenic.
Best Luxury Sheets
Are you looking for sheets with an elegant hotel-bed style? Tuft & Needle Percale Sheet Set is an incredibly luxurious choice. This set is fresh, clean, and crisp, and it can fit mattresses up to 14 inches deep. For info on all this high-quality set, be sure to check my full Tuft & Needle sheets review. 
Who's It For?
While it appeals to sleepers searching for a luxury feel, hot sleepers should appreciate how light and breathable these sheets are. If you want cozy sheets, check out their linen and jersey cotton sets.
Materials Used
These sheets are made from 100% Supima cotton. It's percale woven and offers a crisp, cool handfeel.
How To Shop For Cotton Sheets
Let's cover the basics. While shopping for the perfect cotton sheet set, it's important to consider thread count, weave style, and the type of cotton used.
Choosing The Right Type of Cotton
Perhaps the most important factor to consider is the length of the cotton fibers (also known as staples) used to weave the fabric. Longer fibers create a softer, stronger set of sheets. Egyptian and Supima aren't the only types of long-staple cotton out there. Most bedding brands advertise fiber length on the packaging. If a sheet set is described as "100% cotton," there's a chance it's woven with short, inferior fibers.
Egyptian Cotton
Egyptian cotton is woven from extra-long, supple fibers. It's regarded as a superior type of cotton. Sourced from the Nile River Valley, this material is often hand-picked to put less stress on the fibers. Because it's exceptionally soft and durable, Egyptian cotton tends to come at a higher price point.
Supima Cotton 
Egyptian and Supima cotton are comparable, as they're both woven from extra-long, fine fibers. The only real difference between them is geographical, as Supima cotton is exclusively grown in the U.S. This type of cotton is considered top-quality and comes at a higher price.
Upland Cotton 
Upland cotton is the most common and makes up 90% of global cotton production. It's woven from short fibers, so it comes at a lower price. Budget shoppers or those in search of a short-term sheet set could like upland cotton. Remember that cotton bedding woven from short fibers is more likely to fade and pill over time.
Thread Count
Thread count refers to the individual yarns per square inch of fabric, and many believe a high thread count guarantees high sheet quality. Thread count loses its value if you're not working with long, durable cotton fibers. It's important to pay attention to the fiber length first, and then check the thread count.
Some bedding brands advertise a sheet set with a high thread count of 1,000, but don't be fooled! Many manufacturers splice hundreds of short, weak cotton fibers together in order to boast a higher thread count. This is more of a marketing ploy than a trusted textile technique.
A high thread count is an indicator of quality in long-staple cotton bedding like Egyptian or Supima. In these cases, a count of 200-800 is a good benchmark to follow, with the latter half of that range being luxuriously high.
Weave Style
Weave style refers to the way cotton is woven on the loom, and it dictates a fabric's feel. There are many ways to weave cotton bedding, but let's explore the weave styles you're most likely to encounter.
Percale 
Known for its crisp and cool feel, cotton percale is ideal for hot sleepers. It's light, breathable, and has a matte appearance that's often compared to a freshly ironed dress shirt. Sleepers looking for that classic cotton should try this weave style.
Sateen 
I consider sateen to be percale's counterpart. Instead of crisp and cool, cotton sateen sheets are silkier, warmer, and heavier. Most sateen bedding features a lustrous sheen, ideal for sleepers who prefer a shiny set of sheets.
Twill 
Characterized by visible diagonal lines, a twill weave is most frequently found in denim jeans! In the world of bedding, a twill weave produces an exceptionally durable set of sheets. Hot sleepers should note that cotton twill is heavyweight and warming.
Jersey 
Jersey cotton is knit rather than woven, but I'm including it here because it's super popular. Known for its breezy, T-shirt-like feel, jersey cotton is best suited to hot summer weather. It's lightweight and breathable, but less durable than woven cotton.
FAQs
Are 100% cotton sheets the best?
Sheets made from 100% cotton are known for being soft and breathable, but not all cotton is the same! For the softest, most durable sheets, aim for long-staple cotton like Egyptian or Supima.
What are the coolest cotton sheets to sleep in?
Cotton percale is light, breathable, and perfect for folks who run hot. Sleepers looking for extra cooling and moisture-wicking properties might want to look for cotton percale sheets that are blended with materials like Tencel or bamboo.
How often should you wash cotton sheets?
In order to keep dust mites and allergens at bay, it's important to clean your sheets about once a week. Keeping food, drinks, and pets away from your bed is a good way to cut down on bacterial buildup.
Final Thoughts
Now that you're an expert on cotton bedding, you're ready to find the sheet set that's perfect for you. Remember to pay close attention to weave style, thread count, and the specific type of cotton used. You'll be enjoying sweet dreams in no time. Happy shopping!
Sarah is the former senior writer and bedding expert at Sleepopolis. She received her degree in Creative Writing from Brooklyn College and spends her free time doing stand-up, making pasta, and hanging with her cats.