Sateen sheets are super silky, luxuriously lustrous, and considered by many to be a bedding essential. Most commonly seen in cotton, the sateen weave style offers a unique look and feel that's suitable for sleepers of all styles. But with hundreds of options on the market, the process of picking the perfect sateen bedsheets can be a little overwhelming! But don't worry, shoppers — I'm presenting the top four sateen sheet sets right here in this guide. Plus, I'll impart expert tips and tricks for finding the sheets that best fit your bed, body, and budget.
Best Sateen Sheets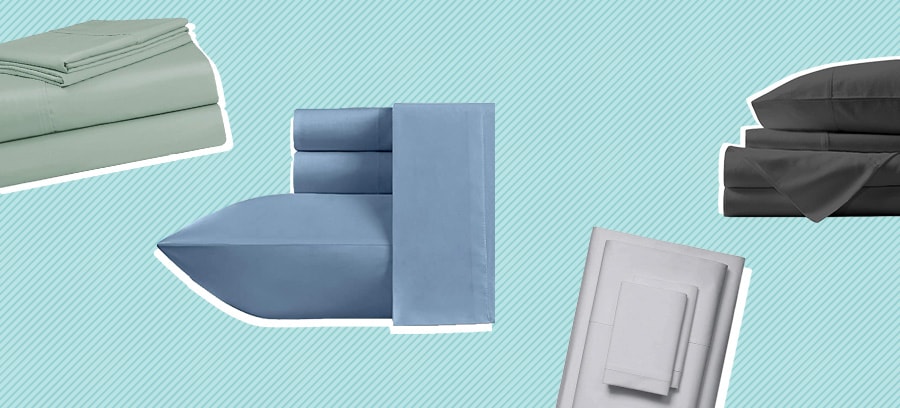 Editor's Choice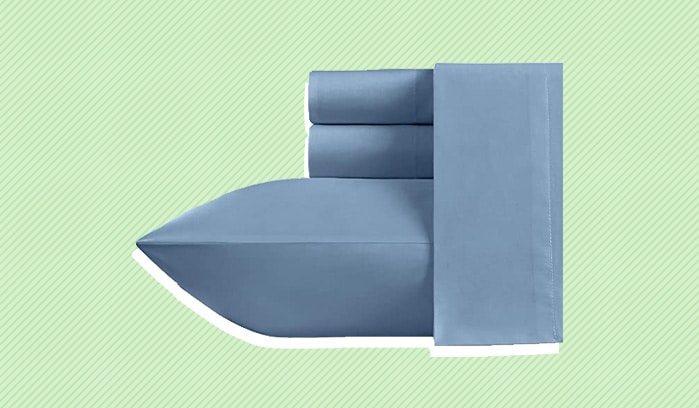 California Design Den Sateen Sheet Set
Woven from long-staple cotton and spun into a silky sateen weave, these sheets are lustrous, soft, and elegant. Plus, they feature a luxuriously high thread count of 500, which serves to boost the smoothness of the finished fabric. 
Pros
These sateen sheets have a lustrous sheen, ideal for sleepers who prefer a shiny appearance to a matte finish. 

This bedding is woven from long-staple cotton, a material known for its extra soft feel and strong durability. 

The fitted sheet in this set has deep 16-inch pockets, as well as a thick elastic band that spans the entire perimeter. 
Cons
If you're searching for crisp cotton sheets, you should look elsewhere. These are smooth and silky to the touch! 

If your mattress is less than 12-inches thick, you might find that the fitted sheet in this set is a bit baggy. 
California Design Den Sateen Sheet Set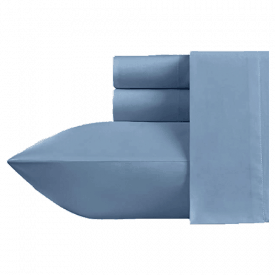 California Design Den Sateen Sheet Set
The California Design Den Sateen Sheet Set are an extremely soft yet durable option.
Most Affordable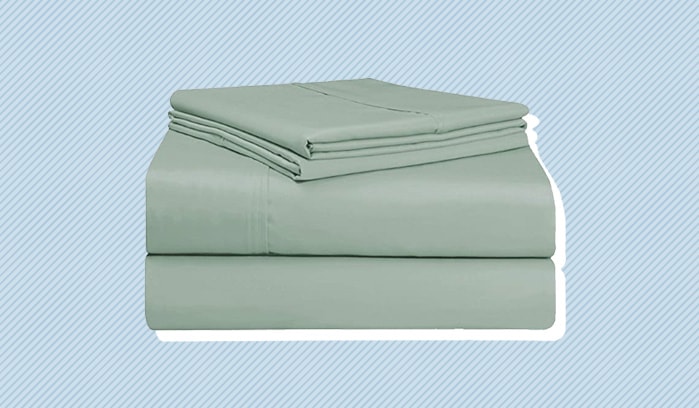 Pizuna Cotton Sateen Sheet Set
These sateen sheets are made from 100% long-staple cotton, which is widely regarded as a softer, more durable type of cotton. Additionally, this set comes in over a dozen different colors, and is very reasonably priced for shoppers on a budget. 
Pros
If you're looking for luxurious sateen sheets

without

the luxury price tag, you'll be glad to know that these affordable sheets are perfect for folks on a budget. 

This set comes in a wide variety of bold and vibrant colors, ideal for those hoping to take a break from plain white bedding. 

Its long-staple cotton and silky sateen weave make this bedding super soft, durable, and resistant to pilling. 
Cons
While this set comes in over a dozen different colors, no prints or patterns are offered. 

This bedding has a lustrous sheen, which has the potential to make wrinkles look more pronounced. 
Pizuna Cotton Sateen Sheet Set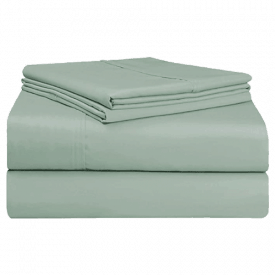 Pizuna Cotton Sateen Sheet Set
The Pizuna Cotton Sateen Sheet Set have a luxurious feel and come in a wide variety of vibrant colors.
Best Egyptian Cotton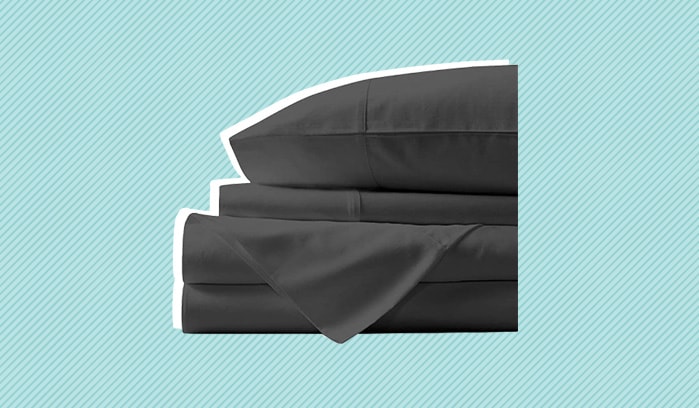 Mayfair Linen Egyptian Cotton Sheet Set
These sateen sheets are woven from 100% Egyptian cotton, which is widely considered to be the ultimate in luxury bedding. They're smooth to the touch, lustrous in appearance, and extra resistant to pilling. 
Pros
These sheets are less likely to pill, fade, or shrink over time, which gives sleepers great bang for their buck. 

The fitted sheet in this set has deep pockets capable of accommodating mattresses up to 15-inches deep. 

This sateen sheet set has a beautiful lustrous sheen, and comes in a variety of colors and striped patterns. 
Cons
These sheets might arrive rather creased when you first unpackage them, so I suggest washing and drying them before use. 

Pure Egyptian cotton like this might be out of the budget for some sleepers. 
Mayfair Linen Egyptian Cotton Sheet Set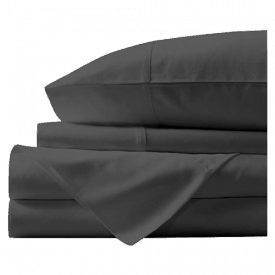 Mayfair Linen Egyptian Cotton Sheet Set
The Mayfair Linen Egyptian Cotton Sheet Set are durable and have a beautiful sheen.
Best Style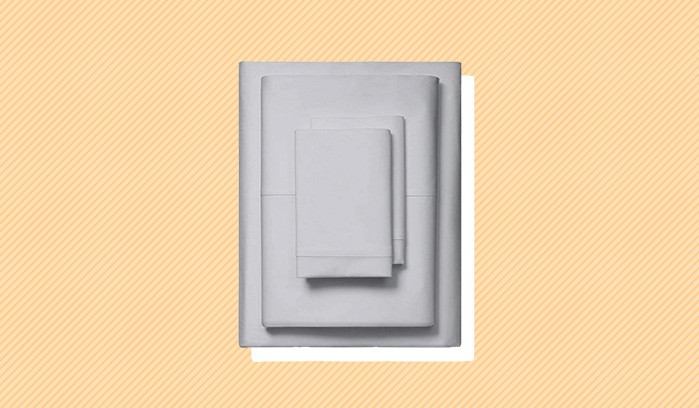 Kemberly Home Collection Sateen Sheet Set
These Egyptian cotton sheets are soft, durable, and super stylish. They have a silky sateen weave, come in a variety of colors, and feature a classic four-inch hem along the border of the top sheet and pillowcases. 
Pros
This bedding is made from 100% Egyptian cotton, a material known for superior durability and resistance to pilling. 

These sheets are sateen woven, which makes them extra silky and soothing on the skin. 

A four-inch hem borders the top sheet and pillowcases in this set for a classic, hotel-like aesthetic. 
Cons
This bedding is a little on the pricey side, and might not fit in everyone's budget. 

To protect the integrity of the fabric, I recommend air-drying these sheets rather than drying them by machine.
Kemberly Home Collection Sateen Sheet Set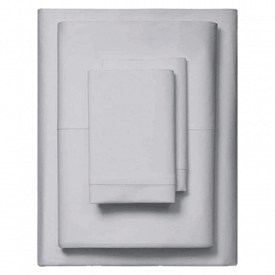 Kemberly Home Collection Sateen Sheet Set
The Kemberly Home Collection Sateen Sheet Set is 100% Egyptian cotton and have a silky feel.
How To Shop for Percale Sheets
Now that we've taken a look at my top four favorite sateen sheet sets, let's talk about the methodology behind my picks. While sheet shopping has a lot to do with personal preference, there are some helpful tips and tricks to follow when you're searching for the bedding that best meets your sleep needs.
Choosing the Right Type of Cotton
Regardless of the weave style you're going for, the first thing to pay attention to is the type of the cotton itself. I suggest you keep an eye out for long or extra-long staple cotton, as it's widely regarded as a superior. So, before we dive deeper into the details, keep this rule of thumb in mind: the longer the cotton staple, the softer and more durable the sheets will be.
For example, Egyptian cotton has a reputation for being exceptionally smooth and strong thanks to its extra-long fibers (fibers and staples are the same thing). Supima cotton is another popular example of this, but they aren't the only high-quality options out there. Any cotton sheet set that advertises long or extra-long staples is a pretty safe bet!
Once you've found the type of cotton you're looking for, you can pay closer attention to its sateen weave. Some sateen sheets offer a super luminous sheen, while others are more subtle in their luster. Additionally, some cotton sateen sheets are blended with another material in order to make the fabric more or less silky. So be sure to make meticulous note of the "product description" as written by the retailer itself in order to uncover all the details.
Thread Count
Next, I consider thread count. It's important to note that thread count isn't the primary indicator of quality, and kind of loses its value if you're not working with high-quality materials. But when it comes to long or extra-long staple cotton, a high thread count can say a lot about the fabric's feel and performance.
When it comes to cotton sateen sheets, a thread count of 300-600 is a great benchmark to follow. If the thread count falls within that range, it's more likely to be luxuriously soft, smooth, and long-lasting. But be wary of sheets that advertise a thread count of 1,000 or higher, as that's a good sign that the fabric was woven from shorter, weaker fibers.
Colors, Prints & Patterns
Once you've ironed out the material details, take some time to think about which colors, prints, and patterns suit your personal aesthetic best. It is your bedroom, after all, and you should pick the sheets that reflect your unique style. That said, you'll find that some brands offer more color options than others, so I suggest you browse a bit before committing to a retailer that doesn't offer your ideal sheet style.
It's also important to note that most colored sheets fade a little bit after the first few washes. So, I'm picking a color, I like to imagine what it would look like just a few shades lighter in order to get the truest sense of its ultimate hue. Additionally, keep in mind that long and extra-long staple cotton is more likely to retain color over time!
Wash Care
Cotton is a natural fiber, so your cotton sateen sheet set can most likely be washed and dried from the comfort of your home. That said, I always like to check the exact care instructions as given by the bedding brand itself before I throw them in the wash. At the end of the day, no one knows how to care for your sheets better than the folks who made them! So be sure to protect your bedding investment with proper maintenance.
Personally, I like to let my sateen sheets line-dry whenever possible. High-heat dry cycles can cause pilling, color fading, or reduce the beautiful luster that's unique to a sateen weave! Of course, if you do decide to machine-dry your sheets, I recommend using a low-heat cycle, and avoid dryer sheets, if you can. Fabric softener and dryer sheets have been known to leave a residue on the surface fibers of your bedding, which can potentially irritate those with sensitive skin.
Finally, don't forget to wash your sheets once a week in order to keep them fresh, clean, and cozy.
Price, Trial Periods, & Returns
The cost of cotton sateen bedsheets ranges quite a bit, and is influenced by things like style, size, fiber length, and popularity of the brand itself. Typically, long-staple cotton like Egyptian or Supima are more expensive but, again, there are a lot of factors at play when it comes to price. So take some time to shop around and compare costs!
Additionally, I recommend taking advantage of a brand's trial period whenever it's offered. For those who are unfamiliar, many bedding retailers offer a trial period wherein shoppers get a set amount of time to personally test a product. If you decide (after the trial period is up) that you don't like your new sheets, just send them back for a full refund. This should ease the purchasing pressure a bit!
Sleepopolis Buying Tips
Okay, sleepers, we've almost reached the end of my guide, so let's recap some helpful tips before you start shopping:
Trial VS Returns – A trial period is not the same thing as a return policy, and each one comes with different stipulations. For example, some retailers will not refund your purchase unless your sheets are unpackaged and unused, while others encourage you to personally test them. So be sure to check the details of each brand's trial and return policies before you make your purchase.
OEKO-Tex Certification – Keep an eye out for sateen sheets that have been OEKO-Tex certified, as this guarantees that no harsh chemicals, pesticides, or dyes were used to make them!
Wash Care – Personally, I like to wash my sheets as soon as they arrive in order to eliminate any packaging odor or residue it might have. Plus, that first wash cycle gives you a good idea of how well your new sheets will retain their color.
Final Thoughts
Now that you've seen my favorite sateen bedding and learned all about how to shop for sheets, you're ready to find the set that's right for you. Just be sure to take advantage of those trial periods when they're offered, pay close attention to the material details, and pick the style that suits you best! Sweet dreams, everybody.
Sarah is the Senior Writer and bedding expert at Sleepopolis. Every week, she personally tests and reviews new pillows, sheet sets, and other sleep accessories. She accompanies every video review with a meticulously detailed article to ensure her audience has all the pertinent info they need for the best shopping experience possible. Perhaps that's why her fans have dubbed her "the most thorough pillow reviewer on the Internet." Having tested everything from sleep trackers to mattress toppers, Sarah's expertise runs deep and is always expanding. She received her degree in Creative Writing from Brooklyn College and spends her free time doing stand-up, making pasta, and hanging with her cats.