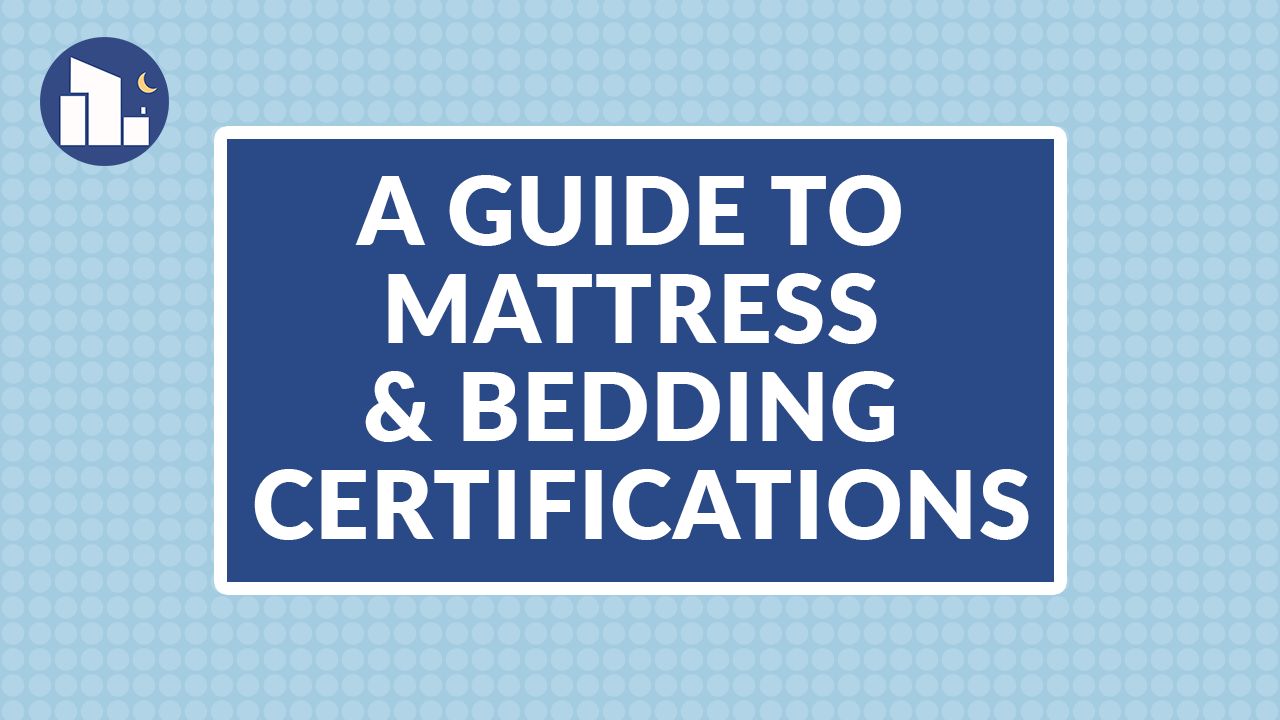 While shopping for a new mattress or bedding, you may have noticed a variety of certifications companies will proudly claim their products have received from third parties. You may also notice most of these certifications are acronyms or a combination of capitalized letters, like OEKO-TEX certified — and probably don't mean much to you at first glance. However, these certifications can reveal a lot about the company, their work practice, the safety of the materials used, and more.
For this reason, I wanted to put together a guide (in alphabetical order) explaining what the different certifications mean that we come across the most in the sleep world, so you can understand them and also look for products that align with your expectations and standards.
B Corporation
This means a company or brand meets high-quality social and environmental business standards. B-Corp, an international certification, looks at a company's positive impact on workers, communities, customers, suppliers, and the environment. The objective is to contribute to an inclusive, equitable, and regenerative economy — and remain transparent while doing so.
Leesa is one of the popular mattress brands we review products from that is a certified B corporation.
CertiPUR-US
In order to get the CertiPUR-US label, the product must be free of certain dangerous chemicals and materials. Specifically, the product needs to be made without ozone depleters, PBDEs, TDCPP or TCEP flame retardants, mercury, lead, and other heavy metals, formaldehyde, phthalates, and have low volatile organic compound (VOC) emissions for indoor air quality.
Some of our favorite beds with this certification are the Puffy mattress, the Studio by Leesa mattress, and the Bear Hybrid mattress. 
Climate Neutral Certified
This certification means the company offsets more than 100 percent of their carbon emissions, ultimately contributing to reducing greenhouse gasses that damage the ecosystem and achieving climate neutrality. 
Products do not receive this certification; rather brands do as a whole. Climate Neutral says more than 330 brands are currently certified by them.
Avocado Green Mattress became the first mattress and bedding company to become Climate Neutral Certified in 2019. Their flagship mattress is one of our favorites! 
eco-INSTITUT Certified
The Eco Institute is based in Germany and tests products at the strictest levels for pollutants and emissions — meaning they go above and beyond legal national requirements. Being eco-INSTITUT certified means an indoor product is low-pollutant and low-emission, so it won't have any hazardous chemicals and won't damage your indoor air quality.
The Eco Institute says more than 100 manufacturers across the world have the eco-INSTITUT label. You can find this label with mattresses, mattress toppers, pillows, and other furnishings.
The Birch Organic pillow and the Amerisleep Organica mattress are both products with this certification.
Fair Trade Certified
If a product is Fair Trade Certified, it meets standards that protect the livelihoods of farmers, fishers, and other producer communities — along with the environment. Fair Trade Certified standards call for safe and healthy working conditions, no forced labor, no child labor, and fair and consistent compensation. It also ensures environmental protections and product traceability. 
Fair Trade USA certifies everything from food to home goods to beauty supplies, so you could see it on any mattresses or bedding products.
When mattress and bedding company Saatva launched a line of sheets (including the Saatva Organic Sateen sheets), the company said it produced them all in a Fair Trade Certified factory. 
Forest Stewardship Council Certified
The Forest Stewardship Council (FSC) certifies products if they come from responsibly managed forests that have environmental, social, and economic benefits. The goal here is to keep forest-agricultural operations and products sustainable while also benefiting the local people and workers. Part of the responsibilities of an FSC-certified company is to give local communities a percentage of the income from the surrounding forest along with access to schools, work, and medical care.
Wood products are going to be the ones eligible for this certification. Natural latex, for example, could have this certification since it comes from trees. 
Naturepedic has earned the Forest Stewardship Council Chain of Custody certification for its natural latex meeting the standards.
GOLS Certified (Global Organic Latex)
GOLS stands for Global Organic Latex Standard and specifically applies to latex. It's a globally recognized standard that pushes sustainability. To get the certification, the latex within a product has to meet strict health and environmental guidelines from beginning to end. For example, it can only have five percent synthetic content and there must be fair labor practices. Latex comes from the sap of rubber trees. If latex is GOLS certified, it's been made with 95 percent natural materials. 
The beds featured in our list of favorite latex mattresses typically have this certification.
GOTS Certified (Global Organic Textile)
GOTS stands for Global Organic Textile Standard. It's very similar to the GOLS certification, but it deals with products from natural organic fibers, rather than latex. GOTS focuses on environmental and social responsibility for organic textiles from the harvesting of materials to the manufacturing process to the labeling.
"In terms of user health, GOTS certification is the most meaningful certification for textiles including beds and bedding made with cotton and polyester," said building biologist Corinne Segura with My Chemical-Free House. "This is a top-tier certification for organic textiles. It goes beyond pesticide use, to look at all chemicals used in the processing and chemicals added topically. It is by far the most stringent regulation out there as it covers all chemical inputs (e.g. dyes, auxiliaries, and process chemicals) which are evaluated to meet basic requirements on toxicity and biodegradability."
Brooklyn Bedding announced reaching this milestone certification in 2022. Read more about it here.
GREENGUARD Gold Certified
If a product is GREENGUARD Certified, it's met some of the world's most rigorous third-party chemical emissions standards in order to help reduce indoor air pollution and the risk of chemical exposure, according to the UL GREENGUARD Certification Program. It limits emissions of volatile organic compounds (VOCs) to help improve indoor air quality.
Mattresses and bedding can qualify for this certification, along with building materials, furniture, electronic equipment, cleaning and maintenance products, and medical devices. 
Some of our favorite products with this certification are the Birch Plush Organic mattress topper, the Coop Home Goods Eden pillow, and the Bear Elite Hybrid mattress. 
OEKO-TEX Certified
To be OEKO-TEX certified and have a STANDARD 100 label means a product has been tested for harmful chemicals and is determined to be non-toxic for humans throughout all stages of its processing.  
"OEKO-TEX STANDARD 100 is an international testing and certification system for all finished, semi-finished, and raw textile products," said Sarah Jameson with Green Building Elements. "OEKO-TEX not only issues the certification for mattresses and bed linens, but they do it for other items such as knitted and woven fabrics, garments, household and domestic textiles, and accessories such as buttons and sewing threads. In order to attain this, the product undergoes rigorous testing for harmful substances and controlled substances."
Everything from the threads to the zippers is tested before mattresses and bedding can get this certification. 
Check out some of our favorite products with this certification: the Nest Bedding Easy Breather Natural pillow, the Brooklinen Linen Core sheet set, and the Nolah Bamboo sheets.
MADE IN GREEN by OEKO-TEX
You can also look for the MADE IN GREEN label by OEKO-TEX, which is for a wide variety of textiles and leather products. It shows the materials in the product have been tested for harmful substances and that they've been manufactured in environmentally friendly facilities and socially responsible working conditions. You can scan the label's QR code with your phone or enter its product ID into the OEKO-TEX website to see where the product was made and track its history.
OTCO Certified
OTCO stands for Oregon Tilth Certified Organic. Oregon Tilth's mission is to make the food system and agriculture biologically sound and socially equitable. They work with everyone from farmers to businesses to help find solutions to achieve this mission. The certification is for handlers of organic products who "want to be sustainability leaders." 
In order to get certified, businesses must provide a plan and supporting information that shows they comply with regulations for certified organic products and services. They're subject to onsite inspections and contracts in order to protect consumers. Products with this label will typically have organic materials. 
Rainforest Alliance Certified
Being Rainforest Alliance Certified means a company produced a product with sustainability in mind. Farmers are evaluated on their social, economic, and environmental sustainability practices before receiving the certification. 
This can apply to the latex in a mattress and let the consumer know it was produced ethically. 
Awara Sleep, Naturepedic, and Birch Living are some of our top picks that offer mattresses with these certifications.
USDA Organic
The USDA regulates the term "organic" as it applies to agricultural products through the National Organic Program (NOP) Regulation, so fibers like cotton, wool, and flax are covered under those standards. To have the USDA Organic seal, the product needs to have a minimum of 95 percent organic fiber content and all operations producing, handling, processing, and manufacturing the final product must be certified. Textile products that are labeled as "organic" can have label claims that identify specific types of organic fibers and/or identify the percentage of organic fibers. 
At this time, GOTS is the only third-party organic certification system for fiber products that is explicitly recognized by NOP. 
Wool Integrity NZ Certified
This certification is for New Zealand wool, which is common in a lot of mattresses and bedding. It means the wool has been ethically grown, transported, exported, manufactured, and marketed. 
See our Birch Organic pillow review, as it's a product that features this certification.
Other Terminology
It's common to see words like "natural," "organic," and "eco-friendly" associated with mattresses and bedding, which can be great indicators of products with high-quality materials and business standards. However, these aren't all regulated terms and can be ambiguous depending on the marketing and overall product. It can be beneficial to look for third-party certifications backing up these terms in order to see what exactly the company's referring to. That way you can be confident in the product you're getting.
Final Words
These certifications aren't going to work for every product since some are specific to certain materials and practices. So if a mattress or bedding product doesn't meet all these standards, it doesn't necessarily mean you shouldn't buy it. Third-party certifications are good to keep in mind if ethical business practices, organic or eco-friendly materials, and/or high business standards are important to you.
If you've come across any certifications that aren't on this list, feel free to shoot me a message at bridget.chapman@pillarfour.com.
Bridget Chapman
Bridget is a Certified Sleep Science Coach and the former senior commerce editor at Sleepopolis, where she did everything from test out mattresses to writing about how to fall asleep fast. You can also find her in videos on our YouTube channel. Bridget graduated magna cum laude from San Diego State University with a degree in journalism and a minor in English. Before joining the Sleepopolis team, she was a TV news reporter and worked in cities across the country. She loves spending time outdoors, checking out new restaurants, snuggling with her pets, and of course, getting some quality Zzz's.