A bed-in-a-box is a mattress that ships compressed in a box to your door. It's an easy way to order a new bed, and cuts out the inconvenience of waiting for delivery people to drop your bed off in-person.

These days, a lot of online mattress brands sell their mattresses in a box, which means there are tons of options out there. The best mattress-in-a-box for you depends on your specific sleep needs, like your preferred sleeping position, body weight, and whether or not you sleep with a partner or pet. Find the right option for your needs with our comprehensive roundup.

Short on time? Skip down to my handy summary chart.
The Best Mattresses in a Box
Editor's Pick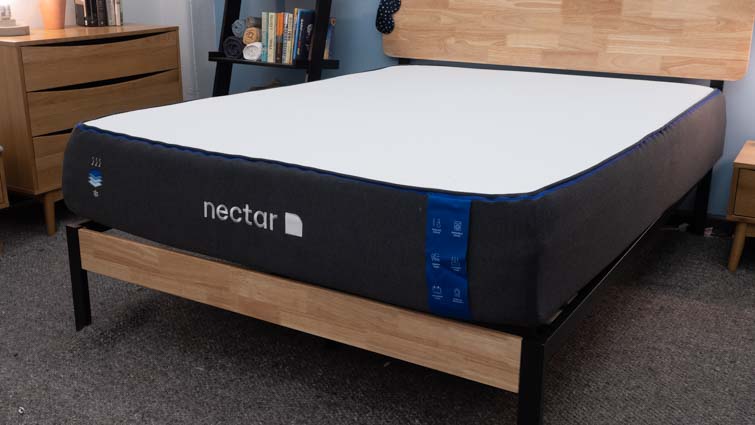 Nectar
Budget shoppers, listen up! If you've been avoiding buying a mattress in a box because of the intimidating price points, then take a gander at the Nectar mattress. Built with plush layers of foam, this bed gives off a luxury vibe at a price that won't break the bank. That, plus its high-quality construction, makes it my favorite bed-in-a-box model out there.
While memory foam isn't going to be the right material for all sleepers, it could do wonders for folks who struggle with shoulder pain, sleep on their side, or simply enjoy a deep sink and cuddly hug from their bed. It's also excellent at transferring motion, which makes it a fantastic material for sleepers who share their bed with a partner, kids, or furry best friends. And of all the high-quality memory foam options available on the market today, you're not likely to find one that's as affordable as the Nectar.
The Nectar comes with a 365-night trial and lifetime warranty. 
Intrigued? Then get into my full Nectar mattress review.
$399 in Free Gifts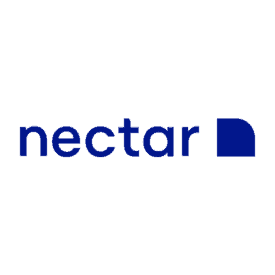 Sleepers will sink deep into the Nectar mattress for some soothing pressure relief, something that side sleepers will particularly appreciate! Click here to get $399 of free accessories with every mattress purchase!
Best Mattress for Back Sleepers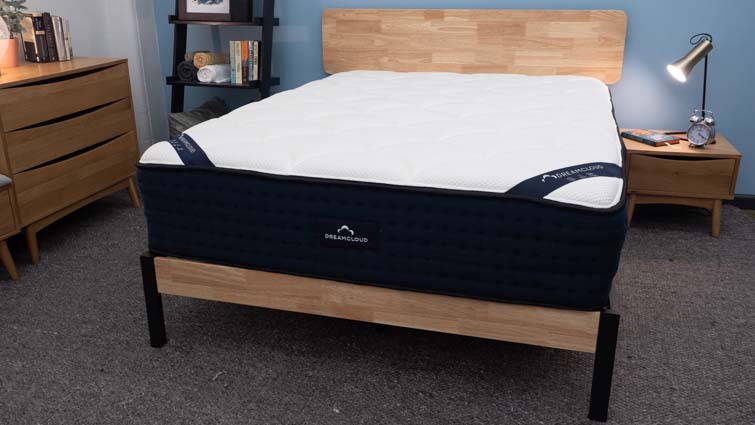 DreamCloud
Back sleepers of the world need enough support to keep their hips in line with their shoulders to promote proper spinal alignment. That alignment is key when it comes to avoiding aches and pains in your lower back when you get out of bed in the morning.
The DreamCloud original mattress is a bed-in-a-box hybrid, meaning it uses a combination of foam and coil layers, with a great mix of support and comfort. It's medium-firm feel is great for back sleepers and does a great job of allowing people to sink into bed a little bit, while still supporting their weight so they don't feel swallowed up by their mattress.
The DreamCloud is a bed-in-a-box that has a really solid feel to it and I think it's a great choice for back and combination sleepers that tend to roll around a little bit during the night.
The DreamCloud comes with a 365-night trial and lifetime warranty.
Read our DreamCloud mattress review to see the full results of our test!
Save $200 + Free Gifts with Purchase!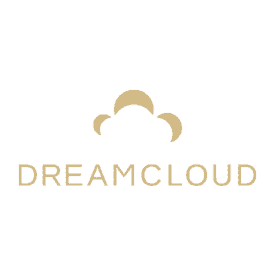 This tall hybrid mattress combines foams with pocketed coils for a luxuriously supportive sleeping experience. Get $200 off a DreamCloud mattress plus free pillows, a mattress protector and a set of luxury sheets ($399 value) with your purchase!
Best Bed in a Box for Side Sleepers
Helix Midnight
Are you a side sleeper who deals with achy shoulders? Many side sleepers run into shoulder or hip pain if they're sleeping on the wrong mattress! The Helix Midnight mattress can help you avoid stiffness and pain if you sleep strictly on your side. Made from memory plus foam, the top layer has the right amount of firmness to provide enough pressure relief at the joints without making you feel like you're sinking into the bed.
Helix offers a variety of models that can suit any sleeping style (including a Luxe line that offers extra back support). The Helix Midnight in particular incorporates a mixture of pressure-relieving memory foam, firmer poly foams, and supportive pocketed coils that make it ideal for side sleepers.
The Helix Midnight comes with a 100-night trial and 10-year warranty.
Want to learn more? Read my full Helix Midnight mattress review.
Memorial Day Sale: Up to $200 Off + Free Pillows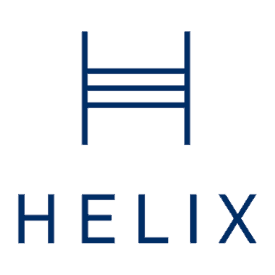 If you're a side sleeper looking for a hybrid mattress, the Helix Midnight offers a great mix of support and pressure relief!
Best Bed in a Box for Heavy People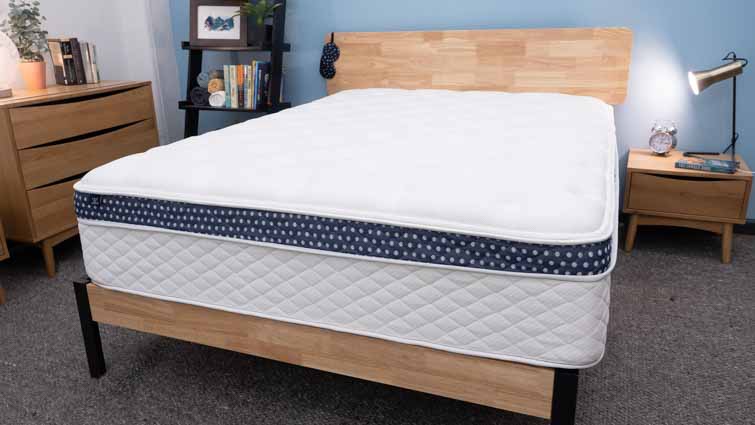 WinkBed
The WinkBed stands out from standard all-foam, bed-in-a-box mattresses in multiple ways. It has a coil-on-coil structure that offers a sturdier, more traditional mattress feel than many all-foam beds. And it features a pillow top section, which is a rare find among online mattresses. The pillow top incorporates super-soft foams for comfort, and it's layered over pocketed coils for bounce and support, creating a nice mix of pressure relief and support. 
The WinkBed comes in three firmness levels: Soft, Luxury Firm (which has a medium-firm feel), and Firm. Along with that, WinkBed offers the WinkBed Plus, which is specifically designed with the support heavier folks need. No matter your preferred firmness level, the WinkBed mattresses feature a cooling gel infusion in the foams and a breathable Tencel cover, which helps them sleep cool. If you're hunting for a bed-in-a-box mattress but want a bed with a more traditional feel, consider the WinkBed. 
The WinkBed comes with a 120-night trial and lifetime warranty.
Will you rest well on the WinkBed? Find out in our full WinkBeds mattress review. 
$300 Off & Free Sleep Bundle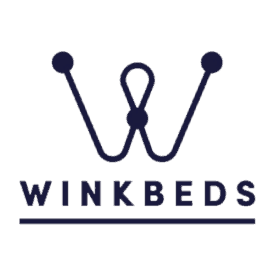 Built with a plush pillow top and a buoyant coil-on-coil structure, the WinkBeds is a great option for a wide range of sleepers! Just enter your email to save
Best Firm Mattress in a Box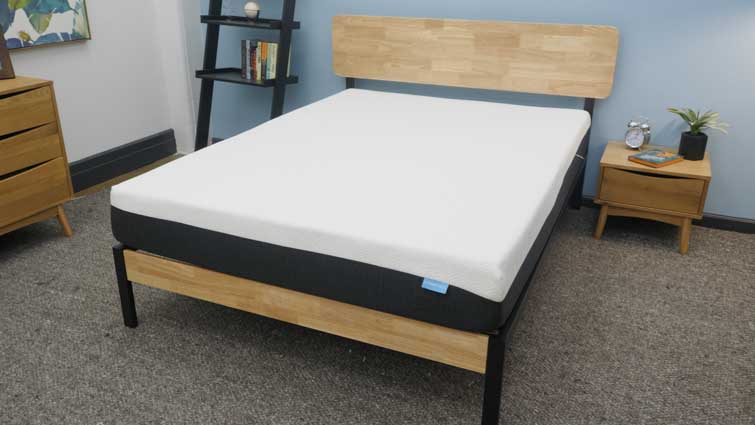 Bear
Looking for an all-foam mattress that offers more support than, say, the Nolah Then take a look at the Bear. This mattress features a top layer of memory foam for comfort and firmer poly foams below? to achieve a firm feel. That balance of comfort and support does a great job of promoting proper spinal alignment by preventing the hips from sinking too far into the mattress. For this reason, I think the all-foam Bear could be a great option for back sleepers, who need plenty of spinal support mixed with some cozy body-contouring. 
A firm feel isn't the only thing going for the Bear. It also features a graphite infusion in the memory foam comfort layer to help draw heat away from the sleeper and help them sleep cool. And it uses a cover made with Celliant, a unique material that promotes airflow and could potentially support athletic recovery. The Bear also makes two slightly softer mattresses, the Bear Pro and Bear Hybrid, but the standard Bear is most likely to provide the level of support that's generally best for back sleeping.
The Bear comes with a 100-night trial and 10-year warranty.
Read the full Bear mattress review to learn more.
25% Off + Free Gifts With Code CHILL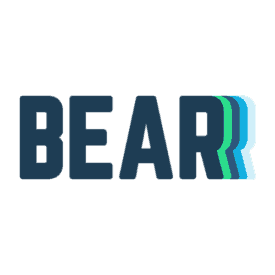 The cover of the Bear mattress uses celliant, which some studies suggest may help those with active lifestyles recover faster! 
Best Budget Mattress in a Box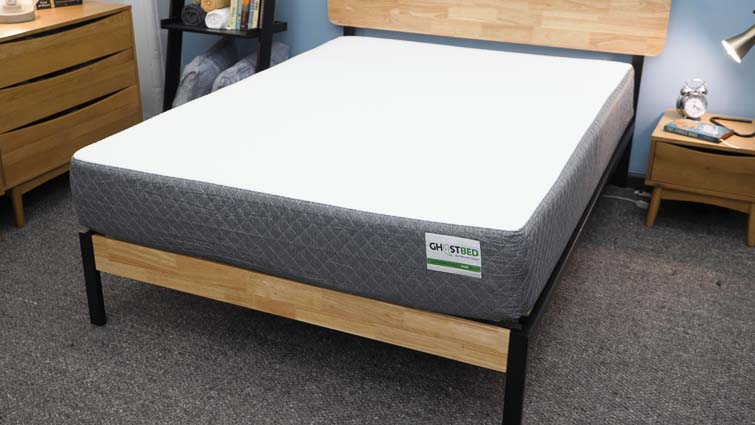 Ghostbed
If you're looking for a quality mattress on a budget then there are some great bed-in-a-box options for you. The GhostBed is an all-foam mattress that uses a combination of latex and memory foams to create a medium-firm feel that is great for a wide range of sleepers.
Not only is the GhostBed a good mattress at an affordable price, but the durable latex in its comfort layer protects against everyday wear and tear. In fact this mattress is so durable that it comes with a 20-year warranty!
Latex is not only a durable material, but it's also really bouncy and does a great job of dissipating body heat. So if you're a combo sleeper looking to sleep cool on a budget, then the GhostBed could be for you.
The GhostBed comes with a 101-night sleep trial and 20-year warranty.
Read our GhostBed mattress review to learn more!
4th of July Sale! 25% Off Mattresses + 2 Free Luxury Pillows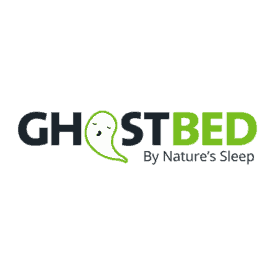 The combination of bouncy latex and body-hugging memory foam offer sleepers a nice, balanced feel. 
Best Mattress in a Box for Combination Sleepers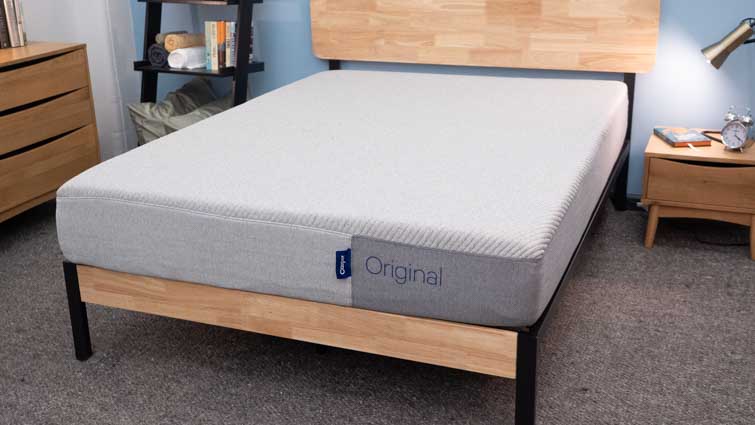 Casper
The Casper comes in two versions: hybrid (meaning it's made with a combination of coils and foams) and all-foam. Whichever version you choose, you'll find it to be great for combination sleepers. Unlike some bed-in-a-box mattresses, the Casper has a decidedly "on top" of the bed feel, meaning you won't feel "stuck" in bed. This is great news for combination sleepers, who will find it easy to switch positions throughout the night on this bed.
I'm also a fan of the Casper's zoned support system. It is a bit softer at the head, feet and shoulders, and has added support at the lumbar region — where most sleepers need it. Zoned support is particularly helpful for anyone who suffers from back pain, as it helps promote a neutral spinal alignment. 
The Casper comes with a 100-night trial and 10-year warranty.
Is this the organic mattress for you? Read our Casper mattress review for all the details.
Save 10% with code SLEEPOPOLIS10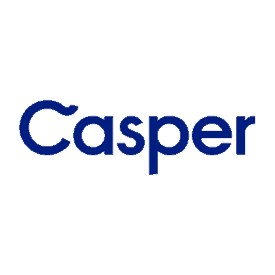 Casper has a full line of quality mattresses to ensure you can find the right feel for you! 
Best Memory Foam Mattress in a Box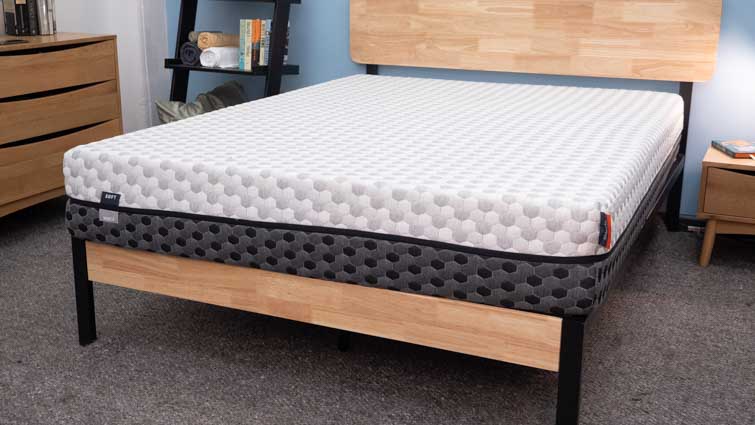 Layla
Memory foam is a common component of bed-in-a-box mattresses, but the memory foam used in the Layla is anything but common. Not only does it feature all the great sinkage and body-contouring properties of the material, but it's also infused with copper. This infusion helps draw heat away from the sleeper and keeps the mattress sleeping cool.
The Layla is also unique in that it's a flippable mattress — meaning one side of the mattress is firmer and the other is softer. The firmer side has a 1-inch memory foam comfort layer as well as a medium firmness that might be ideal for back sleepers, who need a balance of comfort and support. Meanwhile, the softer side has a thicker (three inch) memory foam comfort layer that's better suited to side sleepers, because it offers decent body contouring and pressure point relief in sensitive areas such as the shoulders and hips. 
The Layla comes with a 120-night trial and lifetime warranty.
Like what you've seen? Check out our Layla mattress review for even more.
Memorial Day Sale: Up to $200 off + free gifts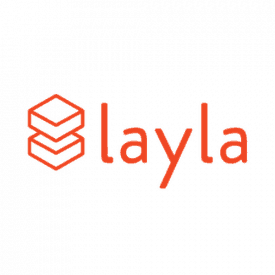 A flippable design makes the Layla mattress a truly customizable bedroom accessory. 
Best Foam Mattress in a Box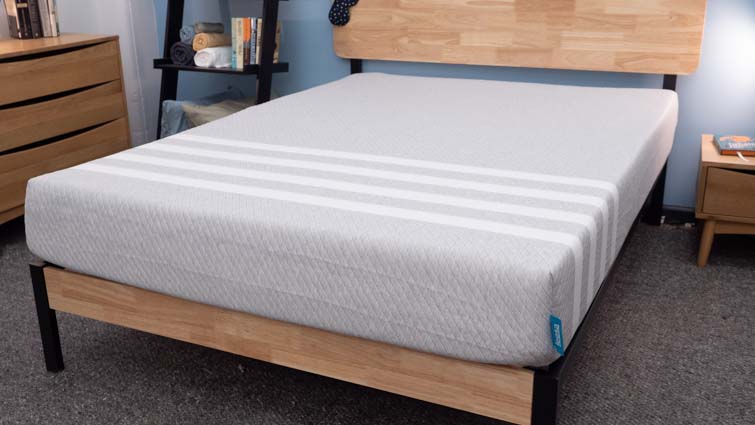 Leesa
Some people might hear "foam mattress" and think that they're all the same, but depending on the materials used and the position those layers are placed in, foam beds can be really different from one another. The Leesa Original is an all-foam bed-in-a-box that combines the pressure relieving benefits of memory foam with the cool sleeping, quick response of their proprietary comfort layer. This combination means you get the best aspects of memory foam, without the heat trapping properties that can cause discomfort.
Back sleepers should especially like this firmer-feeling mattress. It will offer them a nice balance of pressure relief and support.
The Leesa comes with a 100-night trial and 10-year warranty.
Learn more in our full Leesa mattress review
Summer Sale: Up to $400 Off Mattresses and 15% Off Bundles!

Made from a blend of proprietary foam, memory foam, and high-density poly foam, the Leesa Mattress offers a softly balanced feel that's great for a wide range of sleepers. 
Best Bed in a Box for Back Pain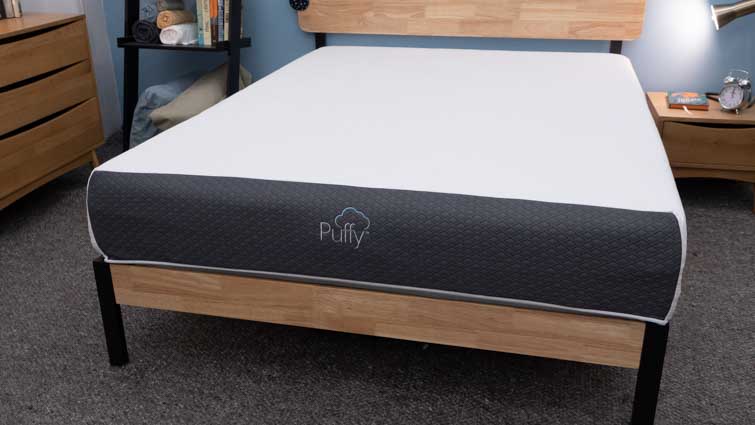 Puffy
Sleepers dealing with back pain should really enjoy the support and pressure relief that the Puffy mattress has to offer. Its soft and plush support does an incredible job  contouring at the lower back, which gives a hugging feel that's especially beneficial for  back sleepers 
The reason I picked the Puffy mattress as the best bed-in-a-box for back pain is because of how well it did on the pressure map test. In this test, I placed a pressure map on top of the Puffy and laid on top; the Puffy showed little to no sign of pressure at my shoulders and lower back.
The Puffy comes with a 101-night trial and lifetime warranty.
Learn more about my testing process in my full Puffy Mattress Review
Up to $445 in free accessories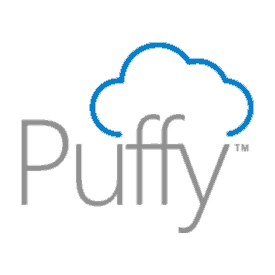 The Puffy is an all-foam mattress that lives up to its name with soft, pressure relieving comfort!
What is a Bed-in-a-Box?
A bed-in-a-box is a rolled and compressed mattress that is shipped to a buyer in a cardboard box or in some cases, a bag. After unpackaging, the mattress unrolls and expands to its full size. Though a bed-in-a-box does not arrive ready to use, it is often less expensive and easier to transport, making it a convenient and affordable option for many sleepers.

Mattresses were once the domain of brick-and-mortar department or specialty stores. Before the Internet, information about mattresses was available only through salespeople or company literature. The buying process consisted of trying out mattresses in person and taking one home or having it delivered. But since the advent of the Internet, times have changed. These days, more than 12% of mattresses sold show up on the buyer's doorstep in a box, ready to unpack and unroll.

Now, many mattress buyers skip the store altogether and browse a myriad of options online. Bed-in-a-box company websites usually offer in-depth descriptions, reviews, and pictures of their products as well as live chat with customer service specialists. Purchasing a mattress has never been easier, and can take a fraction of the time it once did.
Is a Bed-in-a-Box Good For Everyone?
The short answer is yes — everyone can find a bed-in-a-box that works for their needs and body type. Bed-in-a-box mattresses vary just as widely in feel and construction as non-box mattresses. The main reasons not to purchase a bed-in-a-box are that you prefer testing a mattress in person before purchase, you'd rather have your new bed delivered and set up in your bedroom for you (though many bed-in-a-box companies now offer this service for an additional charge), or you'd prefer a bed that does not have an off-gassing or decompression period. Skip down to my How to Unbox section to learn more about that!
Take a look at some pros and cons of bed-in-a-box mattresses below to decide if a bed-in-a-box is a good choice for you.
Bed-in-a-Box Pros and Cons
Like any mattress, bed-in-a-box models have positive and negative points. Before you buy, consider these pros and cons. I'd also encourage you to check out our How to Choose a Mattress guide for more in-depth information
Bed-in-a-Box Pros
Choice – With nearly 200 bed-in-a-box brands to choose from, buyers have more options than ever before. There's a model for almost any budget and personal preference.
Price – The majority of bed-in-a-box brands are available exclusively online. The few that make their products available to try out typically do so through the brick-and-mortar stores of other companies. Without showrooms, salespeople, and other overhead expenses, bed-in-a-box mattresses often cost less than traditional models.
Convenience – Browsing bed-in-a-box mattresses, accessing detailed product information, and reading reviews online can be done anytime, and is typically less time-consuming than traditional brick-and-mortar shopping.
Privacy – Shopping for a bed-in-a-box online lets buyers bypass the usual sales process and browse in privacy. This can be preferable for people who like to shop without the presence of salespeople.
Risk-free trial period – Bed-in-a-box brands typically offer a generous sleep trial period for testing out their products. Trial periods can range from a few months to a year.
Free shipping and returns – Most bed-in-a-box companies include free shipping and delivery of their products in the United States. Buyers in Alaska and Hawaii may need to pay an additional shipping charge.
Bed-in-a-Box Cons
No try-before-you-buy – The majority of bed-in-a-box models aren't available to test out before purchasing, which may be a downside for some people, especially those trying out a new brand or type of mattress.
Support – Certain standard bed-in-a-box mattresses may not be appropriate for heavier people, couples of above-average weight, or others who need more durable support. But there are plenty of bed-in-a-box models designed specifically for heavy people.
Off-gassing – Some bed-in-box models release volatile organic compounds when first unboxed. This odor can take days or weeks to fully dissipate and cause respiratory or eye irritation.
Heat – If your bed-in-a-box is made from conventional memory foam without gel or other cooling properties, it may sleep hot. A bed-in-a-box made from latex or a cooling memory foam may be a better choice for warm sleepers. Keep in mind this is also the case with non-boxed mattresses. See my top picks for the

best mattress for hot sleepers

.
How to Buy the Right Bed-in-a-Box
With dozens of bed-in-a-box options to choose from, how do you decide which one to buy? Below, we guide you through the process of buying a bed-in-a-box mattress, from selection to delivery and set-up.
Brand Research
Since you won't get to test your mattress in-store, you'll want to research a few different mattress brands before choosing one or two you're interested in. There are many popular bed-in-a-box brands out there, and oftentimes going with a well-established brand will ensure you receive a high-quality mattress. I'd also recommend choosing a brand that's well-known for meeting your specific sleep needs. For instance, Helix is known for making great mattresses for side sleepers, and GhostBed is known for making awesome cooling mattresses.
If you decide to go with a less well-known (or new) online mattress brand, there are a few more steps you can take to ensure you get a great new mattress.
Read the Reviews
First up is reading reviews! Whether you read customer reviews online or head to a review website like Sleepopolis, it's important to get an objective opinion on a mattress you're considering. Pay attention to what reviewers say about how a mattress performs for your sleep needs. For instance, if you're a stomach sleeper, a mattress that side sleepers are raving about will most likely feel uncomfortably soft to you, even if it's high-quality.
Contact Customer Support
A brand's customer service team can tell you a lot about what it might be like to purchase from them. Try to contact a mattress company's customer service team with a question about their product before you buy. How fast you get a response, as well as how thorough and communicative the team is, will often tell you how easy it will be to deal with customer service if something goes wrong with your mattress order. Great customer service is a great indicator that you're choosing a reputable mattress company.
Consider the Trial Period
Most bed-in-a-box companies will offer sleep trial periods that allow you to test your new mattress out in your home for several nights. If you decide you don't like your new mattress for any reason during this trial, you can return it for a full refund (potentially minus certain shipping fees). Most reputable mattress companies offer at least 100-night trial periods. Personally, I would not recommend purchasing a bed-in-a-box from a company that does not offer a sleep trial.
Find Promotions/Coupons
Bed-in-a-box mattresses are normally cheaper than in-store options, but you can save even more if you shop with coupons or during sales. To make it easy for you, we compile all the latest deals on our mattress coupons and promo codes page, so be sure to check it out before you buy.
Things to Consider When Buying a Bed-in-a-Box 
In addition to doing your research and vetting the mattress company you choose to buy from, you'll also want to consider whether or not a mattress will meet your specific sleep needs! Take a look below to see what you should consider before purchasing any mattress, boxed or not.
Firmness – Bed-in-a-box mattresses have different firmness levels that range from soft to very firm. As a general guide, memory foam mattresses are softer to medium-firm, and mattresses that contain coils are firmer.
Your Sleep Position – Firmness is important when it comes to sleeping position as well. A medium-soft to medium-firm mattress is generally recommended for side sleepers to relieve pressure in the shoulders and hips, whereas a firm mattress can help support the neck and promote proper spinal alignment for stomach sleepers. Back sleepers typically do best on a medium-firm mattress that supports the spine while cushioning the shoulders and pelvis.
Thickness – Most bed-in-a-box models run from about 6-14 inches thick. Typically, the thinner the mattress, the firmer it will feel. Thickness also helps to determine needed base support. If your mattress is on the thicker side, a platform alone may be sufficient, while a thinner mattress may feel best on a box spring or other elevating layer.
Body Weight / Support – Most bed-in-a-box models that utilize coils offer additional structural support but are not as supportive as traditional steel coil mattresses. Sleepers who weigh over 200 pounds will need more support in a mattress than those who weigh less. Support becomes even more crucial if you and/or your partner weigh over 250 pounds. Check mattress weight limits to be sure your new bed-in-a-box is designed to support you without sinking or sagging over time.
Contouring – If you struggle with pain, a mattress that offers body-contouring can be very helpful. Body-contouring beds conform to the shape of your body to provide pressure relief around sensitive joints like the shoulders and hips. These beds have a cradling, or "hug-like" feel that many side and back sleepers find comfortable. Memory foam mattresses are particularly good options for sleepers on the hunt for a body-contouring feel.
Pressure Relief – Pressure relief is another important consideration for sleepers with pain. This is a measure of how evenly distributed your weight will be on any given mattress. Even weight distribution helps prevent pressure buildup in areas like the hips, shoulders, and lower back. Generally, side sleepers prefer pressure-relieving beds made with memory foam or other soft foam layers, while stomach sleepers often do better on less pressure-relieving mattresses with innerspring or hybrid builds. Back sleepers generally do best on something in between.
Edge Support – Edge support refers to how well the sides of a mattress hold up under your weight. A mattress with good edge support will feel larger, as you can sleep all the way on the side of the bed without feeling like you're going to fall off. It also prevents sagging, which adds to your mattress's overall durability.
Size – Bed-in-a-box mattresses range from crib size to California king. Some sellers don't offer exchanges for a smaller or larger mattress, so be sure to measure your bed frame, box spring, and bedroom before buying. And remember — larger may be better if you share a bed with a partner, children, or pets.
Brand / Retailer – Each bed-in-a-box company offers its own design, blend of materials, and unique mattress feel. Know your preferences and price range before you comparison shop to help narrow down your options. And don't forget to check out customer reviews, shipping rates, trial periods, and return policies. Here at Sleepopolis, we specialize in comparing mattress options to help take the guesswork out of the purchasing process.
Delivery – Most bed-in-a box mattresses are shipped free in the contiguous U.S. and typically arrive by ground delivery. Shipping times vary according to manufacturer and stock levels of a particular product. Expedited shipping is often available for an additional charge. Buyers can also pay extra for white glove delivery, which usually includes unboxing and setting up the new mattress and removing the old one if necessary.
The Bill – To avoid hidden fees or surprises, check carefully before completing your purchase. Some buyers may need to pay sales tax or recycling fees in addition to the cost of the mattress.
Types of Bed-in-a-Box Mattresses
Bed-in-a-box mattresses are made of materials that can expand without damage after being rolled and compressed. Most are constructed from memory foam, latex, and/or high-density polyfoam, and may contain internal coils for additional support. Each material has unique features and a distinct feel. The most popular bed-in-a-box materials are:

Foam – Many bed-in-a-box mattresses are all-foam, and use a combination of high-density poly foam for support and memory foam (or another comfort foam) for pressure relief. Memory foam conforms to the body and has a plush feel. Layers of memory foam allow for gradual sinkage and may sleep warmer than other materials. Memory foam is a great choice for people who like to feel cradled by their mattress. Check out our best memory foam mattresses of 2021 review!

Sleepopolis Tip: Check to see if the foams your mattress is made of are CertiPUR-US® Certified. CertiPUR-US® Certified foams are free of harmful chemicals and heavy metals, and are better for the environment.

Latex – Latex is a natural material derived from the rubber tree. It has a bouncy feel and offers less sinkage than memory foam. Natural latex is an eco-friendly material, which makes a latex mattress a great option for green shoppers.

Hybrid– Some bed-in-a-box models combine a foam or latex layer (or both) with internal coils. Coils can offer supportive internal structure to a bed-in-a-box mattress but must be small and light enough to be compressed for shipment.

Innerspring – Innerspring mattresses have a more traditional feel and are usually mostly composed of wrapped coils. These mattresses are bouncy and typically on the firmer side.

Bed-in-a-Box Packaging and Shipping
True to their name, most bed-in-a-box mattresses are shipped in a cardboard box that varies in weight depending on mattress size and materials. Bed-in-a-box mattresses are usually shipped via UPS, Fed-Ex, or the Postal Service, and shipping is typically free. A boxed queen-size mattress weighs around 75-80 pounds, while a king can weigh over 100 pounds. Box dimensions can range from around 18x18x42 to 20x20x44 inches.

Bed-in-a-box mattresses usually come wrapped in vacuum-sealed plastic sheeting along with additional binding material to keep the product from unrolling. Once the plastic packaging is removed, the mattress begins to expand. When opening the packaging with scissors or a knife, care should be taken not to cut or damage the mattress.

How to Unbox Your Bed-in-a-Box
Some mattress companies offer white glove service to unpack and set up your new bed-in-a-box. Many buyers avoid the additional fee that comes with this service by setting up the mattress themselves.

Because even a partially expanded bed-in-a-box can be heavy and cumbersome, most manufacturers recommend taking it to your bedroom before unboxing it. Place the mattress on the box spring or platform before removing the plastic packaging. The expansion will begin immediately as the mattress regains air pressed out during the compression process. A bed-in-a-box can take up to two days to fully expand, though many expand in less time.

Off-Gassing

Some mattresses give off a scent when first unpackaged. The odor is also known as off-gassing and is caused by the release of volatile organic compounds, or VOCs, from the mattress materials. Other sources of VOCs include paint, gasoline, and plants. Some VOCs are hazardous, whereas others are relatively harmless. Studies are needed to determine whether VOCs released by bed-in-a-box mattresses are harmful over the long term.

To help minimize the odor from your new mattress, ventilate the bedroom as much as possible during the expansion process. Waiting until most of the odor is gone before sleeping on the mattress can help prevent headaches and breathing issues.

Base/Box Spring/Foundation

Depending on what type of boxed mattress you purchase, there may be restrictions on what type of base you'll need to place it on. Most mattresses these days are compatible with everything from box springs to adjustable bases, so you most likely won't need to purchase something new. But, be sure to check out your new bed's product information and warranty to ensure you're placing your new mattress on the right foundation.

Returns, Exchanges, and Warranties
Returns
The return policy is crucial for bed-in-a-box mattresses, which are typically purchased based on reviews and descriptions rather than personal experience. Most bed-in-a-box manufacturers offer a 100-night trial period, which allows buyers to try out a mattress for more than three months before returning it. A few manufacturers offer a full year trial period. Return shipping is usually free.

Before buying a bed-in-a-box, make sure you understand how returns work. In some cases, you may be required to box up your mattress and prepare it for shipment, while in others a company representative will take care of the process. Keep careful track of how long you've had your mattress to avoid missing the return or exchange window.

Some bed-in-a-box companies require buyers to keep the mattress for a certain period to "break it in" and allow adequate time to adapt to the feel of the materials. Once this break-in period is over, a return can be initiated if necessary.

If you're hoping to get a full refund on a mattress return, be sure to follow the instructions laid out in the manufacturer's sleep trial policy. Additionally, keep in mind that most mattresses won't cover charges for shipping outside of the contiguous United States, so shoppers in places like Alaska and Hawaii may need to foot the shipping bill when returning a bed.

Exchanges
Many companies offer exchanges during the trial period in addition to returns. The exchange process will vary according to the manufacturer, but will often require contacting a customer service representative by phone, email, or chat to make arrangements for pickup or return shipping, delivery of the new item, and additional payment or partial refund.
Warranties
A warranty is important for both traditional and bed-in-a-box mattresses. According to the Federal Trade Commission, a warranty guarantees that a manufacturer stands behind a product's performance for a set period of time. Many mattress companies offer at least a 10-year warranty on their beds, but certain brands (like Nectar) offer lifetime warranties.
FAQs
How will I know when I need a new mattress?
Most mattresses last about seven years. Mattresses that are less supportive or made of less durable materials can sag or flatten in less time. Signs that it's time to replace a mattress include the following: 
The mattress becomes uncomfortable, lumpy, or loses support along the edges

You wake up feeling achy or stiff 

Rotating the mattress no longer helps

You're heavier or lighter than you used to be, or your mattress needs have changed

Your bed has a different odor or causes eye or respiratory irritation
Will a bed-in-a-box last as long as a traditional mattress that arrives in ready-to-sleep condition?
It depends on the mattress. Many bed-in-a-box mattresses are made of durable material and strong support layers that can last as long as a conventional mattress. A hybrid bed-in-a-box may be more likely to last than one made exclusively of foam, but may not be as durable as a traditional coil mattress that doesn't need to be compressed or rolled for shipment. See: best hybrid mattresses
How quickly do I need to unbox my new mattress?
Most bed-in-a-box manufacturers recommend taking your mattress out of the box within 30 to 60 days to prevent damage from long-term compression.
What do bed-in-a-box manufacturers do with returned mattresses?
Federal law does not allow manufacturers to resell mattresses once they've been used. Most bed-in-a-box mattresses that have been returned are donated or recycled.
Summary: The Best Bed in a Box Mattresses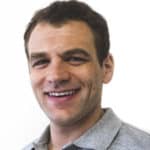 Logan is the content director of Sleepopolis, which means he not only reviews new mattresses every week, but also curates all the comparisons, best of pages, and video guides on the site. He takes a straightforward, honest approach to his reviews and endeavors to give viewers an objective look at each new product he tries out. Logan has perfected his method by personally testing over 200 different mattresses, so he's not only able to discern the overall vibe of a specific bed, but to contextualize its feel within the bed-in-a-box market as a whole. When he's not hopping on a new bed or working with our editorial team to whip up an engaging sleep education guide, you can find him reading books on world history, walking his dog Pepper, or searching for the best cheeseburger in New York City.