The Helix Midnight is a hybrid mattress that features plush memory foam over pocketed coils for a one-two punch of pressure relief and support. It also happens to be the most popular bed in the Helix line… but is it the one for you?
To find out, check out my full review of the Helix Midnight mattress below. I'm going to go over this bed's construction, suss out its feel, and test it out for important feel factors like firmness, pressure relief, and motion transfer. Then, you'll know with absolute certainty whether or not it's right for your slumber needs.

Spring Sale: Up to $200 Off + free pillows!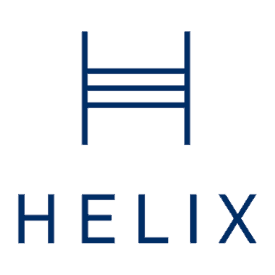 The Helix Midnight has a medium support level that will appeal to a wide range of sleep preferences! 
Brand Snapshot
First up, some details on the company that makes this model. The Helix Midnight model is made by Helix Sleep, an NYC-based company that was launched in 2015. The model is part of a six-mattress collection that also includes the Helix Moonlight, Helix Dusk, Helix Sunset, Helix Twilight, and Helix Dawn. You can check out the individual reviews of each of those models or head to our Helix Mattress line review for a bit of information on each of them.
Helix Sleep also sells a Luxe mattress line, pillows, sheets, bed bases, mattress toppers, a weighted blanket, and more.
What is the Helix Midnight Made Of?
So, what's actually inside this bed? The Helix Midnight mattress is one of my picks for the best hybrid mattresses, meaning it contains both memory foam and pocketed coils (some other models just have one or the other!). Let's dive in to learn a little bit more about each specific layer.
Cover – The cover is made from a light, stretchy material that helps promote airflow to keep you cool at night. It's super soft to the touch and comes in a nice heathered grey color.
Comfort – Next up comes the comfort layer, which is made here of memory foam. This blended foam should help relieve pressure at the joints and offer a nice contouring feel when you're lying on the mattress. Memory foam can sometimes make you feel like you are "stuck" in the bed, but since the memory foam layer isn't too thick in this model, I don't anticipate many people having that problem.
Transition – A second later of foam separates the memory foam from the pocketed coils below. This foam layer provides a cushioning feel and more ergonomic support for your body, and adds some support underneath the memory foam layer.
Support – The support layer consists of individually wrapped coils. These help to support your body, and offer a bouncy feeling to the bed so you don't feel "stuck" in the mattress or struggle to roll over, get in and out of bed, or move positions.
Base – Finally, the base of the mattress is made with a final layer of dense foam for maximum support, ensuring the mattress doesn't sag.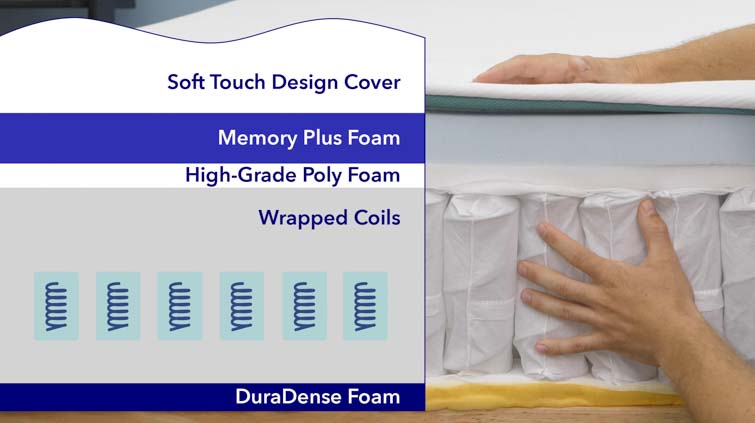 How Does the Helix Midnight Mattress Feel?
Now that we know what's inside the mattress, let's discuss how it actually feels when you're using it.
Before we get into this, a quick reminder — mattress firmness is not an objective measure! Your weight, sleep position, and personal preferences will inform how hard or soft you find any given model. Just FYI, I'm around 5'10" and 190lbs.
After lying on the mattress for a while, I gave the Helix Midnight a 6/10 rating on the firmness scale (with 1 being the softest and 10 being the firmest), making it medium firm. I would recommend it for side or back sleepers, because it's supportive without putting pressure on your joints. The model also has a nice bouncy feeling, thanks to the hybrid construction. That means it's easy to roll around on, so you shouldn't have trouble changing positions at night.
I would not recommend this bed for most strict stomach sleepers, as I typically recommend a firmer mattress for maximum spinal support. A firm model will prevent your hips from sinking into the mattress, which can cause back problems and generally feel super uncomfortable!
Spring Sale: Up to $200 Off + free pillows!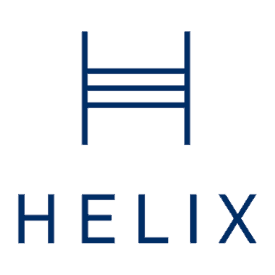 The Helix Midnight has a medium support level that will appeal to a wide range of sleep preferences! 
Testing the Helix Midnight Mattress
After assessing how a mattress feels, I like to run a couple of specific tests on the models I review, so I can offer a bit more information about how they perform and what kind of sleeper they suit best.
Pressure Relief
To see how a mattress relieves pressure, I use a pressure map, which is basically a special mat you roll on top of a mattress and then lie down on to see how much pressure is exerted on different parts of the body. It produces a color-coded chart showing pressure areas on a gradient ranging from low pressure (blue) to high pressure (red).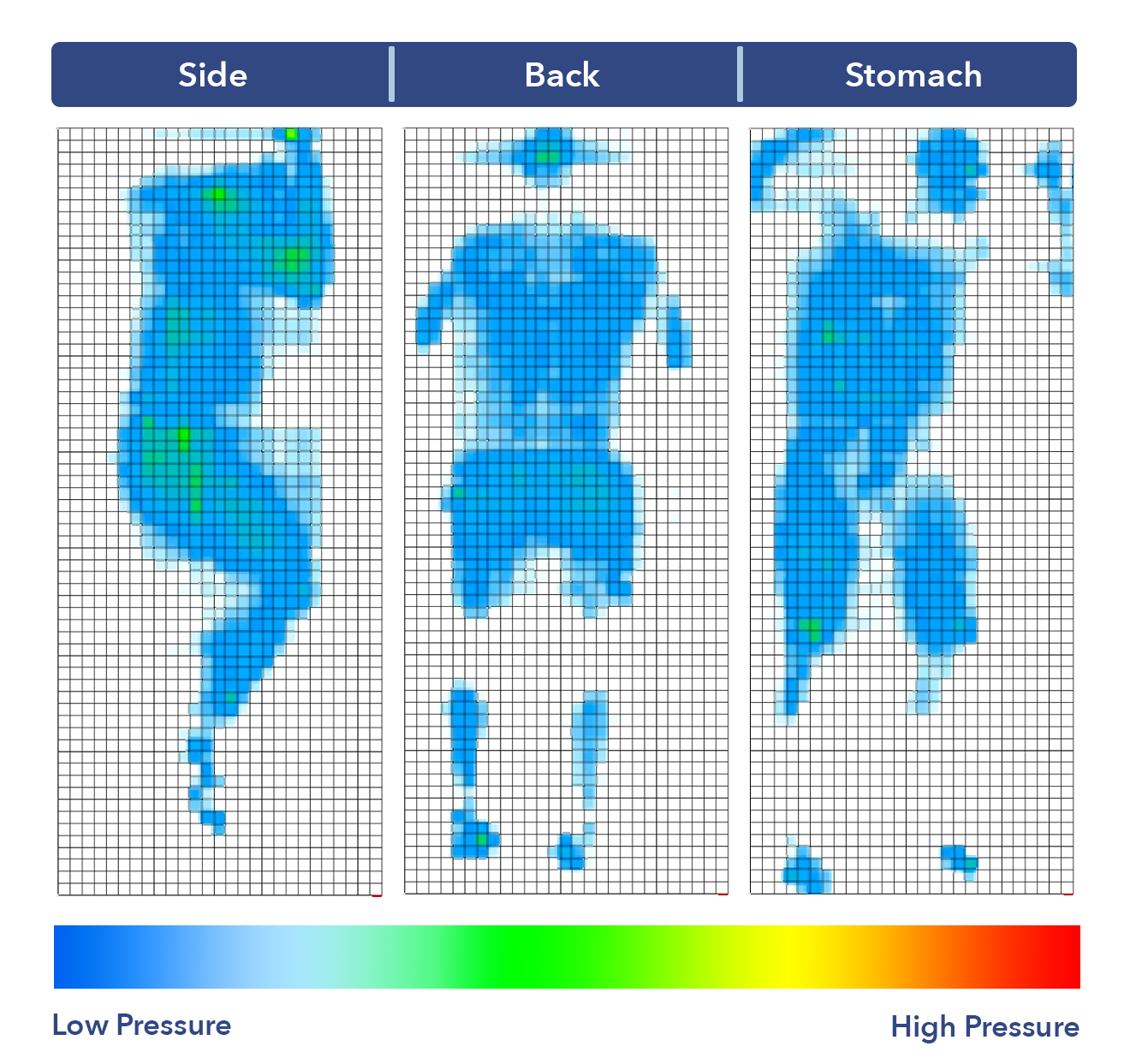 Back – As you can see from the chart, the pressure map here was blue across the board. So, I think strict back sleepers would be comfortable on the Helix Midnight.
Side – The pressure map was also almost totally blue when I was lying down on my side, making it a nice choice for side sleepers. It won't put too much pressure on your shoulders, hips, or other sensitive joints.
Stomach – I wouldn't recommend this mattress for most strict stomach sleepers, because it isn't super firm. Stomach sleepers generally need a firm mattress to offer proper spinal support and to prevent their hips from sinking down into the mattress.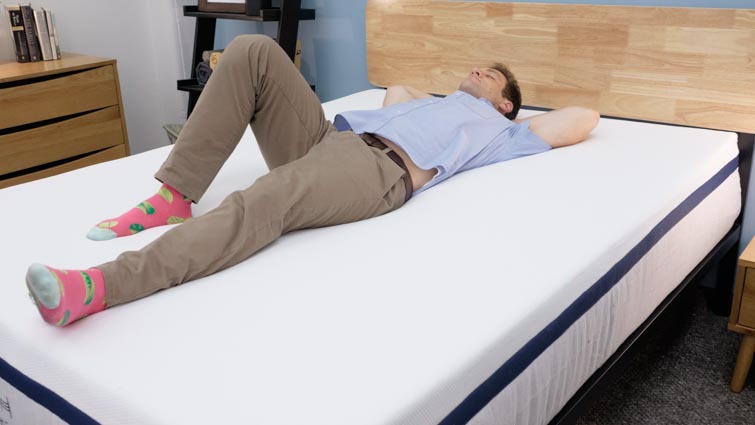 Motion Transfer
I also test out every model to see the motion transfer properties. If you're lying on one side of the bed, how much will you be disturbed if someone on the other side is tossing and turning at night, or getting in and out of bed?
To test this, I place a seismometer on one side of the mattress, then drop a 10lb steel ball from three different heights on the other side. The seismometer measures the levels of disturbance.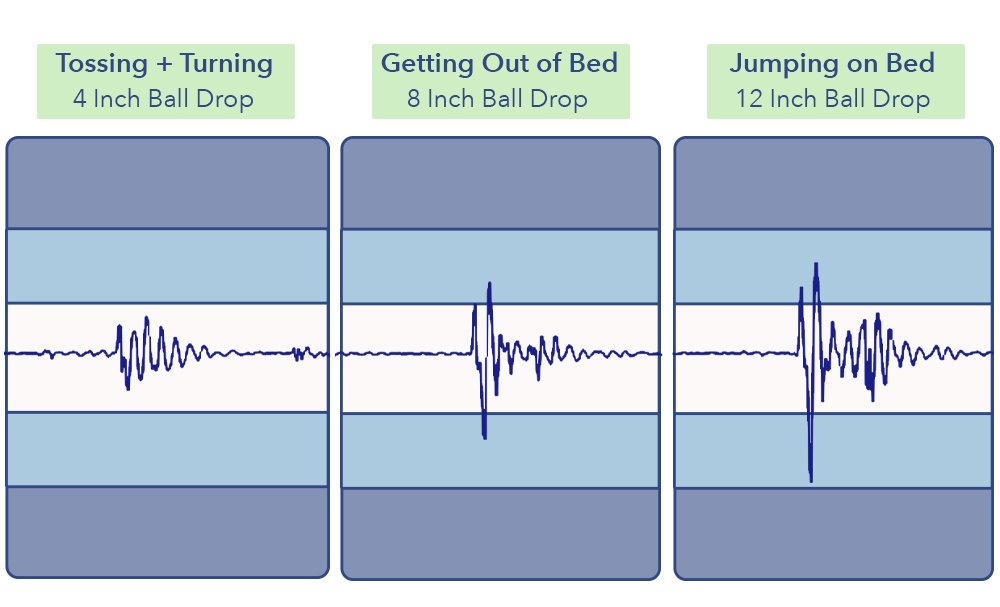 I've got to say, the Helix Midnight did a fantastic job on this test. It barely transferred any movement! So, I'd definitely recommend this mattress as a nice pick for couples as you're not likely to be too disturbed by the other person's movements.
Spring Sale: Up to $200 Off + free pillows!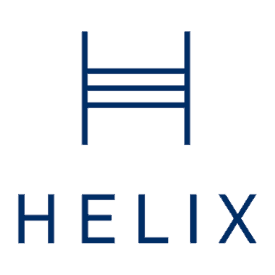 The Helix Midnight has a medium support level that will appeal to a wide range of sleep preferences! 
Edge Support
Another consideration when you're buying a mattress is edge support. Can you roll all the way to the edge of the bed without sliding off of it, or do you feel like you're hanging on for dear life in the middle of it?
I'm pleased to report that the Helix Midnight offers great edge support, probably due to the pocketed coil layer. I felt secure at the very edge of the mattress, so you can really use all the space on your bed.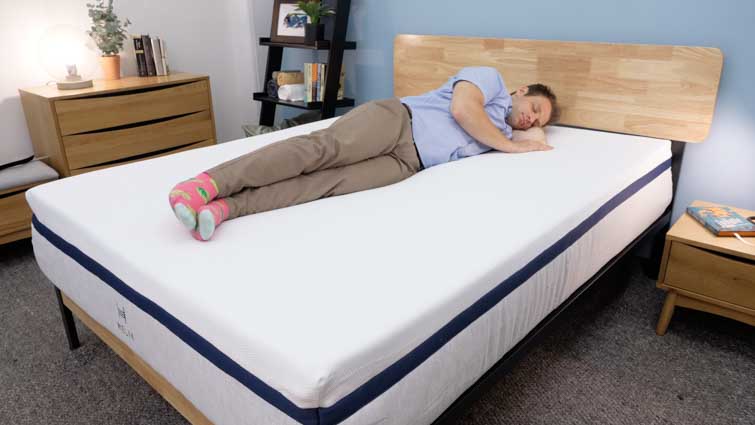 Should You Buy the Helix Midnight Mattress?
Now that we've gone through what the Helix Midnight is made of, how it feels, and how it performs in my tests, we get to the ultimate question: Is it a good selection for you? Here are some pros and cons you should consider if you're thinking about purchasing it.
Helix Midnight Pros
The Helix Midnight offers great edge support — you can use the whole bed! This makes it a nice option for couples.
I also really like this bed for combination sleepers. The mattress is bouncy, making it easy for you to roll over or switch positions at night without worrying that you'll get "stuck" in the bed.
Spring Sale: Up to $200 Off + free pillows!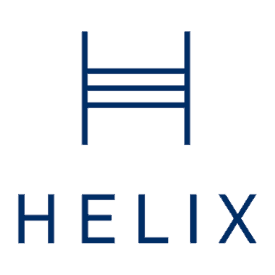 The Helix Midnight has a medium support level that will appeal to a wide range of sleep preferences! 
Helix Midnight Complaints
I would also say that this bed is not the best pick if you have a heavier body weight. Instead, look at some models from the Helix Luxe or Helix Plus lines—the Plus range is designed specifically for plus-sized individuals!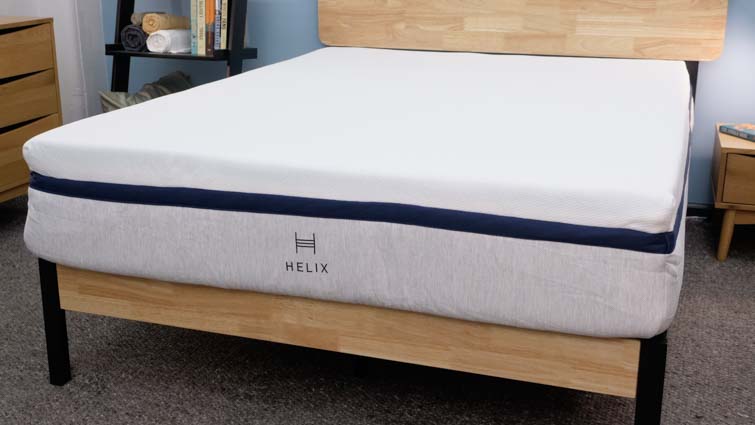 Helix Policies
Trial – 100 Nights
Shipping – Free
Warranty – 10 Years
How Much Does The Helix Dusk Cost?
Spring Sale: Up to $200 Off + free pillows!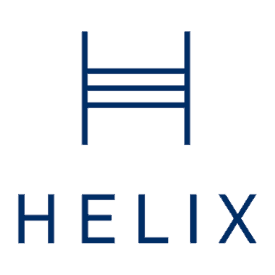 The Helix Midnight has a medium support level that will appeal to a wide range of sleep preferences! 
| Size | Dimensions | Weight* | Price |
| --- | --- | --- | --- |
| Twin | 39" x 75" x 10" | 40 - 50 lbs | $700 |
| Twin XL | 39" x 80" x 10" | 40 - 50 lbs | $800 |
| Full | 54" x 75" x 10" | 70 - 80 lbs | $950 |
| Queen | 60" x 80" x 10" | 80 -90 lbs | $1,099 |
| King | 76" x 80" x 10" | 90 - 100 lbs | $1,295 |
| California King | 72" x 84" 10" | 90 - 100 lbs | $1,295 |
Helix Midnight
Materials

Comfort

Support

Value

Cooling

Edge Support

Trial

Warranty