Want to know more about the Helix Sunset? This hybrid mattress, which combines memory foam and innerspring coils, sounds like a great option for people seeking a soft and comfortable feel. So of course, I had to do some more research and run a few tests to see how the mattress truly feels and performs.
Read on to learn what the Helix Sunset is made of, how it feels to rest on, and which types of sleeper I'd recommend it for.

Spring Sale: Up to $200 Off + free pillows!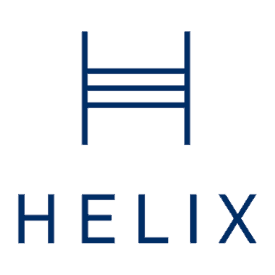 The Helix Sunset has a soft, comfortable feel that side sleepers will love. 
Brand Snapshot
NYC-based Helix was started in 2015 by founders Adam Tishman, Kristian von Rickenbach, and Jerry Lin. The three met as MBA students at the Wharton School of the University of Pennsylvania, and were frustrated by the lack of options for comfortable, affordable mattresses. When they couldn't find a company that suited their needs, they started their own!
Helix Sleep currently provides conventional mattresses, organic mattresses, pillows, bedding, and bed foundations. Helix mattresses are made from materials that are 100% produced in the USA, and the mattresses ship directly to your home in a box—no bulky delivery necessary.
The Helix Sunset is one mattress in a collection that also encompasses the Helix Moonlight, Helix Midnight, Helix Dusk, Helix Dawn, and Helix Twilight. For more info on the other five mattresses, our main Helix mattress review has breakdowns of each individual model.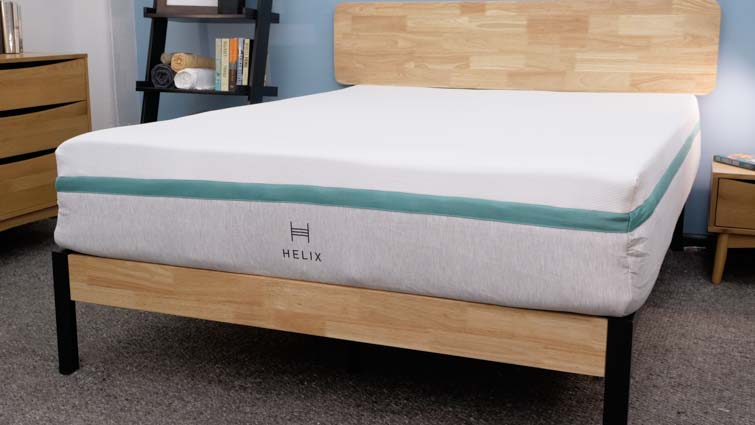 What is the Helix Sunset Made Of?
The Helix Sunset is a hybrid mattress, combining pocketed coils with foam layers. It has a soft, breathable cover, a layer of memory foam for a nice, contouring feel, individually wrapped coils, strong edge support, and a supportive base layer.
Now, on to the specifics:
Cover – The 100% polyester cover is designed to promote airflow, which can help prevent overheating at night. It feels soft and breathable.
Comfort Layer – Below the cover, there's a layer of Memory Plus Foam. This foam is designed to relieve joint pressure for total comfort throughout the night. The special Helix-blend foam cushions the body and has a comfy, soft feel. Memory foam is designed to adjust to the specific contours of the body, offering a cradling and contouring feeling.
Transition Layer – The transition layer of the Helix Sunset mattress is made with Helix Dynamic Foam, which provides a soft, cushioning feel and some good ergonomic support.
Foundation Layer – Next up is the body shape layer, made of hundreds of individually wrapped wire coils. These coils provide a cradling feeling, and also add a nice bouncy feel to the bed. They are also reinforced around the perimeter of the mattress to provide solid edge support. The final layer of the mattress is made with DuraDense Foam, which supports the entire mattress on top of a slatted bed frame or box spring.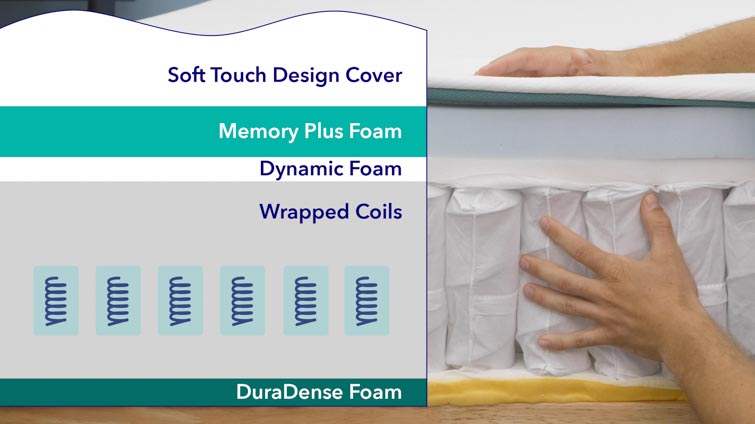 What Does the Helix Sunset Mattress Feel Like?
Alright, now that the material specifics are out of the way, I'll tell you what the Helix Sunset actually feels like when you're resting on it. First up: Firmness.
Of course, firmness is pretty subjective. It can depend on personal preferences as well as your body shape, height, weight, and preferred sleeping position. FYI, I'm around 5'10" and 190 lbs, and I sleep on my stomach. So, my firmness rating might vary a little from your own!

After resting on this mattress on my back for a little bit, I awarded it a firmness rating of 5.5/10. The industry standard is a 6.5 rating for medium firmness, which means that the Helix Sunset is rather soft compared to other mattresses.
On the Helix website, which rates mattresses on a scale of 1 (meaning plush) to 10 (meaning firm), the Helix Sunset is listed as a 2-3. This is in line with my opinion that the Helix Sunset is a fairly soft mattress.
A few things contribute to the softness factor. The layer of Memory Plus Foam just below the mattress cover provides a really soft, contouring feeling that's typical of memory foam. Plus, the transition layer provides further softness and cradles your body. Because this bed is fairly soft, I would recommend it for side sleepers or back sleepers. The mattress can help alleviate any uncomfortable pressure on joints like shoulders, hips, or knees. Generally speaking, I would not typically recommend this mattress for stomach sleepers like myself—most stomach sleepers need a more supportive mattress to keep their spine safely and comfortably aligned at night.
Spring Sale: Up to $200 Off + free pillows!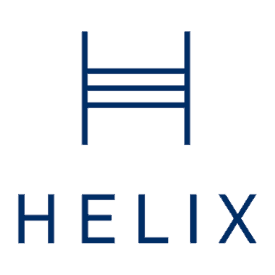 The Helix Sunset has a soft, comfortable feel that side sleepers will love. 
Testing the Helix Sunset Mattress
Firmness is an important factor to consider when selecting a mattress, but it's not everything. I also conducted some tests to see how the Helix Sunset performs in terms of pressure relief and motion transfer.
Pressure Relief
Pressure relief is a major feel factor, as a mattress with good pressure relief will ensure you're comfortable all night without hurting your hips, knees, shoulders, and lower back. Pressure relief is especially important for people who are dealing with injuries like back pain, or have limited mobility.
In order to test a mattress' pressure relief capabilities, I use a handy pressure map. It's a flat, mat device I can roll out on top of a mattress. When I lie down on it, the map measures how much force my body exerts onto the Helix Sunset mattress. It then produces a pressure map for visual help—areas of low pressure are blue, and areas of high pressure come up red.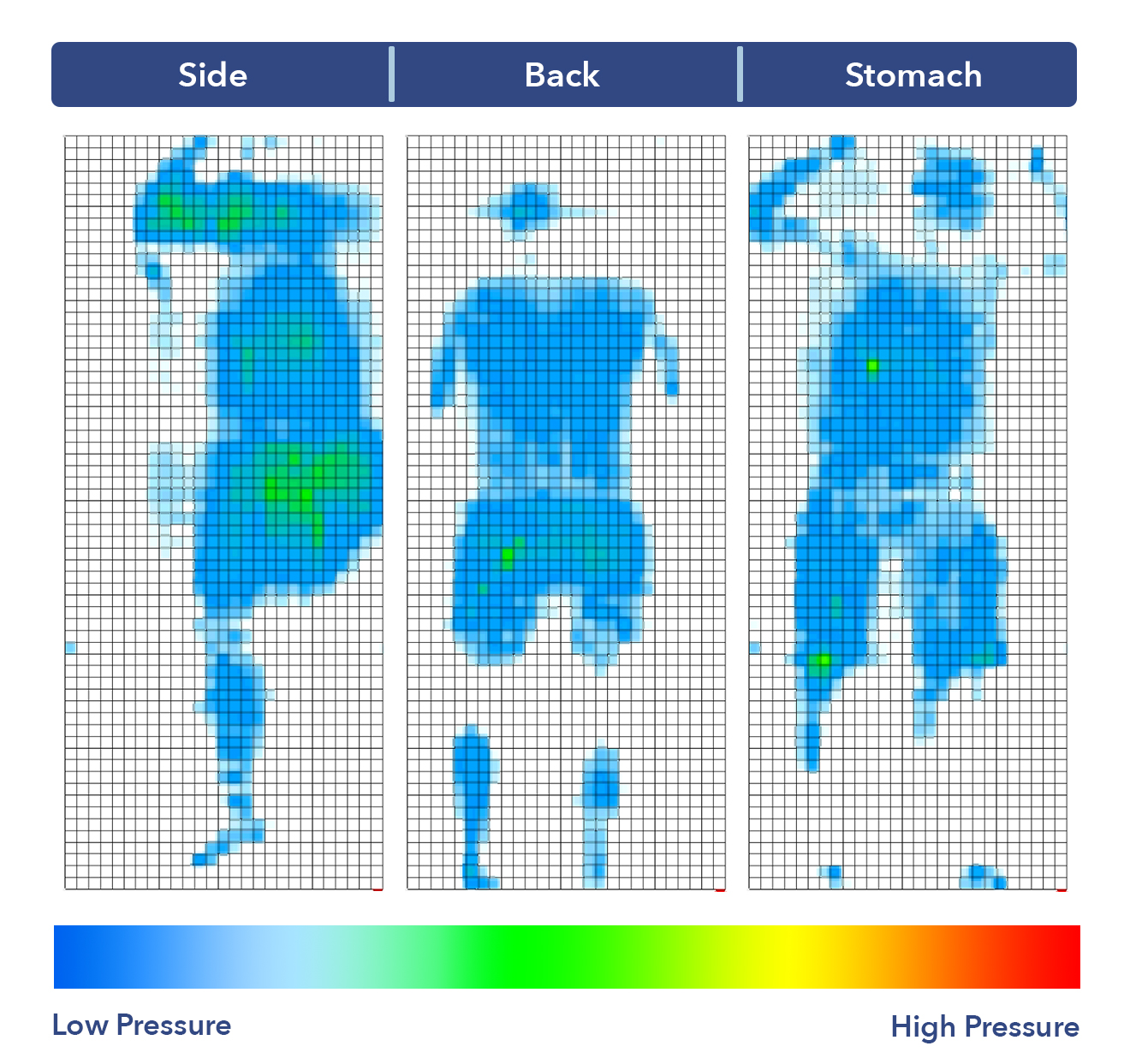 Back – The pressure map here is almost entirely blue, with some green areas around the hips and lower back. This suggests that the Helix Sunset could be a nice choice for back sleepers, as the foam layers really alleviate tension.
Side – The pressure map created from lying on my side was also largely blue, with areas of slightly more pressure around the hips and shoulders. Overall this map suggests that the mattress does a great job alleviating pressure for side sleepers, making it a nice option for them.
Stomach – Because the Helix Sunset feels so soft and plushy, I wouldn't necessarily recommend it for strict stomach sleepers. That's because stomach sleepers generally fare better with a firmer, more supportive mattress that keeps their spine positioned well at night.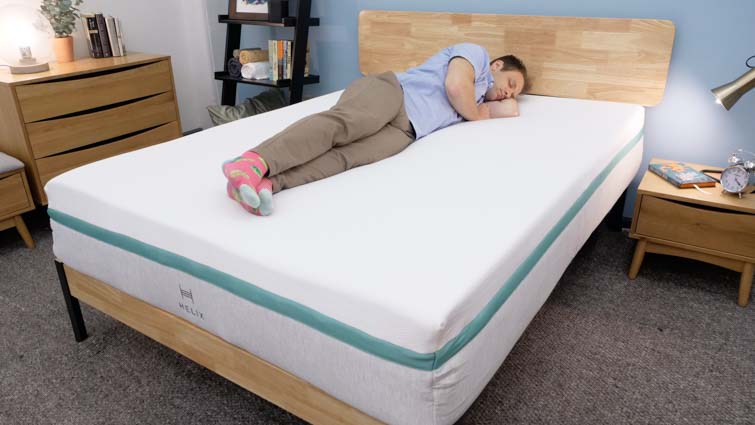 Motion Transfer
The next test I conducted was for motion transfer. I wanted to see how much movement you could detect from one side of the bed while resting on the other, to mimic what you might notice if you sleep with a partner who moves around at night. Motion transfer is really important to consider if you share your bed with another person or even a pet.
To test motion transfer, I dropped a steel ball that weighs 10 lbs onto the mattress from three different heights—four inches, eight inches, and 12 inches—and used a seismometer to measure how much disturbance it caused. Each of the three heights is meant to mimic a different movement.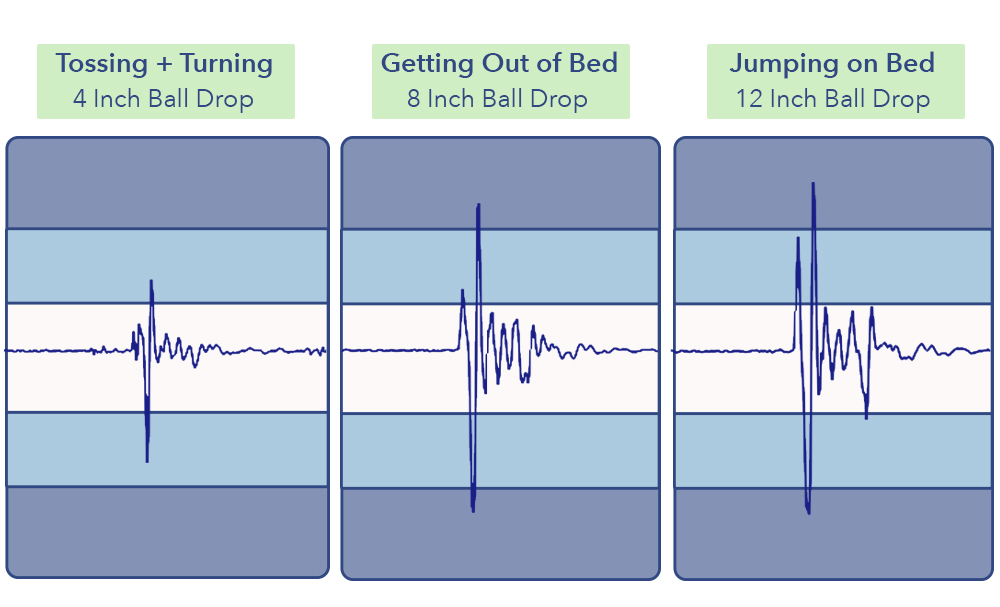 The four-inch drop represents a partner tossing and turning, the eight-inch drop represents a partner getting out of bed, and the large, 12-inch drop represents someone literally jumping onto the bed.
To be honest, the results from the motion transfer test on the Helix Sunset were not great. The four-inch drop caused a medium disturbance, and the eight- and 12-inch drops showed pretty major disruption. For those reasons, the Helix Sunset would not necessarily be my first choice for light sleepers, or people who sleep with particularly rambunctious partners or pets!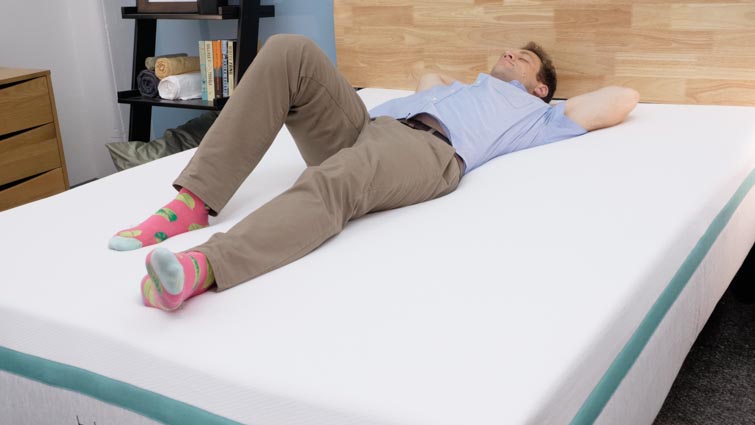 Should You Buy the Helix Sunset Mattress?
Now that we've covered what's inside the Helix Sunset mattress, how it feels to sleep on, and how it performs in our various tests, I can list a few things for you to consider when deciding if the Helix Sunset is the right choice for you or not.
Choosing the right mattress is a pretty personal thing, as everyone will experience firmness and softness differently, and your priorities in a mattress may well be different from mine! But based on what I have researched here:
Helix Sunset Pros
The mattress is really soft, which is why I gave it a firmness rating of 5.5/10. That makes it a great option for side sleepers who are looking for a soft, contouring feel.
Thanks to the memory foam layers, the Helix Sunset also provides that cushiony, sinking feeling that memory foam fans really enjoy.
Spring Sale: Up to $200 Off + free pillows!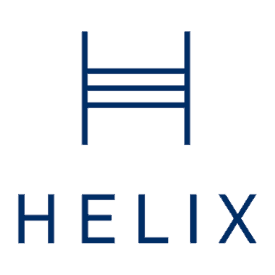 The Helix Sunset has a soft, comfortable feel that side sleepers will love. 
Helix Sunset Complaints
Based on my observations, this isn't the best selection for strict stomach sleepers. That's due to the very softness that makes it a good option for back and side sleepers. I generally recommend a more supportive, firm mattress for those who sleep on their stomach.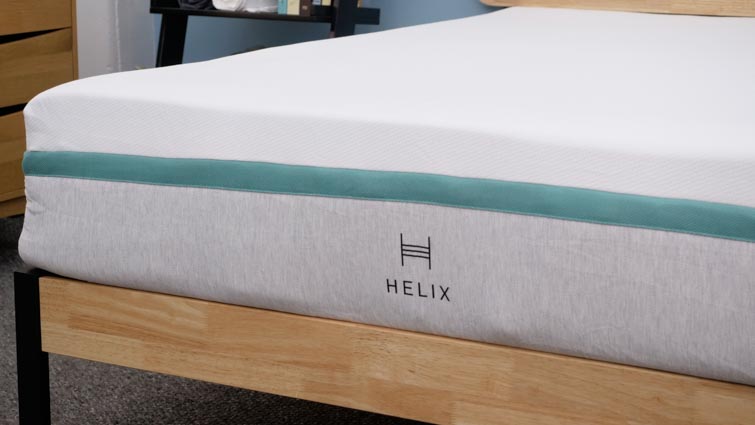 Helix Policies
Trial – 100 Nights
Shipping – Free
Warranty – 10 Year
How Much Does The Helix Sunset Cost?
Spring Sale: Up to $200 Off + free pillows!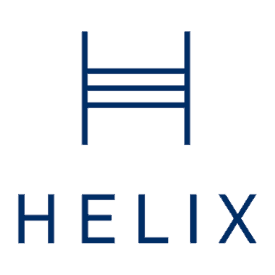 The Helix Sunset has a soft, comfortable feel that side sleepers will love. 
| Size | Dimensions | Weight* | Price |
| --- | --- | --- | --- |
| Twin | 39" x 75" x 10" | 40 - 50 lbs | $700 |
| Twin XL | 39" x 80" x 10" | 40 - 50 lbs | $800 |
| Full | 54" x 75" x 10" | 70 - 80 lbs | $950 |
| Queen | 60" x 80" x 10" | 80 -90 lbs | $1,099 |
| King | 76" x 80" x 10" | 90 - 100 lbs | $1,295 |
| California King | 72" x 84" 10" | 90 - 100 lbs | $1,295 |
Helix Sunset
Materials

Comfort

Support

Value

Cooling

Edge Support

Trial

Warranty