If you're on the hunt for bedding that feels super crisp and cool on the skin, cotton percale is a great way to go. And though some sleepers may be under the impression that all cotton bedding feels the same, the truth is that it really depends upon how its woven. A percale weave is known for producing a light, breathable, and oh-so-crisp set of sheets that, in our opinion, is essential to any bedding collection.
That said, cotton percale bedding is among the most popular on the market, and there are a ton of options from which to choose. But don't worry — in this guide, we'll break down everything you need to know about shopping for cotton percale sheets, and give you a close look at our top five favorites as well!
Best Percale Sheets
Editor's Pick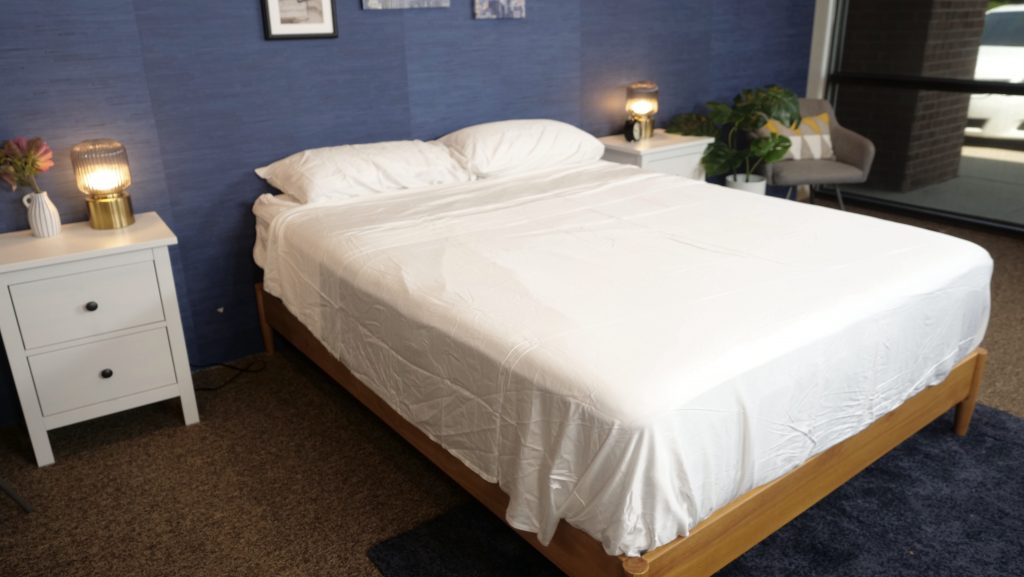 Brooklinen Classic Core Percale Sheets
Made from 100 percent long-staple cotton, these percale sheets from Brooklinen are crisp, breathable, and airy. For this reason, we recommend them to hot sleepers. We also appreciated their soft, buttery feel; even though they're lightweight, they're not at all scratchy. Each set comes with a fitted sheet, a flat sheet, and two pillowcases, although there are other bundles available that contain more bedding.
Pros
They have a 270-thread count, which helps the sheets stay durable.
The sheets are OEKO-TEX Standard 100 certified, meaning they're free of harmful chemicals.
They come in a wide variety of colors and patterns, from classic neutrals to bolder and limited-edition shades.
Cons
This might not be an issue for everybody, but the Brooklinen Classic Core Percale Sheets wrinkle easily.
Read our full Brooklinen Classic Core Percale Sheets review.
Crispest Percale Sheets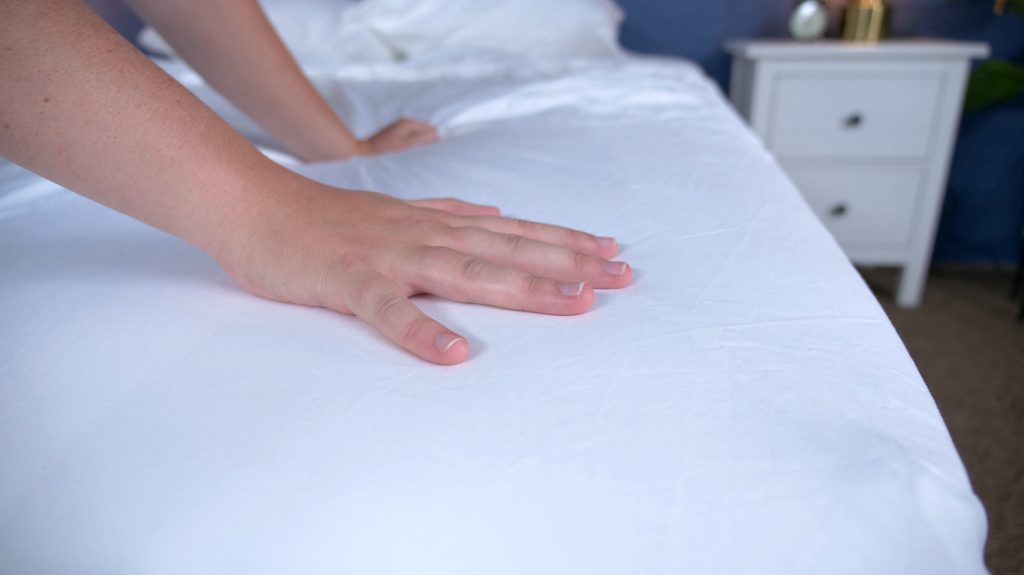 Boll & Branch Percale Hemmed Sheets
Simply put, the Boll & Branch Percale Hemmed Sheets are some of the crispest percale sheets we've tried. And that's saying something, given that, as a material, percale is already known for its crisp feel. Made from 100 percent long-staple organic cotton, these sheets have the fresh, crisp feel of a newly laundered collared shirt: structured, smooth, and cooling. The basic set includes a flat sheet, fitted sheet, and two pillowcases, with the exception of the twin and twin XL sizes. These only include one pillowcase.
Pros
The Boll & Branch Percale Hemmed Sheets are available in a few different neutral colors.
They boast a laundry list of environmentally friendly certifications, including being Fair Trade Factory certified, Global Organic Textile Standard certified, and OEKO-TEX Standard 100 certified.
The fitted sheet is outfitted with deep pockets that can fit a mattress up to 17 inches tall.
Cons
Because they're so crisp, these are not the softest sheets in the world. Remember, percale is a very specific feel, so make sure it's a good fit for you before purchasing.
Read our full Boll & Branch Percale Hemmed Sheets review.
Most Lightweight Percale Sheets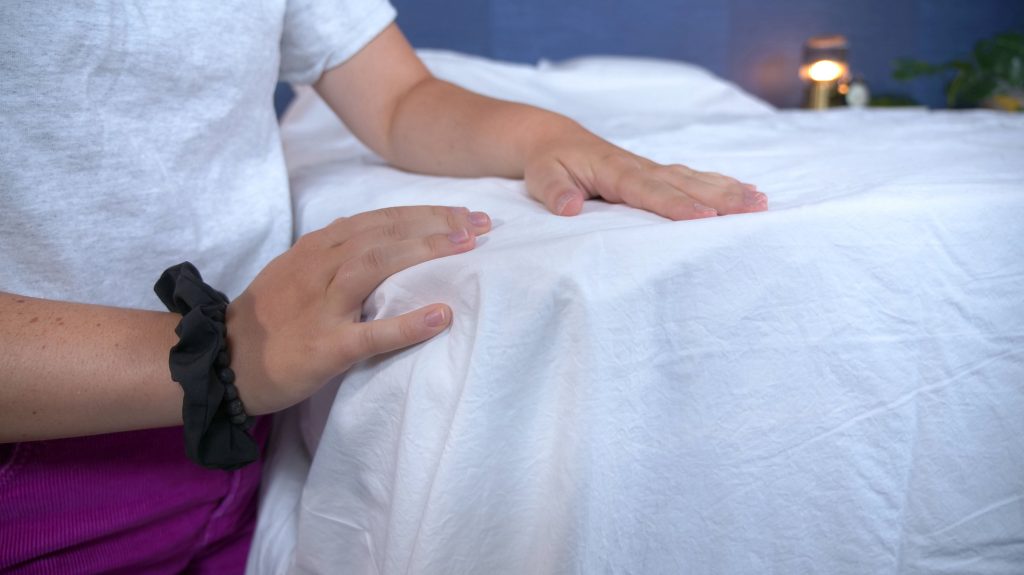 Parachute Percale
Another trait associated with percale sheets is that they're lightweight. And of all the lightweight sheets out there, we found the Parachute Percale set to be exceptionally airy and breathable. We think they could be an especially good fit for hot sleepers and anyone who prefers their sheets to rest on top of them, as opposed to being tightly swaddled. They're made from 100 percent long-staple Egyptian cotton, plus they're garment-washed, so they should feel soft and broken-in as soon as you put them on the bed. Each set comes with a fitted sheet and two pillowcases, with king-size pillowcases in the king and California king sets.
Pros
One of the most unique things about the pillowcases is that they have an envelope-style closure. This prevents the tag, zipper, and end of the pillow from sticking out.
The sheets are available in a wide variety of earthy colors, including Moss, Raisin, and Clay.
Made in Portugal, the Parachute sheets are OEKO-TEX Standard 100 certified.
Cons
The Parachute Percale sheets are a bit more delicate than other sheets. You'll definitely want to follow the proper care instructions so that they don't tear or fray in the wash.
Read our full Parachute Percale review.
Best Organic Percale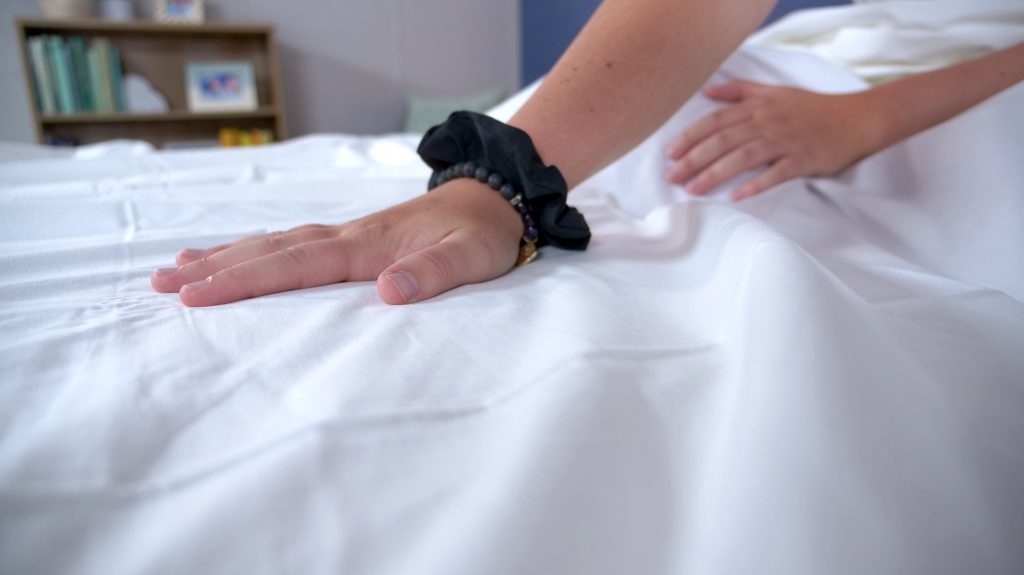 Saatva Organic Percale
When it comes to organic sheets, it's always a good idea to look at their certifications. This lets you know how environmentally friendly the bedding truly is. Just look at the Saatva Organic Percale sheets. Not only are they made from 100 percent Global Organic Textile Standard certified organic cotton — it's also Fair Trade Certified, so you can rest assured that the materials are ethically sourced. Like many percale sheets, these are crisp, breathable, and lightweight, but also have a lived-in feel, thanks to being pre-washed. The set comes with one flat sheet, one fitted sheet, and two pillowcases, except for the twin and twin XL sets, which only have one pillowcase each.
Pros
For added durability, the Saatva Organic Percale sheets use long-staple cotton fibers in a 200-thread count.
The sheets' lightweight nature make them a good match for hot sleepers.
The fitted sheet has 16-inch pockets to help it stay on the bed.
Cons
The Saatva Organic Percale sheets only come in a few neutral colors. So if you want more brightly colored bedding, you may want to look elsewhere.
Read our full Saatva Organic Percale review.
How To Shop For Percale Sheets
Now that we've taken a look at our top five favorite cotton percale sheet sets, allow us to dive deeper into the methodology behind our decisions. While picking the best cotton sheets is largely about personal preference, there are some helpful tips and tricks to follow in order to find the ones that are best for your unique needs.
Fiber Length
Regardless of weave style, it's always important to pay attention to the length of the cotton fibers used to manufacture a set of sheets. Why? Well, the length of the cotton fibers (commonly referred to as "staples") directly affects how soft and durable the finished fabric will be. And the general rule of thumb is: the longer the fibers, the higher the quality.
For these reasons, we generally aim for either long or extra-long staple cotton (and don't worry, this information is always given on the brand's website and/or packaging). However, it's important to note that the extra durability and smoothness that long-staple cotton provides does tend to up the price. So, sleepers on a budget might find that extra-long staple cotton sheet sets are a bit too expensive.
If you're not sure where to start shopping, we suggest searching for Egyptian and Supima cotton. Both are very popular, can be found online and in stores, and are known for having luxuriously long and supple fibers.
That said, take some time to consider what you're really looking for in a set of sheets. If it's durability, long and extra-long staple cotton is probably your best bet. If it's just a cozy cotton sheet set that you don't plan to use every week, there's nothing wrong with sleeping on regular cotton.
Thread Count
Now let's talk thread count. While many sleepers might be under the impression that a high thread count is the sole indicator of sheet quality, there's a lot more to it than that. In fact, thread count can lose its value entirely if you're not working with high-quality materials. Remember: longer cotton fibers produce a higher quality, more durable finished fabric.
Think of it this way: Thread count refers to the amount of individual yarns per square inch of fabric, and the longer the fibers are, the less they need to be spliced together. And the less they're spliced together, the smoother the fabric feels.
That said, it's important to note that some bedding brands will splice a ton of short fibers together in order to boast a higher thread count. That's why we steer clear of sheet sets that advertise a thread count of 800 or higher, as that is often indicative of short fibers (and a marketing ploy!).
When it comes to percale woven cotton, a thread count of 200-400 is a great benchmark to stick to. Of course, long-staple cotton with a thread count of 350-400 is most likely going to be a bit smoother and more durable than cotton that's in the 200-250 range. But, regardless of thread count, remember that a percale weave always produces a crisp and breathable set of sheets.
Colors, Prints & Patterns
Now that we've covered the fiber factor and thread count, let's get to the fun part — style! Choosing the colors, prints and patterns that suit your personal style is exciting, and gives you a chance to curate your bedroom decor exactly to your liking.
Keep in mind, though, that every bedding brand brings a different aesthetic to the table. For example, some brands are all about subtle, muted tones, while others exclusively manufacture colorful, vibrant sheet sets. So before you begin your hunt for the perfect sheet set, take some time to walk around your bedroom and think about what sheet style you're going for. After all, it is your sleep space, and you should decorate it to reflect your personal taste!
Sizing
Luckily, choosing the right size sheet set is pretty straightforward in that it corresponds to the size of your mattress. For instance, if you're sleeping on a Queen size mattress, go with a Queen size sheet set. However, things get a little trickier when it comes to the fitted sheet because you've got to pay close attention to the depth of its pockets.
The depth of a fitted sheet's pockets will tell you a lot about how it's going to look and fit on your mattress. If you sleep on a tall mattress of 15 inches or more, you're definitely going to want to search for deep-pocket sheets. Conversely, if you sleep on a more shallow mattress of 10 inches or shorter, a deep-pocket fitted sheet will look baggy on your bed.
We suggest checking the "dimensions description" as listed on the brand's website in order to make sure you're getting the best fit. And remember: It's always better to get a fitted sheet that's a little too big than too small to ensure it doesn't slip off the bed as you roll around at night.
Wash Care
One of the great things about cotton bedding is that it's usually very easy to care for, and every sheet set we've listed in this roundup requires fairly simple maintenance. That said, we always suggest checking the exact care instructions as detailed by the bedding brand itself in order to ensure you're caring for the fabric properly.
Additionally (and this is totally optional), we recommend letting your sheets line-dry whenever possible. Why? Well, high-heat dry cycles can increase the risk of pilling, color fading, and shrinkage. And since you spent a pretty penny on your new bedsheets, you want them to last as long as possible.
And finally, don't forget to wash your sheets once a week in order to keep them smelling fresh and feeling clean.
Price, Trial Periods, & Returns
Every factor we've listed so far influences the price of any given sheet set, and at the end of the day, quality costs. The fiber length, thread count, style, and even the popularity of the bedding brand itself all contribute to the overall price of cotton bedding, but it's important to note that price ranges quite a bit.
That said, we suggest you aim for bedding brands that offer generous trial periods, return policies, and warranties. These things inspire confidence in the consumer, and let you know that the company proudly stands behind its products. Not to mention, a trial period is a great opportunity to actually test a set of sheets and still have the option to be refunded if you find that it's not the right fit for you.
Just keep in mind that return policies and trial periods are two different things. For instance, a 30-day return policy means you have 30 days to send your product back to the company for a full refund. However, every bedding brand's return policy is different, and some are a bit stricter than others. In fact, many returns are not eligible for a refund if they've been washed or used in any way.
Conversely, a trial period gives you the chance to personally test a set of sheets for a set amount of time. After your trial period is up, you have the option to send it back for a refund, or keep it and add it to your collection of bedding.
Sleepopolis Buying Tips
We're nearing the end of this guide, but before you start shopping, allow me to impart a few final tips and tricks to make your buying experience as efficient as possible.
Cooling & Breathability –

Keep in mind that percale woven cotton is typically light, breathable, and cool. If you're looking for something that'll keep you warm and cozy in the wintertime, we suggest you shop for

sateen

woven cotton instead.

Crisp vs Silky –

It's also important to note that percale woven cotton offers a distinctly crisp hand-feel and a matte appearance. If you prefer your sheets to be shiny and silky, aim for cotton sateen, bamboo, or Tencel-based bedding.

Wash After Opening –

This isn't mandatory, but it's recommended to wash sheets as soon as you remove them from the packaging. Not only will this get rid of any dust or residue it may have picked up in transit, but it'll also shrink the bedding a little bit and get it to its true size (don't worry — cotton bedding should only shrink a tiny bit after the

first

wash).
Final Thoughts
Well, you've seen our favorite cotton percale sheet sets, and you've got all the info you need to get to shopping! Just remember to pay close attention to all the little details, take advantage of trial periods whenever possible, and have fun picking the sheets that match your individual wants and needs.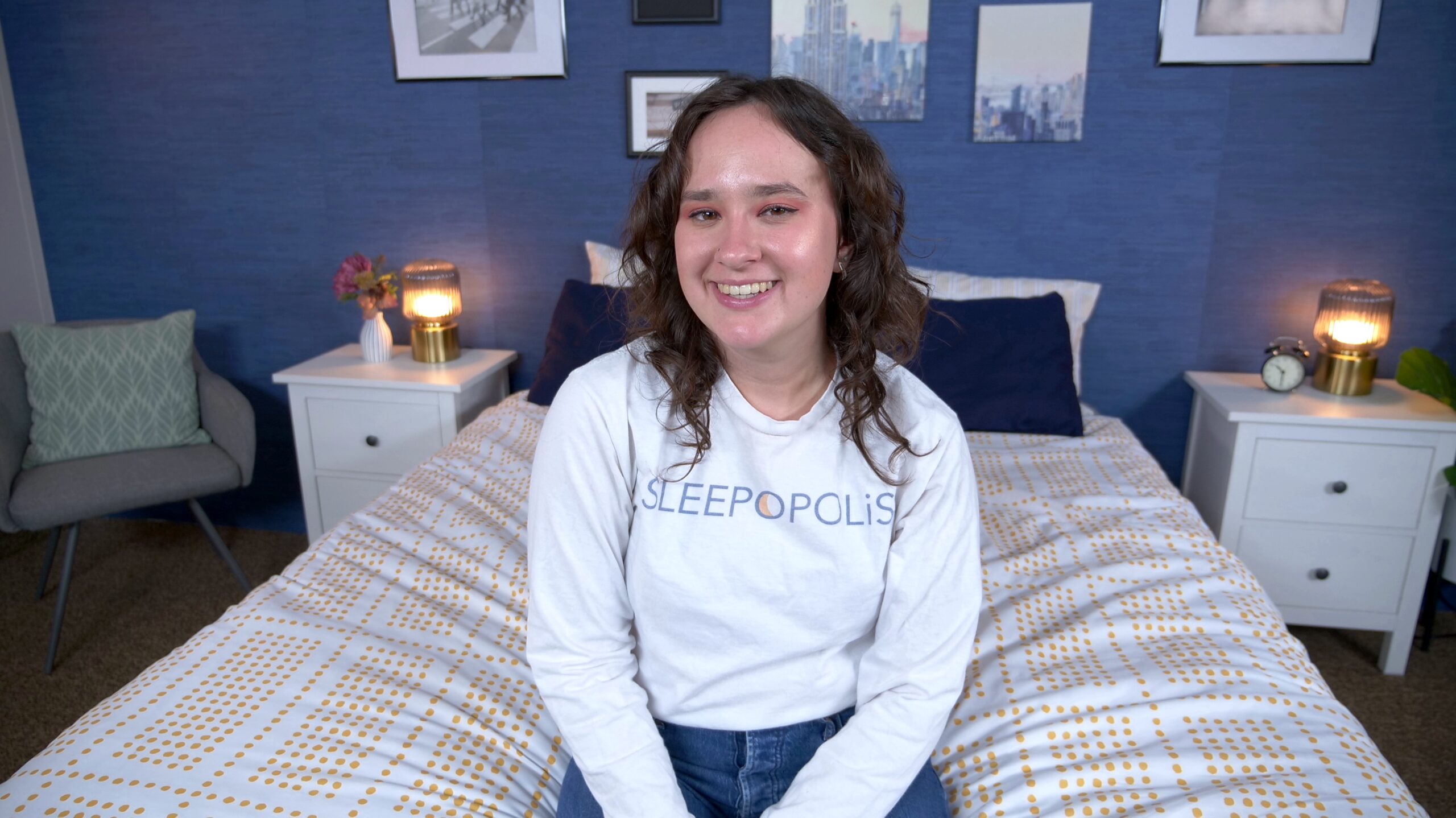 Amelia Jerden
Amelia is a Senior Staff Writer for Sleepopolis. She primarily covers bedding and sleep accessory products in reviews, how-to guides, and more. You can also find her over on the Sleepopolis YouTube channel. Amelia is a graduate of the University of North Carolina at Chapel Hill, with double majors in media and journalism and in dramatic art. Outside of work, Amelia can usually be found on a hike, traveling to a new city, or at her local thrift store.