Cool-jams is a California based company that makes sleepwear used for more than just keeping you cozy. Cool-jams Sweat-Wicking Pajamas employ both cooling and antimicrobial technology designed to keep you dry and comfortable all night long. So, sleepers prone to night sweats, travel often, are going through menopause, or just love comfy pajamas: listen up! This review is about you.
Do Cool-jams have what it takes to keep sleepers cool? I'm about to find out as I endeavor to review my favorite kind of sleep accessory — pajamas.
Take 10% off!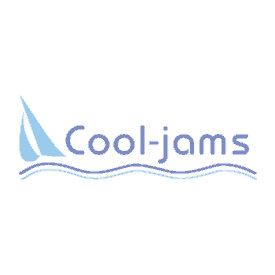 Cool-Jams pajamas are designed to sleep cool by wicking moisture away from the body. Get 10% off your own PJs with code SLEEPOPOLIS!
SO, WHAT ARE COOL-JAMS?
Cool-jams are pajamas made from a polyester microfiber fabric that's been engineered to feel soft and cozy like cotton, but also wick sweat away faster than you can count sheep. The fabric of these PJs is designed to be breathable to prevent your body from heating up at night, and keep you feeling dry and smelling fresh in the morning.
They come in a wide variety of styles, sizes, and colors for both men and women. I happen to be testing the Moisture Wicking Sophia Button Front Pajama Set in black. I'm pretty short (5 feet), but the size small wasn't too long in the sleeves or pants — in fact, they fit me perfectly.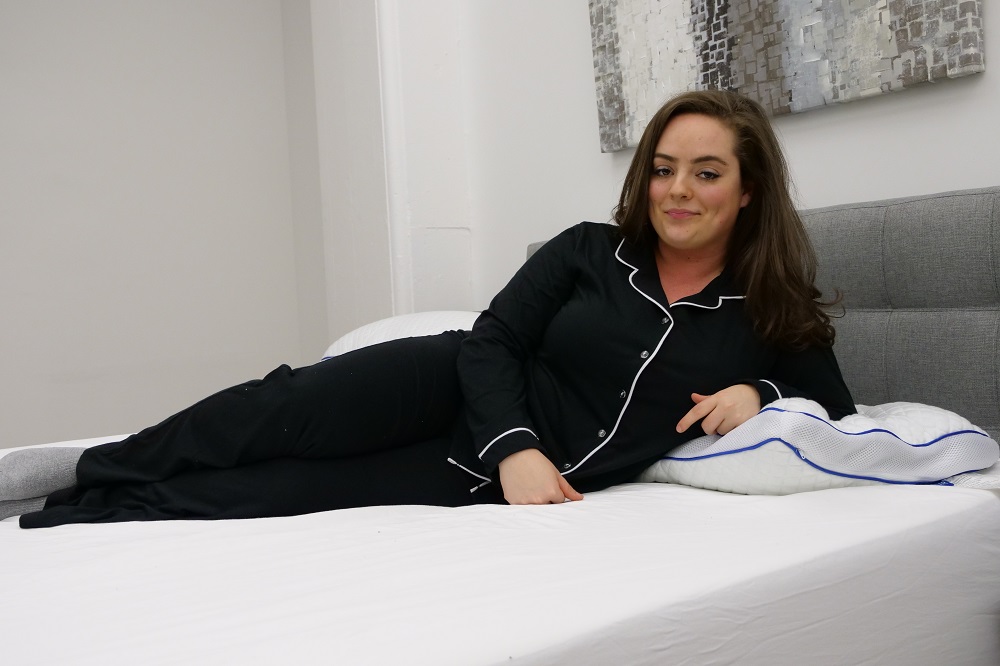 GOOD IDEA! WHO CAME UP WITH IT?
Believe it or not, the fabric of Cool-jams was originally developed for the Canadian military. Folks in the armed forces asked for a fabric that would feel like cotton, but would also be breathable and ultra sweat-wicking.
What they got was even more than they asked for. Not only did the fabric keep them cool and dry, but it offered antimicrobial and odor resistant properties as well. Needless to say, the fabric was a hit.
So, while sleeping may be a little less strenuous than battle, the Cool-jams fabric works just the same.
BUT HOW DO THEY KEEP ME COOL?
Take 10% off!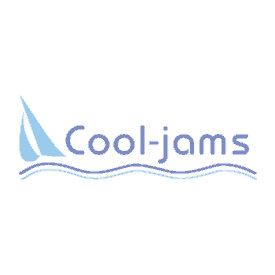 Cool-Jams pajamas are designed to sleep cool by wicking moisture away from the body. Get 10% off your own PJs with code SLEEPOPOLIS!
Okay, so let's talk science for a minute. It's all about temperature regulation with these pajamas. They draw excess heat and moisture away from the body to the outside of the fabric…but how?
Cue the Moisture Transference System!
The Moisture Transference System (or MTS) refers to Cool-jams' microfiber technology wherein extremely thin fibers are made into long strands called filaments. Each filament is finer than a strand of human hair!
So, five to eight of these filaments (each one with differing performance capabilities) are twisted together to form one thread. By designing the thread with this unique blending of filaments, there is a greater surface area for moisture to travel. Eventually, all the threads are woven together in a specific pattern designed to increase the speed of moisture movement throughout the material.
For folks who aren't exactly sure what the term 'sweat-wicking' means, it's quite simple. Basically, when your body heats up and starts to sweat, that moisture is transferred from the skin through the material in a process called moisture absorption. In the case of the Cool-jams, the moisture is dispersed throughout the surface area of the fabric until it evaporates.
As the moisture is pulled away, your body's built-up heat will go along with it; and just like that! You're cool, and dry.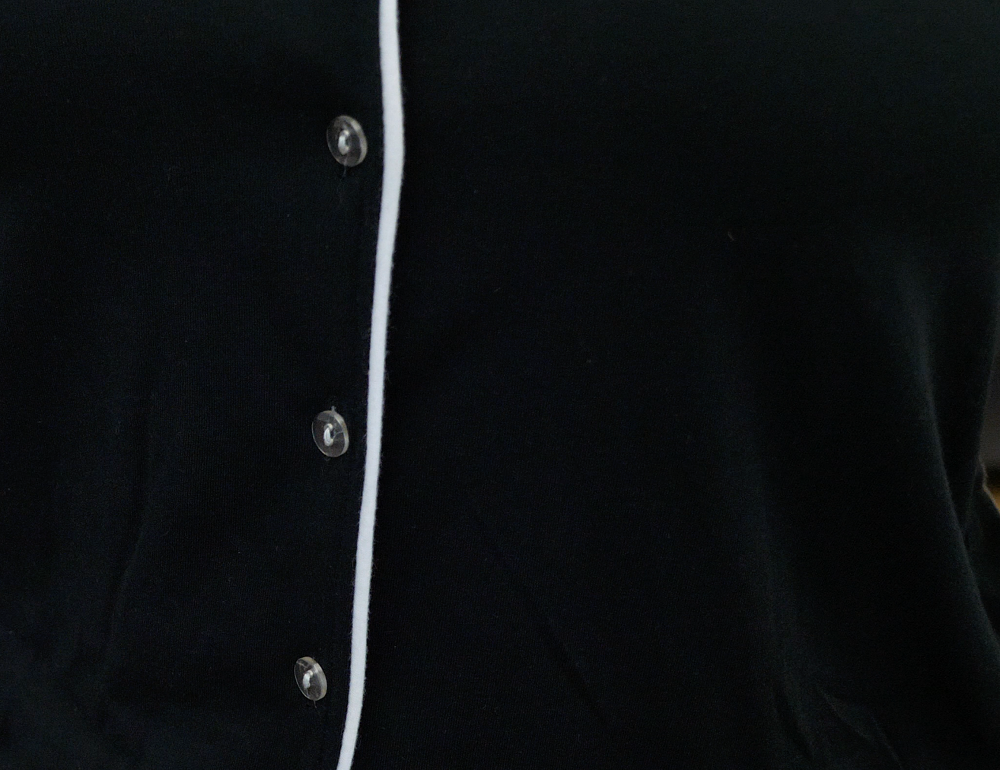 DID YOU SAY 'ANTIMICROBIAL'?
Along with cooling technology, Cool-jams' proprietary antimicrobial agent known as Bact-Out keeps you and your jammies smelling fresh. Bact-Out is a natural enzyme treatment developed by the Cool-jams lab to keep its sleepwear odor- free. Sleepwear can start smelling funky after wearing it a few days; the antibacterial/antimicrobial treatment helps to prevent that.
Their laboratory even surveyed a test group of sleepers to see how well Bact-Out keeps the odor away. Results confirmed that the antimicrobial properties of the agent remained strong even after 50 washes!
So, if you're a sleeper who often wakes up in sweaty, funky pajamas, you might want to buy yourself a pair of Cool-jams.
HOW DO I WASH THEM?
The care instructions for all Cool-jams pajamas are the same:
Wash your PJs in cool or warm water on a gentle cycle.
Don't use fabric softeners of any kind as it will minimize the signature sweat-wicking properties of the fabric.
If you accidentally do use fabric softeners, re-wash the garment in clear water to remove softener residue, so the wicking properties will return to maximum effectiveness.
Lay your garment flat or hang to dry. Tumble drying won't damage the garment, but can create some static.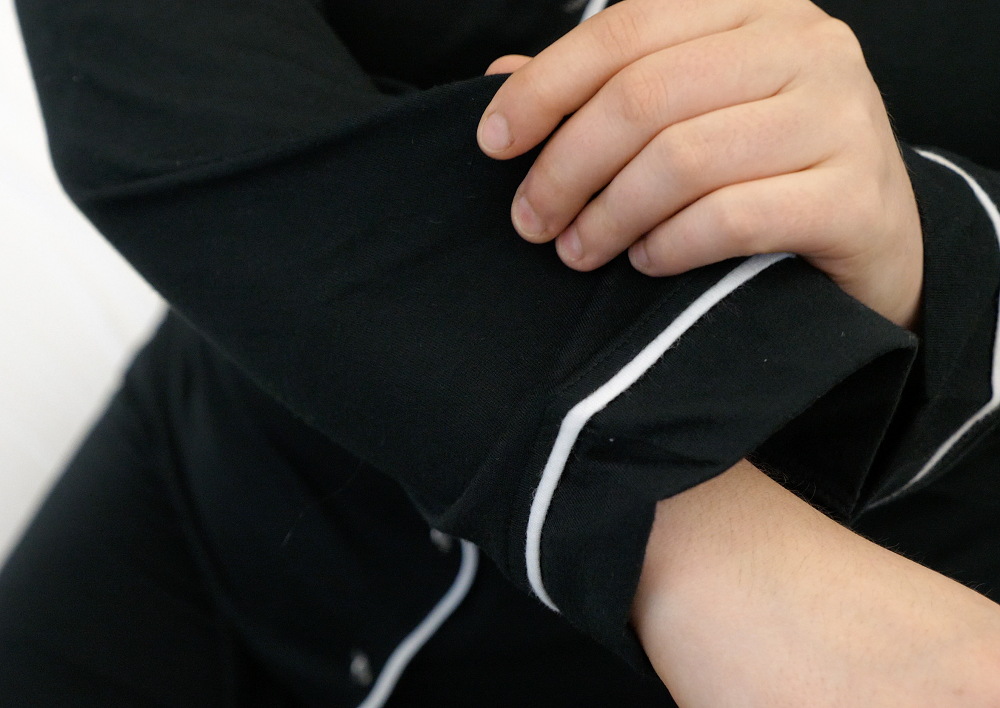 WHO WOULD LOVE COOL-JAMS PAJAMAS?
Take 10% off!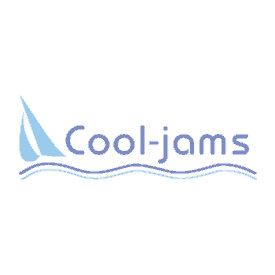 Cool-Jams pajamas are designed to sleep cool by wicking moisture away from the body. Get 10% off your own PJs with code SLEEPOPOLIS!
As I mentioned, these pajamas are specifically useful for sleepers who heat up during the night and need help keeping cool. Frankly, I don't know who wouldn't love a comfy pair of PJs, but Cool-jams pajamas will be especially beneficial for sleepers who:
Are menopausal — Heating up in the night is one thing…having uncontrollable hot flashes is quite another. Women going through menopause could definitely benefit from a pajama set that regulates their body temperature and wicks away sweat.
Travel often — These PJ's are 100% poly microfiber which is naturally wrinkle resistant and compact. Folks who want a lightweight, easy-to-fold but hard-to-crease pair of pajamas would benefit from Cool-jams.
Like to sleep in the buff — If you're a habitually nude sleeper, but are headed somewhere where it's not appropriate, try these. The poly microfiber is incredibly light and breathable. The air flows right through the fabric and it (almost) feels like you're not wearing any PJs at all!
WHAT'S NOT TO LOVE?
When it comes to pajamas, it's really all about personal style and preference. So, while I hesitate to say there's anything wrong with these pajamas, here are a few things worth noting before you decide to buy yourself a set of Cool-jams:
Not Warm and Fuzzy — Many sleepers are looking for the warm, fuzzy embrace of pajamas to lull them into dreamland…these are not it. The nature of Cool-jams fabric is light, airy, and cooling.
Size diversity — Sleepers of all shapes and sizes deserve comfortable sleep. Unfortunately, Cool-jams pajamas only range in sizes XS to 3XL. So, sleepers who fall outside of that bracket might have a hard time finding a set that fits well.
Better to be air-dried — While these PJs are machine washable, drying them in the machine can make the fabric a bit staticky. To be on the safe side, try letting them air dry!
OTHER DETAILS
Ships internationally
Cool-jams accepts orders online and over the phone
30 day policy for both exchanges and refunds
Cool-jams donates PJs and other resources to charities!
Be sure to use the code SLEEPOPOLIS to save 10% on your Cool-jams purchase!
Sarah is the former senior writer and bedding expert at Sleepopolis. She received her degree in Creative Writing from Brooklyn College and spends her free time doing stand-up, making pasta, and hanging with her cats.