If you're sleeping on an uncomfortable mattress, the prices of a new mattress or even just a new mattress topper can be intimidating. But here at Sleepopolis, we believe you can get good sleep products even if you're ballin' on a budget, so we've rounded up our five favorite cheap mattress toppers.
Mattress toppers can be a quick fix for a less-than-stellar mattress and we've personally tested all five of these here at Sleepopolis. Let's get into what they're made of, how they feel, and who they're best suited for.
Best Cheap Mattress Toppers of 2023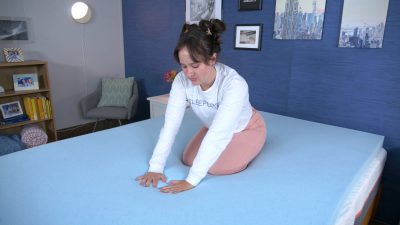 This mattress topper from Linenspa is a standard, no bells and whistles topper made from a solid block of polyurethane memory foam with gel beds infused. It's available in 2-inch and 3-inch thicknesses. The Linenspa topper is the most inexpensive topper on this list, but we still found it to be super comfortable in testing, which is why it was our top pick.
Why We Love It
The

gel infusions

in the Linenspa mattress topper draw heat away from the body, promoting a

cooler sleep environment

. We found they worked well to keep the foam — which naturally traps heat — sleeping temperature neutral.

The Linenspa topper offers deep contouring and

pressure relief

, making it an excellent choice for

side sleepers

looking for

pressure relief

on the shoulders and hips.

Its

cushioning

feel also works well for

back sleepers

. We particularly liked how the foam filled in the lumbar region, which is great for

relieving back pain

.
Are you intrigued by this gel memory foam mattress topper? Take a look at our full length Linenspa 3-inch Gel Infused Memory Foam mattress topper review.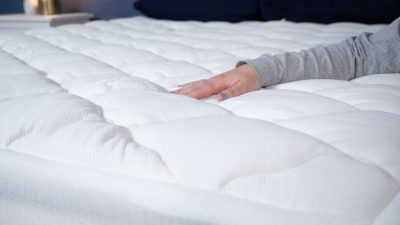 The Helix Plush mattress topper is made with polyester fiber fill encased in a bamboo blend cover. It uses baffle box stitching, which creates individual pockets, to ensure the fill stays evenly distributed. The stitching also gives the topper a slight pillow top effect.
This topper is much thinner than most other toppers out there, which is why we think it's a great choice for stomach sleepers. It adds softness and cushioning without making the bed too soft. Stomach sleepers need a firm sleep surface to prevent their hips from sinking, which can cause back pain.
Why We Love It
The Helix Plush mattress topper has a skirt that secures it to your mattress, much like a

fitted sheet

. That ensures it will stay in place throughout the night, which is key for anyone who

tosses and turns.

The bamboo blend cover helps keep you cool, as bamboo is a

temperature-regulating

fabric.

Sleepers with allergies will also appreciate that this topper is

hypoallergenic

and entirely

machine washable

.
Found the topper of your stomach-sleeping dreams? Read our full review of the Helix Plush mattress topper to learn more.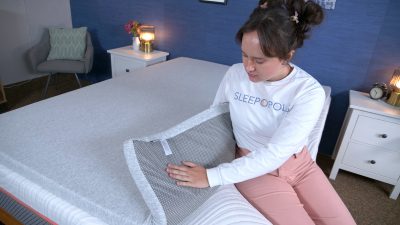 The Tuft & Needle mattress topper is made with two inches of open-cell polyurethane foam. It also has a polyester-blend cover with a non-skid bottom. We like this topper for back sleepers because it is soft and pressure relieving, but not super thick. Back sleepers won't feel completely enveloped in foam with this topper, but will still get the cushioning they want.
Why We Love It
The soft cover on this mattress topper reduces the "foamy" feeling that some mattress toppers can have.

The open-cell foam used in this mattress allows for more

airflow

within the topper, which helps to prevent hot air from being trapped.

The non-skid bottom of this topper features

grippy silicone beads

that help to keep the topper from shifting around on the surface of your mattress.
Need to know more? Read our full Tuft & Needle mattress topper review.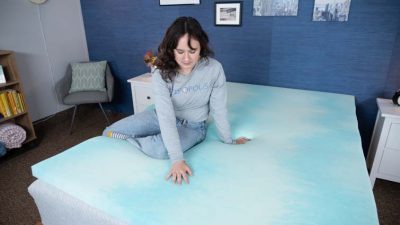 The Gel Swirl Memory Foam mattress topper from Brooklyn Bedding is another simple but effective mattress topper. This topper is a solid block of gel-infused memory foam and it's available in either 2-inch or 3-inch thicknesses. We'd recommend the 3-inch version for side sleepers, as the extra inch will allow more room to sink in for relief on key pressure points, like the shoulders and hips.
Why We Love It
The

cooling gel infusions

keep this topper from overheating. Memory foam naturally traps a lot of heat, but we found this topper had a nice, temperature-neutral feel.

This topper's

plush feel

will be comfortable for

both back and side sleepers

.

Two thickness options make this topper more versatile to different sleepers' preferences.
If you want to learn even more, head on over to our full Brooklyn Bedding Gel Swirl Memory Foam mattress topper review.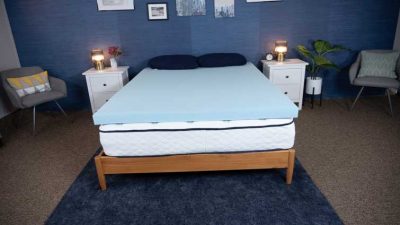 The Lucid Gel Memory Foam mattress topper is made of — you guessed it — gel-infused memory foam! It also has ventilation holes in the foam to promote airflow. This topper comes in three different thicknesses: 2-inch, 3-inch, and 4-inch. We found it offered a plush and squishy feel that provided lots of pressure relief.
Why We Love It
The combination of

gel infusions

to diffuse

body heat

and ventilation holes to make the foam more

breathable

make this a great

cooling mattress topper

, especially for

hot sleepers

who are looking for memory foam.

Multiple thickness options make this topper work well for people of different weights. Heavier sleepers should opt for the thicker versions to ensure room to sink in for

pressure relief

.

This topper is comfortable for both back and

side sleepers

, providing nice

pressure relief

to both

sleeping positions

.
Curious to learn more? Read our full Lucid Gel Memory Foam mattress topper review.
What is a Mattress Topper?
A mattress topper is a mattress accessory that sits on top of your bed. They are usually intended to add an extra layer of comfort to your mattress or to alter the mattress feel to be either firmer or softer. Toppers are made from a variety of materials, but are generally one to four inches thick.
Is a mattress topper the same as a mattress pad or mattress protector?
A mattress topper is not the same as a mattress pad or mattress protector. All three of these products are accessories you can add to your mattress, and you can even use them in conjunction, but they serve different purposes.
A mattress pad is generally designed like a fitted sheet, but with a small layer of cushioning or quilted fabric. Mattress pads serve as a barrier between the mattress and your bedding and provide a minimal amount of additional padding.
A mattress protector is also usually designed like a fitted sheet, but its purpose is to keep your mattress protected from spills, allergens, or anything else that could cause damage. Many are waterproof. A mattress protector won't provide any softness or comfort.
How Should I Choose a Mattress Topper?
Picking the right mattress topper for you can be tricky, particularly if you're shopping with a constrained budget. Here are some of the key factors to consider when browsing.
Materials
As with any bedding product, be sure to take a look at what materials the mattress topper is made with. Materials can tell you a lot about what a topper will feel like, as well as being an indicator of quality, cooling abilities, and so on. Mattress toppers have three main possible components: a fill, a cover, and any additional features. Some mattress toppers have just one material, while others use multiple materials.
Fill
There are a variety of different fillings used to make mattress toppers. Memory foam is one of the most commonly used, as it provides a lot of pressure relief and body contouring. Memory foam mattress toppers will usually make your bed feel softer and more cushioning. Traditional memory foam does naturally trap heat, so many foam toppers utilize cooling infusions, such as graphite, gel beads, or copper, to reduce heat.
Take a look at our best memory foam mattress toppers to learn more.
Latex foam is another commonly used filling in mattress toppers. Latex foam is naturally derived, so many prefer it as an eco-friendly and organic alternative to memory foam. Latex is much bouncier, more responsive, and less contouring than memory foam. It is also naturally cool. Latex mattress toppers, especially organic latex mattress toppers, are often more expensive than other styles.
Down and down alternatives, like polyester fiber fill, are also common for mattress toppers. These toppers can have a more plush, luxurious feel that is reminiscent of a feather bed. Down mattress toppers can especially be warm and cozy, but down alternatives will likely come at a lower price point. Take a look at our best down mattress toppers to learn more.
Cover
Not every mattress topper has a cover, but they can provide the benefit of additional softness, reducing the "foamy" feeling of the fill, and some are removable and machine-washable.
Common cover materials include cotton, polyester blends, bamboo viscose blends, and Tencel. Cotton, bamboo, and Tencel are all breathable fabrics that will promote a cool sleep surface, whereas synthetic fabrics may trap body heat more easily.
It's important to see if your topper has a washable cover or if it is spot-clean only. Be realistic about your lifestyle — do you have small children or pets who could cause spills on your mattress topper? If so, a washable cover may be the way to go.
Extra Features
Some mattress toppers have additional features, such as straps or a skirt, to secure the topper to your mattress. These are nice features for anyone who tosses and turns a lot, which could cause the topper to shift around.
Other toppers have anti-slip or non-slip bottoms, which can also help to keep the topper in place.
Firmness
If you're trying to change up the firmness of your existing mattress, determine whether you want your topper to be softer or firmer than what you're currently sleeping on.
If you have a firm mattress, you'll want to choose a topper that is soft and offers some additional pressure relief. But if your mattress is too soft, you may want to opt for a high-density memory foam or latex topper that can provide extra support.
You'll also want to consider your primary sleeping position. If you sleep on your stomach, you'll want to ensure you have a firm enough sleep surface that your hips don't sink into the mattress, which can cause lower back pain. If you're a side sleeper, you'll want a sleep surface that is conforming to your shoulders and hips to relieve pressure, which generally means a softer feel.
Back sleepers have a little more leeway with firmness level. If you are feeling sore in your shoulders or your lower back, consider a softer topper. If you feel enveloped by your bed and unsupported, go for a firmer topper.
Thickness
A topper's thickness is another important factor. The thicker the topper is, the more room you'll have to sink into it and the more it will likely alter the feel of your mattress. If you want a slighter change, go for a thinner topper. If you want a major change in feel, choose a thicker one.
Additionally, the heavier you are, the more you will sink into your topper. To avoid bottoming out onto your firm mattress, we would recommend that heavy people who weigh 250 pounds or more opt for a thicker mattress topper. This will give them more pressure relief and allow more room to sink in.
How to Tell if a Mattress Topper is Good Quality
It can be difficult to tell if a mattress topper is low- or high-quality, especially when shopping online. But when you're working with a tighter budget, this is an especially important question.
Always look for certifications on the brand's website. Most foam toppers should be CertiPUR-US certified, meaning they are free from harmful chemicals and pollutants. Other toppers, such as those made with natural latex or other organic materials, may have additional certifications. Third-party certifications of materials can give you an idea of the quality of materials used.
You can also look at the warranty offered with the mattress topper. A long warranty usually means the brand anticipates the product to have a long lifespan. Most toppers have a warranty in the one to three year range, but we've seen as long as a 10-year warranty.
Additionally, if the brand offers a sleep trial with the mattress topper, you can test it out at home and decide for yourself if the topper is good quality. Most brands with sleep trials will allow you to return the topper for a full refund within the trial period.
Mattress Topper FAQs
What is the best mattress topper for your money?
There's no one-size-fits-all answer, but the top mattress topper we chose for this roundup was the Linenspa Gel Memory Foam mattress topper, because it provides extra comfort and pressure relief at under $100 for a queen size. However, it's important to take your own personal sleep preferences and needs into consideration when choosing the best mattress topper for you.
Are mattress toppers a waste of money?
It depends. If you have a severely uncomfortable mattress that you cannot replace, a mattress topper can make a world of difference in your sleep quality. However, if you have a mattress that is over 10 years old and showing visible signs of deterioration, it may be more worthwhile to put that money towards a new mattress.
What is the best material for a mattress topper?
If you are looking for cushioning and pressure relief, memory foam is a good option. If you are looking for a slightly firmer feel and cooling effects, latex is a good choice. If you want plush softness, down or down alternative mattress toppers work well.
Can a mattress topper make a bed softer?
Yes, a mattress topper can make a bed softer. This is one of the main reasons people buy mattress toppers. There are also toppers out there that can make a bed firmer.
Are mattress toppers good for hot sleepers?
They can be. Many mattress toppers utilize cooling materials to keep sleepers at a comfortable body temperature. Take a look at our best cooling mattress toppers to find hot-sleeper-friendly options.
Should a mattress topper be bigger than the mattress?
No, you should choose a mattress topper that is the same size as your mattress. Most mattress toppers are available in standard sizes: twin, twin XL, full, queen, king, and California king. Some brands offer additional sizes, such as full XL or RV queen. Choose the mattress topper that most closely matches your mattress.