Today I'm tackling the million-dollar question, what is the best mattress for sex? For this guide, we're going to look at the major criteria that make a mattress better or worse for sex. Some factors may not be that important to you, while others may be absolutely critical. We'll be breaking down each mattress based on these criteria so you can find the best mattress for sex.
Bear in mind, we're not going to talk much about sleep in this analysis. You should definitely consider how a mattress feels and sleeps in addition to how it performs for sex. Check out our full mattress review series for more on that.
Best Mattresses for Sex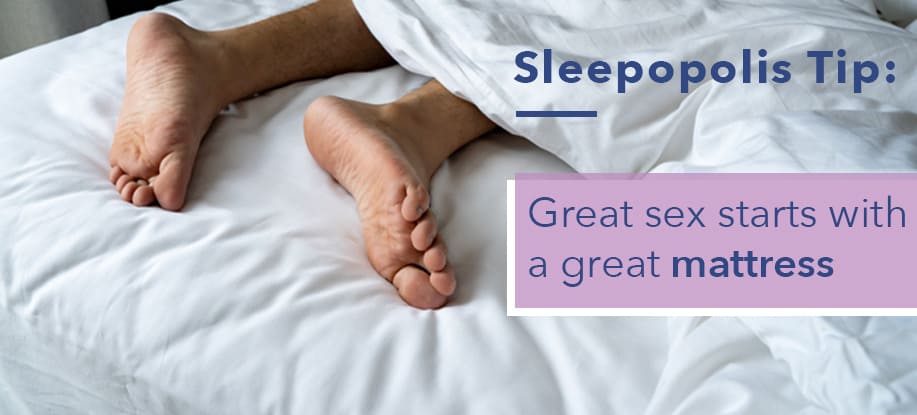 Best Mattresses for Sex  – Top Choices Detailed
Below I have listed my favorite and best mattresses for sex. I'll continue to update this list as I test and review new mattresses. Have a mattress you think should be added or tested? Drop me a note here.
Down at the bottom we have all of our favorite mattresses for sex compared to each other in a table.

Best Mattress for Couples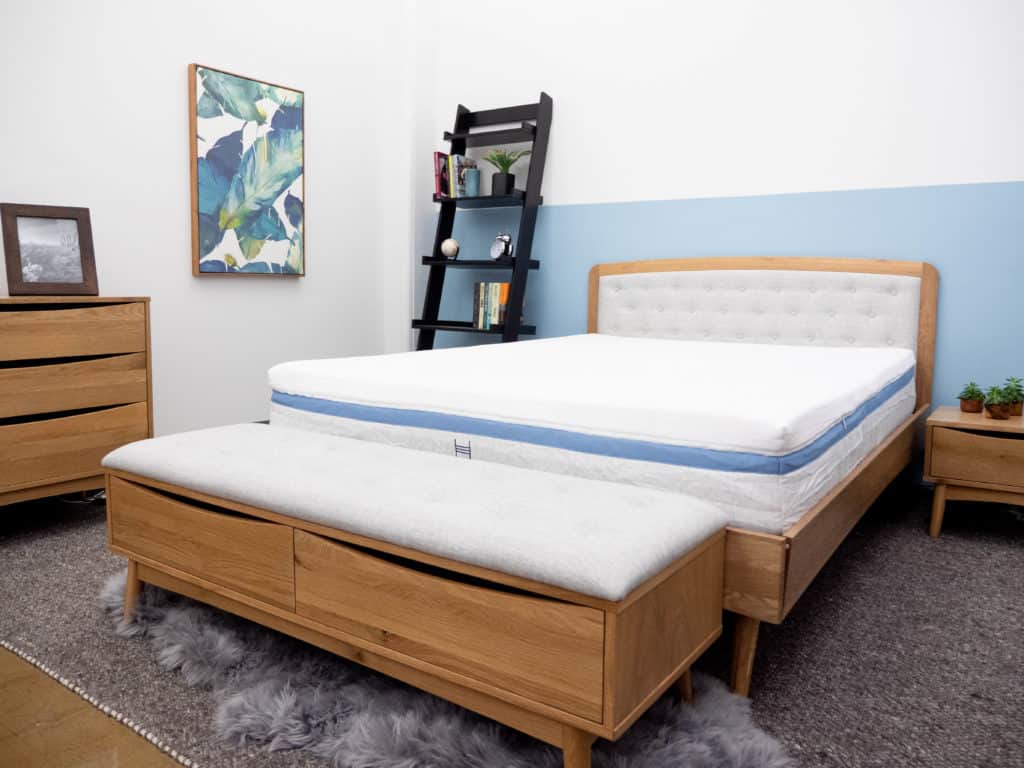 Helix
The Helix mattress is the only customizable mattress on this list. The Helix can be both very good or very average for sex. Since it's customizable, your specifications, needs, and desires will dramatically influence how the mattress actually performs in your bedroom. The layers used in the Helix, notably latex and microcoils, help to solidify bounce and response.
Read our full Helix mattress review here.
Spring Sale: Up to $200 Off + free pillows!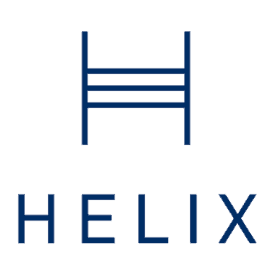 It takes two to tango, that means two sets of preferences! Helix is a great quality mattress that allows you to customize each side of the mattress. Thus you and your partner can select the firmness, feel, etc that suit your own needs.
Best Innerspring Mattress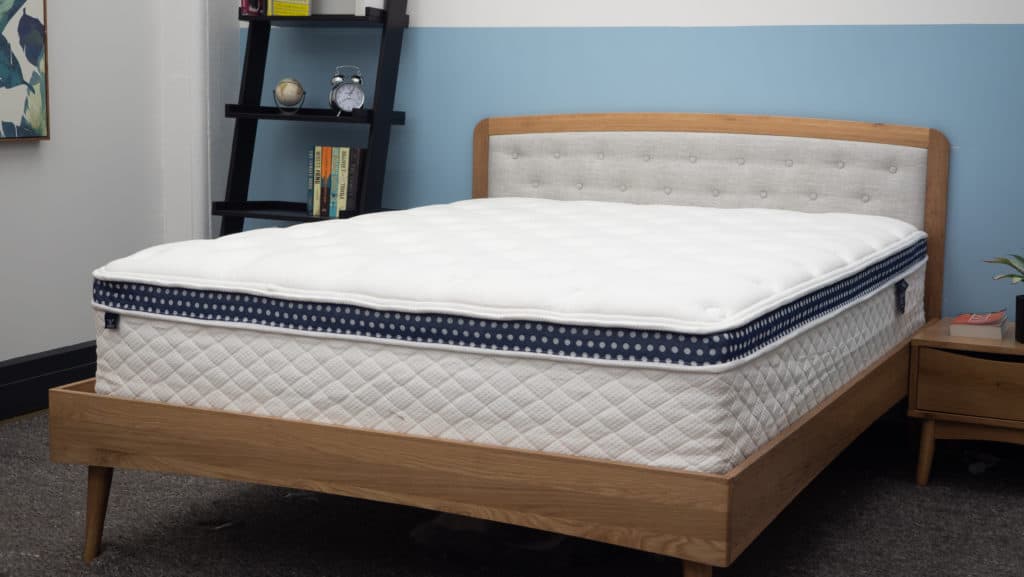 WinkBed
The WinkBed mattress is a hybrid mattress built with coil-on-coil innerspring construction and high-quality foam. The innerspring core results in exceptional bounce and strong edges, both important factors for bedroom activities. Truly a luxury mattress build, the WinkBed is on par with other high-quality innerspring mattresses. You could expect to pay $3,000+ for this mattress in a retail store.
Read our full WinkBed mattress review here.
$300 Off!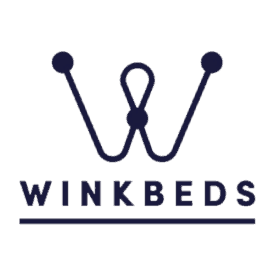 Built with a plush pillow top and a buoyant coil-on-coil structure, the WinkBeds is a great option for a wide range of sleepers! 
Best Hybrid Mattress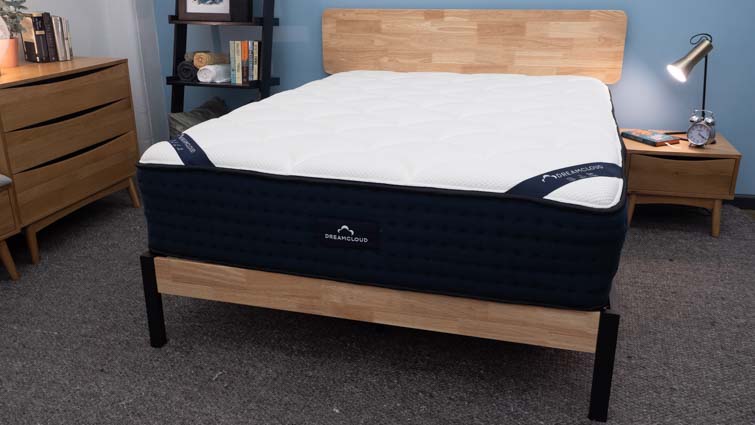 DreamCloud
Since hybrid mattresses combine gentle foam top layers with springy coils, they're often considered fantastic options for sex. Why? Well, they provide a one-two punch of pressure relief and support. There are a lot of hybrid models available online, but one of my favorites is the DreamCloud mattress. 
The DreamCloud features a quilted cover over sections of gel-infused memory foam and pocketed coils. Therefore, it provides sleepers with plenty of give at the shoulders and hips as well as some nice lift at the lower back. This bed is also supremely bouncy, allowing sleepers to move around and change positions to their hearts' content. There's also a sturdy layer of foam edge support wrapped around the pocketed coil system, which maximizes the usable surface area of the mattress. In short, this could be a great pick for couples in need of bounce, cooling, support, and pressure relief. 
Interested? Head on over to my full DreamCloud mattress review to learn more.
Save $200 + Free Gifts with Purchase!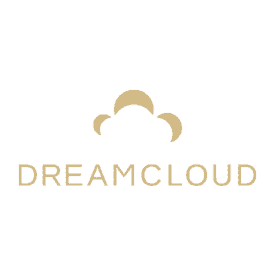 This tall hybrid mattress combines foams with pocketed coils for a luxuriously supportive sleeping experience. 
Best Mattress for Combo Sleepers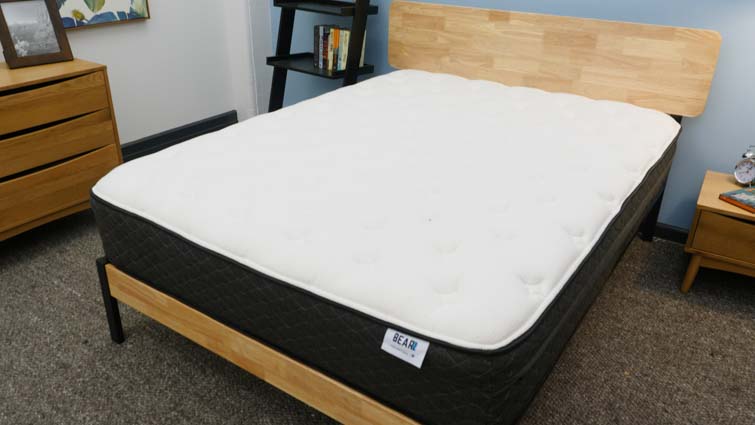 Bear Hybrid
The Bear Hybrid offers a great mix of support and pressure relief regardless of how you sleep. This medium feel is great for the combo sleepers out there that need proper support as they rotate through positions during the night.
The soft foams allow sleepers to sink in while on their sides, while the coils provide nice support so you won't feel too sunken into bed. The coils really help give the Bear Hybrid some bounce which means you won't feel stuck when trying to change positions.
Click here to read my full Bear Hybrid review.
Save 25% With Code SLEEPOPOLIS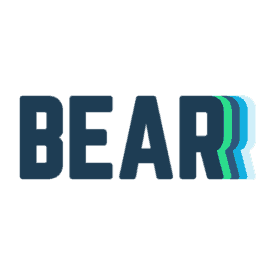 Specifically designed for athletes, the Bear Hybrid is a great supportive option for active sleepers. 
Best Latex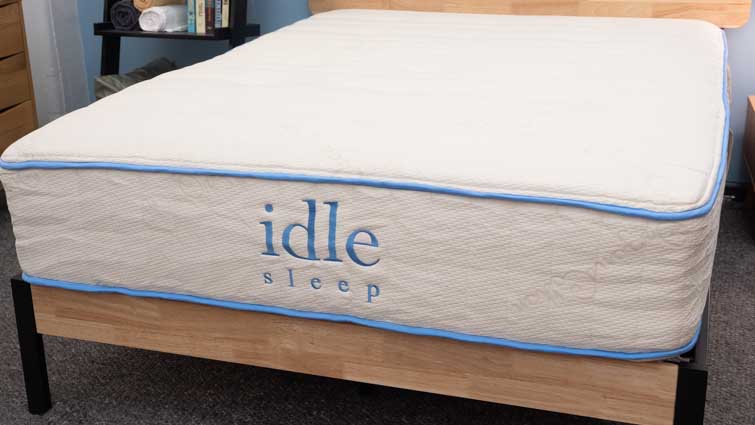 Idle Sleep Latex Hybrid
If you are shopping for a mattress that is great for sleep, but also for all the other nighttime activities that go down in the bedroom, consider the Idle Latex Hybrid for a supportive and bouncy surface that is sure to give you what you are looking for. Latex in a mattress is a material that makes it naturally good for sex. It is bouncy, cooling, and all-natural. 
As far as actually sleeping goes, I would highly recommend this mattress to strict back and stomach sleepers. For all you strict side sleepers out there, there is definitely a better option. If you toss and turn throughout the night this is a very easy mattress to move around on but, as I said, if you spend most of your time on your side I would keep looking. 
Think this is the perfect bed for all of your nighttime needs? Learn more in my full Idle Sleep Latex Hybrid review. 
Spring Sale: Save 30%!
Idle Sleep Latex Mattress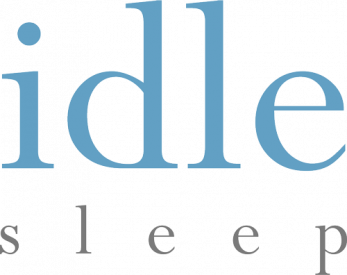 Idle Sleep Latex Mattress
The Idle Sleep mattress is not only constructed with bouncy latex, but is also totally flippable. Use code SLEEPOPOLIS25 to save $25 on top of the deal on the site!
Best Latex Alternative Mattress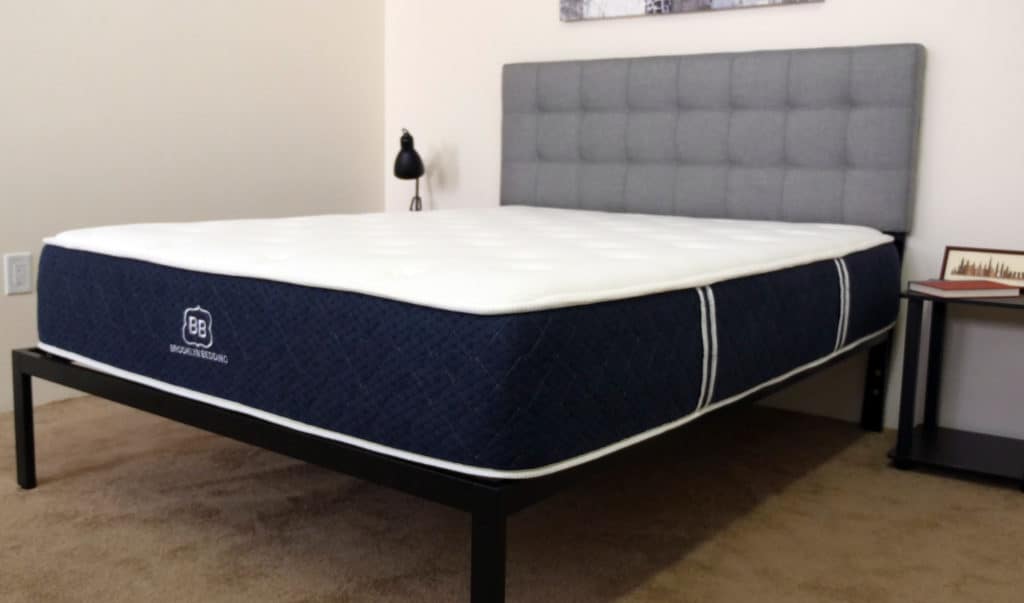 Brooklyn Bedding Signature
Brooklyn Bedding uses 4″ of TitanFlex foam, a responsive poly foam, to deliver great bounce and push back. This quick response from the foam combines with the pocketed coil support system to provide push back that helps improve sex enjoyment on the mattress. Strong edge support makes the Brooklyn Bedding a good all around option for both sex and sleep alike.
Read our full Brooklyn Bedding mattress review here.
Save 20% with code SLEEPOPOLIS20
Brooklyn Bedding Signature Mattress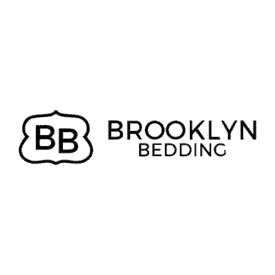 Brooklyn Bedding Signature Mattress
Resilient, latex-like foam offers sleepers of all styles great, pressure-relieving support!
Best Memory Foam Mattress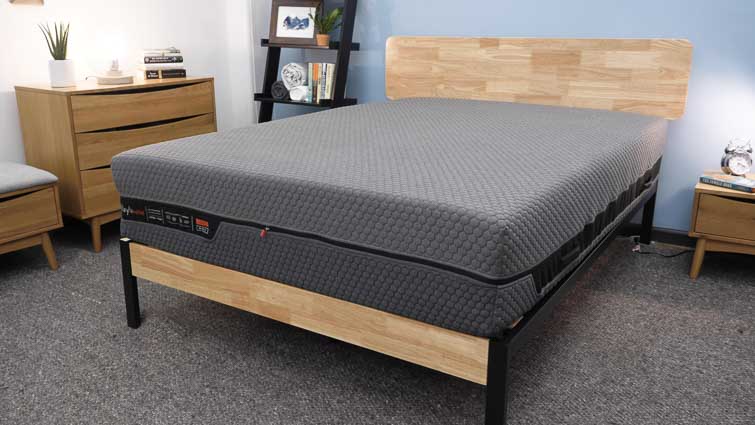 Layla Hybrid
If you want to enjoy all the cushiony benefits of memory foam, but still want the buoyant mobility of an innerspring, a memory foam hybrid could be the bed for you. And of all the options on the market, my personal favorite happens to be the Layla Hybrid. 
Here, you'll find an interior system of sturdy pocketed coils that bring a ton of bounce, support, and lift to the structure. This makes the bed great for sex, as it allows for an easy range of motion. But what's especially great about this mattress is that it's not too firm, thanks to the memory foam comfort layers. Long story short, you'll be able to hop around with glee while still getting all the body-contouring and pressure relief you need to actually, you know, fall asleep at the end of the night. 
Does this bed sound like a winner? Then check out my full Layla Hybrid mattress review for more!
Spring Sale: Up to $200 off + free pillows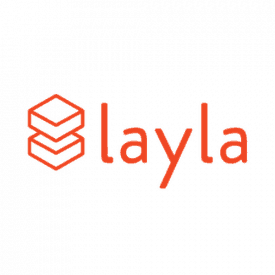 The Layla Hybrid uses foam and coil layers for two firmness options so you can choose the right support level for your sleep style. 
Best Mattress for Back Support and Sex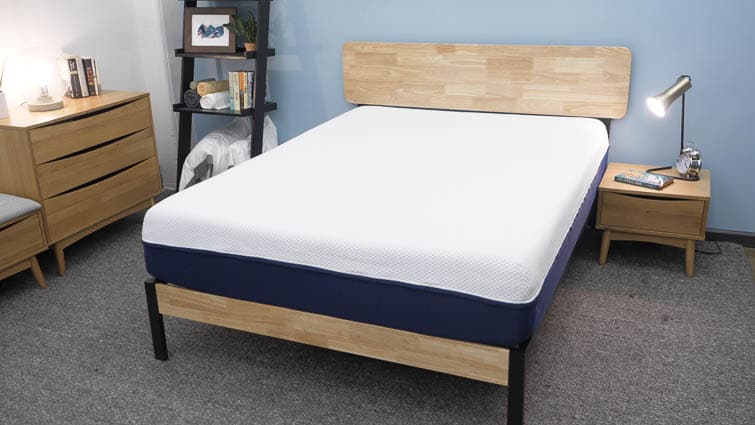 Amerisleep
If you want a mattress that's as good for sex as it is for back support, take a peek at the line of memory foam mattresses from Amerisleep. The brand currently boasts five different models, which range from the firmly supportive AS1 to the cloud-like AS5. 
No matter the mattress you choose, you'll wind up with a bed built with thick top layers of memory foam. This material has a slow response to pressure, so actively contours to the body as you press into the structure, which could be great news for those in need of back support. Why? Well, the gentle foam should cushion the lower back while also providing deep contouring support to the shoulders and hips. I think back pain sufferers will probably do best to focus on the AS1 and AS2 models in the line as they're the firmest of the bunch. 
For more on this brand, check out my full breakdown of the Amerisleep memory foam mattresses.
Save 30%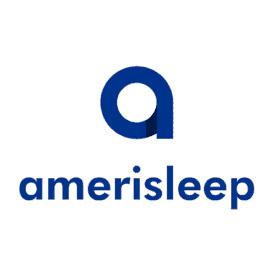 Amerisleep offers a range of memory foam mattresses so you can find the right support level for your sleep style. Use code SLEEPOPOLIS to save 30% with our exclusive discount!
Best Foam Mattress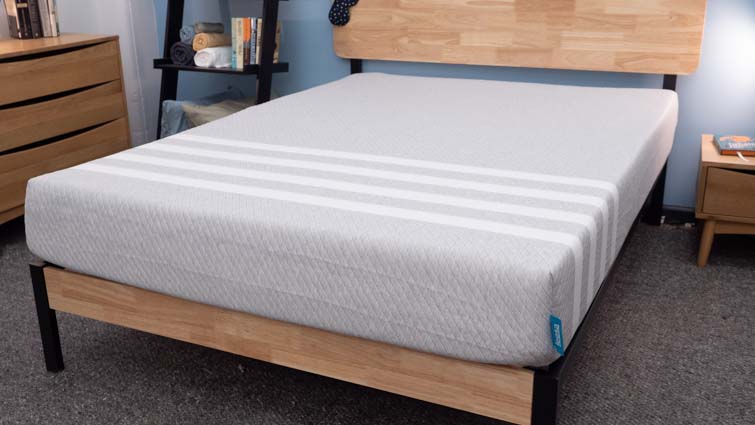 Leesa
The Leesa is one of my favorite mattresses when it comes to both sleep and sex. This mattress has a nice balanced touch in almost every area. You should get a nice balance of responsiveness and motion isolation on this bed. The only area of weakness is the edge support, which is tough on most any foam mattress. However, it does a great job everywhere else.
Learn more in our full Leesa mattress review.
Up to $400 Off + 2 Free Pillows!

Great for Back Sleepers
Sleeps Cool
Best Mattress for Side Sleepers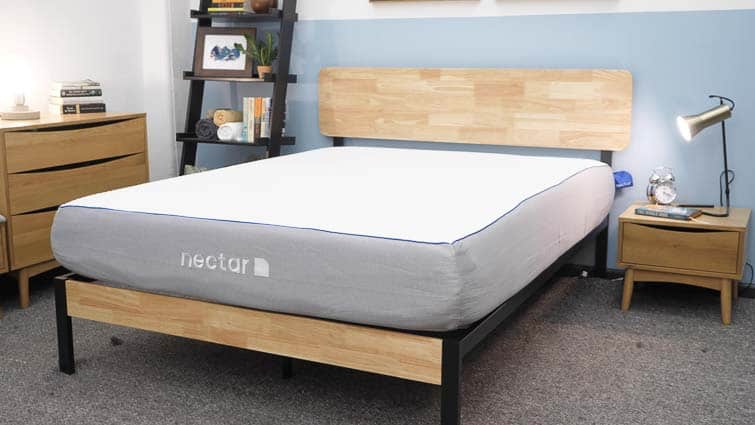 Nectar
If both you and your partner like to sleep on your side, then you may want to consider buying the Nectar mattress. Built with thick top layers of memory foam, this bed provides plenty of pressure relief at the shoulders, hips, and lower back. 
What makes this bed especially good for sex is its excellent motion isolation. Memory foam not only works to alleviate tension at sensitive spots across the body, but also absorbs and dissipates movement with ease. This means that you and your bed mate can get it on without worrying about all the creaks and noise you might experience on an old-fashioned innerspring mattress. Plus, the bed has a relatively affordable price tag, marking it as a solid option for budget shoppers. 
For more, read my full Nectar mattress review.
$399 in Free Gifts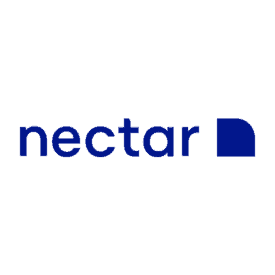 Sleepers will sink deep into the Nectar mattress for some soothing pressure relief, something that side sleepers will particularly appreciate! Click here to get $399 of free accessories with every mattress purchase!
Best Mattress for Sex Rating Criteria
Responsive
A mattress response time means how fast it adjusts to your body as you move around. Mattresses with slower response times can feel like having sex in quick sand. An ideal mattress for sex will rapidly adjust to your change in movement and positions so you are well supported on a stable surface.
Bounce
The bounce of a mattress relates to the feel when it's being compressed. A mattress with good bounce will rebound, as opposed to simply absorbing your impact. During sex, this can help to create a consistent rhythm that works with you and not against.
Noise
Let's face it, sometimes you need a certain degree of discretion. Some mattresses can be extremely loud during sex, drawing unwanted attention. An ideal mattress for sex will help to keep the noise to a minimum.
Durability
The overall durability of the mattress will surely be put to the test during sex. A good mattress for sex should be able to standup to years of consistent amorous activities.
Edge Support
Many sex positions require, or are significantly improved, by a stable and strong edge. Mattress edges that collapse under pressure can make for a less than ideal experience. The best sexy-times mattress will be one that supports pressure and weight directly on the edge of the mattress.
Comfort
And lastly, we have comfort. If the mattress creates pressure points on your body during sex it can limit your desire and amount of time you actually want to be there. The ideal mattress for sex will be one that doesn't create pressure points in any position.
Best Mattresses for Sex Compared
Mattresses are judged on the above 6 criteria and are given 1 of 3 ratings.
Great – This is the best rating. A great rating indicates it's one of the very best choices available for that respective category.
Good – Much better than the average, but hasn't quite broken into the great / exceptional level for that category.
Okay – Doesn't mean bad, but just not a particularly strong functional area of the mattress. If you have a specific need that's very important to you and it's rated okay, you'll want to think twice about making that purchase. For example, If you have kids / roommates and having a quiet mattress is important you'll likely want to avoid a mattress with coils (which all receive "okay" ratings in the noise category) due to the extra noise they can create.
Recap: The 10 Best Mattresses for Sex