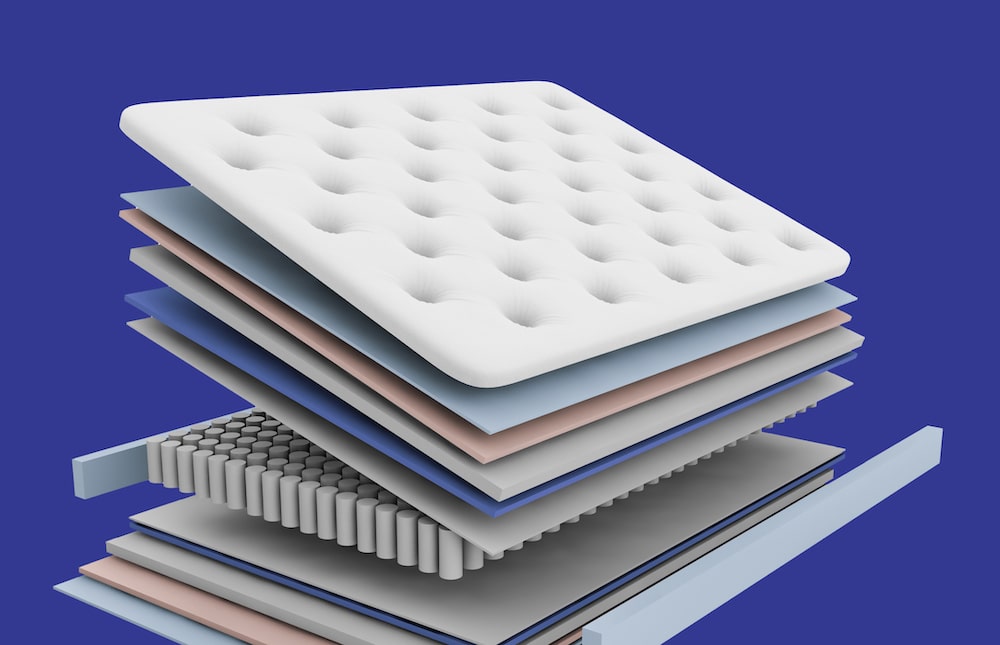 Each mattress is made of different layers that work together to create a specific firmness and feel. Each layer has a different purpose and could be made of several materials. Knowing what is inside a mattress can give you a great idea of whether or not a bed is right for you.
In this article, we'll break down the function of the different layers of mattresses and explain the pros and cons of different mattress materials. With the help from this guide, you should be ready to find the best new bed for you!
What Are Mattress Comfort Layers?
Mattress comfort layers are located near the top of the mattress close to your body. They provide a plush feel to the surface of the bed to prevent it from feeling too stiff, and also add the following qualities to the mattress:
Cushioning

– Comfort layers lay on top of the bed to cushion your body from the firm layers below.

Pressure relief

– These layers contour around your natural curves and help redistribute your body weight along the length of your bed. This helps relieve pressure from your joints and other areas of your body that tend to press into your mattress as you sleep.

Motion isolation

– If you sleep with a partner or a pet, their movements could disrupt your sleep. Comfort layers help absorb the vibrations made when your sleep partner moves, so you can sleep through the night.

Cooling

– This layer of the bed can also help keep you cool. Some comfort layers are aerated for breathability, or made with temperature-regulating materials, such as gel-infused foam or latex, to help keep the bed cool to the touch.

Noise control

– A plush top comfort layer can help muffle noises if your bed is built with creaky innerspring coils or other noisy materials.
Layers of Mattresses
Now let's break down the construction of mattresses layer by layer.
Cover
Your mattress will likely come wrapped in a cover to protect the layers underneath. The mattress cover also could help regulate the temperature of the bed, repel dust mites and allergens, wick away moisture, or add extra padding. The cover can also be removable so you can put it in your washing machine, or sewn into the bed. Mattress covers are typically made of breathable and flexible fabric such as linen, cotton, or polyester. These fabrics can be treated to make the cover flame retardant and anti-microbial.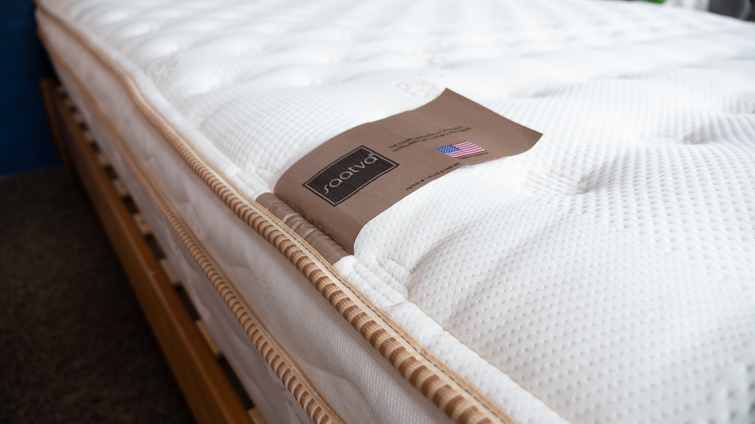 Mattress covers can be made of ticking, also called damask, which is a woven fabric made by placing threads across each other in a criss-cross pattern on a loom. Ticking fabric can also be stitched with additional patterns. The extra stitching on top of the fabric adds aesthetic appeal and makes the fabric more supportive. Ticking is durable, breathable, and flexible, but not as stretchy as knitted fabric.
Knitted fabric can also be used in mattress covers. Knitted fabric is made with threads that are looped together. Knitted covers feel softer, are more stretchy and wick away moisture, but aren't typically as durable as their woven counterparts.
Quilting
The top of the mattress is often quilted. A quilted mattress has stitches across the surface to keep the comfort layers evenly distributed and securely in place across the top of the mattress. The quilting also adds a texture with subtle indentations across the bed so you'll feel more softness and contouring as you lay on top of your mattress.
Padding
Your mattress will have padding underneath the quilted layer. This first layer of padding is called "cushioning" or "middle padding," and lies right beneath the quilting. Cushioning is typically made of memory foam, latex, egg shell foam, cotton, or wool.
Cushioning provides a plush feel and a little pressure relief to allow the surface of the mattress to conform to your curves. Most mattresses also have some additional insulated padding beneath the cushioning. Insulated padding helps keep the cushioning separate from the innerspring coils or comfort layers underneath.
Extra Support
Edge support can be an important feature in mattresses — it helps keep the bed from sagging at the sides, makes it easier to get in and out of bed, and makes the mattress more durable. Some mattresses are built with an extra foam encasement or high-density springs around the perimeter to add reinforced edge support.
Comfort Layer
The comfort layer determines the feel, temperature, and amount of pressure relief you'll feel on your mattress. You'll want to make sure to choose a mattress with comfort layers that help you meet your personal sleep needs and preferences. Mattresses can be made with one type of comfort layer, or in the case of a hybrid mattress, several comfort layers made of different materials. Here are the most popular types of materials used in comfort layers:

Memory Foam: Memory foam is a soft, synthetic material that allows your body to sink deeply into your mattress to provide a plush, hugging feel and pressure relief. Traditional memory foam allows deeper sinkage but can also tend to retain your body heat. To help you sleep cooler, memory foam can be infused with temperature-regulating materials like gel or copper, or built with an open-cell construction to make it more breathable.
Memory Foam Pros
Deep pressure relief can help with joint pain

A budget-friendly mattress material

Isolates motion and muffles noise
Memory Foam Cons
Can trap body heat

May feel too plush for

heavier body types

or those who prefer a firmer bed

Less responsive than other mattress materials
Poly Foam: Polyurethane foam, also called poly foam, is a type of foam made from petrochemicals that came into use for mattresses in the 1950s. Poly foam is inexpensive, allows your body to sink deeply into the bed, and is often used to provide insulation for innerspring coil layers within a bed.
Poly Foam Pros
Budget-friendly

Can be hypoallergenic

Provides deep cushioning
Poly Foam Cons
Off-gassing when you unbox your mattress

Traps body heat

Breaks down and

needs to be replaced

more quickly than other mattress types
Latex: Eco-friendly, temperature-neutral, and hypoallergenic, natural latex foam is made from liquid found in rubber trees. Latex feels buoyant and bouncy, and offers gentle pressure relief without allowing deep sinkage. Latex can be expensive, but synthetic options are available if you're on a budget.
Latex Pros
Sleeps cool

Environmentally-friendly

Supportive enough for all body types
Latex Cons
A pricier mattress material

Heavier and makes your mattress harder to move

Some sleepers may have latex allergies
Microcoils: Microcoils, also known as mini coils and nanocoils, are innerspring coils that are designed to be small and light to conform to your curves and provide extra comfort. A microcoil layer is generally more supportive than most types of foam, but won't provide a plush feel.
Microcoils Pros
Bouncy and responsive to movements

Breathable

Add extra support
Microcoils Cons
Don't isolate motion well

Could be noisy

Don't provide as much pressure relief as foam
Natural Fibers: Comfort layers can also be made of natural fibers such as wool, cotton, cashmere, silk, horsehair, hemp, alpaca, and more. Natural fibers can add either a plush or firm feel to the mattress — softer fibers like cotton and wool will make the bed feel more plush, while horsehair will add a firmer feel.
Natural Fibers Pros
Breathable and wick away moisture

Adjusts the firmness level of the mattress

More durable than synthetic materials
Natural Fibers Cons
Pricier than synthetic alternatives

Some fibers may have a barnyard smell

Many are not vegan
Comfort Layer Materials Comparison
| | | | | | |
| --- | --- | --- | --- | --- | --- |
| | Memory Foam | Poly Foam | Latex | Microcoils | Natural Fibers |
| Mattress Price Range | $-$$$ | $ | $$$-$$$$ | $$-$$$$ | $$$ |
| Availability | Very common | Very common | Very common | Common | Less common |
| Durability | Good | Fair | Very good | Good | Very good |
| Pressure Relief | Excellent | Fair | Good | Good | Good |
| Motion Isolation | Excellent | Good | Good | Good | Good |
| Noise | Excellent | Excellent | Very good | Good | Very good |
| Cooling | Fair | Poor | Very good | Excellent | Very good |
Transition Layer
The transition layer lies between the plush comfort layer and firm support layers near the base of the mattress. This layer adds extra padding to ensure your body won't sink through the comfort layers into the firm comfort layers below.
This layer can also add extra durability, stability, and support for your body weight. Transition layers are typically made out of poly foam, latex, or memory foam, but sometimes are made with microcoils.
Support Core Layer
The support layer of a bed sits near the base of the mattress — although it may rest on a stabilizing thin layer of foam. The two most common types of support layers are high-density foam and coil support layers.
High-Density Foam: High density foam is usually a very firm foam made of polyurethane. This foam provides edge support and durability to the base of the bed, and is used in foam and hybrid mattresses. High-density foam is affordable and provides effective support, but it can trap heat and off-gas.
Coils: Innerspring coils are wire or metal springs that stabilize the mattress while adding a little bounce and breathability to your mattress. It is important to note that not all innerspring coils are created equal — some are much more durable, quiet, and supportive than others. Here are the different types of innerspring coils:

Bonnell

– Bonnel coils, or "open coils," are the oldest type of innerspring coils. Each of these coils is shaped like an hourglass and are often wired together. Bonnell coil beds are inexpensive, but tend to break down more quickly than other types of coils and can be creaky.

Encased

– Encased coils, also called pocket coils, are smaller coils that are individually wrapped in fabric. In contrast to Bonnell or continuous coils, each coil functions as its own unit. Individually wrapped coils are quieter, offer more pressure relief, and are less noisy than other types of coils. Their complex construction, however, does make them more expensive.

Offset

– Offset coils have the same hourglass shape as Bonnell coils, but the base of each coil is a square instead of a circle. This allows the coils to hinge under pressure, which gives them better noise control and motion isolation. This design also helps make the bed more durable.

Continuous

– Continuous coils are made in an "S" shape and are created from one long wire. This construction makes the mattress more durable and stable, but they don't offer much pressure relief or motion isolation.
Foundation
Having a good foundation is key to making your bed more sturdy and durable — some mattress companies will even void your warranty if you use the wrong foundation for your bed. There are lots of different foundations available. Make sure to choose a good-quality foundation that is the correct type for your bed according to your mattress manufacturer. Here are the different types of mattress foundations:
Box Springs

–

Box springs

are rectangular frames filled with a layer of coils that sit underneath your mattress. A box spring keeps your bed lifted off the ground and helps absorb some of the impact of your body weight on the bed. Using a bed spring could help prolong the life of your mattress.

Slatted Bases

– Slatted bases are made with planks of wood laid horizontally across a frame to support your mattress. While a solid bed frame can add a firmer feel to your bed, slatted bed frames help keep the mattress closer to its original firmness level. They also add breathability to the mattress to help keep you cool.

Bed Frames

– A bed frame is an elevated platform with four legs that lifts your mattress (or mattress and box spring) off the ground. Bed frames can allow air to flow under the bed and helps protect your mattress from dust and dander from your floor. You also can choose different bed frames to suit the aesthetic of your bedroom.

Adjustable Bases

– An

adjustable base

is a bed base that can be moved into several different positions using a remote control. Adjustable bases can change your position so that you have your legs elevated, are sitting up, or both. Adjustable bases are useful for

senior citizens

or those who have medical conditions that make it difficult to get in and out of bed.
Other Mattress Layer Designs
While most beds on the market are made with layers situated in a specific order, there are a few exceptions to the status quo:
Flippable Mattresses
Flippable mattresses are designed so you can flip them over to feel a different firmness position on either side. This means the support layer is sandwiched in the middle between two sets of comfort layers on either side of the mattress. Flippable mattresses are good picks for guest rooms, those who can't decide on a firmness level, or children whose preferences might change over time.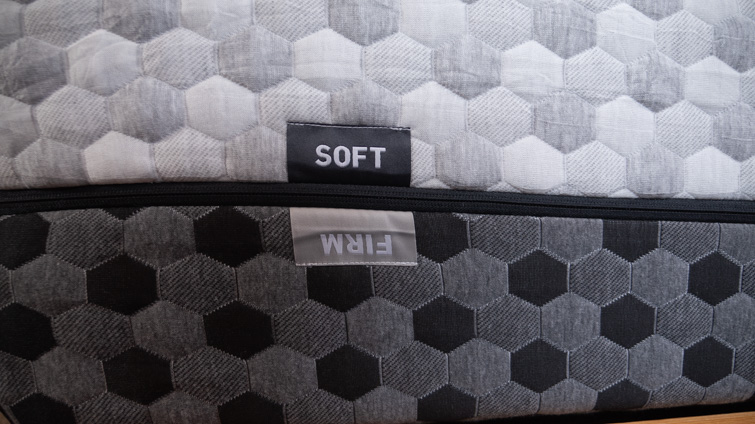 Dual-Firmness Mattresses
If your partner has a drastically different firmness preference than you, then you may want to look for a dual-firmness mattress. These beds are built with a different firmness level on each half of the bed. This can be achieved by having different materials on each side of the bed, or using an air chamber on each side to inflate and deflate to meet each of your individual needs.
FAQs
Which support layer is best for a mattress?
There are different pros and cons to every type of support layer in a mattress. High-density foam can be relatively inexpensive, durable, and quiet, but it can sleep hot. Innerspring coils are responsive and breathable, but can be noisy.
What are the layers in a memory foam mattress?
Typically, a memory foam mattress is made of a combination of support layers, transition layers, and comfort layers wrapped in a cover.
How many layers are there in a bed?
The number of mattresses in a bed varies depending on the thickness, type, and design of the mattress, but most mattresses will have at least one support layer, one comfort layer, and a mattress cover.
What is the top layer of a mattress made of?
The top layer of a mattress is designed to contour around the natural shape of your body to keep you comfortable, so it can be made of a variety of soft materials. Some examples are poly foam, memory foam, latex, wool, cotton, and horsehair.
Conclusion
Each layer in a mattress has a specific purpose to help you get a good night's sleep. Bookmark this page while you're mattress shopping to refer back and make sure the beds you're shopping for have the right layers and materials to help you get your best night's sleep. Also, check out our mattress shopping guide for more help choosing the best bed for you.