If you're looking for a way to enhance the comfort of your mattress without investing in a brand new bed, a mattress topper might be the perfect sleep accessory for you. They come in a variety of materials, depths, and firmnesses, and can make your sleep space a whole lot cozier. But with so many options on the market, finding the perfect one can be a little tough.
To guide you in your search, I'm presenting my top four favorite plush mattress toppers, along with some expert shopping tips. So keep reading to find the mattress topper that's best for you!
Best Plush Mattress Toppers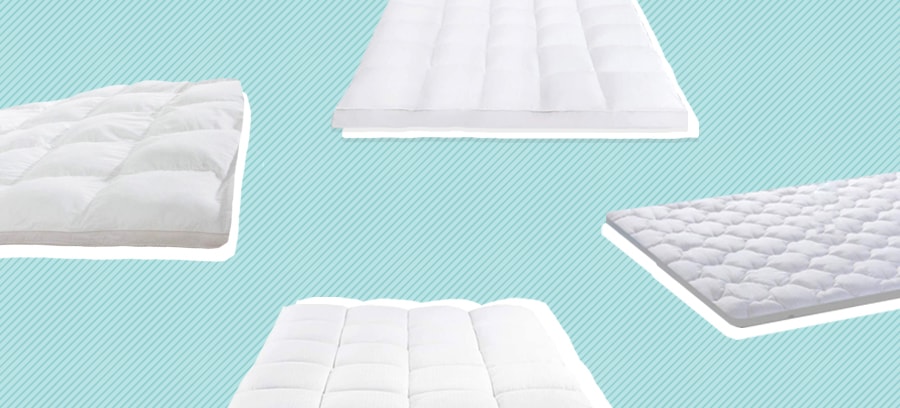 Editor's Pick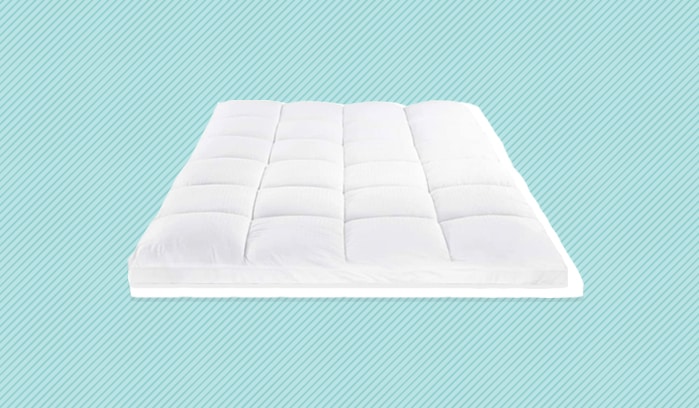 Karrism Extra Thick Mattress Topper
Covered in 400 thread count cotton and filled with a fluffy down alternative, this mattress topper is thick, plush, and super cozy. Plus, it features a baffle box design that keeps all the internal fill secure and evenly distributed. 
Pros
This topper is plush, fluffy, and ideal for those looking to soften a mattress that's too firm. 

If you love the feel of down but don't want to sleep on animal products, you're sure to be compatible with this feathery, down alternative topper. 

This topper is covered in 400 thread count cotton, a luxurious material that feels soft and breathable to the touch. 
Cons
If you're looking for a moldable topper with a slow response to pressure, you're probably going to be more compatible with memory foam. 

This topper has a plush feel, not suitable for those in search of something firm.
Karrism Extra Thick Mattress Topper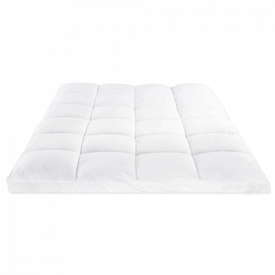 Karrism Extra Thick Mattress Topper
The Karrism Extra Thick Mattress Topper is a great down alternative topper with a luxurious cover.
Softest Feel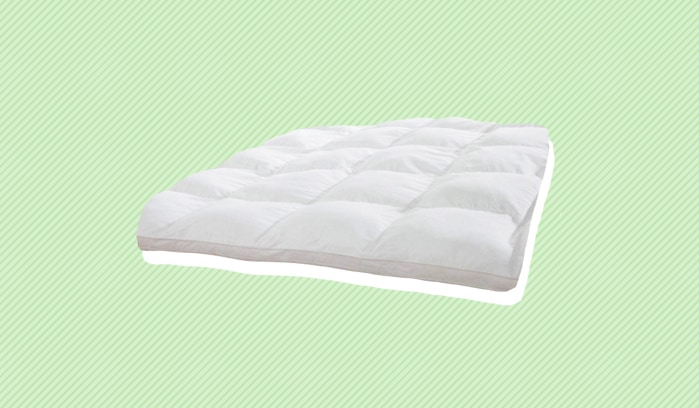 D&G The Duck and Goose Co. Extra Thick Mattress Topper
Amply stuffed with a gel-infused down alternative, this topper is perfect for shoppers in search of an extra soft topper. Additionally, it features four corner straps that you can affix to your mattress for a snug, secure fit. 
Pros
This topper feels

a lot

like real down, despite not employing any real feathers or animal products of any kind. 

Its extra soft firmness rating makes this topper ideal for those looking to balance the feel of a firm mattress. 

The materials used to make this topper were crafted to be resistant to mold, mildew, and other household allergens. 
Cons
This topper has a plush, fluffy feel that's probably going to be too soft for those who prefer medium to firm support. 

You may need to occasionally fluff this topper in order to restore its loft and shape.
D&G The Duck and Goose Co. Extra Thick Mattress Topper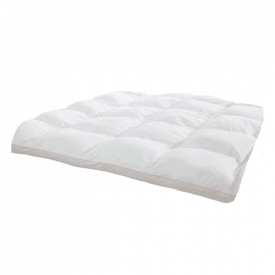 D&G The Duck and Goose Co. Extra Thick Mattress Topper
The D&G The Duck and Goose Co. Extra Thick Mattress Topper is extra soft and is resistant to mold, mildew and other household allergens.
Best for Side Sleepers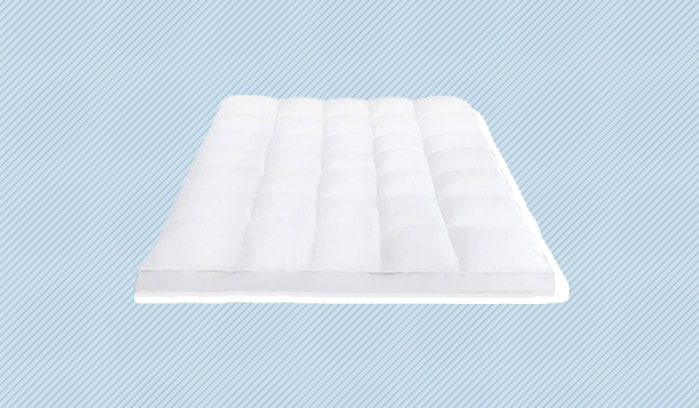 Coonp King Mattress Topper
Side sleepers in search of a soft mattress topper should definitely give this one a try. Its plush, pillow top design is perfect for those who need extra pressure relief at the shoulders and hips as they roll from side to side. 
Pros
The cotton that covers this topper has a luxuriously high thread count, making it softer, smoother, and more durable. 

Side sleepers are going to be most compatible with this topper, as it's overstuffed with down alternative for an extra plush feel. 

From Twin to California King, this topper is available in the full range of sizes.
Cons
While it's a pretty great value for its quality, this mattress topper is not going to be in everyone's target price range. 

This topper is very tightly packaged, and will need several hours to restore its true loft.
Coonp King Mattress Topper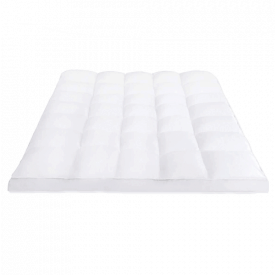 Coonp King Mattress Topper
The Coonp King Mattress Topper has a luxurious cotton cover and is great for side sleepers.
Most Affordable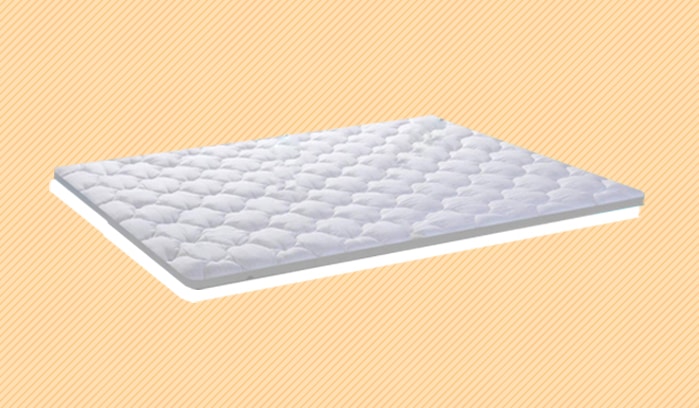 Leisure Town Cooling Mattress Topper
If you're looking for a plush mattress topper that won't break the bank, this might be the perfect fit for you. It's covered in 100% cotton, filled with down alternative, and very reasonably priced for folks on a budget. 
Pros
This topper is surprisingly affordable considering its high thread count cotton cover and down alternative fill. 

It has a low profile and a soft, compressible fill, making it perfect for those who do not want to add a considerable amount of depth to their mattress. 

This topper is compatible with mattresses of all sizes, from Twin to California King. 
Cons
This topper is soft and thin, which obviously is not ideal for those in search of something thick and firm. 

Be sure to fluff this topper and give it a few hours to breathe before putting it on your mattress, as it does come tightly sealed in its original packaging.
Leisure Town Cooling Mattress Topper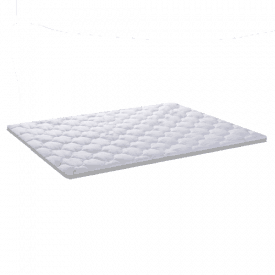 Leisure Town Cooling Mattress Topper
The Leisure Town Cooling Mattress Topper has a low profile and comes in at an affordable price.
How We Picked
Now that you've taken a close look at my favorite plush mattress toppers, let's discuss the methodology behind my decisions. While topper shopping has a lot to do with personal preference, there are several factors to keep in mind when choosing the perfect one.
Materials
The first thing to focus on is what, exactly, the mattress topper is made of. You're going to want to pick the materials that provide the best pressure relief, and complement the firmness of your existing mattress. Remember — a mattress topper is not the same as a mattress pad, and its materials and construction can dramatically affect the way your mattress feels.
For example, if you sleep on a mattress that's too firm, a plush foam topper with a soft firmness rating might be perfect for you. Meanwhile, sleepers looking to add a little buoyant support to their bed might want to opt for a latex topper instead. To help you in your search for the right materials, allow me to provide some information on the types of toppers you're most likely to encounter:
Down & Down Alternative: Toppers filled with down or down alternatives are generally the softest, most plush toppers on the market. Not to mention, down alternative toppers are usually the only toppers that are machine washable! If you're looking for an extra fluffy, plush feel, this might be the best option for you.
Latex Mattress Topper: Latex toppers typically offer a bouncy feel with a quick response to pressure. Compared to most foam toppers, they are softer and lighter in weight. Additionally, latex is a natural, sustainable material, which might make it a particularly good pick for eco-friendly sleepers.
Memory Foam Topper: Memory foam toppers tend to offer a much slower response to pressure, and let your body deeply sink into the material. They're often thicker in density, heavier in weight, and firmer in feel.
Foam Topper: Some foam toppers are not made from memory foam, specifically, and can vary in firmness quite a bit. For example, some brands use a proprietary foam that's crafted to offer a super plush feel, while others make their foam toppers extra firm. That's why it's very important to pay attention to the material details as listed by the retailer itself.
All that said, keep in mind that every topper has a different feel, and it's very important to pay attention to the firmness rating of each one. So, let's take a look at that factor next!
Firmness
Latex toppers are usually softer than memory foam toppers, but that's not always the case! In order to really get the best sense of a topper's firmness (without personally testing it first), you're going to want to check the "firmness rating" as listed on the brand's website. Typically, every mattress topper is categorized as soft, medium, or firm, but you might find some listed in mid-range categories like "soft-medium" or "medium-firm."
As I said earlier, you should pick the firmness that will best complement the feel of the mattress you already have. For example, sleepers looking to soften a mattress that's too firm should try a plush topper with a soft firmness rating. On the other hand, buying a firm topper can be a great way to rejuvenate the feel and support of a mattress that's a little too soft.
Just remember that a new mattress topper will not fix a mattress that's old, worn out, or generally unsupportive. Instead, think of a mattress topper as a way to enhance the comfort of the bed that already supports you!
Depth
Once you've landed on the materials and firmness that best suit your bed and body, it's time to focus on depth (thickness). Most mattress toppers are anywhere from 1-4 inches thick, but you might occasionally find extra-deep toppers that are 5-inches thick or more. So, take some time to determine how much depth you're looking to add to your mattress, keeping in mind that thicker toppers typically provide more pressure relief.
In my experience, thicker toppers ranging from 3-4 inches deep are often more compatible with heavier sleepers, or side sleepers looking to relieve pressure at the shoulders and hips. Conversely, petite sleepers or those looking to add just a small comfort layer to their mattress are probably better off with a 1 or 2-inch topper. Just remember that adding a topper will affect the depth of your mattress, so you're going to want to make sure that you have a sheet set that can accommodate your new bedding setup.
Cover Fabric
Mattress toppers go directly beneath your fitted sheet, which means you'll never feel them directly on your skin. That's why many toppers do not come with cover fabrics! In fact, you'll probably find that mattress toppers that don't have cover fabrics are considerably more affordable than those that do.
That said, there are a few key advantages that can come with a cover fabric. Firstly, they often have corner straps that can be attached to your mattress in order to prevent it from shifting around while you snooze. Secondly, they provide a layer of protection for your topper, which can help keep it clean and free from allergens. And finally, many cover fabrics are crafted with special cooling materials that serve to regulate your body temperature throughout the night.
Personally, I like my mattress topper to have a cover fabric, especially if it's cooling. But, ultimately, deciding on a cover fabric is all about personal preference, so take some time to consider your options.
Wash Care
As you might have guessed, mattress toppers are simply too large to just throw in a washing machine. Furthermore, many mattress toppers are made from materials that can be damaged if you get them too wet. So, how are you supposed to care for these big sleep accessories?
Well, it's actually not as tough as you might think. Spot-cleaning your topper with a damp cloth and mild detergent about twice a month is a great way to prevent bacterial buildup, and keep it feeling fresh and clean. Just remember to not soak the materials, and be sure to let it dry completely before putting it back on your bed.
Another thing to consider is that down-alternative mattress toppers are often machine washable and dryable, as long as you have machines big enough to accommodate them. So, if easy wash care is a priority, you might want to aim for down-alternative toppers, specifically.
Finally, mattress toppers with cover fabrics are often more resistant to wear and tear, as they have that extra layer of protection from the elements. The cover fabrics are usually removable and machine washable, which can help you cut down on the amount of spot-cleaning you need to do every month. But, regardless of the type of topper you choose, be sure to follow the exact care instructions as listed by the manufacturer in order to protect your bedding investment!
Price
Mattress toppers vary in price quite a bit, with most options ranging from $80-$200. Shoppers can find mattress toppers that are less expensive but, ultimately, quality costs. For example, the more durable and thick a topper is, the more expensive it's likely to be. Additionally, mattress toppers that feature cover fabrics or special cooling properties are probably going to be more expensive than those that don't.
To ease the purchasing pressure, I suggest you aim for retailers that offer trial periods and/or warranties. A trial period gives you time to personally test your topper in order to really know whether or not it's worth the money. Similarly, a generous warranty inspires confidence that the bedding brand proudly stands by its product, and lets you know that its topper is built to last.
Sleepopolis Buying Tips
Before I wrap up this guide and you begin shopping, let's recap a few helpful tips that'll guide you in your search.
Sleeping Positions – If you're not sure which firmness to go with, consider which sleeping position you spend the most time in. Stomach sleepers typically need a firmer feel, side sleepers should go with something softer, and back sleepers can enjoy a medium firmness rating.
CertiPUR-US Certification – Sleepers with allergies or sensitive skin should look out for the CertiPUR-US certification. This seal guarantees that no toxic dyes, chemicals, flame retardants, or insecticides were used in the manufacturing of your mattress topper.
Cooling Features – If you're worried about your topper heating up while you sleep, I suggest picking one that has phase change material, copper, or graphite infused within the materials. These infusions can draw heat away from your body and help you sleep cool!
Final Thoughts
Now that you know all about topper shopping, and have seen my personal favorites, you're well on your way to picking the perfect one. Just be sure to pay close attention to materials, depth, firmness, and all the little details that appeal to your personal sleep needs. Happy shopping, everybody!
Sarah is the Senior Writer and bedding expert at Sleepopolis. Every week, she personally tests and reviews new pillows, sheet sets, and other sleep accessories. She accompanies every video review with a meticulously detailed article to ensure her audience has all the pertinent info they need for the best shopping experience possible. Perhaps that's why her fans have dubbed her "the most thorough pillow reviewer on the Internet." Having tested everything from sleep trackers to mattress toppers, Sarah's expertise runs deep and is always expanding. She received her degree in Creative Writing from Brooklyn College and spends her free time doing stand-up, making pasta, and hanging with her cats.