Humidifiers are helpful for keeping the air moist in your bedroom in the winter or if you live in a dry area. Sleeping in too-dry air can lead to dry skin, a scratchy throat, and even nosebleeds. But with so many options on the market, which one is the best humidifier for you?
Luckily for you, the Sleepopolis team has put together a list of the best humidifiers we have tested, as well as a buying guide to help you figure out which humidifier is right for you. Keep on reading to see our top picks!
Best Humidifiers Video
Best Humidifiers 2023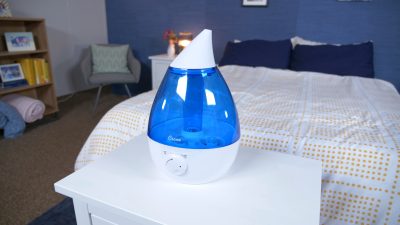 The Crane Drop Ultrasonic Cool Mist humidifier is a humidifier that works well for a variety of people. It is smaller in size, so it can easily fit in a variety of spaces, but still holds a gallon of water in its tank and can run for 24 hours and cover 500 square feet.
It features a 360-degree mist lid that lets you send the mist in any direction. It also has variable output settings, so you can choose how much mist you want.
This humidifier also has a simple cleaning process, which is important as humidifiers must be cleaned regularly. And it comes in a variety of fun colors, like blue, pink, green, and yellow.
Read our full Crane Drop Ultrasonic Cool Mist humidifier review to learn more.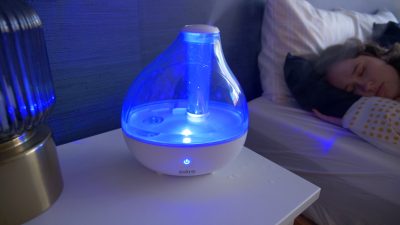 This humidifier from Pure Enrichment is a great budget buy, at under $50. It features a 1.7 liter tank and can cover rooms up to 245 square feet. When full, it can run for up to 25 hours straight.
It also has a 360-degree mist nozzle, allowing you to control what direction the mist flows in, and two settings, high and low, allowing you to control how much mist is coming out of the humidifier. It also has a nightlight feature that you can opt to have on or off.
It doesn't offer too many bells and whistles, but this humidifier does everything you need from a humidifier at an affordable price.
Read our full Pure Enrichment MistAire Ultrasonic Cool Mist humidifier review to learn more.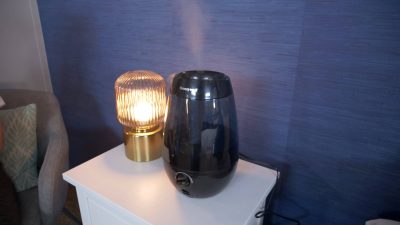 The Honeywell Filter-Free Cool Mist humidifier is one of our favorite humidifiers currently available on Amazon because it is a compact size, easy to use, and filter-free, as well as being available at an affordable price.
It is designed for medium-sized rooms, with a one-gallon tank, and can run for 24 hours when full. It also has a directional mist outlet and a large tank opening and handle to make filling up the tank easier — a big pro for shoppers who have mobility issues or difficulty holding things steady.
Plus, this humidifier is available in either black or white, making it a little more versatile for different room color schemes.
Read our full review of the Honeywell Filter-Free Cool Mist humidifier to learn more.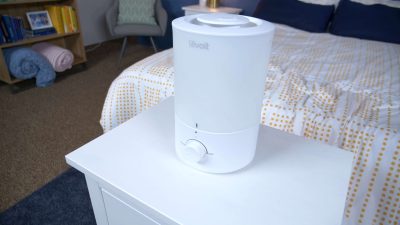 This little bitty humidifier from Levoit packs a lot of punch for its size. It is small enough to easily fit in even the tiniest of bedrooms, but still features a three-liter tank that, when full, can run for 25 hours.
Plus, it's basically a two-in-one product because it doubles as a diffuser. You can add essential oils to the base of this humidifier for a delightful scent or a little aromatherapy.
The Levoit Dual 150 Ultrasonic Cool Mist humidifier runs quietly and doesn't have any distracting light features — great news for sleepers easily disturbed by light and noise when sleeping. It features a 360-degree nozzle that lets you control the direction of the mist. Overall, this humidifier is effective, easy to use, and looks great.
Read our full Levoit Dual 150 Ultrasonic Cool Mist humidifier review to learn more.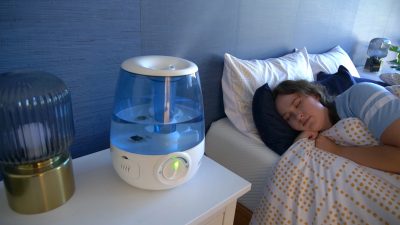 The Vicks Filter Free Cool mist humidifier is great for easy cleaning. As its name suggests, it does not use a filter, simplifying the cleaning and maintenance process. It's also simple to clean with vinegar to descale and with a bleach solution to disinfect. You can do both processes in less than an hour easily.
Additionally, this humidifier features a directional mist outlet that lets you control where the mist is aimed and a scent pad door, where you can add Vicks VapoPads for soothing menthol vapors mixed in the mist.
Check out our full Vicks Filter Free Cool Mist humidifier review for more information.
What to Consider When Buying the Best Humidifier
As with any product, there are many factors to consider when selecting the best humidifier for you. Here are some of the factors we consider most important.
How Much Does A Humidifier Cost?
Humidifiers are a product with a wide price range. You can easily find a humidifier for as low as $20, but there are also some that cost hundreds of dollars. There are good options in every price range, but keep in mind the cheapest options might be lacking some useful features and the most expensive options might do more than you need.
For a humidifier that is effective, easy-to-use, and has useful features, expect to pay around $40 to $80.
Ease of Use
Everyone has different standards when it comes to what is "easy," so it's important to get a full picture of how to use a humidifier before purchasing — especially the difficulty of the required maintenance.
Some things to consider include:
How you will fill up the humidifier.

Is it top-fill? Do you need to pour water in with a cup or pitcher, or can you fill the tank in the sink? Is the opening of the tank wide or narrow?

Turning the humidifier on and off.

Is the functionality of how to turn the humidifier on and off, or to change between settings, intuitive to you? Can you create your own settings?

Routine maintenance.

How do you clean the humidifier? Are any parts dishwasher-safe? Do you need to replace a filter or other accessory component? Is the level of maintenance required something you are willing to commit to?
Additional Humidifier Features
Many humidifiers, including the ones on this list, have additional features beyond the basics of simply humidifying. Here are some common features you may want to consider whether you want or not:
Nightlights.

Many humidifiers have a nightlight feature — some are automatic, some can be turned on and off. If you are easily bothered by light, you should check if there is a nightlight and whether it can be turned off.

Doubling as a diffuser.

Some humidifiers also function as essential oil diffusers. If you want the capability of adding essential oils for scent or aromatherapy, ensure your humidifier is designed for this use.

Directional mist outlets.

Many humidifiers allow you to control the direction the mist flows with a directional mist outlet, but not all do.
Humidifier Size
Most humidifiers are designed to be used in a room of a certain size. Some manufacturers will detail the square footage a humidifier can cover, while others will just indicate whether it is for use in "small," "medium," or "large" rooms. It is possible to over-humidify your bedroom, so it's a good idea to pick a humidifier designed for your room size.
Additionally, the physical size of the humidifier is important. If you have limited space in your bedroom, you may want to opt for a smaller humidifier that won't take up as much space.
Type of Humidifier
There are three main types of humidifiers to know about when shopping for your own: warm mist, evaporative, and ultrasonic.
Warm mist humidifiers

produce steam by boiling the water, changing it from a liquid to a gas. This allows the warm mist to permeate the air and increase the humidity. Warm mist can work more quickly to humidify the room, can warm up your room, and has the added bonus of the water boiling — and thus purifying — before it is emitted. However, they could pose a safety concern for children and pets.

Evaporative humidifiers

emit cool mist, working by speeding up the process of natural evaporation. They use a fan to blow air through a damp filter, which causes the water to evaporate into water vapor. That water vapor is then blown or otherwise emitted into the room to increase the humidity level.

Ultrasonic humidifiers

also use cool mist. They use high-frequency sound vibrations or a nebulizer to break the water into droplets, which are then propelled into the air by a fan or other mechanism. These humidifiers generally do not require a filter.
Final Thoughts
Hopefully you are well on your way to finding the best humidifier for you. If you want to learn more about humidifiers, check out our guide on how humidifiers work or take a look at the other humidifiers we have reviewed here at Sleepopolis. While it may require some research to find your ideal humidifier, it will be well worth the effort to get the right one.