If you're on the hunt for a new comforter but not sure where to start, you've come to the right place. In this review, we rounded up our top five favorite comforters (all of which we've personally tested) to help guide you in your search. So keep reading to learn all about these bedding essentials, and get some insight into our own tips and tricks for picking the perfect comforter!
Best Comforters 2023
Best Comforters Video
Expert Opinion
We chose the Brooklinen Down Alternative Comforter for its high-quality material and reasonable price. This comforter has a fluffy and cozy feel and is made with a 100 percent cotton sateen shell and recycled plastic down-alternative fill. The filling stays evenly distributed throughout the comforter thanks to its baffle box stitching.
This comforter comes in three different weights: lightweight, all-season, and ultra-warm, so you can pick whichever one feels best for you. The one you choose will likely depend on your lifestyle, temperature and climate. We tested the All-Season comforter and found it to be just thick enough to provide warmth but not stifling during the warmer months. It comes in one color, white, and features loops if you'd like to attach a duvet cover — although it can be used on its own, too.
Who the Brooklinen Down Alternative Comforter is Best for
People with allergies: Many people love the feeling of down but are allergic to its materials. This is a great alternative for anyone who wants the cozy feel of down without the allergens. It's filled with 100 percent hypoallergenic recycled PET microfiber.
Cruelty-free shoppers: No animals harmed here! This is a down-alternative comforter, so it's vegan.
Hot or cold sleepers: We recommend the Lightweight style to sleepers who run hot at night, and the Ultra-Warm style to those who get cold at night. This is a versatile comforter that covers a variety of sleepers' needs.
Who Should Avoid the Brooklinen Down Alternative Comforter
Down-Seekers: If authentic down is important to you, this may not be your top pick. The down-alternative material feels very similar to real down, but it's not the actual material.
Think the Brooklinen Down Alternative comforter could be a good option for you? Click here to get our best deal. Looking for more Brooklinen? Check out our Brooklinen sheets review or our Brooklinen weighted throw blanket review.
Expert Opinion
If you're an eco-conscious shopper, the Buffy Breeze Comforter may appeal to you. This comforter has a 300-thread count, sateen weave Tencel lyocell shell and Tencel lyocell filling. And Tencel is what makes this comforter so eco-friendly.
It's a semi-synthetic fabric made from eucalyptus wood. It's similar to viscose but made in a way that requires less energy and low-toxicity chemicals. Tencel lyocell can be recycled in a closed-loop process, which makes it a sustainable choice. This comforter is called "breezy" because Tencel is also a cool and breathable fabric, which can help regulate a sleeper's temperature. It also features corner loops if you choose to add a duvet cover.
Who the Buffy Breeze Comforter is Best for
Hot sleepers: The Buffy Breeze certainly lives up to its name. This airy and breathable comforter should keep hot sleepers cool throughout the night.
People with allergies: The eucalyptus used in this comforter has antimicrobial properties and can help keep unwanted allergens away.
Low-loft seekers: People seeking a simple and low-lofted comforter may appreciate the lightweight feel of the Buffy Breeze.
Who Should Avoid the Buffy Breeze Comforter
People who value easy cleaning: This comforter is dry clean only. If you're looking for a comforter that you can throw in the washing machine, this may not be the one for you.
Those who love a fluffy comforter: If your goal is to buy a super fluffy and cloud-like comforter, this probably won't satisfy your needs.
Sold on the Buffy Breeze? Get our best deal here. Or check out our full Buffy Breeze comforter review.
Expert Opinion
Down is a popular material for comforters because of its soft, fluffy, and insulating nature. This comforter is made with a 100 percent long-staple cotton cover, with a sateen weave, and filled with down, the soft and spineless feathers of the underbelly of geese. Riley follows the Responsible Down Standard, so this down is both ethically sourced and high-quality.
The White Goose Down comforter comes in two variations: all-season and extra-warm. The all-season is 700 fill power and the extra warm is 750 fill power, so you can choose whichever is right for you. The filling is distributed evenly using baffle box stitching to prevent lumps. You can also attach a duvet cover to the loops or use it alone.
Who the Riley White Goose Down Comforter is Best for
Cool sleepers: Down is naturally insulating, which should make for a toasty slumber for sleepers who run cool at night.
People seeking a "cloud-like" feel: This comforter is light and fluffy, making it the "cloud-like" feel that many sleepers desire.
Ethical shoppers: The Responsible Down Standard ensures that the geese the down are sourced from are treated ethically and humanely.
Who Should Avoid the Riley White Goose Down Comforter
Hot sleepers: Because this comforter has insulating qualities, it may be too warm for some hot sleepers.
Want to round out your down bedding? Check out our best down pillows or our best down mattress toppers.
Expert Opinion
Most of us are familiar with the Swedish furniture store, Ikea — particularly those of us furnishing our homes on a budget. Their FJÄLLARNIKA comforter is a great choice for budget shoppers seeking a quality product at a reasonable price. This Ikea best-seller is made from 90 percent duck feathers and 10 percent duck down with a 100 percent cotton cover. With its all-natural materials, we found this comforter to be impressively fluffy and warm. Its baffle box stitching ensures that the fill is evenly distributed and prevents lumping, and it's even machine washable.
Who the Ikea FJÄLLARNIKA is Best for
Feather and down lovers: This comforter has the traditional feel of a feather and down mattress and could be great for those who prefer this feel.
Cool sleepers: If you tend to get cold at night, this comforter can help keep you warm all night long.
Quick cleaners: This comforter is machine washable — no trip to the dry cleaners required!.
Who Should Avoid the Ikea FJÄLLARNIKA
Hot sleepers: The materials in this comforter are fairly insulating, so hot sleepers may feel like they're overheating.
Be sure to check out our IKEA mattress reviews, too!
Expert Opinion
If you're looking for a pop of color on your bed, look no further. While the other comforters in this roundup are white, the Linenspa Reversible Microfiber Comforter comes in a variety of color options. Some comforters require a duvet cover if you want color, but this comforter is already covered in cool patterns and colors.
This is a down-alternative comforter, so it has a similar feel to down but does not come from animals. The shell is a soft and smooth microfiber shell made from 100 percent polyester and the comforter is filled with polyester as well. As it says in the name, the Linenspa Reversible Microfiber Comforter is reversible, so you can change the look of your bed easily.
Who the Linenspa Reversible Microfiber Comforter is Best for
Budget shoppers: This comforter is really affordable. Many budget shoppers should find this comforter to be within their budget.
Cruelty-free shoppers: Because no real down is used in this comforter, there is no doubt it's free from animal products.
Creatives: If you consider yourself to be a creative person, you may have fun adding a pop of color to your bed and playing around with the two sides.
Who Should Avoid the Linenspa Reversible Microfiber Comforter
People seeking a "cloud-like" feel: If you're looking for a super high-lofted and fluffy comforter, you may want to consider a real down comforter.
Think this could be the best comforter for you? Click here to get our best deal. You can also check out our reviews of the Linenspa Hybrid mattress or Linenspa 3-inch Gel Infused Memory Foam mattress topper.
How Do I Pick The Right Comforter?
Finding the right comforter is all about matching materials to your own unique sleep needs. Some comforters are crafted to keep you warm, while others are cool and breathable. Some are light and feathery, while others are thick and cushiony. With so many options available, it can be tough to know which comforter is right for you. Of course, a lot comes down to personal preference, but there are some key factors to keep in mind while you shop.
Style: Comforters come in a variety of styles, many of which feature printed patterns or bright colors. In fact, comforters can often be purchased as part of a "bed-in-a-bag" ensemble wherein matching pillowcases and sheets are included. If you're looking to break away from plain white bedding, take some time to decide what you want your comforter to look like. This will narrow your search, as some brands only offer comforters in solid white.
Cover Fabric: When it comes to temperature regulation, your comforter's cover fabric plays a major role. Sleepers who run cold should aim for insulating fabrics like fleece, flannel, microfiber, or cotton sateen. Meanwhile, those looking to sleep cool are better suited to breathable materials like Tencel, cotton percale, or anything bamboo-based. Additionally, those with sensitive skin or allergies might want to prioritize fabrics that are hypoallergenic and OEKO-Tex certified.
Internal Fill: One of the most important things to pay attention to is the comforter's internal fill. From polyester to natural down, comforters can be stuffed with many different materials and it's best to research the one you're looking at before you make your purchase. Perhaps the most popular comforters (and the majority in this roundup) are filled with either real down or down-alternative. And while they sound similar, these materials differ quite a bit in feel and price (much more on this later!)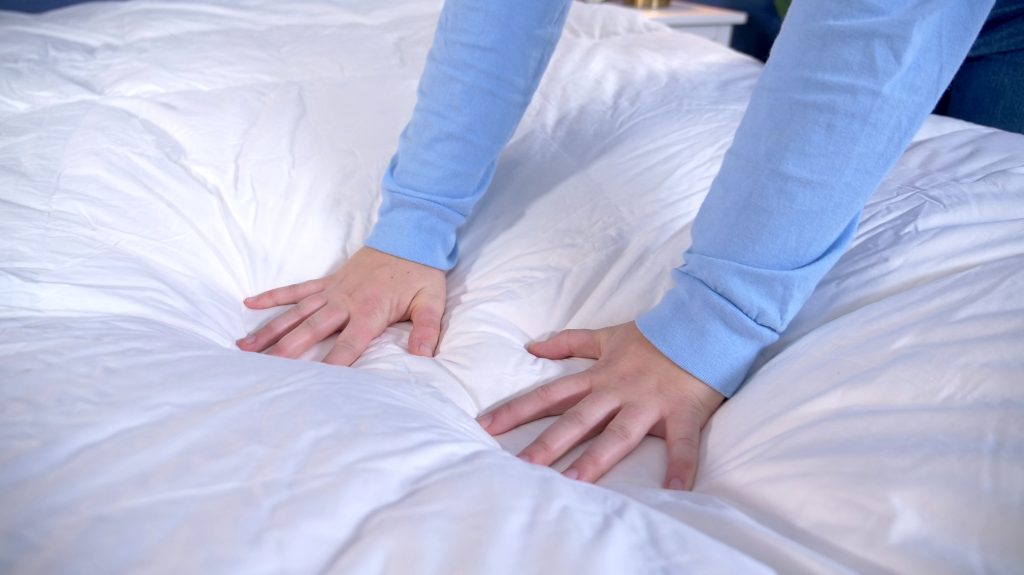 Fill Power: If you're shopping specifically for a real down comforter, pay attention to the term "fill power." Fill power is used to measure the loft of a down product and goes a long way in determining how fluffy and warm it will be. Fill power typically ranges from 300-900, and if you're in the market for a lofty, insulating comforter, we suggest a fill power of 600 or higher.
Price: The price of a comforter depends upon the materials used to make it. Keep in mind that real down tends to be more expensive than down-alternative, and cost can fluctuate according to the popularity of the bedding brand itself. That said, we suggest you always take note of trial periods and return policies, as these things can ease the purchasing pressure a bit. Not to mention, a generous trial/return policy inspires confidence in the consumer and lets you know that the company proudly stands by its product.
Pro Tips
Down vs Down Alternative: Sleepers are generally looking for a comforter that's fluffy and cozy, which is why most comforters are filled with either real down or down-alternative. Both have a plush and comfy feel, but real down tends to feel fluffier than an alternative. Take some time to determine which material might be best for you, and keep in mind that real down is warmer and more insulating (and usually more expensive).
Wash Care: Wash care varies from product to product and totally depends upon the materials used to make it. If we were you, we'd check the exact care instructions before making your purchase. It would be a shame to buy a new comforter only to find out that it requires more maintenance than you're willing to give.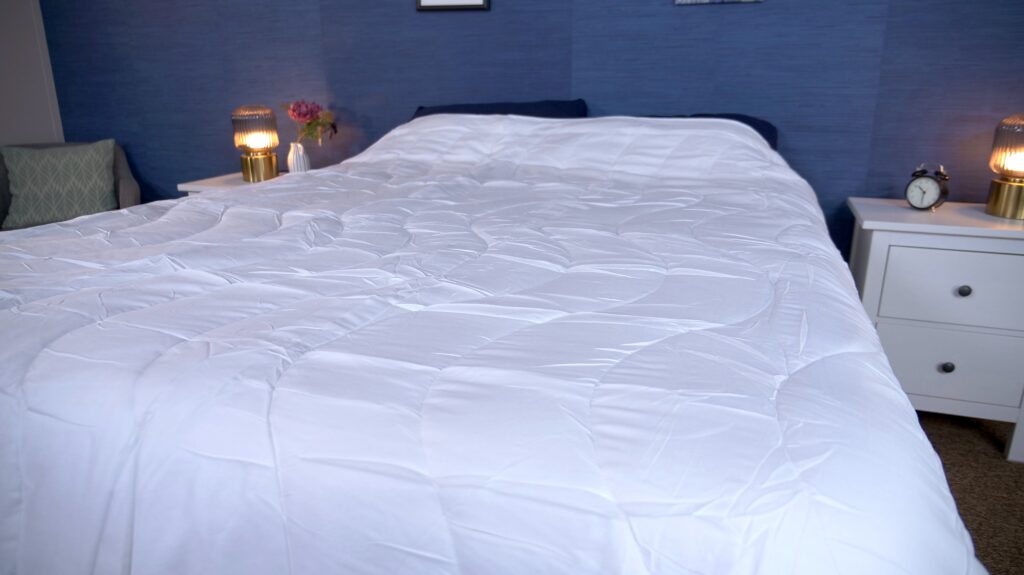 Compare Prices: To make sure you're getting the absolute best bang for your buck, be sure to compare prices across bedding brands. But keep in mind that higher quality materials tend to come at a higher cost, so if you happen upon a down comforter that costs less than $100, make sure that it's filled with real down. Advertising can be a bit misleading and it's important to read through the "materials description" to ensure you're getting what you want.
FAQs
What is a comforter?

A comforter is basically a thick blanket that covers your entire bed and keeps you warm at night. It typically goes on top of your flat sheet and can be layered with other blankets as well.
What is the difference between a comforter and a duvet?

Comforters and duvets have a lot of similarities, but there are some key differences that set them a part. The main difference is a comforter can be used by itself and a duvet usually acts as an insert and requires a cover. However, some duvets can stand alone, too. To learn more about the differences and similarities, check out our duvet vs comforter article.
How is a comforter different than a blanket?

A blanket usually consists of just one layer of material. A comforter can be made of multiple layers and typically has some sort of fluffy filling, such as down, cotton, and polyester.