There's no way around it — people have a love-hate relationship with IKEA. Whether it's to get overwhelmingly lost in their mazes of dream living rooms or kitchen set-ups, to buy little home gadgets you never thought you would need in the $5 bin, or to enjoy some Swedish meatballs, I've never seen someone so excited — and stressed — to shop for their home than when it's at IKEA.
If you're searching for a new mattress from IKEA, we're here to help. Skip all the meandering and continue reading.

One of the more popular products IKEA sells is its mattresses and beds. According to a nation-wide survey, IKEA ranks 4th in sales out of all furniture and bedding retailers, trailing behind big names like Mattress Firm and Walmart. That's not too bad, considering there are only 45 IKEAs in all of the United States.
Their beds and mattresses are especially popular among college kids, who need something to sleep on without spending a lot of money. In fact, their MALM bed frame, a low, minimal bed frame is their third most popular item sold.
In general, IKEA's approach is a bit different than many of the newer online mattress companies. With 16 different mattresses making up its line and stores disbursed throughout the United States, IKEA places less focus on online sales and more on its in-store experience. Although consumers are able to purchase their mattresses online, there are so many mattresses to choose from, making the online experience tricky. (Plus, those meatballs…). That said, we're here to make the online shopping experience easier, so you have a better idea of what mattress could be a fit for you right from home. 
While mattresses may be one product among thousands on their product line, the company's presence in the mattress industry is not something to ignore. In this IKEA mattress review guide, we'll be analyzing and breaking down IKEA's entire mattress line at a high level so you can have more knowledge on each bedding option before going online or heading to a store yourself.
Here's What's In This Article
IKEA MATTRESS COMPARISON
The following tables show comparisons between the foam, spring, and latex mattresses. Each table highlights the major functional components of each IKEA mattress.
WHICH IS THE BEST IKEA FOAM MATTRESS FOR YOU?
FOAM MATTRESSES
IKEA foam beds include both memory and polyurethane foam. Memory foam is known for its deep compression support, pressure relief, and body-contouring properties, while polyurethane foam includes a combination of regular grade, high density, and high resiliency foam for a supportive and firm feel. Check out my picks for the best memory foam mattress! 

| Model | Foam Type | Height (Thickness) | Layers | Firmness Level | Price (Q) |
| --- | --- | --- | --- | --- | --- |
| Minnesund | Polyurethane foam | 3 7/8 " | Poly foam (PCF of 1.7) | Firm | $189.00 |
| Meistervik | Polyurethane foam | 4 3/4 " | Poly foam (PCF of 1.7) + Base poly foam (PCF of 1.7) | Firm | $229.00 |
| Morgedal | Polyurethane foam | 7 1/8 " | Poly foam (PCF of 2.2) + Base poly foam (PCF of 1.7) | Comes in Medium-Firm and Firm options | $299.00 |
| Matrand | Memory foam | 7 1/8 " | Memory foam (3.1 PCF) + Base poly foam (1.7 PCF) | Firm | $399.00 |
| Myrbacka | Memory foam | 9 1/2 " | Memory foam (3.1 PCF) + Poly foam (2.2 PCF) + Base poly foam (1.7 PCF) | Firm | $499.00 |
| Knapstad | Memory foam | 9 7/8 " | Memory foam (2.0PCF) + Poly foam (2.5 PCF) | Medium-Firm | $599.00 |
LATEX MATTRESSES
Latex mattresses are constructed by aerating a sap-like substance that creates air bubbles. The end result is firm, bouncy support and is also known for superior firmness and pressure relief. Foam latex is also environmentally friendly since the raw materials are natural and the production process can be extremely clean.
| Model | Foam Type | Height (Thickness) | Layers | Firmness Level | Price |
| --- | --- | --- | --- | --- | --- |
| Matrand | Latex | 7 1/8 " | Natural latex (85%) + Synthetic latex (15%) | Medium-Firm | $399.00 |
| Myrbacka | Latex | 9 1/2 " | Latex - Synthetic latex + Base poly foam (2.2 PCF) | Medium-Firm | $499.00 |
| Morgangåva | Latex | 7 7/8 " | Synthetic latex + Base poly foam (1.7 PCF) | Medium-Firm | $999.00 |
SPRING MATTRESSES
Spring mattresses consist of lots of metal coils suspended in the other materials of the mattress. They offer a lot of bounce and good temperature control, supporting the body by pushing back a similar amount of pressure that the body applies.
| Model | Type | Height (Thickness) | Layers | Firmness Level | Price (Q) |
| --- | --- | --- | --- | --- | --- |
| Hasvag | Coil spring | 8 1/4" | Poly foam (PCF of 1.7) + Bonell coil (375 in Queen size) + Edge support poly foam (PCF of 1.5) | Medium-Firm | $199.00 |
| Haugesund | Coil spring | 9 7/8" | Poly foam (PCF of 1.7) + Pocketed coil (594 in Queen size) +Base poly foam (PCF of 1.5) | Medium-Firm | $249.00 |
| Haugsvar | Coil spring | 11" | Poly foam (PCF of 1.8) + Poly foam (PCF of 1.7) + Pocketed coil (594 in Queen size) + Base poly foam (PCF of 1.5) | Medium-Firm | $399.00 |
| Hesstun | Coil spring | 12 5/8" | Poly foam (PCF of 1.8) + Poly foam (PCF of 1.7) + Mini pocketed springs (594 in Queen size) + Pocketed springs (594 in Queen size) + Base poly foam (PCF of 1.5) | Firm | $499.00 |
| Hjellestad | Coil spring | 15 3/8" | Memory foam (PCF of 3.1) + Poly foam (PCF of 1.5) + Poly foam (PCF of 1.7) + Mini pocketed springs (594 in Queen size) + Pocketed springs (594 in Queen size) + Base poly foam (PCF of 1.5) | Medium | $699.00 |
| Holmsbu | Coil spring | 17 3/4" | Memory foam (PCF of 3.1) +Mini pocketed springs (750 in Queen size) + Poly foam (PCF of 1.7) + Mini pocketed springs (594 in Queen size) + Pocketed springs (594 in Queen size) + Base poly foam (PCF of 1.5) | Medium-Firm | $799.00 |
| Husvika | Coil spring | 5 1/8" | Poly foam (PCF of 1.7) | Firm | $120.00 (Twin ONLY) |
FIRMNESS AND FEEL
If you are someone who loves soft mattresses, then IKEA is most likely not a good fit for you. According to online research, customer reviews, and other resources, a majority of IKEA mattress will fall into a medium-firmness level. Here's a breakdown of how firm your mattress will be based on a calculation of average, high-quality reviews found online (including a review from Sleepopolis!)
| Model | Type | Firmness Level (10=most firm) |
| --- | --- | --- |
| Minnesund | Foam | 7 (Firm) |
| Meistervik | Foam | 7 (Firm) |
| Morgedal | Foam | 7 (Firm) |
| Matrand | Foam + Latex | 7 (Firm) Foam, 6 (Medium-Firm) Latex |
| Myrbacka | Foam + Latex | 9 1/2 "7 (Firm) Foam, 6 (Medium-Firm) Latex |
| Knapstad | Foam | 6 (Medium-Firm) |
| Morgangåva | Latex | 6 (Medium-Firm) |
| Myrbacka | Latex | 6 (Medium-Firm) |
| Matrand | Latex | 6 (Medium-Firm) |
| Hasvag | Spring | 6 (Medium-Firm) |
| Haugesund | Spring | 6 (Medium-Firm) |
| Haugsvar | Spring | 6 (Medium-Firm) |
| Hesstun | Spring | 6 (Medium-Firm) |
| Hjellstad | Spring | 5 (Medium) |
| Holmsbu | Spring | 6 (Medium-Firm) |
| Husvika | Spring | 7 (Firm) |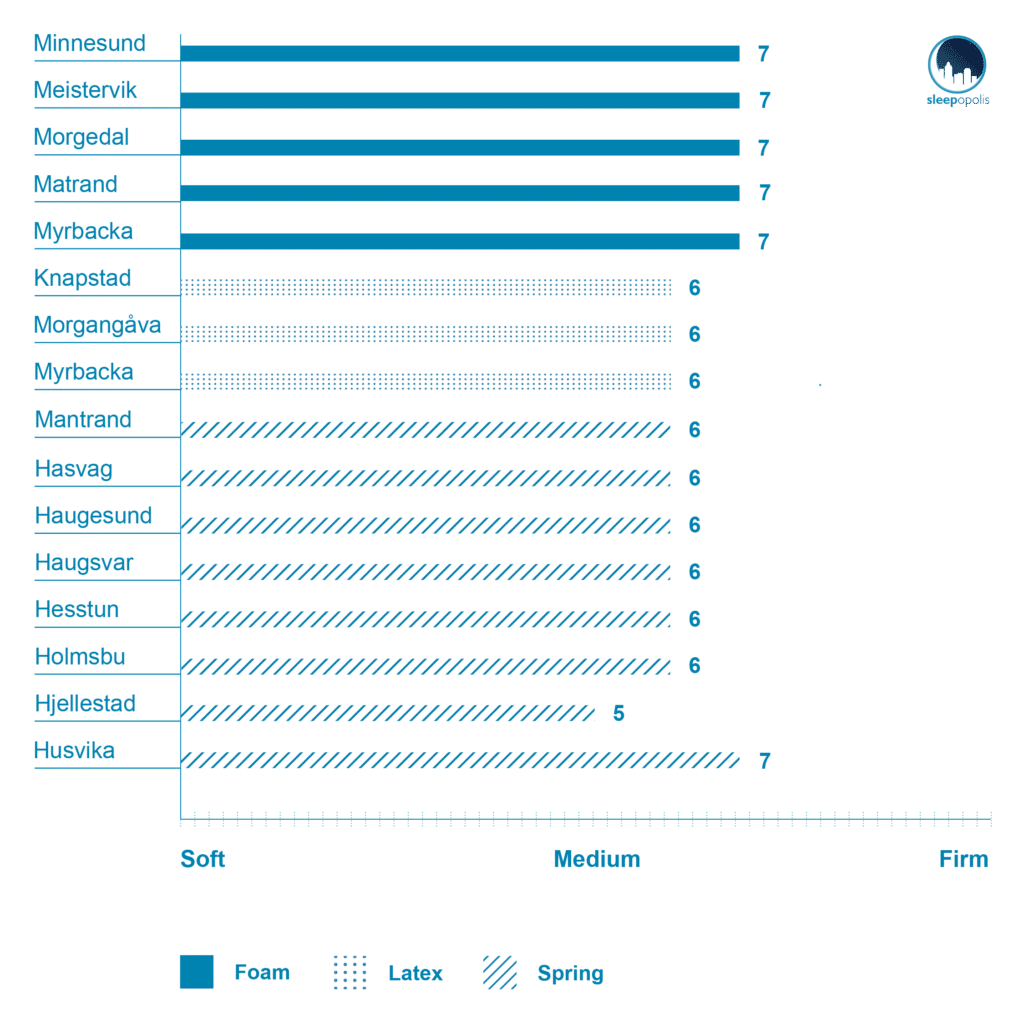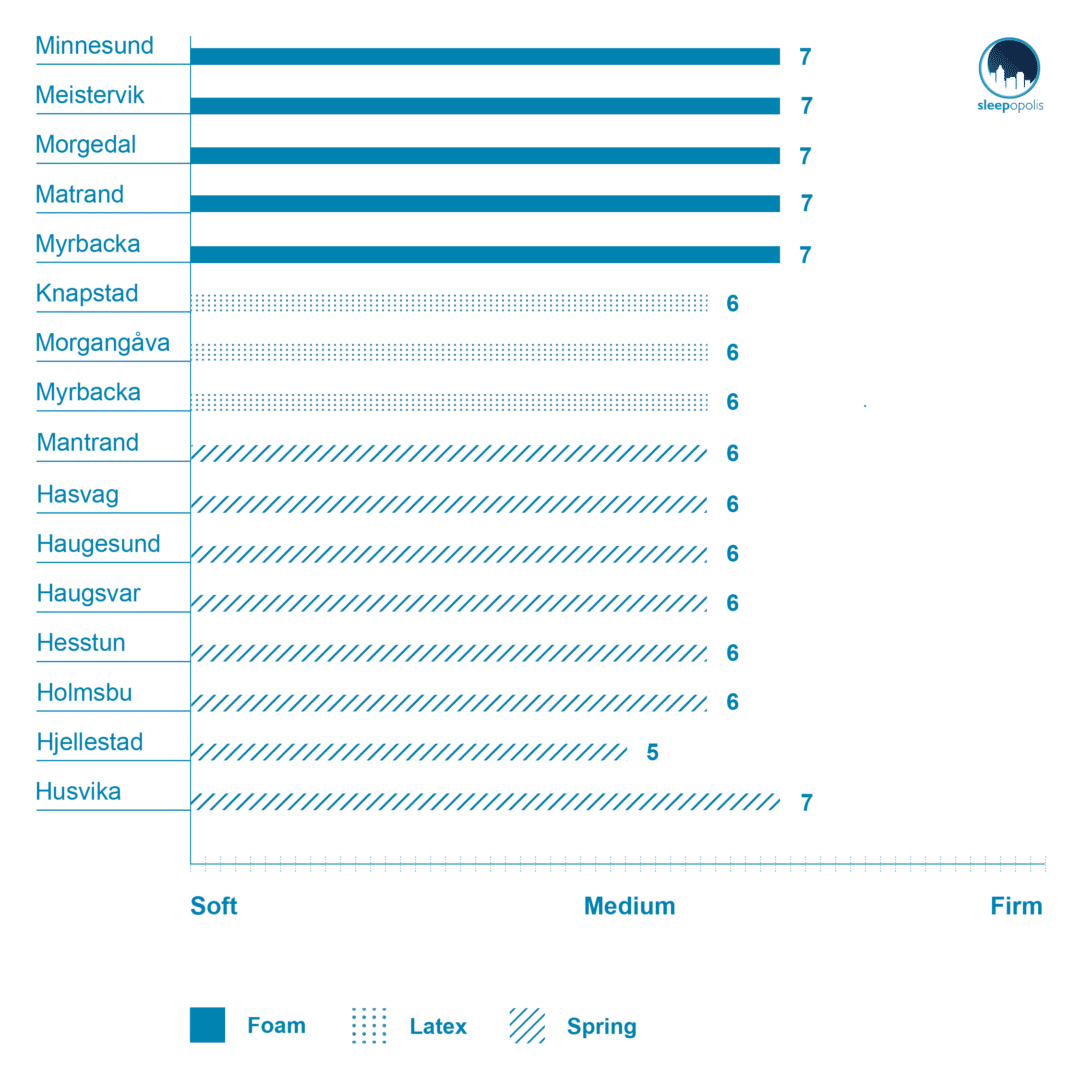 Even though IKEA doesn't provide a range of softness for their mattresses, luckily, most Americans prefer a medium-level mattress to support their side or back sleeping habits. However, you will be limited in the type of bed you can choose from since only the IKEA spring and latex options fall into the medium to medium-firm spectrum. Pretty much all the IKEA foam beds are noted as medium-firm or firm (customer reviews tend to agree!), so if you know you want something a bit softer, I would suggest trying a different type of foam mattress.
IKEA does not sell any mattress that I would describe as slightly soft, soft, or very soft. Their softest options are most likely the Hjellestad option, which is perhaps relatedly also on the pricier side of the spectrum.
That said, there are certain things you can do to soften your mattress up a bit, like adding a comfy mattress topper. However, the best option, in my opinion, is to test it out yourself, whether online or in a store. Luckily, IKEA offers a 365-day trial period with all of its mattresses, so you can buy one online for little-to-know risk. (Keep reading for all the trial-period details!) The difference between a 6/10 and 7/10 for firmness level is susceptible to subjectivity, and it really comes down to how your body feels on the bed. Having options to return or test beds is a great thing to take advantage of.

HELP: What mattress firmness do I need?
Another reason to test out the mattress in a store is answered in this smart review from a Sleepopolis writer and reviewer: "If you do have an opportunity to try the IKEA mattresses in-store, I would recommend doing so. Many of the mattresses labeled as medium-firm were much firmer than I expected them to be and were much firmer than most other medium-firm mattresses I have tested."
IKEA FOAM MATTRESS BREAKDOWN
The six foam mattresses from IKEA are all generally on the firm side. If you're a firm bed lover, then these could be a good fit for you, especially since they are, on average, lower priced than other typical poly and memory foam mattresses.
It's worth noting that these foam mattresses receive mixed reviews, so don't jump at a reasonably priced mattress before doing your research. We'll highlight common complaints and praises below.
But first, here are some of the subtle but important differences between each of the foam mattresses:
Minnesund
This mattress is the least expensive of the bunch, starting at $89 for a twin. The cover is removable and machine-wash friendly. The zipper is child-safe but there is no tab on the zipper. To open and close, insert a paper clip through the loop. The mattress comes roll packed and will take up to 72 hours to retain its shape. IKEA recommends a slatted bed base or a mattress base.
Meistervik
The Meistervik is similar to the Minnesund but comes in at a higher price point because it's about one-inch thinker. It's designed to give all-around support with what IKEA describes as a "resilient" mattress. Still, it's pretty thin, and many reviews said this bed, along with the Minnesund, are better for children than adults.

Morgedal
Now we're moving up a good three inches in height from the Meistervik. The Morgedal is 7 ⅛ inches thick and Includes comfort zones that target shoulders and hips to support pressure relief. The mattress cover is also removable and comes in two parts, so it's relatively easy to take off and air out. The top part of the mattress is also machine-washable.

Matrand
This mattress is the same thickness level as the Matrand, but it has a memory foam layer on top. This layer is engineered to mold to the contours of the body to relieve pressure and promote relaxation. Still, you can remove the mattress top and throw it in the washer for easy cleaning. After reading reviews, the general consensus is people thought this was a good price for a memory foam bed — this mattress starts at $299 for a Twin.

Myrbacka


The Myrbacka also has a layer of memory foam, but it is two inches thicker than the Matrand. The thick layer of memory foam is filled with lambswool filling for temperature regulation and a soft feel. Similar to the Morgedal, the Myrbacka was designed with comfort zones that target the shoulder and hips.
Knapstad
This is one of IKEA's newest beds. It features a thick layer of memory foam topped with a layer of gel that aims to mold to the body while providing a cooling support. The Knapstad is also designed to be durable on one side only, so there is no need to turn the bed throughout use.  
IKEA FOAM MATTRESS REVIEWS
People have a lot of opinions about each of these mattresses. We pulled the top, middle, and worst review from the IKEA website to provide insight into people's experience with these foam IKEA beds:
Top review: "We've slept so much better from night one, and our backs feel amazing (even though we are moving furniture and boxes or painting every single day). Bonus: I can barely feel my husband toss and turn at night when before he would always wake me up when he moved. So glad we read all the reviews from every possible company out there and saved ourselves $1500-3000!" (MYRBACKA Bed)
Good review: "My wife loves to side sleep. I prefer back. Very comfortable for me on my back. Slight tenderness in the lower back, but my spine is going to love me for helping align it! There was some heat reflected while on my back. Wife started off on her side and liked it. She was out like a light all night. Overall a good sleeping experience." (KNAPSTAD Bed)
Poor review: "This mattress is so thin I can feel the slats through it. My back hurts so much I'm going to buy a new mattress this weekend." (MINNESUND Bed)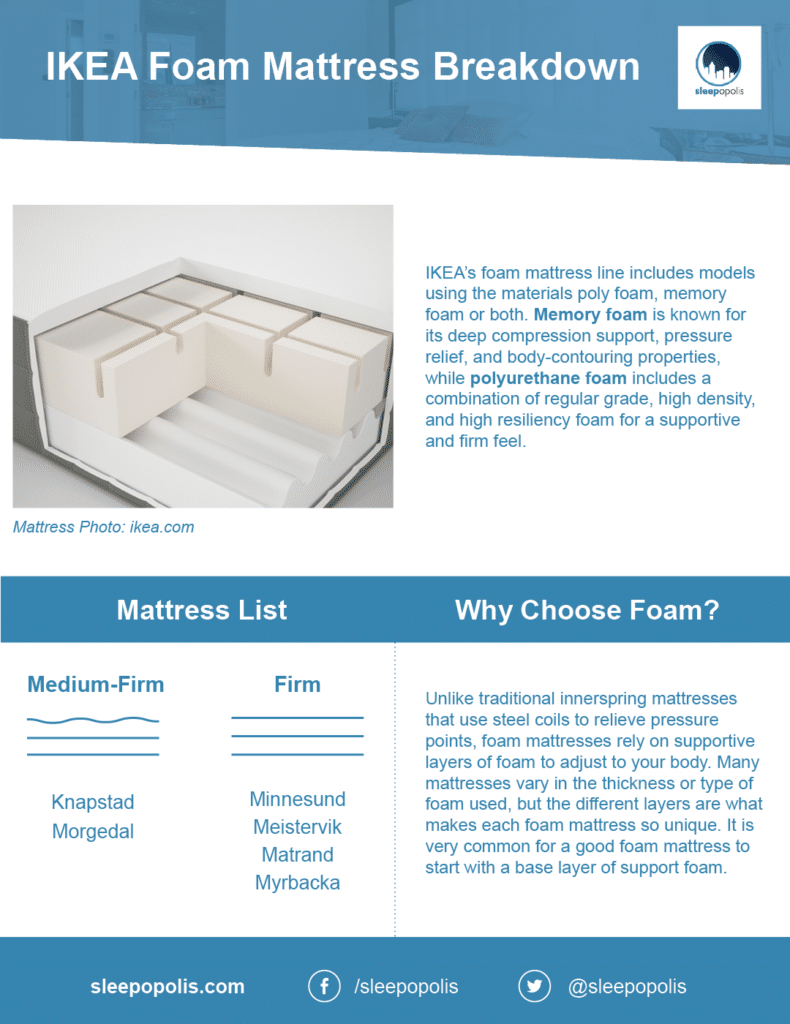 IKEA LATEX MATTRESS BREAKDOWN
All of the IKEA latex mattresses (there are only three!) will provide medium-firm support, be on the higher end of the thickness/height spectrum, and be moderately priced. The beds start at $399.00 for a Queen and go up to $1,000. Here are some of the main differences between the three mattresses:
Matrand
In general, IKEA claims their latex mattresses are "supple," and follow the body's contours and pressure points to provide ample relief. For the Matrand mattress, there are comfort zones for the shoulders and hips and a thick layer of latex on top for extra support. This bed is 7 ⅛ inches thick and starts at $299.00
Myrbacka
The next level up on the latex line is the Myrbacka, which is just shy of 10 inches thick. There are holes inside the mattress allow the air to circulate while promoting a dry and healthy sleep environment. Just like it's memory foam sibling, this latex Myrbacka has lambswool filling that is soft to the touch and helps keep you cool.
Morgongåva
The Morgongåva is the most expensive mattress IKEA offers on all of their lines. This mattress is made with natural materials that are designed to pull away moisture and provide a cool sleeping environment. This is not the thickest mattress — it comes in at just under eight inches thick — but it does seem to use the highest quality materials.
IKEA LATEX MATTRESS REVIEWS
And now for some of the most common reviews:
Top review: "Bought this mattress for one of our guest bedrooms. Has been used by seniors who often have a hard time sleeping/finding a mattress that works for them and they slept well for 2.5 weeks straight. All guests have said it's a great mattress and are surprised to find that it came from IKEA." (MYRBACKA Bed)
Good review: "This mattress is very good value for money, and quite good unlike most IKEA products, good design but too cheap. Little firmer would have earned it 5 stars from me."(MORGONGAVA Bed)
Poor review: "Unsupportive, I always wake up sore. My hips feel like they're pressing against cement… but, my kids spilled juice on it, so I'm stuck with being sore until I can afford a new one." (MATRAND Bed)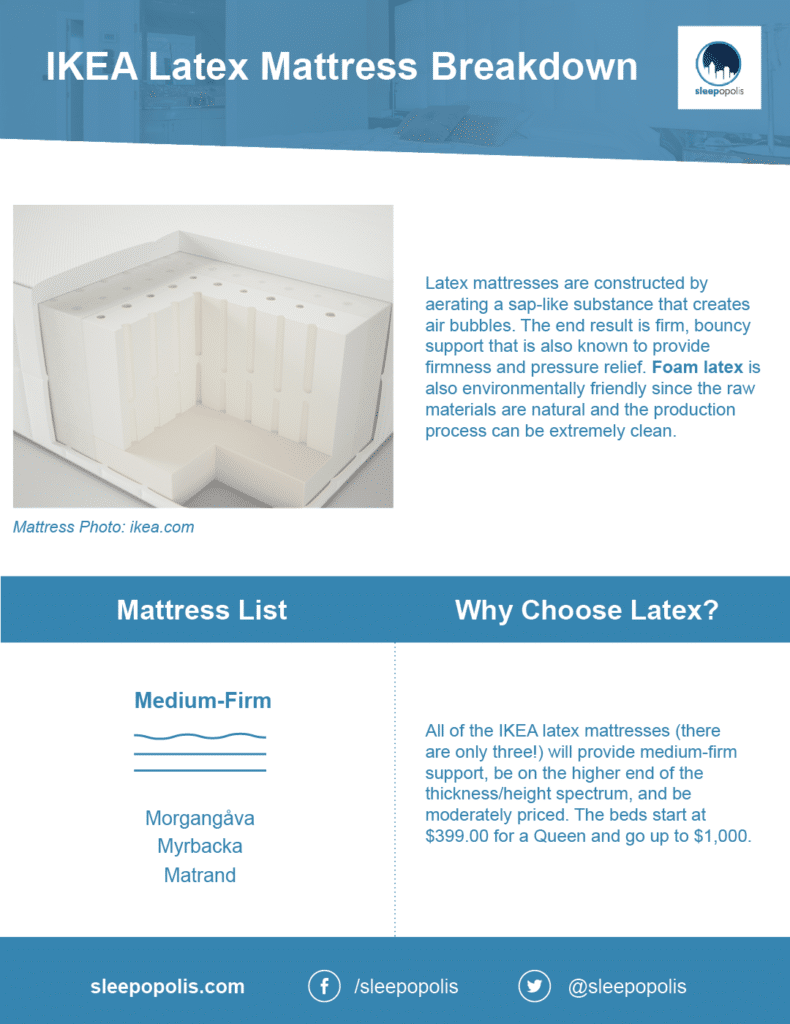 IKEA SPRING MATTRESS BREAKDOWN
Spring mattresses are known for offering great support by distributing body weight evenly. The open spring construction allows air to circulate as well, helping to keep you cool at night. The seven coil spring beds by IKEA are perhaps the most diverse line, offering beds that range from medium to firm support, and go from low to moderately-high price-points.
Here's a quick look at what differentiates these mattresses:
Husvika
This bed only comes in a Twin size and is made specifically for kids or to fit in a daybed.
Hasvåg
This is the most basic spring mattress offering from IKEA. The Twin starts at $129; the additional size offerings include Full and Queen. Still, it's a relatively thick mattress (for IKEA, at least), coming in an 8 ¼ inches. The stretch fabric on top of the mattress moves with you, which is supposed to help maximize comfort and support. Like the Knapstad, this bed is designed to only be used on one side.

Haugesund
The Haugesund bed has individually wrapped pocket springs that move independently are designed to follow your body's movements. Additionally, the Response coils are individually wrapped, which helps insulate movements so you have good motion control and don't disturb someone who is sharing your bed, whether a partner or a pup.
Haugsvar
This mattress is built similarly to the Haugesund but is almost two inches thicker. There is also a generous layer of high resilience foam on top of the mattress to help provide enhanced comfort. IKEA also claims that its high-resilience foam on top is great for pressure-relief and improves blood circulations to the muscles and skin to ultimate relaxation.
Hesstun
The Hesstun comes with all the features of the Haugsvar — and then some. It has double layers of individually wrapped pocket springs topped with a generous foam layer. The mini pocket springs inside the mattress are designed to contour to the natural curves of the body to create an enhanced comfort and a firm, yet supportive, sleep surface. A Twin starts at $399.
Hjellestad
This higher-end mattress has an integrated memory foam pillowtop that is engineered to mold to the body's curves and pressure points. The Hjellestad also includes double layers of pocket springs for precise support and is advertised as striking the perfect balance of plush support and firm comfort.
Holmsbu
The Holmsbu is the highest-quality IKEA spring mattress. It's also one of the thickest, coming in at 17 ¾ inches thick. The surface of this mattress is a cooling memory foam with a layer of mini pocket springs in addition to two layers of pocket springs — all of which are designed to support and cradle the body. This bed also seems to be the only one with an extra protective cover with handles on all sides, which makes it easier to carry and store. When the mattress is in place, you can simply unzip and remove the cover.
IKEA SPRING MATTRESS REVIEWS
Here are some candid comments and reviews from this line. Make sure to check IKEA's website and Amazon for the full spectrum of complaints and praises.
Top review: "My husband and I bought this mattress a few months back. It's very comfortable. Just the right amount of firmness for us. We bought the topper that goes with it, and that makes for an extra level of comfort. I'd buy this again in a heartbeat." (HAUGESUND Bed)
Good review: "This is top of the line for IKEA, but still really cheap by mattress standards. But you get what you pay for. It's just an average mattress." (HESSTUN Bed)
Poor review: "After a few months the mattress started to sag heavily. Essentially each of us is now sleeping in a pit. The consequences are severe back and neck pains and poor sleep. When you now lay down on the middle of the bed, you immediately roll to the left or right into one of those sagged pits in the mattress. While initially, the mattress came back up a bit during the day, the sagging is now permanent." (HOLMSBU Bed)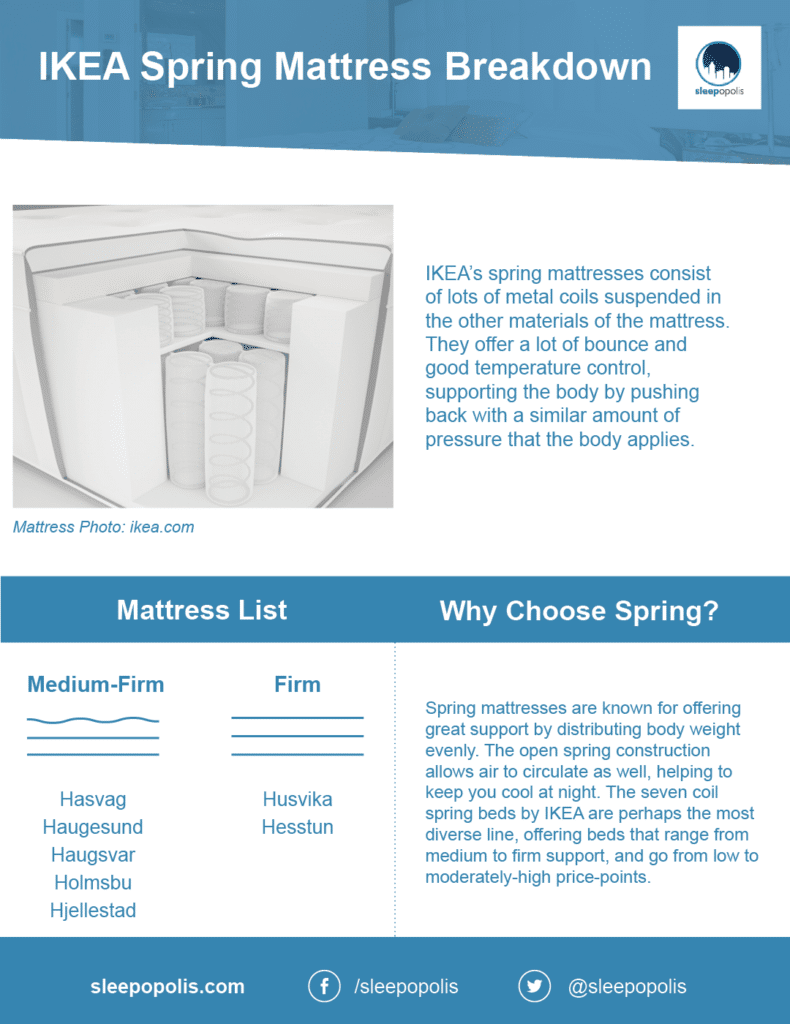 IKEA MATTRESS SIMILARITIES
IKEA carries a total of 16 different mattresses, including one new mattress introduced this year — the Knapstad. Each one of these mattresses is unique in its own way, but there are a number of similarities shared by the entire line. The differences of each mattress will be shown in the next section, but here, we are going to focus on the commonalities you'll find in all of the IKEA mattresses.

Designed and Built in Sweden:

Every IKEA mattress is designed and built at the IKEA factory in Sweden. (So yes, technically you can say you have a European bed!)

Warranty:

With every IKEA mattress comes a 25-year warranty. IKEA will cover "defects in materials and workmanship." Normal wear and tear is not covered by this warranty.

Trial Period:

IKEA offers a 365-day trial period with all of its mattresses. If you find that the mattress is not the right fit, IKEA has a "Love it or Exchange it" return policy. Within those 365 days, you may return your mattress one time for another mattress in the company's line.

The mattress must be clean and undamaged if you do decide to return it.

Refunds:

You can return your mattress, but you must have your original receipt and the card used to make the purchase. If you can't show proof of purchase,  you may choose to receive a 'merchandise credit' for the lowest-selling price of the mattress.

Shipping:

Shipping costs for IKEA mattresses purchased online or over the phone vary depending on the city and state where you're located. Their website states that delivery prices start at $29.

Recycling Program:

If you purchase a mattress from IKEA and have it delivered to your home, the company will recycle your old mattress for free.
OVERALL PROS AND CONS
It's near impossible to rate every single IKEA mattress since there are 16 to choose from. However, I did find general themes among the different foam, latex, and spring mattresses, so take note of these pros and cons if you're seriously considering going with IKEA:
Pros:

Affordability.

All IKEA beds are priced below market average, and the most expensive one still comes in below $1,000. This is why IKEA mattresses seem to be popular among college students who are working with a tight budget or need a temporary bed solution.

Convenient returns.

As long as you have your receipt, you can return your mattress hassle-free. (Though

getting

the IKEA mattress back to the store can certainly be a pain.)

365-night sleep trial.

IKEA's "Love it or Exchange it" return policy is a pretty good deal, allowing you to "risk-free" try a mattress and then exchange it for another one if you're not satisfied.

25-year warranty.

While normal wear-and-tear is not covered under this warranty, 25 years is a pretty nice amount of time to protect your purchase.
Cons:

Limited size options.

Most IKEA beds (minus the ones for kids) only come in four sizes: Twin, Full, Queen, And King. While these are usually the most common mattress sizes, you don't have as many options as other mattress brands that offer upwards of eight or nine sizes to choose from.



No options below 'Medium' firmness.

Like we mentioned above, all of these mattresses will be a medium level of firmness at a minimum. If you like super-soft beds, you are probably not going to enjoy an IKEA mattress.

Below-average durability.

Many customer reviews said that their bed would sag quite quickly or tear easily. Unfortunately, it looks like there might be a correlation between price and quality.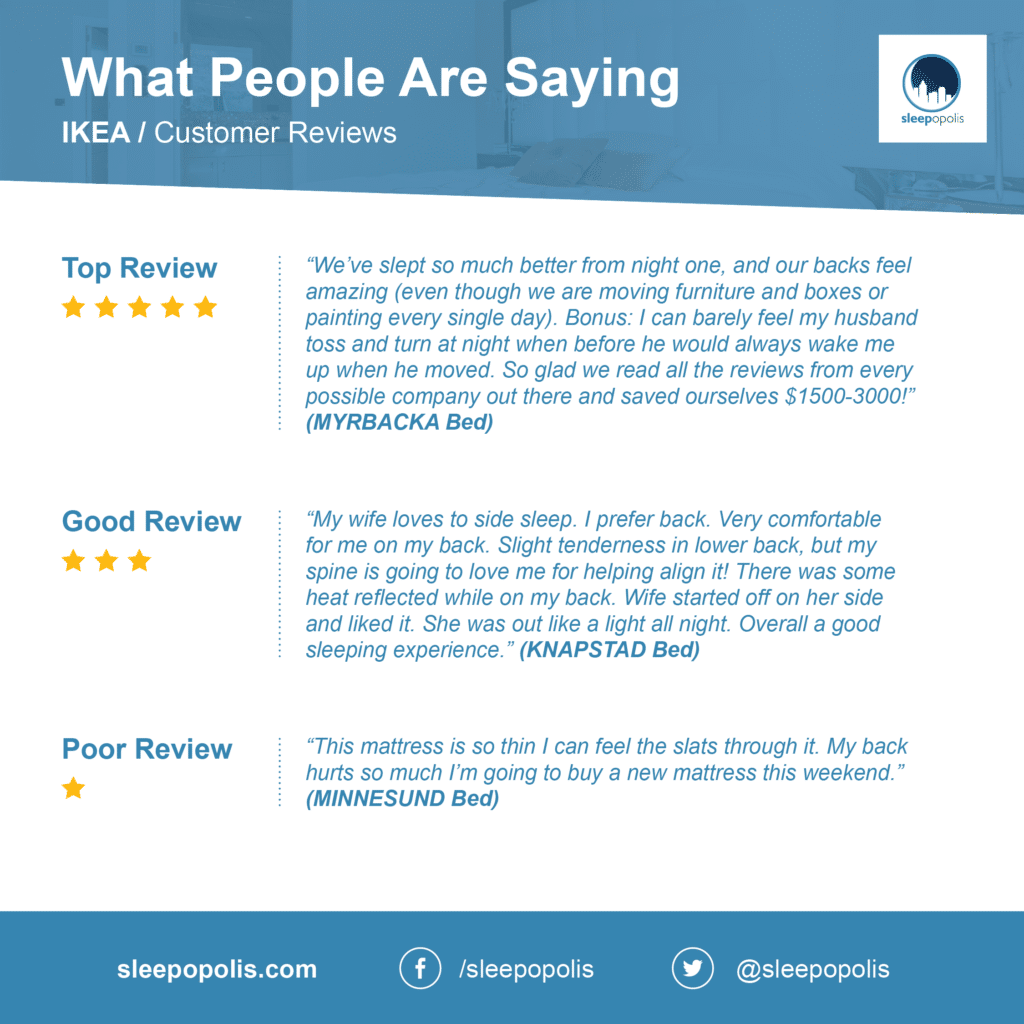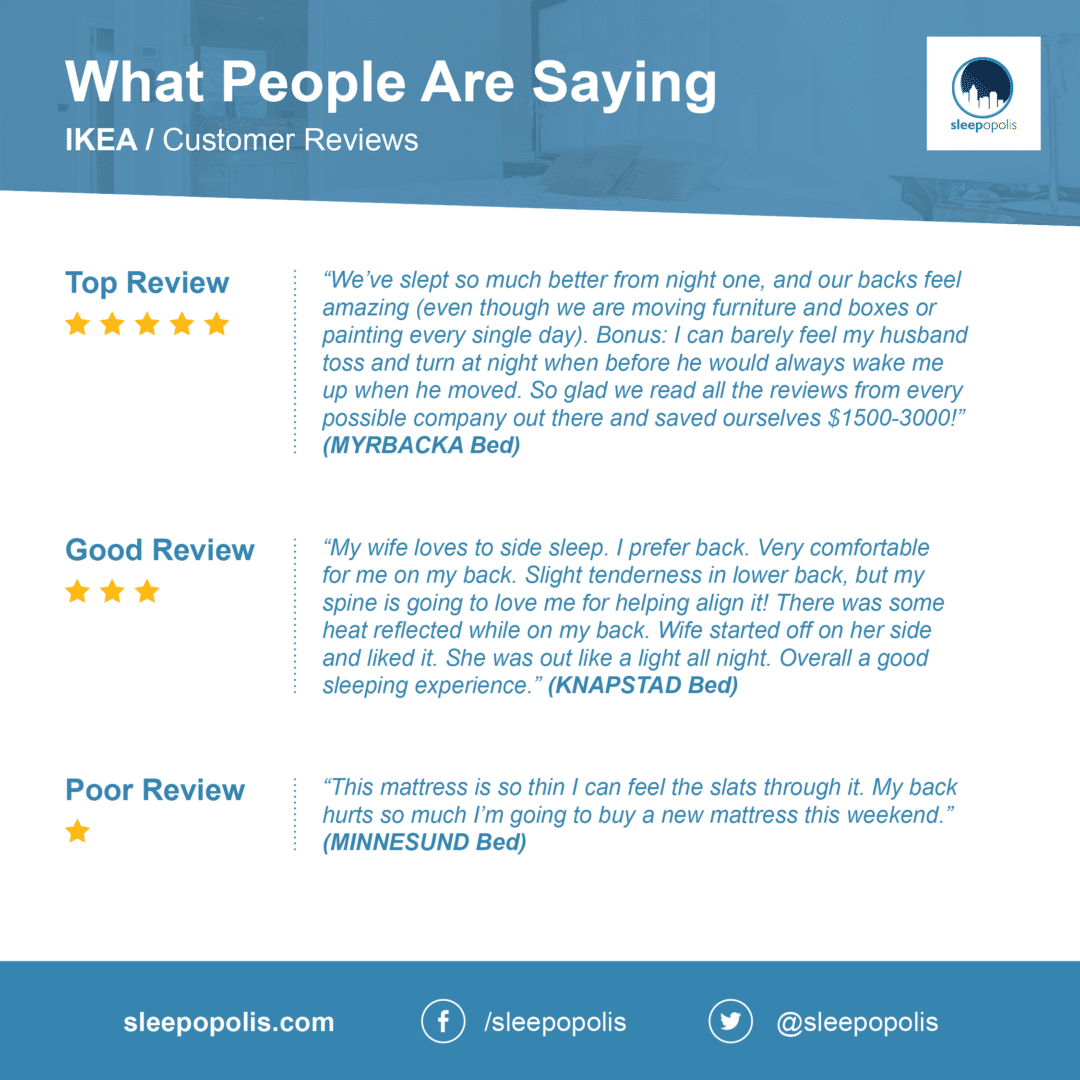 OTHER IKEA BEDDING PRODUCTS
When you purchase an IKEA mattress, you're getting just that — the mattress. While this is typical among bedding companies, IKEA luckily offers a handful of other bedding products to help build your bed. And just like the mattresses themselves, there are a lot of different products to choose from that come with a super fair price tag.
Bases
IKEA offers 18 different bed bases to choose from. These include slatted mattress bases, spring mattress bases, bases with legs, bases without 'em, and bases with secret storage spaces. Most of these bases fall under $200, with the only outlier being the new Godfjord base that is $539.
Pillow tops
Since IKEA mattresses are notoriously firm, it might be a good idea to invest in a pillow top. In fact, many reviewers said they purchased a pillow top to help add some plush softness to their supportive mattress. There are four different pillow tops to choose from, that range in price from $99 to $299.
Mattress and pillow protectors
If you want a mattress or pillow protector, you have eight to choose from — four mattress protectors and four pillow protectors. In general, these are great to have since it helps protect against dirt and stains. Most fall within $20-30, too.
Slatted bed bases
Depending on the base you choose, you might also want a slatted bed base to get extra support. IKEA has two that are under $100 and also has an adjustable slatted base for $210 that allows you to move the head and base of the bed.
Bed legs
If you want a taller bed, IKEA sells bed legs of all various shapes and sizes. Materials range from wood to stainless steel.
Comforters
IKEA has 18 different pillows to choose from. Materials include down and feather, lyocell comforters (renewal and natural), and polyester. Some are specifically designed to keep you cool, and others are to keep you warm. A few models come in different colors, but for the most part, these comforters will come in white.
Pillows
If 18 comforters weren't enough, try 20 different pillows. In typical IKEA fashion, its cheapest pillow starts at $1.99. The various styles are made from either down and feathers, memory foam, or polyester, and come in a variety of thickness. The covers are made from a natural and renewable material called lyocell.
SHOULD I BUY AN IKEA MATTRESS?
This is a tough question to answer, mainly because there are so many different mattresses. However, while one may be slightly better than the other, general reasons for going with IKEA did reveal themselves:
You're on a tight budget. The best perk about IKEA mattresses is their price-point. They are priced below market value and also come with good trail periods and return policies should you decide it's not a fit. Moreover, IKEA mattresses aren't as high of quality as higher-end mattresses that come with bigger price tags. That said, if you need a bed for a temporary reason —  a sublet in a new city, a college dorm, etc — then these mattresses would generally be a good fit, especially since it wouldn't be a huge investment.
You prefer firm beds. All IKEA beds will feel pretty firm, if not really firm. If you're a firm bed lover, you most likely can't go wrong with the support and feel of these beds.
You want options. IKEA has a ton of mattresses to choose from, along with a variety of other bedding products to complete your bed setup. Some are slightly different when it comes to height and support, so you can choose one that you believe best supports your body and needs.
For more information on what to look for when picking out a new bed, check out my how to choose a mattress guide.
IKEA Mattress
Materials

Comfort

Support

Value

Cooling

Edge Support

Sex

Smell

Company

Refunds

Trial

Warranty
Summary
The IKEA mattresses are budget-friendly, providing an average value. The material choices, layer thickness, design, and overall profile of both mattresses I tested leave something to be desired in terms of performance. While I do appreciate IKEA's objective to offer inexpensive mattresses I feel like there are better mattresses for the money elsewhere.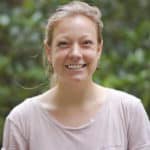 Laura Schwecherl
Laura is a journalist with nearly a decade of experience reporting and covering topics in the health, fitness, and wellness space. She is also a marketing consultant, where she works with impact-oriented startups to build marketing and editorial strategies. Since joining the team at Sleepopolis, she quickly learned how critical sleep is, and enjoys researching how certain sleep products and techniques can improve our lives. Outside of work, you can find her reading Murakami novels, writing amateur poetry, or trail running in her hometown, Boulder Colorado.