The debate floor is open for another mattress comparison! First, you'll be hearing about the Signature mattress from Brooklyn Bedding—a hybrid bed comprised sturdy CertiPUR-US® Certified foams and pocketed coils. Brooklyn Bedding started in 1995, but since 2008, has become a formidable contender when it comes to mattress companies.
Next up is the Original GhostBed mattress and its three unique layers of aerated latex, gel-infused memory foam, and sturdy high-density poly foam. Before launching GhostBed in 2015, CEO Mark Werner founded Nature's Sleep back in 2001 when a series of neck surgeries made sleeping a painful experience for him. For the past 20 years, he's set out to create sleep products that make it easier to get a good night's rest.
Read on for a full comparison between these two beds, or if you're pressed for time, click here to jump to the review summary.
Brooklyn Signature vs GhostBed: Similarities and Differences
Before we go any further, it's important to know that both bed-in-a-box mattresses are made with very different materials. But there are similarities that we'll get into as well. For a more in-depth breakdown of each bed, head on over to the full Brooklyn Signature mattress review or the full GhostBed mattress review. Also, it's worth noting that the Brooklyn Signature is available in three different models for three different firmness options: Soft, Medium, and Firm. For today's mattress comparison, I looked at the Medium bed.
Main Similarities
Both mattresses have a buoyant structure that results in a comparable level of firmness, with GhostBed scoring just a little higher in this area.
Both beds also sleep fairly cool. GhostBed has the slightest of advantages here due to its top layer of naturally cooling latex foam.
Due to each bed's respective firmness, it's likely that both could be an ideal match for back sleepers and combination sleepers. Strict side sleepers and stomach sleepers will probably want to look elsewhere, or at the very least, look into the Brooklyn Signature's Firm model.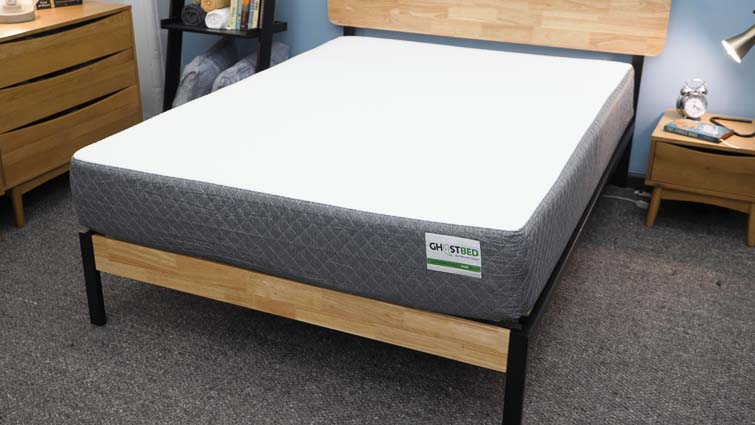 Main Differences
The Brooklyn Signature is a hybrid mattress, meaning that it uses a combination of foam layers and pocketed coils.
Conversely, GhostBed is an all foam mattress, with no springs or coils at all.
The Brooklyn Signature does a better job of isolating motion, so of the two, it's probably the best mattress for couples or anyone who sleeps with a pet or partner.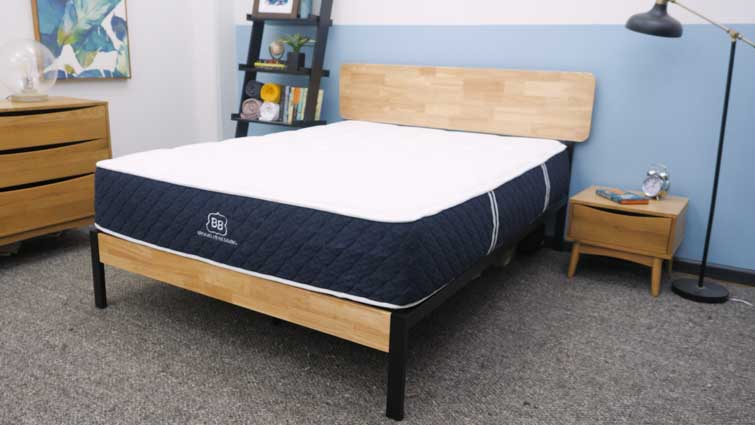 Which is Better for You?
Let's take just a moment to outline what kind of sleeper each mattress might be best for.
If you're a back sleeper or combination sleeper both brands should be appealing because of their bouncy responsiveness and firmness.
If you sleep with a partner or a pet the Brooklyn Signature is likely the better option because of its lower motion transfer.
If you sleep hot both beds have high breathability, although GhostBed sleeps just a little cooler and has slightly better airflow because of its latex foam.
If you're a heavier person the Brooklyn Signature's combination of foam and innerspring coils is probably the safer bet.
Brooklyn Signature vs GhostBed Feel Comparison
Now that you have a general idea of who both of these beds might be a good fit for, let's go over how each of them feels.
Keep in mind that people come in all shapes, sizes, and sleeping positions, and as such, feel is totally subjective. But this will hopefully give you an accurate idea of the sensations and textures present in each bed.
Brooklyn Signature
The Brooklyn Signature's combination of sturdy foams and pocketed coils makes for a bouncy, innerspring feel. During its firmness test, it scored a 6.5 out of 10, meaning that it can be classified as medium-firm. And remember, that could vary depending on which model you choose.
This balance of pressure and support results in an "on top of the bed" feel that could be a great fit for back sleepers and combination sleepers who need to change positions in the night. At the same time, turning on one's side can result in increased pressure at the shoulder and hips, so side sleepers might want to opt for something softer that caters to their pressure points. If this applies to you, we encourage you to peruse our Best Mattresses For Side Sleepers.
For strict stomach sleepers, the medium-firmness might cause sinkage in the hips, sending them deeper into the bed than the shoulders. While the Medium model probably isn't in the best fit, stomach sleepers may fare better with the Firm.
Finally, the Brooklyn Signature has high-quality edge support, meaning that couples and heavier people should be able to use the entire mattress surface without it sagging at the sides. Couples could also be drawn to the mattress' high-scoring motion isolation. Although the Brooklyn Signature is bouncy in its responsiveness, the top layers of foam dampen a significant amount of disturbance on the surface. You likely won't be woken up by a partner who tosses and turns in the night.
GhostBed
The GhostBed scored a 7 out of 10 on the firmness scale, which means it's just a bit firmer than medium-firm. While there is a nice bit of contouring from the middle layer of memory foam, the top layer of latex and base layer of high-density poly foam create an overall sensation of support, bounce, and lifting from the bed. Combo sleepers should be able to change switching positions in the night with little issue.
It's also important to consider pressure relief in any new bed, and GhostBed seems best suited for those who sleep on their back. The memory foam layer provides contouring to the lumbar region, plus the latex and high-density poly foam work to position the sleeper on top of the structure.
Other types of sleepers are a different story. The Original GhostBed is probably too firm for side sleepers and too soft for stomach sleepers, who usually need extra lift at the hips to support an even spine alignment from the hips all the way to the shoulders.
Regarding edge support, the GhostBed is only average, which is typical of all-foam mattresses.
Comparing Brooklyn Signature and GhostBed Prices
Price points are always something to consider when buying a new mattress. The GhostBed is a little bit less expensive than the Brooklyn Signature, but be sure to consult the pricing chart below to see which option works best for your budget. And don't forget to use our Brooklyn Bedding coupon page or GhostBed coupon codes when making your purchase.
| Size | Brooklyn Signature | GhostBed |
| --- | --- | --- |
| Twin | $599 | $695 |
| Twin XL | $749 | $895 |
| Full | $899 | $1,095 |
| Queen | $1,124 | $1,195 |
| King | $1,374 | $1,460 |
| California King | $1,374 | $1,485 |
Comparing Brooklyn Signature and GhostBed Materials
Now comes my personal favorite part of any mattress comparison, where we take an inside look at each bed to see what it's made of and how it's constructed.
Brooklyn Signature
The Brooklyn Signature is an 11-inch hybrid mattress consisting of sturdy CertiPUR-US® Certified foam and pocketed coils that make for a bouncy and buoyant structure.
Cover – The cover of this Brooklyn Bedding mattress is a poly/cotton blend fortified with a little bit of quilted memory foam. This provides immediate pressure relief, as well as softness and breathability.
Comfort Layer – Next comes two inches of Brooklyn Bedding's proprietary TitanFlex foam. In addition to establishing a medium to firm bounciness, the body-contouring TitanFlex is known for its ability to draw heat away from the sleeper—much different from an all memory foam mattress in its ability to sleep cool.
Transition Layer – Beneath the TitanFlex is two inches of slightly firmer Energex foam, beginning a pattern of increasing support as we get deeper and deeper into the bed.
Support Layer – Now we get away from the foam and into six inches of an ascension coil system. This is where that extra bounce comes from, not to mention an added breathability that helps with temperature regulation throughout the night.
Base – Finally, the Brooklyn signature has one inch of high-density poly foam. While this base layer doesn't really affect the feel of the bed, its durability gives the above coils something to press off of.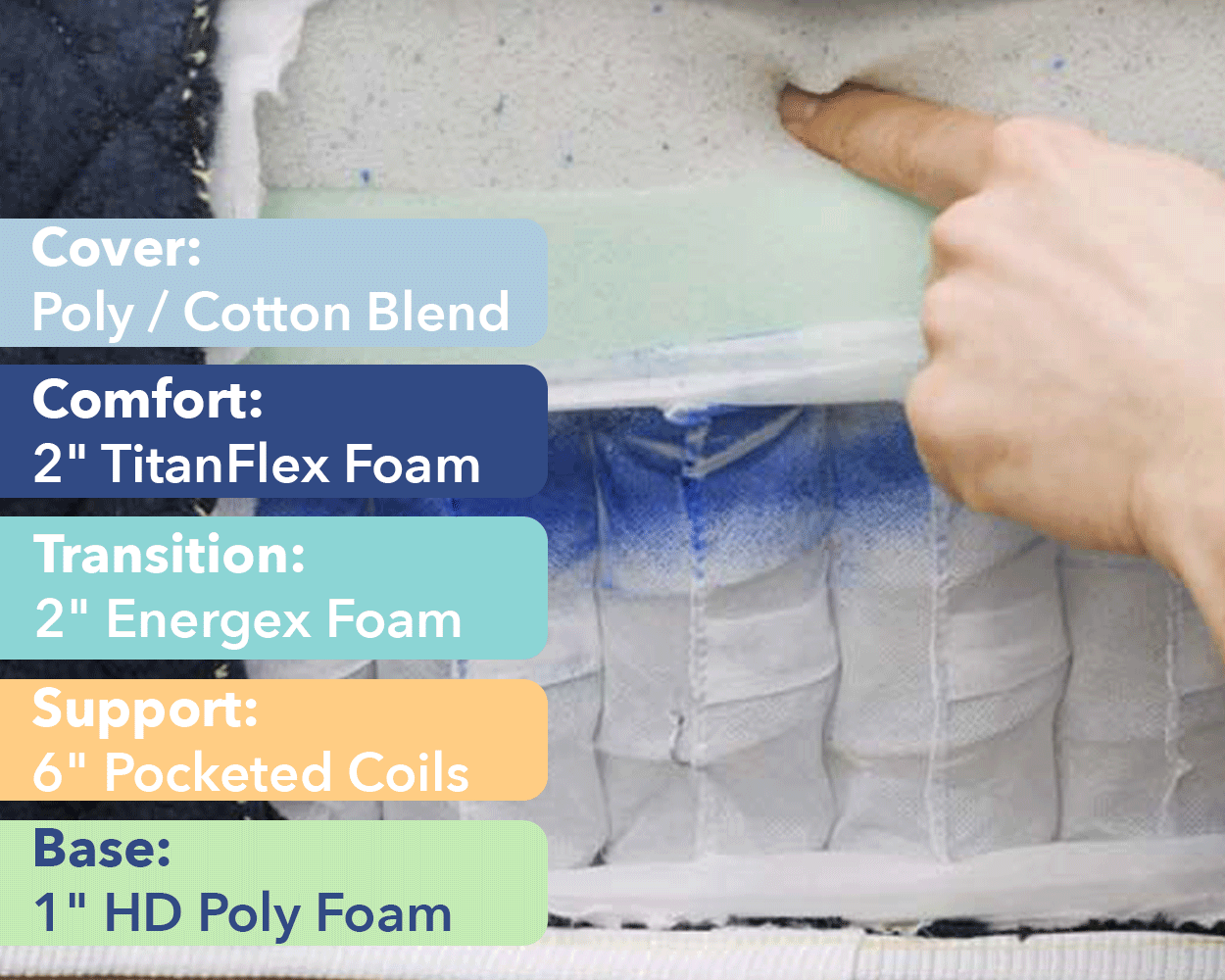 GhostBed
The Original GhostBed is an 11-inch all-foam mattress with three layers of latex, memory foam, and high-density poly foam that strikes a satisfying balance between pressure relief and support.
Cover – Things start off with a polyester/viscose blend that's soft and breathable.
Comfort Layer – The top layer is 1.5 inches of aerated latex foam, which has a quick responsiveness that allows for a lot of mobility. As a material, latex is naturally cooling, and thus helps body heat dissipate throughout the bed. It also has increased breathability from the aeration (fairly unique to this mattress), while also possessing a lot of durability.
Contour Layer – Underneath the latex layer, you'll find a layer of gel-infused memory foam. As with most memory foams, this wraps the sleeper in deep body-contouring and pressure relief. But it also stands apart from a lot of memory foams in that the gel allows it to sleep cool. When combined with the sturdier top comfort layer, the GhostBed allows sleepers to sink into the bed without feeling stuck.
Base – The thickest layer of the Original GhostBed is the base, made up of 7.5 inches of ultra-sturdy high-density poly foam. That has a lot to do with the bed's overall firmness as it works to support all of the other layers above it.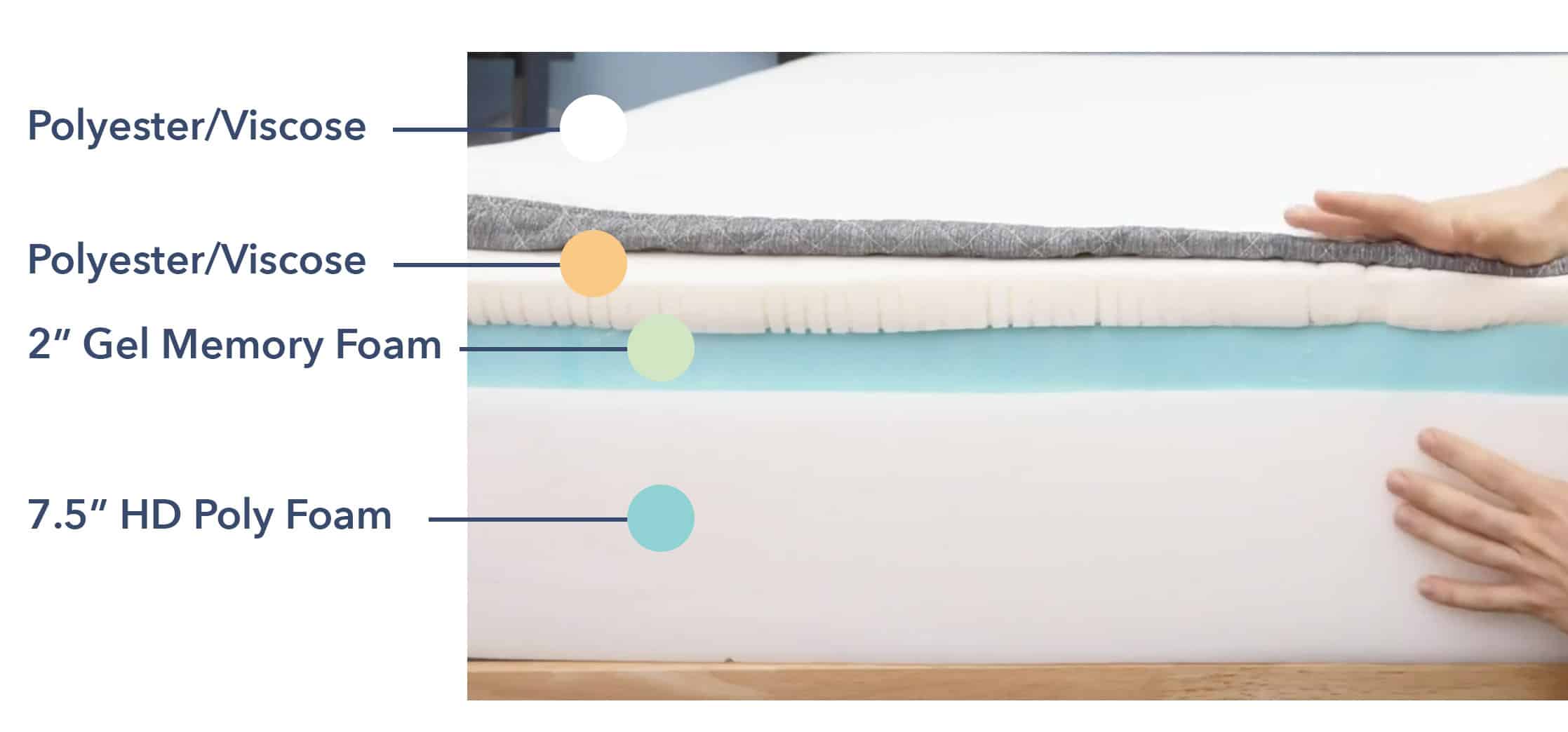 Brooklyn Signature vs GhostBed: Best Qualities
You've learned a lot about each bed. So now comes the big question: Which one should you choose? It all depends on what you're looking for, so let's review some of the best qualities of each mattress.
Brooklyn Signature Best Features
For back sleepers or combination sleepers who share a bed with a partner or pet, the Brooklyn Signature might be the better fit. Its low motion transfer is more likely to prevent you from waking up if someone else is tossing and turning.
For heavier people (anyone with a body weight over 250 lbs), the Brooklyn Signature's hybrid system of coils and foam layers will provide more support.
If you sleep close the edge of the bed, the Brooklyn signature's edge support easily trumps the GhostBed.
GhostBed Best Features
Back sleepers and combination sleepers will likely enjoy the GhostBed as well, although it's probably better for people who sleep without a partner since it doesn't have the best motion isolation.
While both beds sleep cool, you may want to go with the GhostBed if temperature is a top priority. There's no denying the cooling properties of the aerated latex and gel memory foam.
Both mattresses are medium firm, but if you enjoy just a little bit higher of a firmness level, GhostBed's thick base layer of high-density poly foam might be the best option.
Comparing Company Policies
Brooklyn Bedding Policies
Trial Period – 120 nights
Shipping – Free
Mattress Warranty – 10 years
GhostBed Policies
Trial Period – 101 nights
Shipping – Free
Mattress Warranty – 20 years
Comparing Brooklyn Bedding and GhostBed Customer Service
Let's take a moment to look at each brand's customer service team. I'll give them a score of Stellar, Great, Satisfactory, or Poor based on my interaction with each team.
Brooklyn Bedding Sleepopolis Customer Service Rating
Satisfactory: I called Brooklyn Bedding's customer service number after hours and was greeted by a somewhat vague voice message where I could leave my contact info. But they did have an informative FAQ section on their website, and when I submitted my question via an email form, they got back to me the next day. It would have been nice to have gotten a bit more info from that initial voice recording, though.
GhostBed Sleepopolis Customer Service Rating
Stellar: First, I tried the customer service number. Although nobody picked up because the staff was busy assisting others, the voice message was informative and directed me to the highly detailed FAQ section on GhostBed's website. Once there, I was able to chat with a live agent who answered my question right away.
Comparing Other Models from Brooklyn Bedding and GhostBed
Brooklyn Signature vs Brooklyn Sedona
Like the Signature, the Sedona is another hybrid mattress from Brooklyn Bedding, only a bit softer with a layer of gel memory foam. This allows for more of a cradling effect, low motion transfer, and pressure relief that caters to side sleepers.
The Sedona is more expensive than the Signature.
The Signature has better edge support than the Sedona, which makes it a better fit for heavier sleepers and couples, who needs to take advantage of their mattress's full surface area.
Read the full Brooklyn Sedona mattress review here.
Brooklyn Signature vs Brooklyn Aurora
The Aurora has a super soft and cuddly feel and is definitely a softer mattress than the Signature.
Though the Aurora is a soft memory foam mattress, it actually sleeps quite cool thanks to its phase change material cover and breathable pocketed coils.
The Aurora is more expensive than the Signature.
Learn more in my full Brooklyn Bedding Aurora mattress review.
GhostBed vs GhostBed Luxe
GhostBed's luxury mattress is the aptly titled GhostBed Luxe. A bit softer than the Original GhostBed, its proprietary foam layers provide nice sinkage while also being exceptionally breathable.
The Luxe is noticeably pricier than the Original GhostBed.
The Luxe sleeps cooler than the GhostBed because it has a phase change material cover which feels super cool to the touch.
Read the full GhostBed Luxe mattress review here.
GhostBed vs GhostBed Flex
The GhostBed Flex is the brand's luxury hybrid mattress. Unlike the all-foam GhostBed, the Flex uses a combination of coils and foams.
The Flex has a nice bouncy feel, but still manages to absorb most motion. I think this makes this bed a good choice for both couples and combo sleepers.
The Flex is a more expensive bed than the GhostBed Original.
Learn more in my full GhostBed Flex mattress review.
Other Common Brooklyn Bedding and GhostBed Comparisons
Brooklyn Bedding
GhostBed