If you're in the market for a luxury mattress that sleeps extra cool, you might have found your match with the GhostBed Luxe. The GhostBed Luxe is a medium-firm all-foam mattress that offers some nice sinkage and is exceptionally breathable.
GhostBed was started in 2015 as a division of industry veteran Nature's Sleep. GhostBed CEO Mark Werner's goal when starting the company was to make the mattress shopping experience better by eliminating the need to deal with salespeople in the showroom. The online mattress brand currently offers four mattresses: the Original GhostBed, the GhostBed Luxe (which we'll be reviewing here), the GhostBed Flex, and the GhostBed 3D Matrix. GhostBed also sells adjustable bases, pillows, bedding, and a range of sleep accessories.
In this review, I'm going to tell you about my personal experience testing out the GhostBed and share how it performed on some of our Sleepopolis tests. I'll give some recommendations, including which sleepers I think it's best for. 
Short on time? Skip down to my review summary.
25% Off + Free Pillows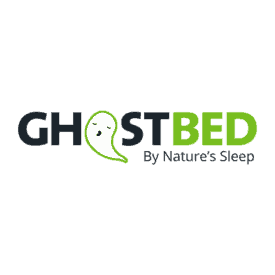 Designed with cooling in mind, the Ghostbed Luxe is fantastic for those who sleep hot at night. 
Is the GhostBed Luxe a Good Mattress for You? 
Before we start this review train, I want to make sure that you're not wasting any time. Here, I'm going to try and help you answer whether or not the GhostBed Luxe is a good mattress for you. Depending on your body weight, height, and preferred sleeping position, the Luxe may or may not work for you. Take a look at some of my recommendations below.
Who I recommend GhostBed Luxe mattress for
Who I don't recommend the GhostBed Luxe mattress for
25% Off + Free Pillows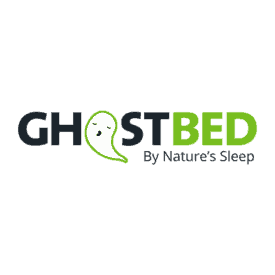 Designed with cooling in mind, the Ghostbed Luxe is fantastic for those who sleep hot at night. 
What Does the GhostBed Luxe Mattress Feel Like? 
Now that we've discussed who the GhostBed may or may not work for, let's talk about how it feels. I like to start this discussion with firmness, because it's one of the most important factors that contributes to overall feel. 
It's important to note that feel is subjective, and the way a mattress feels to me might be different to how it feels to you. For reference, I weigh about 110 pounds, so you might get a bit more sinkage than I do. I also polled some of my colleagues when testing out this mattress, so the rating below is our average score.

We decided to give the GhostBed Luxe a 6.5 out of 10 on the firmness scale, with 1 being the softest and 10 being the firmest. A 6.5 rating is actually the industry standard for medium-firmness, so this is a true medium-firm mattress. 
I think this firmness level makes the GhostBed Luxe great option for back sleepers, who will get the support they need, while still having some nice pressure relief at the lumbar region. I also think the Luxe is a good option for side sleepers. I felt some nice pressure relief at my hips, and I think sleepers heavier than I am would feel some good sinkage to help keep their spine in a straight alignment. The one group I wouldn't recommend the GhostBed Luxe to is stomach sleepers. Stomach sleepers need a firmer mattress to help keep their hips propped up in line with their shoulders, which prevents bowing that can lead to back pain.
The GhostBed gets its feel from its layers of foam. Its cover is infused with gel memory foam, and it has proprietary Ghost Memory Foam and Ghost Bounce Foam (which is more responsive than memory foam) in its comfort layers and transition layers. It also has a 7.5 inch layer of support foam, which gives the mattress its support and keeps you from sinking too far down.
Testing the GhostBed Luxe Mattress 
Now that we've talked about my personal opinion of the GhostBed Luxe mattress, I'd like to share how it performed on some of our Sleepopolis tests: the motion transfer test and the pressure relief test. We use specialized technology to determine how this mattress performs, which gives you a more objective look at the bed.
Pressure Relief 
Pressure relief refers to a mattress's ability to alleviate tension at pressure points at the hips, shoulders, and lower back. No matter your sleeping position, you're probably going to want some pressure relief to help you sleep comfortably all night long. 
To test pressure relief, I use a handy dandy pressure map. The pressure map goes on top of the mattress and then I lie on it in a few different sleeping positions. The map measures how much pressure is exerted and turns blue to green for low pressure and yellow to red for high pressure.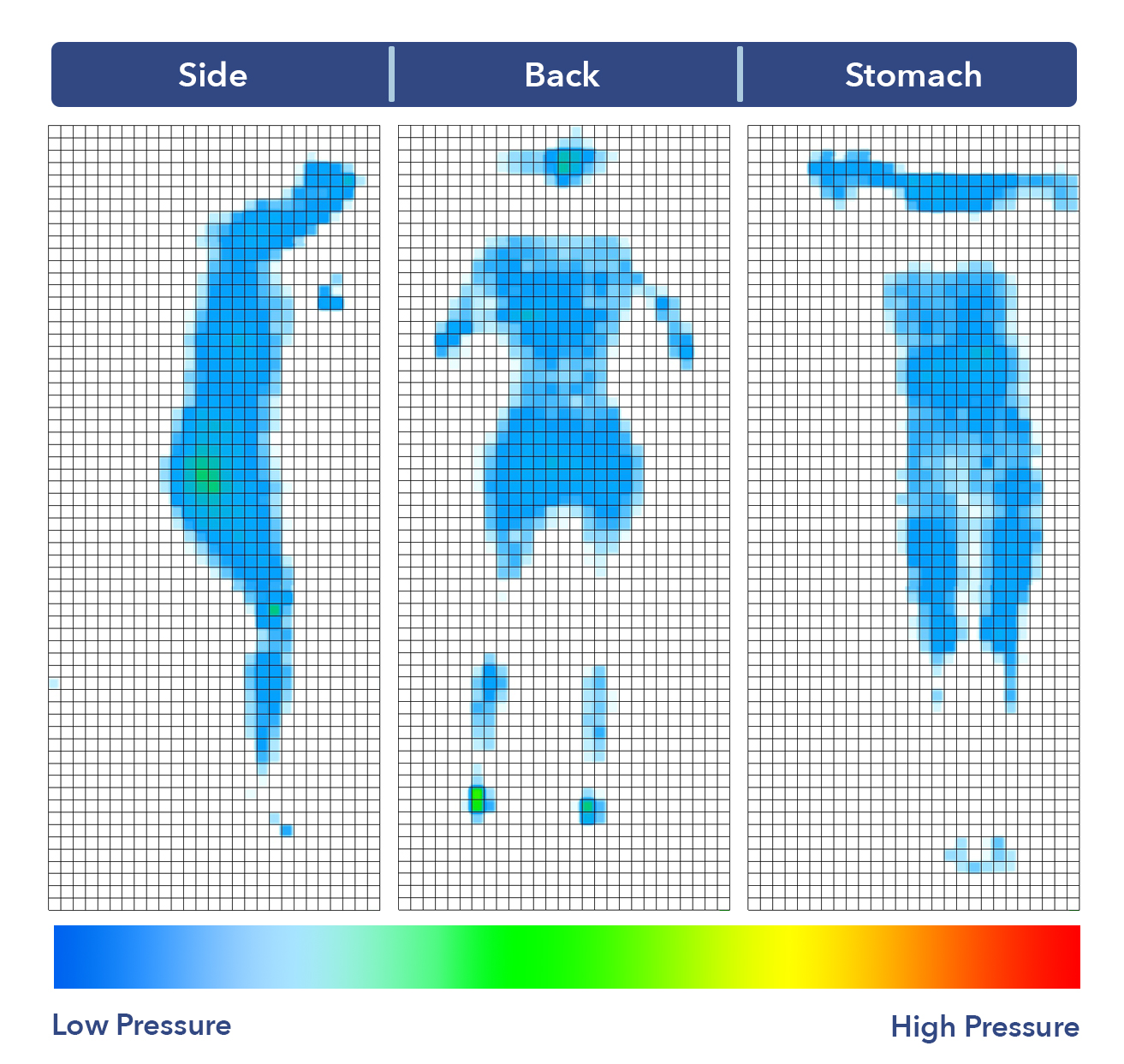 Back – As you can see from the all-blue map, I felt some great pressure relief on my back! I felt some pressure relief at my lower back and enough support to feel that my spine was in a nice straight line.
Side – Though there was a bit of green on my side, this is still a nice pressure map result. Though some side sleepers might want something a bit softer, I think the GhostBed will work for most side sleepers, especially since I'm on the lighter side, and heavier sleepers will get more sinkage than I did.
Stomach – Though I initially felt comfortable on my stomach, the GhostBed has a very slow response to pressure, and over time I felt my hips sinking into this mattress. I wouldn't recommend this mattress to strict stomach sleepers.
Motion Transfer 
Motion transfer refers to how much movement is detectable on one side of the mattress from the other. If a mattress has high motion transfer, you're likely to feel movements from a partner or pet on your side of the bed.
To test motion transfer, I dropped a 10 lb steel ball from three different heights that are each meant to mimic movements you're likely to experience in bed, from tossing and turning to getting up for a snack. I measured these movements on the other side of the bed using a seismometer.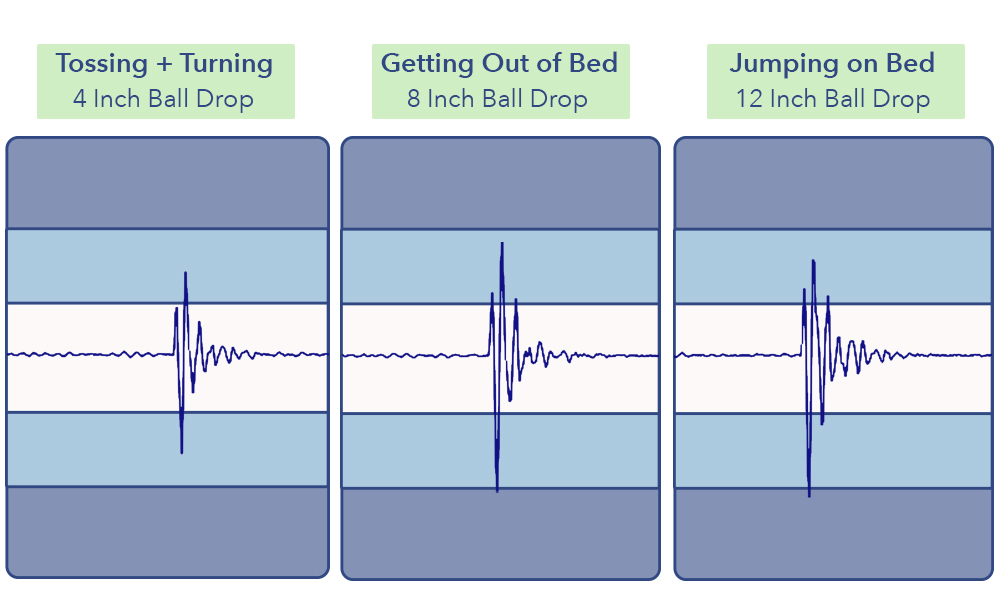 These are great motion transfer results! I wasn't surprised by these great results, since all-foam mattresses tend to perform quite well on the motion transfer test, but the GhostBed Luxe exceeded expectations. This is great news for couples or anyone who sleeps with a pet, since they're unlikely to be disturbed by their movements.
Edge Support 
If a mattress has good edge support, you'll feel just as (or almost) as supported on the side of the bed as you do in the center. This can be an important factor for couples to consider, since they'll want to take full advantage of their mattress's surface area.
I think the GhostBed Luxe has pretty good edge support, especially for an all-foam mattress. I didn't feel like I was going to roll off the bed while I was laying on the edge.
What is the GhostBed Luxe Mattress Made Of? 
The GhostBed is an all-foam mattress with a 13-inch height. It uses proprietary materials that are designed with cooling features and pressure relief in mind to achieve a supremely comfortable and breathable mattress. Overall, it feels like a memory foam mattress, but doesn't have the heat trapping tendencies.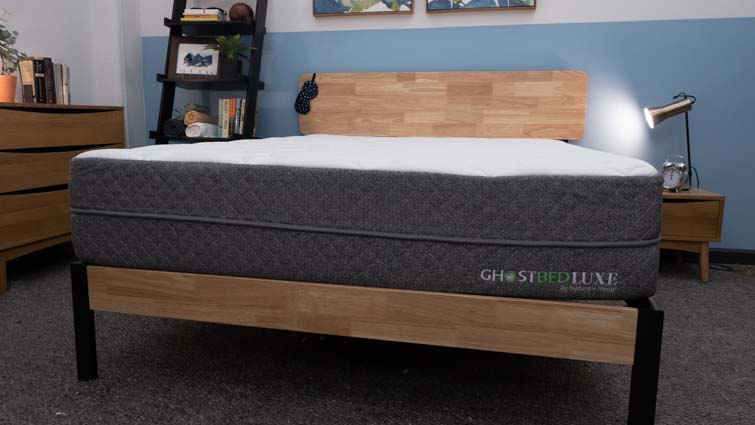 Cover – The GhostBed Luxe cover essentially functions as the top layer of this mattress. It is made with Ghost Ice Fabric, which is a phase change material that is cool to the touch. It is also woven with cooling fiber that helps increase airflow, and it includes a 1 inch layer of gel memory foam, which adds some contouring and pressure relief.
Cooling Coating – Next up you'll find a coating material that GhostBed calls its Ghost Ice Layer. This material thermosensitivity technology to detect heat and adjust to your body temperature.
Comfort Layer – The GhostBed's comfort layer is made from Ghost Memory Foam, which offers some more pressure relief, sinkage, and contouring.
Transition Layer – Next up is the brand's proprietary Ghost Bounce Layer, which adds a bit of buoyancy and transitions the sleeper to the firmer support layer below.
Foundation Layer – Lastly is a 7.5 inch layer of high-density poly foam which offers added support and durability to the mattress.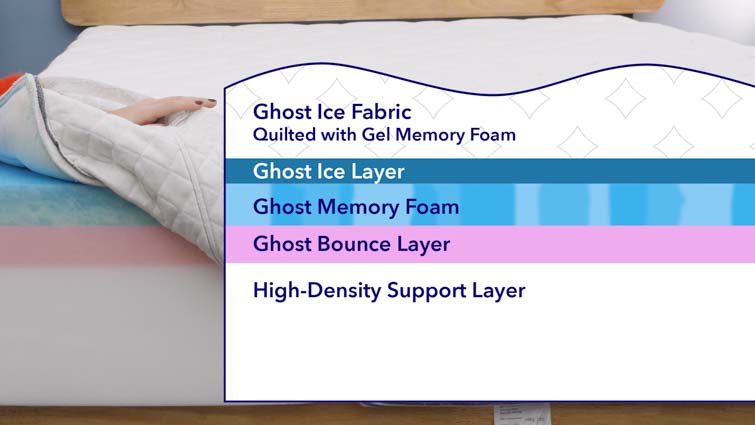 My Final Thoughts about GhostBed Luxe Mattress
Before we finish up this review, I'd like to recap some of the most important things to remember about the GhostBed Luxe. I hope that these final thoughts will help you decide if the GhostBed Luxe is the right new mattress for you.
My favorite things about the GhostBed Luxe mattress
I love how cooling this mattress is. The GhostBed Luxe is the coolest bed I've tested, which makes it a great option for hot sleepers. I also think the GhostBed is great for couples, since it has great motion isolation, meaning you're unlikely to feel movement on one side of the bed on the other. Finally, I think both back and side sleepers would be happy on this mattress, since it has a medium-firm feel that both of these sleepers could enjoy.
My GhostBed Luxe mattress complaints 
I don't think the GhostBed Luxe is the best option for stomach sleepers, who tend to need a firm mattress to keep their hips in line with their shoulders. I also noticed that some customers have complained that the mattress's cover is a bit slippery, so you might want to purchase a mattress protector to keep your sheets in place.
25% Off + Free Pillows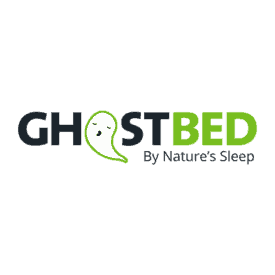 Designed with cooling in mind, the Ghostbed Luxe is fantastic for those who sleep hot at night. 
How Much Does the GhostBed Luxe Cost? 
Price can be one of the deciding factors before purchasing a new mattress. Take a look at our GhostBed Luxe pricing chart below and be sure to visit our GhostBed coupon page for a nice discount.
Price listed will be before discount or offer for each size. 
| Size | GhostBed Luxe |
| --- | --- |
| Twin | $1,395 |
| Twin XL | $1,650 |
| Full | $1,770 |
| Queen | $1,945 |
| King | $2,245 |
| Cali King | $2,265 |
GhostBed Mattress Policies and FAQs
How does the GhostBed ship?
The GhostBed is a bed-in-a-box mattress, which means it arrives compressed in a box and it ships for free.
Does the GhostBed Luxe have a trial period?
Yes, GhostBed offers a 101-night sleep trial.
Does the GhostBed Luxe have a mattress warranty?
Yes, GhostBed offers a 25-year warranty.
Is the GhostBed mattress made in the USA?
Yup, the GhostBed is proudly made in the USA.
How long does the GhostBed Luxe mattress take to ship?
The GhostBed typically takes two to five business days to ship.
Do you need a box spring with the GhostBed Luxe?
Nope, any flat, hard, and level surface will do. You can also use a slatted frame or adjustable base.
GhostBed Mattress Vs.  
Before you make your final buying decision, it can be helpful to see how the GhostBed Luxe compares to some popular models from other mattress brands, as well as how it stacks up to GhostBed's other models. Take a look at some of the comparisons below.
GhostBed Luxe vs Casper Original
GhostBed Luxe vs Saatva Classic
Other Models from GhostBed
GhostBed Luxe vs GhostBed Original
GhostBed Luxe vs GhostBed Flex
GhostBed Luxe vs GhostBed 3D Matrix
Still unsure? Take a look at our mattress performance ratings for the GhostBed Luxe mattress below.
GhostBed Luxe Mattress
Materials

Comfort

Support

Value

Cooling

Edge Support

Trial

Warranty