Sleeping on your stomach is a popular sleep position, but it comes with caution. With all of your weight on your abdomen, your body is susceptible to moving in an unnatural upward position. Moreover, lying on your stomach can lead to lower back pain, pinched nerves, and even indigestion.
But not to worry! With the right alignment and support (proper spine alignment is key when it comes to pillows for stomach sleepers!), you can be assured your body can forgo any of these stomach-sleeper side effects.
Top 6 Pillows For Stomach Sleepers
Stomach sleepers need pillows on the softer to medium firmness level so their neck doesn't crank too high. They should also choose a softer option so the head can rest closer to the mattress. From down to memory foam, polyester to gel, the fill doesn't matter as much as the actual make and design. Keep reading for the six top pillows for stomach sleepers to find what could work best for you. (And yes, I did sleep on all of these myself, so am providing my biased, yet thoroughly vetted opinion!)
Why These Top Picks?
All of these options are great for people who sleep on their stomachs. That said, if you have a certain ache, preference, or price point, one of these below might have the specific quality you're looking for to finally find the perfect pillow. Continue reading to learn which could be best!
Best Pillow for Spine Relief
Poor sleep posture can put a ton of stress on your spine, which can lead to headaches, neck and back pain, insomnia, and restless sleep for nights on end. The same goes for stomach sleepers—with all of your weight placed on your midsection, it's harder to maintain a neutral spine position when you're sleeping, and tension can creep up throughout your entire spine.
The Chiroflow Water pillow was once only used in the medical field for patients with chronic alignment issues and aches. In other words, the doctor has ordered this water pillow as a potential remedy for your spine problems! With the Chiroflow Water pillow, you can add or remove water to the firmness level of your choice so your body gets the support it needs. Plus, water pillows are known for being amazing at keeping shape and not collapsing, so your head, neck and spine are all safely cradled throughout the night. Learn more in my full Chriflow water pillow review.
Most Affordable Stomach Sleeper Option
Stomach sleepers typically need softer pillows to provide easy and subtle support for their spine. Down pillows (like the Luxe) are usually great options for stomach sleepers, yet are often costly. If you want the feel of down without spending a lot of money, the Five Star Down Alternative Pillow, is a great budgeters choice.
The Five Star Down-Alt pillow is filled with hypoallergenic polyester fibers to give it a down-like feel. When I slept on it, my body was well supported but did not feel like I was sleeping on anything too hard or firm. However, this is definitely a thicker pillow, and the stitching coupled with the loft kept my head and neck in correct alignment. One of the best parts? There is no removable pillow cover or zipper, which makes cleaning this pillow is a breeze: You simply throw it right in the washing and drying machine. Learn more in my full review.
Best Pillow for Lower Back Pain Relief
When you sleep on your stomach, your midsection and abdomen takes most of the weight. That pressure can build up around your torso and lead to prolonged back pain.
To avoid nit-picky pain, sometimes it's best to let the experts design a pillow for your specific needs. That's where the L Pillow comes in. This company builds customized pillows for each customer; you send in specific details about your sleep habits, ranging from sleep position to firmness preference, regular aches and pains you experience, your weight, and other helpful information. If you're someone who experiences lower-back pain, you can definitely make a note of it when building your own pillow, and their team will craft something to give you the support you need.
When I slept on the L Pillow, I I absolutely loved it the moment I put my head down. I'm a side sleeper, so most of my sleep soreness sits in my neck, but because of what information I sent over, my pillow came with just the right amount of thickness and sturdiness, but still had a soft, smooth, and breathable quality. Hopefully you'll find they can design exactly what you need, too.
Best Adjustable Pillow To Stay Cool
Adjustable pillows are a great option for stomach sleepers who often need the exact amount of thickness and loft to feel like their midsection and back are simultaneously being well supported.
That's why the COOP Home Goods Eden Pillow is a great option for belly sleepers. Plus, if you find yourself getting hot at night, look no further than right here: This pillow does any amazing job at circulating air throughout the shredded foam, so you'll never have to worry about waking up warm.
The Eden pillow is super soft and luxurious.The cover fabric is made with their signature Lulltra™ fabric that is designed to be super breathable. There is also a gusseted cover for greater edge support to protect your lower back, and removable covers that lead to the actual shredded foam filling so you can add or remove foam to adjust it to your liking. Learn more in my full COOP Home Goods Eden Pillow review.
Best Pillow for Pressure Relief
The Luxe Down & Feather pillow is a luxurious and super high-quality pillow option that will ensure proper pressure relief all-night long, keeping your joints especially happy. This pillow uses premium materials and an intricate design, so your body is well supported at all angles and doesn't add any excess pressure to corners and nooks throughout your spine.
When I slept on it, I was amazed at how much support the Luxe Pillow provided, cradling my head and neck while being quick to adjust itself when I moved around without collapsing. It provides a soft support that makes you feel like you're sleeping on supportive air—seriously! A must-have for achy joints and unwanted pressure points.
What's more, if you value quality, this is an equally good pillow choice. The Luxe pillow is $125, but is made with high end materials: 100% double-stitched cotton case and sustainably sourced white goose down. The innovative design points to quality, too. It's evident they put a lot of care into crafting their pillows—and for good reason.
Best for Neck Support
The Beyond Down Gel pillow is advertised as a side-sleeper pillow, but don't be fooled: it is still super soft and versatile enough to work great for someone who sleeps on their stomach.
This pillow offers a great balance of support and cushion; the micro-denier gel fiber (a down-alternative filling) provides the softness, and the extra neck support comes from the double needle corded edged gusset—an extra piece of material that gives the pillow a boxy structure.
At $24.50, this pillow is a really affordable option for a soft pillow that provides enough support if you suffer from neck pain. Learn more in my full Beyond Down Gel pillow review.
The Components of A Great Stomach Sleeping Pillow
Firmness. I said it once and I'll say it again: front sleepers should typically pick a softer and less firm option so their head can rest closer to the mattress. Look for soft to medium firm pillows versus ones that are super firm and hard. Down and polyester fill are great options for this.
Flatness. Now, don't get scared by this word. We don't want you to sleep on a pancake, but it is important that stomach sleepers don't choose something that is too overstuffed; this can elevate your head to an unwanted degree, putting extra stress on pressure points and even adding to misalignment in your spine and neck. So pick a pillow that is on the flatter end of the spectrum but still has material to support your head and neck.
Moldability. No pillow will work for all sleepers, so having one that can adjust and mold to your
exact head and neck shape is really important! Testing a pillow to see if it will mold well to your body type is a great thing to do, too. Adjustable fills like shredded memory foam work well in this category.
A good mattress. Your pillow partner-in-crime should be a mattress that compliments your stomach-sleeping. While mattresses are a different type of investment from pillows, it's incredibly important to sleep on something that protects your sleep position. Since stomach sleepers are susceptible to many aches and misalignments, it's worth checking out the best mattresses for stomach sleepers if you're not sleeping well at night. Similar to pillows for stomach sleepers, mattresses need to provide proper, medium-firm support that safely protect the spine and lower back.
Treat Your Body To A Pillow That Works
You might not realize the power a proper pillow can have on your sleep health. If you tend to sleep on your belly, it's so important you have a pillow that'll do the job well. Make sure to find a soft to medium firm pillow that doesn't hike your neck up too high. Extra points if it is adjustable or even customizable, so you can find the perfect, personalized fit for you!
The following two tabs change content below.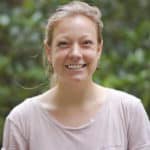 Laura Schwecherl
Laura is a journalist with nearly a decade of experience reporting and covering topics in the health, fitness, and wellness space. She is also a marketing consultant, where she works with impact-oriented startups to build marketing and editorial strategies. Since joining the team at Sleepopolis, she quickly learned how critical sleep is, and enjoys researching how certain sleep products and techniques can improve our lives. Outside of work, you can find her reading Murakami novels, writing amateur poetry, or trail running in her hometown, Boulder Colorado.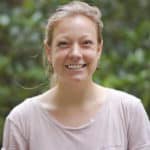 Latest posts by Laura Schwecherl (see all)