Welcome to my best pillows for stomach sleepers review! In this guide, I'm presenting the seven best pillows for belly sleepers (all of which I've personally tested) so that you can find the one that's perfectly suited to your bed, body, and budget.
So follow along as I take you through my top pillow picks for the prone position! Plus, I'll leave you with some expert tips and tricks that'll guide you in your search when you're out shopping on your own. Let's get started!
Best Pillows for Stomach Sleepers
Methodology: How To Shop For A Stomach Sleeper Pillow
Before we dive into these fabulous stomach sleeping accessories, there are a few key things to consider. When you're searching for the perfect fit, it's important to pay close attention to loft, firmness, and materials. Additionally, I suggest hot sleepers keep an eye on cooling properties in order to find the pillow that suits them best!
Loft & Firmness
The loft (height) and firmness are the very first things to look for when shopping for a stomach sleeper pillow, as the prone position requires a specific kind of support. In order to maintain neutral spine alignment and healthy posture, stomach sleepers need a soft pillow with a low loft of 2-inches or less.
The tricky thing about stomach sleeping is that it can sometimes cause your head to crane up and out of alignment with your spine. That's why using a low-lofted pillow with a soft, compressible fill is a great way to guard against neck pain. So be sure to aim for low-profile pillows that advertise a soft firmness rating.
That said, some stomach sleeper pillows have a high profile of 4-inches or more! But as long as the internal fill is soft enough to compress down into a super low loft, you're in the clear. Speaking of which, let's talk materials.
Materials
As I mentioned above, stomach sleepers need a pillow with a soft, compressible fill. That's why down, down-alternatives, and shredded latex are typically your best bet. That said, I am presenting a few other unique materials in this round-up, but let's take a look at the main three for now:
Down – Down pillows are filled with real feathers from waterfowl like ducks and geese. They typically offer a fluffy feel can that can be compressed into a super low loft, making them a great go-to pick for stomach sleepers. However, it's important to note that real down pillows are often considerably more expensive than those filled with a down-alternative.
Down-Alternative – From proprietary polyester fills to natural tree fibers, down-alternatives come in many different forms. Essentially, a down-alternative pillow is any pillow that was manufactured to feel like real down, without using any animal products. And though they don't offer the same exact feathery feel as real down pillows, they make a great substitute because they're soft, fluffy, and more affordable.
Latex – Talalay and Dunlop latex are both natural materials that offer a uniquely soft and buoyant kind of support. Latex pillows can be filled with one solid piece or shreds of latex, with each style offering a distinctly different feel. Sleepers looking for something a little firmer than down or down-alternatives might enjoy the way latex quickly responds to pressure. But if you're looking for something in between, note that shredded latex is often blended with down-alternatives in order to create a plush yet supportive feel.
Now, memory foam fans might be wondering, "Hey, what about us?" Well, the truth is that memory foam is often too dense and firm for stomach sleepers… But there are exceptions to every rule! If you're a stomach sleeper looking for a memory foam pillow, just make sure it's extra soft with a very low loft (we'll take a look at a great example of this in a moment).
Cooling & Breathability
Lastly, I encourage sleepers to pay attention to a pillow's breathability and special cooling properties. Even if you're not prone to night sweats, keeping your body at a cool, comfortable temperature can help you fall asleep faster and slumber through the night.
As a hot sleeper myself, I like to look for pillows infused with copper or graphite, as they both draw heat away from the body. Some bedding brands infuse these materials into a pillow's cover fabric, while others incorporate them throughout the entire pillow. But if you're looking for a pillow that feels really cool to the touch, keep an eye out for Phase Change Material (PCM) and cooling gel pads.
PCM and cooling gel pads are used to make a pillow feel cool against the skin no matter on which side you snooze. In fact, PCM is often used in cooling mattresses as well! Of course, if your main goal is breathability, go for pillows filled with shredded or ventilated materials. Shredded or ventilated foam, for example, typically does a much better job of promoting airflow through the pillow (as opposed to a solid piece of foam).
Okay sleepers, we're officially armed with all the knowledge we need to find the best possible pillow. So without further ado, let's dive into this roundup!
Best Pillows for Stomach Sleepers – Top 7 Picks!
Editor's Pick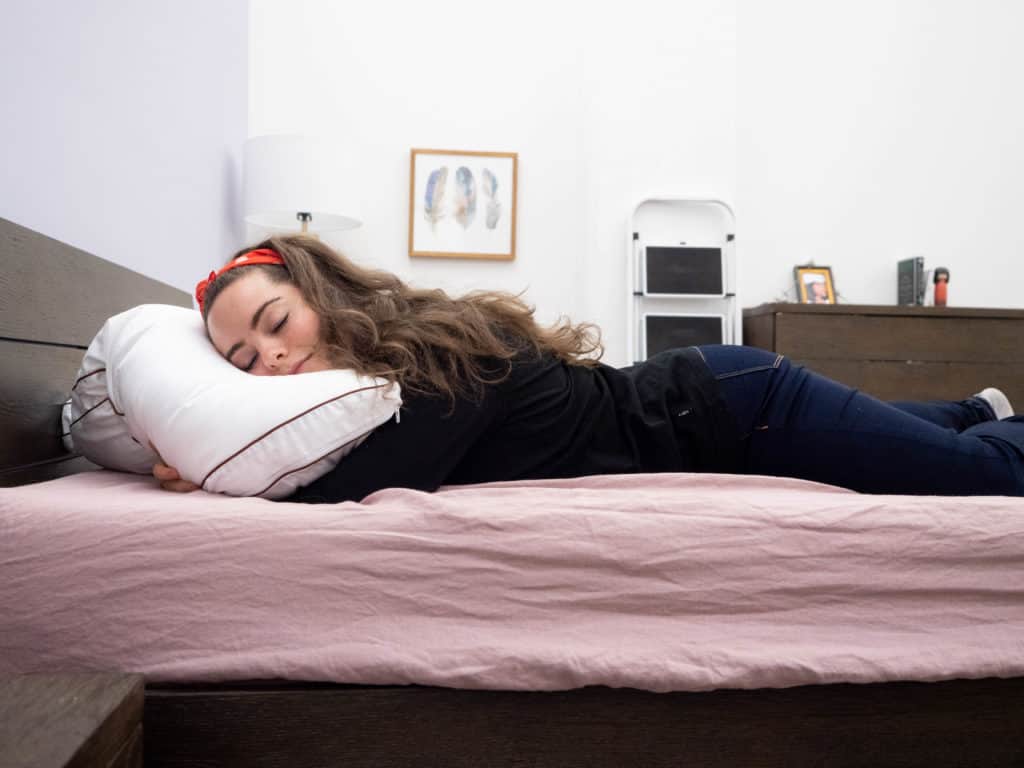 Saatva Pillow
Remember when I said that latex is often combined with down-alternative for a plushly supportive feel? Well, the Saatava pillow is a fantastic example of that. 
This pillow features a dual-design wherein an inner pillow is tucked inside an outer pillow in order to create a soft, balanced feel. The outer pillow is filled with a fluffy down-alternative that comfortably cradles the head and neck, while the core is filled with shredded latex for a boost of buoyant support. What's neat about this construction, in my opinion, is that it gives stomach sleepers a couple options. 
You can enjoy the plushness of this pillow exactly as it comes (which is what I do), or you can remove the middle insert for an extra soft and low-lofted pillow. If you're a stomach sleeper who prefers only the slightest, softest buffer between you and your mattress, take some time to experiment with the core of this pillow! Just remember — neutral spine alignment is the name of the game. 
That said, I will note that this is the pillow I sleep with at home, and I'm always impressed by how it supports me in the prone position.
Stomach sleepers looking for a fluffy pillow with a unique dual design should definitely check my full Saatva pillow review!  
Price: $145-$165, with a 45-day trial period to test it out. 
Perfect For: Stomach sleepers looking for a plush pillow with a dual-layer design!

A fluffable mix of down-alternative and Talalay latex makes this pillow cozy, cool, and great for combo sleepers! 
Best Memory Foam for Stomach Sleepers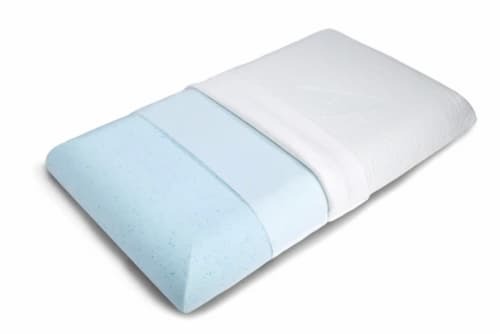 Belly Sleep Pillow
The Belly Sleep Pillow is a great option for stomach sleepers, because of its thin profile and contouring memory foam construction. 
The pillow is 2.5 inches thick, and, because it is memory foam, is supportive enough to keep the neck lifted just enough to feel comfortable, but not enough to throw it out of line with your spine. It also provides excellent pressure relief on the head and neck that come in contact with the pillow while sleeping. 
The Belly Sleep pillow is constructed with memory foam that has been infused with cooling gel, so you don't have to worry about any concerns of memory foam sleeping hot. The pillow also has a removable, machine washable cover which I love makes it so easy to keep this sleep surface clean. 
Price: $79.99 
Perfect For: Hot Stomach sleepers, Sleepers with neck pain
Check Price Here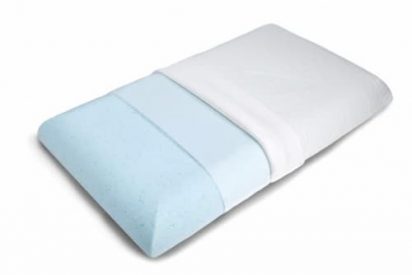 The perfect pillow for stomach sleepers is finally here! 
Softest Pillow for Stomach Sleepers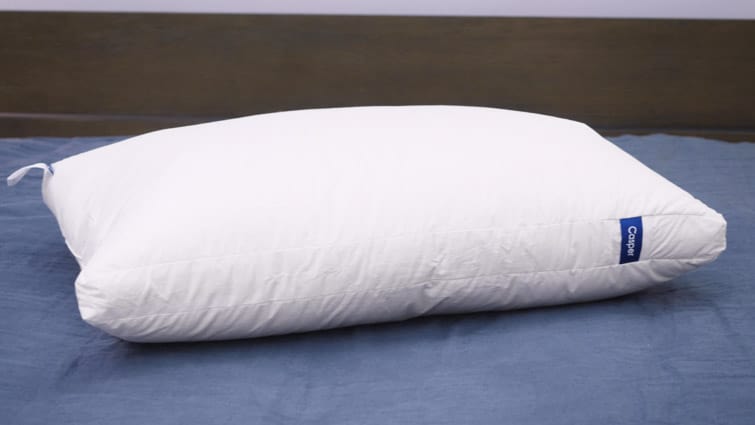 Casper Down Pillow
Next up is the Casper down pillow, a perfect stomach sleeping accessory for folks who love a soft and fluffy feel. 
This pillow is filled with 100% ethically sourced down, and kind of reminds me of the pillows I've enjoyed at hotels. It's very plush and feathery, but is soft enough to compress into a low loft of less than an inch. 
In my experience, that's what makes it so great for stomach sleeping! It offers a cozy, cloud-like feel with a low profile that helps stomach sleepers maintain healthy posture. Remember: Stomach sleepers need a soft, low-lofted pillow in order to keep neutral spine alignment and prevent strain on the neck.
Personally, one of my favorite things about this pillow is that it's machine washable. Pillows filled with real down are often spot-clean or dry-clean only, but this one can be washed and dried by machine.
Stomach sleepers who prioritize easy wash care should definitely give it a try; and if you're curious about this brand's other products, be sure to check our Casper pillow, Casper sheets, and Casper mattress reviews! 
Price: $125-$165, with a 100-night trial period to personally test it. 
Perfect For: Stomach sleepers who love the fluffy, soft feel of real down!
10% Off with code JULY4TH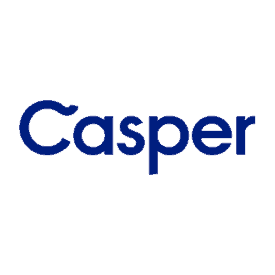 This pillow is filled with 100% ethically sourced down, and kind of reminds me of the pillows I've enjoyed at hotels!
Best Cooling Pillow for Stomach Sleepers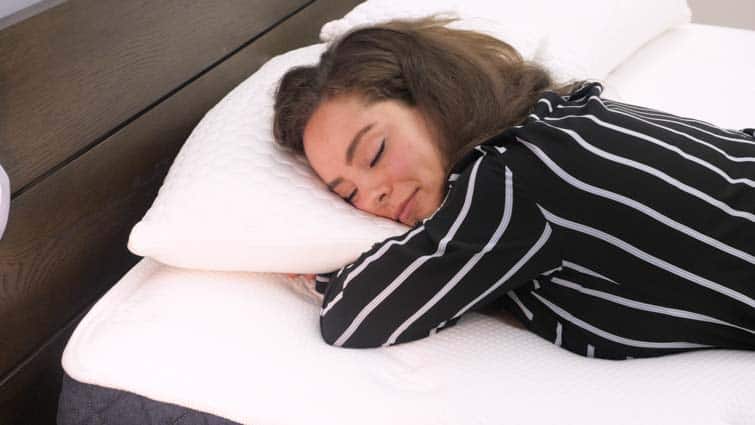 Brooklyn Bedding Luxury Cooling Pillows
If you're a stomach sleeper struggling to stave off night sweats, the Brooklyn Bedding Luxury Cooling Pillow is here to save the day!  
Before we talk about what it's made of, keep in mind that this pillow comes in two loft options — one for back and side sleepers and one for stomach sleepers. Of course, we're looking at the low-lofted pillow here, but back and side sleepers can enjoy this pillow's super cooling powers with the higher-lofted option. 
That said, every part of this pillow's construction is meant to wick sweat, promote breathability, and cool the sleeper's skin. It's covered in that icy-crisp Phase Change Material I was telling you about earlier, plus it's filled with a piece of ventilated foam. In my opinion, the PCM cover makes this pillow feel like it's been refrigerated, and I can't get enough of its cool, soothing quality. Meanwhile, the foam's ventilation enhances airflow and keeps the pillow from retaining heat. 
But if that's not cool enough for you, the ventilated foam is also infused with copper and graphite! Infusions of copper and graphite can serve to draw heat away from the body and, in my experience, it prevented this pillow from warming up while I slept. If you're a hot sleeper, I can't recommend this pillow enough.
For the full scoop, check my Brooklyn Bedding pillows review! 
Price: $130-$150, with a 30-day trial period. 
Perfect For: The stomach sleeper who runs hot!
Save 25%
Brooklyn Bedding Luxury Cooling Pillows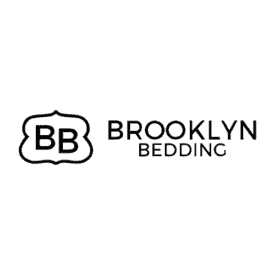 Brooklyn Bedding Luxury Cooling Pillows
Hot sleepers that are tired of flipping the pillow looking for the cool side will love the Brooklyn Luxury Cooling Pillow! 
Best Pillow for Stomach/Side Sleepers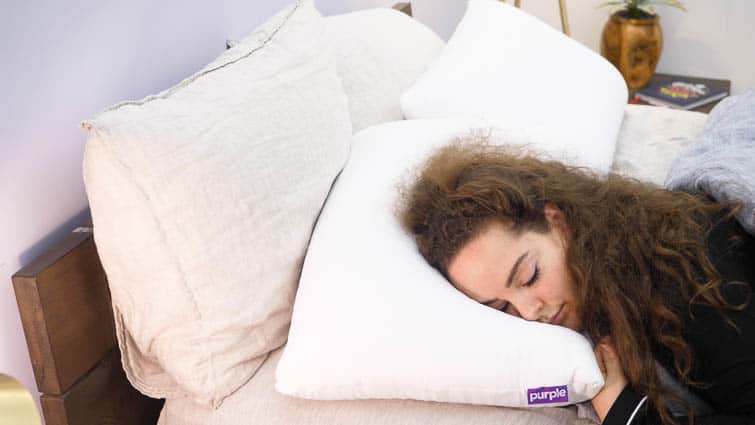 Purple Harmony Pillow
If you mainly stick to stomach sleeping but often roll onto your back or side during the night, the Purple Harmony might be the right fit for you. 
Made from a combination of Talalay latex and Hyper-Elastic Polymer, this pillow conforms to the natural contours of your head and neck with a springy kind of support. For those unfamiliar, Hyper-Elastic Polymer is the Purple's proprietary material, engineered to be bouncy, rubbery, and very durable. It's also got a super quick response to pressure that helps this pillow maintain its shape. 
Personally, I was pretty impressed by this pillow's ability to return to its original shape every morning! But what I really like about this pillow is that it's a true all-position pillow, suitable for sleepers of all styles. The latex and Hyper-Elastic Polymer work in tandem to create a supportive yet compressible feel that, as I said, lends itself very well to combo sleepers. 
Additionally, this pillow promotes a ton of breathability thanks to its ventilated construction. From the spandex mesh cover fabric to the Talalay latex core, every part of this pillow is designed to enhance airflow and keep sleepers cool.
If you want to know more about my personal experience rolling around with this pillow, be sure to peruse my full Purple Harmony review. 
P.S. We've tested and reviewed Purple mattresses too! 
Price: $160, with a long 100-night trial period to test it out. 
Perfect For: Sleepers looking for a breathable & bouncy pillow that's great for all positions!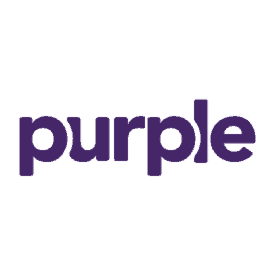 The Purple Harmony is great for any position sleeper and is extremely breathable to help you sleep cool through the night!
Best Down Pillow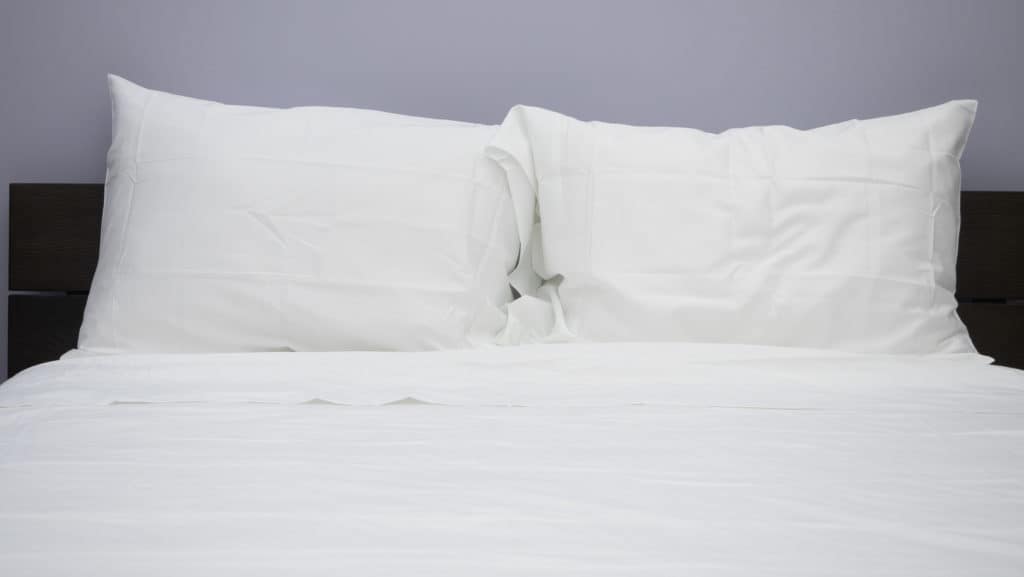 Boll & Branch Down Pillow
This responsibly sourced down pillow uses filling that comes from U.S. farms, is available in multiple firmness levels (soft, medium & firm), and two sizes (standard & king), allowing you to really customize this pillow to your needs. 
The Bol & Brand Down Pillow is constructed with a three-chamber design, which helps the pillow keep its structure and plushness over time. This is why I love it for people with back pain because the down is obviously a very cushioning and comforting dill, but the fact that it stays structurally sound provides more support than most down pillows.
It is also a surface you can feel good about sleeping on. In addition to sourcing down responsibly, the company ensures the production facilities from start to finish are beyond ethical standards, emitting less energy and requiring less water. 
Price: $150
Perfect For: People who like a customizable pillow
Check Prices Now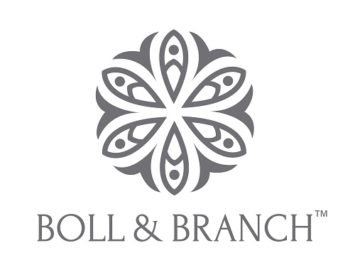 Say hello to a longer-lasting, ethically sourced, all-around great down pillow that is perfect for all types of sleepers. 
Best Down Alternative Pillow for Stomach Sleepers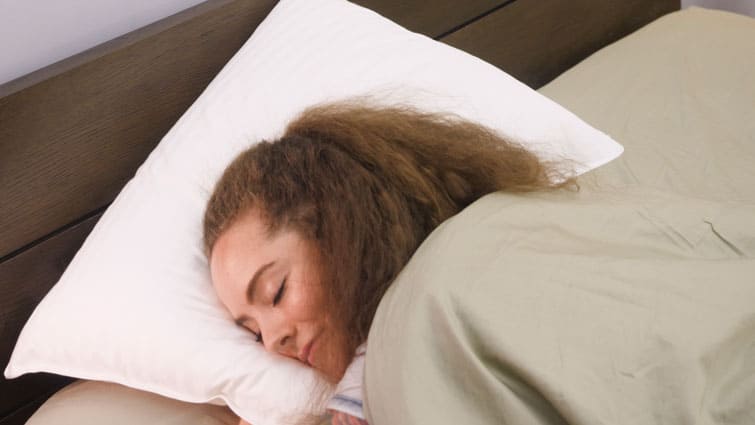 Luxe Pillow
On the other hand, some folks love the feel of down but don't want to sleep on the real thing — and that's where the Luxe Down Alternative pillow comes into play.  
Let me start by saying that I have tested and reviewed over a dozen down alternative pillows and, to me, this one feels the most like real down. It's filled with a proprietary polygel fiber crafted to mimic the feel of real feathers, and it does a fantastic job of that! Not to mention, it's super soft and low-lofted, making it ideal for stomach sleepers. 
That said, it's worth noting that this brand offers a real down pillow as well (which I also tested and enjoyed), but this one is totally hypoallergenic, and quite a bit less expensive. If you're looking for a down-like pillow that won't break the bank, this is a great way to go. 
Meanwhile, folks who are eager to break out their best decorative pillowcases will be glad to know that this pillow is traditionally shaped and can easily be dressed with a case or sham. Of course, the 300 thread count cotton cover fabric is pretty smooth and cozy on its own!
Stomach sleepers in the market for a fluffy, huggable, down-alternative pillow should check my full Luxe pillows review for all the details. 
Price: $79-$99, with a 100-night trial period that lets you personally test it. 
Perfect For: Stomach sleepers looking for a fluffy down-alternative pillow that feels a lot like down!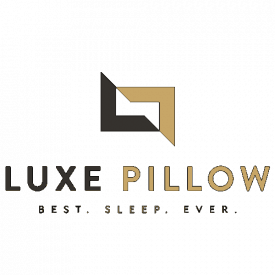 Luxe Pillow offers both feather and down alternative options, but either way you're getting a quality luxury pillow to help you sleep through the night!
FAQs
Is it bad to sleep on your stomach?
It's not necessarily bad to sleep on your stomach, but it can put you at greater risk of craning your head out of alignment with your spine. Additionally, stomach sleeping can put a little extra pressure on your lower back or abdomen. For these reasons, it's very important to use a pillow that properly supports you in this position.
What type of pillow is best for stomach sleeping?
Stomach sleepers need a low-lofted pillow with a soft firmness rating in order to maintain healthy posture throughout the night. Keep in mind, though, that the loft of the pillow doesn't have to be low exactly as it comes, but it does need to be soft enough to compress into a loft of 2 inches or less.
Are down pillows good for stomach sleeping?
In general, yes! Down pillows are great for stomach sleeping because they're typically soft, shapeable, and compressible into a very low loft.
Final Thoughts
Now that you're all experts on shopping for stomach sleeper pillows, you're well on your way to picking the one that's best for you. Just be sure to pay close attention to loft, firmness, and materials in order to find your perfect match. In the meantime, don't forget to subscribe to our YouTube channel and follow us on Facebook, Twitter, and Instagram! Happy sleeping, everybody.
Sarah is the Senior Writer and bedding expert at Sleepopolis. Every week, she personally tests and reviews new pillows, sheet sets, and other sleep accessories. She accompanies every video review with a meticulously detailed article to ensure her audience has all the pertinent info they need for the best shopping experience possible. Perhaps that's why her fans have dubbed her "the most thorough pillow reviewer on the Internet." Having tested everything from sleep trackers to mattress toppers, Sarah's expertise runs deep and is always expanding. She received her degree in Creative Writing from Brooklyn College and spends her free time doing stand-up, making pasta, and hanging with her cats.