Picking out the right pillow for you can be tricky. Trust me, no one knows that better than we do here at Sleepopolis. Helping people find their perfect pillow is the reason we've reviewed so many pillows on our website! But you know who else understands that struggle? Pillow company Lagoon, who has created a fun and helpful new model for purchasing pillows.
At Lagoon, instead of choosing a pillow on a webpage and hoping for the best, you take a quiz that pairs you with three pillow options based on things like your sleeping position, sleep goals, and feel preferences. You'll receive those three pillows in the mail and get 30 days to test them out. Then you can send back any you don't want to keep — or you can keep all three if you love them all!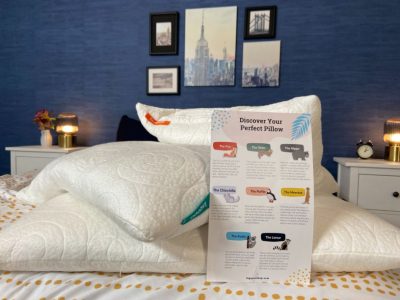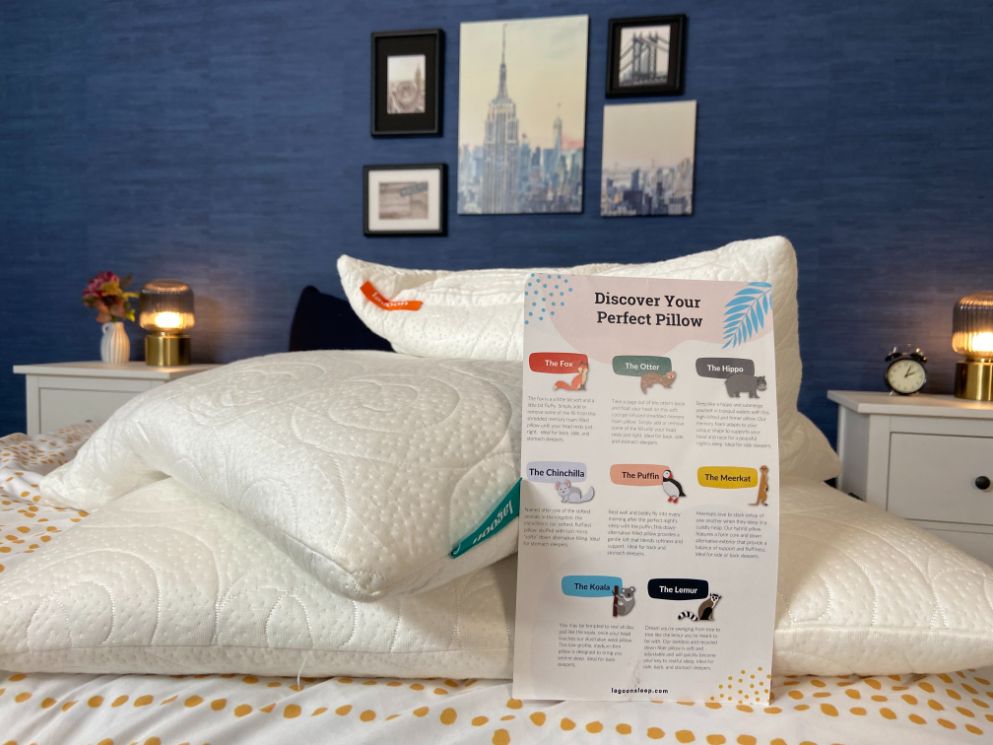 Because Lagoon takes a different approach to selling pillows, I'll be taking a slightly different approach in this review. I'll talk about the three pillows that I received from Lagoon after taking their online quiz, but I'll also go over the overall experience of purchasing from Lagoon. After all, if you decide to give them a try and take their quiz, you probably won't get the same three pillows I did! The pillows I'll be covering in this review are the Fox, the Lemur, and the Otter.
Just want the short version? Skip to the end for my review summary! Otherwise, let's dive in!
Lagoon Pillows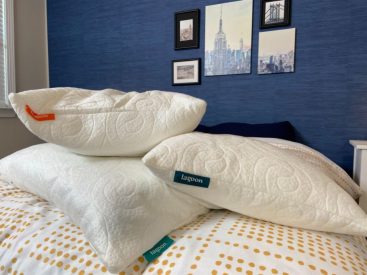 Lagoon's pillow quiz pairs you with three pillow options based on your results, giving you 30 days to test them out and see which is best for you.
Sleepopolis Score
4.60 / 5
Read Full Review
Taking the Quiz
In order to properly review the Lagoon experience, I took their online quiz. This quiz was a really simple process that I thought took a pretty straightforward approach to analyzing what you're looking for in a pillow. The quiz asked me about my sleep goals, what issues I'm currently having, my body type, and my sleeping position — they also asked my preferences for feel, loft, and size.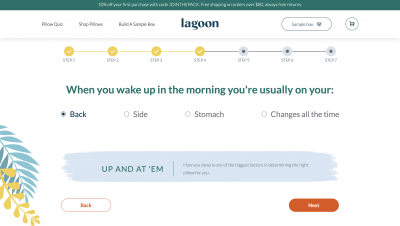 Now as someone who writes about sleep products for a living, I think about these things all the time and I thought the questions they asked were great determinants for choosing a pillow. But I also really liked how Lagoon presented these questions in a way that felt approachable and easy to assess for anyone, whether they know much about bedding and sleep or not.
One thing I did wish that the quiz allowed was for me to choose two primary sleeping positions. The options in the quiz are stomach, back, side, or "changes all the time." I put back, as this is the position I primarily sleep in, but I do sometimes sleep on my side. However, I almost never sleep on my stomach, so I wanted a way to indicate that I was looking for a pillow that would work for both back and side sleeping, but didn't need to work for stomach sleeping.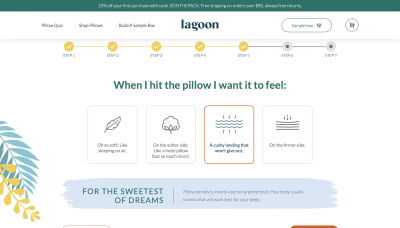 What Do the Lagoon Pillows Feel Like?
Feel is definitely one of the most important considerations when choosing a pillow. A pillow's feel can help determine how it'll work for you, and you also want to choose a pillow that you like the feel of — otherwise you'll never want to sleep on it! So let's go over the feel of the three pillows I tested: the Fox, Lemur, and Otter.
Now remember, feel can be subjective and those with different body types may have a different experience.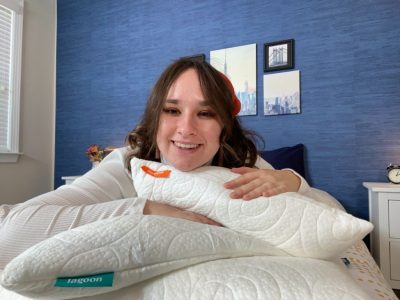 Lagoon Pillows Firmness
Every sleeping position does best with a different pillow firmness. Side sleepers tend to want a firm pillow, back sleepers do best with a medium feel, and stomach sleepers need a softer feel.
Lagoon offers pillows ranging from soft to firm, so you have plenty of options, but I'll go over the firmness of the three pillows I tested.
Fox Pillow Firmness
I thought the Fox pillow had a pretty solidly medium feel. It's easy to press into it and squish it around a bit, but the pillow reforms to its shape pretty quickly. I felt my head sinking into the pillow quite a bit, so there was contouring around my head and neck, but still a lot of support.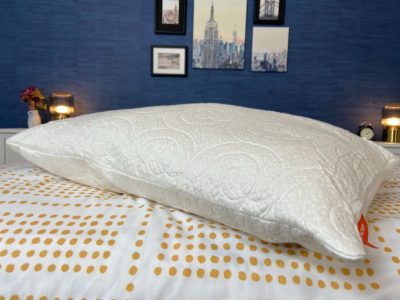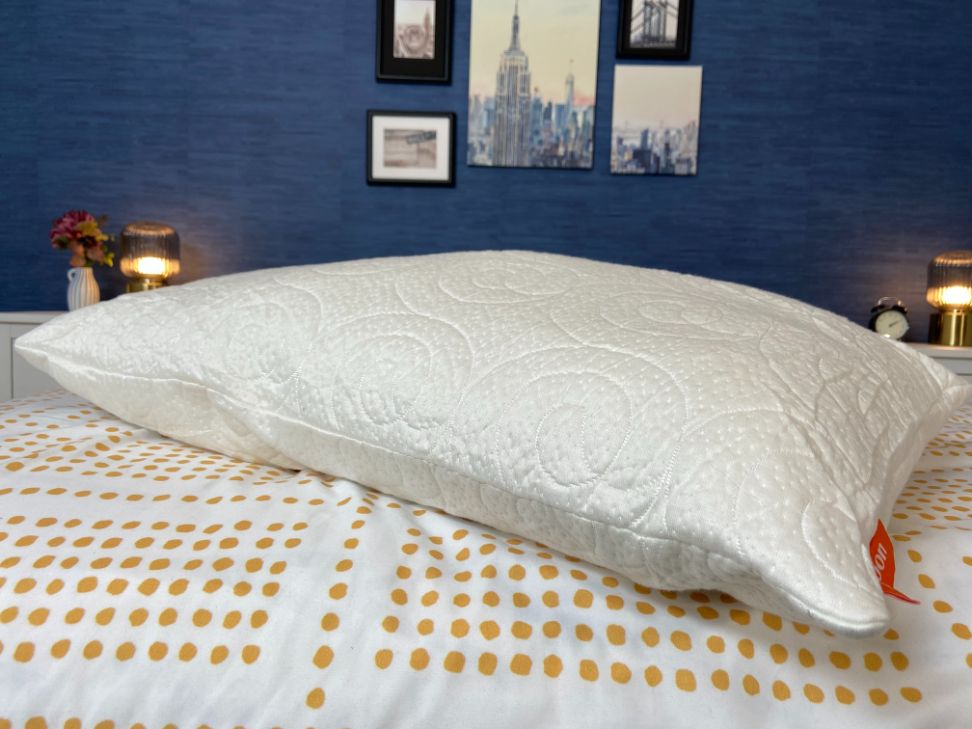 Lemur Pillow Firmness
Now the Lemur has a much softer feel. As soon as I laid my head on the pillow, I felt a strong difference between it and the other two pillows. However, it has an interesting feel because despite being super soft, your head doesn't sink all the way through the pillow, like a super squishy down pillow. It's almost like you hit a slightly firm center point that keeps your head elevated, despite the softness.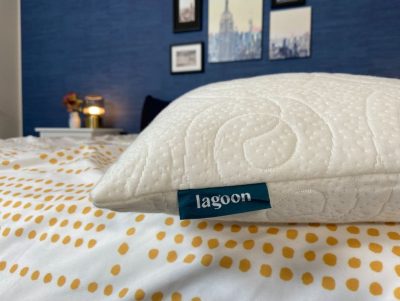 Otter Pillow Firmness
To me, the Otter pillow has a similar feel to the Fox, so I would categorize it as medium as well. You get the same sinkage and contouring, combined with support. And it has the same responsiveness when you press into it as the Fox.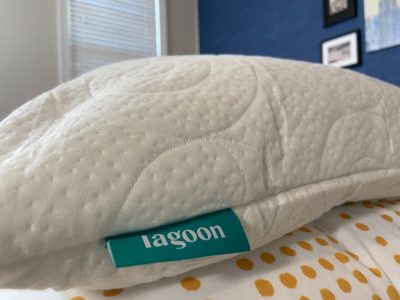 Lagoon Pillows Loft
Each sleeping position also does best with a particular loft, or height, of pillow. Side sleepers generally want a higher loft, back sleepers want a medium loft, and stomach sleepers do best with a low loft.
Like firmness, Lagoon offers pillows in a variety of lofts, ranging from low to high. Some of their pillows have adjustable lofts, as well. For the pillows that I tested, both the Fox and Otter have an adjustable loft, and I would say that the Lemur has a medium loft.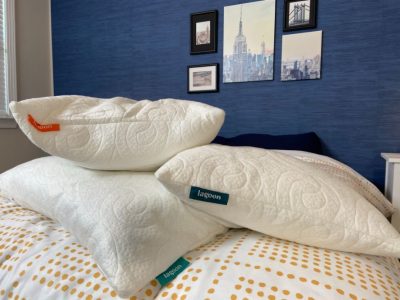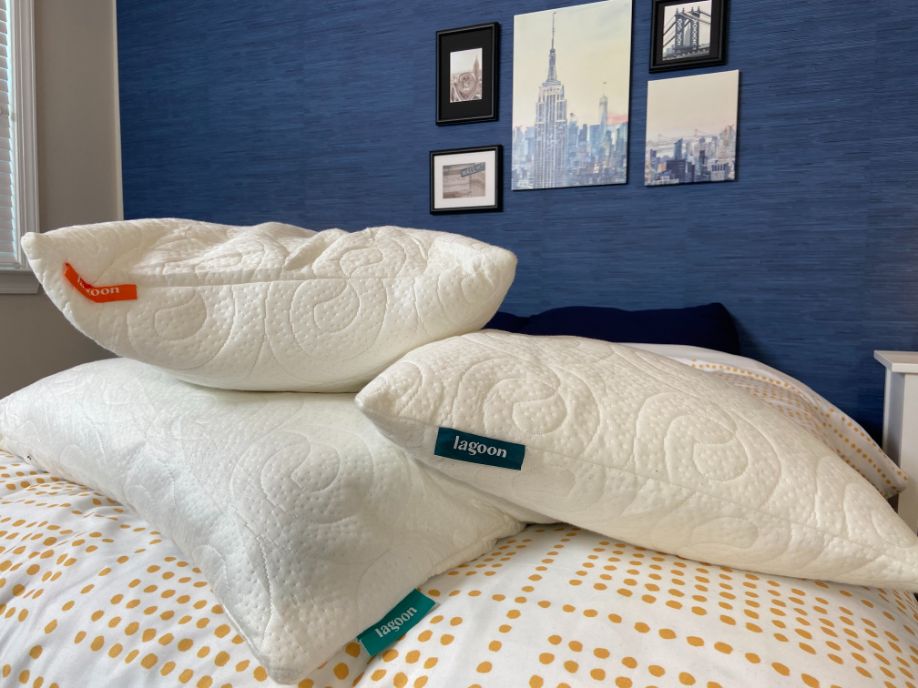 In this quiz, I told Lagoon that I am primarily a back sleeper. The quiz also asked how much I like to have my head raised off the bed and I said "just a little bit," as I often find that many pillows are too lofty for me, even if they are meant to be medium. I thought it made sense based on these answers that Lagoon sent me two adjustable pillows and one medium loft pillow.
Here I'll go over how I thought all of these pillows worked in different sleeping positions.
Side — Both the Fox and the Otter are excellent side sleeper pillows! As I mentioned above, I thought these pillows had really similar feels. The shredded foam fill in both provides a lot of support, but is still pliable enough that you get some cozy contouring around your head and neck. I'd recommend keeping the loft higher on both these pillows if you're a side sleeper.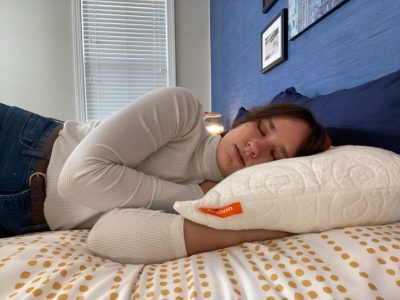 The Lemur worked decently for side sleeping — however, I wouldn't choose it if I were a full time side sleeper. The combination of a soft feel and medium loft doesn't do much to keep your head and neck supported. Especially if you are larger than I am or have broader shoulders, this pillow won't do much for you on your side.
While I put back sleeper as my primary sleeping position in the Lagoon Sleep quiz, I do occasionally sleep on my side, so I was pretty happy that all three pillows were workable for side sleeping, too.
Back — Since I self-identified as a back sleeper in the quiz, I was obviously most excited to see how these pillows worked for sleeping on my back! I was pretty happy to see that all three worked well.
I was surprised, however, that the Lemur turned out to be my favorite. A softer feel isn't usually the go-to for a back sleeper, but I felt like the combination of a soft feel and a medium loft actually worked really well for me. I didn't find myself sinking as deeply into the Lemur as I might with a traditional down pillow, so I think that helped to keep my head and neck supported.
The Fox and Otter were both great picks for back sleeping as well! I definitely had to lower the loft a bit on both, as they were stuffed pretty high when I received them. But that's the great thing about adjustable pillows — you can customize them to your specific needs. And the medium feel of both of these pillows is perfect for a back sleeper like me.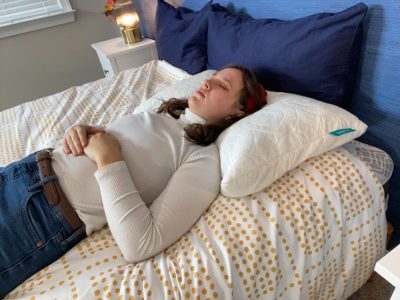 Stomach — Now I rarely ever sleep on my stomach, so I wasn't too concerned about how these pillows would work for stomach sleeping, considering they were selected for me based on a preference for back sleeping.
I don't think the Fox or Otter would really be a great choice for stomach sleepers — I rarely find these kinds of shredded foam fill pillows to work really well for stomach sleeping and I think you'll just end up removing most of the fill.
However, I do think the Lemur would work well for stomach sleeping. Its softer feel will prevent any neck craning when lying on your stomach.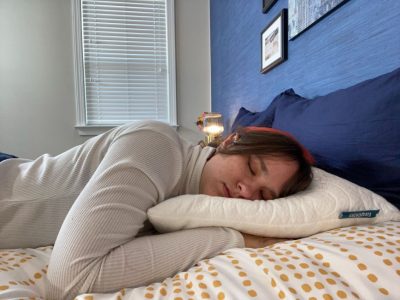 Under the Arm — I think any of these three pillows work well for sleeping under your arm! They all have some softness and squish that'll allow you to hug them quite comfortably.
Between the Legs — I also think all three of these pillows will work for sleeping with between the legs, although I would definitely lower the loft of the Fox or Otter to use them in between the legs to ensure the hips remain in alignment.
Lagoon Pillows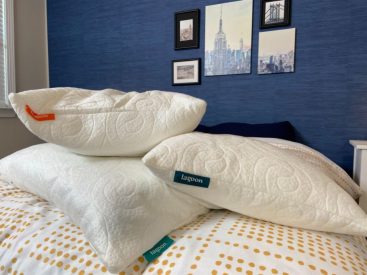 Lagoon's pillow quiz pairs you with three pillow options based on your results, giving you 30 days to test them out and see which is best for you.
Sleepopolis Score
4.60 / 5
Read Full Review
What are the Lagoon Pillows Made Of?
Lagoon's line of pillows have a variety of construction styles, which is a great part of their system. A wide variety of construction styles gives you a lot of options to figure out what type of pillow works best for you! Here I'll go over the construction of the three pillows I received from Lagoon.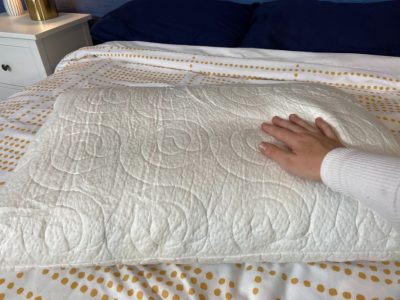 Lemur Pillow
Cover: The Lemur's cover is made of 62 percent polyester and 38 percent bamboo. This cover is removable and machine washable.
Inner Lining: The lining of the Lemur pillow, which holds the fill, is made from 50 percent bamboo and 50 percent cotton.
Fill: The fill of the Lemur pillow is 50 percent bamboo fiber and 50 percent recycled down alternative fiber. This fiber is packed together in a rectangular pillow shape and gives the Lemur its soft, but not too squishy feel.
Otter Pillow
Cover: The cover of the Otter pillow is removable and machine washable. It is made from 62 percent polyester and 38 percent bamboo.
Inner Lining: The inner lining that contains the fill of the pillow is made from 100 percent polyester.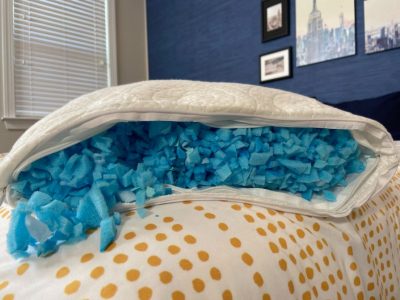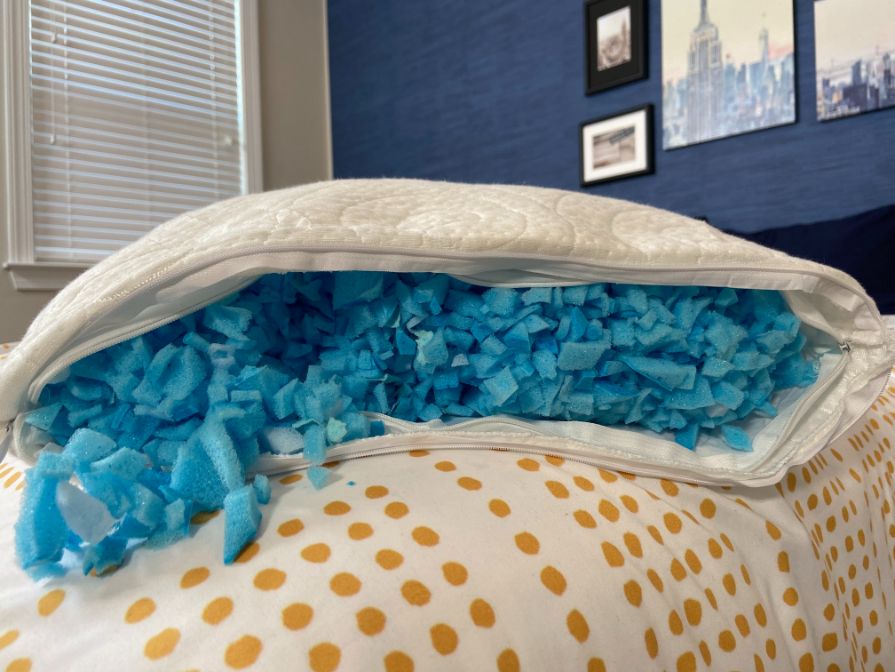 Fill: The Otter's fill is 80 percent shredded gel-infused memory foam and 20 percent cotton. The gel infusions in the foam help to draw heat away from the body. This fill is removable to adjust the loft of the pillow. And the foam used in the Otter's fill is CertiPUR-US certified to be free from harmful chemicals and pollutants.
Fox Pillow
Cover: This pillow's cover is made from 62 percent polyester and 38 percent bamboo. It is removable and machine washable.
Inner Lining: The inner lining of the Fox pillow is made from 100 percent polyester.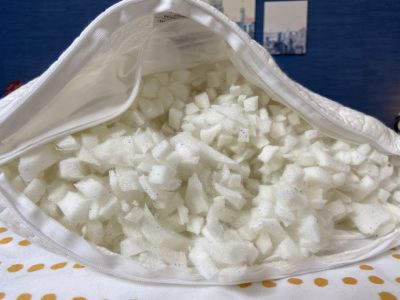 Fill: The fill of the Fox pillow is 80 percent shredded memory foam and 20 percent cotton fibers. This fill can be removed to adjust the loft of the pillow. And the foam used in the fill is CertiPUR-US certified to be free from harmful chemicals and pollutants.
Are the Lagoon Pillows Good for Hot Sleepers?
One of the qualities covered in Lagoon's quiz is whether or not you are a hot sleeper. Personally, I tend to be more cold than hot when I'm sleeping, so I don't generally worry about having a cooling pillow for myself. But I know that for hot sleepers, having a pillow that can keep your head cool as you slumber is very important, so I'm glad this is one of the factors Lagoon takes into consideration.
The Otter pillow is specifically advertised as a cooling pillow on Lagoon's website and I think it works pretty well. The gel-infused foam will trap less heat than traditional memory foam and having shredded foam fill allows for more airflow within the pillow. The Fox gets that same benefit of airflow, but does use more traditional heat-trapping foam.
I also thought the Lemur pillow was a good choice for hot sleepers. The bamboo used in the fill and the cover will help to regulate temperature and I think it'll get some good airflow too, since the fill isn't solid.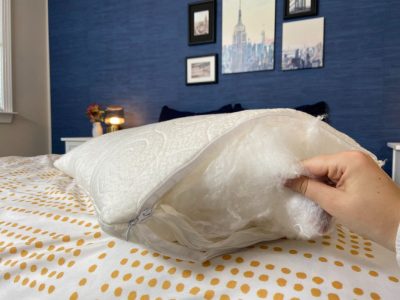 Browsing through the other choices on Lagoon's site, I think quite a few of their pillows would work for hot sleepers, but obviously I haven't had the chance to test them all! From the ones I tested, I'd definitely recommend the Otter and Lemur. With so many options, hot sleepers should be able to find a good cooling pillow from Lagoon.
Lagoon Pillow Sizes and Prices
Curious how much these pillows cost? Here's a price breakdown by size.
When you purchase the sample box after taking the quiz, you will be charged the full amount for three pillows. If you decide to return any pillows at the end of the trial period, you will be refunded for all pillows returned once they have been received.
Additionally, each pillow can be purchased individually instead of in the sample box.
| Pillow | Size | Price |
| --- | --- | --- |
| Lemur | Queen | $89.99 |
| Fox | Queen | $119.99 |
| Fox | King | $139.99 |
| Otter | Queen | $119.99 |
| Otter | King | $139.99 |
Lagoon Pillows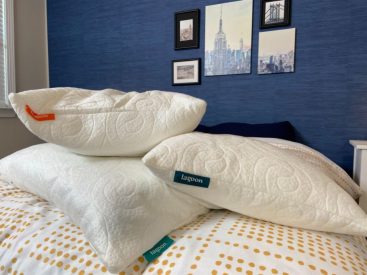 Lagoon's pillow quiz pairs you with three pillow options based on your results, giving you 30 days to test them out and see which is best for you.
Sleepopolis Score
4.60 / 5
Read Full Review
My Final Thoughts About Lagoon
Overall, I really enjoyed my experience with Lagoon. I took the quiz and tested out three sample pillows sent to me, all of which I thought were nice, high-quality pillows. I ended up really liking the Lemur pillow in particular and have been sleeping on it at home in my own bed, so I was really happy with that recommendation from the quiz!
The Lemur has a pretty unique fill compared to most other bed pillows that I've tested, using fibers as the fill instead of down fluff, a foam block, or shredded foam. I really liked how it had a softer feel, but was still able to offer enough support for me as a back sleeper.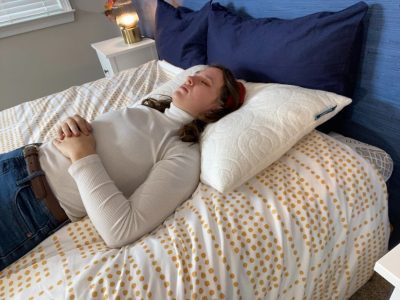 I liked both the Fox and Lemur — I thought they were both great pillows to snuggle into, especially for side and back sleepers. However, I know from experience that shredded foam down alternative pillows like these are not my personal favorites, so I haven't found myself reaching for them to sleep on.
Generally, I really liked how all three had removable and washable pillow covers. The covers are also quite soft, so you don't necessarily need a pillowcase if you don't want one. And I appreciated that with all the pillows I tested, you actually can machine wash the entire pillow up to once a year, which isn't common for many pillows of similar styles.
However, one complaint I had is that I thought the Fox and Otter pillow were a bit too similar. The primary difference is that the Otter is a bit more cooling, but other than that, they are essentially the same shredded memory foam pillow.
Given that the idea behind Lagoon's process is to let the user try three different pillows to find the best pillows for them, I would have liked to receive three really different pillows. I didn't feel like I got much from testing both the Fox and Otter, especially considering that I didn't even indicate that I was a hot sleeper looking for a cooling pillow.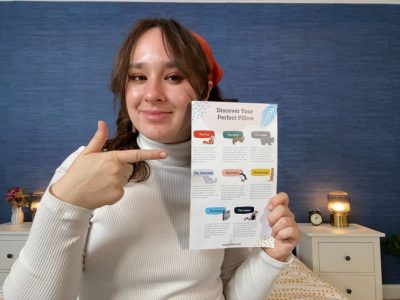 If you know a new pillow will help you to get better sleep, but don't know where to start, Lagoon is a great place to find a premium pillow that'll work for you. Overall, I think their approach is really fun and accessible for everyone, no matter how much pillow knowledge they have. Like me, you'll be able to find at least one stand-out pillow in your sample box that you'll really love.
Lagoon Pillow Policies and FAQs
How do the Lagoon pillows ship?
Lagoon offers free delivery within the contiguous United States. Customers in Hawaii, Alaska, Puerto Rico, and other U.S. territories will have to pay an additional shipping fee. You can expect your order to arrive within 5–10 business days.
Do the Lagoon pillows come with a sleep trial?
Yep! You get 30 nights to test out your sample pillows, risk free. You can return any pillows that didn't work for you within those 30 nights for a full refund. Lagoon
How do I clean the Lagoon pillows?
Care instructions vary per pillow, as all the Lagoon pillows have different constructions. They all feature a machine washable cover. Some pillows are machine washable on a gentle cycle once per year. Others should only be spot cleaned.
What size do Lagoon pillows come in?
Lagoon's pillows are available in queen size and king size.
What other pillows does Lagoon make?
Lagoon makes eight different pillows. Aside from the Otter, Lemur, and Fox, which I tested for this review, Lagoon also offers pillows called the Chinchilla, Puffin, Koala, Meerkat, and Hippo. All of these pillows are designed for different types of sleepers, utilizing different materials for a variety of firmnesses and feels.
Lagoon Pillows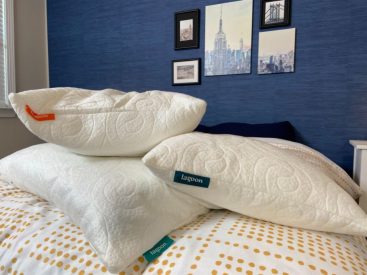 Lagoon's pillow quiz pairs you with three pillow options based on your results, giving you 30 days to test them out and see which is best for you.
Sleepopolis Score
4.60 / 5
Read Full Review
Here are my rankings for the Lagoon pillows.
Materials

Comfort

Value

Cooling

Durability

Trial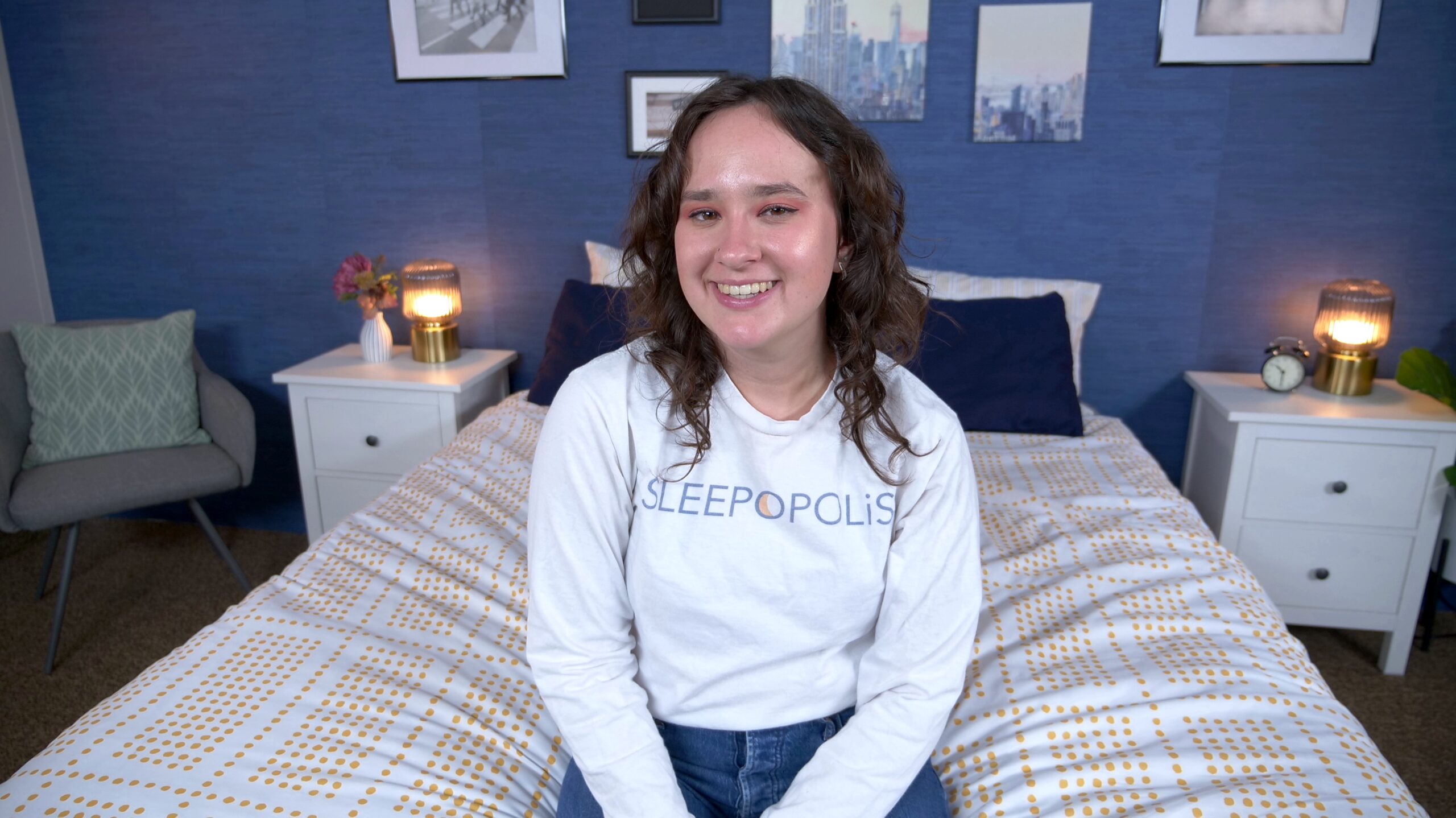 Amelia Jerden
Amelia is a Senior Staff Writer for Sleepopolis. She primarily covers bedding and sleep accessory products in reviews, how-to guides, and more. You can also find her over on the Sleepopolis YouTube channel. Amelia is a graduate of the University of North Carolina at Chapel Hill, with double majors in media and journalism and in dramatic art. Outside of work, Amelia can usually be found on a hike, traveling to a new city, or at her local thrift store.