Coop Sleep Goods is a brand that makes a variety of sleep products, like the Coop Sleep Goods Retreat mattress topper or the Coop Sleep Goods memory foam pillow that we've previously covered, so I'm super excited to have tested their Coop Eden Pillow. Could this pillow bring your sleep to Garden of Eden levels of perfection? I guess we'll just have to find out!
The Coop Eden Pillow is a down alternative pillow that uses shredded memory foam as the fill. It also features cooling gel-infusion foam to prevent overheating. There's a lot to dig into with this pillow, so let's get started!
In a rush? Skip to the end for my review summary!
Is Coop Eden a Good Pillow for You?
We all have different needs when it comes to getting our best sleep and pillows are a perfect example of that! So who might the Coop Eden be a good fit for? Here are my recommendations.
Who should try the Coop Eden pillow
Back and side sleepers

should both find

the Coop Eden pillow

to be very comfortable, and back/side combination sleepers especially should enjoy it! (That's me — I'm a back/side combination sleeper, and full disclosure: I really liked this pillow!). It offers a really nice

mix of support and plush comfort

.

The Coop Eden

is also a solid choice for

hot sleepers

. The

Lulltra

fabric cover and shredded gel foam make this pillow

breathable and cool

.

I'd also say that people with allergies will like

the Coop Eden

, since the fill is

hypoallergenic

and the

outer cover

is removable and

machine washable

.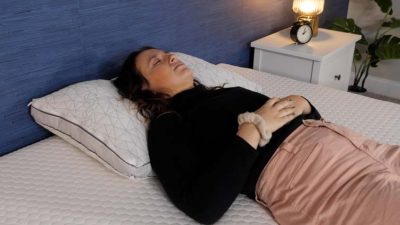 Who should not try the Coop Eden pillow
I don't think

the Coop Eden

is a great choice for

stomach sleepers

, who need a

soft pillow

with a really low loft to maintain spinal alignment and prevent

neck pain

. For better options, check out our

best pillows

for

stomach sleepers

.

Additionally, if you like the feel of a traditional

down pillow

,

the Coop Eden

has a much more supportive feel and

won't be nearly as moldable as a down pillow

. If it's down you're after, check out our

best down pillow

roundup.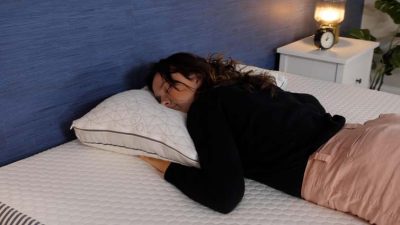 What Does the Coop Eden Pillow Feel Like?
Feel is a more subjective quality in pillows, so your experience may differ from mine based on your size and preferences. But here's my takeaway on the Coop Eden's feel based on testing.
Coop Eden Pillow Firmness
When it comes to firmness, every sleeping position has different needs. Side sleepers generally need a firm pillow, back sleepers need a medium pillow, and stomach sleepers need a soft pillow.
Overall I thought the Coop Eden had a medium feel. I thought this pillow combined the best of both worlds from a traditional down pillow and a block memory foam pillow. It's decently moldable and easy to sink into, but it's also supportive.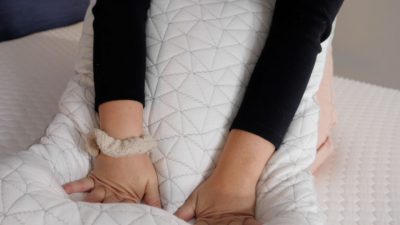 I personally really liked how this pillow contoured around my head and neck. I thought it was super cozy, but still was able to keep my head and neck well elevated to maintain spinal alignment, particularly while lying on my back and side.
Coop Eden Pillow Loft
A pillow's loft is essentially its height. Like firmness, a different loft works best for each sleeping position. Side sleepers need a higher loft, back sleepers need a medium loft, and stomach sleepers need a low loft. That's because you need the loft that will keep your head and neck in alignment.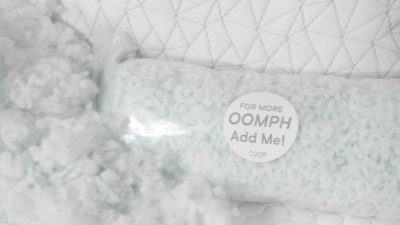 The Coop Eden has an adjustable loft, meaning  you can remove or add filling to change it. The pillow comes in a decently high loft, but you can remove some fill to lower it. Coop Sleep Goods will also send you an additional half pound of fill to add if you want a higher loft.
Side — The Coop Eden is a great choice for side sleeping. The foam is elevating and supportive, so you can maintain your spinal alignment. And since the loft is adjustable, you can easily get the pillow to the right height for you. I found the loft the pillow arrived in to be pretty good for side sleeping, but if you're larger or have broader shoulders than I do, you may want to add some extra fill.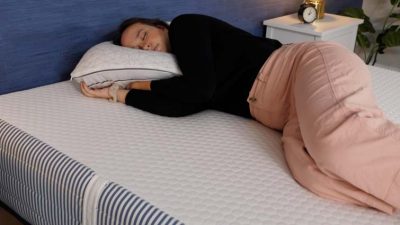 Back — I really liked the Coop Eden for back sleeping. The medium feel is perfect for a back sleeper and again, the adjustability allows you to lower the loft to a good height for back sleeping. I would definitely lower the loft to sleep on my back with the Coop Eden, as a higher loft could cause your neck to crane a bit.
Stomach — I did not think the Coop Eden was a strong pick for stomach sleepers. Stomach sleepers will probably want a softer feel than this. Additionally, to get the loft low enough for a stomach sleeper, I think you'll end up removing most of the fill. I'd recommend just picking a softer pillow that already has a low loft.
Under the Arm — I think the Coop Eden is a really great pillow for sleeping under your arm. Because it's decently moldable and squishable, it's really cozy to wrap your arms around. I'd say it's very huggable!
Between the Legs — The Coop Eden should work pretty well for sleeping between your legs, since it does mold around you nicely. I'd probably lower the loft a little for sleeping between the legs, but that can vary based on your size.
What is the Coop Eden Pillow Made Of?
The Coop Eden is a shredded memory foam pillow.  The cover is made with Coop Sleep Good's proprietary Lulltra fabric, which is a blend of polyester and bamboo-derived viscose rayon. The pillow also has a woven ribbon gusset along the side, which is made from 100 percent polyester. This gusset allows the pillow to expand if more fill is added.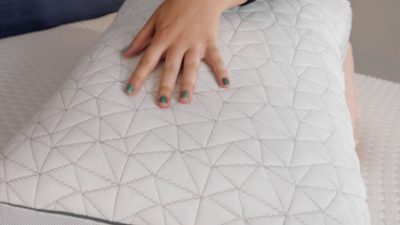 The inner pillow lining is made of 100 percent polyester. That inner lining contains the pillow fill, which is a blend of cross-cut gel-infused memory foam fill and microfiber fill, which looks like fluff. This blend of fills contributes to the pillow's moldable, contouring feel.
The Coop Eden's fill is hypoallergenic, as well as CertiPUR-US certified and GREENGUARD Gold certified to be free from harmful chemical and pollutants.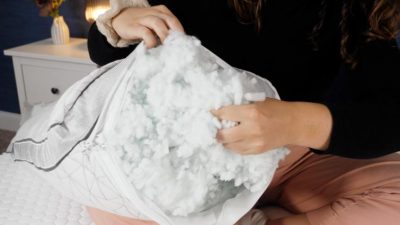 I didn't notice any bad smells with my pillow, but when you open a new pillow you may sometimes experience off-gassing. Off-gassing is the release of gasses that were trapped during the compression process, so if you do notice any less-than-pleasant scents when you open your pillow, just let it air out for a day or so before sleeping on it.
Is the Coop Eden Pillow Good for Hot Sleepers?
The Coop Eden is a solid pick for hot sleepers, thanks to the breathable Lulltra cover and the gel memory foam used in the fill.
The Lulltra fabric contains bamboo fibers, which makes the fabric breathable and less heat-trapping. The shredded fill also contributes to breathability, as it allows for more airflow within the pillow, as compared to a solid block of memory foam.
Gel memory foam is a common material used in cooling mattresses and bedding, as gel draws heat away from your body, so it'll also help keep you and your pillow cool throughout the night.
For more hot sleeper-approved bedding, check out our best cooling pillows and best cooling sheets.
Coop Eden Pillow Sizes and Prices
Interested in buying the Coop Eden pillow? Here are the prices, listed by size. All prices are listed before discounts. To save, make sure to click one of the coupons in this article!
| Size | Price |
| --- | --- |
| Queen | $96 |
| King | $116 |
My Final Thoughts About the Coop Eden Pillow
Overall, I really liked the Coop Eden pillow. I thought it had a really nice supportive, but contouring and cozy feel. I primarily sleep on my back and I thought the Coop Eden had the perfect feel for a back sleeper, once I lowered the loft a bit. But with a higher loft, I think it is a really comfortable pillow for side sleepers, too.
I also thought the Coop Eden succeeded as a cooling pillow. Hot sleepers will definitely appreciate the cooling effect of the gel foam and Lulltra fabric, as well as how breathable the Coop Eden is overall.
Additionally, this pillow will be really easy to keep clean. Being able to wash the entire pillow and having a removable, washable outer pillowcase is a huge plus in my opinion. I appreciate that the inner fill is hypoallergenic, as well. The materials also feel pretty high-quality, so I think this pillow should have a long lifespan.
Coop Eden Pillow Policies and FAQs
How does the Coop Eden pillow ship?
Coop Sleep Goods offers free standard shipping within the contiguous 48 United States. Shipping generally takes 5–7 business days.
Does the Coop Eden pillow come with a sleep trial?
Yes, the Coop Eden pillow comes with a 100-night sleep trial. During the sleep trial period, you can test the pillow out at home and if you decide it's not the right fit, you can return it for a full refund within two business days. Coop donates returned pillows that are in good condition to local charities.
Does the Coop Eden pillow come with a warranty?
Yes, the Coop Eden comes with a 5-year warranty. That'll cover material damages that occur during normal use or due to manufacturing defects.
Is the Coop Eden pillow machine washable?
The Coop Eden pillow's outer cover is machine washable. Coop Sleep Goods also recommends washing the inner pillow about once a year to keep it clean, while maintaining its shape and supportiveness.
What size is the Coop Eden pillow?
The Coop Eden comes in two standard sizes: a queen size, which is 20 inches by 30 inches, and a king size, which is 20 inches by 36 inches. I tested the queen size for this review.
Coop Eden Pillow Vs
Now let's compare the Coop Eden to another pillow from Coop Sleep Goods: the Coop Original memory foam pillow. 
Coop Eden Pillow vs Coop Original Pillow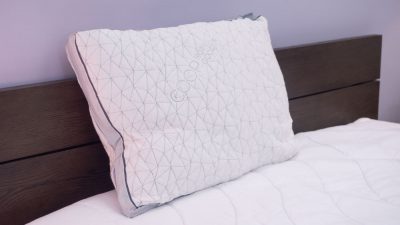 The

Coop Original pillow

is a

shredded memory foam pillow

. The fill is a blend of

cross-cut memory foam and microfibers

, similar to the Eden. However, the foam is not gel-infused, so it won't be quite as cooling. But the

Lulltra

cover and shredded fill still make the Coop Original a good choice for

hot sleepers

.

It's also an

adjustable pillow

, so you can alter the loft to fit you perfectly.

Similar to the Eden,

the Original

has a

soft, but supportive feel

. It offers quite a bit of contouring and is very huggable.

Learn more in my full

Coop Original Pillow review

.
Other Products from Coop Sleep Goods
Here's what else we've reviewed from Coop Sleep Goods:
Finally, here's my star ratings for the Coop Eden pillow.
Cooling

Materials

Comfort

Value

Trial

Warranty
Summary
With cooling Lulltra fabric and shredded gel-infused memory foam fill, this down alternative pillow from Coop Home Goods is great for hot sleepers, side sleepers, and back sleepers.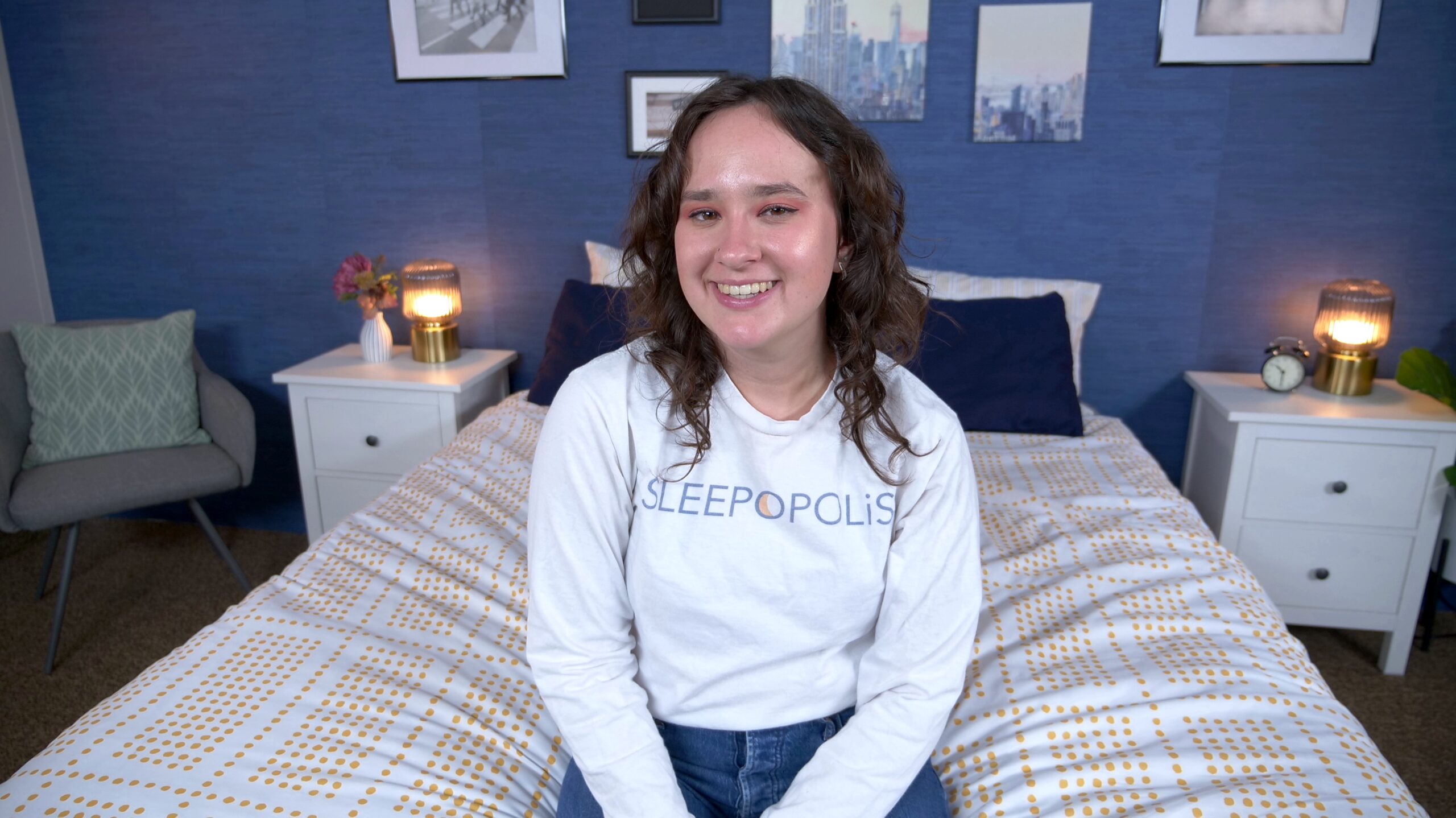 Amelia Jerden
Amelia is a Senior Staff Writer for Sleepopolis. She primarily covers bedding and sleep accessory products in reviews, how-to guides, and more. You can also find her over on the Sleepopolis YouTube channel. Amelia is a graduate of the University of North Carolina at Chapel Hill, with double majors in media and journalism and in dramatic art. Outside of work, Amelia can usually be found on a hike, traveling to a new city, or at her local thrift store.