If you're on the hunt for a great pillow, you may have noticed many are made of down and feathers. Down is the soft, spineless feathers found in the underbelly of birds. It's typically sourced from ducks or geese for pillows due to its soft, fluffy feel that's perfect for sleeping. This material is super common in pillows and bedding, but you can also find it in other products like coats and sleeping bags because of its insulating properties.
When it comes to a down pillow, there are lots of different types on the market. Luckily, we're here to round up our picks for the best down pillows. We'll cover all the essential details about these pillows, who they may be best for, and who may want to avoid them. Then, we'll break down all things down-related and provide some expert buying tips.
Best Down Pillows 2023
Boll & Branch Down Pillow
The Boll & Branch Down pillow is made with ethically-sourced down, a cotton shell, and comes in three densities. Depending which you choose, it can work for all three sleeping positions.
Sleepopolis Score
4.60 / 5
Read Full Review
Expert Opinion
The Boll & Branch Down Chamber pillow features a 3-chamber design and is offered in three density options – Soft, Medium, and Firm. The Soft density is filled with adjustable down in all three chambers. The Medium and Firm densities are filled with a supportive feather and down inner pillow that's surrounded by a soft layer of down. This pillow is covered with a 100 percent cotton shell.
We love this pillow in the Medium density for back sleepers because it puts you in the best position for ideal spinal alignment while also being super plush and cozy. Back sleepers typically need a pillow with a medium firmness that allows slight head sinkage while promoting head and neck alignment, and this pillow does just that.
Who the Boll & Branch Down Chamber Pillow is Best for
Sustainable shoppers: Boll & Branch is an eco-friendly company that processes its products so they're without toxins, GMOS, and pesticides. Their partnership with family owned farms and factories makes their materials traceable, ethical, and sustainable.
Side and stomach sleepers: This pillow is also offered in a Soft and Firm density, so these stomach and side sleepers can enjoy it too. We recommend the Soft for stomach sleepers and Firm for side sleepers.
People seeking easy cleaning: This pillow is machine washable, which makes cleaning quick and easy. As always, be sure to read the product's care instructions before washing.
Who Should Avoid the Boll & Branch Down Chamber Pillow
Budget shoppers: With a starting price over $150, this pillow definitely isn't a budget buy and may be a bit too expensive for some shoppers.
People seeking an adjustable pillow: While this pillow comes in multiple firmness options, it's not great for those who want to customize the firmness level.
Learn more in our Boll & Branch Down pillow review, or if you are interested in more from Boll & Branch, check out our Boll & Branch sheet review!
Brooklinen Down Pillow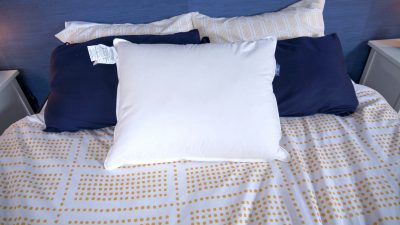 The Brooklinen Down pillow is available in three firmness levels, making it versatile for a variety of sleepers.
Sleepopolis Score
4.30 / 5
Read Full Review
Expert Opinion
The Brooklinen Down Pillow is a soft yet supportive pillow offered in Plush, Mid-Plush, and Firm support options. The range of support offered makes this a good choice for a wide variety of sleepers, but we especially like it for combination sleepers who tend to switch between positions. The Mid-Plush option uses a dual-core structure with an outer layer of down clusters and an inner layer of feathers. This gives it a nice balance and allows combination sleepers to easily move around without feeling "stuck" in the pillow.
Who the Brooklinen Down Pillow is Best for
People with allergies: Some shoppers may be hesitant to purchase a down pillow due to allergies, but Brooklinen treats theirs with Ultra-Fresh Antimicrobials. This helps fight off allergens and is gentle on sensitive skin.
People seeking durability: This pillow is constructed with double-stitched edges, which makes it durable enough to stand the test of time. It also comes with a lifetime warranty, which speaks to the brand's confidence in its longevity.
Mid-range shoppers: While we don't classify it as a budget buy, the Brooklinen Down pillow is reasonably priced for a down pillow while still being high quality.
Who Should Avoid the Brooklinen Down Pillow
Some side sleepers: Although you can choose the Firm option, some side sleepers may still find it too soft to properly support their head and neck. Remember, firmness is relative and can feel different to different sleepers.
People wanting a cooling pillow: This pillow doesn't sleep noticeably warm, but it's not designed with any cooling properties, which may be important to some hot sleepers.
Think the Brooklinen Down pillow may be right for you? Check out our full review!
Parachute Down Pillow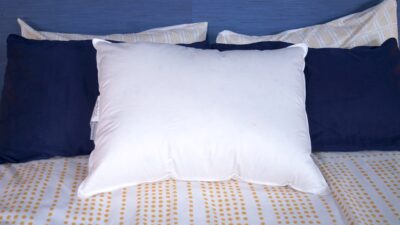 The Parachute Down Pillow is filled with European white down and great at alleviating neck pain!
Sleepopolis Score
4.30 / 5
Expert Opinion
The Parachute Down Pillow is a luxurious pillow made from premium European white down. This type of down is extra fluffy, which gives the pillow a supportive yet airy feel. The filling is made from 85 percent down clusters and 15 percent feather fibers, and the shell is 100 percent cotton.
This pillow is offered in Soft, Medium, and Firm densities to accommodate most sleepers. And each density can work to help different sleepers with their neck pain — such as the Soft model preventing strain for stomach sleepers or the Medium model keeping back sleepers' necks supported. No matter which option you choose, the pillow is OEKO-Tex Standard 100 Certified and Responsible Down Standard certified.
Who the Parachute Down Pillow is Best for
Stomach sleepers: We think the Soft density pillow is a great option for stomach sleepers, who should find the soft down prevents their neck from craning upwards.
Back sleepers: The Medium density pillow offers balanced support that back sleepers can really enjoy.
People wanting a lightweight pillow: Regardless of the density level, this pillow has a light and airy feel that's perfectly fluffy.
Who Should Avoid the Parachute Down Pillow
Some side sleepers: While the Firm density option may work for some side sleepers, Parachute sells a down pillow designed specifically for side sleepers, which they recommend for better support.
Budget shoppers: Like many pillows, this one ranges in price depending on its firmness, and some options may be too expensive for shoppers on a budget.
Want to learn more about Parachute bedding? Head over to our Parachute down mattress topper review or Parachute sateen sheets review.
Puredown Goose Feather and Down Pillow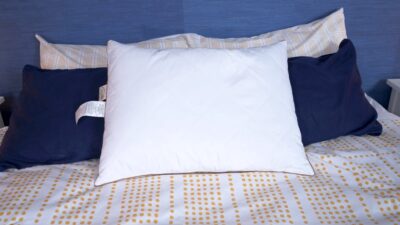 This goose feather and down pillow has a luxurious hotel pillow feel. With a medium-firm feel and low loft, this pillow is ideal for stomach and some back sleepers.
Sleepopolis Score
4.20 / 5
Expert Opinion
The Puredown Goose Feather and Down Pillow is an affordable option that can fit the needs of multiple sleeping positions. With a diamond quilted down-proof cover, this pillow has a delightfully fluffy and feather-like feel. The pillow is filled with a 95 percent goose feather and 5 percent goose down blend, giving the pillow an overall medium-firm feel. Although down can be an expensive material, this pillow's use of down and feathers makes it a great budget buy while still being durable, structured, and supportive.
Who the Puredown Goose Feather and Down Pillow is Best for
People wanting temperature regulation: This pillow has a high percentage of feathers, which are an insulating yet breathable material that makes this pillow not too hot but not too cold.
People with sensitive skin: The feather-proof fabric used on this pillow is skin-friendly and is unlikely to leave you with irritation.
Ethical shoppers: This pillow is OEKO-TEX Standard 100 certified and follows the Responsible Down Standard, which ensures the material is sourced from reliable raw materials.
Who Should Avoid the Puredown Goose Feather and Down Pillow
Stomach sleepers: This pillow is likely too firm for stomach sleepers, who may do better on a softer pillow that will prevent their neck from craning.
People wanting more down: 95 percent of this pillow is goose feathers and only 5 percent is down. People who really crave the feeling of down may want a pillow with a higher percentage of down.
For more affordable pillows, check out our most affordable pillows guide.
Casper Down Pillow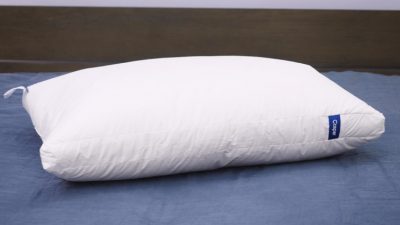 This pillow is filled with 100% ethically sourced down, and reminds me of the pillows I've enjoyed at hotels!
Sleepopolis Score
4.60 / 5
Expert Opinion
The Casper Down pillow is Casper's fluffiest pillow yet. It's super soft on the skin and has an airy, cloud-like feel. Its low 2-inch profile makes it a good choice for stomach sleepers and prevents their neck from craning upwards. The pillow features a 5-chamber design, which promotes healthy sleep posture for stomach sleepers, but also makes this pillow versatile to a variety of sleepers. Its inner and outer chambers both serve specific functions; the inner chamber is designed for neck support and the outer chamber provides fluffy, airy comfort.
Who the Casper Down Pillow is Best for
Hot sleepers: This pillow sleeps cool — the down feathers make it super breathable, which is perfect for those who run hot at night.
Ethical shoppers: This pillow is made from ethically sourced down, so you can rest easy knowing the ducks were humanely treated.
People wanting a cloud-like feel: This pillow is super soft and fluffy. It's lightweight and airy, which gives it that cloud-like feeling.
Who Should Avoid the Casper Down Pillow
Side sleepers: Side sleepers may find this pillow too soft and not supportive enough for their needs.
Budget shoppers: This pillow is on the pricier side and may not be affordable for all shoppers.
Methodology: How To Shop For A Down Pillow
Okay, folks, now that you've seen our six favorite down pillows, let's dive deeper into the methodology behind our picks. When you're shopping for down pillows, it's important to consider materials, fill power, and the cluster-to-feather ratio in order to find the one that meets your unique sleep needs.
Materials
Yes, down pillows are all filled with feathers, but that doesn't mean they're all the same! Some are stuffed with goose feathers, some are filled with duck down, and others are filled with a blend of both. The color, texture, and durability of down can vary from pillow to pillow, depending on the animal it's sourced from.
Goose Down
Geese are known for producing large down clusters, which often result in a fluffier, loftier pillow. Goose down also tends to be more durable than duck, which can increase a pillow's lifespan (but also the price).
Another main selling point of goose down is its white color, which makes it harder to see individual feathers through a cover fabric. This doesn't affect the feel, but many sleepers prefer white down for aesthetic reasons.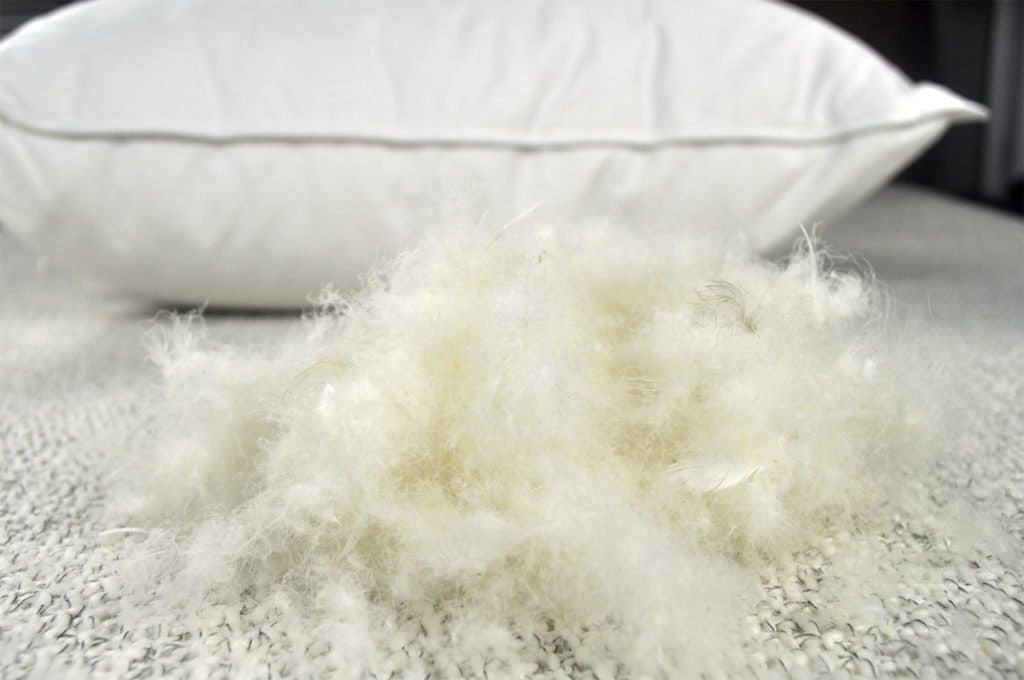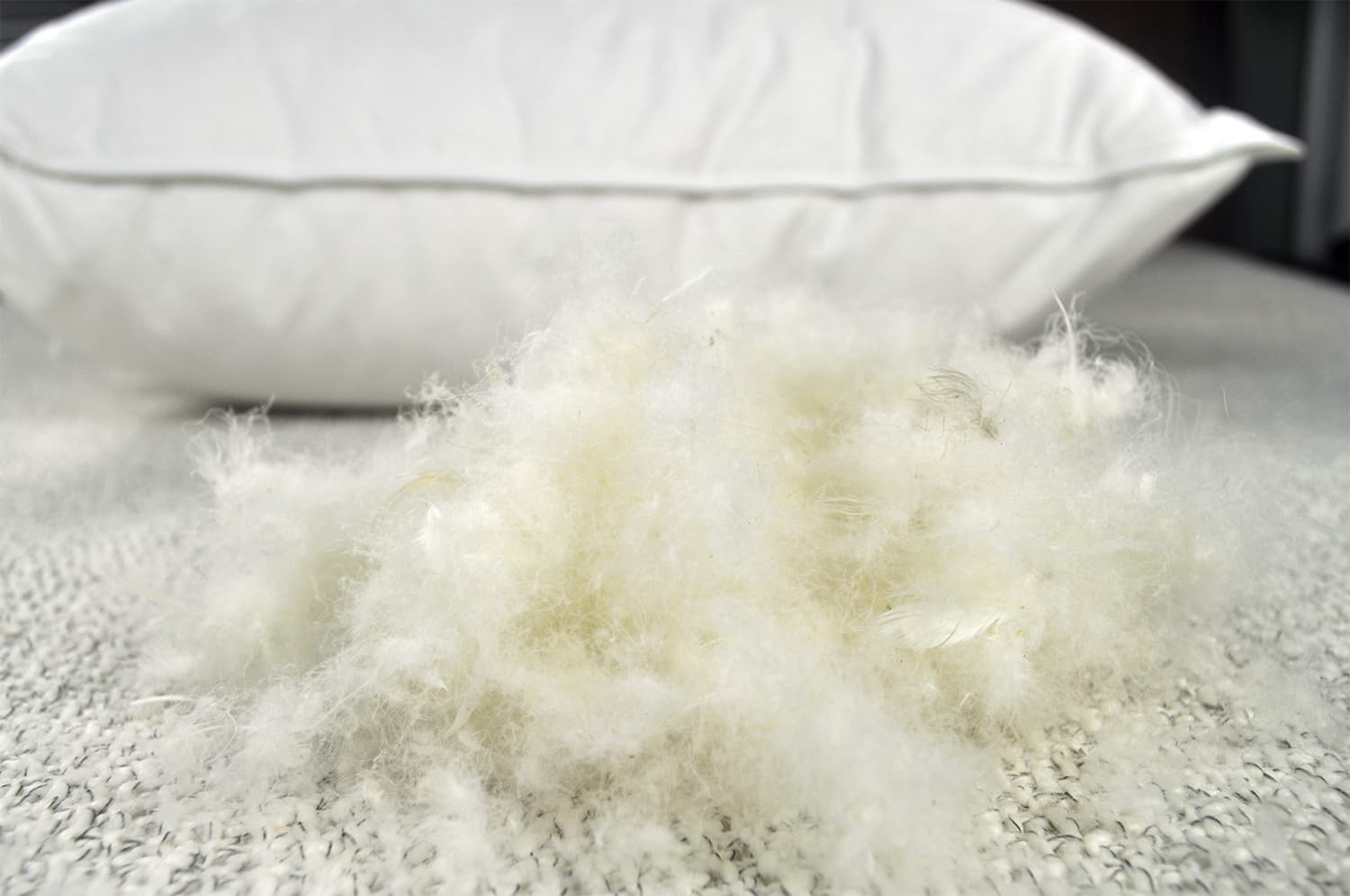 Duck Down
In general, duck down is a bit less fluffy and durable as compared to goose down…but it's also less expensive. Many bedding brands combine duck and goose down in order to create a balanced feel while also appealing to folks on a budget.
That said, all-duck down pillows can be just as luxurious as those sourced from geese, depending on fill power and the cluster-to-feather ratio. And while it may cost a little extra, sleepers can shop specifically for white duck down to make sure the pillow is uniform in color, and no gray spots peek through the cover.
Fill Power, Loft, and Firmness
Fill power is the term used to measure the loft and fluffiness of a down product, and typically ranges from 300 to 900. The general rule of thumb is the higher the fill power, the fluffier a down pillow will be. In the bedding world, down pillows with a fill power of 600 or higher are considered luxurious, but it's important to remember that loft and firmness go hand in hand.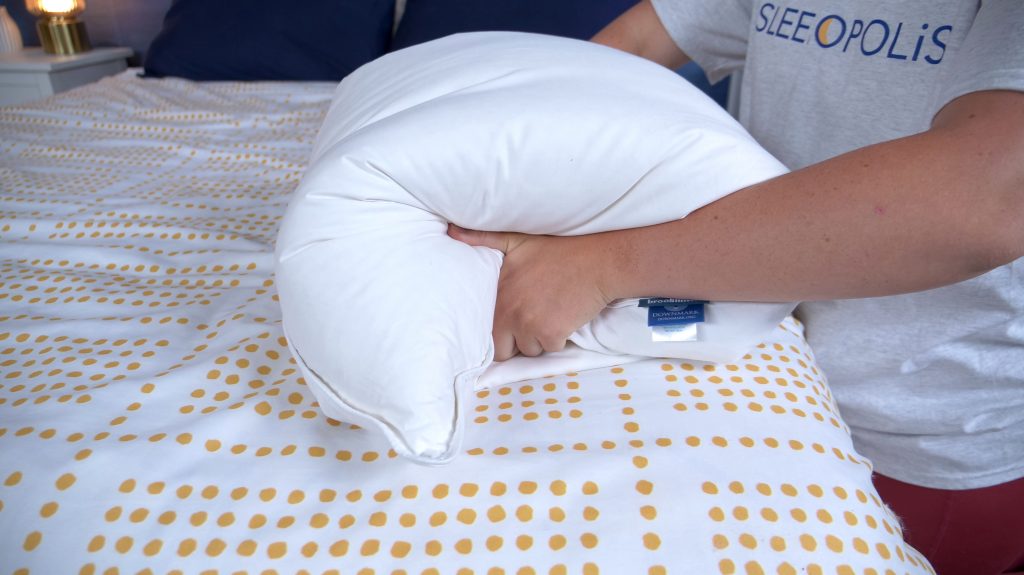 While it's true that a high fill power pillow is likely to look lofty, its ability to maintain that loft under pressure has a lot to do with its firmness. So, let's talk about how to land on the loft and firmness that works best for your preferred sleeping position.
Stomach Sleepers: Down pillows are often perfectly suited to stomach sleepers because they're plush and compressible. That said, some bedding brands offer down pillows in several firmness options to accommodate different positions, and we suggest that stomach sleepers choose the softest one. Having a soft, low-lofted pillow is a great way for stomach sleepers to guard against neck pain.
Back Sleepers: Back sleepers are most compatible with a medium level of loft and firmness. So, we suggest picking a high-fill power pillow with a soft to medium firmness rating, as these traits can complement each other to create a balanced feel. By the same token, folks who prefer firmer support may want to choose a lower-lofted pillow to prevent the head from craning forward.
Side Sleepers: Because down is so soft and compressible, we suggest side sleepers pick the firmest, loftiest down pillow they can find. Remember, down is always going to compress at least a little bit, but side sleepers can compensate for that with an extra-firm feel. To accommodate side sleepers, some brands combine down with a denser material like memory foam in order to boost loft and firmness.
For more information on keeping healthy sleep posture, be sure to check our complete guide to picking the right pillow for your position!
Cluster-to-Feather Ratio
Okay, here's where things get a little confusing. While down clusters are technically feathers, they're not the same as the feathers that come from the back or wings of ducks and geese. Instead, down clusters are softer, fluffier feathers that come from the insulating layer on the belly of the bird.
Non-cluster feathers that come from the back and wings are longer, less pliant, and can make a pillow feel more firm. And though clusters are generally considered to be more luxurious than feathers, sleepers who prefer a firmer feel might actually want a greater number of feathers. Conversely, those looking for a softer, more plush pillow should aim for a higher concentration of clusters.
FAQs
Is goose down better than duck down?

It depends on your definition of "better." Goose down is usually going to be fluffier than duck down, but that's not going to appeal to everyone, especially if they enjoy a firmer feel. Another difference between the two types of down is that goose feathers are going to be white, and therefore not as visible through the pillow. Duck feathers are often gray, although you can sometimes find white duck down for an extra charge.
What's the difference between down pillows and feather pillows?

Essentially, down pillows are made of feathers that come from the chest and underbelly of a duck or goose. It's worth noting that these feathers don't have quills. Feather pillows do have quills and come from the wings and backs of ducks and geese.
How long do feather pillows last?

Feather pillows can last between five and 10 years. However, depending on the pillow, the feathers may start to compress after a while and become uncomfortable. That's why some folks prefer to replace their pillows every one to two years.
Conclusion
Now that you've seen our top favorite down pillows on the market, you're well on your way to picking the one that's perfect for you. Just be sure to keep a close eye on materials, fill power, and the cluster-to-feather ratio in order to find the one that works best for your individual sleep needs. Sweet dreams, everybody!