Bedding brand Brooklinen crafted its Natural Plush Down Pillow for sleepers who love the uniquely cozy feel of real feathers. And while down pillows have a reputation for being luxuriously fluffy, I'm here to take a close examination of exactly what this pillow is made of and for whom it might be most beneficial. Keep reading to find out if Brooklinen's down pillow is the right one for you!
Save 15%

Brooklinen's Pillow provides plush and fluffy comfort for those interested in ethically sourced down! Enjoy 10% off your order with code SLEEPOPOLIS10!
Brand Snapshot
Since Brooklinen was established in 2014, it's steadily risen in popularity and is considered by many to be a go-to brand for bedding (and bath) essentials. From bed sheets and bath towels to blankets and comforters, Brooklinen offers a wide range of home accessories for all kinds of sleepers.
For this review, we'll be honing in on the brand's Natural Plush Down Pillow, made specifically for those who can't get enough of that real feather feel. But who will be most compatible with this pillow, and is it suitable for all sleeping positions? Let's take a closer look!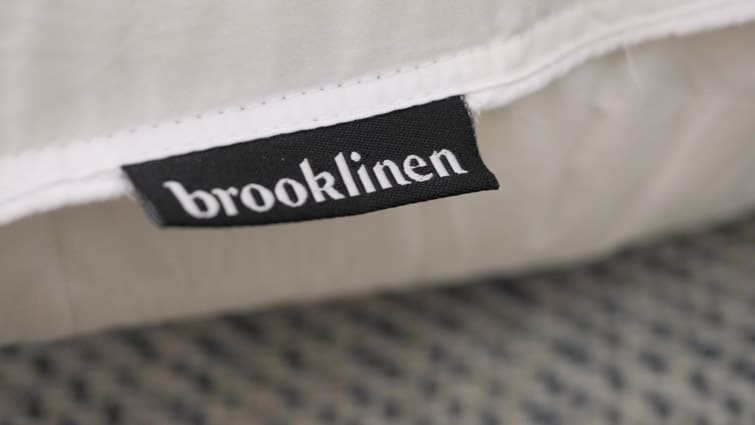 What Is The Brooklinen Natural Plush Down Pillow Made Of?
The cover fabric of this pillow is made from 100% cotton, and woven into a high thread count of 400. Thread count refers to the amount of individual yarns per square inch of fabric, and the higher the thread count is, the smoother the fabric will typically be. That said, this pillow is traditionally shaped, so sleepers can dress it with a pillowcase if they choose. However, I found the cotton casing to be pretty soft and breathable on its own.
This pillow is stuffed with 100% Canadian white duck down, and features a fill power of 600. Fill power is the term used to the measure of loft of a down product, and typically ranges from 300-900. When you're pillow shopping, note that a 500-600 fill power offers a luxuriously fluffy feel with a lofty (but compressible) build. This pillow does have a lofty profile of about 5 inches tall, but is soft enough to compress into a loft of about 1.5 inches.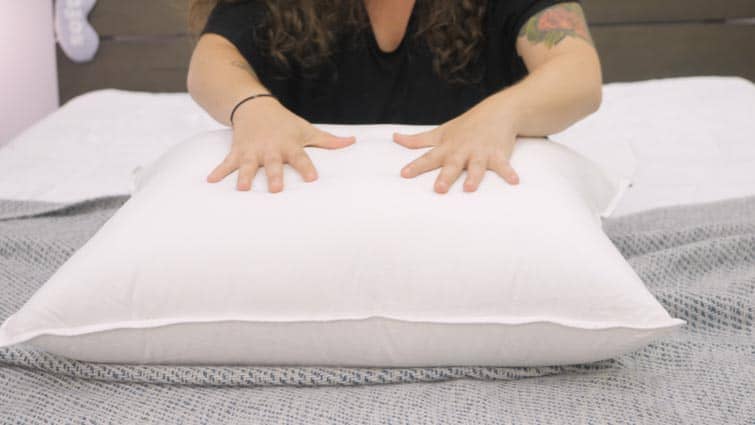 Many down pillows are filled with feathers that have been plucked from live ducks or other waterfowl, but Brooklinen takes a different approach. Rather than sourcing the down and feathers from live birds, Brooklinen repurposes unused down from farming partners within the meat industry. According to the folks at Brooklinen, this ensures that no living ducks are harmed, and no down goes to waste.
FAQ
Q: Are down pillows machine washable?
A: Some down pillows are machine washable, and can be washed on a cool, gentle cycle and dried on low heat. But more often than not, down pillows must be dry cleaned in order to protect the materials and keep it in good condition.
Additionally, the down in this pillow is treated with something called Ultra Fresh Antibacterial Additives. Ultra Fresh Antibacterial Additives is an OEKO-Tex certified technology used to make this pillow hypoallergenic and resistant to mold and mildew. So, if you avoid real down because of allergies or sensitive skin, you might want to give this pillow a try.
Now that we've taken a closer look at what this pillow is made of, let's talk about how it feels and which sleeping positions will be most compatible with it.
Save 15%

Brooklinen's Pillow provides plush and fluffy comfort for those interested in ethically sourced down! Enjoy 10% off your order with code SLEEPOPOLIS10!
How Does The Brooklinen Natural Plush Down Pillow Feel?
In general, down pillows provide a soft, feathery feel with a compressible loft. And while this pillow is no exception, it's worth noting that Brooklinen does offer this pillow in three firmness options: Plush, Mid-Plush, and Firm. For this review, I'm testing the plush pillow (which means it offers the softest feel of the three). But what makes this pillow softer than the rest?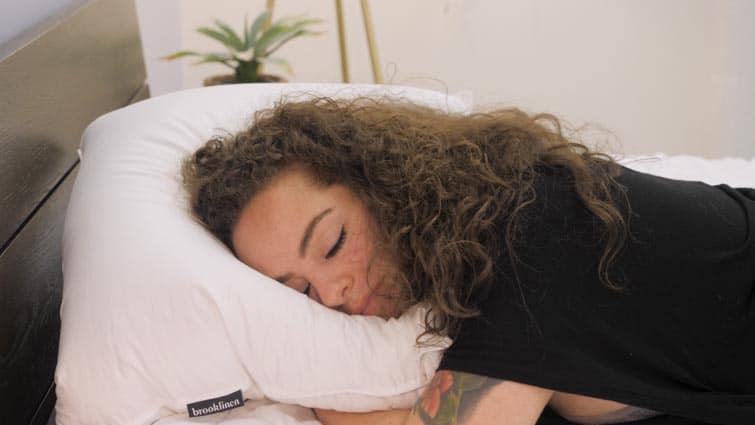 Well, it's all about the ratio of feathers to down clusters. Down refers to the super soft and fluffy clusters that come from the insulating layer beneath the feathers of an adult bird. Feathers, on the other hand, are less pliant and serve as the support system within a down pillow. Essentially, when the feathers outweigh the down clusters, you're left with a firmer pillow. In the case of this particular pillow, the down outweighs the feathers, which makes for a very plush feel.
FAQ
Q: Does Brooklinen make a down-alternative pillow?
A: Yes! Brooklinen makes a down-alternative pillow filled with 100% microfiber for those who don't want to sleep on real down.
When you're picking the right pillow for your preferred sleeping position, firmness is an important factor to keep in mind. The general rule of thumb is — side sleepers need a firm pillow, stomach sleepers need a soft pillow, and back sleepers need a medium-firm one. In my experience, I found this pillow to be ideal for stomach sleeping. It's soft, compressible loft helped me maintain neutral spine alignment, and I never felt like my head was craned upwards.
However, I did find it to be pretty cozy for back sleeping too! The plush feathers puffed up around the sides of my head which made me feel comfortably cradled. Some back sleepers may find they prefer a firmer pillow, but as long as it promotes a neutral spine, you should feel free to experiment with the firmness that feels best to you.
When it comes to side sleeping, this pillow isn't quite firm enough. When I tested it in the lateral position, the loft quickly decreased under pressure, dragging my head down with it. Remember: no matter which position you sleep in, your head should always be in neutral alignment with your neck and spine.
More: Confused about spine alignment? Check out my guide to picking the right pillow!
Overall, I really enjoyed testing this pillow. It's got a fluffable cloud-like feel that I found to be cozy for the back and stomach sleeping positions. I wouldn't go so far as to call it a cooling pillow, but I would say that it didn't trap my body heat either. So, hot sleepers should feel free to give this one a try!
The Verdict: Back and stomach sleepers who love the feathery feel of real down will be most compatible with this pillow!
Should I Buy The Brooklinen Natural Plush Down Pillow?
Now that we've examined the materials and feel of this pillow, let's recap the highlights so you can better determine if it's the right choice for you.
Save 15%

Brooklinen's Pillow provides plush and fluffy comfort for those interested in ethically sourced down! Enjoy 10% off your order with code SLEEPOPOLIS10!
Plush & Fluffy – The plush, feathery feel of this pillow reminds me of the kind of sleep accessories you might find at a nice hotel. It's got a luxurious, cloud-like feel that's super huggable and fluffy. Plus, the cover fabric is very soft to the touch.
Stomach Sleepers – Stomach sleepers, in particular, are likely to be most compatible with this pillow. It's got a soft firmness rating, and can compress into a low loft which is ideal for the prone position. That said, folks who alternate between back and stomach sleeping should definitely give this pillow a try!
Ethically Sourced – Brooklinen sources its down and feathers from farms within the meat industry. For strict vegans or those who don't want to sleep on animal products, this might not make a difference. However, some sleepers might take comfort in the fact that the birds are not alive when their feathers are plucked. Additionally, the down is recycled and repurposed by Brooklinen rather than thrown away, and is also treated with antimicrobial additives that make this pillow resistant to mold, mildew, and other allergens.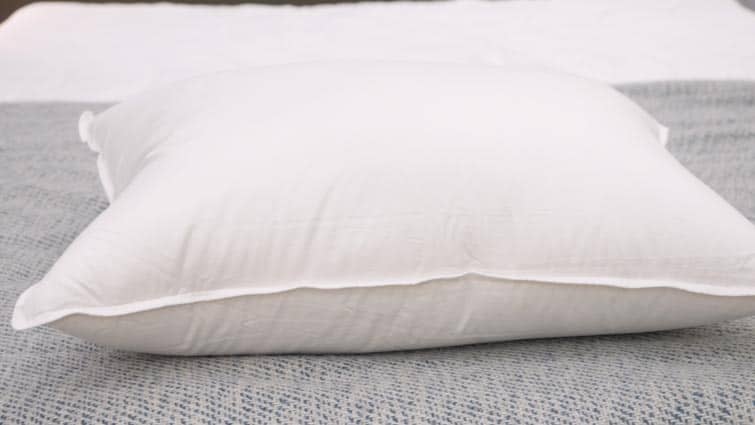 Brooklinen Natural Plush Down Pillow Complaints
Of course, there are a few things about this pillow that some sleepers might consider to be drawbacks.
Dry Clean Only – As is often the case with down pillows, the folks at Brooklinen suggest that you only dry clean this pillow in order to maintain its integrity. Not everyone is going to want to dry clean their pillow every time it gets dirty, so if easy wash care is important to you, this is something to consider!
Not Vegan – Like I said, regardless of the down's origin, this pillow is still filled with animal products. Vegan sleepers, or those who won't (or can't) sleep on real down, should look into down-alternative pillows instead.
Pricey – Down pillows do tend to come at a higher price point (compared to down-alternative pillows, for example) and this pillow ranges from $99-$119. In my experience, this is an average price for a down pillow, but it's still not going to be in everyone's budget.
Anything Else I Should Know?
Sizing– Standard & King
Pricing– $99 & $119
Free Shipping– within the U.S.
Returns– you have 365 days to exchange your Brooklinen product, or have it fully refunded
Lifetime Warranty– details available on Brooklinen website
Made in Canada
Now that you know every last detail about the Brooklinen Natural Plush Down Pillow, you're that much closer to deciding whether or not it's the right fit for you. In the meantime, be sure to subscribe to our YouTube channel, follow us on Facebook, Twitter, and Instagram as we're always uploading more content with one main thing in mind — to get you some better sleep!
Sarah is the Senior Writer and bedding expert at Sleepopolis. Every week, she personally tests and reviews new pillows, sheet sets, and other sleep accessories. She accompanies every video review with a meticulously detailed article to ensure her audience has all the pertinent info they need for the best shopping experience possible. Perhaps that's why her fans have dubbed her "the most thorough pillow reviewer on the Internet." Having tested everything from sleep trackers to mattress toppers, Sarah's expertise runs deep and is always expanding. She received her degree in Creative Writing from Brooklyn College and spends her free time doing stand-up, making pasta, and hanging with her cats.