If you've been poking around the online bedding space, I'm willing to bet you've come across Casper. The bed-in-a-box giant has some great mattresses, and we've reviewed all of them (you can find links to those reviews at the bottom of the page). 
Though mattresses may be Casper's bread and butter, the brand also makes pillows. Here I'll be reviewing the Original Casper pillow, which uses a unique pillow-in-pillow design to make for a fluffy, yet supportive, feel. 
Keep reading for my full review of the Casper Original pillow, or skip down to my review summary for the quick hits.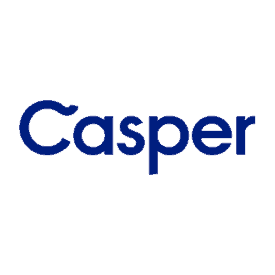 Sleepers can enjoy Casper's pillow-in-a-pillow design in order to customize the loft and feel!
Is Casper Pillow a Good Pillow for You? 
Not all pillows work for all sleepers. To find out if a pillow is going to suit your needs, you're going to want to take into account factors like your preferred sleeping position and what kind of feel you like best. Take a look at some of my recommendations below. 
Who should try the Casper pillow
I think

side sleepers

will really like this pillow. It has a high enough loft to properly support the neck while on one's side.

Back sleepers

should also do nicely on this pillow. They'll likely enjoy the cushiony support this pillow provides.

The Casper pillow sleeps really cool, making it a great option for

hot sleepers

. It's designed to be breathable and moisture-wicking.

Sleepers who like a down pillow

should really like this fluffy pillow. Though not made with feathers, its fill mimics the squishy, moldable feeling of down.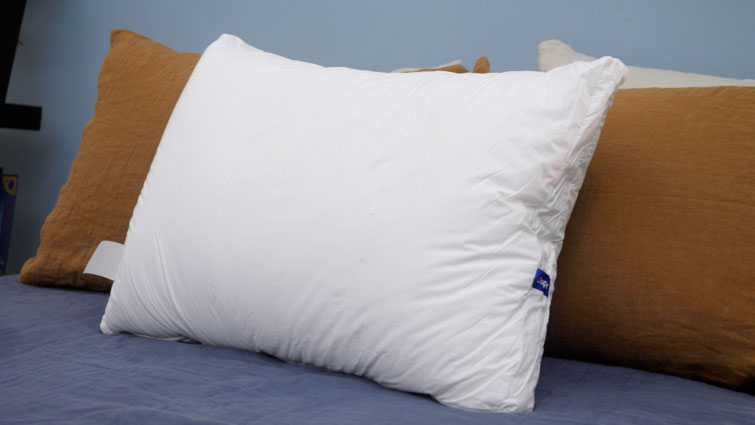 Who should not try the Casper pillow
Stomach sleepers

will likely find this pillow too firm and lofty for their needs. I'd recommend they check out our

best pillows for stomach sleepers

roundup.

Those after an adjustable pillow

. You cannot remove any of the fill from this pillow, so if you're after a truly customizable pillow, I'd recommend the

Coop Home Goods

pillow, which has a removable fill.

Sleepers who need an extra supportive pillow, like

those with neck pain

, might want to opt for a

memory foam pillow

, which will provide a firmer feel and more contouring.
What Does the Casper Pillow Feel Like? 
Now that you have an idea of whether or not this pillow will work for you, I'd like to share my thoughts on how it feels. Keep in mind that feel is subjective, and my opinion could well differ from your own. 
Casper Pillow Firmness
Before I describe the Casper's pillow's firmness, it's important to note that certain firmness levels work for different sleepers. In general, side sleepers need a firm pillow, back sleepers need a medium-firm pillow, and stomach sleepers need a soft pillow. These firmness levels are ideal for each sleeping position because they promote a neutral alignment of the neck and spine.
The Casper pillow has a pleasant medium-firm feel. I'd say it's on the firmer side of medium-firm, but not quite in the firm category. This unique feel comes from Casper's pillow-in-pillow design. Though the outer pillow is soft and fluffy, the inner pillow is quite a bit firmer. This prevents you from sinking all the way through the pillow, and gives it an overall supportive feel.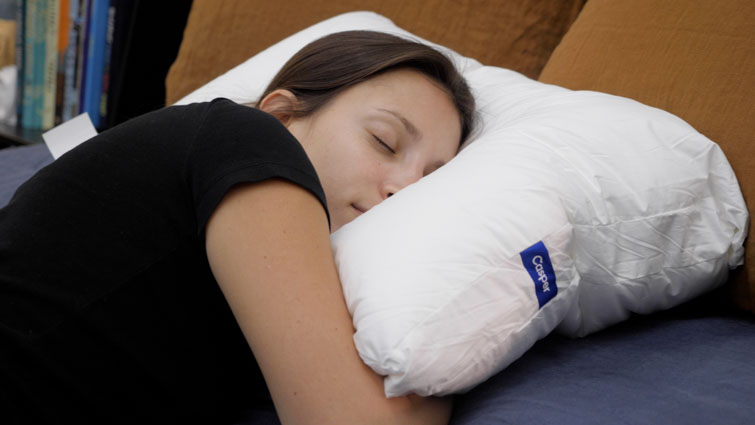 Casper Pillow Loft
Much like firmness, certain sleep positions do best with particular lofts. In general, side sleepers need a high loft (5 inches or higher), back sleepers need a medium loft (3 to 5 inches), and stomach sleepers need a low loft (3 inches or lower). Take a look at how this pillow felt for me in a range of positions. 
The Casper pillow comes in a mid-loft and low-loft version and a standard size and king size. I tested the standard size mid-loft version, which has a 2-inch gusset (which equates to about a 5-inch loft when fluffed).
Side — I really enjoyed side sleeping on this pillow! I felt some nice neck support and I liked how the outer layer of fluff contoured around my head.
Back — I was also quite comfortable while laying on my back using this pillow. It has a nice, supportive, yet cloud-like, feel that back sleepers should really enjoy.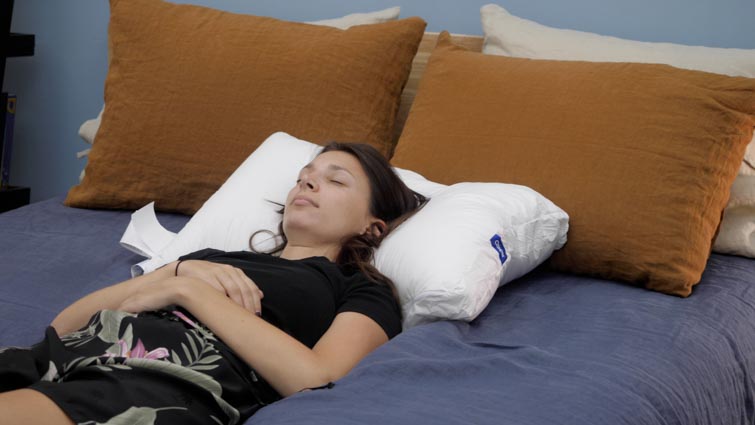 Stomach — This position was not comfortable. In my opinion, the Casper pillow is far too lofty for stomach sleeping. Stomach sleepers would be happier with the low loft version of this pillow, or a pillow specifically designed for stomach sleepers.
Under the Arm — I really liked the way this pillow felt under my arm. I often enjoy the feel of a down or down alternative pillow under the arm, as they're more huggable than foam pillows.
Between the Legs — This position was okay, but generally I like a softer pillow between my legs. I felt that this pillow pushed my legs too far apart for my liking.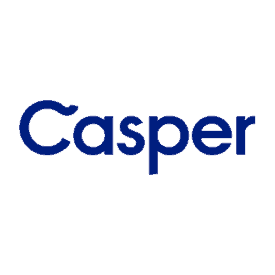 Sleepers can enjoy Casper's pillow-in-a-pillow design in order to customize the loft and feel!
What is the Casper Pillow Made Of? 
The Casper pillow has a pillow-in-pillow design. Let's take a look at what's inside.
Outer pillow cover – This pillow has a 100% cotton cover made with a breathable percale weave. 
Inner pillow cover – The inner pillow cover is made from a polyester fabric that also has some nice breathability. 
Outer and inner pillow fill – The pillow has a polyester microfiber fill. The fill is anti-clumping and expands with fluffing.
Is the Casper Pillow Good for Hot Sleepers?
Overall, I'd say the Casper pillow is pretty good for hot sleepers. The cotton cover and fill work together to allow for a decent amount of airflow. If you'd like to see more cooling pillows I'd recommend checking out our best cooling pillows roundup.
If you're looking for a cooling pillowcase to pair your Casper pillow with, you could try the Casper sheets. Or take a look at our best cooling sheets roundup.
Casper Pillow Sizes and Prices 
The Casper pillow comes in a standard size and king size, and a mid and low loft. Take a look at the pricing chart for these pillows below. Be sure to click one of the coupons in this article to save.
Price listed will be before discount or offer for each size. 
| Size | Dimensions | Price |
| --- | --- | --- |
| Standard Low Loft | 18" x 26" x 1.25" | $65 |
| Standard Mid Loft | 18" x 26" x 2" | $65 |
| King Low Loft | 18" x 34" x 1.25" | $85 |
| King Mid Loft | 18" x 34" x 2" | $85 |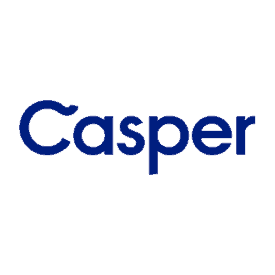 Sleepers can enjoy Casper's pillow-in-a-pillow design in order to customize the loft and feel!
My Final Thoughts About the Casper Pillow
I think this pillow is a nice choice for side sleepers and back sleepers. It has a fluffy yet supportive feel that should help keep these sleepers necks in a healthy, straight alignment. I also really like the fact that this entire pillow is machine-washable, which isn't all that common. The one thing that would make this pillow even better is if it were adjustable, but I think it's still a pretty great product overall.
Casper Pillow Policies and FAQs
No schema found.
Casper Pillow Vs
It can be helpful to see how a pillow stacks up to others on the market. Below, I'll compare it to the Faux Down GhostPillow.
Casper Pillow vs Faux Down GhostPillow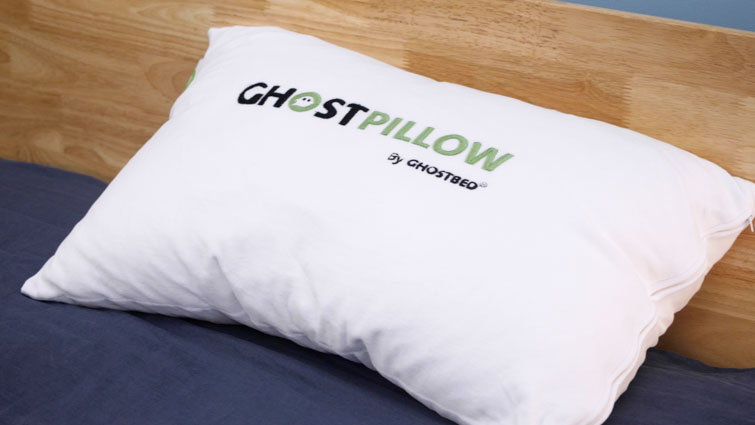 Both pillows have a microfiber fill that mimics the feeling of down, but the

Faux Down GhostPillow has a softer feel and lower lof

t. 

The Faux Down

GhostPillow sleeps just a bit cooler

than the Casper pillow. 

The

GhostPillow is more expensive

than the Casper pillow. 

Learn more in my full

Faux Down GhostPillow review

.
Other Products from Casper
Wondering what else Casper has to offer? The brand sells mattresses and a bunch of other sleep products. Take a look below.
Check out how the Casper pillow performed on our star rating chart!
Materials

Comfort

Support

Value

Cooling

Trial

Warranty