If you're on the hunt for the perfect linen sheets, keep reading because I'm about to get up close and personal with the Casper Linen Sheet Set. Linen is widely regarded as one of the most breathable, durable textiles on the market… But how does Casper's linen measure up in the wide world of bedding?
Well, the only way to really know what a sheet set is all about is by testing it for yourself! So let's dive into Casper's linen to find out how it feels, with which sleepers it's most compatible, and whether or not it's really worth the dough.
Editor's Note: The Casper Linen sheets are no longer available.
Brand Snapshot
Since its launch in 2014, Casper has become one of the most popular names in the bed-in-a-box game. From mattresses and pillows to bed frames and nightlights (yes, there is a Casper nightlight), this industry giant aims to cover all the bedroom bases in order to bring you the perfect night's sleep.
In fact, we at Sleepopolis have had the pleasure of testing quite a few Casper products… But now it's time to add another accessory to the list! So follow me as we learn everything there is to know about the Casper Linen Sheet Set.
What Is The Casper Linen Sheet Set Made Of?
The Casper Linen Sheet Set is made from 100% linen, a textile known for its durability, breathability, and distinctly coarse texture.
Pure linen is derived from natural flax fibers, which makes it a great eco-friendly bedding option for folks looking to sleep green. Casper sources its flax from Belgium, which (thanks to the country's humidity and agricultural conditions) is considered by many to produce some of the highest quality flax in the world.
Flax fibers are thicker (as compared to cotton fibers, for example) and produce a stiffer yarn, which gives linen fabric a uniquely coarse texture. The texture of linen bedding is kind of polarizing in that some sleepers love it, and others find it to be too coarse and scratchy. So, to cut through the coarseness and boost this bedding's soft feel, Casper employs a textile manufacturing technique called garment washing.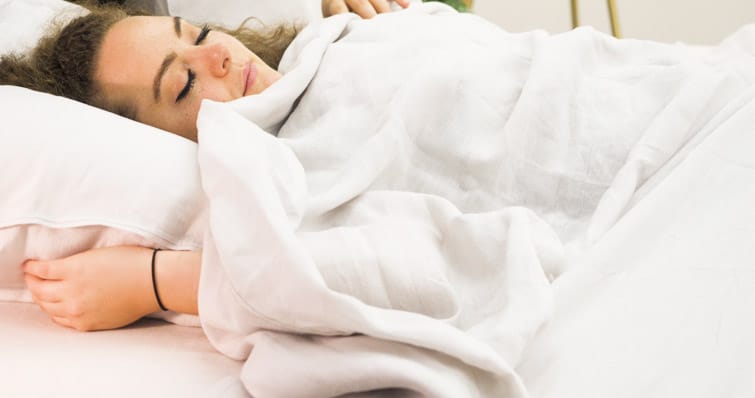 More: Want to know how Casper linen stacks up against the competition? Check out my roundup of the best linen sheets!
Essentially, every piece of bedding in the Casper Linen Sheet Set has been individually pre-washed until the desired texture is achieved. It's worth noting that linen tends to soften over time anyway, but garment washing kind of speeds up that process so you can enjoy super soft linen sheets as soon as you buy them.
FAQ
Q: Are linen sheets soft?
A: Linen bedding has a distinctly coarse texture that some sleepers find to be a bit scratchy. To remedy this, many bedding brands pre-wash linen fabric in order to make it less coarse and more smooth.
But before we get into how soft this linen bedding feels, let's talk about what you get with each set. Every Casper Linen Sheet Set comes with one top sheet, two pillowcases, and one fitted sheet capable of accommodating mattresses up to 14 inches deep. Additionally, the fitted sheet features a hyper-elastic band that puts a mega grip on your mattress, helping it to stay securely tucked the whole night through.
Okay sleepers, now that we know what this sheet set is made of, let's dive deeper into how it feels!
How Do Casper Linen Sheets Feel?
The first thing I noticed about the Casper Linen Sheet Set is how light and airy it is. Yes, linen is known for its breathability, but I found this particular linen to be especially cool and breezy. Those looking for a linen sheet set to add to their collection of summertime bedding should definitely look into this set.
As far as the feel is concerned, I'm pleased to report that these sheets are super soft on the skin. I will also say that the fabric seemed to get even softer after I washed them, and I have a feeling that this bedding will only get smoother as the years go by. So if you're someone who avoids linen bedding because of its coarse texture, rest assured — these are some very soft sheets.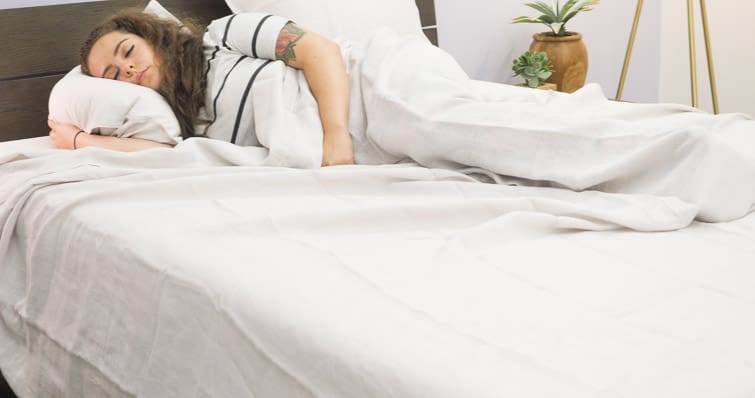 Something great about linen in general is that it's thermoregulating, which means it adapts to your body's temperature (neat, right?). Thanks to the hollow core and permeability of flax fibers, linen can dissipate heat when you get too hot, and trap your warmth when your body gets cold. That's why linen can be ideal for year-round use (and offer great bang for your buck!).
FAQ
Q: Are Casper sheets worth it?
A: Ultimately, bedding purchases are a personal decision, and everyone's working with a different budget. However, Casper offers a generous 100-night trial period so that shoppers can try before they buy!
However, this is quite possibly the lightest linen I've ever tested, as some linen bedding is built to be a bit thicker and heavier in weight. If you're someone who needs a little extra help keeping warm at night, you might want to take advantage of the trial period offered with this sheet set before you commit.
That said, I'm a hot sleeper and I thoroughly enjoyed testing the Casper Linen Sheet Set. It's airy, soft, and a great pick for folks who aren't crazy about linen's coarse texture.
The Verdict: Hot sleepers looking for soft, garment washed linen bedding should give the Casper Linen Sheet Set a try!
Should I Buy the Casper Linen Sheet Set?
Still not sure if the Casper Linen Sheet Set is the best fit for you? Well, let's recap the highlights so you can get a better idea:
Light & Airy – Linen is a naturally breathable material, but this particular sheet set is exceptionally light and airy. Linen lovers who also sleep hot should definitely look into this bedding.
Pre-Washed Softness – The folks at Casper pre-wash every piece of bedding in this set in order to cut through linen's coarse texture and make for a softer feel. If you avoid linen because you know it's got a reputation for being a bit scratchy and rough, I heartily recommend you give Casper linen a try.
Easy Wash Care – Who doesn't love easy wash care? Just wash on a warm, gentle cycle with mild detergent and tumble-dry on a low setting… And that's it. Of course, if you prefer to line-dry these sheets, that's okay too!
100-Night Trial Period – Do we really need 100 nights to determine whether or not we like a sheet set? Probably not. Is it nice to have that much time to decide? You bet it is. If, within 100 nights, you conclude that this bedding isn't the best fit for you, just send it back for a refund.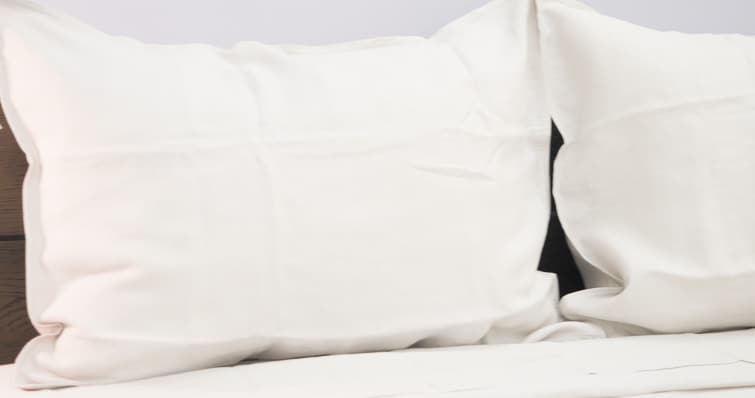 Casper Linen Sheets Complaints
I don't have much to complain about when it comes to the Casper Linen Sheet Set! However, there are a few things to note before you make your purchase:
Fitted Sheet – The fitted sheet in this set can accommodate mattresses up to 14 inches deep, which is more than enough for most people. However, those who sleep on super deep mattresses that are 15 inches or taller might find that the fitted sheet doesn't, well, fit.
Pricey – Linen tends to come at a higher price point as compared to other types of bedding. This is mainly because linen bedding costs more to make, and it's built to last you for years (many linen sheet sets come with lifetime warranties). That said, these sheets range from $200-$290, which just isn't going to be in everyone's budget.
Anything Else I Should Know?
1-Year Limited Warranty – covers any material defects
Free Shipping – within the U.S.
100-Night Trial Period
Sizing – Twin, Twin XL, Full, Queen, King, California King
Pricing – $200-$290
Wash Care – wash on cold or warm gentle cycle with mild detergent, tumble-dry low or air-dry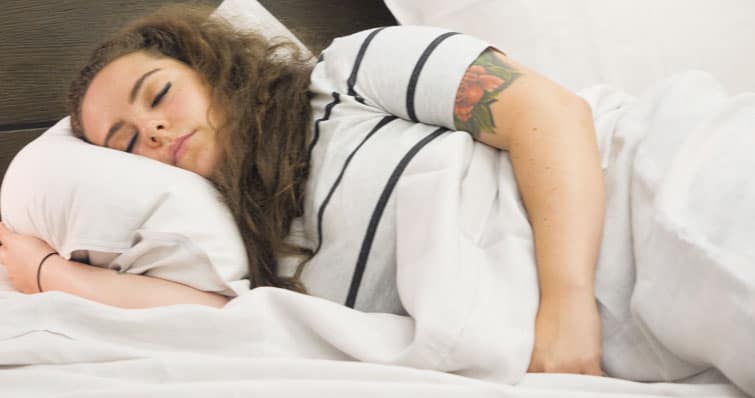 Now that you're all experts on the Casper Linen Sheet Set, all that's left to do is take it for a test run (and hey, you've got 100 nights). In the meantime, don't forget to follow us on Facebook, Twitter, and Instagram, and subscribe to our YouTube channel. Happy sleeping, everyone!
Sarah Riccio
Sarah is the former senior writer and bedding expert at Sleepopolis. She received her degree in Creative Writing from Brooklyn College and spends her free time doing stand-up, making pasta, and hanging with her cats.