Body pillows are among my favorite sleep accessories. They offer a unique, full-body comfort that can make sleepers feel like they are cuddling a cushy companion. The body pillow from Coop Home Goods is cooling, cozy, and conforms to the special shape of each sleeper's curves. In the words of the folks at Coop Home Goods, "it's like a hug for your whole body."
In this review, I'll definitely be hugging this pillow; but I'm going to test it in every position just to be sure that we don't miss out on anything this big, comfy sleep accessory has to offer. If you don't have time read the entire review, click here to skip to the summary.
COOP Home Goods Body Pillow

COOP Home Goods Body Pillow
In need of some serious comfort? Consider the COOP Home Goods body pillow, which rests against the body for some fantastic pressure relief.
WHAT'S IT MADE OF?
The cover fabric of the Coop Home Goods body pillow is made from a blend of polyester and rayon derived from bamboo. It's got a soft handfeel and has both moisture-wicking and cooling properties.
A zipper spans one side of the pillow, allowing sleepers to reach in and adjust the fill. This way, you're able to remove or manipulate the fill until you've reached the loft and shape of your liking.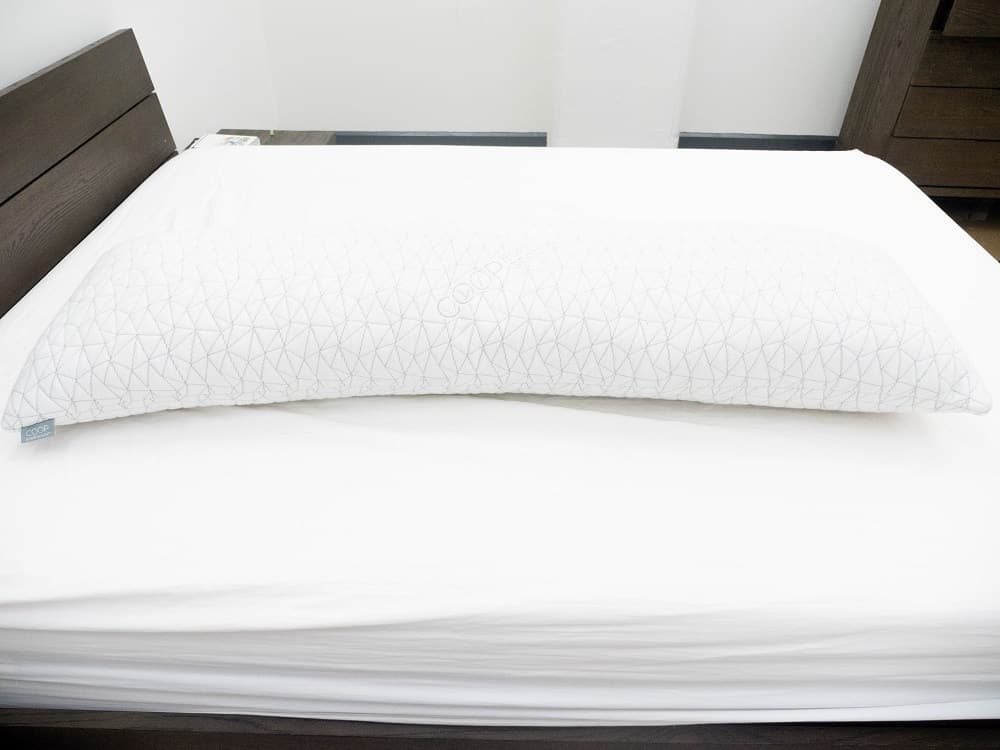 This body pillow is filled with a blend of gel-infused memory foam and microfiber. This fill is designed to make the pillow shapeable, breathable, and body conforming. The soft, shapeable nature of this pillow makes it easy to fold, so that sleepers can achieve different levels of support.
The construction of this pillow was designed to be soft, cool, and cozy so that sleepers can hug their pillow all night and feel the unique comfort of full body support.
Fun Fact: Sure, pillows are fluffy, cloud-like companions now, but did you know that the pillows of ancient Egypt and Asia were made from stone, wood, and metal?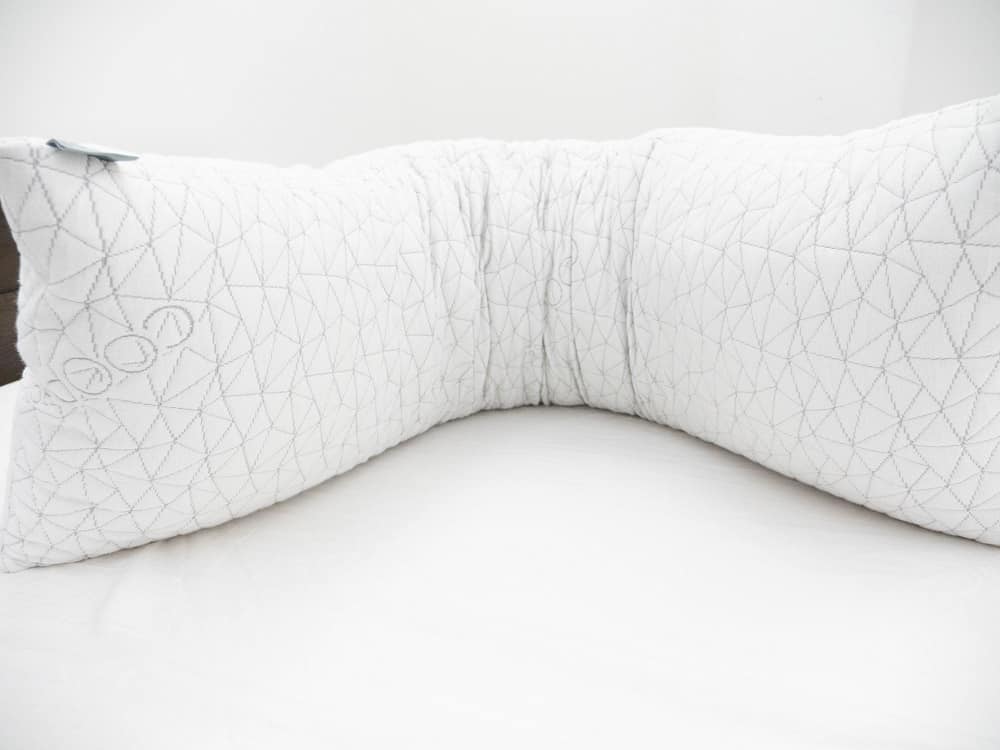 HOW DOES IT FEEL?
The cover fabric of this pillow feels very soft to the touch, and as you press into it, you can feel its breathability. It does not come with an additional pillowcase and, in my opinion, the cover is so soft that you don't need one.
The pillow itself is filled with a cushy blend of memory foam and microfiber offering a nice slow response to pressure. This allows the pillow to conform to the particular shape of your body, offering pressure relief from your head to your ankles.
The memory foam is infused with a gel designed to keep you cool throughout the night, and the cover fabric feels cool to the touch as well. This pillow is amply stuffed so sleepers can enjoy a big, fluffy, huggable sleep accessory. However, if the pillow feels too full, you can reach inside and remove as much of the filling as you like!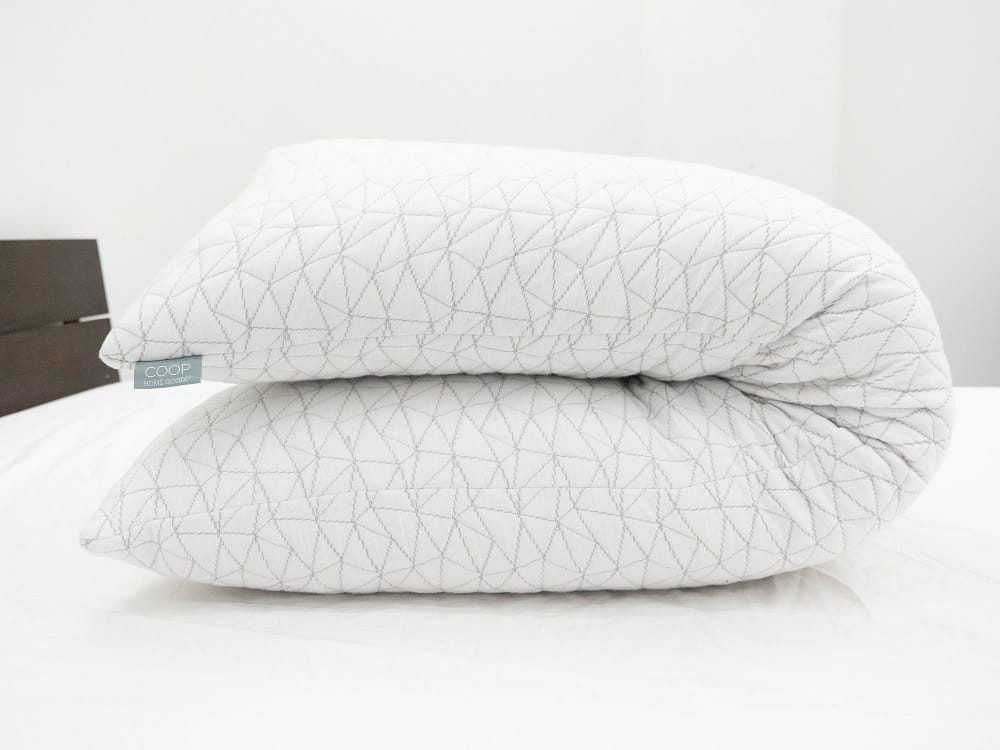 While this pillow is mainly intended for hugging, the Coop Home Goods body pillow is versatile. Use it on your back for a nice supine-sink into the pillow, and roll to your left or right to easily slip into side sleeping. You could even use it for stomach sleeping, though I would recommend removing or shifting some of the fill so that your head is not too elevated.
This pillow offered comfortable support for every position, and if you feel inclined to change the loft, just reach in and do so. The moldable nature of the fill conforms to pressure so that, however you're using it, you feel supported on all sides.
HOW DID YOU LIKE IT, SARAH?
I'd like to begin by stating that the Coop Home Goods body pillow is 54 inches tall, and I am 60 inches tall. Sleeping with this pillow felt like cuddling a softer, cushiony version of myself.
As soon as I got this pillow into bed, I could not stop rubbing my hands all over the cover fabric. The blend of polyester and rayon offers a very nice hand-feel and, frankly, I wouldn't dream of covering it with a pillowcase. It felt cool as well, and I could tell it wasn't going to trap my body's heat.
I usually begin testing a pillow in the supine position, but I was so excited to test its full body support that I had to hug this pillow first. I slid onto my side and used the top of the pillow to rest my head, held the upper portion under my arm, and wrapped my leg around the lower portion. I felt totally supported by this pillow from my head to my feet.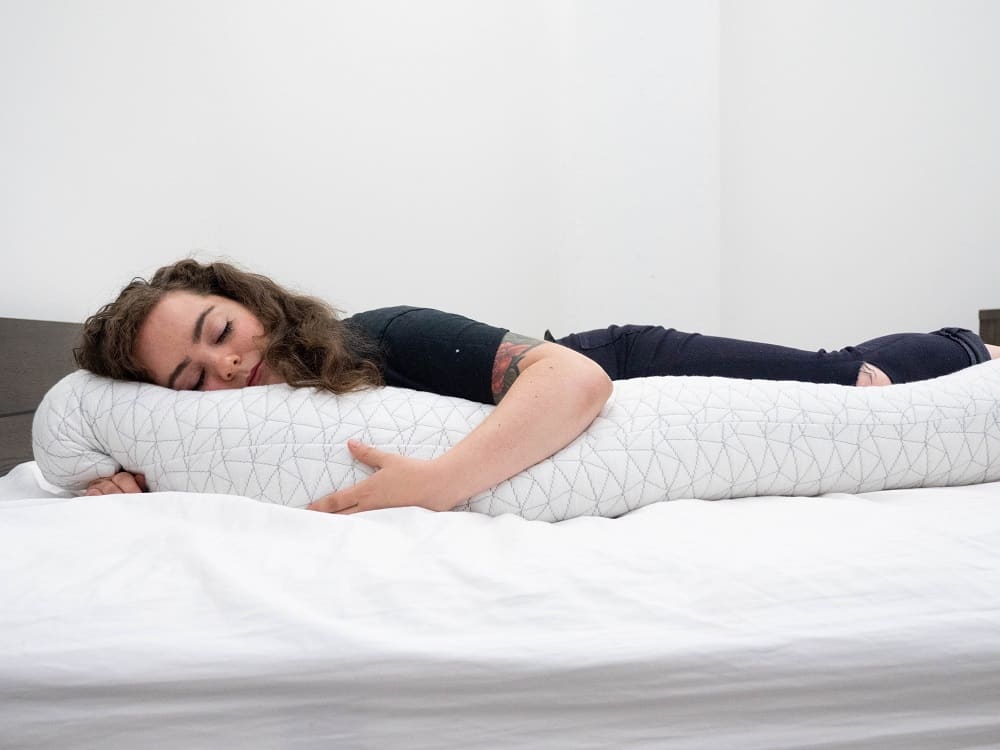 The blend of fiber and foam offered nice moldability, and it was easy for me to shape this pillow into the loft that best accommodated my body's position. Because it's adjustable, I decided to reach in and move more of the pillow's fill toward the top so that my head and neck could have that extra bit of support. Squeezing this pillow, I could feel its cool breathability and it felt very cozy all around.
Next, I tossed the pillow up toward the head of the bed so that it spanned the width of the mattress. I laid down in the supine position and found the loft and soft-medium support to offer great pressure relief. The memory foam offered my head a nice sink into the pillow, and my posture felt healthy and aligned.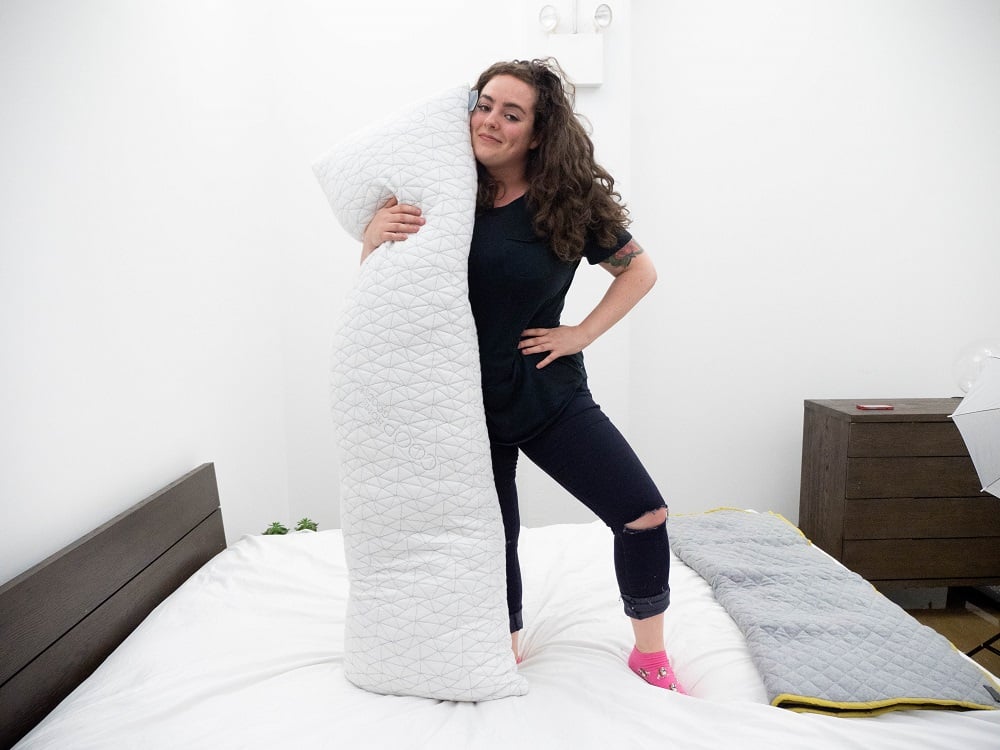 There was something especially comforting about having so much pillow to the left and right of me; I knew that rolling into the lateral position wouldn't require much shifting at all. I rolled onto my left side and immediately settled into a comfortable side sleeping position. The loft was nice and high, but I do like a little extra support when I'm in the lateral position, so I fluffed up the fill. Because the pillow is so long, I was able to hold the side of it and kind of curl it into my chest as I rested on my side.
Moving into the prone position did not feel as natural, and I didn't love using a lofty body pillow for this sleep style. When sleeping on my stomach, I like a soft, shapeable pillow that's easy to flatten. Sleeping on my stomach with the Coop Home Goods body pillow kind of make me feel like I was drowning in pillow!
Ultimately, I think this pillow is versatile and can provide great comfort and balanced pressure relief for back and side sleepers. That being said, I think the best use of this body pillow is to wrap yourself around it and hug it all night long.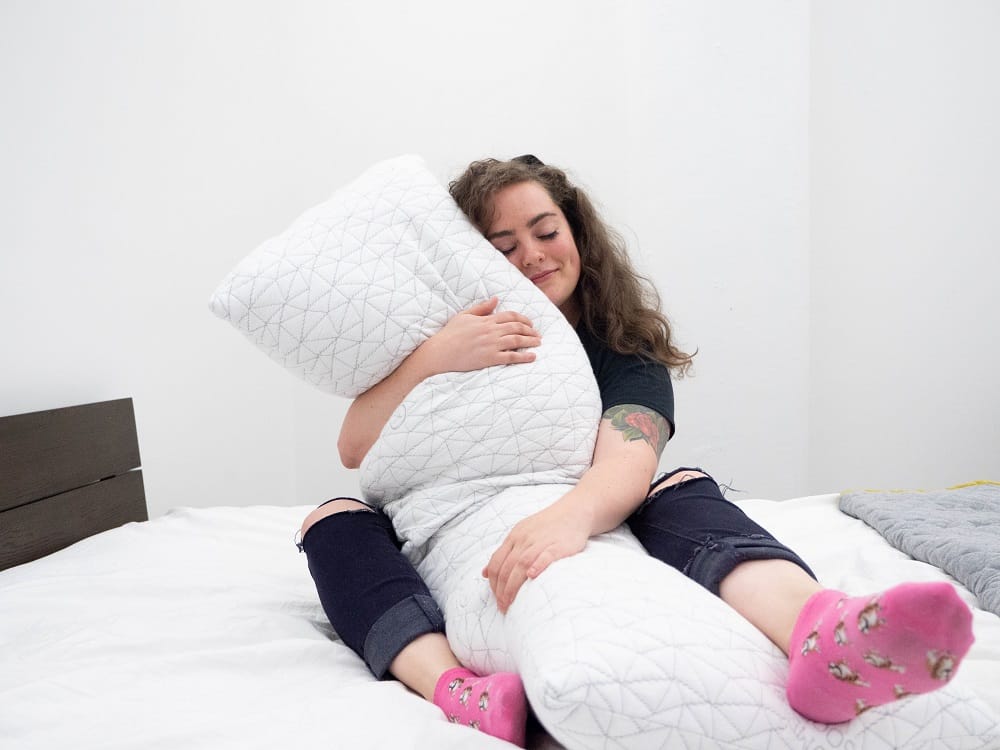 ANYTHING ELSE I SHOULD KNOW?
Made in the USA
5 year limited warranty
Machine washable — Yes, this big boy is machine washable! Just be sure to wash on a cold, delicate cycle and fasten the zipper closed with a safety pin to ensure no spillage.
100 night sleep trial — Not sure this pillow is for you? You've got plenty of time to try it out!
Hypoallergenic
Dimensions — 20" x 54"
Price — $69.99
SHOULD I TRY THE COOP HOME GOODS BODY PILLOW?
COOP Home Goods Body Pillow

COOP Home Goods Body Pillow
In need of some serious comfort? Consider the COOP Home Goods body pillow, which rests against the body for some fantastic pressure relief.
There are all kinds of fun things to love about the full-body support of this pillow, but it might be especially beloved by sleepers who:
Are on the shorter side — The closer this body pillow is to the size of your own body, the more huggable it is (believe me, I know).
Have allergies — This pillow is hypoallergenic, dust-mite resistant, and made from CertiPUR-US® certified foam.
Run hot — The cover fabric is designed to be breathable and help sleepers stay cool through the night!
Ready for your new body pillow? Click here to buy directly from Coop Home Goods!