Lagoon is a brand dedicated to helping you find the pillow just right for you. They offer an online quiz where you fill out details about your sleep habits and wants, and the quiz will match you with three pillows that could work for you. You get the choice to test all three and send back the ones you don't want to keep. While Lagoon does offer their pillow quiz to match you with three possible options selected just for you, it's also possible to buy one of their pillows outright without taking the quiz.
I've previously covered this brand — I took their pillow quiz and tested three pillows the quiz recommended for my sleep preferences in my Lagoon pillows review — but I'm returning to the brand to review another one of their pillows: the Lagoon Chinchilla.
In this review, I'll go over what the Chinchilla pillow is made of, how it feels, and who I think it is best suited for, based on my personal experience testing it out. If you want the short version, skip ahead for a review summary. Otherwise, let's dive into it!
Lagoon Chinchilla Pillow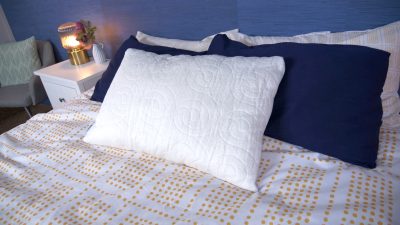 Is the Lagoon Chinchilla a Good Pillow for You?
No pillow is a one-size-fits-all, so let's go over who the Lagoon Chinchilla might be a good option for and who should consider a different pillow.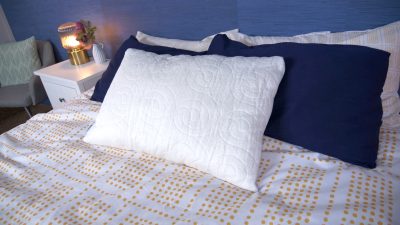 Who should try the Lagoon Chinchilla pillow
If you are a stomach sleeper

, this soft and low-lofted pillow is a great option to help you sleep comfortably. Lagoon also specifically recommends this pillow for stomach sleepers!

If easy cleaning is important to you

, then you will appreciate this pillow's washable cover. The inner pillow can also be washed periodically to keep the pillow fresh and clean.

If you love a soft pillow

, you will likely love the fluffy, almost down-like feel of this down-alternative pillow.
Who should not try the Lagoon Chinchilla pillow
The Lagoon

Chinchilla

is likely

too soft and low-lofted for most side sleepers

. Check out our

best

side sleeper pillows

for better options.

If you like a firmer feel from your pillow

, this soft and

plush pillow

won't be the best choice for you.

If you are looking for a pillow made from natural materials, this polyester-filled pillow likely isn't the best choice for you.
What Does the Lagoon Chinchilla Pillow Feel Like?
How a pillow feels is fairly subjective, so keep in mind you might have a different experience than I did.
Lagoon Chinchilla Pillow Firmness
Here at Sleepopolis, we rate pillows as either soft, medium, or firm. Each firmness level works best for a different sleeping position — soft for stomach sleepers, medium for back sleepers, and firm for side sleepers. Of course, there is some variation, but this general rule of thumb helps to promote proper spinal alignment for each position.
Overall, I felt the Lagoon Chinchilla was very soft. My head and neck sank right into the plush pillow, without much uplift or support. It almost felt similar to a down pillow, but not quite as marshmallowy as down tends to feel. I found it quite cozy!
Lagoon Chinchilla Pillow Loft
Like firmness, each sleeping position is best suited to a different loft of pillow. A pillow's loft is essentially its height and here at Sleepopolis, we rate pillows as having either a high, medium, or low loft.
At first glance, I thought the Chinchilla had a medium loft, as it looks decently tall. However, once I laid on it, the fill compressed so much beneath me that I felt it had a much lower loft. Either way, this pillow's loft is adjustable, meaning you can remove the fill to lower the loft. All you have to do is unzip it and pull the fill out until you reach your desired height.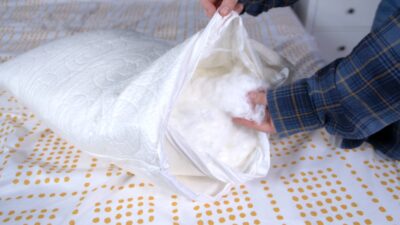 Now let's go over how I felt on this pillow in different sleeping positions.
Side — Lying on the Chinchilla on my side, I immediately felt my head and neck sink down, out of alignment. This pillow wasn't tall or firm enough to keep my neck supported and in line with the rest of my spine. I don't think this will be a particularly good option for side sleepers — instead, check out our best pillows for side sleepers page.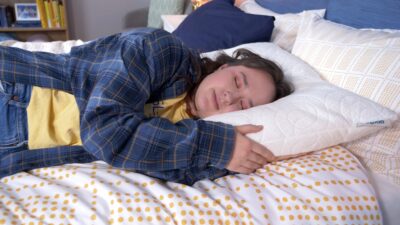 Back — I felt pretty comfortable lying on my back with the Chinchilla. As I mentioned, it is very soft and compressive, so it's not the best if you like more support on your back. But for me, it worked well to keep my neck lifted up just enough to maintain spinal alignment. However, I kept the loft as it was and didn't remove any fill, and I would recommend most back sleepers follow suit.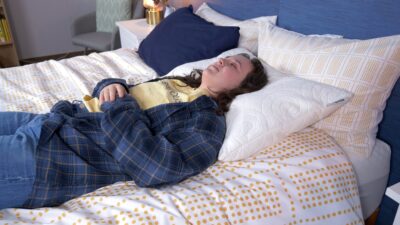 Stomach — To me, the Chinchilla is exactly the kind of pillow stomach sleepers need. It is soft, fairly low lofted, and compressive, so it won't cause their necks to crane upwards. Since stomach sleepers rest with their neck so close to the surface of the mattress, they need their pillow to be as soft and thin as possible — particularly because most stomach sleepers twist their neck as they lie on their stomach.
I felt very comfortable on my stomach and I think many stomach sleepers could even lower the loft further on this pillow to be more comfortable.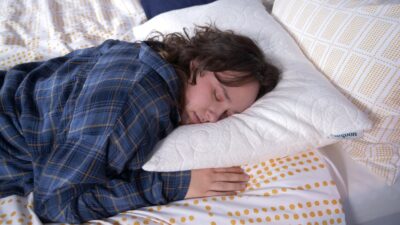 Under the Arm — I think the Chinchilla makes a fairly comfortable pillow to sleep with under the arm. It is soft and huggable, which is very cozy. However, if you want a tall pillow to hug as you sleep, this probably isn't the best option.
Between the Legs — I think the Chinchilla is a great option for sleeping with a pillow between your legs. Because it is so soft and compressive, it should provide nice pressure relief for your legs without pushing your hips out of alignment.
Lagoon Chinchilla Pillow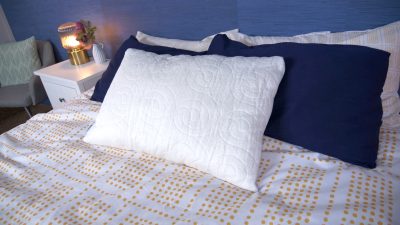 What is the Lagoon Chinchilla Pillow Made Of?
Cover: The Chinchilla's cover is made from a blend of 62 percent polyester and 38 percent bamboo. This cover is removable and machine washable.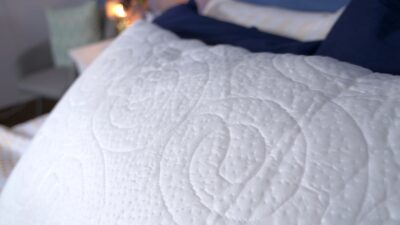 Liner: The inner liner of the pillow, which contains the fill, is made from a blend of 50 percent cotton and 50 percent bamboo.
Fill: The fill of the Chinchilla pillow is a fluffy polyester down alternative. This fill can be removed to lower the loft of the pillow.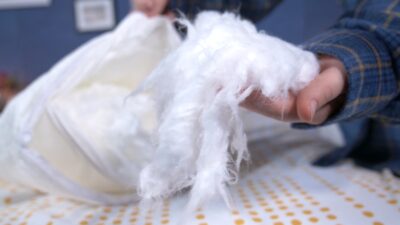 The Lagoon Chinchilla pillow is available in a queen and king size. I tested the queen size for this review.
Is the Lagoon Chinchilla Pillow Good for Hot Sleepers?
If you are a hot sleeper, it is important to find bedding products to keep you cool. I think the Lagoon Chinchilla pillow is a decent option for hot sleepers, as it does have a bamboo-blend cover and the down alternative fill should allow for some airflow within the pillow.
However, since the cover is primarily polyester, it doesn't feel extremely cool to the touch. If you want a pillow that feels actively cool, this probably isn't the best choice. But it should work well enough to prevent overheating. I didn't feel noticeably warm or cooled while testing out this pillow.
For more options, check out our best cooling pillows page. And complete your bedding selection with some of our best cooling sheets as well!
Lagoon Chinchilla Pillow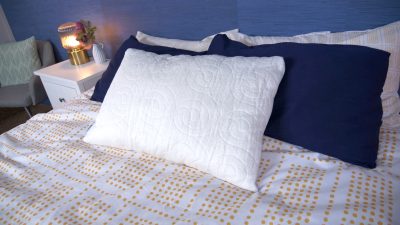 Lagoon Chinchilla Pillow Sizes and Prices
Curious how much this pillow will cost? Here is a breakdown of prices, by size.
Price listed will be before discount or offer for each size. To get our best deal, click one of the coupons throughout this article.
| Size | Dimensions | Price |
| --- | --- | --- |
| Queen | 20″ x 30″ | $119.99 |
| King | 20″ x 36″ | $139.99 |
Lagoon Chinchilla Pillow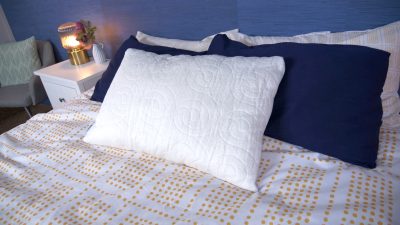 My Final Thoughts About the Lagoon Chinchilla Pillow
After testing out the Chinchilla pillow, I felt this was a great option for stomach sleepers in particular, but also for some back sleepers who like a softer feel from their pillow. The down-alternative fill is soft, fluffy, and compresses beneath the head and neck. I think it makes a great choice for stomach sleepers because it won't cause their necks to crane upwards — plus, they can even remove fill to adjust the loft lower if needed.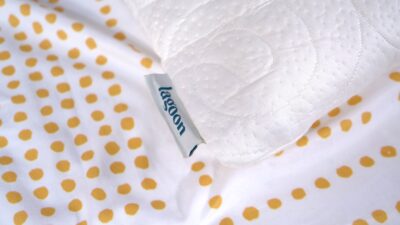 I also think the Chinchilla makes a moderately good choice for hot sleepers. It's not noticeably cool to the touch, but it does have a bamboo-blend cover for some temperature regulation, as well as the fluffy fill allowing for airflow within the pillow.
However, I wouldn't recommend this pillow to side sleepers. It's just too soft and lacking in support for these sleepers to properly maintain their spinal alignment. If you are set on a Lagoon Sleep pillow, they have some better options for side sleeping, including the Fox and Otter pillows I tested in my original Lagoon pillows review. Both of these are shredded memory foam pillows that offer more support. Or check out our favorite side sleeper pillows!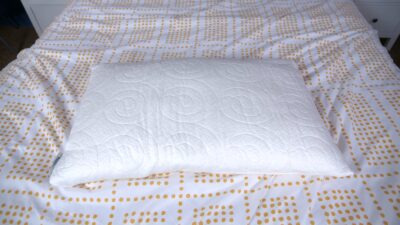 You could also try taking their quiz, which is geared towards helping you find the pillow that will help you sleep comfortably and meet your sleep goals.
Lagoon Chinchilla Pillow Policies and FAQs
How does the Lagoon Chinchilla pillow ship?
Lagoon provides free shipping within the 48 contiguous United States. They also ship to Alaska, Hawaii, and Canada, but these customers must pay a standard shipping charge.
Does the Lagoon Chinchilla pillow come with a sleep trial?
Yes, Lagoon offers a 100-day risk free return policy on their pillows. That means you can return or exchange your pillow within 100 days of receiving it. Lagoon will send you a prepaid label to return the pillow and issue a full refund.
Does the Lagoon Chinchilla pillow come with a warranty?
Lagoon offers a 5-year warranty on their pillows.
Is the Lagoon Chinchilla pillow machine washable?
According to the care instructions provided by Lagoon, both the pillow cover and inner pillow are machine washable, but the inner pillow should only be washed once per year. The cover can be washed more frequently. For the cover, wash in cold water on a low/gentle cycle and tumble dry on low. For the inner pillow, you can spot clean for specific stains, but otherwise secure the zipper with a safety pin and wash in cold water on a low/gentle cycle and then tumble dry on low.
Do I need to fluff the Lagoon Chinchilla pillow?
Yes, Lagoon does recommend fluffing this pillow. They advise putting the pillow into the dryer for 10 to 15 minutes on low every six months to help the pillow maintain its shape.
What other pillows does Lagoon offer?
Lagoon offers a variety of different pillows formulated to help every kind of sleeper get better sleep. In addition to the Chinchilla, they offer models such as the Meerkat, Hippo, Lemur, Puffin, Koala, Fox, and Otter.
Do I need to use a pillowcase with the Lagoon Chinchilla pillow?
You don't necessarily need to use a pillowcase, since the pillow cover is washable. However, I always recommend using one to ensure your pillow is as clean as possible. Plus, you can make it a more colorful or decorative pillow with a pillowcase, letting you express your personality through your bedding!
Lagoon Chinchilla Pillow Vs
To help you finalize your decision about whether the Chinchilla is the perfect pillow for you, let's compare it to a competitor pillow: the Cozy Earth Silk pillow.
Lagoon Chinchilla Pillow vs Cozy Earth Silk Pillow
The Cozy Earth Silk pillow is another

soft, compressive pillow

that is a great option for stomach sleepers, as well as some back sleepers.

It is made with a

bamboo viscose cover and is filled with mulberry silk

. These two materials work in tandem for a pleasant cooling effect.

The silk and bamboo viscose also make this pillow

hypoallergenic

, a plus for sleepers with allergies.

Want to learn more? Read our full

Cozy Earth Silk

pillow review

.
Cozy Earth Silk Pillow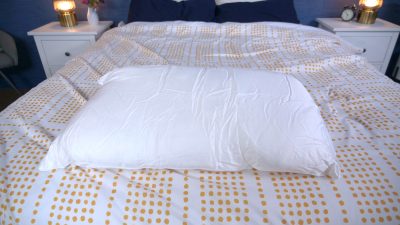 Made with 100 percent silk for the filling, this pillow will provide combination sleepers with a soft, luxurious feel.
Sleepopolis Score
4.90 / 5
Read Full Review
Other Products from Lagoon
Finally, here are my star ratings for the Lagoon Chinchilla pillow.
Materials

Comfort

Value

Cooling

Durability

Trial

Warranty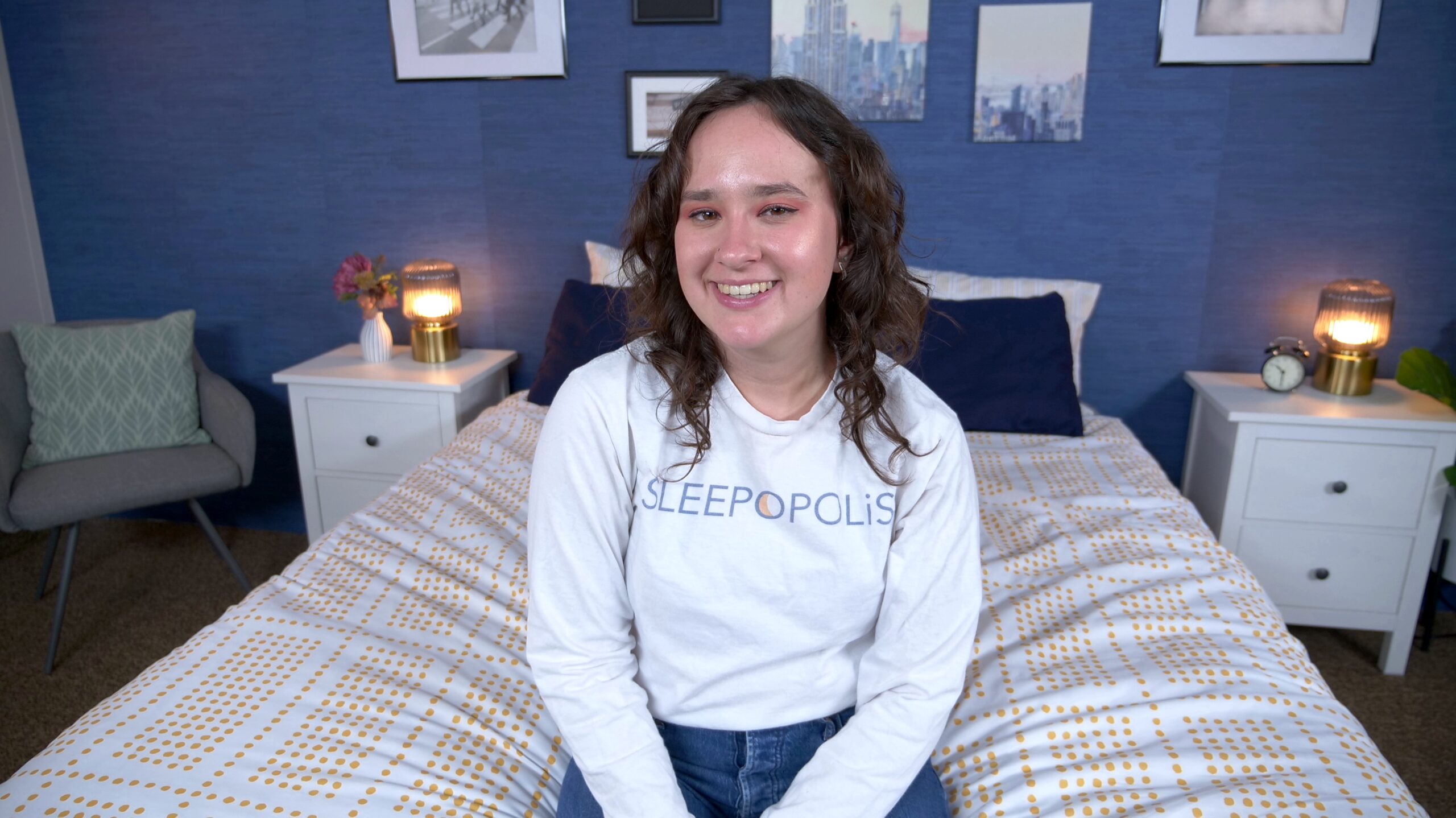 Amelia Jerden
Amelia is a Senior Staff Writer for Sleepopolis. She primarily covers bedding and sleep accessory products in reviews, how-to guides, and more. You can also find her over on the Sleepopolis YouTube channel. Amelia is a graduate of the University of North Carolina at Chapel Hill, with double majors in media and journalism and in dramatic art. Outside of work, Amelia can usually be found on a hike, traveling to a new city, or at her local thrift store.