You know that feeling when you're lying in bed, and you keep flipping your pillow to sleep on the "cool side?" Well, what if I told you that some pillows are designed to stay icy-cool all night long, with no flipping required?
In this review, we're getting up close and personal with two such accessories: the Luxury Cooling Pillows from Brooklyn Bedding. Sure, they're designed to keep even the hottest of sleepers cool, but are they cooling and comfy? Let's find out.
Save 20% with code SLEEPOPOLIS20
Brooklyn Bedding Luxury Cooling Pillows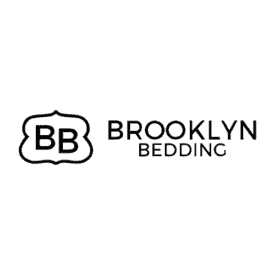 Brooklyn Bedding Luxury Cooling Pillows
Hot sleepers that are tired of flipping the pillow looking for the cool side will love the Brooklyn Luxury Cooling Pillow! 
Brand Snapshot
Brooklyn Bedding is one of the most recognizable names in the industry now, but it all started in 1995 when a pair of brothers worked in a mattress factory. Twenty years later, those same brothers founded Brooklyn Bedding, a brand that offers a range of mattresses and accessories for sleepers of all styles.
And we at Sleepopolis have had the chance to review quite a few Brooklyn Bedding sleep accessories. So, to add two more products to that list, I'm taking a close examination of the company's Luxury Cooling Pillows — both the "low profile" and the "high profile" options.
What Are Brooklyn Bedding Pillows Made Of?
Before we get into the specifics of what Brooklyn Bedding's Luxury Cooling Pillows are made of, I want to note that both the low and high profile options are made from the exact same materials. The only difference is the loft, which we'll talk about a little later on in the review.
First, let's start with the cover fabric. It's made from a knit cotton-polyester blend, which makes it feel soft, strong, and breathable. Polyester is a naturally moisture-wicking material, so folks prone to night sweats might particularly benefit from it's absorbent properties. But, in my opinion, the real star of the show is the phase change material that's woven into the fabric.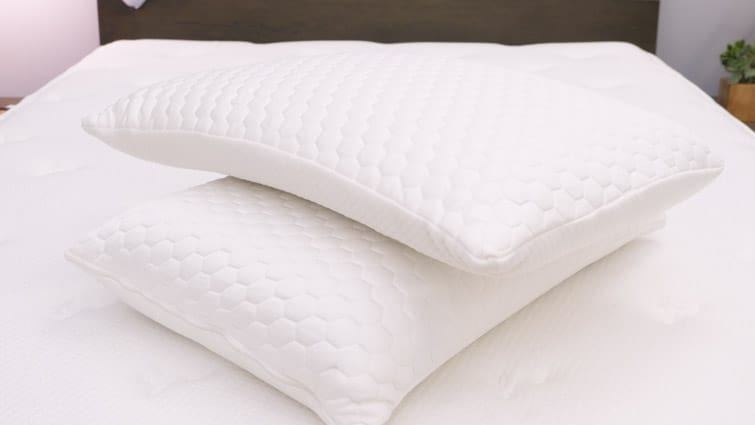 Phase change material is increasingly featured in the world of sleep accessories, and it's designed to feel very cool to the touch (and stay that way no matter how many times you wash it). Personally, I'm a big fan of phase change material because it makes fabric feel like it's been refrigerated and, as a hot sleeper, that's a major perk.
There's a zipper on one side of the pillow's cover so you may easily remove it when it's time to be washed. Yes, the cover is machine washable, and I'm pleased to report that the phase change material kept the pillow icy-cool even after I washed it. In fact, it felt just like it did when I first unpackaged it.
FAQ
Q: Are Brooklyn Bedding pillows machine washable?
A: Well, yes and no. You can wash the cover fabric on a gentle cycle, and tumble dry on low heat. But the foam inside must only be spot cleaned with a damp cloth and mild detergent.
Inside the cover fabric is one piece of ventilated memory foam. Now, this ventilation (which basically looks like dozens of little holes) allows for better breathability, and serves to keep the foam from trapping your body heat. Some of you may already know this, but memory foam has a reputation for retaining body heat, and warming up throughout the night.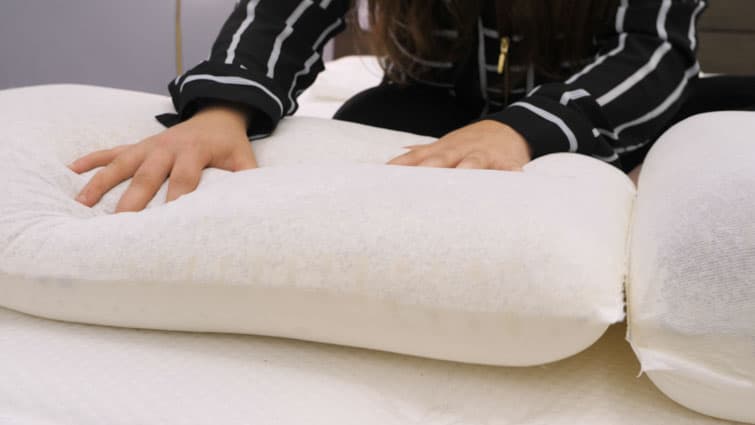 But just in case phase change material and ventilated foam don't provide enough cooling qualities for you, the foam is also infused with graphite and copper. Both graphite and copper serve to draw heat away from the body, making for an extra cool sleep experience. Additionally, copper is known for its antimicrobial properties which helps keep dust mites and other allergens at bay.
So, let's recap. We've got the phase change material keeping the surface of the pillow cool to the touch, the ventilated foam boosting breathability, and the copper and graphite working overtime to dissipate your body heat. Put it all together, and you're looking at two very cooling pillows.
But what does the foam feel like, and what's the deal with the different profile dimensions? Let's dig a little deeper and find out!
Save 20% with code SLEEPOPOLIS20
Brooklyn Bedding Luxury Cooling Pillows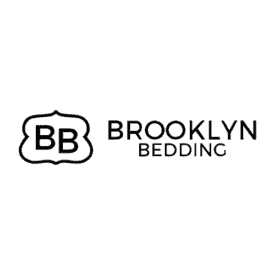 Brooklyn Bedding Luxury Cooling Pillows
Hot sleepers that are tired of flipping the pillow looking for the cool side will love the Brooklyn Luxury Cooling Pillow! 
What Do Brooklyn Bedding Pillows Feel Like?
The first thing I noticed about these pillows (aside from how cool the cover fabric feels) is that the memory foam feels a bit like latex. As is often the case with memory foam, these pillows do conform tightly to pressure, and cradle my head and neck in a very cozy way. However, they offer a very quick response to pressure, which is typically more of a latex thing!
Now, if you've ever slept on a latex pillow, you know they tend to provide a lighter, more buoyant kind of support as compared to memory foam. And in my opinion, these Brooklyn Bedding pillows seem to blend both latex and memory foam traits. So, if you enjoy the pressure relief of memory foam, but don't enjoy the deep, slow sink it often provides, then these pillows might be right up your alley.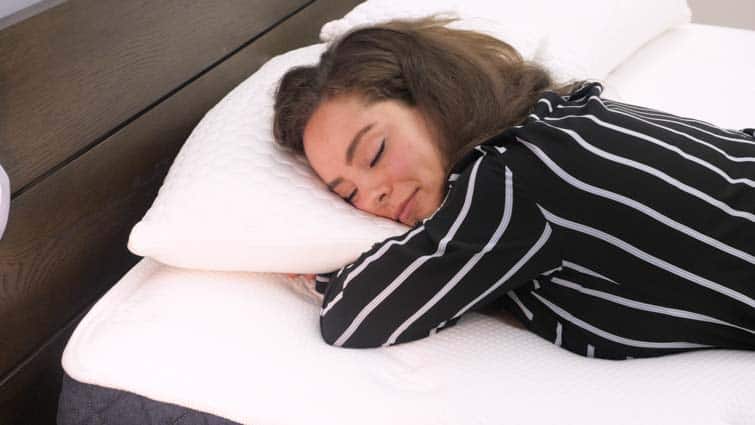 As I said, Brooklyn Bedding Luxury Cooling pillows come in two options: high profile and low profile. These terms refer to the pillows' loft (or height), and the high profile pillow has a loft of 5 inches, and the low profile pillow's loft is slightly under 4 inches. So, why make two identical pillows with different lofts?
Well, when it comes to picking the right pillow for your preferred position, height matters. In order to keep healthy posture, side sleepers typically need a pillow with higher loft, stomach sleepers need a pillow with lower loft, and back sleepers can kind of float in between. Sure enough, in my experience testing these pillows, it was clear that the high profile pillow was intended for side sleepers, and the low profile was made for stomach sleepers.
More: Check out my roundup of the best pillows for alleviating neck pain!
However, another reason side sleepers tend to be more compatible with a lofty pillow is that the extra height keeps your shoulder from bearing the brunt of your body's weight. And while this is more of a matter of personal preference, I think another half-inch of height would have helped the high profile pillow relieve pressure in my shoulder. Although, I did find it to offer great support when I was on my back!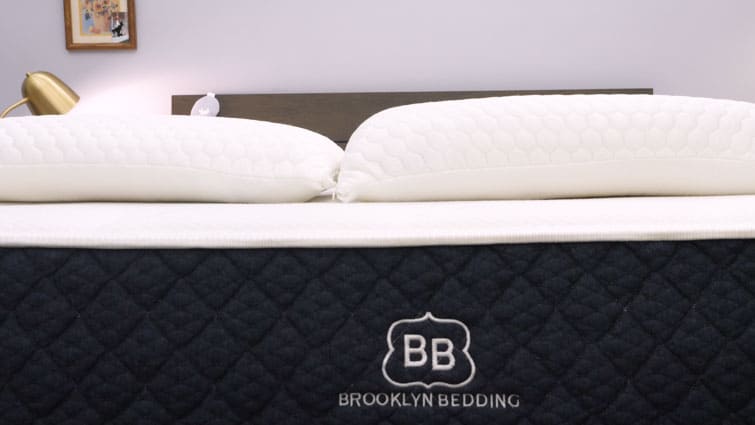 Meanwhile, the low profile pillow is perfect for stomach sleeping, in my opinion. Its loft is low enough so that my neck isn't craned upwards at all, and it provided a cozy, cool buffer between me and my mattress. Not to mention, I can swoop my arms beneath it without being propped up too much, which is great because I don't sleep with my arms directly at my sides when I'm on my stomach.
FAQ
Q: Can I return Brooklyn Bedding pillows?
A: Yep! You have 30 days to return your Brooklyn Bedding pillows, and the company will handle the cost of shipping.
As far as back sleepers are concerned, I found both pillows to be supine-suitable! When I tested these pillows on my back, I felt like my head and neck were supported and held in happy neutral alignment. That said, folks with broader shoulders might find a bit more pressure relief in the high profile pillow.
As someone who simply cannot fall asleep if she's too warm, I thoroughly enjoyed my experience testing these luxuriously cooling pillows. Between the two of them, all sleeping positions are covered, though I think stomach sleepers are best suited to the low profile, and side sleepers should stick to the high profile.
The Verdict: Hot sleepers who prefer a quick response to pressure will be most compatible with these pillows. But remember: the high profile is best for back/side sleepers, and the low profile is best for back/stomach!
Should I Buy These Brooklyn Bedding Pillows?
Okay, folks, I know I just hit you with a whirlwind of pillow info. So let's recap the highlights so you know if they're right for you!
Save 20% with code SLEEPOPOLIS20
Brooklyn Bedding Luxury Cooling Pillows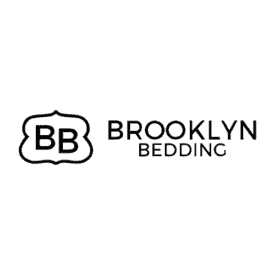 Brooklyn Bedding Luxury Cooling Pillows
Hot sleepers that are tired of flipping the pillow looking for the cool side will love the Brooklyn Luxury Cooling Pillow! 
Hot sleepers — First thing's first: these pillows are cool as can be. If you're a hot sleeper, take comfort in the fact that the materials used in both of these pillows are working to keep you feeling pleasantly chilled. Phase change material, ventilated foam, and a copper-graphite infusion make these pillows ideal for folks who heat up during the night.
High Profile VS Low Profile — That said, each pillow is designed to meet the needs of different sleep styles. The high profile pillow is better suited to side sleepers, or back sleepers who like a lofty build. Meanwhile, the low profile pillow is ideal for stomach sleeping. So, between the two pillows, Brooklyn Bedding has every position covered.
Latex-Like Feel — While these pillows are made from memory foam, they behave a bit like latex. So, sleepers who prefer a bouncy feel and quick response to pressure might be most compatible with these pillows.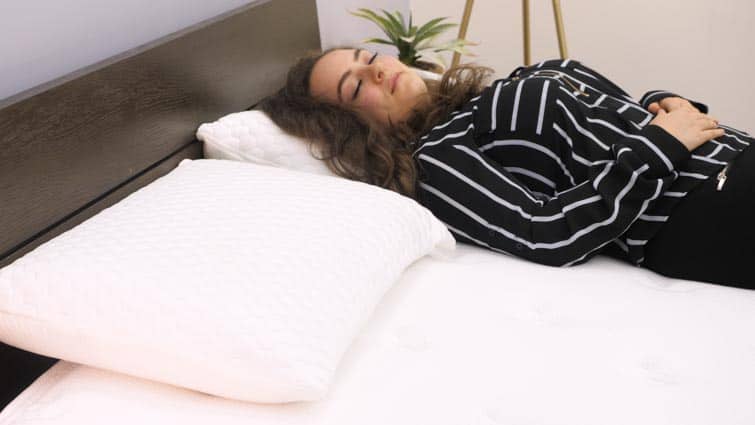 Brooklyn Bedding Pillow Complaints
Of course, there are a few things to consider about these pillows before you make up your mind:
Memory Foam Feel — For some sleepers, a slow, deep sink into the material is the basis of appeal when it comes to memory foam. So just remember: this pillow does not offer a classic memory foam feel. It's got a quick response to pressure, and let's you rest on top of the pillow rather than deeply nestle into it.
Not Washable — While it's great that the cover fabric is machine washable, the foam inside is spot clean only. Even then, you should only wash it with a damp cloth and mild detergent. Basically, do your very best to keep the foam from getting wet, or it could damage the material.
Pricey — Ranging from about $130-$150, these pillows aren't going to be in everyone's budget. Brooklyn Bedding does offer a 30 day return policy wherein you can send the pillow back for a refund within that time frame, but there are some more affordable options on the market.
Anything Else I Should Know?
Save 20% with code SLEEPOPOLIS20
Brooklyn Bedding Luxury Cooling Pillows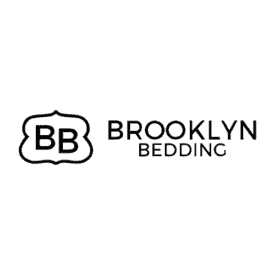 Brooklyn Bedding Luxury Cooling Pillows
Hot sleepers that are tired of flipping the pillow looking for the cool side will love the Brooklyn Luxury Cooling Pillow! 
Pricing — $130-$150, depending on size
Sizing — Queen, King. Low profile, High profile.
Free Shipping — within the U.S.
Wash Care — Wash cover fabric on gentle cycle, tumble dry low. Spot clean foam.
Returns — you have 30 days to return these pillows, and Brooklyn Bedding will handle shipping costs.
See? I told you these were cooling pillows. But don't take my word for it, give them a try! Of course, if these pillows don't sound like the sleep accessories you've been dreaming of, just follow us on Facebook, Twitter, Instagram, and subscribe to our YouTube channel. This way, when your perfect pillows do come around, you'll be sure not to miss 'em!
Sarah is the Senior Writer and bedding expert at Sleepopolis. Every week, she personally tests and reviews new pillows, sheet sets, and other sleep accessories. She accompanies every video review with a meticulously detailed article to ensure her audience has all the pertinent info they need for the best shopping experience possible. Perhaps that's why her fans have dubbed her "the most thorough pillow reviewer on the Internet." Having tested everything from sleep trackers to mattress toppers, Sarah's expertise runs deep and is always expanding. She received her degree in Creative Writing from Brooklyn College and spends her free time doing stand-up, making pasta, and hanging with her cats.