When you're shopping for pillows, it can be tempting to just choose the fluffiest one bearing the most interesting design, but there's much more to determining which fill material is going to be best suited to your needs in the long run. You have to get up close and personal with your pillow in order to understand its density, support, response to pressure, and all kinds of important details that can guide you in your hunt for the perfect sleep accessory.
In this pillow review, I'll be taking a very close look at Brooklyn Bedding's Talalay Latex Pillow. The only way to get the full sense of the feel and support of a pillow is to use it in every possible position to see what feels the most natural to your unique body. So, let's get started! No time to read the whole thing? Click here to skip ahead to my review summary!
Save 20% with code SLEEPOPOLIS20
Brooklyn Bedding Talalay Latex Pillow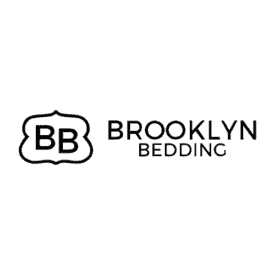 Brooklyn Bedding Talalay Latex Pillow
Combo sleepers can enjoy light, buoyant support to ease neck and back pain in every position!
WHAT'S THIS PILLOW MADE OF?
The cover fabric of this pillow is grey in color and made from a blend of cotton and polyester. It's super soft to the touch and bounces back quickly when you pluck at it. There is a diamond shaped pattern quilted throughout the cover fabric which is mostly intended for aesthetic value but also offers a little extra breathability. The cover fabric is meant to be light and airy, two features that are nicely complimented by the natural moisture-wicking properties of polyester.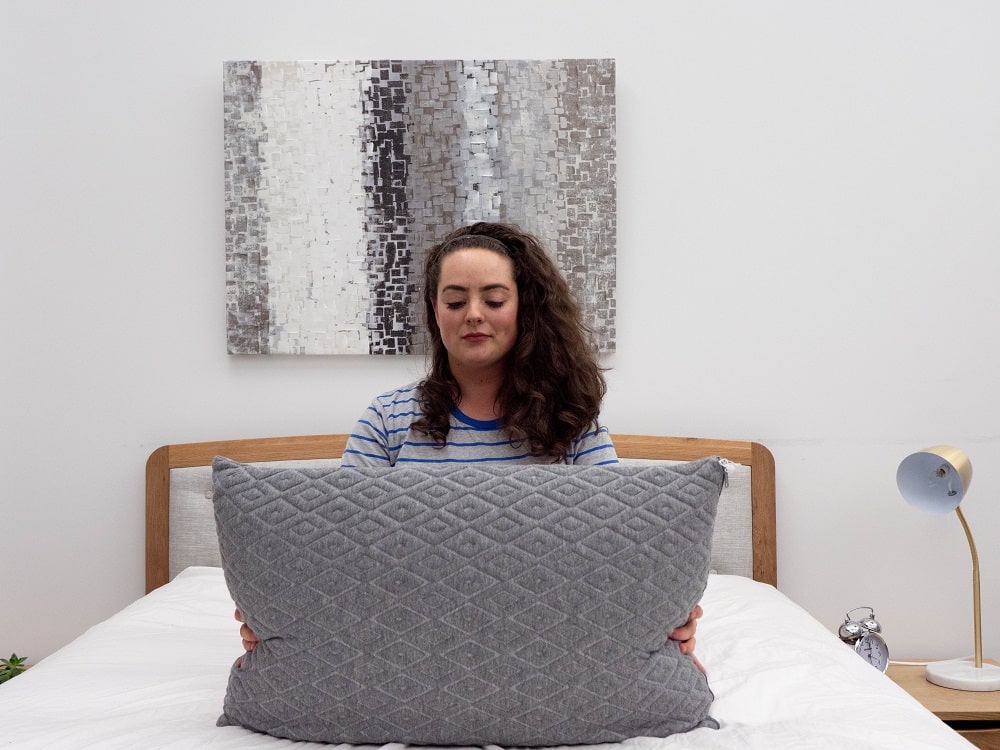 A zipper spans the side of the cover fabric so that you can easily remove the pillow from its cover when it's time to be washed. The zipper itself is not completely hidden, and does freely dangle a little bit. It's small, so I wouldn't consider it obtrusive, but it's still something to be mindful of.
Inside this pillow's protector, you'll find a solid piece of Talalay latex encased in a sheer, white shell made from a cotton/polyester blend. Unlike Dunlop latex, the density of Talalay latex is consistent throughout the entire pillow and offers a super bouncy-quick response to pressure. The latex in this pillow is 60% synthetic and 40% natural, but all the synthetic materials are what the company calls "filler" materials and they are mostly made of sand and ground seashells.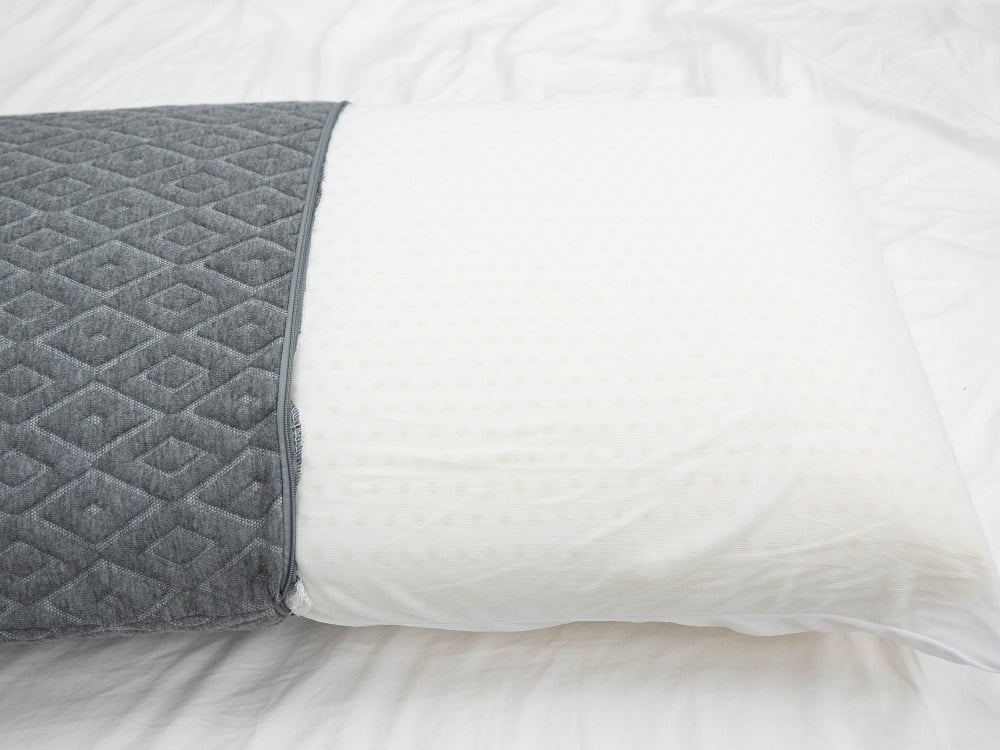 Brooklyn Bedding's latex is hypoallergenic and Oeko-Tex Certified which means there are guaranteed to be no toxic or harmful chemicals within the material.
When choosing your pillow, Brooklyn Bedding gives you the option between plush and firm support, and whether you want a Queen or King size. I'm reviewing the Queen size pillow with plush firmness which the company says is best suited to stomach and side sleepers. The plush support of this pillow offers deep pressure relief and is very soft and bouncy, so stomach sleepers who need a softer, flatter pillow might be most compatible with this particular model.
Fun Fact: Brooklyn Bedding is very popular in New York City, but did you know that the company began in Arizona? Brooklyn Bedding is actually named after the co-founder's daughter, Brooklyn!
HOW DOES IT FEEL?
Save 20% with code SLEEPOPOLIS20
Brooklyn Bedding Talalay Latex Pillow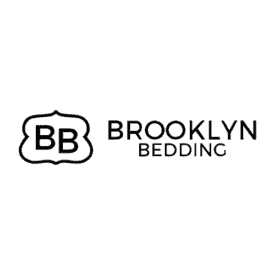 Brooklyn Bedding Talalay Latex Pillow
Combo sleepers can enjoy light, buoyant support to ease neck and back pain in every position!
The cover of this pillow feels super soft to the touch, and the
diamond pattern quilted into the fabric adds a texture that, to me, is quite comforting
. It's also breathable, and when I push my hands into the pillow, I can feel the flow of air being released through the cover fabric.
The latex itself is also designed to enhance airflow so that sleepers can keep cool during the night. Some foams can absorb and trap body heat, but this pillow was designed to draw heat away from your body and let it dissipate through the fabric. This way, sleepers can sleep cool and comfortably.
Talalay latex is naturally hyper-responsive and, when you lie down, it immediately contours to your neck and head. This pillow provides excellent pressure relief, though I wouldn't say it offers the same kind of sink that you feel with memory foam. There's such a bounce to this latex that the material that it responds to the pressure of your body at even the slightest turn. This way, no matter how much tossing, turning or changing of positions sleepers might experience throughout the night, they will still be supported on all sides.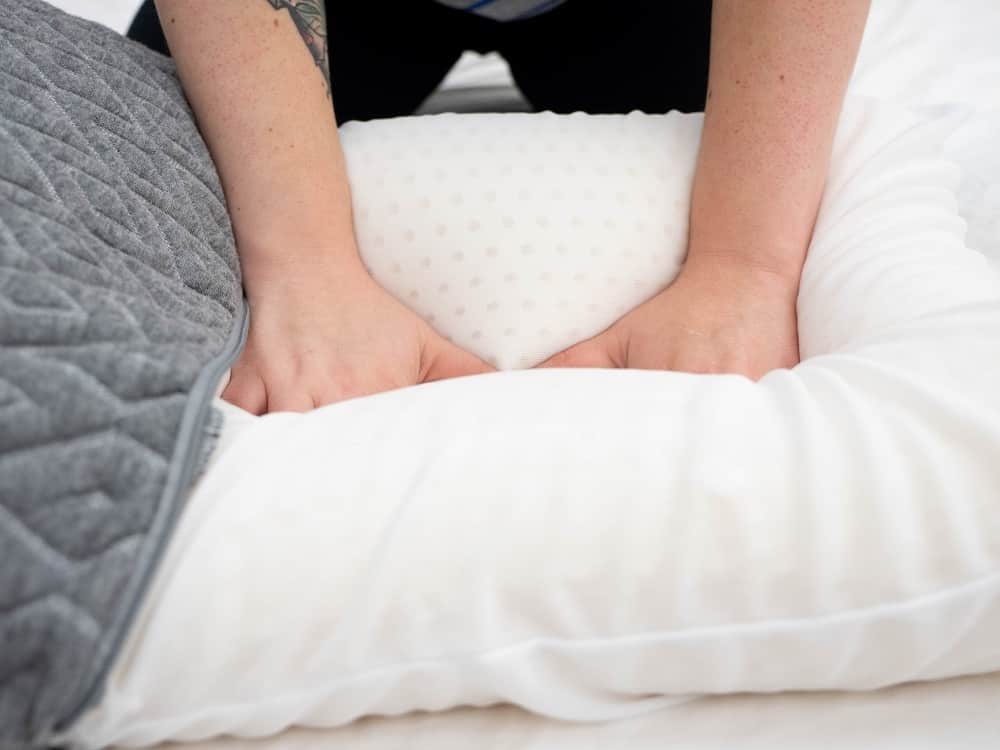 This particular pillow has a softer "plush" level of firmness so that stomach sleepers can quickly find their comfort zone. You can easily press your hands all the way into the pillow so that it's completely flat and you can feel almost the mattress under your palms, but the moment you release a bit of pressure, you can feel the material eager to bounce back into its original shape.
While this was intended to particularly benefit stomach sleepers, this quickness to conform to pressure could provide comfortable relief to sleepers of any style.
HOW DO YOU LIKE IT, SARAH?
Save 20% with code SLEEPOPOLIS20
Brooklyn Bedding Talalay Latex Pillow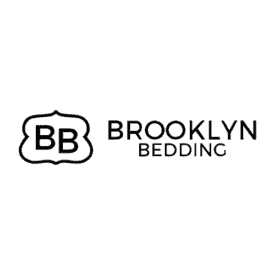 Brooklyn Bedding Talalay Latex Pillow
Combo sleepers can enjoy light, buoyant support to ease neck and back pain in every position!
First of all, I think the cover fabric of
this pillow
is so comforting. It's a soft blend of polyester and cotton and feels cozy-cool to the touch.
The diamond pattern that's quilted into the fabric adds a lovely textured aesthetic that I enjoyed tracing with my finger as I drifted into a state of total relaxation.
Not to mention, the charcoal grey color of the fabric is really pretty and kind of a refreshing change from white.
When I first held this pillow in my hands, the first thing I noticed is how incredibly buoyant it is. I mean, I can literally bounce this pillow off of the mattress. I could tell right away that it was going to have a super quick response to pressure, so I go right into the supine position to see how it would feel (spoiler alert: it felt wonderful).
Lying on my back, I felt completely supported as the latex eagerly conformed to my head and neck. I felt that the plush firmness level was actually great for this position because I don't like my head to be very elevated when I'm sleeping on my back. As I mentioned, the latex allows a very gentle sink into the pillow, so if you lay your head directly in the middle of the pillow, the two sides keep their loft. This way, you have two cushy spots to rest your temple to the left or right if you don't want to sleep with your head facing forward.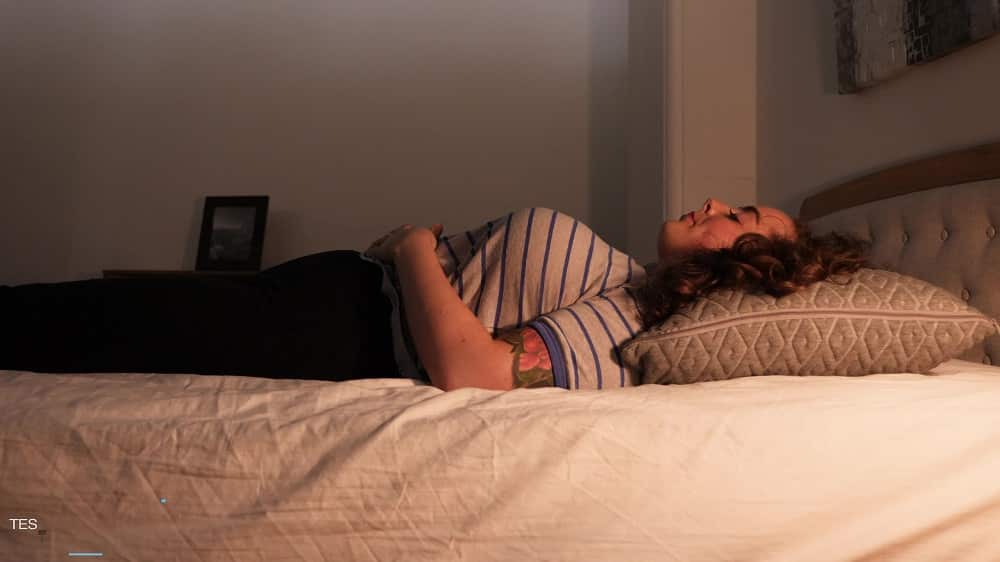 Moving onto my side felt a little wobbly at first because, like I said, the material is so bouncy. Once I adjusted the pillow to fit under my head and neck the way I wanted, I felt great pressure relief. I could also feel air flowing through the fabric as I shifted into a comfortable side-sleeping position and it made me realize that this pillow wasn't trapping heat at all. This is a big deal for me because I am a naturally warm person, and I also heat up a lot during the night. I love the feel of memory foam, but when summer comes around, a cooling pillow like this one is key for me.
I wouldn't say that this pillow isn't intended for side-sleeping, but I wasn't feeling the same secure support that this pillow provided me when I was on my back. When it comes to sleeping in the lateral position, I like a pillow that's got some thick loft to it with support that's a bit firmer. This way, when I'm propped up on my hip and shoulder, I know that the pillow is high enough to meet the side of my head so that my spine stays in healthy alignment.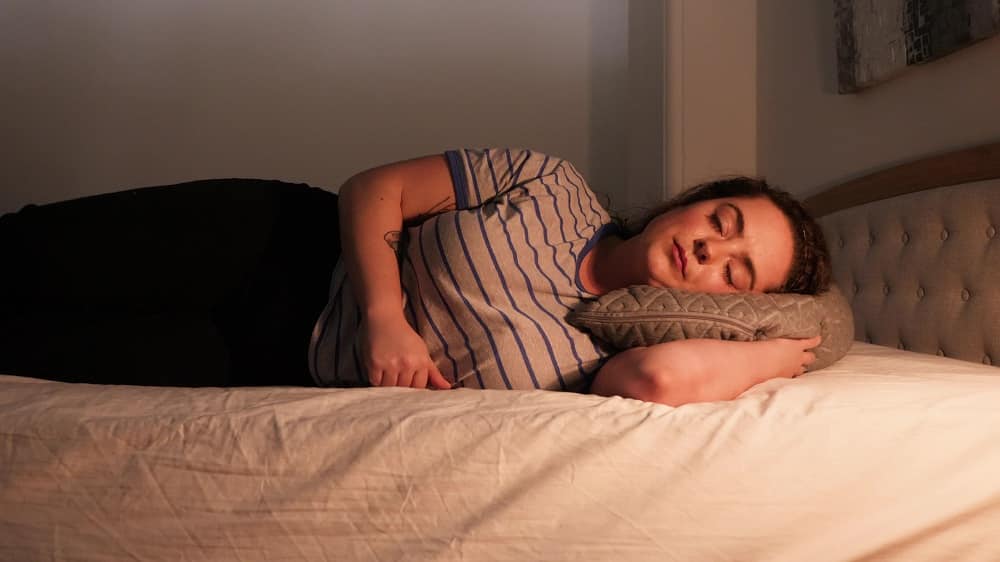 So, while I didn't feel like this pillow was necessarily ready-to-go for side-sleeping, I was surprised to find that the solid piece of latex was actually pretty foldable. I was able to reach my arm beneath the underside of the pillow for a little extra loft; I also bunched and folded the side of the pillow up a little for firmer support. After this maneuvering, I was able to find my lateral comfort zone, but some shuffling was definitely required.
Next, I rolled onto my stomach. Right away I could see how the soft plushness of this pillow would be more suitable to stomach sleeping than side sleeping. My head sort of sunk into the latex, flattening it out enough so that my head wasn't elevated and was kept in neutral alignment with my neck. The latex is so bouncy, that I almost felt like if my head weighed any less, it might be pushed up a bit too far.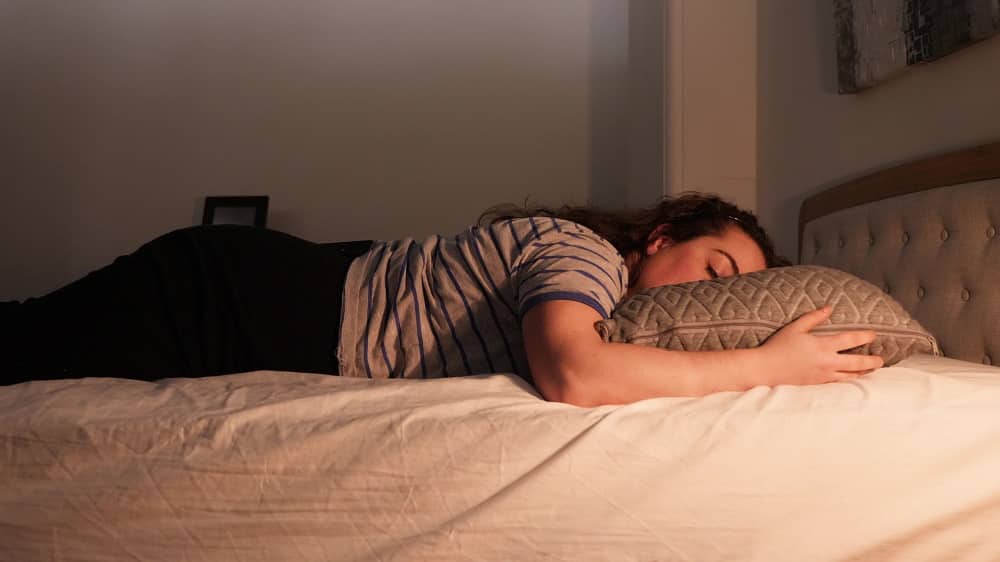 While the support level is definitely more suited to stomach sleeping, there was one thing that I found to be a little uncomfortable. If you lie on your stomach, with your head directly in the middle of the pillow and your arms at your side, your face sort of becomes enveloped in the material. The pillow itself has relatively high loft and only flattens when you apply pressure — so when I place my head in the middle of the pillow, the sides raise up and almost cover my nose and mouth.
However, stomach sleepers who do not rest in the center of the pillow and tend toward the sides and corners would probably find the Talalay latex pillow to be a really great fit.
UNDER-THE-ARM AND BETWEEN-THE-LEGS
This pillow's bouncy response to pressure makes it great for cuddling both under the arm and between the legs.
The latex conforms to my leg but also provides that nice buoyant loft so that my hips get a little extra support. When I hold a pillow between my legs, I don't love a slow response to pressure (like you get with memory foam) because I don't feel like my leg is being lifted so much as it just sinks into the material. This latex, on the other hand, makes my leg feel like it's gently propped up and secure at the same time.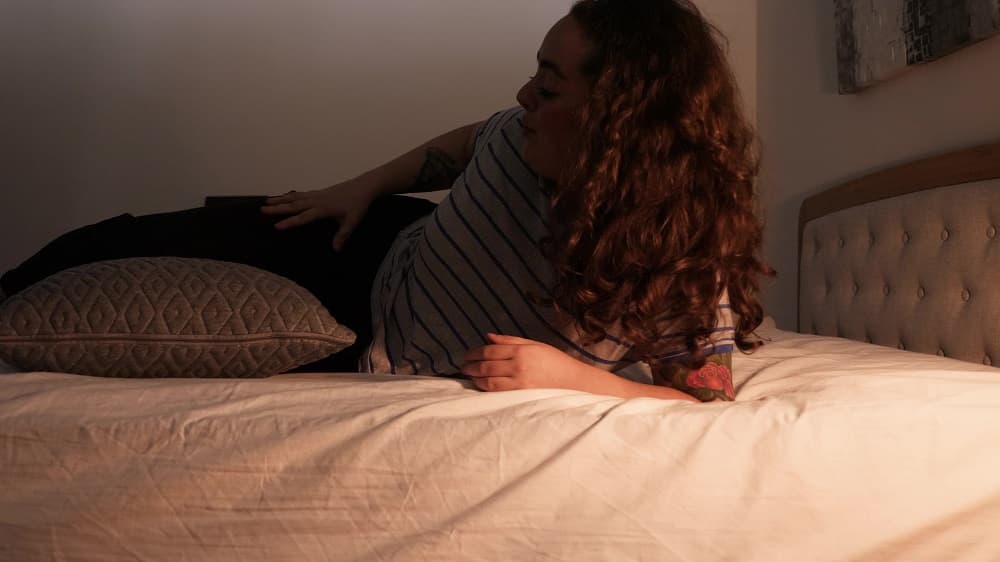 The same properties that make this pillow great for leg/hip support make it great for under the arm. You can fold and squeeze this pillow in all kinds of ways and it's always quick to conform to pressure. Some pillows made of cotton or polyester can kind of lose shape over the course of the night and need some fluffing to recover, but this pillow's response to pressure is so fast that it always returns to its original shape keeping sleepers consistently supported all night.
ANYTHING ELSE I SHOULD KNOW?
Made in the USA
Free shipping and returns — on this pillow and all BB purchases!
120 night trial — I mean, let's be honest. You probably won't need 120 days to determine if this pillow is the right fit for you, but it's nice to have the time!
Wash instructions — The cover of this pillow can be washed on a gentle setting with cold water, and then laid flat to dry. The latex itself, however, cannot get wet at all or it could damage the material.
Potential latex smell — I didn't notice any smell to this pillow, however, the folks at Brooklyn Bedding say that it's possible for their latex products to have a bit of a "natural scent" when first unpacked. If you do experience a little bit of that odor, don't worry, it dissipates within hours.
SHOULD I GIVE THIS PILLOW A TRY?
Save 20% with code SLEEPOPOLIS20
Brooklyn Bedding Talalay Latex Pillow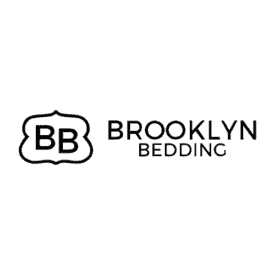 Brooklyn Bedding Talalay Latex Pillow
Combo sleepers can enjoy light, buoyant support to ease neck and back pain in every position!
I think sleepers of any style could find great compatibility with this pillow. It's quick response to pressure and body conformance make this one very cozy sleep accessory. You might especially benefit from this pillow if you're a sleeper who:
Runs hot — This pillow is designed to enhance airflow and wick away moisture. So if you're looking for a pillow that doesn't trap heat, this might be a good one to try!
Has allergies — This pillow is hypoallergenic and made with non-toxic materials. Sleepers with sensitive sinuses might like to try this pillow.
Is indecisive — This pillow comes with a very generous trial period of 120 days. So, if you know that it takes you a good long while to determine if a sleep accessory is the right fit for you, Brooklyn Bedding relieves some of that decision making pressure.
Ready to give this pillow a try? Buy yours directly from Brooklyn Bedding!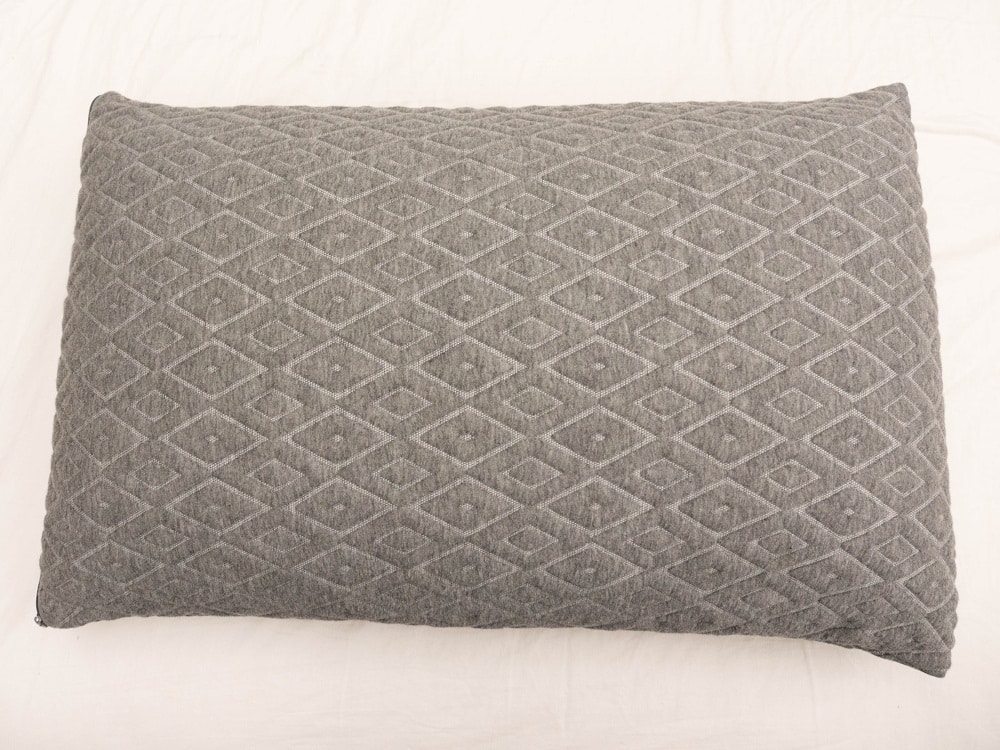 Sarah is the Senior Writer and bedding expert at Sleepopolis. Every week, she personally tests and reviews new pillows, sheet sets, and other sleep accessories. She accompanies every video review with a meticulously detailed article to ensure her audience has all the pertinent info they need for the best shopping experience possible. Perhaps that's why her fans have dubbed her "the most thorough pillow reviewer on the Internet." Having tested everything from sleep trackers to mattress toppers, Sarah's expertise runs deep and is always expanding. She received her degree in Creative Writing from Brooklyn College and spends her free time doing stand-up, making pasta, and hanging with her cats.