An all-organic, two-sided mattress—is that an ecoflip? Close. It's the EcoSleep from Brooklyn Bedding. Sustainable shut-eye is within your grasp, but do the organic materials in this bed actually make it, you know, comfortable?
In this review, I'll see if the EcoSleep can go green without getting too gruff. To do this, I'll dig into its construction and run it through a few different feel tests, all to figure out if it might just be the bed of your dreams.
So, without further ado, let's get to it! Short on time? No problem! Skip on over to my review summary.

Save 20% with code SLEEPOPOLIS20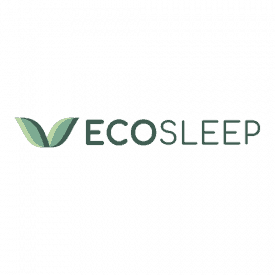 The EcoSleep is a great latex hybrid mattress that uses natural materials and pocketed coils to provide a supportive and bouncy feel. 
Who Makes the EcoSleep?
The Brooklyn Bedding brand is one of the most expansive in the industry and features a full suite of mattresses, pillows, bedding, foundations, and more. In terms of the EcoSleep, the mattress is the company's organic offering, which could be a real winner for eco-friendly sleepers. Throw in the ability to flip the mattress from firm to extra firm, and you hit two markets with one stone. Hopefully.
Did the company take its time to really provide these two groups of sleepers a set of features they can both enjoy? I will start off by testing the EcoSleep for its feel, move into what's under the hood, and finally test it for some very important feel characteristics.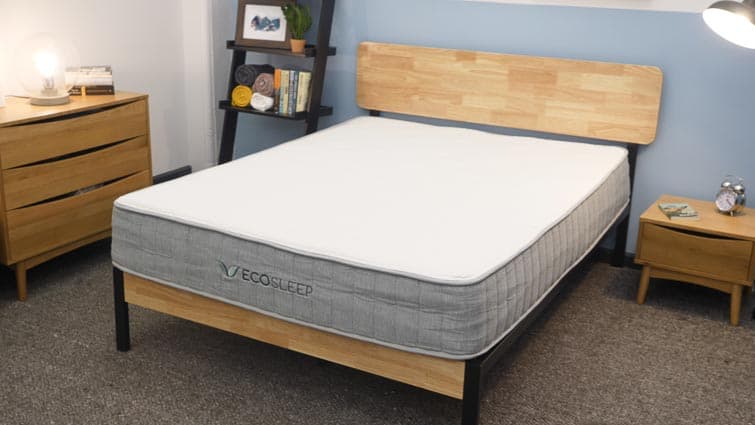 What is the EcoSleep Made Of?
The EcoSleep is a hybrid mattress with five layers of foam and pocketed coils. You can flip it to reveal a firm and extra firm side. I will break down the material in each layer from the top with the firm side up.
Cover – The EcoSleep cover is a wool and cotton blend that feels durable yet soft to the touch. From the beginning, the EcoSleep lives up to its name and provides a bit of comforting cushioning before the sleeper hits the next layer.
Medium – Right after the cover, you'll encounter a 1.5" layer of latex foam with a quick response to pressure. This layer actually begins to give the bed its bounce while serving as a soft barrier between the sleeper and the transition layer. Most sleepers should get some pleasant pressure relief while still feeling on top of the mattress.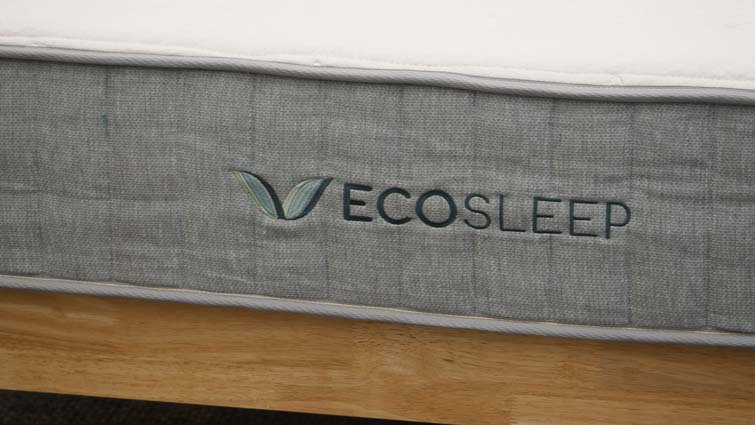 Transition – Another layer of latex, still 1.5" thick but slightly denser, provides firmer support and keeps the layer above from giving too much. Latex is a naturally cooling material, so works to draw heat away from the body as you sleep. Therefore, when two latex layers are stacked together like this, the thermoregulating properties become even more apparent, i.e., the EcoSleep is designed to sleep quite cool! It also keeps the sleeper from feeling the pocketed coil support layer.
Support – A lot of the bounce in the EcoSleep comes from this layer of pocketed coils. This 6" section is very important in providing shape to the bed and support for the sleeper. Brooklyn Bedding also chose pocketed coils over a traditional steel configuration to isolate motion. Look to the Bounce test section below for more on this.
Extra Firm Side – The underside of the EcoSleep (which is actually the second layer when the mattress is flipped) is a firm 1.5" of latex that protects the sleeper from direct contact with the coils on the extra firm side. On the firm side, it doesn't really affect the experience of the sleeper.
Thoughts: On either side, the EcoSleep will probably appeal most to strict back and stomach sleepers. Spinal alignment is very important in these positions, which the EcoSleep provides through firm support of the hips, lumbar, and shoulders. Strict side sleepers may need more pressure relief in these same areas while in that position. Combo sleepers will not have any trouble shifting positions, which should save energy and lead into a better sleep experience.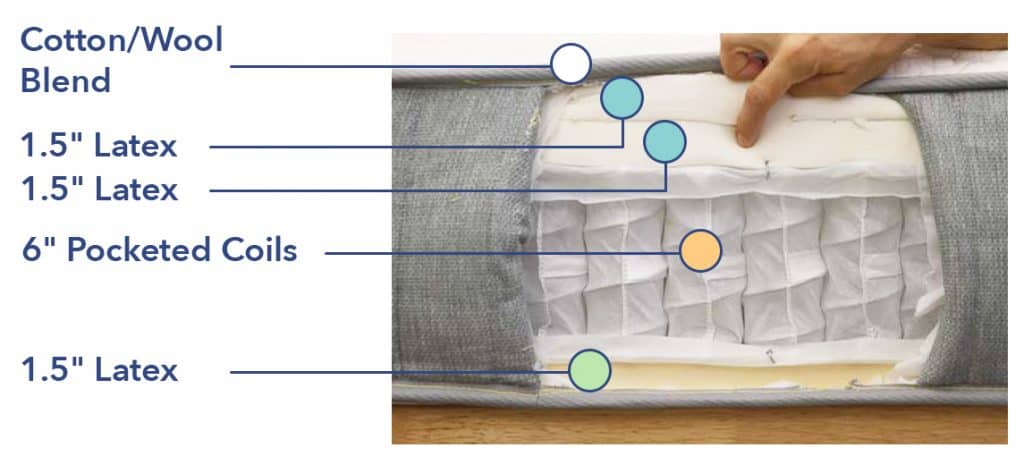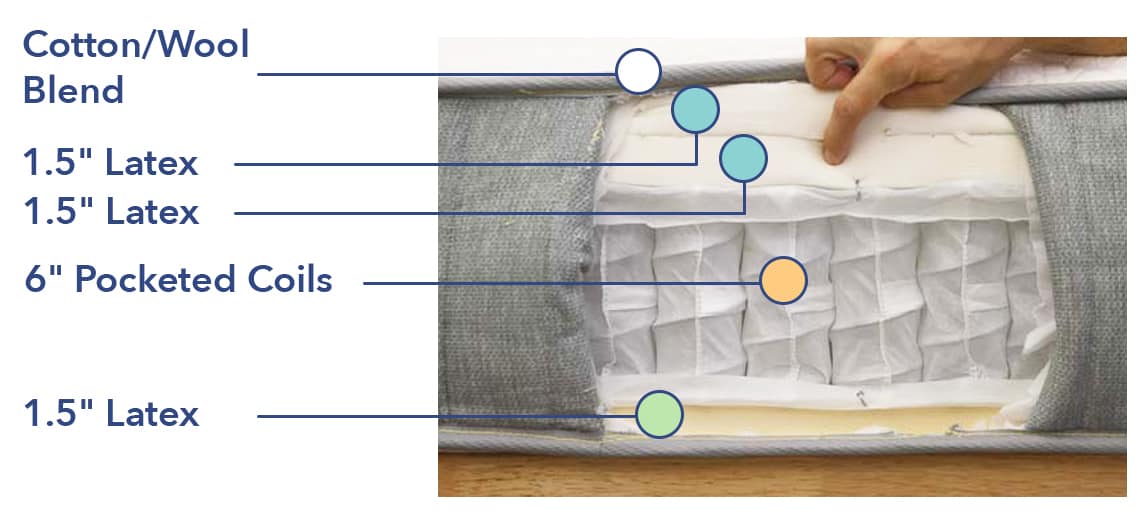 What Does the EcoSleep Mattress Feel Like?
The EcoSleep knows what it's going for aka it's not a mattress for people who want to sink into their bedding. Knowing this, I went in with an expectation that the EcoSleep probably wasn't going to feel like a soft beanbag. Firmness was the first test that I ran, and the EcoSleep managed to balance some of its features while delivering a firm experience for its audience.


My firmness scale ranges from 1 to 10—1 equals the softest rating I can give while 10 is the firmest. 6.5 is the midpoint, or the medium firm industry standard. I test the mattress with colleagues of different body types and average the results. The firm side of the EcoSleep earned a composite score of 7/10. The extra firm side came in at an 8/10.
With the 7/10 medium firm side up, I felt like I was more on top of the bed when lying on my back. There was plenty of support in my hips and shoulders to keep my spine aligned and comfortable. I also felt a good deal of bounce in the mattress and plenty of room to move when switching positions.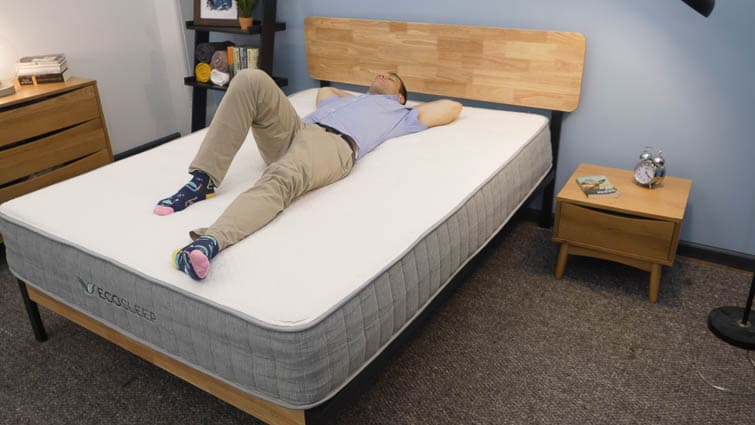 I am always conscious of how these features translate as I move into different positions. The majority of strict side sleepers probably need something less firm than the EcoSleep regardless of the flip. I felt some pressure points in sensitive areas of the body that I will talk more about during my explanation of the Pressure Map test below.
In general, the EcoSleep could be good for those in need of spinal support. The decision to go medium firm or extra firm is really a personal choice. Both sides sleep cool, so you're not losing anything there with a flip.
Save 20% with code SLEEPOPOLIS20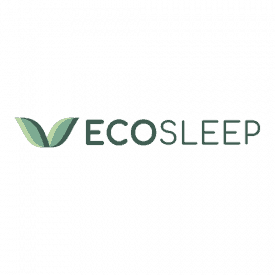 The EcoSleep is a great latex hybrid mattress that uses natural materials and pocketed coils to provide a supportive and bouncy feel. 
Testing Out the EcoSleep
Next up, I'm going to test the EcoSleep for Bounce, Pressure Relief, and Motion Transfer. My assessments simulate many of the situations that sleepers may encounter during an average night's sleep. Starting with pressure relief, I will take you through each of these tests and show you how the EcoSleep performed.
Pressure Relief
I put a color-coded pressure map on top of the EcoSleep to find the high pressure spots that might bother a sleeper during an average night. I laid on it in different positions and recorded how my body reacted in real time.
Generally, blue is what I want to see, as it means no pressure. Moving into green and yellow means possible discomfort over time, and red means something that may be an immediate cause for concern.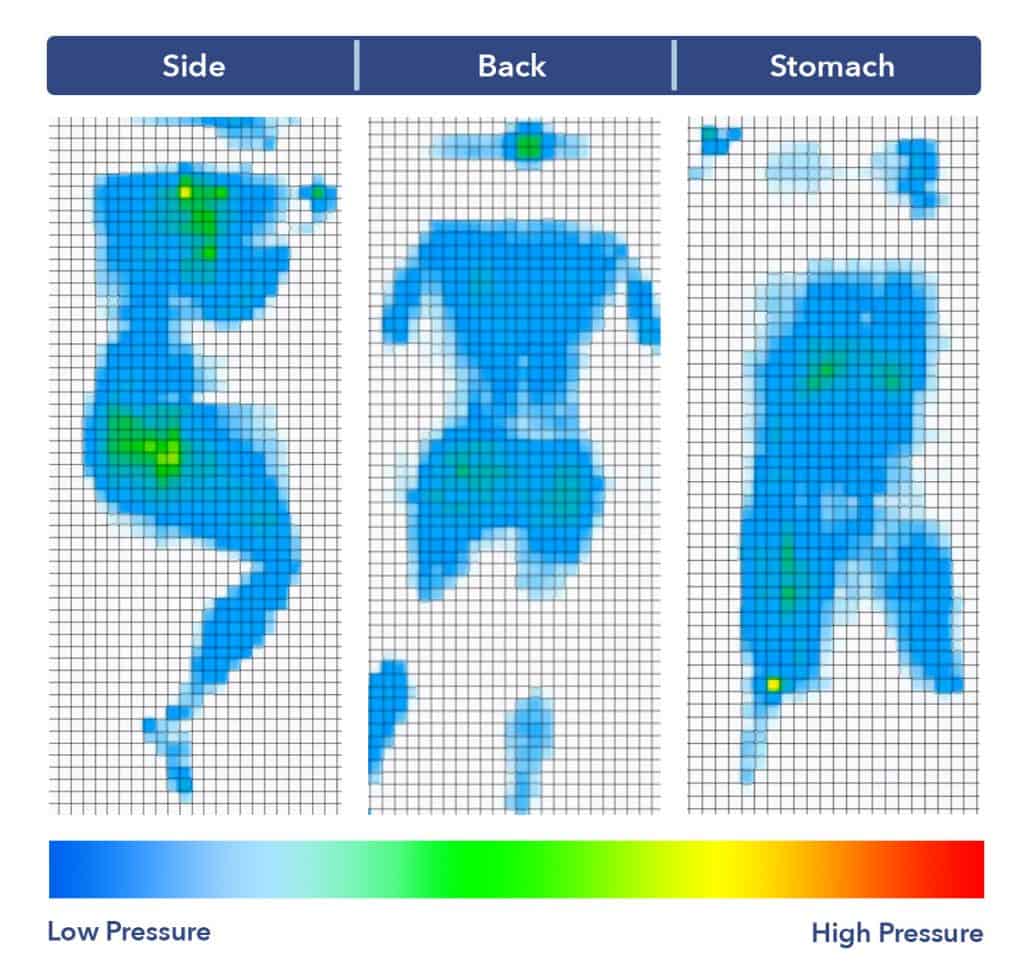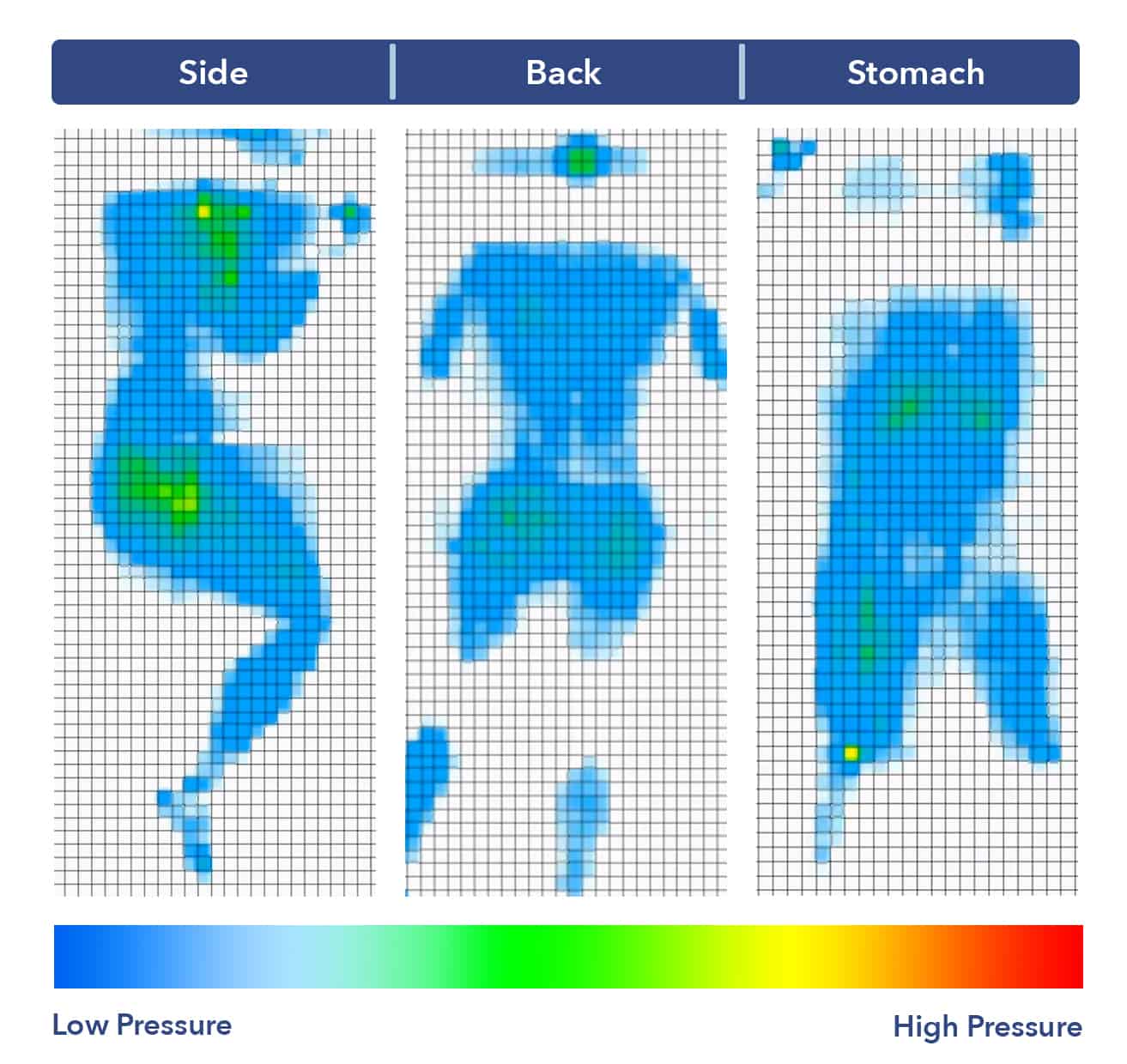 Note: Results here are for the medium firm side up.
Back – My body lies evenly when I am on my back, so I expected to see all blue. I saw all blue, which was all good. As I mentioned before, the support that the EcoSleep gave here was quite good in terms of spinal alignment.
Side – My shoulders and hips moved quickly into the green and yellow zones when I moved onto my side. This happened on the medium firm side and the extra firm side. Both sides have very little give for sensitive areas like the shoulders, which I found pressed into the structure in an uncomfortable way. Side sleepers may want to explore one of Brooklyn Bedding's softer mattresses.
Stomach – I also saw all blue when lying on my stomach. That's good news, but doesn't fully demonstrate how the hips and shoulders react with the bed in this position Thankfully, I felt well supported while on my stomach, as the bed's firm structure positioned my hips in line with my shoulders for a healthy spine alignment. Depending on how much you weigh, you may choose the medium firm side or the extra firm side to give your spine a straight sleeping position over time.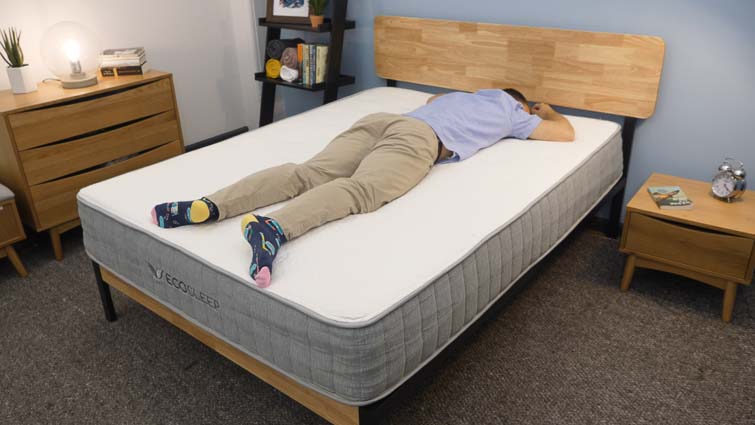 Bounce
My Bounce test simulates a sleeper moving around in bed to see how easy it would be for that sleeper to change positions or get up in the morning. The test involves a 10 lbs. ball drop onto the EcoSleep. I take visual note of the spring in the mattress and if the ball looks like it gets stuck on the rebound.
The EcoSleep is a bouncy mattress. Changing positions will probably be easy for most people. Even if you sink into the latex a bit, you're not going to get much of a contouring feel from this mattress.
Save 20% with code SLEEPOPOLIS20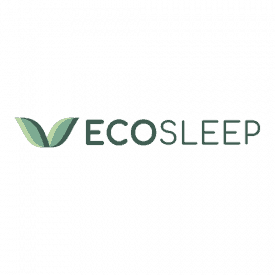 The EcoSleep is a great latex hybrid mattress that uses natural materials and pocketed coils to provide a supportive and bouncy feel. 
Motion Transfer
The Motion Transfer test is the sister test to the Bounce test. I drop the same 10 lb. ball at heights of 4", 8", and 12" and measure the motion with a seismometer on the other side of the bed. This is an important test for people who sleep with a partner, as the seismometer represents what you might feel if someone else were to get into or out of bed during the night.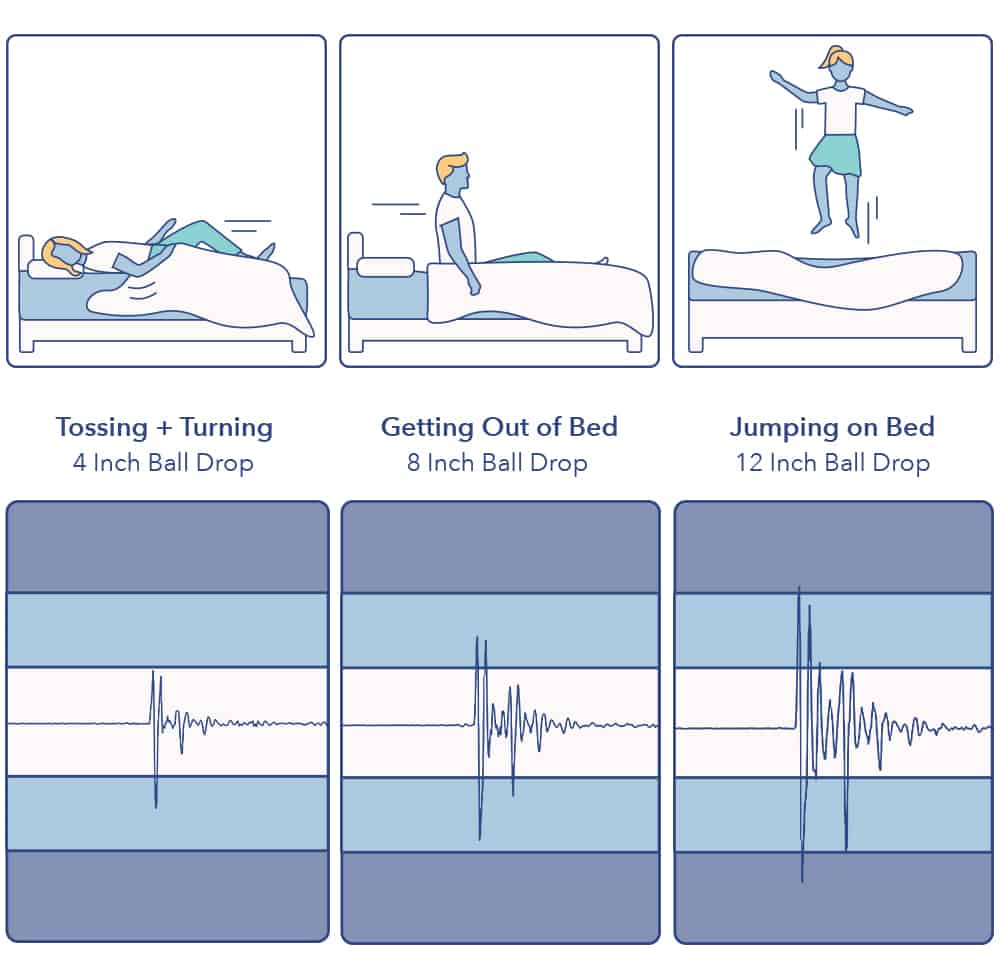 The EcoSleep transferred quite a bit of motion, which means that a restless partner may disturb you at night. The EcoSleep has great mobility and bounce that keeps you from being stuck, but that bounce, well… bounces everywhere. You can't have it all, I guess!
Should You Buy the EcoSleep Mattress?
You now have the details of the EcoSleep. I hoped to cut through all of the hype to get to what really makes a bed comfortable or uncomfortable for a sleeper. The section below sums it all up to make your buying decision just a little bit easier.
Save 20% with code SLEEPOPOLIS20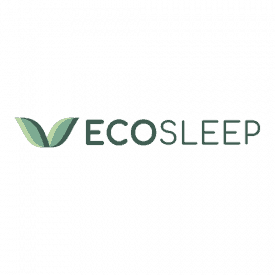 The EcoSleep is a great latex hybrid mattress that uses natural materials and pocketed coils to provide a supportive and bouncy feel. 
EcoSleep Mattress Recommendations
Back and stomach sleepers will probably like the support the EcoSleep provides on both sides.
Changing positions should be easy on the EcoSleep because of the bounciness of the mattress. Mobility is high.
The natural materials used in the EcoSleep are a bonus for eco-lovers, and you get to completely avoid polyurethane and similar synthetic materials.
EcoSleep Mattress Complaints
The EcoSleep is probably not good for strict side sleepers because of the lack of pressure relief in the shoulders
Sleepers with a partner may have a bit of trouble because of the high amount of motion that is transferred across the mattress. The edge support is also lacking, which keeps even more motion moving between sides.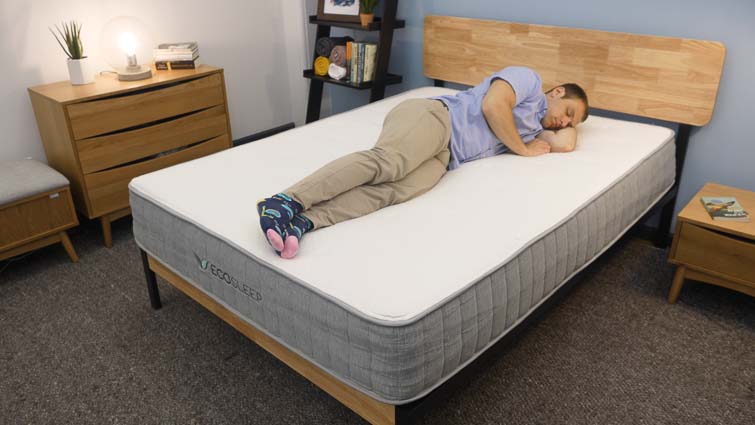 Basic Information
Trial – 120 Nights
Warranty – 10 Years
Shipping – Free and Compressed
How Much Does the EcoSleep Cost?
Save 20% with code SLEEPOPOLIS20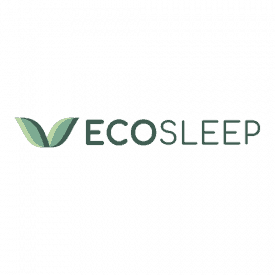 The EcoSleep is a great latex hybrid mattress that uses natural materials and pocketed coils to provide a supportive and bouncy feel. 
| Size | Dimensions | Price |
| --- | --- | --- |
| Twin | 39" x 75" x 11" | $899 |
| Twin XL | 39" x 80" x 11" | $949 |
| Full | 54" x 75" x 11" | $1,149 |
| Queen | 60" x 80" x 11″ | $1,249 |
| King | 76" x 80" x 11" | $1,499 |
| California King | 72" x 84" x 11" | $1,499 |
EcoSleep Mattress
Materials

Comfort

Support

Value

Cooling

Edge Support

Trial

Warranty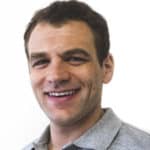 Logan is the former content director of Sleepopolis. As content director, he reviewed new mattresses every week and curated the comparisons, best of pages, and video guides on the site. Logan perfected his method by personally testing over 200 different mattresses, so he's not only able to discern the overall vibe of a specific bed, but to contextualize its feel within the bed-in-a-box market as a whole.