Although Tencel is not new to the textile industry, it is becoming increasingly popular within the world of bedding. But what exactly is Tencel, and who should sleep on it? Let's find out as we explore the Tencel Sateen Sheet Set from Brooklyn Bedding.
Save 20% with code SLEEPOPOLIS20
Brooklyn Bedding Tencel Sateen Sheets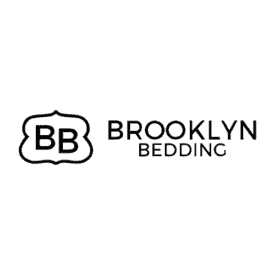 Brooklyn Bedding Tencel Sateen Sheets
These silky sheets provide a luxurious feel at a value price! Save 20% with code SLEEPOPOLIS20!
Brand Snapshot
Brooklyn Bedding is a family-owned business that opened its doors back in 1995. But it wasn't until 2008 that things really picked up for the brand, when it began selling its first bed-in-a-box. Since then, Brooklyn Bedding has become one of the most popular names in the space, offering sheets, pillows, and mattresses for sleepers of all styles.
We at Sleepopolis have had the chance to test many Brooklyn Bedding mattresses and pillows, but this review is all about the bedsheets! So, without further ado, let's examine what the Tencel Sateen Sheet Set is made of.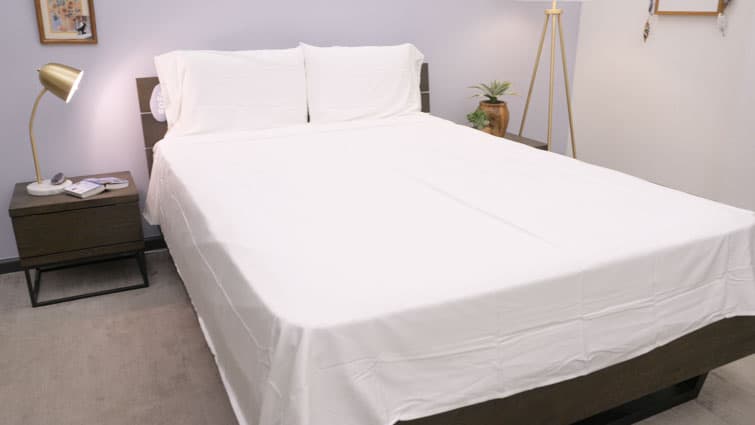 What Are Brooklyn Bedding Sheets Made Of?
As you might have already guessed, the Tencel Sateen Sheet Set is made from 100% Tencel, and spun into a sateen weave. So… What does that mean?
Tencel is actually the trademark name for lyocell, a sustainably sourced material made from dissolving wood pulp. If you check these sheets out on the Brooklyn Bedding website, you'll notice they're categorized as "botanical luxury," and that's because Tencel is a plant-based material. And I have to say — it does feel rather luxurious!
Lyocell fibers are known for being exceptionally smooth, durable, highly absorbent, naturally hypoallergenic, and antimicrobial (lots of perks, am I right?) For these reasons, Tencel is often blended with cotton to produce an extra strong, soft, and moisture-wicking set of sheets. But because these sheets are not blended with any other material, the sleeper gets to enjoy pure Tencel in all its glory.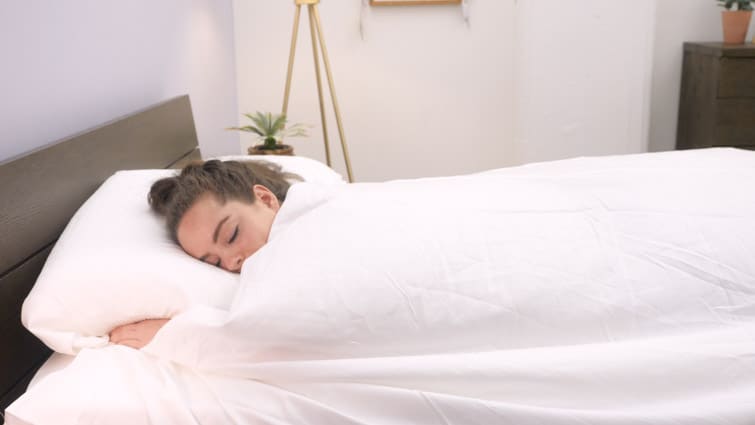 Now, when you're on the hunt for new bedsheets, you'll notice that two words keep popping up: percale and sateen. These terms refer to the weave style used to craft a set of sheets, and they each offer a distinct set of traits. Sateen woven sheets (like we see here) typically provide a lustrous sheen and satin-like handfeel, whereas percale sheets are usually crisp and matte in appearance.
These Brooklyn Bedding sheets are certainly true to the sateen weave style; they feel silky-smooth, and provide an elegant sheen. Sateen sheets also tend to be a bit thicker and less breathable, and are not always well-suited to sleepers who run hot. But do these sateen sheets sleep cool? Well let's take a closer look!
Save 20% with code SLEEPOPOLIS20
Brooklyn Bedding Tencel Sateen Sheets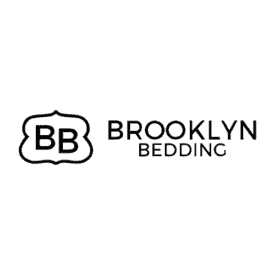 Brooklyn Bedding Tencel Sateen Sheets
These silky sheets provide a luxurious feel at a value price! Save 20% with code SLEEPOPOLIS20!
What Do Brooklyn Bedding Sheets Feel Like?
Before we get into the feel of these sheets, let's talk about what's included in your order. Each set comes with one top sheet, two pillowcases, and one fitted sheet capable of accommodating mattresses up to 14 inches deep.
Many of you probably have mattresses that are fewer than 14 inches deep, but some folks (myself included) sleep on beds with a taller profile. That's why many bedding brands design fitted sheets to have extra-deep pockets (15 inches or more) in order to accommodate everybody. So if you've got a mattress that's 15 inches deep or higher, you might not be compatible with this bedding's dimensions.
But if these sheets do fit your mattress, you might just be in for a treat. This bedding feels very soothing against the skin, drapes elegantly, and looks as silky as it feels. And if you like a shiny set of sheets, you'll be pleased to know that this set offers a lovely, lustrous sheen that did not diminish after I washed it.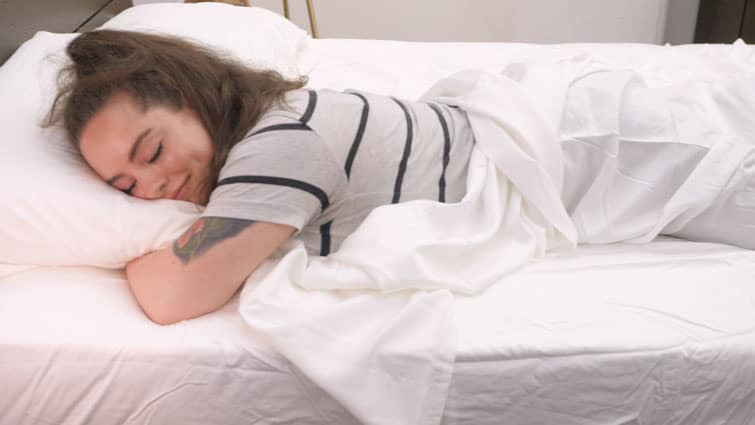 FAQ
Q: Can I wash Brooklyn Bedding sheets?
A: Yes! These sheets can be washed on a cool or warm cycle with mild detergent. Then, tumble dry on low heat, or line dry.
However, as a hot sleeper, I can't say I felt particularly cooled by these sheets. They do feel surprisingly lightweight, but the fabric itself is not super breathable. I enjoy how gently they lie on my body, and I wouldn't go so far as to call them warming, but I wish I felt more air flowing through the fabric. Although, Tencel's ability to wick moisture did keep me feeling fresh and dry.
Ultimately, these sheets get high marks from me. I love sleeping on plant-based bedsheets, and found these to be luxuriously soft and lustrous. In my opinion, they'd be perfect for Spring and Fall, when the air is crisp, but not cold. Folks looking to sleep green on some silky sheets should definitely give these a try!
The Verdict: Eco-friendly sleepers who prefer a silky feel and lustrous sheen will be most compatible with these sheets.
FAQ
Q: Does Brooklyn Bedding offer a trial period with its sheets?
A: While the brand does offer a long trial period of 120 nights for its mattresses, no trial period is offered with sleep accessories. Instead, they fall under a 30-day return policy.
Should I Buy Brooklyn Bedding Sheets?
Save 20% with code SLEEPOPOLIS20
Brooklyn Bedding Tencel Sateen Sheets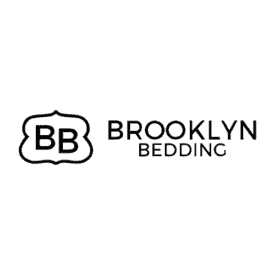 Brooklyn Bedding Tencel Sateen Sheets
These silky sheets provide a luxurious feel at a value price! Save 20% with code SLEEPOPOLIS20!
Alright, sleepers, let's recap the highlights of this sheet set so you can decide if it's the best fit for you:
"Botanical Luxury" — This bedding is made from 100% Tencel, which makes it a great eco-friendly option for folks looking to sleep green. The lyocell fibers used to make these sheets are derived from natural wood sources, and Tencel comes with some great natural perks. It's super absorbent and moisture wicking, and feels very smooth to the touch.
Silky & Lustrous — Speaking of which, these sheets are silky and soothing on your skin, and provide a pretty lustrous sheen. Whether you prefer a sateen weave because it brings this satin-like quality to the bedroom, or you've already got your percale sheets squared away and need to boost your collection of sateen essentials — these sheets could be a good way to go.
Return Policy & Easy Wash Care — Two things I tend to prioritize in a set of sheets are easy wash care and a generous return policy, and these sheets have both. For wash care, all you have to do is wash on a cool or warm cycle, and tumble dry on low heat. Can't get much simpler than that. These sheets also come with a 30 day return policy, so you can take a month to decide if they are the best fit for you. If not, return them within 30 days, and you'll be fully refunded.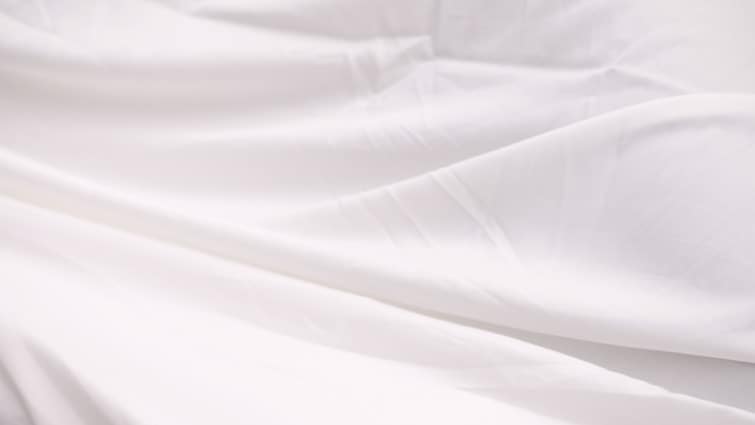 Brooklyn Bedding Sheets Complaints
Of course, there are a few things to consider before you make up your mind:
Fitted Sheet — It's common for mattresses to be fewer than 14 inches deep, however there are many who sleep on a taller mattress. For comparison, I tested this set on the Brooklyn Bedding Signature mattress (which has a profile of 11 inches), and then on a mattress with a 15 inch profile. These sheets fit the BB mattress like a glove, but the fitted sheet pockets often became untucked on the taller mattress. So, if you do have a mattress that's over 14 inches tall, I suggest you take the 30-day return period to see how well they fit.
Price — I like that these sheets come in a range from sizes, including Split King. But ranging from $139-$219, depending on which size you get, these sheets aren't going to be in everyone's budget.
Anything Else I Should Know?
Sizing — Twin, Twin XL, Full, Queen, King, California King, Split King
Pricing — $139-$219, depending on size
Shipping — free within the U.S. Additional shipping cost applies to Hawaii, Alaska, and Canada
Returns — you have 30 days to return this sheet set for a full refund
Wash Care — wash on cold or warm cycle, tumble dry on low heat or line dry
Now that you all know everything there is to know about the Brooklyn Bedding Tencel Sateen Sheet Set, you've probably decided whether or not it's the right fit for you. If so, yay! If not, don't sweat it. Just follow us on Facebook, Twitter, Instagram, and subscribe to our YouTube channel and you're sure to find your dream bedding in no time.
Sarah is the former senior writer and bedding expert at Sleepopolis. She received her degree in Creative Writing from Brooklyn College and spends her free time doing stand-up, making pasta, and hanging with her cats.