Saatva is one of the first online bedding brands to ship innerspring mattresses directly to your door, and they've since grown to be one of the highest rated retailers in the industry. So, it's safe to say that Saatva's mattresses have made a name for themselves! But what about the Saatva pillow?
Saatva Dreams is the corner of the company's website that houses all the bedding accessories like sheets and pillows. In this Saatva pillow review, I'm going to pay special attention to the pillow! I'll test it in every position, and take a close examination of its construction so I can figure out which sleepers might benefit from it the most (and for which sleepers this pillow is a no-go!).


A fluffable mix of down-alternative and Talalay latex makes this pillow cozy, cool, and great for combo sleepers!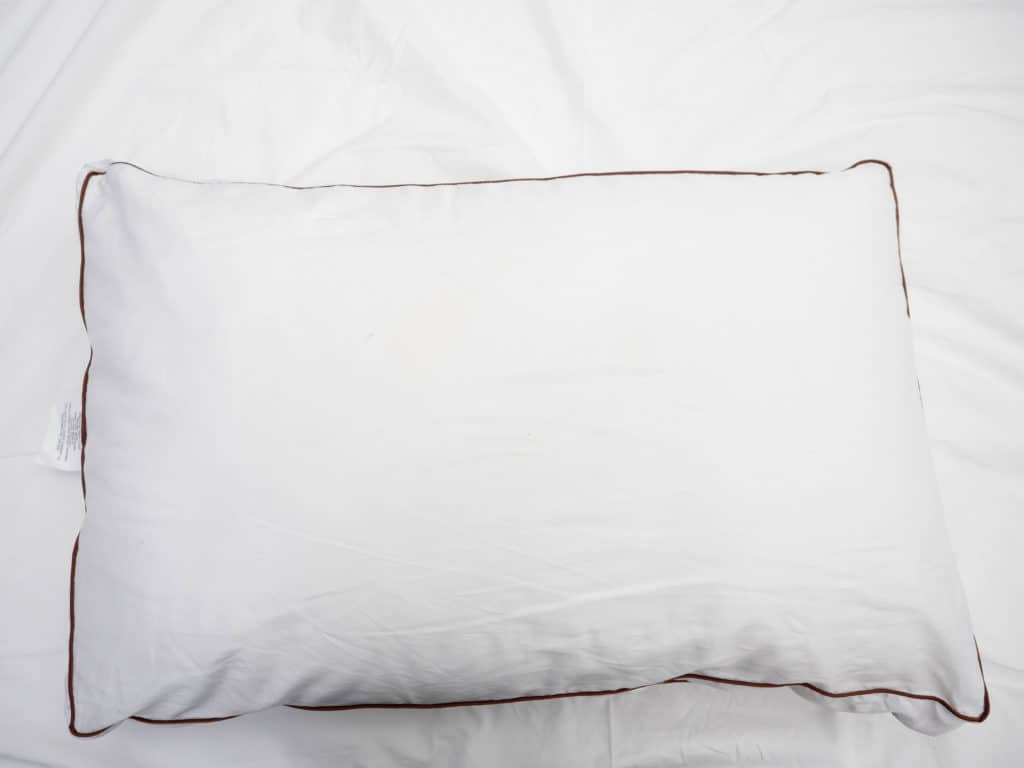 WHAT IS THE SAATVA PILLOW MADE OF?
The Saatva pillow is designed to offer a balance of plush and supportive by employing the company's unique three-layer construction. The cover fabric is made from 100% breathable organic cotton, the outer pillow is amply stuffed with a down-alternative called microdenier fiber, and the pillow's inner core is filled with shredded American Talalay latex. As I said, this multi-layered construction combines to offer a harmony of fluffy comfort and responsive support.
The cotton cover fabric features a sateen weave which enhances the pillow's sheen and offers a silky smooth handfeel. The folks at Saatva say that the cover fabric is also naturally moisture-wicking and breathable which helps sleepers to stay cool. The gusseted sides of the pillow serve to fortify the shape and help it to maintain its loft over the course of the night so you don't wake up with a flat pillow.
A zipper spans one side of the cover so that it can easily be removed when it's time to be washed (yes, it's machine washable!). Immediately inside the cover is a lofty, plush layer covered in more organic cotton and filled with silky, down-like microdenier fiber. This fluffable part of the pillow is hypoallergenic and is designed to enhance airflow so that sleepers with sensitive skin or allergies can rest easy (and cooly).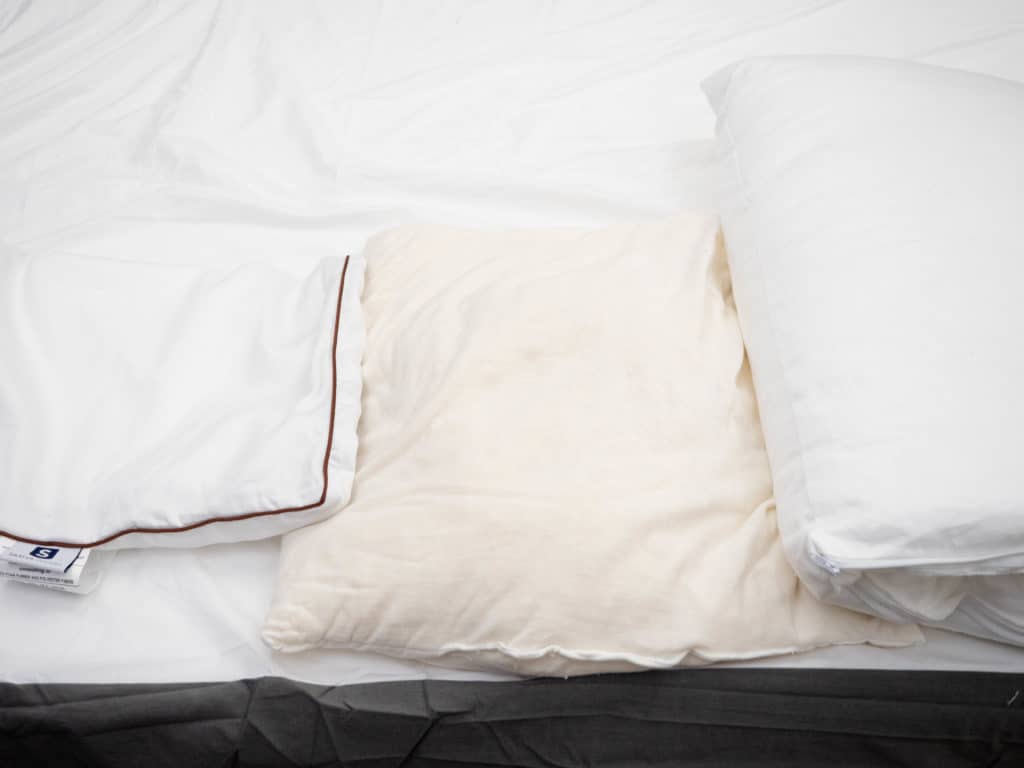 Then, inside that layer is the pillow's "core". If you unzip the second layer, you'll see an inner pillow which is the third and final layer of Saatva's pillow construction. The core is covered in polyester and filled with shredded American Talalay latex. Unlike a solid piece of Talalay latex, the shreds offer a very light and fluffy feel rather than super bouncy support.
The inner latex core is very responsive and serves to align your head, neck and spine for healthy sleeping posture. Not to mention, American-made Talalay is naturally hypoallergenic, dust-mite and mildew resistant, and allows for good airflow within the pillow. The combination of fluffy microdenier and supportive latex work together, like I said, to offer a nice balanced feel and firmness.
Fun Fact: This is the pillow I sleep on at home!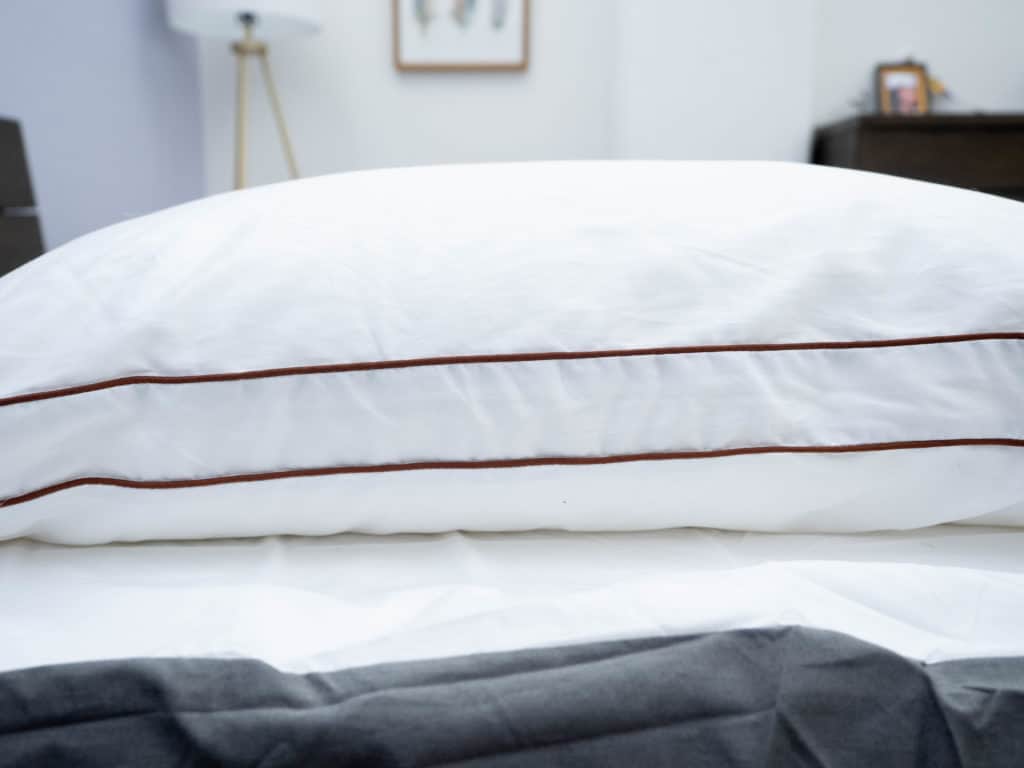 WHAT DOES THE SAATVA PILLOW FEEL LIKE?
When you think of Talalay latex, you might imagine a super bouncy, solid piece of material like we saw with the Talalay Latex Pillow from Brooklyn Bedding. But you'd be wrong! Shredding the latex inside the Saatva pillow changes the feel completely, offering support that's more plush than buoyant. The latex portion of this pillow is confined only to the "core" (the innermost layer), and it serves to complement the fluffy down-alternative that surrounds it.
Pressing into the Saatva pillow, you can feel right away how lofty and fluffy it is. However, while it's got more of a plush feel than some latex pillows, you can still tell that the inner core is working as a support system. I would consider the firmness level of this pillow to be soft-medium, but the "medium" part is definitely coming from the latex, not the microdenier.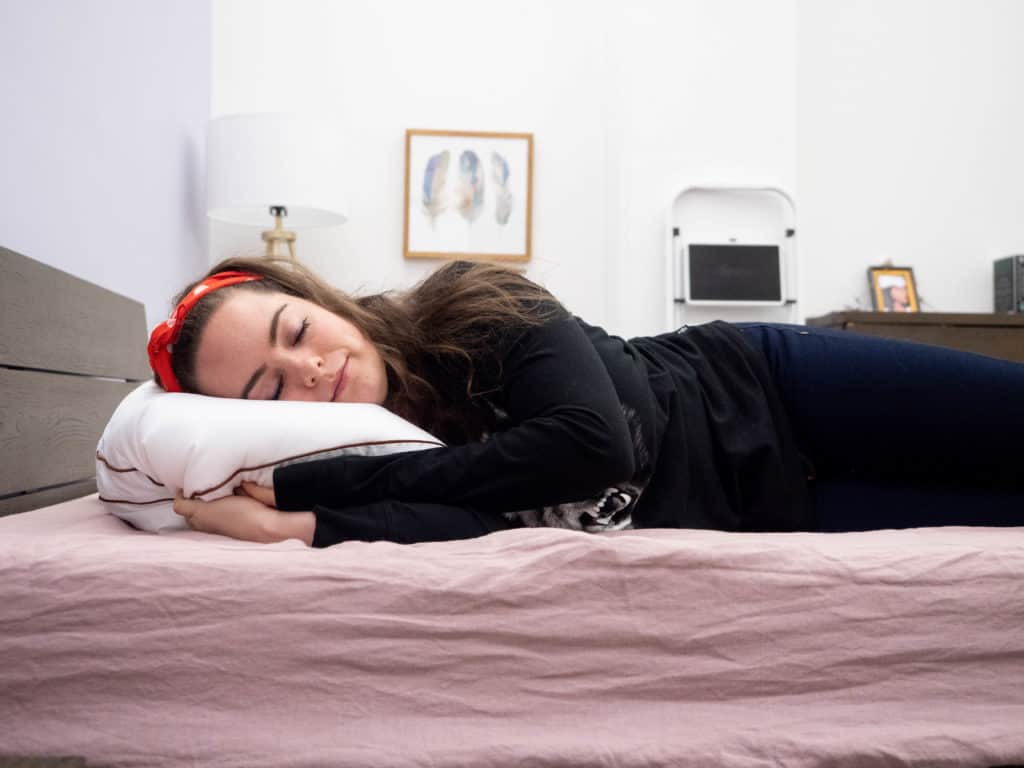 The microdenier is very soft and feather-like, offering a nice cushy place to rest your face. Meanwhile, the latex inside is going to conform to your head and neck, ensuring neutral spine alignment. This pillow's construction allows for great foldability and a consistently lofty profile.
Like I said, the layering of materials does create a pretty lofty build that, at first glance, you might assume is ideal for side sleepers. While it is compatible with that position, the softer firmness level and compressible quality of the microdenier lends itself really well to back and stomach sleeping too.
This pillow has a softly supportive feel that harkens back to the pillow you slept on at that fancy hotel that you were oh-so-tempted to stash in your suitcase before you checked out.


A fluffable mix of down-alternative and Talalay latex makes this pillow cozy, cool, and great for combo sleepers! 
HOW DID YOU LIKE IT, SARAH?
Well, it's no secret that I liked this pillow enough to make it my very own, but I know it's not going to be compatible with every sleeper.
When it comes to the Saatva pillow, it's important to remember that the feel and support is much more like down than memory foam. You're not getting that deep sink into the material — it's got a very fluffy personality. It does still conform to your head and neck, but your head is sort of gently cradled by the feathery microdenier in the outermost layer of the pillow.
I'm a combo sleeper, so I do need a pillow that's going to keep my spine aligned no matter which position I roll into. When I first laid eyes on this pillow, I figured that its big ol' lofty build would be perfect for side sleeping. So, I started testing the Saatva in the lateral position, but once I got there, I was a little surprised by how soft it was! Perhaps even a little too soft…
Lying on my side, I did love the silky smoothness of the sateen woven cotton against my cheek. However, unless I folded one corner of the pillow and slid my arm underneath, it wasn't quite firmly supportive enough for me. The fluffy-soft plushness of this pillow allowed the weight of my head to sink down into the pillow, throwing my head out of alignment with my spine. Luckily for me, I always fold my pillow when I'm on my side anyway, and once I did that with the Saatva, it did become firm enough to keep my posture healthy.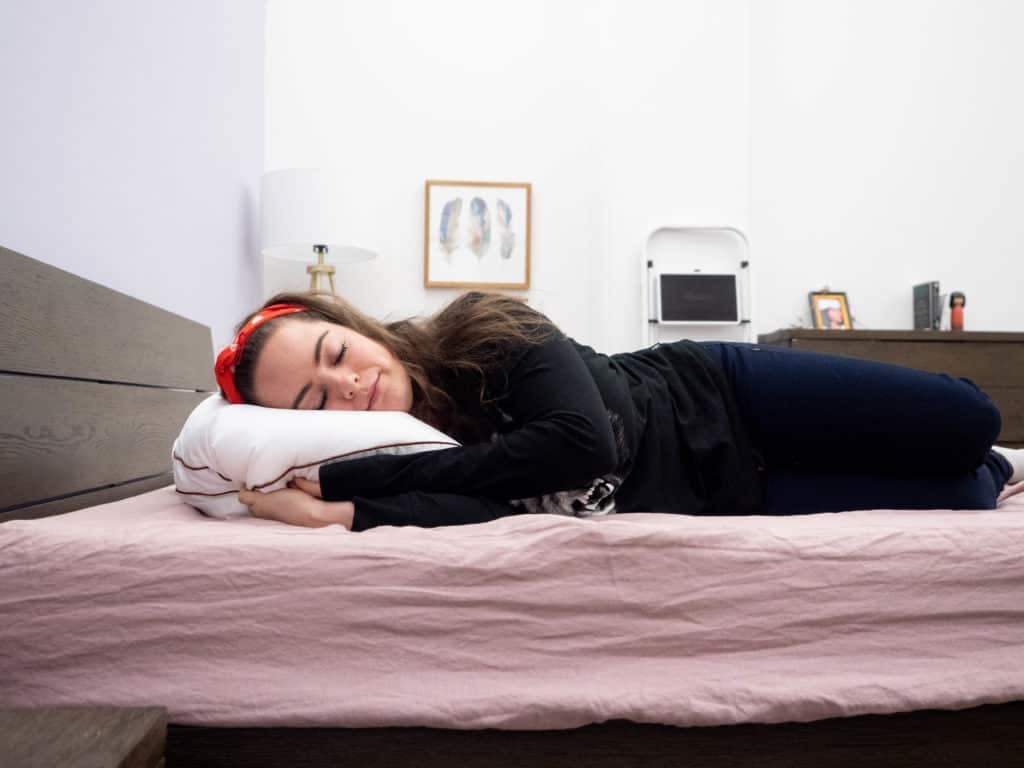 Side sleepers who don't like to fold their pillows in order to sort of personalize the loft and firmness should definitely give this pillow a try before committing as it is quite soft. I had a feeling, though, that this soft, compressible quality would be great for back sleeping. So, I slid into the supine position.
In my opinion, this pillow was made for back sleeping. It reminds me of the pillows I've slept on in hotels, and I really enjoy that traditional, cloud-like feel. It's super fluffable, and the latex inside works to keep my head and neck in neutral alignment with my spine. The weight of my head does sink into the pillow enough for two plush sides to fluff up around my face, allowing me to rest my temple to the left or right.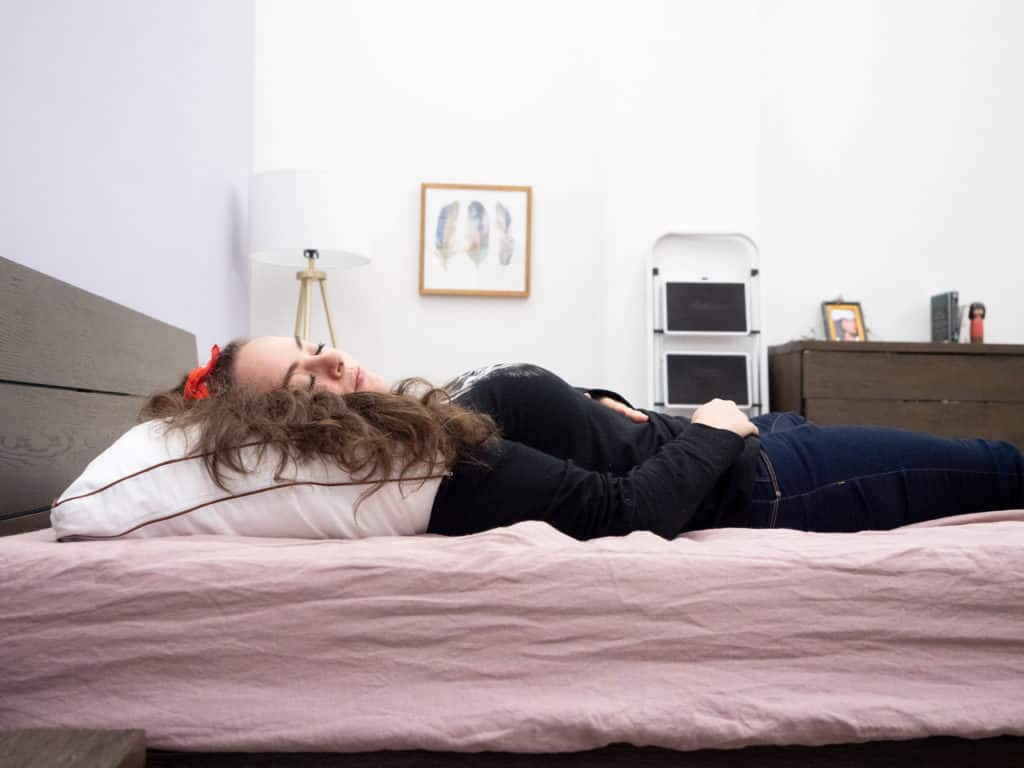 Lying in the supine position, I felt completely supported but also very comforted. I love the feel of down, but always find myself wishing it were just a little more firmly supportive — and that's what this pillow is (without using any real feathers). It's got the fluffy malleability of microdenier with a little bump of support coming from the pillow's latex core.
I was a little nervous about using this pillow for stomach sleeping because, like I said, it does have a lofty build. However, it is quite soft and plush so I didn't really know what to expect! I settled into the prone position and found that it was right on the cusp of being too tall. My neck wasn't craned out of alignment with my spine, but I could see how some stomach sleepers might find it to be too high.
I removed the latex insert to see if that would make a difference — and it did! Without those extra few inches and the support of the latex shreds, the pillow became even softer and less lofty. It also became even more shapeable, so I was able to reach under the pillow with both arms and embrace all the fluffy comfort. Similar to the Casper pillow, this ability to remove the middle insert offers a level of versatility that's great for combo sleepers.
Ultimately, I found this pillow to be ideal for back sleepers — but I think sleepers of all styles could benefit from the Saatva Dreams pillow. Of course, a lot depends on personal habits, preference, and body type. But combo sleepers who are into the fluffy feel of down should give this one a try!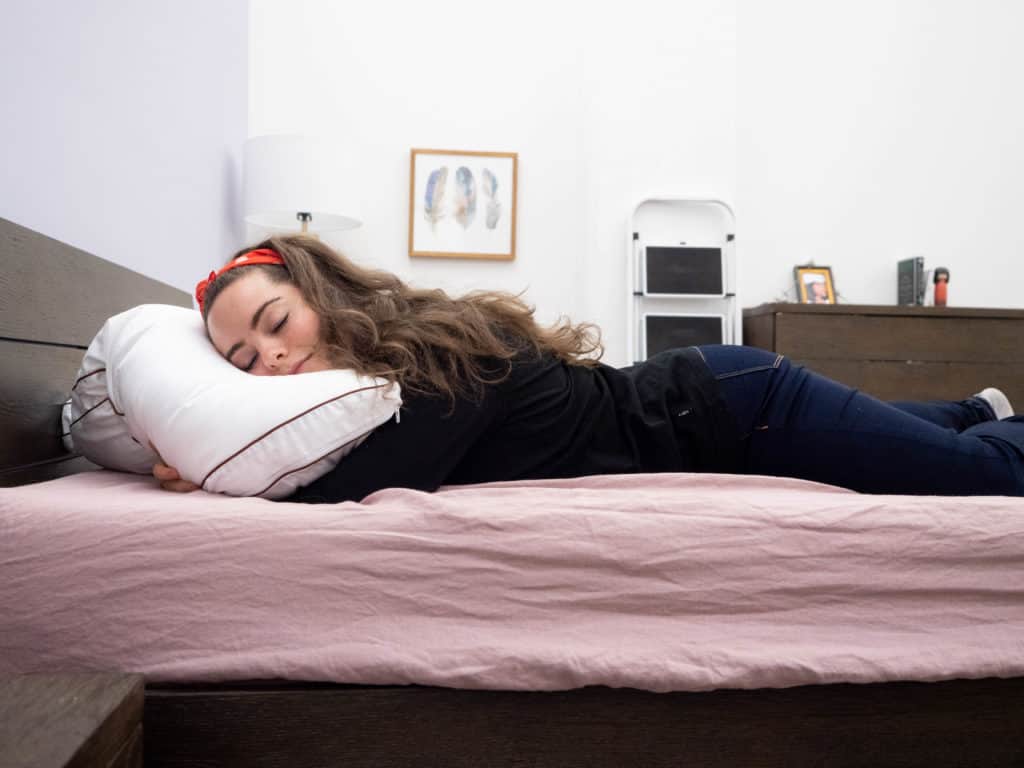 UNDER-THE-ARM & BETWEEN-THE-LEGS
This is, for me, the perfect pillow for hugging. It's fluffy, it's big, and it's shapeable. It's really easy for me to just pull it close to my body and get that unique sort of comfort that comes from this sleep style. Many folks need the supportive security of hugging a pillow while they sleep, and I think this is very compatible for that!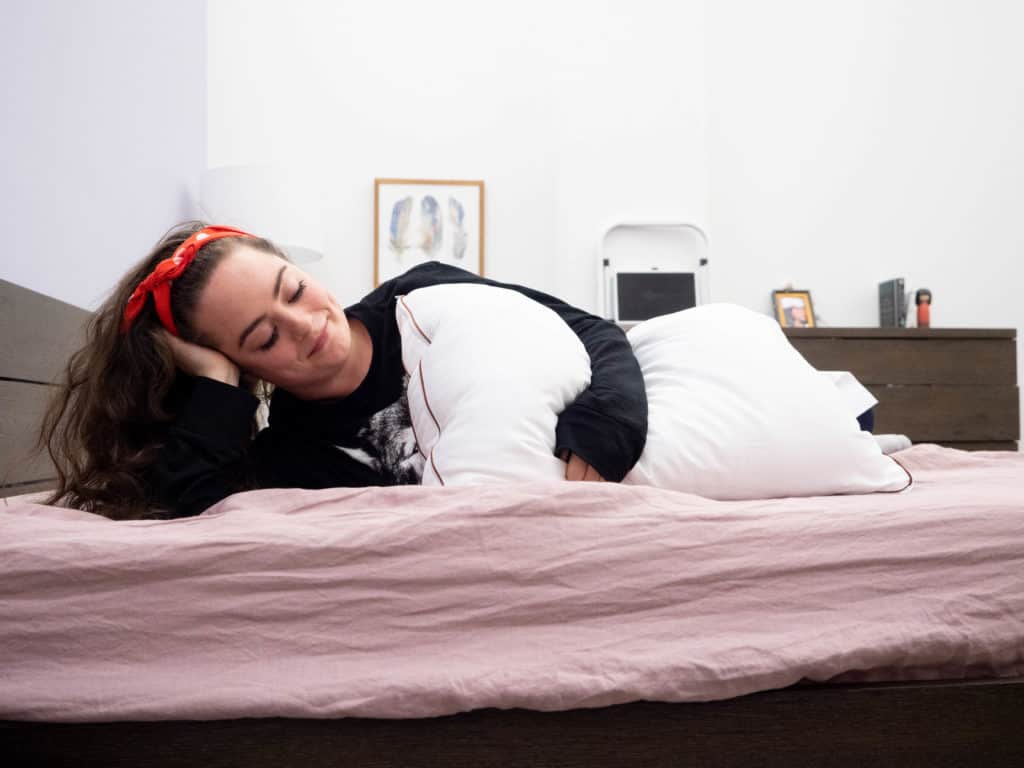 As far as holding the pillow between my legs, it did serve to relieve some pressure in my lower back and keep my spine aligned. However, I do prefer something a little less plush for this style. The weight of my leg flattened the pillow a bit more than I would have liked, so I did have to keep fluffing it. I definitely prefer this pillow for hugging!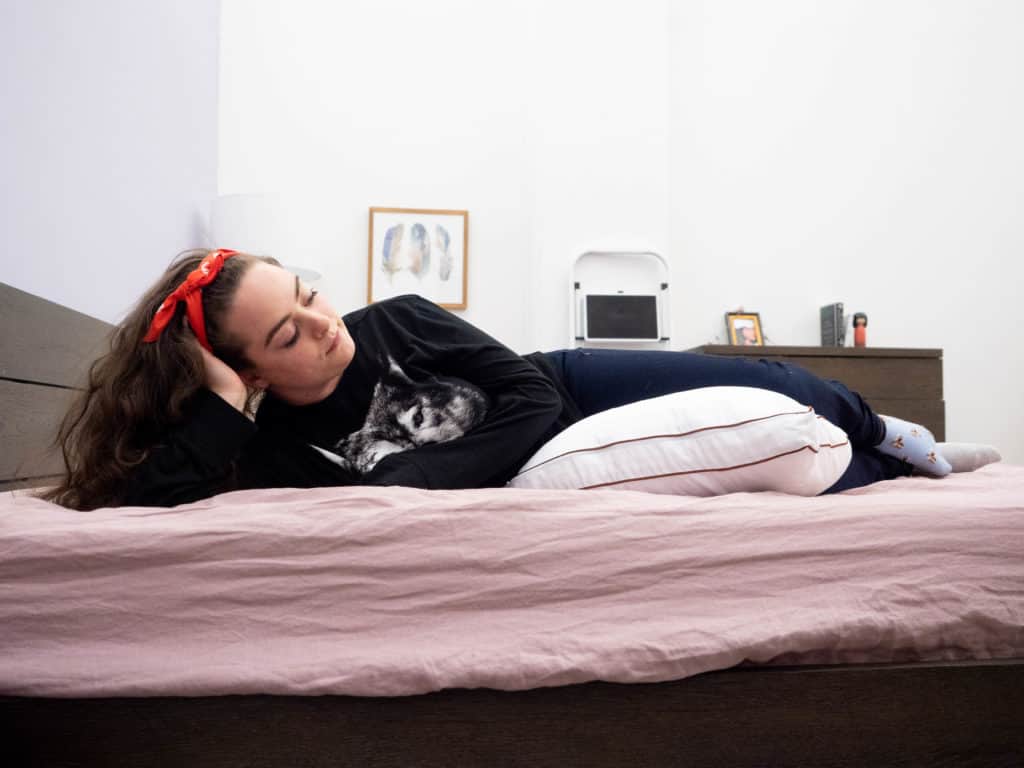 SAATVA PILLOW COMPLAINTS
As always, one pillow isn't going to satisfy the needs of every sleeper. You might not be compatible with the Saatva pillow if you're a sleeper who:
Loves Memory Foam — If you're looking for that deep, body conforming sink that memory foam offers, this pillow isn't it. The Saatva pillow's personality is all about feathery fluff and it really doesn't feel anything like memory foam. If you love memory foam but are looking to break away from that solid piece, try shredded memory foam.
Needs Firm Support — While this pillow is quite lofty, and the inner latex core provides extra support, it's still got a softer firmness level. If you're a sleeper who needs medium-firm or firm support, I'm not sure you'll be compatible with this one!
Likes a Low Loft — Like I said, this pillow has a lofty profile so if you know you need a flatter pillow in order to keep healthy spine alignment, be sure to test this pillow before committing to it. Of course, you can remove the middle insert for lower loft, but it does change the overall feel of the pillow.
SHOULD I TRY THE SAATVA PILLOW?

A fluffable mix of down-alternative and Talalay latex makes this pillow cozy, cool, and great for combo sleepers! 
There's all kinds of things to like about this pillow, but you might find it particularly beneficial if you're a sleeper who:
Combo sleeps — Personally, I was able to find comfort in every sleep style with this pillow. It may take a little folding and manipulating (and some positions work better than others) but I would consider this an all-position pillow which is ideal for combination sleepers.
Is down with down-alternative — If you love the feel of feathers, but are not down with sleeping on animal products, you'll probably like this pillow! The microdenier has that fluffy squish of down, but no animals were disturbed in the making of the Saatva pillow.
Wants to try before you buy — If you're not so sure this pillow is the right one for you, you are welcome to test it out for 45 days before having to make any tough decisions. If it's not a good fit, send it on back for a refund!
ANYTHING ELSE I SHOULD KNOW?
Hypoallergenic — The natural Talalay latex inside the Saatva pillow is hypoallergenic. Talalay latex is washed five times with fresh water, which removes any of the latex proteins that cause allergies.
45 day trial period
Wash care — Unzip the pillow and remove the shredded Talalay latex core. The outer cover and pillow of microdenier fiber can be machine washed on a cool cycle with mild detergent. The latex core cannot be washed at all. The folks at Saatva recommend washing this pillow twice a year and replacing it after 36 months of use.
Sizes — Saatva pillows are available in Queen and King sizes. The Queen is 28 x 18 inches and weighs 65.5 ounces. The King is 34 x 18 inches and weighs 78.5 ounces.
Shipping throughout the USA and Canada
1 year limited warranty
Pricing — $145 & $165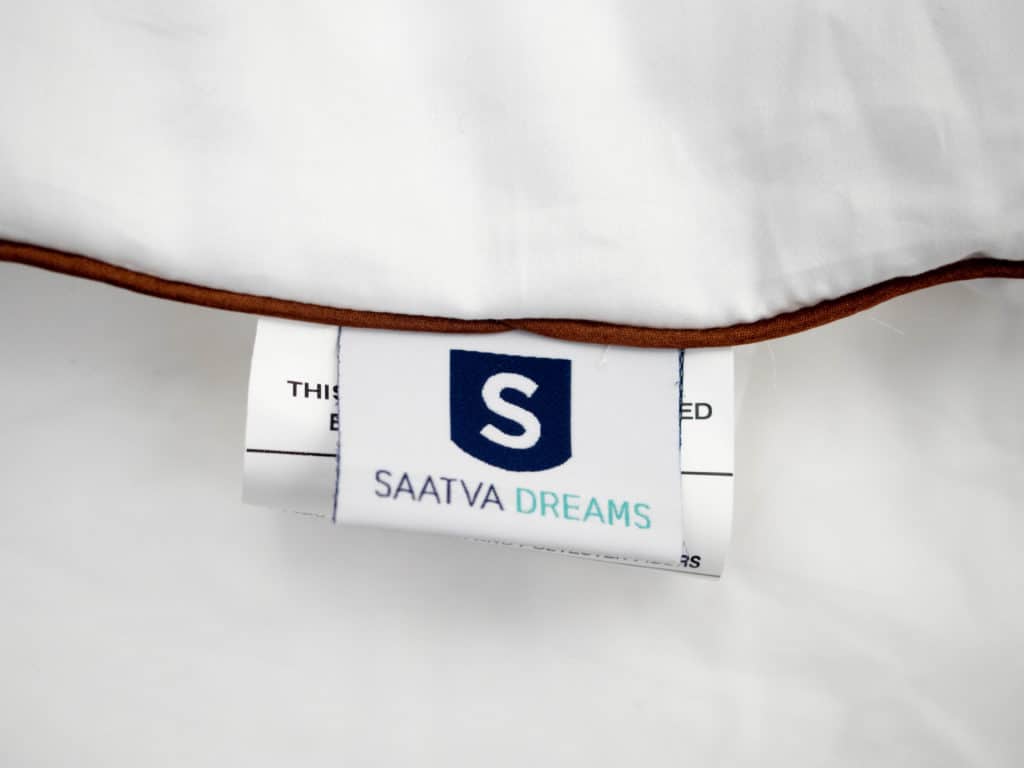 FAQs
What is the Saatva pillow made of?
The cover fabric on the Saatva pullow is made from 100% breathable organic cotton. The outer pillow is stuffed with a down-alternative called microdenier fiber, and the pillow's inner core is filled with shredded American Talalay latex.
Can I wash my Saatva pillow?
The outer cover and pillow of microdenier fiber of the Saatva pillow can be machine washed on a cool cycle with mild detergent. The latex core cannot be washed at all.
What sizes does the Saatva pillow come in?
The Saatva pillow can be purchased in two sizes. The queen is 28 x 18 inches and the king is 34 x 18 inches.