Maybe you've heard of the Puffy mattress, but did you know that Puffy makes tons more products, like comforters, rugs, and even dog beds? This brand truly does it all! But today, we're going to be focusing on the Puffy pillow.
The Puffy pillow is a shredded memory foam pillow with a bamboo rayon cover. This pillow has a lot of positive reviews online and Puffy has hyped this pillow up quite a bit on their website, so I'm excited to dig into the details for this review and find out if the Puffy pillow will live up to the hype. Maybe it could even be your next new pillow!
Just want the short version? Skip to the end for my review summary!
Is Puffy a Good Pillow for You?
Every sleeping position has unique needs from their pillows and we all have different preferences, so I find it's rare that one pillow will work for everyone. So here's who I think will like the Puffy pillow and who should look for another pillow.
Who should try the Puffy pillow
I think

the Puffy pillow

can

work for all sleeping positions

, depending on how you adjust the loft! Combination sleepers especially will like the versatility of this pillow.

I'd also say

hot sleepers are going to like the Puffy

. It has a pretty cool cover and its shredded foam fill allows for some good air circulation.

If you like a

firmer feel

from your pillow, I think you'll like

the Puffy

! It has a just slightly firmer than average feel, but still has some give and provides some

contouring

.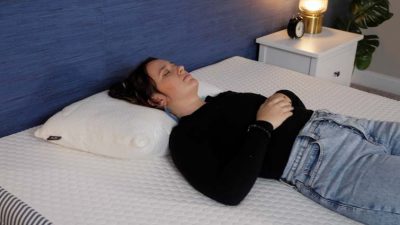 Who should not try the Puffy pillow
If you like a more classic down pillow feel

, you probably won't like the foam fill used as a down alternative in

the Puffy

. It's going to have a pretty radically different feel.

Because it has a little bit of a firmer feel,

if you're looking for a super fluffy, easy-to-sink-into pillow,

the Puffy pillow

probably isn't your best bet.

Also,

the Puffy

only comes in standard and king sizes

, so if you're looking for a queen or any other specialty size,

the Puffy

isn't a great option there either.
What Does the Puffy Pillow Feel Like?
Of course, how a pillow feels is going to be one of the most important factors in how much you like it! So to give you all the best understanding of how this pillow feels, I took it home to test it out for a few nights. Remember, feel is a little more subjective than some of the other qualities we test for and review, so you may have a slightly different experience than I did.
Puffy Pillow Firmness
The first factor I like to consider for a pillow's feel is its firmness level. Every sleeping position generally does best with a certain firmness of pillow, but of course, personal preference is always a factor as well. In general, side sleepers do best with a firmer feel, back sleepers with a medium feel, and stomach sleepers with a soft feel.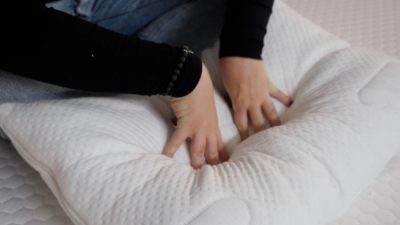 I was surprised to find that the Puffy pillow actually has a slightly firm feel. From a pillow called "Puffy," it seems a little strange, but I think this firmness comes from how tightly packed the foam fill is. It allows for a little contouring around your head and neck, but overall I'd say this pillow has a super supportive feel.
Puffy Pillow Loft
Now the other factor to consider in the realm of feel is loft. A pillow's loft is essentially its height and again, different types of sleepers will do best with different lofts to best maintain spinal alignment and prevent neck pain. Side sleepers should opt for a higher loft, back sleepers should go for a medium loft, and stomach sleepers should aim for a low loft.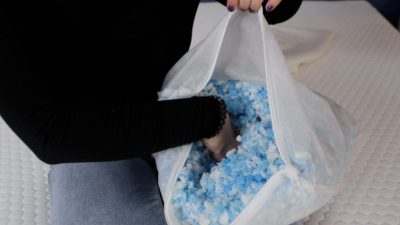 The Puffy pillow actually has an adjustable loft, so if you unzip the inner lining, you can remove the memory foam filling by hand to lower the loft of the pillow. This adjustability makes the Puffy pretty versatile.
Side — I thought the Puffy pillow was a really great pillow for side sleepers. As I mentioned it has a firmer feel, which is on point for supporting side sleepers' head and neck. And because the Puffy is an adjustable pillow, you can alter the loft to a good level for your personal side sleeping.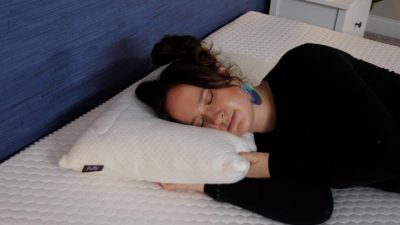 Back — The Puffy is also a good choice for back sleepers, in my opinion! The feel is just a touch firmer than medium, which I think will work well for many back sleepers. And again, you can adjust the loft to a nice medium height that works for you. The Puffy should do a good job of keeping your head and neck supported, but not craning upwards, as long as you adjust the loft.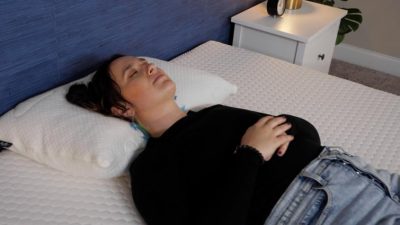 Stomach — I was surprised to find that the Puffy actually worked pretty well for stomach sleeping! A soft pillow is usually best, but I think because the foam used in the Puffy is so compacted and not very elevating, it can work for stomach sleepers. I would definitely recommend lowering the loft a considerable amount, however, to avoid any neck craning.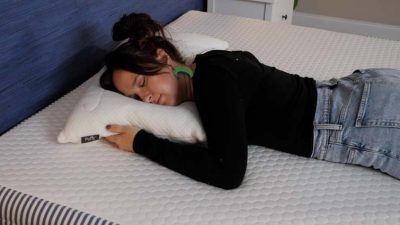 Under the Arm — If you like to hug a pillow as you sleep, I think the Puffy could work really well! The shredded foam allows for some give so you can hug the pillow pretty tightly, but it's not such a large pillow that it would be uncomfortable to wrap your arms around.
Between the Legs — I think the Puffy could also work well for sleeping with it between your legs. Your legs should get some cushioning and contouring, but simultaneously be well-supported. I think it'll work well to keep your hips aligned.
What is the Puffy Pillow Made Of?
The Puffy pillow has three main components: the outer cover, inner lining, and the fill. Let's take a look at what each of these elements are made of.
Pillow Cover: The removable cover of the Puffy pillow is made from a blend of 60 percent bamboo rayon and 40 percent polyester. This cover is both hypoallergenic and machine washable.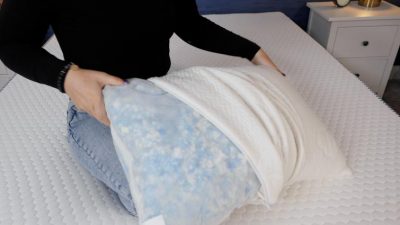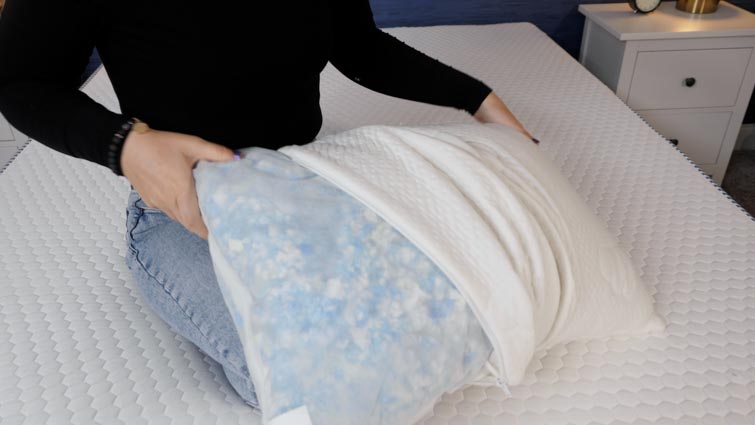 Inner Lining: The inner lining of the Puffy pillow is what holds the fill. This lining is made of 100 percent polypropylene, which is a synthetic material commonly used in upholstery.
Fill: The fill of the Puffy pillow is 100 percent shredded polyurethane foam. This foam is not shredded into cubes or strips, but into very small, nondescript shapes, so it compresses very easily. Additionally, the foam fill is CertiPUR-US certified to be free from any harmful chemicals and pollutants.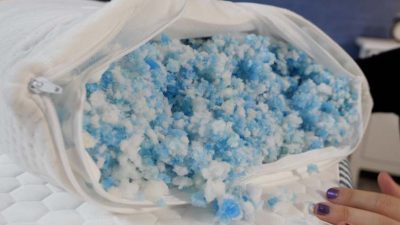 Is the Puffy Pillow Good for Hot Sleepers?
If you tend to run warm at night, the last thing you want is a pillow that traps heat around your head. Waking up with sweaty hair is not a good feeling. Luckily, the Puffy pillow is a good choice for hot sleepers looking to prevent overheating.
The cover has a slight cool-to-the-touch feel and the bamboo rayon blend fabric will be great for temperature regulation. Bamboo is both a cooling and moisture-wicking material. Additionally, the shredded foam fill will allow for some airflow within the pillow, preventing hot air from being trapped. Breathability is key for sleeping cool.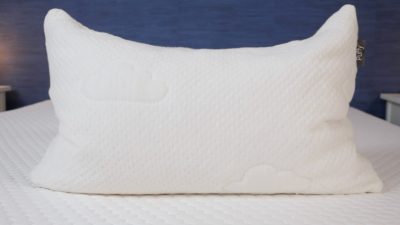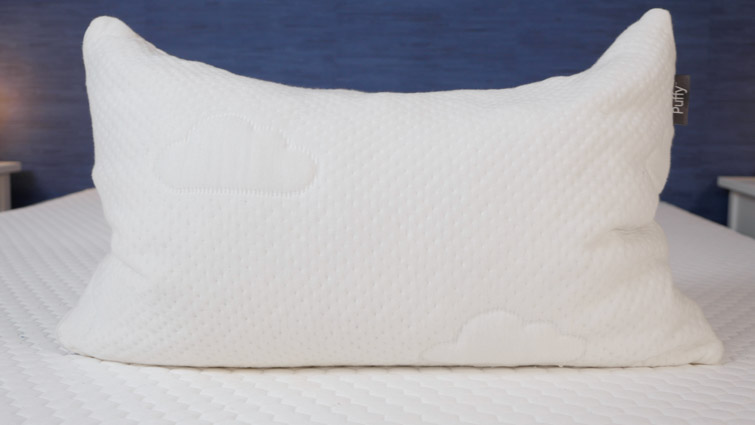 If you're interested in more cooling sleep products, be sure to check out our best cooling pillows and best cooling sheets.
Puffy Pillow Sizes and Prices
Think the Puffy could be the best pillow for you? Here are the prices of the pillow, listed by size. All prices are listed before discounts — but if you want to get the best deal, be sure to click one of the coupons throughout this article!
| Size | Dimensions | Price |
| --- | --- | --- |
| Standard | 20" x 26" | $79 |
| King | 20" x 36" | $99 |
[
Puffy Pillow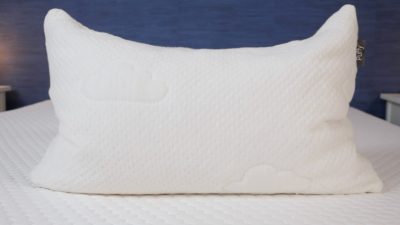 The Puffy Pillow is a great choice for sleepers looking for a pillow with customizable comfort, targeted support, and allergy-friendly properties.
Sleepopolis Score
4.90 / 5
Read Full Review
My Final Thoughts About the Puffy Pillow
Overall, I was pretty impressed with the Puffy pillow. I thought it was a high-quality pillow that would work well for a wide variety of people. I think this pillow can work for every sleeping position, depending on how you alter the loft, and I also appreciated that it had some cooling features. Additionally, being hypoallergenic and having a machine washable cover is very helpful for keeping the pillow clean.
I also liked the feel of the Puffy. I thought that it had a slightly unique feel compared to many other shredded foam pillows, largely because the foam is so tightly compacted in the pillow. The result is a pillow that's super supportive, but still offers some softness and pressure relief.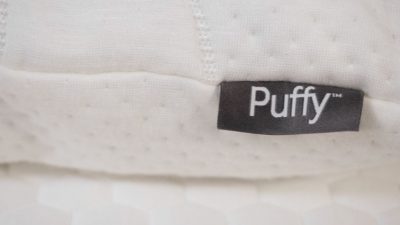 However, if you are looking for a pillow with a softer feel or something more like a traditional down pillow, you probably won't like the feel of the Puffy pillow. And if you're the type of person who'd rather not have to deal with adjusting the loft of your pillow, I'd also recommend looking for another pillow. But overall, I think the Puffy pillow has a lot to offer that many different people will appreciate.
Puffy Pillow Policies and FAQs
How does the Puffy pillow ship?
Puffy offers free shipping within the contiguous United States. Customers in Hawaii and Alaska will have to pay an additional shipping fee. And you can expect your pillow to arrive within 1–3 business days.
Does the Puffy pillow come with a sleep trial?
Yep! Puffy offers a 101-night sleep trial with this pillow, which is the same trial they offer when you buy a new mattress! That's a really nice trial period for a pillow. During the trial, you can test the pillow out at home and if you decide it's not for you, you can return the pillow for a full refund.
Does the Puffy pillow come with a warranty?
It sure does! Puffy offers a super generous Lifetime Warranty on the Puffy pillow. That warranty will cover any faulty workmanship or materials.
Is the Puffy pillow machine washable?
The outer cover of the Puffy pillow is the only part of the pillow that is machine washable.
Where is the Puffy pillow made?
The Puffy pillow is made in the USA.
Puffy Pillow Vs
Now that we've deeply analyzed the Puffy pillow, it's time to put it up against one of its competitors. Let's compare the Puffy to the Nest Easy Breather pillow.
Puffy Pillow vs Nest Easy Breather Pillow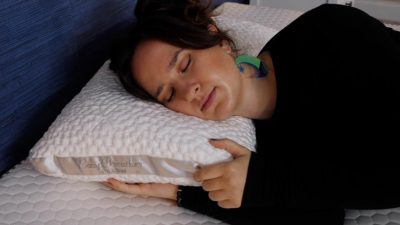 The Nest Easy Breather pillow is also a shredded foam fill pillow. The fill used is a bit different than

the Puffy

's — it's

70 percent shredded memory foam and 30 percent smooth polyester fiber

. This gives the Easy Breather a more

medium feel

than

the Puffy

.

The Easy Breather is also a great cooling pillow. It's cover uses Blended Adaptive Cooling Fabric, which is a proprietary fabric primarily made from Tencel. In my opinion, the

Easy Breather's cover feels even cooler than the Puffy's

.

I'd also say the Easy Breather has

more of a voluminous, rounded shape

. It also has an adjustable loft, but the pillow maintains a very round shape even if you take some fill out, whereas

the Puffy

has a slightly flatter shape.

Want to learn more? Read my full

Nest Easy Breather pillow review

.
Other Products from Puffy
And here are my star ratings for the Puffy pillow!
Materials

Comfort

Value

Cooling

Durability

Trial

Warranty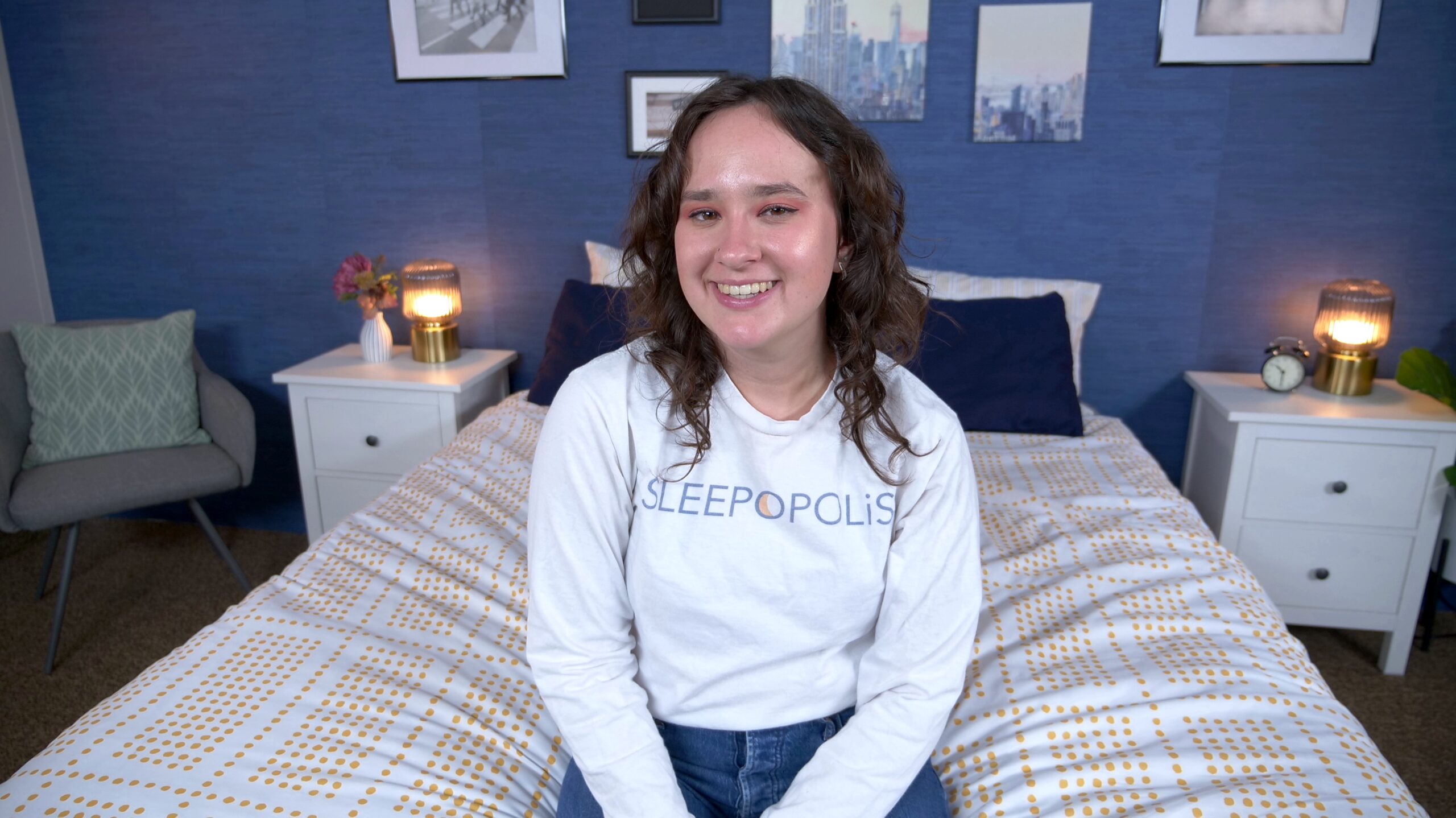 Amelia Jerden
Amelia is a Senior Staff Writer for Sleepopolis. She primarily covers bedding and sleep accessory products in reviews, how-to guides, and more. You can also find her over on the Sleepopolis YouTube channel. Amelia is a graduate of the University of North Carolina at Chapel Hill, with double majors in media and journalism and in dramatic art. Outside of work, Amelia can usually be found on a hike, traveling to a new city, or at her local thrift store.