Tired of sleeping flat on your back all night long? Then you may want to consider buying an adjustable bed frame. These frames are built to bring a little variability to the bedroom by raising the legs, lifting the head, and generally shifting the body into different positions to achieve truly optimized comfort. While not ideal for all sleepers, they can be fantastic accessories for folks who like to read or watch TV in bed, those who struggle with snoring, or those who deal with poor circulation. But which adjustable bed frame is right for you and your unique slumber needs? Well, I'm so glad you asked!
In this guide, I'm going to introduce you to the best adjustable bed frames on the market. Though they differ in terms of design, style, and construction, they're all great examples of how functional (and comfortable!) an adjustable bed frame can be. And after we go over my picks, I'll also be sharing the methodology I used to make them, so you know what factors to consider in your search. Then, I'll wrap things up with a few expert tips you can employ to improve your shopping experience.
The Best Adjustable Beds
Best Overall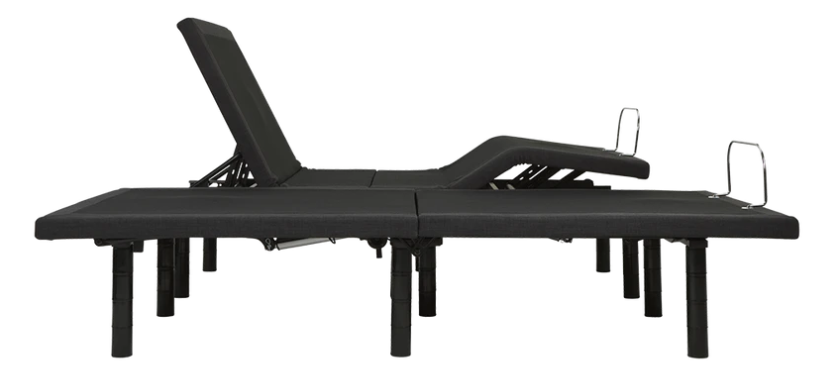 Nolah Adjustable Base
The Nolah Smart Adjustable Base is one of my all time favorite adjustable bed frames. It features a sturdy construction, massage settings, USB ports, and plenty of position variability. It also comes in two different split designs. This means folks on either side of the bed can adjust the base to their personal preferences, making it a great option for couples.
Pros
This product comes in Twin XL, Full, Queen, Split King, and Split Cal King sizes.
It includes a Zero Gravity setting, which purportedly assists with circulation, pressure relief, and overall comfort.
Nolah offers a 10-year warranty, as well as free shipping with FedEx.
Cons
It is a luxury option, so it may not be the best choice for budget shoppers.
Most Quiet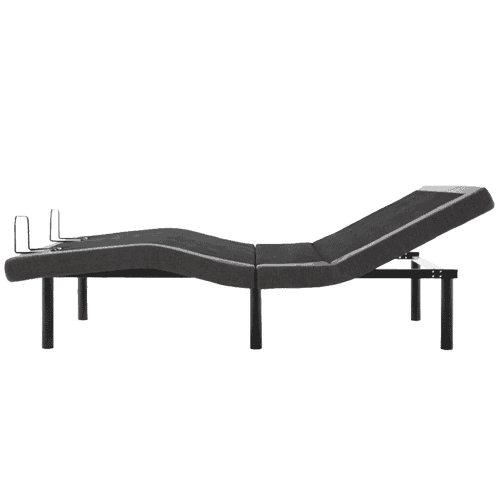 Lucid L300
Lucid aims to provide a number of products to meet the needs of all sleepers. The brand offers a range of products, from mattresses to pillowcases, sheets, and of course, bed frames. The Lucid L300 Adjustable Base comes in Twin XL, Full, and Queen sizes. With a quiet motor, you should get a restful sleep and receive all the benefits of such an advanced product.
Pros
It has an Amazon customer rating of 4.6/5.
Lucid markets their adjustable base as one needing only a 5-minute assembly.
This product fits with any mattress under 14 inches, as well as any Lucid mattress.
The Lucid L300 is affordable, so you won't break the bank with your purchase.
Cons
Though there's a bar to keep the bed in place at the foot of the bed, there aren't bars on the sides of the bed, so there could be some sliding to watch out for.
It doesn't come with massage features, so if this is important to you, we recommend trying the Lucid L600 Adjustable Bed Base.
Most Affordable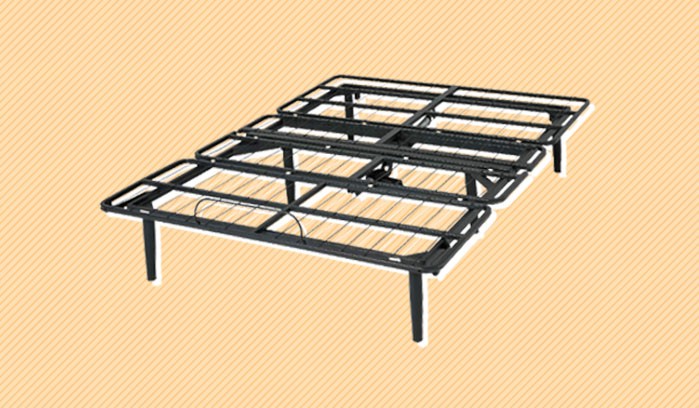 Zinus
If you're shopping on a budget, the Jared Adjustable Base from Zinus may be the one for you. Outfitted with independent head and foot articulation, a handy mattress retainer bar, and a sturdy steel frame that can accommodate up to 650 lbs., this base is a fantastic option that won't break the bank.
Pros
Adjustable bases can be quite expensive, so it's always nice to see a great budget-friendly option in the mix.
This base is also quite light, weighing less than 100 lbs. This means it'll be easier to assemble than heavier options.
All in all, this is a great, straightforward pick for folks who don't need their base to do much more than lift the head and feet.
Cons
Though this adjustable bed frame comes with a wireless remote, it doesn't come with any pre-set position functionality i.e. you have to make all the moves yourself.
Easiest Assembly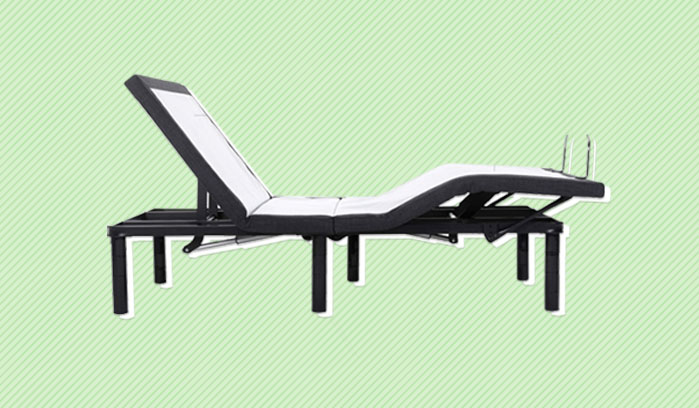 Blissful Nights
Adjustable bed frames can be kind of intimidating to set up. They're bulky, heavy, and usually more cantankerous than a normal bed frame. That is, unless you land on one like this model from Blissful Nights. With a split design and "no tools needed" assembly, this bad boy is easy to set up and configure. Plus, it's backed by a 10-year warranty and an in-home repair service.
Pros
Nervous about getting your adjustable bed frame up and running? Then you should definitely consider this Blissful Nights frame.
I also like the split design, which could endear it to couples.
Though it's slightly more expensive than other models, I think you get a lot of value with the strong warranty and in-home repair service.
Cons
There aren't any pre-set settings to choose from, so this may not be the best fit for folks after a little more variability.
Most Advanced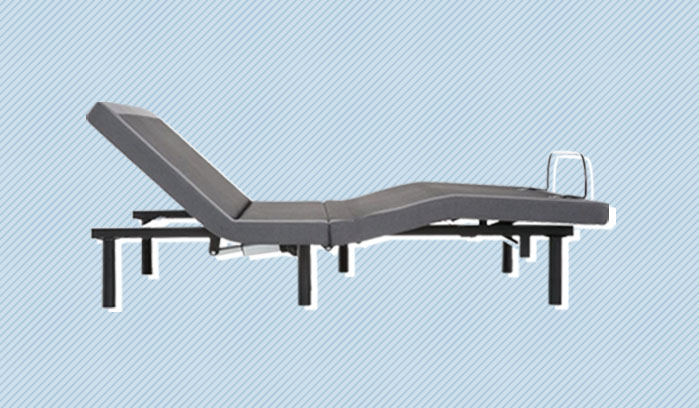 iDealBed 4i
The iDealBed 4i is one of the most souped-up adjustable bed frames you'll find on the market. Not only does it feature a strong steel construction and seamless adjustability, but it also boasts a bevy of pre-set positions, a nightlight, USB ports, and massage settings (with 10- and 30-minute timers). All in all, a great luxury buy for folks looking to seriously step up their sleeping game.
Pros
This adjustable bed frame comes pre-assembled which makes set-up very easy. Simply unbox it, unfold it, and screw the legs in!
The range of extra features makes this frame a high value buy, as it's not only adjustable, but also outfitted with pre-set positions and massage capability.
If you're looking to optimize your entire sleeping experience, this could be the adjustable bed frame for you.
Cons
Unlike some adjustable bases, this one does not feature a wall hugging design, which might not be ideal for sleepers short on space.
How to Shop for an Adjustable Bed
Now that we've gone over my picks, let's take a moment to chat about the methodology I used to select them. That way, you know exactly what factors to consider when shopping for an adjustable bed frame of your own.
Construction
One of the most important things to consider when shopping for an adjustable bed frame is its construction. This might seem like an obvious point, but one from which you can easily get distracted when thinking about all the other more "exciting" features that come with an adjustable base.
So, what kind of construction should you look for? In my opinion, high-quality adjustable bed frames are always made of steel, a sturdy material that's both flexible and supportive. If the frame you're looking at isn't made of steel (or worse, doesn't list what it's made of at all), I'd move right along. Remember: You want your frame to support at least 750 lbs., and steel is definitely up to the challenge!
Assembly
Ease of assembly is another major factor to think about when shopping for an adjustable bed frame. A lot of steel frames are incredibly heavy, with some weighing upwards of 200 lbs. This can make it difficult for folks to get them up and running on their own. So, if you aren't too handy or simply want an easy assembly process, consider snagging a frame that's pre-assembled. Or, you could buy from a brand that offers white glove delivery service (wherein the base is delivered to your home and set up for you.
Wall-Hugging Design
Another thing I look out for when researching adjustable bed frames is whether or not a frame has a wall-hugging design. Frames that feature this design are able to slide up and down your bedroom wall (without hitting it, of course!) rather than away from the wall. This saves a ton of space and makes for a more seamless bedroom aesthetic. Apartment dwellers may be especially well-suited to this kind of build.
If a frame is built with this kind of design, the brand will always advertise it either in the name of the product or in the "details" section.
Positions
Though all adjustable bases move, not all of them move in the same ways. Sure, most frames can independently raise your head and feet or do both at the same time, but aside from that, there is a lot of variation on the market.
So, I thought I'd list some of the most common preset positions you may discover when shopping for an adjustable bed frame of your own. Again, brands usually list these in the "details" section of the product, so if there's one that sounds particularly interesting to you, make sure to look for it by name in that section.
Zero-gravity: This position raises both the head and foot of the bed in a way that's supposed to make the sleeper feel weightless. Basically, the foot of the base is raised slightly higher than the head in an effort to promote better blood flow and circulation.
Anti-snore: Folks who struggle with snoring may be particularly well-suited to this position, which raises the head slightly upward. This helps to promote better breathing, but isn't a "fix-all" snoring cure.
TV: As the name suggests, this position is all about raising the head of the bed so you can better watch TV or read. Who says your bed can't be a recliner?
Flat: And finally, the flat-back position. Most adjustable bed frames have a "flat" button that allows you to return to a neutral sleeping position.
Extra Features
Aside from adjustability, many of these frames boast features that bring a little extra pizazz to the sleeping experience. While you won't find these on all frames, two of the most common ones include:
USB Ports: It's pretty common for adjustable bed frames to come with USB ports, but some have more than others. If you sleep with a partner, I'd make sure to look for a frame that features ports on both sides of the bed. That way, you can both charge while you snooze!
Massage: Many adjustable bed frames also come with massage settings! If this function appeals to you, take some time to determine exactly what you'd like it to do. For example, some bases offer multi-speed settings that allow sleepers to experiment with different levels of intensity. And some have massage "modes" so users can localize the vibrations to certain areas of the base.
Related: Best Mattresses for Adjustable Bed Frames
Sleepopolis Tips
Still not sure how to land on the adjustable bed frame of your dreams? No worries! Allow me to share some expert tips and tricks to improve your search.
It's hard to know whether you'll enjoy an adjustable bed frame until you test it yourself, so I recommend going with one backed by a strong trial period. This way, you can return it if it's not to your liking.
In that same vein, make sure to pay extra close attention to the warranty on your product! If one isn't listed, I'd recommend moving right along.
If you sleep with a partner who has different sleep preferences from you, I'd suggest looking for a frame with "split adjustability." This allows each sleeper to modify their side of the bed without disturbing their bedmate.
FAQs
Can you use a regular mattress with an adjustable bed?
Definitely, as long as it's made entirely of foam! Pocketed coils and springs don't bend nearly as well as foam, so you may have difficulty using a hybrid or innerspring mattress on an adjustable bed frame.
Are adjustable beds worth it?
Adjustable bed frames can be worth it for folks who like to read or watch TV in bed or those who struggle with poor circulation and/or snoring. The massage features can also work wonders for sleepers with aches and pains.
What is the best adjustable bed frame?
The best adjustable bed frame is one made of sturdy steel that's able to support upwards of 750 lbs. It features a number of different positions and comes with USB ports along both sides of the bed.
Wrapping Up
Well folks, that about does it for this guide to the best adjustable bed frames on the market! When looking for one of your own, pay extra close attention to its construction, design, and adjustable capabilities. Then, you'll be well set to land on the one that's 100% right for you and your unique slumber needs.