Most of us can agree that waking up after a good night's sleep is an amazing feeling. Unfortunately, many people rarely find themselves feeling rested and rejuvenated. Whether it be because of joint pain, a snoring partner, or another reason, it can be hard to fall asleep and stay asleep.
Many have been able to remedy their sleep problems with the addition of an adjustable bed. These adjustable bases allow you to customize the elevation of your head and feet to reach your perfect sleeping position. These adjustable beds are sometimes sold in a split option, so people who sleep with a partner can customize their own side of the bed. However, these split options can be difficult to find in the queen size. Luckily, we've rounded up some of our favorite adjustable beds for split queens.
Best Adjustable Bed for Split Queens
Expert Opinion
We've named the PlushBeds Adjustable Bed – Relax (M555) as the best overall adjustable bed for split queens. This base has a maximum head inclination of 60 degrees and a maximum foot inclination of 45 degrees, so you should be able to find an angle you like. You can manually adjust the elevation using the LED backlit wireless remote and then store it in the memory preset button. There are five additional preset positions on the remote: zero gravity, anti-snore, lounge, TV, and flat.
This is also a massaging adjustable base and comes with 36 dual-zone vibrating massage options. You can adjust the intensity from gentle to deep, and you can choose between four types of massages: oscillate, wave, pulse, or constant. There are also two USB ports on either side of the bed for easy charging access.
Who the PlushBeds Adjustable Bed is Best for
People seeking durability: This adjustable base has a metal frame, which should make it sturdy and durable. It also comes with a 20-year warranty, which speaks to the company's confidence in the longevity of this product.
People who move frequently: This base can fold in half, which makes it easy to move and store. This is perfect for anyone who moves a lot or likes rearranging their bedroom layout.
People who want to keep their current bed frame: The zero-clearance design lets this base be placed directly on a platform base, slat bed, or foundation when you remove the 12-inch legs.
Who Should Avoid the PlushBeds Adjustable Bed
Budget shoppers: This adjustable bed is the most expensive in this roundup and may not be affordable for all shoppers.
Expert Opinion
The iDealBed 4i has an abundance of premium features at an affordable price. The ergonomic wireless backlit remote has 19 buttons to operate the bed. You can adjust the head elevation to a maximum of 75 degrees and the foot elevation to a maximum of 48 degrees and program two memory presets. The remote also allows you to switch to four preset positions which include flat, zero gravity, anti-snore, and lounge. You can also use the full body massage feature that has three intensity levels and four massage types.
This adjustable bed has some additional features that simply can make life easier. The legs on this bed are adjustable and can be set from nine to 15 inches tall, or at any height in between. Or, you can remove the legs and place the bed in an existing bed frame. Some additional features include two USB charge ports on either side of the bed, under-bed lighting, and a flashlight built into the remote.
Who the iDealBed 4i is Best for
People who snore: This base comes with an anti-snore preset, which puts you in the optimal position for breathing to help avoid snoring.
People unsure about an adjustable bed: Many adjustable beds on the market are final sale, but the iDealBed 4i is eligible for return, refund, or replacement within 30 days of receipt. You can buy it without feeling like it's permanent.
Heavier sleepers: This base has an 850-pound capacity, which tells us it's sturdy enough to provide adequate support for heavier sleepers.
Who Should Avoid the iDealBed 4i
People seeking simplicity: Not everyone needs or wants the premium features this bed offers. If you're looking for an adjustable base that just goes up and down, you may find a better option somewhere else.
Expert Opinion
This adjustable base has a steel frame with advanced motion and a wall-hugging design that comes with two presets: zero gravity and flat. The head can be raised to a maximum angle of 80 degrees and the feet can be raised to a max of 50 degrees. If you find a few positions you love, you can program them into three memory buttons. This bed also has rotating vibration massage features with three intensity options, and you can even set a timer for ten to 30 minutes.
We've named this bed the best features for a split queen adjustable base because of the small details that make a big difference. The wireless ergonomic remote is backlit and has marked buttons, which makes controlling and operating the bed easy to understand. You can also adjust the bed to be super low to the ground or higher up with the multi-option height legs that range from two to 13 inches. Or, you can put the bed in a slatted bed or in a platform bed.
Who the iDealBed 5i is Best for
People with poor circulation: The Deep-Sonic rotating vibration massage stimulates blood flow and can improve circulation.
People wanting a simple setup: The iDealBed 5i folds in half for easy transporting and almost no assembly is required besides unfolding it and adjusting the legs to your preference.
People who really utilize their nightstand: The wall hugging feature moves the bed back as the head portion is elevated, so you'll be within reach of your nightstand regardless of your position.
Who Should Avoid the iDealBed 5i
People with aesthetic preferences: This adjustable base is sold in one color and design, which may not fit your aesthetic preferences. However, it can fit into an additional slatless frame if needed.
Expert Opinion
The Saatva Adjustable Base Plus and the Saatva Solaire mattress are a great duo for anyone looking to pair their base with a compatible mattress. The Saatva Solaire Adjustable Firmness Mattress was designed to work with the Saatva Adjustable Base Plus, and the Saatva Solaire is offered in a queen upper-flex mode. When the upper-flex mattress is used with the Saatva Adjustable Base Plus, the head of the bed can be raised independently, or raised in unison with the foot of the bed. The base comes with a 25-year warranty, which tells us the company is confident this bed is durable. In addition to head and foot elevation, this bed comes with zero gravity, anti-snore, and flat presets. The base also comes with a full body wave head and leg massage with three speeds.
The Saatva Adjustable Base Base Plus has a few other features that make it a nice choice. The motor on this bed is quiet and discreet, so it shouldn't disturb you when you change positions. The under-bed lighting and flashlight remote also make it easier to see at night. In addition, you can adjust the legs from 13 to 18 inches if you desire a bit of height, or you can remove the legs completely and place it in a platform base. Finally, the base is designed to be wall hugging and keep the space between the wall and base the same regardless of the bed's elevation.
Who the Saatva Adjustable Base Plus with Saatva Solaire is Best for
People who can't set up their base: If there's a reason you're unable to set up your base, such as a disability or chronic pain, this could be a good option. Saatva includes free in-room setup with their delivery.
People with children: The wireless remote has a safety lock and unlock feature that prevents accidental button presses, which can keep kids and pets from playing with the base and potentially getting hurt.
People who snore: This base comes with an anti-snore preset, which is great for quickly decreasing snoring with just the push of a button.
Who Should Avoid the Saatva Adjustable Base Plus with Saatva Solaire
People unsure about an adjustable base: This base is not eligible for returns or exchanges, so you won't be able to return it if you don't like it.
What is a Split Queen Adjustable Bed?
A split queen adjustable bed is an adjustable bed in a queen size that is literally split down the middle. These beds can be a good choice for couples with different sleeping preferences. With the queen split in two, each side can be controlled independently to fit the sleeper's needs. Queen beds are the most popular size on the market and are 80 inches by 60 inches.
Adjustable beds are typically controlled with a remote or mobile app to change the elevation of the head and feet. There are many reasons why someone may want an adjustable bed, such as wanting to reduce snoring or needing a better position for back pain. Some people simply sleep better with their head or legs elevated.
What to Look for In An Adjustable Bed for Split Queens
Adjustable beds can be very simple or come with a variety of features. An important factor to consider is what you're hoping to get out of your adjustable bed. For example, if you tend to have a lot of muscle and joint pain, you may want to look into a base with massage features to help ease some of the pain. If you want to reduce snoring, you can look for one with anti-snoring presets, which will automatically put you in a position to help decrease snoring.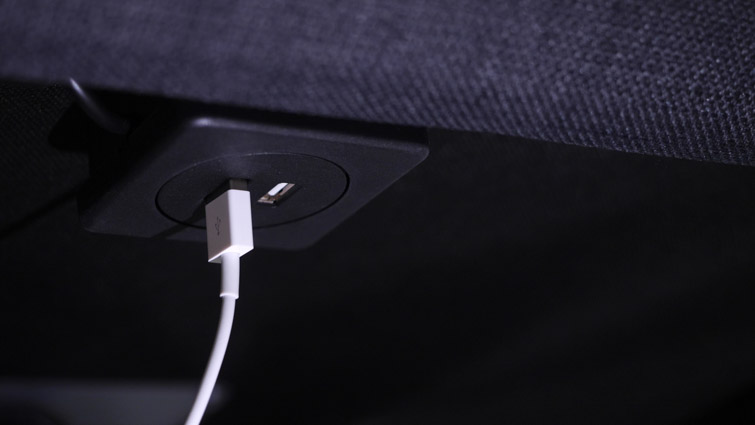 Another thing to consider is the design of the bed. Many adjustable beds can stand alone, but some let you place them in a pre-existing bed frame. If you have a strong preference, be sure to check if the bed is compatible. It's also a good idea to check the company's policies, such as warranties. A good warranty can indicate the durability and longevity of the product (and come in handy if your base turns out to be defective).
Mattress Compatibility
The most common size for split beds is king. While split queens exist, they are harder to find and may not be offered by your preferred brand or made with your preferred materials. If you already have a split queen mattress, look up its brand and model to see if it works with an adjustable base. Some mattresses are made of materials that are not compatible with adjustable bases.
The best mattresses for adjustable bases are typically made from foam, which is flexible and can conform to the changing angles of the base. Innerspring mattresses tend to be harder to use on adjustable bases because the springs prevent them from bending. However, many hybrids are compatible.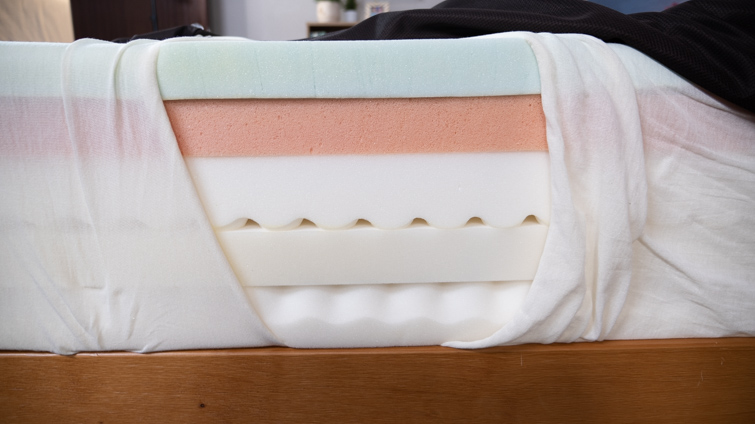 Support
When shopping for an adjustable base, you'll want to consider the materials the base is made of. Every sleeper has their own support needs, and some sleepers may need a bit of extra support depending on their body type and sleeping style. Before purchasing, check how much weight the base can support to ensure it can support both you and your mattress.
Weight & Size
Adjustable bases can be heavy and bulky at times, so you'll want to choose one that works for you and the room it will reside in. If you tend to move a lot or just like rearranging furniture frequently, you may want to look for one with a slim design that won't be difficult to move. As we mentioned earlier, some bases can fit inside an existing frame. If you want to use the adjustable bed on an existing frame, be sure to check if the base is able to do that because some can only stand alone.
Features
Think about what type of adjustable bed you want. Are you looking for a bed with premium features such as massaging motors? Or do you want one that just elevates the head and feet? Adjustable bases are sold in all different styles, and some come with features designed to make the sleeping experience even more comfortable, like offering zero gravity presets. Once you know what you want in a base, it will make your search easier.
Another feature that may be offered is massaging motors, which can help with aches and pains. You may also see USB ports, under-bed lighting, and adjustable legs on some beds.
Assembly
Consider if you're able to invest time and energy into setting up the base. Many companies try to make their bases easy to assemble, and many require no tools to set up. However, some can be more intricate to set up and you may need help. Some people, like those with disabilities or extreme pain, are physically unable to set up bases on their own. In this case, check the company policy, because some brands will send movers to set up the base for you.
Price
Adjustable bases can range in price depending on the brand, features, and warranty. The prices in this roundup range from $1,649 to $4,561 for a split queen size at full retail. The average price of all these adjustable bases is about $2,677 for a split queen size.
Remember, most brands have frequent sales and discounts offered on their adjustable bases. Check out our guide on the best time to buy for more information on getting the best deal possible.
Trial & Warranty
Most companies offer a warranty on their adjustable bases. This means the company will replace it if the base is faulty or it breaks naturally. A longer warranty can also be a good indication of quality, as it means the company believes its product will hold up for a long time.
Some companies will also offer a trial period on adjustable bases. You pay for the base and sleep on it for a period of time, but you can exchange it or return it for a full refund if you don't love it. However, many bases do not come with a trial period and are final sale with no returns or exchanges offered. Be sure to read the fine print when making your purchase.
Split Queen vs Queen Adjustable Beds
A split queen and a queen adjustable bed are very similar, but there are some key differences that set them apart. The main difference is whether each side of the bed operates independently or moves as one unit. The dimensions of the bed are also a bit different.
Split Queen Adjustable Beds
A split queen bed is split down the middle so you can make the settings different on either side. This is great for couples who have different sleeping preferences; they can each customize their side to fit their specific needs. Split queens are usually 80 inches by 60 inches when the two sides are pushed together, and each individual side is usually 80 inches by 30 inches.
Another thing to note about split queens is their availability. Split queens are not super common to find, so there may be limited options when it comes to bedding and other sleep accessories.
Queen Adjustable Beds
With a standard queen adjustable bed, both sides of the bed operate together. If two people are sleeping in the bed, they will both have to sleep at the same angle. Queen beds are typically 80 inches by 60 inches.
Queen beds are usually a standard size for most companies. Because most companies offer this size, you may have an easier time finding accommodating bedding and sleep accessories. There's also a wider selection of mattresses and bases to choose from.
FAQs
What size is a split queen adjustable bed?

The exact dimensions of a split queen can vary depending on the company, but this size is typically around 80 inches by 60 inches.
Does anyone make a split queen mattress?

Not all companies offer their mattress in the split queen size. This size is less common to find, so you may have a more narrow range of options to choose from. Saatva and PlushBeds are two brands that sell split queen mattresses.
Does Medicare pay for adjustable beds?

Medicare should offer partial coverage of an adjustable bed as part of Part B benefits. Part B covers durable medical equipment, and adjustable beds fall under this category. If you meet your Part B deductible, Medicare should cover 80 percent of the cost.
Do people like split king adjustable beds?

Many sleepers do enjoy a split king adjustable bed. Couples especially appreciate split beds because it allows each individual partner to customize their side of the bed to fit their preferences.
Sources
"Hospital Beds."

Medicare.Gov

, Medicare, https://www.medicare.gov/coverage/hospital-beds.

"Does Medicare Cover Adjustable Beds? | The Mair Agency."

The Mair Agency – NC Health Insurance

, https://mairagency.com/does-medicare-cover-adjustable-beds/. Accessed 2 June 2023.