Split queens aren't the most common mattress size on the market, but they can be useful for a number of different people and circumstances. To find out whether this is the bed for you, take a look at the guide below. We'll provide you with all of the information you'll need to make an informed decision.
What Is a Split Queen Mattress?
In the most basic terms, a split queen size is a queen mattress divided into two smaller mattresses. A split queen mattress consists of two mattresses that measure 30 x 80 inches. Combined, they make a single standard queen size bed (60 x 80 inches).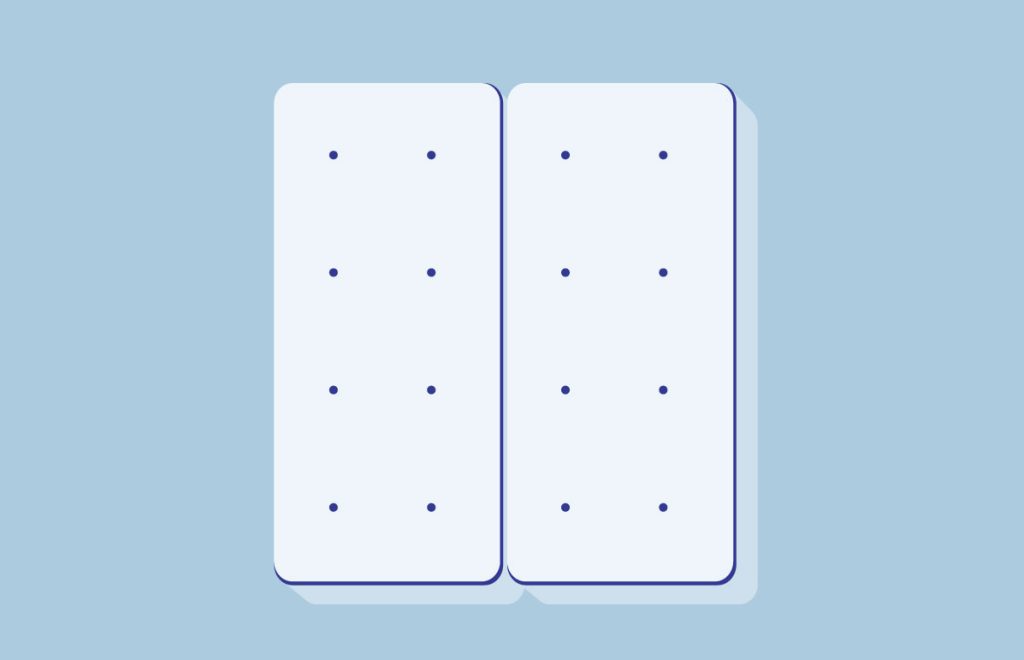 Pros and Cons of a Split Queen Mattress
There are some advantages and a few disadvantages to a split queen mattress. Let's check them out in detail.
Pros
Customizable firmness and support for each side
They're compatible with most bed frames
Split queens isolate motion for light sleepers with partners
It's easier to move a split queen around as it divides into two lighter halves
Cons
There's a gap between the two beds that can be uncomfortable for partners who lay in the middle of the mattress or cuddle
Especially if intended for a split queen adjustable base, split queen beds can be more expensive
Not all mattress brands release split queen versions
It may be harder to find split queen accessories
Who Should Buy A Split Queen Mattress?
Partners With Different Preferences
Split queen mattresses allow each sleeper to customize their own side of the mattress. This especially comes in handy with couples of drastically different body weights, sleeping positions, or overall preferences.
Partners Who Are Light Sleepers
Motion transfer is an especially important consideration for the best mattresses for couples, as beds with low motion transfer prevent partners from feeling each other's movements at night. If you're a light sleeper who typically awakens with your partner's tossing and turning, a split queen mattress might be the best option for you. Because split queens are essentially two different mattresses sitting next to each other, you won't feel nearly as much movement. A split queen could be your key to a more restful sleep.
People With Smaller Rooms
Split queen mattresses can be broken down into the two smaller mattresses, making it easier to move around and fit through narrow spaces. So, if you have a smaller room or doorway, or even if you have a few flights of stairs ahead of you, it might be easier to transport a split queen mattress than a standard queen.
Who Shouldn't Buy A Split Queen Mattress?
Budget Shoppers
Split queen mattresses can be as expensive if not more expensive than a standard queen mattress. It can also be pricier to find the right accessories or add an adjustable base.
Those Who Sleep Close to the Center of the Mattress
Since a split queen consists of two separate mattresses, there is a point in the middle where the two mattresses meet that you may find uncomfortable if you lie close to the center of the mattress and/or cuddle with your partner.
Types of Split Queen Mattresses
There are a number of different mattress constructions on the market, it can be difficult to determine which is best for your body type and sleeping position.
Innerspring Mattresses

Innerspring mattresses are known for— surprise —their sturdy springs. They do have a thinner layer of foam on top for some pressure relief. These beds are especially known for their:
Cooling abilities, as the coils allow for lots of airflow
Responsive and bouncy feel
Firm support
On the flip side, innerspring mattresses can lack pressure relief because of their thinner comfort layers. Their bouncy, responsive nature also makes it difficult for them to do well with motion isolation. However, a split queen innerspring is comprised of two different mattresses. So, with a split queen, the benefit is that motion isolation shouldn't be an issue. They're two separate beds, and movement won't transfer from one side to the next.
Foam Mattresses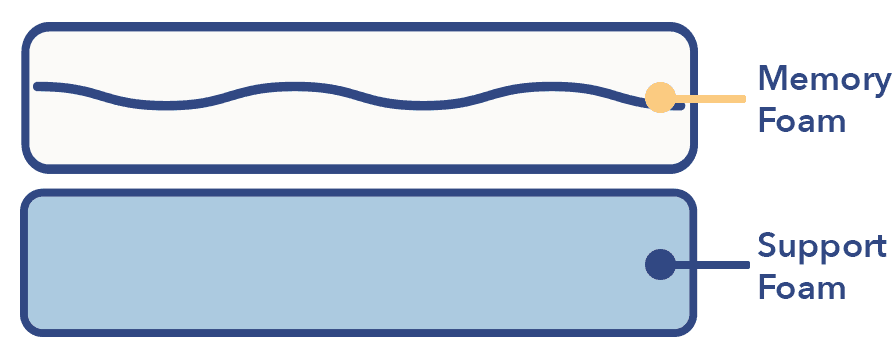 Foam mattresses are absent of springs and are made entirely of foam. The support on these mattresses often comes from a higher density foam towards the foundation of the mattress. There are many benefits to a foam mattress, including:
Outstanding pressure and pain relief
Generally cheaper price
Lower motion transfer
While foam mattresses excel on a number of fronts, they also have some stereotypes. Some lower quality foam beds are more prone to sagging and trapping too much heat. To avoid this, we recommend searching for models with high-density foam in its support layer and gel-infused or ventilated foams for cooling.
Hybrid Mattresses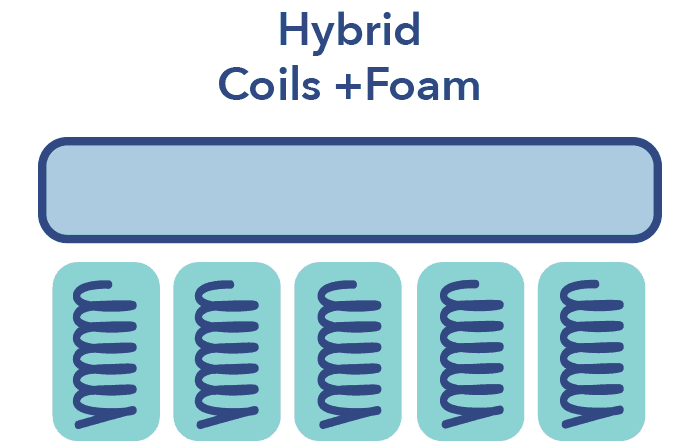 As the name suggests, hybrid mattresses are a combination of mattress materials: contouring foams and sturdy coils. Because they utilize materials from each, hybrid mattresses bear some of the features and traits of both innerspring mattresses and foam mattresses. There are a number of benefits to going the hybrid route, specifically:
Comes in a variety of firmnesses and feels
Balances comfort and support
Generally cooling and responsive
While the wide variety of hybrid constructions can be exciting, some may find it a bit difficult when navigating their shopping experience.
Latex Mattresses

These beds often use latex foam in their comfort layer and/or transition layer, and typically include a layer of coils at the bottom for additional support. There are a number of reasons why one might want to purchase one of the best latex mattresses, but here are just a few:
Typically use natural or organic materials
Naturally cooling and hypoallergenic
Long-lasting
The biggest disadvantage of latex mattresses is that they're typically priced higher than other mattresses on the market. They're also known for their responsive nature, which leads to high motion transfer. But again, you shouldn't have to worry about motion transfer on a split queen.
How Much Does a Split Queen Mattress Cost?
Depending on the quality and type of materials used, as well as the brand, split queen mattress prices typically fall between $700 and $2,000. Know that mattresses any cheaper might be extremely low quality, and mattresses much higher may not do a whole lot more than a bed a few hundred dollars less. For more information, see our guide on how much you should spend on a new mattress. You can also check out our roundup of the best budget mattresses or our Sleepopolis coupons page for additional discounts and deals. 
Types of Queen Mattress Sizes
There are a number of different types of queen mattresses out there. Read on to find more about these beds, and if the split queen is the queen for you.
| | |
| --- | --- |
| Mattress Size | Dimensions |
| Split Queen | 30" x 80" (x2) |
| Standard Queen | 60″ x 80″ |
| California Queen | 58″ x 82″ |
| Olympic Queen | 66" x 80" |
Standard Queen Mattress
The standard queen mattress has the same measurements as a split queen mattress (60 x 80 inches). Again, the standard queen is a whole mattress, rather than the split queen, which is essentially two smaller mattresses next to each other. The main advantage of a standard queen mattress— particularly for couples —is that you can sleep towards the center of the mattress undisturbed. Split queen mattresses do have a gap in the middle of the two mattresses that can be noticeable. However, they tend to be better at isolating motion.
California Queen Mattress
Similar to how California kings are longer and narrower than standard king mattresses, California queens are longer and narrower than standard queens. And split queens, for that matter. While standard and split queens measure 60 x 80 inches, California queens are 58 x 82 inches. Many taller sleepers are drawn to the longer measurements of a California queen.
Olympic Queen Mattress
The Olympic queen is wider than a standard queen, or split queen. If you toss and turn at night, the six inches of extra width could be really helpful. And, it's just as long as a standard queen. This means an Olympic queen measure 66 x 80 inches.
For more information, see our guide for bed size dimensions.
FAQs
What is a split queen mattress?

A split queen is the combination of two smaller mattresses measured 30 by 80 inches. They are the same size as the regular queen (60 by 80 inches) but allow partners to enjoy different comfort levels and reduced motion transfer.
Can you feel a split mattress?

In most cases, no, but this would depend greatly on the mattress model. If the split mattress has sturdy edges, the sleepers won't be likely to feel the gap between them.
Is a split queen the same as two twins?

Not quite. A split queen measures 60 x 80 inches, while two twins sandwiched together measure 76 x 75 inches.
Summary
A split queen may not be the first thing you think of when shopping for a new mattress, but it could be a great option, especially for couples who have completely different sleep styles. For more of our favorite beds, check out our roundup for the best mattresses of 2023.