The Helix Dawn is a firm-feeling hybrid mattress made with contouring memory foam and supportive pocketed coils. It's one of six different options in the standard Helix line and today, we're going to find out whether it's a good fit for you and your sleeping needs!
To do that, I've provided a full and detailed review of the Helix Dawn below. Read on to learn exactly what it's made of, how it feels in various sleeping positions, and how it performs in my specialized tests for pressure relief, edge support, and motion transfer.
Hopefully, my review can help you decide whether this mattress is the one for you!

Spring Sale: Up to $200 Off + free pillows!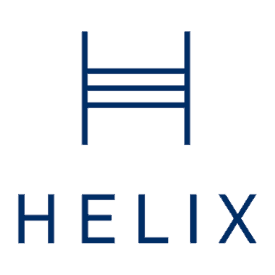 Brand Snapshot
To kick off the review, I want to provide a little background information about Helix Sleep. Founded in 2015 by a group of business school students who were frustrated with their mattress buying experiences, the company sells mattresses, bedding, pillows, and more!
The Helix Dawn is one of six models in the standard mattress line, which contains beds of different firmnesses and materials. The other models are the Helix Moonlight, Helix Midnight, Helix Sunset, Helix Twilight, and Helix Dusk. Check out our Helix mattress review for more about those models. Next up, we'll go into detail about the Helix Dawn specifically.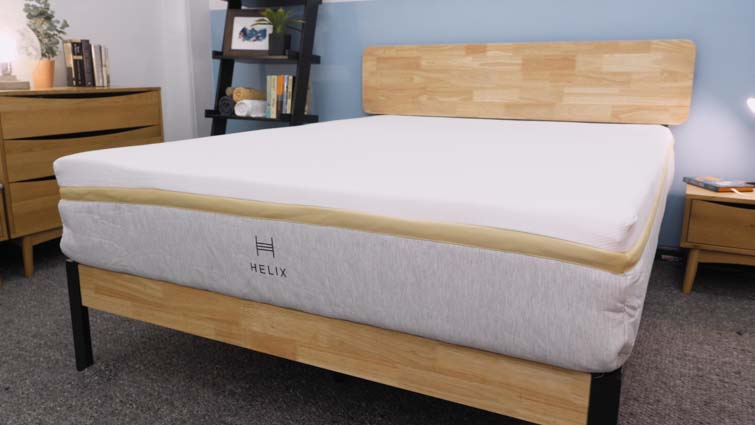 What is the Helix Dawn Made Of?
I always like to break down exactly what's inside a mattress, as the specifics of the materials help explain why a bed feels a certain way. The Helix Dawn is a hybrid mattress, which means it contains memory foam and a layer of pocketed coils.
Here's the breakdown, from the top of the mattress to the bottom:
Cover – The Helix Soft Touch Design cover is made with a light fabric that's soft to the touch. This material is designed to be breathable, promoting airflow to help keep you cool at night — a big consideration for people who sleep hot.
Comfort – Next up comes the comfort layer, made of Helix Dynamic Foam. This is a firm, latex-foam hybrid alternative, which contours to your body. This is different from memory foam, which typically provides a sinking feeling that really envelops you into the mattress. Because latex is a bouncy material, it creates the feeling that you're sleeping "on top" of the bed rather than "inside" it.
Transition – Below the comfort layer comes a transition layer, made of high-grade poly foam. This foam layer offers extra support for your body, relieving pressure on areas like your hips and shoulders.
Body shape layer – Beneath the layers of foam is a body shape layer, composed of pocketed coils. These wrapped coils limit motion transfer, and provide the mattress with a bit of bounce and lift. They also help support your body weight, making it easier for you to roll around or switch positions at night.
Base – Finally, the base layer of DuraDense foam keeps the mattress supported and structurally sound.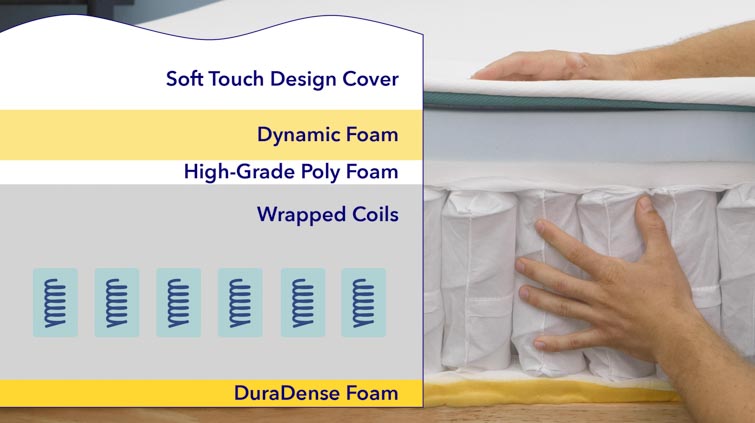 How Does the Helix Dawn Mattress Feel?
Now that we've covered the different materials inside the Helix mattress, it's time to move on to how the bed actually feels when you're lying on it! Mattress firmness is really important when you're selecting a mattress, because you want to pick something that's comfortable for you.
Before we get into the details, I should stress that firmness is super subjective. What feels firm to me might be on the softer side for you, and vice versa! How firm or soft you find a model will depend on variables like your body size and sleep position. To give you a frame of reference, 5'10", 190lbs, and a strict stomach sleeper. Your experience on the Helix Dawn may be completely different from my own!

I rate mattress firmness on a scale of 1 to 10, with 1 being incredibly plush and 10 being the firmest possible model. After lying on this bed, I gave it a firmness rating of 7.5/10, which is medium firm edging into firm territory.
Because the mattress is so firm, I would recommend it for strict stomach sleepers like myself. A firm mattress helps prevent the hips from sinking down into the mattress, keeping them in line with our shoulders, which is exactly how we want to keep our spine aligned while we sleep. The same firmness that makes it good for stomach sleepers might be just a touch too hard for side and back sleepers.
Spring Sale: Up to $200 Off + free pillows!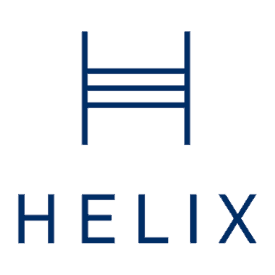 Testing the Helix Dawn Mattress
Now, while firmness is an important consideration, it's certainly not the only thing to keep in mind when you are picking out a new mattress.
When I'm reviewing a mattress model, I like to run a few experiments so I can evaluate the mattress for pressure relief, motion transfer, and edge support. Read on to learn more.
Pressure Relief
The last thing you want out of a mattress is to wake up each morning with aches and pains because there's too much pressure on certain parts of your body. That's why pressure relief is important.
To get a sense of how a mattress relieves pressure on potentially sensitive spots like your joints and lower back, I use my pressure map, which I roll out on top of the mattress and lie down on. The device then creates a pressure "map," which is color-coded to show areas of low pressure (blue) and high pressure (red).
Here's what the results showed: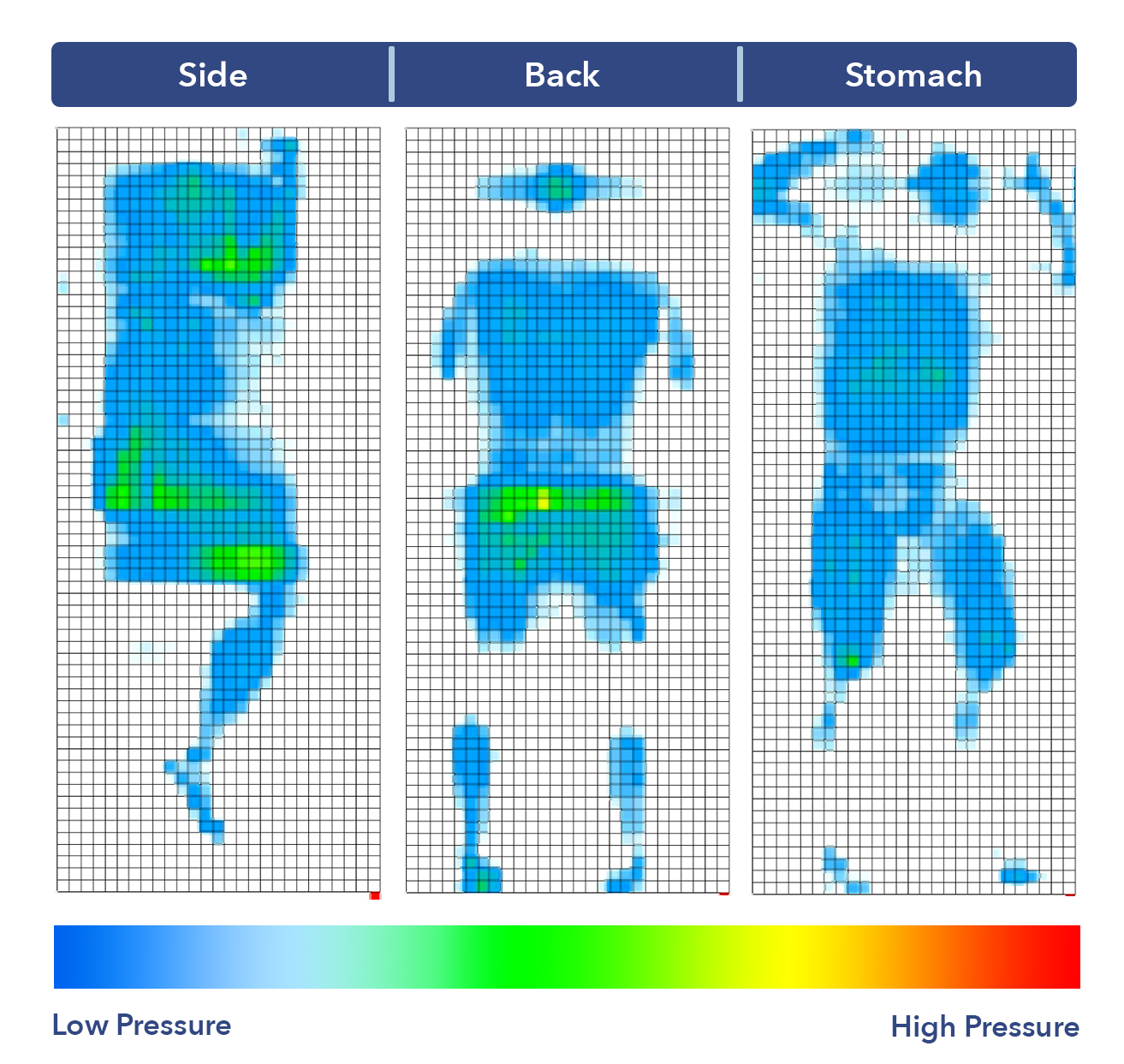 Back – The pressure map is mostly blue when I lay down on my back, but it does get into green — indicating higher pressure — around my pelvis, lower back, and on the back of my head. Again, this mattress is pretty firm due to the supportive foam layers, so it might be a little bit uncomfortable for strict back sleepers, particularly those with a back pain.
Side – You can see here that the map turns green around my elbows, shoulders, hips, and knees, showing that there's increased pressure on those joints. Because of that, I would not recommend this mattress for most side sleepers — again, the materials make it really firm, and strict side sleepers might find it uncomfortable.
Stomach – Most strict stomach sleepers need a firm mattress, and I think this model is firm enough to fit the bill. I like that the mattress helps support the hips and pelvis, preventing them from "sinking" into the mattress below the shoulders. I'm comfortable recommending this mattress for stomach sleepers.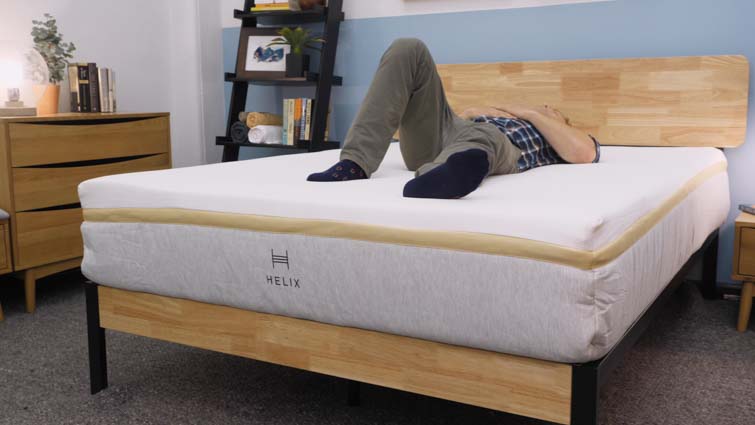 Motion Transfer
As well as pressure relief, you want to think about motion transfer — especially if you're not the only person in your bed! If you are lying on your side of the bed, and a partner (or pet!) moves around on the other side, how much will that movement disturb you? That's what my motion transfer experiment measures.
To test motion transfer, I put a seismometer on the side of the bed where one person would be sleeping, then drop a 10lbs steel ball from three different heights on the other side to mimic the movements of a partner rolling over or getting out of bed. The seismometer will measure exactly how much disturbance this would cause on the opposite side of the mattress.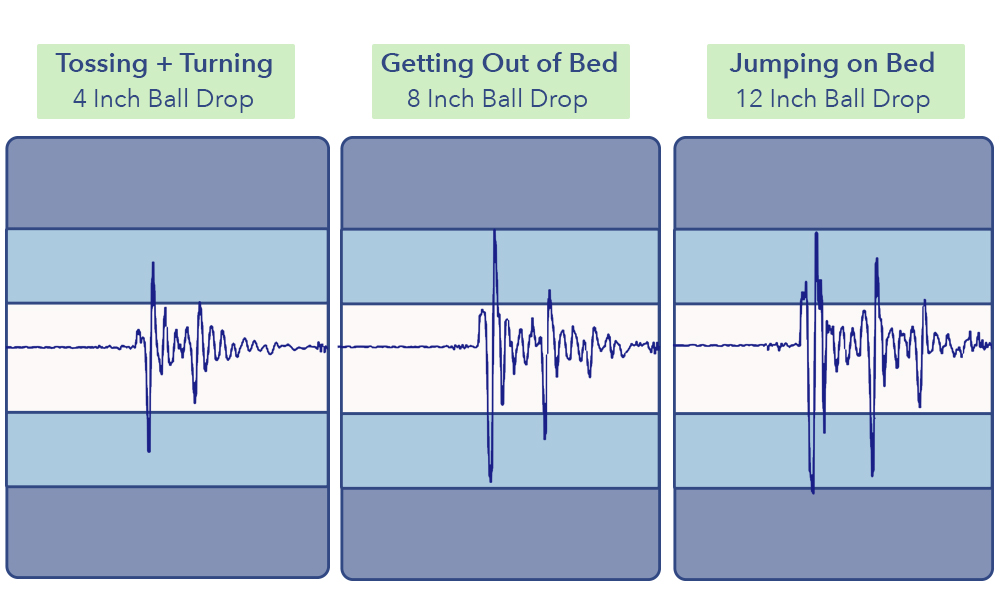 I would say that the Helix Dawn does an average job when it comes to motion transfer. Other Helix models contain memory foam, which really absorbs movement, but the latex foam in this model has a bit more bounce to it. This certainly wasn't the worst result I've ever seen, but the mediocre motion absorption is something couples should think seriously about, especially if there are light sleepers involved.
Edge Support
Next up, let's talk about edge support. That's how sturdy the edges of a mattress are, which dictates how much of the surface area you can use — and how worried you need to be about rolling off!
I found that the Helix Dawn has great edge support, likely thanks to the layer of pocketed coils adding extra support! I had no problem lying at the very edge of the bed.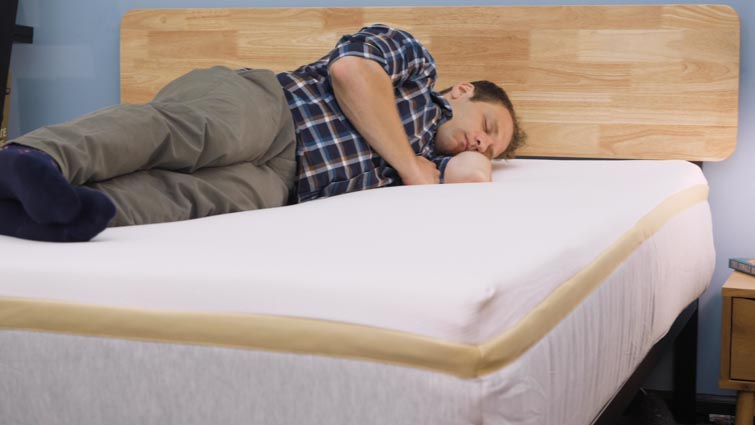 Should You Buy the Helix Dawn Mattress?
The Helix Dawn is their firmest model and uses that strong support to provide a great feel for back and stomach sleepers. They hybrid build provides good bounce and mobility so you'll be able to change positions easily.
Helix Dawn Pros
In my opinion, the firm feeling provided by the foam layers and support from the pocketed coils make this a nice choice for strict stomach sleepers. No sinking hips here!
And, because of the strong edge support, this could be a good pick for heavier folks who are concerned about slipping off the bed if they roll over just a touch too far.
Spring Sale: Up to $200 Off + free pillows!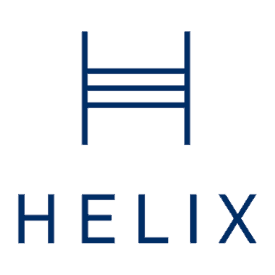 Helix Dawn Cons
This model is so firm that I wouldn't recommend it for most side sleepers. Most people sleeping on their side will want something that feels a bit softer, or offers the sinking feeling of memory foam, to prevent waking up with pain caused by pressure.
Helix Policies
Trial – 100 Nights
Shipping – Free
Warranty – 10 Year
How Much Does The Helix Dawn Cost?
Spring Sale: Up to $200 Off + free pillows!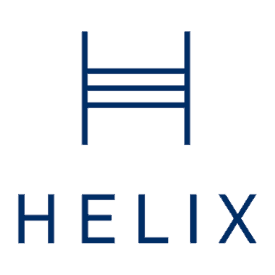 | Size | Dimensions | Weight* | Price |
| --- | --- | --- | --- |
| Twin | 39" x 75" x 10" | 40 - 50 lbs | $700 |
| Twin XL | 39" x 80" x 10" | 40 - 50 lbs | $800 |
| Full | 54" x 75" x 10" | 70 - 80 lbs | $950 |
| Queen | 60" x 80" x 10" | 80 -90 lbs | $1,099 |
| King | 76" x 80" x 10" | 90 - 100 lbs | $1,295 |
| California King | 72" x 84" 10" | 90 - 100 lbs | $1,295 |
Helix Dawn
Materials

Comfort

Support

Value

Cooling

Edge Support

Trial

Warranty