The co-founders of California Design Den are no strangers to the sleep game, having established their bedding brand in India over a decade ago. Now, their business is based in California, but the mission is still the same: provide luxury linens at an affordable price. But what does California Design Den bedding feel like? Well, Sleepopolis is here to investigate.
In this review, I'll be getting up close and personal with the Cotton Sateen Sheet Set from California Design Den. So keep reading to find out if it's the bedding you've been dreaming of, or if the search must continue…
California Design Den Sheets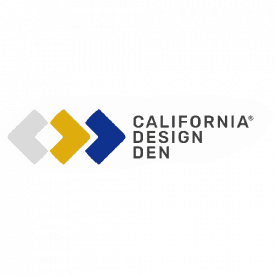 California Design Den Sheets
California Design Den sheets use quality long staple cotton to provide smooth and durable sheets at a value price. Click this button to get your set on Amazon!
What Are California Design Den Sheets Made Of?
The Cotton Sateen Sheet Set from California Design Den is (as you might have guessed) made from 100% cotton, and spun into a sateen weave.
Sleepers with sensitive skin might like to know that this bedding is Oeko-Tex certified, which guarantees that no harsh dyes or toxic materials were used in the making of this sheet set (which is more common than you might think). Speaking of dyes, this sheet set comes in fourteen different styles, including the pretty, mint-colored set I'm testing here.
These sheets are woven from long-staple cotton, which is something I always suggest you look for when you're on the hunt for cotton bedding. Typically, the longer the cotton fibers (also known as "staples"), the more durable the sheets will be. Durable, how? Well, long cotton fibers allow for better color retention, stronger resistance to pilling, and a smoother, softer finish.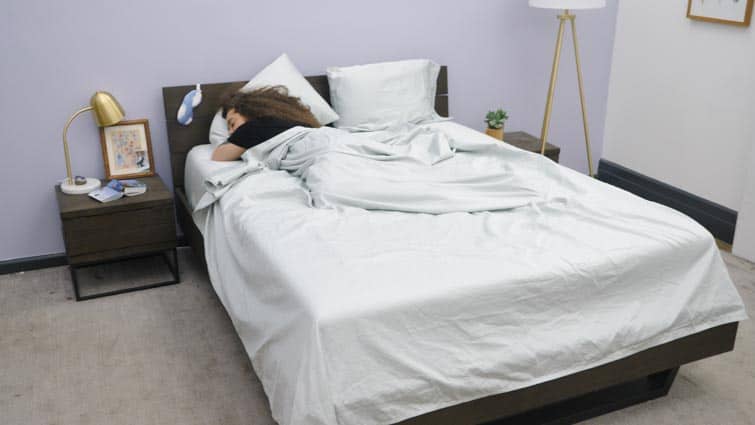 As I said, these sheets are sateen woven, which means they are designed to feel silky to the touch. Some sleepers may assume that cotton bedding always offers a crisp handfeel, but that really depends upon the weave style. Percale woven cotton sheets do provide that cool, crisp feel that many of us are familiar with, but sateen woven sheets are crafted to feel smooth like satin. Additionally, sateen sheets often feature a lustrous sheen, whereas percale sheets are matte in appearance.
Each Cotton Sateen Sheet Set comes complete with one top sheet, two pillowcases, and one fitted sheet capable of accommodating mattresses up to 18 inches deep. Now, 18 inches is very deep for fitted sheet pockets, so even folks with tall mattresses should be able to find a good fit. But who's going to be most compatible with these sheets? Well, let's dive in and see how they feel, shall we?
How Do California Design Den Sheets Feel?
Before we get into the feel of this bedding, I have to say that when I unpackaged this set, my first thought was, "Wow, these are some very pretty sheets!" The sateen weave gives the fabric a lustrous sheen which, in my opinion, is illuminated by its green color. Additionally, when I dressed the mattress, the sheets elegantly draped over the bed's shape.
If you love sateen bedding, you'll be pleased to know that these sheets are very true to this weave style. They have a satin-like feel that's super smooth to the touch, and offer a rather pronounced luster. Conversely, if you're looking for more of a crisp, matte set of sheets, these might not be for you (no crispness to be had here!). But if you can't get enough of that silky sateen sheen, these might be right up your alley.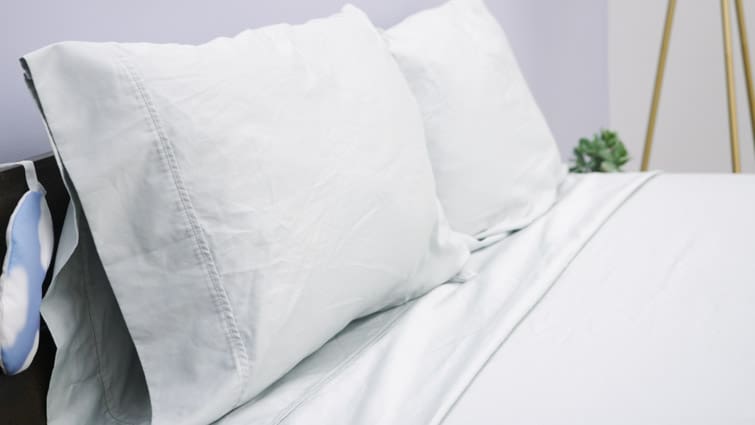 One thing I did notice, however, is that these sheets are warming. Compared to percale, a sateen weave produces a thicker sheet that is often less breathable, and lies heavier on the body. There are exceptions to that rule, but this bedding isn't one of them. So, if you're already a hot sleeper and you're looking for sheets that'll keep you cool, I can't promise that this set will do the trick. That said, I could definitely see myself thoroughly enjoying these sheets when the cold weather rolls in.
Ultimately, I enjoyed my experience testing these sheets! I'll admit that I am preferential to sateen, so I found the luminous sheen and silky handfeel to be particularly inviting. Additionally, the long-staple cotton has this bedding feeling strong and durable, which gives me the sense that it will withstand a little wear and tear.
The Verdict: Sleepers who love the lustrous look and silky feel of sateen cotton bedding will be most compatible with this sheet set!
California Design Den Sheets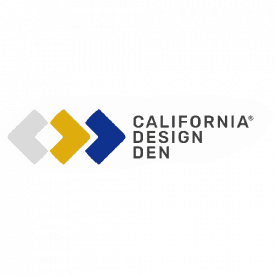 California Design Den Sheets
California Design Den sheets use quality long staple cotton to provide smooth and durable sheets at a value price. Click this button to get your set on Amazon!
How Should I Care For These Sheets?
This might not come as a shock to you, but bedding is not always going to look and feel exactly as it did when you first unpackaged it. In fact, the nature of any sheet set is likely to change even after one wash. That said, it's important to follow care instructions exactly as they are given in order to preserve your bedding for as long as possible. So, here's a step-by-step guide to caring for this particular sheet set:
Wash on a warm, gentle cycle with like colors
If you must use bleach, use non-chlorine bleach only
Tumble dry on low heat
If you iron, use low heat
Sounds pretty simple, right? Well, it is! But when it comes to wash care, there are a few tricks of the trade as well. To prevent wrinkling, I suggest pulling your sheets out of the dry cycle as soon as it's finished. Then, spread your sheets over your mattress when they are still warm, and watch the wrinkles shake right out.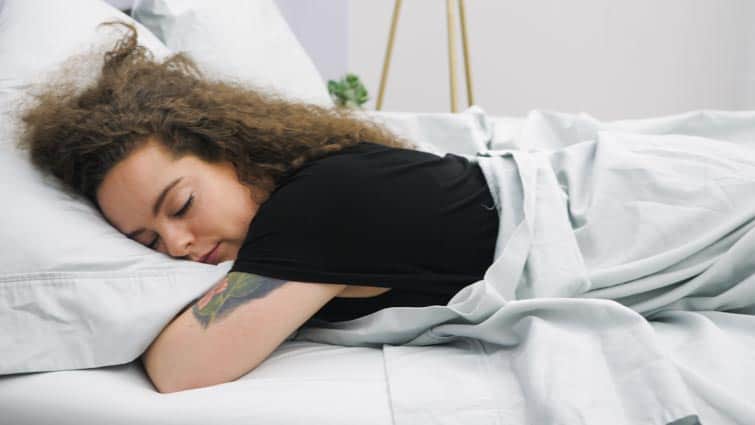 Pro Tip: It's natural for a brand new sheet set to shrink a little bit after being washed for the first time. Don't worry, this is normal and most bedding brands plan for it!
Something I found rather impressive about this sheet set is, after washing it, it held onto its luster really well. Often times with sateen bedding, the luminous sheen that typically accompanies this weave style diminishes after every wash. But you'll be pleased to know that this bedding not only maintained its sheen, but it didn't shrink much either.
Should I Buy California Design Den Sheets?
California Design Den Sheets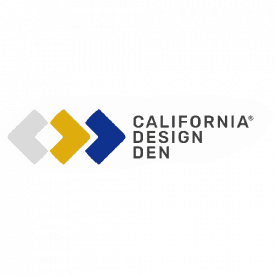 California Design Den Sheets
California Design Den sheets use quality long staple cotton to provide smooth and durable sheets at a value price. Click this button to get your set on Amazon!
Okay, sleepers. Now that we've taken a close look at these sheets, let's recap the highlights so you can better determine whether or not this is your dream bedding:
Silky & Smooth — These sheets offer a silky-smooth feel that I found to be quite soothing on my skin. Sleepers who prefer the satin-like feel of a sateen weave to the crisp feel of percale might be particularly compatible with this bedding.
Lustrous & Durable — This bedding looks as silky as it feels. True to a sateen weave, the fabric features a very pretty sheen that accentuates its draping over the mattress. Meanwhile, the long-staple cotton improves this bedding's durability, resistance to pilling, and color retention.
Great Value — Long-staple cotton sheets can get a little pricey (because of that durable fiber factor we talked about), especially when they're sateen woven. So, with this sheet set ranging from $35-$45, there's no denying this bedding is a great value.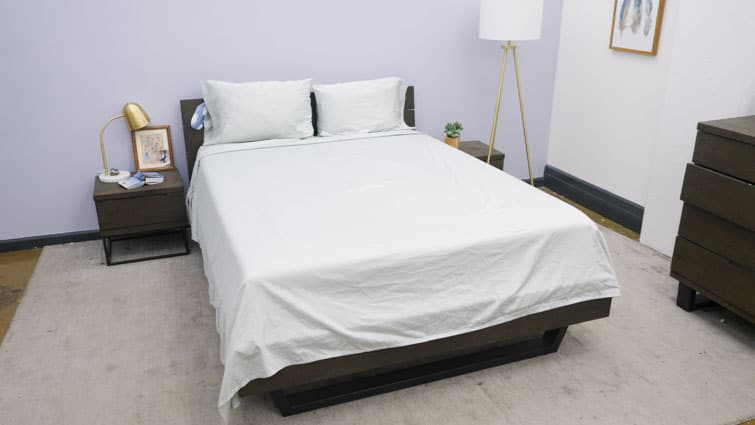 More: Looking for the best bang for your buck? Check out my guide to the best sheets for the money!
California Design Den Sheets Complaints
Of course, there are a few things about these sheets that some sleepers might consider to be drawbacks:
Not Crisp — It's important to note that these sheets do not provide a crisp feel that many sleepers look for. Not to mention, the silky nature of these sheets can be a bit slippery, and you might find your top sheet sliding off the bed.
Not Cool — These sheets are not very breathable, and they feel more warm and cozy than cooling. That said, sleepers who like to stay cool at night might find that these sheets are a little too warm.
No Trial Period — Many bedding brands offer trial periods wherein sleepers can "try before they buy" but, unfortunately, no such trial is offered with these sheets. So, you better be pretty sure you want them before you place your order.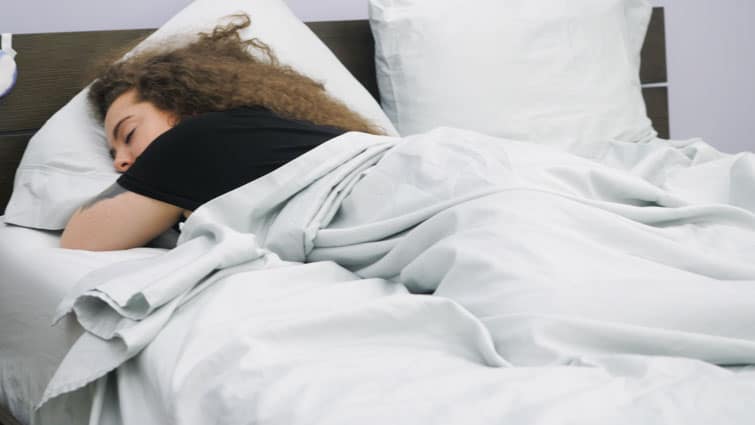 Anything Else I Should Know?
California Design Den Sheets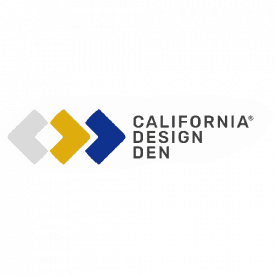 California Design Den Sheets
California Design Den sheets use quality long staple cotton to provide smooth and durable sheets at a value price. Click this button to get your set on Amazon!
Returns & Exchanges — If you're unsatisfied with your purchase, you have 30 days to return or exchange it. However, the sheet set must be totally unused, and in its original packaging.
Shipping — Free ground shipping to all 50 U.S. states
Sizing — Twin, Twin XL, Full, Queen, King, California King
Pricing — $33.99-$45.99
Sarah is the Senior Writer and bedding expert at Sleepopolis. Every week, she personally tests and reviews new pillows, sheet sets, and other sleep accessories. She accompanies every video review with a meticulously detailed article to ensure her audience has all the pertinent info they need for the best shopping experience possible. Perhaps that's why her fans have dubbed her "the most thorough pillow reviewer on the Internet." Having tested everything from sleep trackers to mattress toppers, Sarah's expertise runs deep and is always expanding. She received her degree in Creative Writing from Brooklyn College and spends her free time doing stand-up, making pasta, and hanging with her cats.