You don't have to be a bedding expert to know that Egyptian cotton is one of the most sought after materials on the market. And lucky for you, we're about to get up close and personal with the Pure Parima Yalda Sheet Set, made entirely from (you guessed it) Egyptian cotton.
Pure Parima Yalda Sheet Set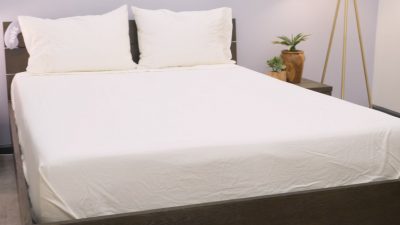 The sheets are Egyptian Cotton Certified so you know you are getting high quality sheets with a high thread count for a luxurious look and feel!
Sleepopolis Score
4.50 / 5
Read Full Review
Brand Snapshot
Barely two years old, bedding brand Pure Parima has already made a name for itself as a one-stop-shop for all things Egyptian cotton. The company was established in late 2018, is family-owned and operated, and offers a wide range of bedding essentials. So what sets them apart? Well, all Pure Parima products are sealed with certification from the Egytpain Cotton Association.
If you're not sure what certification from the ECA means, don't sweat it. I'm going to tell you all about it! So let's dive into these sheets, shall we?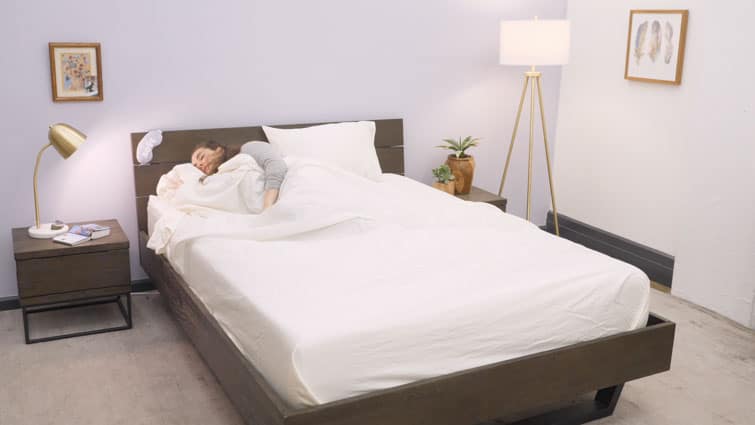 What Are Pure Parima Sheets Made Of?
As I said, the Yalda Sheet Set is made entirely from Egyptian cotton, and even comes with certification from the Egyptian Cotton Association. But what does that certification mean, and what makes Egyptian cotton any different from other types of cotton?
Well, pure Egyptian cotton is only grown in the Nile River Valley which, thanks to its humidity and fertile soil, is said to offer ideal agricultural conditions for producing fine and supple cotton. Additionally, Egyptian cotton is often (but not always) hand-picked rather than plucked by machine, which puts less stress on the fibers, leaving them nice and long.
Now, if you're wondering whether the length of cotton fibers actually affects the quality of a sheet set, the short answer is — most definitely. When the cotton fibers are longer, they don't need to be spliced together as much as they do with short cotton fibers. That's why the general rule of thumb is: the longer the cotton fibers, the more soft and durable the finished product will be.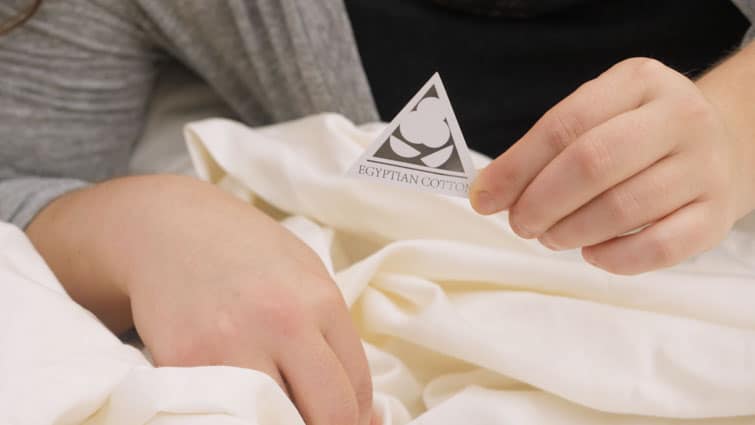 That said, the Yalda sheet set is certified by the Egyptian Cotton Association, which guarantees two things: the fibers used to make these sheets are extra long, and have been picked by hand. As I said, cotton fiber length (a.k.a staple length) goes a long way in determining the quality of a sheet set, so hand-picked, extra-long staple cotton is a best case scenario.
Additionally, these sheets feature a luxuriously high thread count of 400. Now, to those who might be unsure about what thread count means, it's actually pretty simple! Thread count refers to the individual yarns per square inch of fabric. The more yarns per square inch, the less gapping there is between each individual thread (and less gapping means a smoother finish!).
So, we know these sheets are made from extra-long staple Egyptian cotton and feature a nice high thread count, but let's take a closer look at how they feel.
More: Egyptian cotton piqued your interest? Check out my roundup of the best Egyptian cotton sheets!
Pure Parima Yalda Sheet Set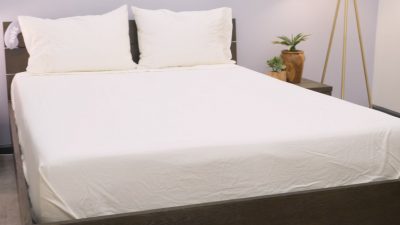 The sheets are Egyptian Cotton Certified so you know you are getting high quality sheets with a high thread count for a luxurious look and feel!
Sleepopolis Score
4.50 / 5
Read Full Review
How Do Pure Parima Sheets Feel?
Before I get into the feel of these sheets, I want to take a moment to acknowledge their look. I'm testing this set in ivory which, in my opinion, is a refreshing break from white cotton. But something I think adds a little flare to this bedding is the double open hemstitch that frames the pillowcases and top sheet. Nothing wrong with a stylish set of sheets!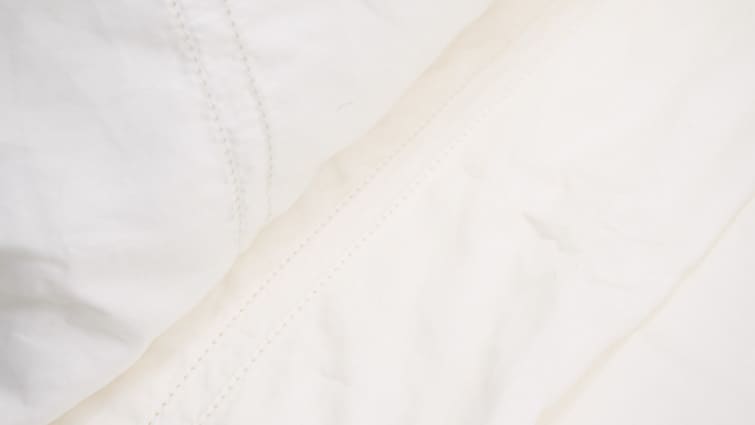 Alright, what do these sheets feel like? Well, this bedding is sateen woven which means it's crafted to feel more silky, and less crisp. When it comes to cotton sheets, you'll notice that you're often given the choice between two weave styles: percale and sateen. Cotton percale typically offers a crisp, cool handfeel, while cotton sateen (like we see here) provides a smoother finish with a lustrous sheen.
Additionally, sateen woven sheets tend to be a bit thicker and lie heavier on the body as compared to percale… and I did find that to be the case with this sheet set. Now, the heavier weight does serve to provide some elegant draping, but it also makes this bedding sleep a little warm.
That said, if you're a hot sleeper looking for an airy, breathable set of sheets to cool you down, I can't guarantee that the Yalda Sheet Set will hit that mark. However, if you're looking for a lustrous set of sateen sheets that come with all the perks of pure Egyptian cotton, I heartily recommend you give these sheets a try!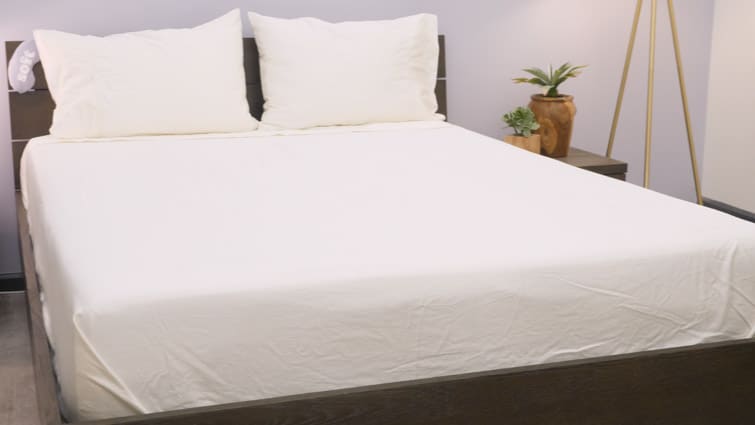 Ultimately, I thoroughly enjoyed rolling around in this bedding. It feels super strong and durable, but also silky-smooth to the touch. Not to mention, the lustrous sheen and double open hemstitch, in my opinion, make this sheet set look as luxurious as it feels.
The Verdict: Sleepers who prefer a silky, sateen weave and also want to experience the strong durability of pure Egyptian cotton will be most compatible with these sheets.
Should I Buy Pure Parima Sheets?
Now, I know I just hit you with a lot of information, so let's recap the highlights so you can determine whether this sheet set is the right one for you:
Pure Parima Yalda Sheet Set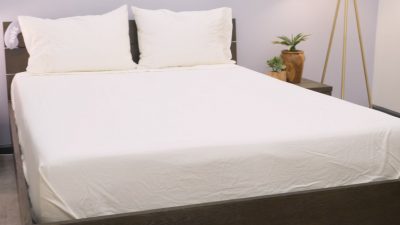 The sheets are Egyptian Cotton Certified so you know you are getting high quality sheets with a high thread count for a luxurious look and feel!
Sleepopolis Score
4.50 / 5
Read Full Review
Certified Egyptian Cotton — Extra-long staple Egyptian cotton like this is widely regarded as a superior type of cotton, and this sheet set is a great example of why. It's strong, durable, and impeccably smooth. If you've been curious about pure Egyptian cotton bedding, this would be a great place to start.
Sateen Sheen — The sateen weave gives these sheets a very pretty luster, and allows the fabric to elegantly drape over the mattress. Not to mention, I was pleased to note how well these sheets retained both their color and their luster even after I washed them several times. So, if you like your bedding to have a sheen to it, rest assured — these sheets more than fit the bill.
Great Value — It might not come as a shock to know that Egyptian cotton does usually come at a higher price point than other types of cotton. That said, with these sheets ranging from $195-$260, the Yalda Sheet Set is a pretty great value.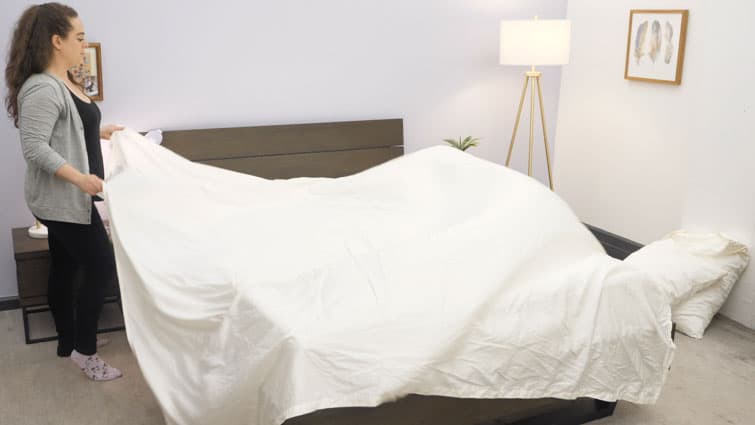 Pure Parima Sheets Complaints
Of course, this sheet set isn't going to be ideal for everybody, so let's chat about some potential pitfalls:
Wrinkly — In my experience, these sheets did not wrinkle more easily than others I've tested. However, it's worth noting that the lustrous sheen does make the wrinkles look more pronounced. Luckily, they are machine washable and dryable. So, if I were you, I'd pull these sheets out of the dry cycle as soon as it's finished, and spread them out over the mattress when they're still warm. That should serve to keep the wrinkles at bay!
Not Crisp — Remember, folks — these sheets are sateen woven, which means that they feel silky rather than crisp. Folks who prefer a crisp cotton feel with a matte appearance might want to explore sheets that feature a percale weave.
Not Cooling — Additionally, these sheets are a less breathable than what you might get from cotton percale. If you need help keeping cool at night, just note that this bedding is more warm and cozy than cool and crisp.
Anything Else I Should Know?
Sizing — Twin, Twin XL, Full, Queen, King, California King
Set Includes — one top sheet, two pillowcases, one fitted sheet able to fit mattresses up to 17" deep
Pricing — $195-$260, depending on size
Shipping & Returns — free within the U.S.
100 Night Trial Period
Wash Care — Wash in a cool cycle with mild detergent, tumble dry on low.
Now that you know everything there is to know about the Pure Parima Yalda Sheet Set, hopefully you've figured out whether it's the right fit for you! But if it's not, don't worry. The world of bedding is vast, so be sure to follow us on Facebook, Twitter, and Instagram, and subscribe to our YouTube channel, so you never miss a thing.