If you're on the hunt for an eco-friendly weighted blanket, this review is for you. Made entirely from plant-based materials, the Bearaby Tree Napper is a hand-knit weighted blanket designed to calm the body by providing deep pressure touch. But how does it work, and is it worth the dough? Keep reading to find out!
Brand Snapshot
Bearaby was established with one mission in mind — to provide weighted bedding that's kind to the environment. In fact, this company exclusively sells weighted blankets and comforters, all of which are made from natural, sustainable materials. Even the packaging is made from recycled fabric!
Bearaby offers a variety of weighted bedding options but, in this review, we're focusing on the Tree Napper. So follow along as I explore this Earth-friendly blanket, because it might just be the sleep accessory you've been dreaming of.
What Is The Bearaby Tree Napper Made Of?
I'll be honest — the Bearaby Tree Napper is unlike any weighted blanket I've tested (and I've tested quite a few, including the super popular Gravity Blanket). It's hand-knit and features a wide loop weave that, when I first saw it, made me wonder: Where is the weighted material and what is making this blanket heavy? Let's take a closer look.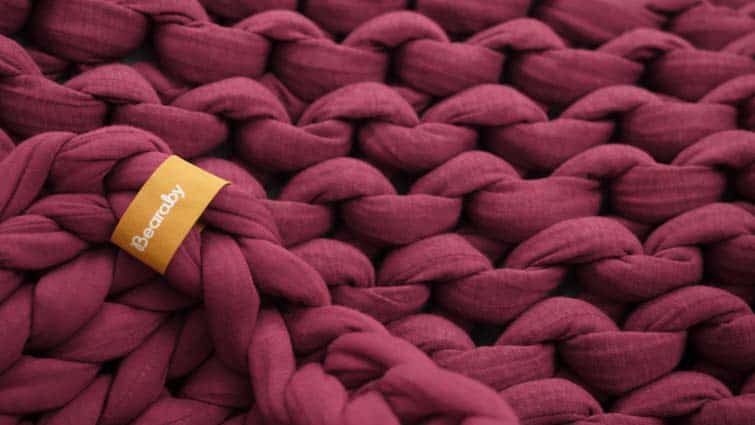 Material: Tencel
From top to bottom, this blanket is made from one material — Tencel.
Some of you may already be familiar with Tencel as I've reviewed a ton of Tencel-based sheets, but it's actually the trademark name for lyocell. Lyocell is a sustainable material made from the wood pulp of Eucalyptus trees (hence the name Tree Napper), and it's known for its super smooth feel.
I'm a big fan of Tencel because it's breathable and naturally moisture-wicking, which is ideal for us hot sleepers. But what I find most interesting about the Tree Napper is that it's not filled with any weighted material. Weighted blankets are typically made with sewn-in chambers that are filled with plastic pellets, glass beads, or a proprietary weighted material.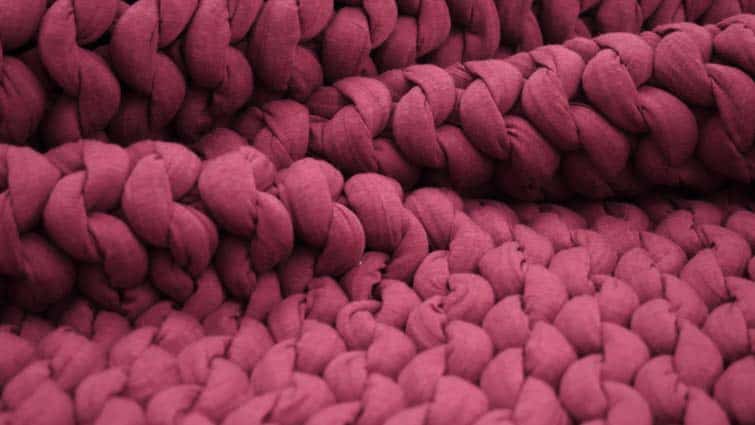 Every weighted blanket I've tested has been filled with either glass beads or plastic pellets, but the Tree Napper gets it weight from layer upon layer of tree-based fabric (and I think that's pretty cool).
Weave: Hand-Knit Wide Loop Weave
The first thing you'll probably notice about the Tree Napper is that it looks like it was woven by hand, and that's because it was!
The folks at Bearaby refer to the yarn as "firm, chunky, and delightfully heavy," and I'd say that's an accurate description. To me, the hand-knit look and feel of this blanket reminds me of big ol' sweater that you might wear in Autumn.
It's important to note, however, that this blanket features a wide loop weave. This means that there are open spaces between each piece of yarn, and you can kind of tug and stretch the individual layers of Tencel.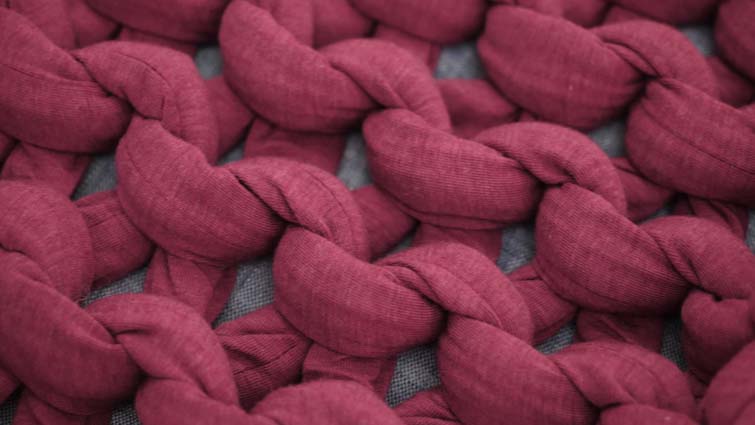 While some may prefer a traditional construction (sewn-in chambers filled with weighted material), this hand-knit design promotes more airflow through the fabric, making it more breathable.
Weight Options: 15, 20, 25 lbs
I'm testing the 15 lb Tree Napper, but there are 20 and 25 lb options available as well. If you're wondering how to pick the weight that's best for you, it's actually quite simple. Just choose the weight that's closest to 10 percent of your own body weight. For example, if you're 150 lbs, go with the 15 lb blanket.
More: Check out my guide to picking the best weighted blanket for you!
I'm less than 150 lbs, but it's better to go with the blanket that's slightly over 10 percent of your body weight to ensure you're still benefiting from the healing properties of deep pressure touch. Remember — deep pressure touch is used to help calm the body down and get ready for sleep (more on this later!).
For me, the pressure of this blanket feels comparable to other blankets I've tested, and I didn't feel like it's hand-knit design made it any less effective. And because there is no artificial weighted material inside the Tree Napper, it's completely noiseless as you never hear glass or plastic beads clink together.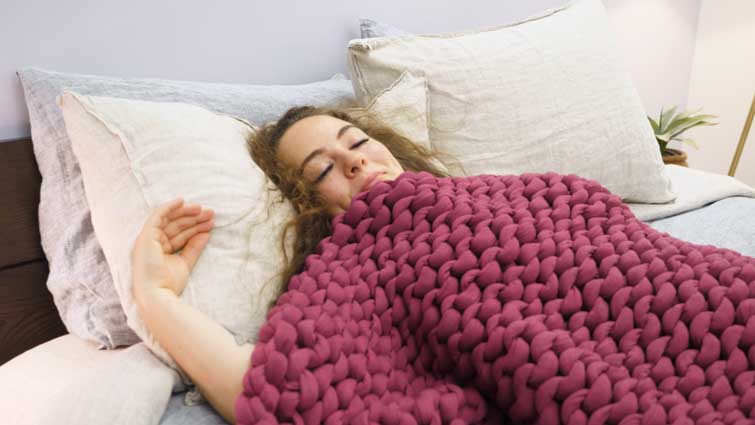 The Bottom Line: Soft, Breathable, Eco-Friendly
If you're looking for a soft, eco-friendly weighted blanket that feels like a chunky sweater, this might be perfect for you. The Tree Napper is made entirely from tree fabric, and isn't filled with any artificial materials. Not to mention, it's wide loop weave promotes great breathability which might be ideal for folks who run hot.
What Does The Bearaby Tree Napper Feel Like?
Okay sleepers, now that we know exactly what this blanket is made of, let's talk more about how it looks, feels and go over some basics about deep pressure touch. Deep pressure touch is a therapeutic technique primarily used to alleviate symptoms of anxiety and sensory processing disorders, but many use them to relax before bedtime.
If you want a more in-depth explanation of deep pressure touch, be sure to check out my roundup of the best weighted blankets. But for now, let's explore the style, breathability, and overall feel of the Tree Napper.
Deep Pressure Touch
The deep pressure of a weighted blanket releases serotonin which then triggers the release of our sleepy hormone, melatonin. Essentially, the serotonin and melatonin combine to make you feel happy, sleepy, and calm (can you think of a better nighttime trifecta?) But be advised: weighted blankets are not meant to replace your comforter.
In fact, resting under a weighted blanket for more than an hour at a time can potentially cause muscle fatigue and/or desensitize you to the healing properties of deep pressure touch. So before we get into my experience testing the Tree Napper, remember that weighted blankets should not be slept under all night, and you should take breaks of at least 90 minutes between use.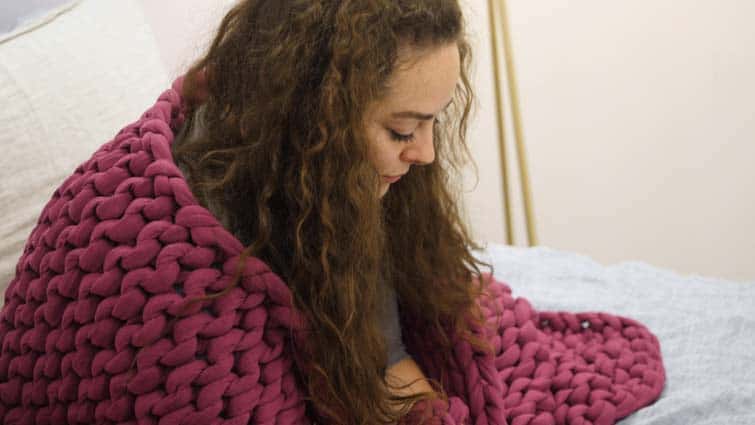 Disclaimer: I am not a doctor, and Sleepopolis reviews should not take the place of medical advice. If you're unsure as to whether or not a weighted blanket is right for you, or you're not sure how to use a weighted blanket, consult your healthcare provider.
Look & Feel
Before I talk about how the Tree Napper feels, I have to take a moment to acknowledge its unique look. I'm testing this blanket in a deep pink color called hibiscus, but it's also available in lavender and "May Lily" (which is ivory). However, it's worth noting that the color on the website is brighter than the blanket itself, and looks more crimson than pink.
While not everyone is going to be into these colors, I find them to be lovely and inviting. Additionally, I think the hand-knit look of this blanket brings something special to the world of weighted blankets, and I've never seen another one like it.
Meanwhile, the wide loop weave promotes airflow through the blanket, making it quite breathable and cool. A common complaint about weighted blankets is that they are too warming, and the heat distracts from the blanket's therapeutic benefits. If you can relate to this, the Tree Napper might be for you.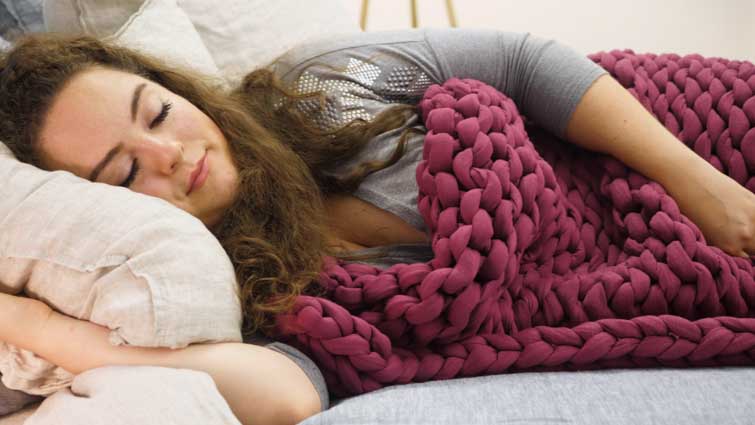 However, folks look specifically for a weighted accessory that's going to keep them warm and cozy might want to look elsewhere. I tend to run hot, so I enjoy the cool and breezy quality of this blanket. And make no mistake — Tencel is super smooth, and this blanket feels very soft on the skin.
The Verdict: Eco-friendly folks looking for a soft and breathable weighted blanket should definitely give this one a try!
Should I Buy The Bearaby Tree Napper?
Now that we've taken a close look at this blanket, let's recap the highlights so you know if it's the best fit for you:
Eco-Friendly – This entire blanket is made of wood pulp from Eucalyptus trees. If you're looking for weighted bedding made exclusively from natural materials, the Tree Napper is a great option. Personally, I really like that there are no artificial materials in this blanket at all.
Hand Knit & Breathable – The hand-knit look and feel of this blanket gives it a unique style that some may prefer to the traditional weighted blanket design. Additionally, the wide loop weave promotes a lot of breathability through the blanket which might be particularly beneficial for those who run hot.
Wash Care – One of my favorite things about this blanket is that it's machine washable and dryable (which makes it the first weighted blanket I've ever tested that isn't spot-clean-only). Just use a cool gentle cycle with mild detergent, then tumble dry on low heat. Keep in mind, though, that it may take more than one dry cycle to dry it completely.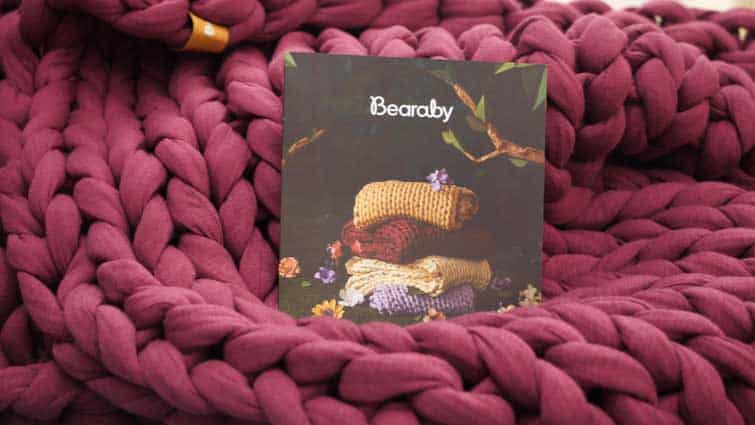 Bearaby Tree Napper Complaints
Of course, there are a few things about this weighted blanket that some might consider to be drawbacks:
Not Very Warm – Not everyone is going to be into the open loop weave going on here, and some may find that they prefer a more traditional weighted blanket that's filled with glass beads or plastic pellets. If you're looking for something a little more warm or insulating, you might want to shop around before deciding on this one.
Colors – While I like the color options that come with this blanket, keep in mind that they are all inspired by flowers and have a light, pretty aesthetic. If lavender, hibiscus and May Lily don't blend with your personal style, that's something to consider.
Pricey – If you've spent any time shopping for a weighted blanket, you've probably learned that they're pretty pricey. And ranging from $250-$280, this blanket is no exception. It does come with a nice 30 day return policy, so if you decide it's not the best fit for you, just send it back for a refund.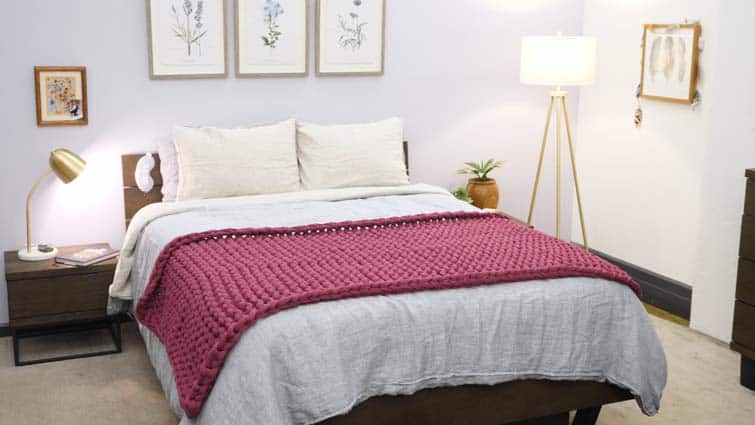 Anything Else I Should Know?
Weight Options – 15, 20, 25 lbs
Pricing – $249-$279
Wash Care – wash on cold, gentle cycle with mild detergent; tumble dry on low heat (repeat dry cycle if needed)
Free Shipping – within the U.S.
30-Day Return Policy
Well, now that you know everything there is to know about the Bearaby Tree Napper, all that's left to do it give it a try! You've got 30 days to return it, afterall. In the meantime, don't get to like and subscribe to our YouTube channel and follow us on Facebook, Twitter, and Instagram!
Sarah Riccio
Sarah is the former senior writer and bedding expert at Sleepopolis. She received her degree in Creative Writing from Brooklyn College and spends her free time doing stand-up, making pasta, and hanging with her cats.