A twin mattress isn't just for kids anymore. Whether you're furnishing a guest room, sending a teenager off to college, or setting up a studio apartment, a twin mattress can be an affordable option that works for almost any type of sleeper.
No matter what your preference of mattress material, you can find a twin mattress that works for your bedroom and your budget. With the wealth of twin mattresses available, how do you narrow down your choices and select the right model? I've tested several twin mattresses for durability and comfort to help you find the right one for you. Let's dive into my picks for the best twin mattresses out there!
Best Twin Mattresses of 2021
Best Twin Mattress – Our Top Picks Detailed
Read on below to learn more about my favorite twin beds! I'll continue to update this list as I test new mattress models, so don't be surprised to see it change.
Best Value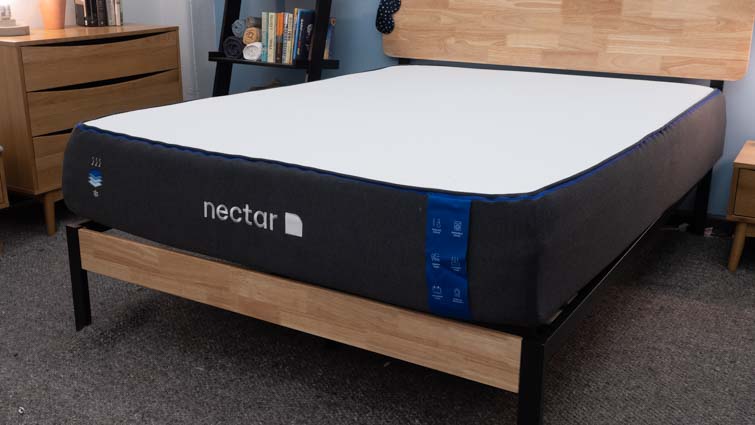 Nectar
If you're looking for a twin mattress that fits in your budget, the original Nectar mattress is a great option for you. This cooling memory foam bed won't break the bank, and offers plenty of durability and quality for your money.
I particularly like this memory foam mattress for side and back sleepers. It has a medium feel, but offers plenty of pressure-relieving sinkage and body-contouring. All in all, it's a great pick for anyone looking for a classic memory foam mattress at a low price.
Interested in this bed? Check out my full Nectar mattress review to learn more.
$399 in Free Gifts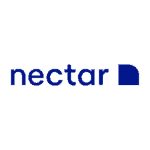 The Nectar is an affordable memory foam pick for side sleepers.
Best Twin Mattress for Adults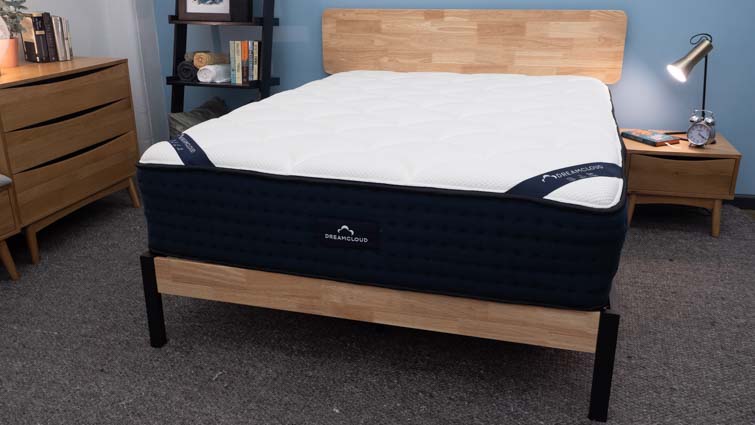 DreamCloud
If you're a single adult looking to save space and money on a twin mattress without sacrificing quality or support, the DreamCloud original is a great pick for you.
This hybrid mattress has a luxury feel and offers firm, bouncy support. It's a great choice for back and combination sleepers looking to feel lifted up and out of their mattress. Plus, its durable coil system gives this bed a stable, high-quality feel, even in the twin size model.
Another perk of this mattress is that it sleeps cool, which should be an added bonus for hot sleepers. Whether you're looking to impress your friends with a comfortable guest room option or get a restful sleep on a smaller surface, the DreamCloud is worth a look.
Find out more about this bed in my full DreamCloud mattress review.
Save $200 + Free Accessories

The DreamCloud is a luxurious option that adults should love.
Best Cooling Twin Mattress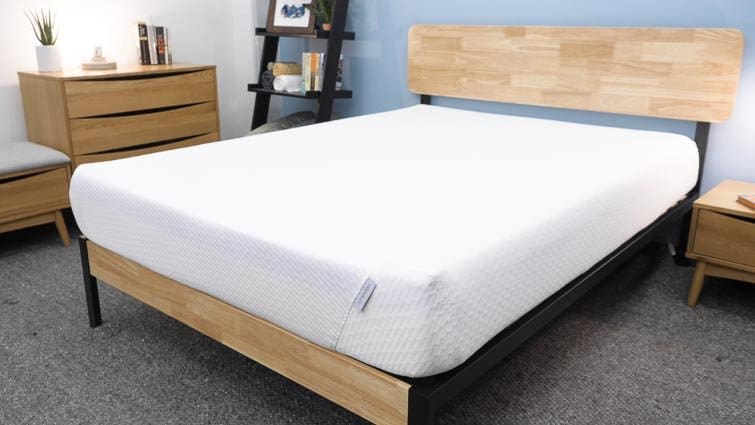 Tuft & Needle
If you're looking for a balanced, all-foam feel but want to sleep cool, the original Tuft & Needle mattress could be a great choice for you. Tuft & Needle's proprietary adaptive foam is super breathable, and makes this bed a notable cooling pick for hot sleepers.
In addition to promoting plenty of airflow, this bed's foams have a springy, gentle feel that helps keep you lifted up on top of your bed. I especially like this feel for back sleepers looking for a nice balance of pressure relief and support.
The Tuft & Needle mattress has a slightly firm feel that should support you in a variety of different sleeping positions. So, this bed is also a nice choice for combination sleepers.
Check out my full Tuft & Needle mattress review to learn more about this cooling bed.
See Latest Deals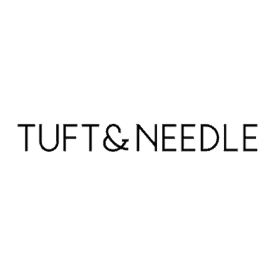 The Tuft & Needle mattress is a great cooling foam option for hot sleepers.
Best Twin Mattress for Back Sleepers
Casper Original
If you sleep on your back, you might benefit from a mattress that features zoned support. These beds are firmer at the hips and lower back to offer extra support and lift, but softer at the shoulders to provide some pressure relief. The Casper Original is a great zoned mattress that back sleepers could really enjoy.
The Casper has a balanced, firm feel that most back sleepers should really enjoy. It will really help these sleepers maintain a healthy sleep posture, thanks to its zoned support system. If you're a back sleeper who has struggled with back pain in the past, I'd highly recommend checking out this bed.
Think the Casper mattress could help combat your back pain? Learn more about it in my full Casper mattress review.
Save 10% with code SLEEPOPOLIS10
The Casper's zoned support system makes it a great pick for back sleepers!
Best Firm Twin Mattress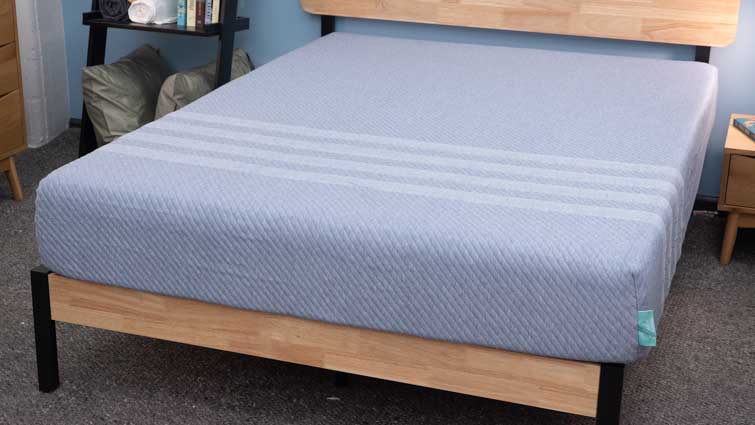 Studio by Leesa
If you're on the hunt for an affordable, firm twin mattress the Leesa Studio could be the way to go. This all-foam bed has a great extra-firm feel thanks to its sturdy foam base.
I'd especially recommend this mattress to back and stomach sleepers. Stomach sleepers need a firm mattress to keep their hips lifted up in line with their shoulders. It can be hard to find an affordable foam bed that's supportive enough for stomach sleepers, so the Studio is a nice option for these folks.
This mattress is also super affordable, especially if you choose a twin size! If you're on the hunt for an affordable guest room option, the Studio is definitely a contender.
Find out more in my full Studio by Leesa mattress review.
4th of July Sale! Up to $500 Off Mattresses!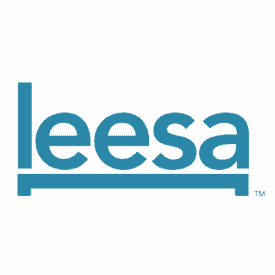 The Studio by Leesa is an affordable firm mattress option.
Best Twin Mattress for Combination Sleepers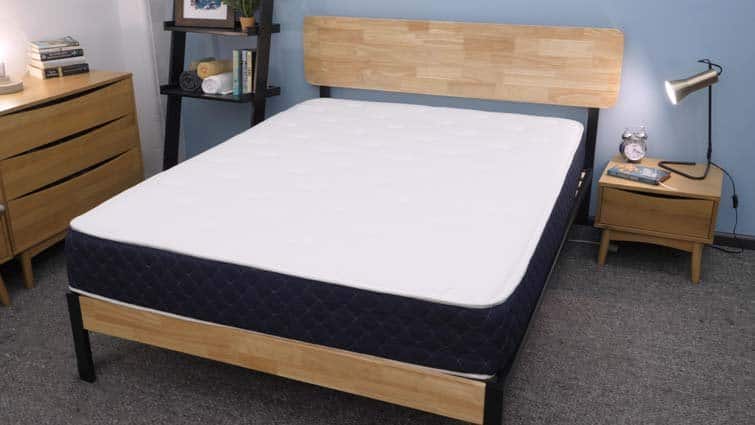 Brooklyn Bowery
Combination sleepers do best on a bouncy mattress that makes it easy to move around and change positions. The Brooklyn Bowery offers just that!
In addition to being responsive, the Bowery has a nice medium-firm feel. This firmness level should be comfortable and supportive in all sleeping positions, which is another bonus for combination sleepers. I'd also recommend this bed to back sleepers looking for a hybrid mattress.
Like many of the other beds on this list, the Bowery is a great budget option. If you're hoping to save money on a durable mattress, I'd definitely recommend checking out the Bowery.
Learn more about this bed in my full Brooklyn Bowery mattress review.
Save 20% with code SLEEPOPOLIS20
This bouncy mattress is a great pick for combination sleepers.
Best Guest Room Mattress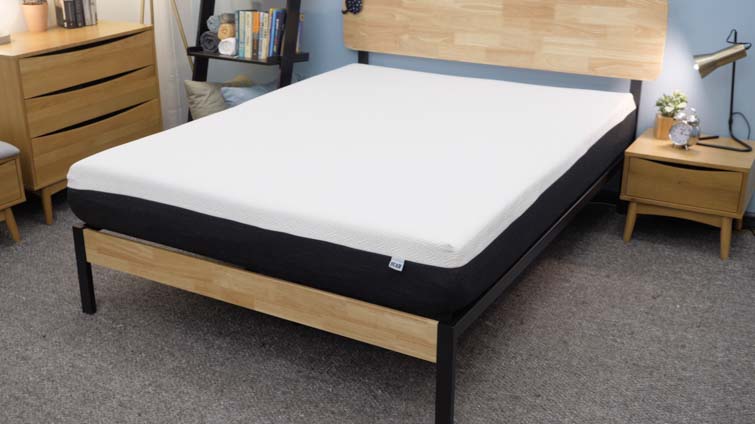 Bear Original
The best guest room mattress is supportive, comfortable, and, of course, affordable. The original Bear mattress checks all three of those boxes, making it an exceptional option for anyone looking for a twin size guest room mattress.
The Bear has a slightly firm feel that should keep you lifted up on top of the bed. However, its top layer is made of graphite-infused memory foam, which means this bed will offer some body-contouring and pressure relief as well. I especially like this mattress for back sleepers because its top foams will fill in your lumbar region to ease tension at the lower back, but its firmer support foams will help them keep their spines nice and straight all night.
All in all, the Bear has a fairly balanced feel that should please most guests. Plus, it sleeps cool, which is a bonus for a lot of sleepers.
Learn more about this affordable guest room option in my Bear mattress review.
25% Off + Free Gifts With Code CHILL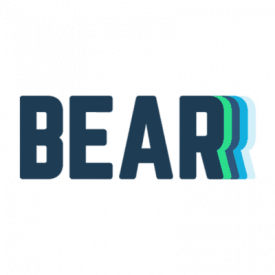 The Bear's balanced all-foam feel is sure to be a crowd-pleaser!
Best Memory Foam Twin Mattress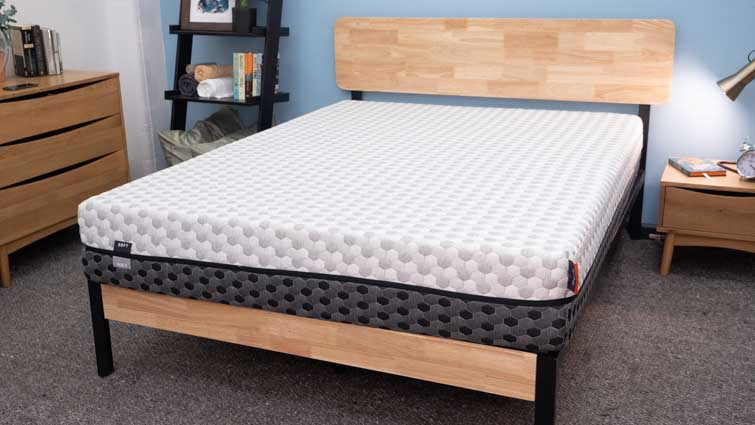 Layla
The Layla original is a high-quality memory foam mattress that should appeal to anyone looking for a classic, body-contouring feel.
The Layla is a flippable memory foam mattress with both a soft and a firm side. So, regardless of your preferred sleeping position, you should be able to find a feel that works for you. As a side sleeper myself, I personally prefer the plush, body-contouring soft side.
The Layla's foams are all infused with copper, which means this bed will sleep much cooler than a traditional memory foam mattress. That's a great feature for any hot sleepers who enjoy the deep sinkage memory foam offers.
Interested in the Layla? Check out my full Layla mattress review to learn more.
Up to $200 Off Mattresses + Free Pillows
The flippable Layla mattress is a great twin bed option.
Best Twin Mattress for Kids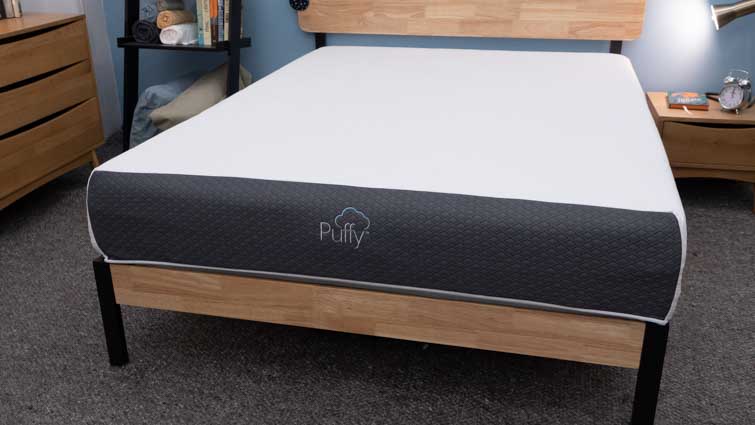 Puffy
Many shoppers on the hunt for a twin bed are shopping for a kid's room. The Puffy is one of my favorite beds for kids, so I'd highly recommend checking it out!
The Puffy mattress has a medium-firm feel that will be supportive enough for lighter bodies in any sleeping position. Plus, it has a stain-resistant cover that makes cleaning up after a spill or accident much less of a hassle.
Back sleepers might also enjoy the Puffy, which offers a nice balance of pressure relief and support. This bed's comfort foams also offer some nice cushioning, which might make it a nice choice for sleepers who suffer from pressure aches or pains — parents can rest assured their kid will wake up ready for whatever the day may bring, without any pain! 
Learn more about this bed in my full Puffy mattress review.
$300 Off + Free Gifts!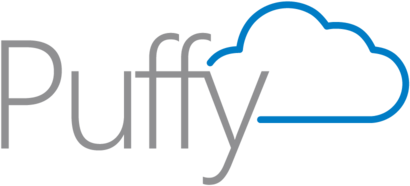 The Puffy offers cloud-like comfort to smaller bodies.
How Big is a Twin Mattress?
A twin mattress, or single bed, measures 38" x 75" (or 6.25' x 3.16'). This smaller mattress size is a great fit for bunk beds, trundle beds, daybeds, and platform beds in addition to traditional bed frames. It's also well-suited to children or single adults who don't need as much bedspace. Read on below to see how I picked the twin beds in this list!
How to Choose a Twin Mattress
A high-quality twin mattress can be an important purchase that helps you, a child, or a guest relax and enjoy a good night's sleep. When reviewing these twin mattresses, I examined several factors that helped me choose the best bed in each individual category. Choosing a twin size mattress is the same as choosing almost any size bed, so check out our How to Choose a Mattress Guide for detailed tips on buying a new bed.
In the meantime, consider the following when searching for the right twin mattress for your home, dorm, or guest room.
Materials
The materials in a mattress determine a lot about its overall feel and appearance. Depending on your height, weight, preferred sleeping position, and other sleep needs, one mattress type may be better for you than another. Take a look at some common mattress materials below to decide which might be the best fit for your needs.
In addition to a material's feel, you might want to consider choosing a mattress that is hypoallergenic, organic, or dust mite resistant, especially if you're shopping for a child's room. Take a look at some of our best natural organic mattresses to see some options.
Mattress Thickness
The typical mattress ranges between 6 and 14 inches thick. Latex and memory foam mattresses are usually thinner than hybrid and coil mattresses, which are thicker due to their internal coil structure.
Most sleepers prefer a mattress in the 10 to 14 inch range. Heavier folks may need a thicker mattress that offers deep compression support. Some thinner mattresses offer advanced foams or an extra thick comfort layer that can provide structure and support comparable to a thicker mattress, but in general, thicker mattresses are more durable and supportive than thinner mattresses.
Mattress Firmness
Mattress firmness is described on a 1-10 scale, with 1 being the softest and 10 being the firmest. The industry standard for medium firmness is a 6.5 out of 10. Soft mattresses generally rank around 4-6 out of 10 on the scale, while firm mattresses measure around 7-8 out of 10.
When choosing the firmness of a mattress, keep your sleep position and weight in mind. As a general rule, heavier sleepers do best with a firmer mattress, as do stomach sleepers. Side sleepers and lighter sleepers tend to like softer mattresses, while back and combination sleepers usually sleep best on medium-firm mattresses. To learn more about mattress firmness, take a look at our best firm mattresses of 2021.
Edge Support
A mattress with strong, reinforced edges can reduce sagging and excessive sinkage when you sleep near the edge of the bed. This lets you sleep closer to the side and utilize more of the mattress's surface area, which is important when choosing a narrower mattress size. Hybrid and innerspring mattresses tend to have the strongest edges, while all-foam mattresses tend to have the weakest edges. Certain brands will reinforce their mattress edges with high-density foam or stronger steel coils to ensure they really hold up.
Price
Price is an important factor when choosing any new mattress, but especially so when choosing a twin size mattress. Twin beds are often budget buys for children or teens who will eventually grow out of them, so you'll want to ensure you choose something long-lasting that won't break the bank.
All of the beds in this list are quality mattresses that I think are worth the price. But as a general rule, make sure to comparison shop before choosing your new bed to ensure you're getting a fair price. I'd also recommend checking out our mattress coupons to score a deal!
Cooling
Cooling is especially important to consider if you're shopping for a hot sleeper. In general, latex, hybrid, and innerspring mattresses are more cooling than other mattress types. If breathability is a priority for you but you're really interested in an all-foam or memory foam twin mattress, I'd recommend choosing a model infused with cooling gel to help keep your body temperature down. Take a look at our best cooling mattresses to see a few options.
Pressure Relief / Body-Contouring
You'll also want to consider whether you like to feel more "cradled by" or "on top of" your mattress. If you prefer a cradling, hug-like feel, you'll want to choose a bed that offers a lot of pressure relief and body-contouring. Pressure-relieving beds can be great for relieving hip, shoulder, lower back, and joint pain, plus they offer a cuddly feel many sleepers enjoy.
If you're looking for a lot of pressure relief, I'd recommend a mattress with at least one memory foam layer or one that includes soft comfort foams in its top layers. Take a look at our best soft mattresses to see some pressure-relieving models.
Body Weight
Finally, it's important to keep your body type in mind when choosing a new bed. As a rule, heavier people need firmer, more supportive mattresses to avoid back pain or premature mattress sagging. I'd recommend these folks stick to innerspring, hybrid, or latex beds. Check out our best mattresses for heavy people article to find some options.
On the other hand, lighter people (and kids) can get away with less supportive beds because they won't sink as far through their top layers. Kids especially can do well on beds with foam base layers, which are often more affordable than coil options. Check out our best mattresses for kids article to find a few mattresses that work well for lighter bodies.
Who Should Buy a Twin Mattress?
Twin mattresses are great fits for some people, but not a good choice for others. Take a look below to see who a twin bed might be best for.
If you're shopping for a child, a twin mattress might be the way to go. Twin beds are cheaper than larger sizes and offer plenty of room for a smaller body. Many bunk beds and trundle beds are also made specifically to accommodate twin size mattresses, and many sleep accessories marketed to children are available mainly in twin sizes.
Teens might also do well on a twin bed. If your teenager is moving out soon, or needs a mattress that's easy to transport to a dorm room or college apartment, a twin size bed could be your best bet. You may want to consider a longer twin XL mattress if your teenager is on the taller side. Take a look at some of our best mattresses for teenagers to see some great models.
Single adults furnishing a small space could do well on a twin mattress. If you don't mind not being able to starfish in bed, a twin bed can balance out a small room and free up additional storage space. Many space-saving loft beds are also made for twin-size beds, which is something to consider when choosing your mattress.
If you're shopping for a guest room a twin mattress might be a good pick. You can often fit two twin beds in one room to accommodate more guests, and twin mattresses are often more affordable than other mattress sizes.
Budget shoppers should definitely consider a twin bed. If you don't mind sacrificing some bedspace, you can get a luxury mattress for a steal by choosing a twin size!
Who Shouldn't Buy a Twin Mattress?
And as I mentioned above, a twin bed won't be the right fit for everyone. Take a look at some reasons you might want to avoid a twin size mattress below.
Couples need more space than a twin mattress offers. I'd recommend they opt for at least a full size bed. One of our best mattresses for couples could be a better fit.
Taller sleepers will likely prefer a longer twin XL, queen, or king size mattress. Their feet may hang off the edges of a single bed, leading to discomfort or even back pain.
Larger people might find a twin size mattress too narrow for their needs. Upsizing to a larger mattress size might make them feel more comfortable and supported throughout the night. If that's you, check out our best queen size mattresses.
If you like to spread out or toss and turn at night, a wider mattress might be more comfortable for you. If you get your most restful sleep extending from corner to corner, check out our best king size mattresses.
If you're furnishing a larger bedroom a twin size might look disproportionate in your space. I'd recommend measuring your space to ensure you choose the proper bed size for your room.
Sleepopolis Tips
And that wraps up my best twin size mattress roundup! Take a look at the table below for a final summary of these beds, and keep these final tips in mind when shopping:
Know who will be sleeping on the mattress and how often – A guest room mattress will be used less than a master, and a child will typically apply less pressure to a mattress than an adult. Does your teenager like a softer mattress or a firmer one? Know your needs before you start shopping to make the process as simple as possible.
Understand the warranty – Most manufacturers offer a 10-20 year warranty on mattresses with some caveats. Read the terms and conditions of the warranty carefully before committing to the purchase of a new mattress.
Utilize the sleep trial – Most mattresses allow a risk-free sleep trial of 90 days or longer and free returns or exchanges. Take advantage of the trial period to test out your new twin mattress and see if it fits your needs.
FAQs
What's the difference between a twin mattress and a twin XL mattress?
A twin XL mattress is the same width as a regular twin mattress but is five inches longer. A twin mattress is 38" x 75", while a twin XL is 38" x 80".
How can I find an inexpensive twin mattress?
Many bed-in-a-box companies offer reasonably priced twin mattresses. To get the best deal possible, try shopping during mattress sales, which typically occur on holidays such as President's Day and Black Friday. Coupon codes and discounts can help reduce the price on regular price days, particularly if you buy online or purchase a bed-in-a-box.
Can I return my twin mattress if I don't like it?
Most mattress companies offer generous sleep trial periods, allowing you to try out a new mattress and return or exchange it if it isn't the right fit for you. Be sure to check the terms of the company sleep trial before you purchase your mattress and make sure to initiate a return or exchange before the time period is over.
Rose is the Chief Research Officer at Sleepopolis, which allows her to indulge her twin passions for dense scientific studies and writing about health and wellness. An incurable night owl, she loves discovering the latest information about sleep and how to get (lots) more of it. She is a published novelist who has written everything from an article about cheese factories to clock-in instructions for assembly line workers in Belgium. One of her favorite parts of her job is connecting with the best sleep experts in the industry and utilizing their wealth of knowledge in the pieces she writes. She enjoys creating engaging articles that make a difference in people's lives. Her writing has been reviewed by The Boston Globe, Cosmopolitan, and the Associated Press, and received a starred review in Publishers Weekly. When she isn't musing about sleep, she's usually at the gym, eating extremely spicy food, or wishing she were snowboarding in her native Colorado. Active though she is, she considers staying in bed until noon on Sundays to be important research.