Sleeping while traveling once meant tent-camping, taking a trailer, or staying in a hotel. The recreational vehicle, or RV, has changed all that. Millions of Americans now own RVs, which have made sleeping on the road not just comfortable, but luxurious.
If it's time to furnish your RV with a new mattress, take a look at my top picks for RV mattresses. I've tested some great models in different price ranges and materials to help you find a RV mattress that rivals the comforts of home.
Best RV Mattress 2023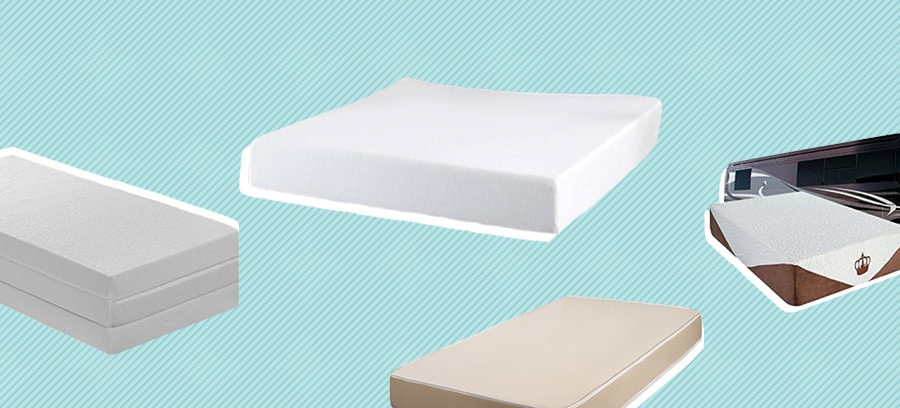 Editor's Pick
Dreamfoam Essential
Available in several unique sizes to accommodate vehicles, the Dreamfoam Essential (formerly known as the Wanderlust) is the first RV mattress from Brooklyn Bedding. It's made entirely of foam, with a top comfort layer of cooling gel memory foam over a support layer of high-density poly foam. All in all, this is a firm bed that should be comfortable for back sleepers and stomach sleepers on the road.
Pros
You should experience a little contouring and some nice pressure relief from the top layer of gel memory foam. 

While the Dreamfoam Essential is indeed firm, lovers of memory foam should still get plenty of sinkage.

The RV-specific sizes of this bed include several different measurements of RV Bunk, RV King, and many more. 
Cons
Side sleepers are probably going to need a softer RV mattress.

The memory foam could lead to the Dreamfoam Essential sleeping hot, although you can remedy this with a set of

cooling sheets

.
Think the Dreamfoam Essential is the mattress for you? Click here for our best deal or check out our full Dreamfoam Essential mattress review. Still not sold? Take a look at some of the other best mattresses.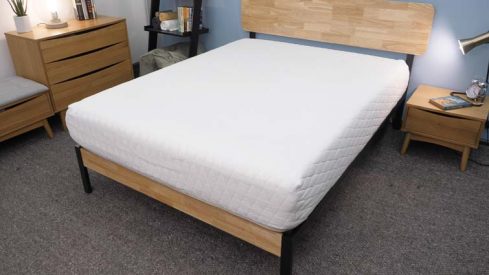 As Brooklyn Bedding's first venture into the RV world, the all-foam Dreamfoam Essential is a great fit for traveling back sleepers and stomach sleepers.
Best RV Mattress for Couples
Helix Midnight
While many travelers prefer a mattress specifically designed for an RV, you can be just as comfortable on a bed designed for your home. Take the Helix Midnight, for instance. Made with a combination of cushy memory foam and wrapped coils, this hybrid bed creates a great balance of comfort and support for the road. It also has low motion transfer results, meaning that it's great for couples — especially if they'll be resting in an environment that moves around a lot more than their home.
Pros
The Helix Midnight clocks in at a 6/10 on the firmness scale, meaning it's a touch softer than medium firm.

Between the airflow-promoting coils and a light, stretchy cover, this mattress sleeps cool — a crucial factor when there are two bodies to a bed instead of one.

Below the coils is a final layer of DuraDense foam that helps the Helix Midnight stay durable.
Cons
Because it's not specifically designed for an RV, the Helix Midnight only comes in the standard mattress sizes. While it should fit many RVs out there, you should make sure your vehicle doesn't require a more uniquely sized bed.
Think the Helix Midnight is the mattress for you? Click here for our best deal or check out our full Helix Midnight mattress review. Still not sold? Take a look at some of the other best mattresses for couples.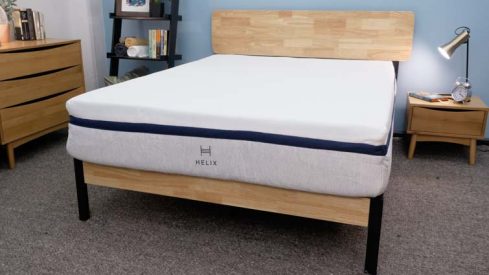 The Helix Midnight is a softer hybrid mattress that's popular in homes, but could also be a great fit for an RV.
Best RV Mattress for Active Sleepers
Bear Trek Mattress
If there's one thing customers know about Bear, it's that the company makes their mattresses with athletes in mind. The Bear Trek RV mattress is no exception, and it's ideal if you like taking your RV to rock-climb, hike, or even kayak. This mattress' high-quality materials should not only help promote recovery, but also help with cooling. If you spend the evening on the trail, the gel-infused memory foam and breathable cover should prevent the body from overheating.
Pros
The Bear Trek's foams are CertiPUR-US Certified, meaning it's free of harmful chemicals and pollutants. 

1" of responsive memory foam provides a bouncier feel, so you shouldn't feel you're sinking too far into the mattress.

This mattress includes a generous 120-night trial and lifetime warranty.
Cons
Stomach sleepers and heavier sleepers may not receive the support they need. We recommend they opt for a firmer mattress.

This isn't the best RV mattress to install alone. Bear recommends having at least one friend help you out with unboxing and installation.
Think the Bear Trek is the mattress for you? Click here for our best deal. Still not sold? Take a look at some of the other best mattresses for athletes.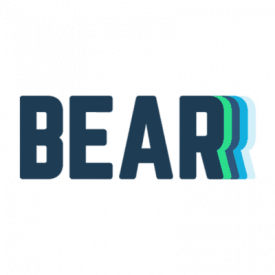 This memory foam RV mattress is perfect for a sleeper with an active lifestyle who needs to recover at the end of the day.
Best Memory Foam RV Mattress
Nectar Mattress
Memory foam lovers searching for a great RV mattress will want to consider the Nectar Original mattress. We believe you should never have to give up comfort when selecting a mattress to fit an RV, and the Nectar has gel-infused memory foam for amazing pressure relief and cooling. We especially like this mattress for back sleepers and side sleepers who like a medium-soft feel. Additionally, those suffering from hip pain or joint pain should get the contouring and support they need on the Nectar.
Pros
The high-density foam in the Nectar provides lots of support, increasing the mattress's durability.

It's one of the most affordable mattresses on the market.

The Nectar has free shipping, a 365-night trial, and a lifetime warranty.
Cons
It's not the best fit for stomach sleepers and heavier sleepers, who will likely sink too far into the mattress for proper support.
Think the Nectar is the mattress for you? Click here for our best deal or check out our full Nectar mattress review. Still not sold? Take a look at some of the other best memory foam mattresses.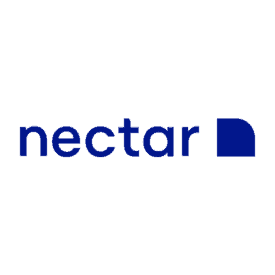 Sleepers will sink deep into the Nectar mattress for some soothing pressure relief, something that side sleepers will particularly appreciate! 
Best Luxury RV Mattress
DreamCloud Mattress
Just because you can't fit a King-size bed in your RV doesn't mean you have to sacrifice luxury. That's where the DreamCloud comes in; it's a medium-firm mattress with stellar features. Its cashmere cover provides a plush feel, its gel-infused memory foam promotes cooling and gives pressure relief, and its coils increase the bed's overall support. 
Pros
It's one of our favorite beds for seniors, since it's relatively easy to get on and off the bed.

The DreamCloud can be great for those experiencing back pain. It should provide great lumbar support and spinal alignment.

With great edge support, this mattress is durable and should make for a good long-term investment.
Cons
Side sleepers will likely need a softer bed than the DreamCloud.

Those experiencing hip or shoulder pain may not find enough pressure relief from this mattress.
Think the DreamCloud is the mattress for you? Click here for our best deal or check out our full DreamCloud mattress review.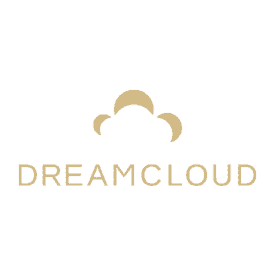 This tall hybrid mattress combines foams with pocketed coils for a luxuriously supportive sleeping experience. 
Best Eco-Friendly RV Mattress
Tochta Utopia Mattress
While you're spending time in nature, you might as well get an eco-conscious bed for your RV. That's where the Tochta Utopia comes in; it's CertiPUR-US certified, so it reaches some of the most rigorous standards for content and emissions. With environmentally-friendly cooling foams and high-density support foams, the Tochta Utopia has a slow-moving feel that memory foam lovers are sure to love.
Pros
We recommend the Tochta Utopia for side sleepers and back sleepers who want a softer feel.

What sets this mattress apart from others is that it's customizable, so you can find a bed that fits your RV perfectly.

It should be responsive enough for combination sleepers who change sleeping positions at night.
Cons
If you're a fan of a hybrid or innerspring feel, you won't find what you're looking for on this mattress.

The construction of the Tochta Utopia is too soft for strict stomach sleepers.
Think the Tochta Utopia is the mattress for you? Click here for our best deal or check out our full Tochta Utopia mattress review. Still not sold? Take a look at some of the other best organic mattresses.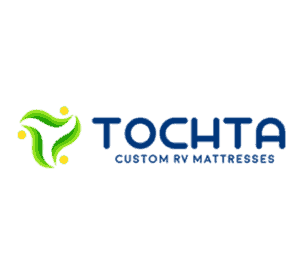 This customizable mattress offers a classic memory foam feel that's particularly great for side sleepers! 
Best RV Mattress for Side Sleepers
PlushBeds MobilePlush RV Mattress
For side sleepers, there's nothing like a mattress with amazing pressure relief and proper support. With PlushBeds MobilePlush, the name itself implies the feel. While you should get the contouring you need, PlushBeds makes it a point to provide denser foams, resulting in additional durability. It's sewn so that the mattress shouldn't sag, so you should be able to get a great sleep on this RV mattress for several years.
Pros
The PlushBeds MobilePlush is environmentally friendly, with both CertiPUR-US and GreenGuard certifications.

You can test this mattress out for 100 nights for free. It also comes with free shipping and a 20-year warranty.

With specially designed foams, you shouldn't experience much off-gassing with this mattress.
Cons
If you cancel your order after the mattress is shipped, you will be responsible for shipping charges.

Those on a budget might want to consider a different mattress than the MobilePlush.
Think the PlushBeds MobilePlush is the mattress for you? Click here for our best deal. Still not sold? Take a look at some of the other best mattresses for side sleepers.
PlushBeds MobilePlush RV Mattress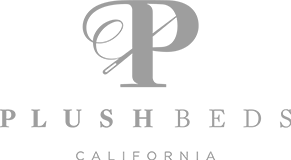 PlushBeds MobilePlush RV Mattress
Side sleepers looking for pressure relief will appreciate the long lasting and supportive foam in this RV mattress. 
How We Picked Our Best RV Mattresses
The mattress you choose for your RV will be determined by the firmness, support, and size you usually prefer. Price is also a factor for many folks. When choosing RV mattresses to review, I focused on a few key metrics that are important to consider, regardless of the mattress brand or model. These points can help guide you through the buying process and help you select the perfect mattress for your next road trip.
Materials
The majority of RV mattresses are made from memory foam, latex foam, or poly foam. All-foam mattresses do not contain steel coils as hybrid and innerspring mattresses do. This can make them lighter, more flexible, and less bulky — all features that make for a great RV mattress.
Latex, poly, and memory foams differ in terms of feel and support. Let's take a look at the unique features of each type of material.
Memory foam is a viscoelastic polyurethane that reduces motion transfer and has a slow response to pressure. As a mattress material, memory foam is best known for sinkage and contouring to the body. Memory foam comes in a range of firmness options, from extra soft to extra-firm. To counteract memory foam's tendency to retain body heat, many RV mattresses infuse this material with gel, copper, or other cooling material to improve ventilation and comfort.
Poly foam is made from a type of polyurethane that lacks the viscoelastic properties of memory foam. Poly foam has a quick response to pressure and is typically used to complement memory foam or latex as a support or transition layer. It's generally one of the more affordable materials used in mattresses.
Latex foam is a natural product made from the sap of the rubber tree. A mattress made from latex will provide bounce, quick responsiveness to pressure, and cooling properties. Comfort layers made from latex can be cooler and cause less sinkage than memory foam or poly foam.
Firmness
Firmness describes how a mattress feels when you lie down on it. A firmer mattress provides more pushback against the body and has a level sleeping surface. RV mattresses are typically thinner than traditional mattresses and may feel firmer. Plush memory foam or poly foam comfort layers can improve the cushioning of RV mattresses and make them more comfortable to those who prefer a softer sleeping surface.
Mattress firmness is rated on a 1–10 scale, with 1 being the softest and 10 being the firmest. 6.5 is the mattress industry standard for medium firmness. The best firmness level for you will depend on your sleeping position, weight, and personal preferences.
Support
Firmness and support refer to different mattress characteristics. Firmness describes the degree of pushback of the mattress surface, while support refers to features that help keep the spine aligned and the neck in a neutral position. In a RV mattress, these features typically include high-density foam support layers. A supportive mattress also prevents excessive sinkage or "bottoming out" of the materials under body weight.
Heavier folks and stomach sleepers usually sleep best on a mattress with more support and firmer surface layers. Back and side sleepers are often most comfortable on a soft to medium-firm mattress that cushions their joints and helps keep the spine aligned.
RV Mattresses Vs. Traditional Mattresses
Though many RV mattresses utilize materials found in traditional mattresses, let's take a look at the differences between the two types of models.
Size: RV mattresses are typically smaller to fit into a more condensed sleeping space. RV mattresses may be described as "short," which means they are a standard width for their size, but somewhat shorter depending on the brand and model. The majority of RV mattresses are approximately 5″ shorter than their standard counterparts.
Thickness: The thickness of an RV mattress may also be different from a traditional mattress. Most RV mattresses are between 4″ and 8″ thick, though some luxury models may be thicker.
Weight: While the average mattress intended for home use weighs between 50 and 150 lb depending on size and material, the average RV mattress weighs no more than 75 lb.
Price: Their reduced size often means that RV mattresses cost less, but higher-end models can rival standard mattresses in terms of cost. Materials like latex that typically cost more when used in a traditional mattress can bump up the cost of an RV mattress as well.
Toppers Vs. Mattresses: Some RVs may not provide space large enough for a mattress. In this case, a 1–3″ mattress topper can fit well into small compartments or on a sofa or bunk bed. When shopping for a topper, look for models made of the same materials as quality RV mattresses.
Buying Tips
Still on the fence about which RV mattress is best for you and your family? Keep these tips in mind to help demystify the shopping process.
Know how often you'll use it: Some folks use their RV beds only on occasion while others live in their RVs year-round. The more you plan to use your mattress, the more durable and supportive it should be.
Go with what you know: If you love the mattress you use at home, look for similar features and materials when browsing for a model for your RV.
Shop sales: If price is a factor, shop when RV mattresses are on sale. This may be during traditional holiday mattress sales or off-season when fewer folks are outfitting their RVs.
Grab the measuring tape: RV bedding compartments differ widely, as do RV mattresses. Make sure you know how much available space you have and the mattress size and thickness you need.
FAQs
What sizes are available for RV mattresses?
Although they often have the same size names as standard mattresses (Twin, Queen, King, etc.), RV mattresses tend to have slightly different dimensions — usually shorter and/or narrower. And even within RV sizes, there may be some slight variation. For instance, the Brooklyn Bedding Wanderlust has three different RV King sizes (70"x74", 70"x80", and 72"x80"). Then there are several different RV Bunk sizes, Short Queen, Short King, and so on. So the short answer is, there are many different RV mattress sizes, depending on the bed.
Can you use a standard-sized mattress in an RV?
Possibly! Every vehicle is different, so you'll want to measure the dimensions of all of the beds in your RV before making a purchase. While there's a good chance that a standard Full, Twin, Queen, or King could fit in your RV, there's also a chance you'll need an RV-specific size.
Can you use a mattress topper on an RV mattress?
Absolutely! A topper can help adjust the firmness of an RV mattress and give it some added height. Once again, make sure you're getting something that can accommodate the often unique dimensions of an RV mattress.
What's the proper way to care for an RV mattress?
In terms of construction and materials, RV mattresses aren't all that different from regular mattresses. The biggest difference comes from the size and the environment that the mattress is kept in, as RVs tend to have less ventilation than a regular bedroom. To make matters worse, many sleeping platforms in RVs don't have as much room for airflow as a standard box spring or platform bed. This makes it easier for mold to form, which you can prevent by 1) Putting a dehumidifier in the RV. 2) Keeping the windows of the vehicle open when you can. 3) Storing the mattress on an elevated platform when you're not using it — either inside the vehicle or somewhere else.
Last Word From Sleepopolis
A night on the right RV mattress can be reminiscent of the comfort and quality you experience at home. When choosing a mattress for your RV, remember key factors such as support, firmness, durability, and your preferred sleep position. Look for the materials you prefer in your everyday mattress and, if price is a factor, try to time your purchase for sales season. Sleeping on a great mattress is an excellent way to boost your health and well-being, and it's even better on the road, under the stars.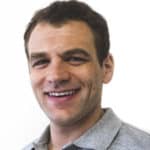 Logan is the former content director of Sleepopolis. As content director, he reviewed new mattresses every week and curated the comparisons, best of pages, and video guides on the site. Logan perfected his method by personally testing over 200 different mattresses, so he's not only able to discern the overall vibe of a specific bed, but to contextualize its feel within the bed-in-a-box market as a whole.